Here at Great Eight Friends, we are all about making life delicious and fun. But we also know that many of us have dietary restrictions. A couple of people in my family are gluten free and it's truly amazing how many recipes are naturally gluten-free options. As much as I kick and scream about having to make "special dishes," the truth is I often make full meals that turn out to be totally gluten-free...without even trying!
The menu at Vince's recent birthday dinner was Butternut Squash Soup, Butter Lettuce Salad (his favorite), Crown Roast of Pork, Wild Rice, and Broccoli Rabe (another favorite). The appetizer was a tray of cheeses, nuts, sweet peppers, dried figs, olives, and gluten-free crackers. This time I wasn't trying to make a GF meal, it just turned out that way!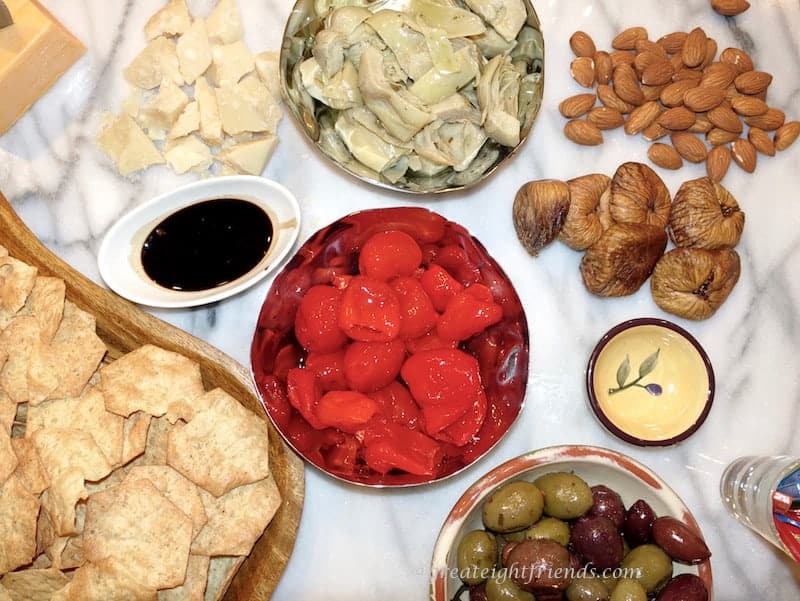 In case you or a loved one or dinner guest are sensitive to gluten, here are some of our favorite delicious recipes which also happen to be gluten-free.
Appetizers:
So many appetizers are bread based that it can be difficult to remain gluten-free when at a party. But there are a lot of yummy options and most people won't even notice that they are gluten-free. You can create an antipasto similar to the one pictured above. Or, if you are in the mood to cook, here are a few of our favorites.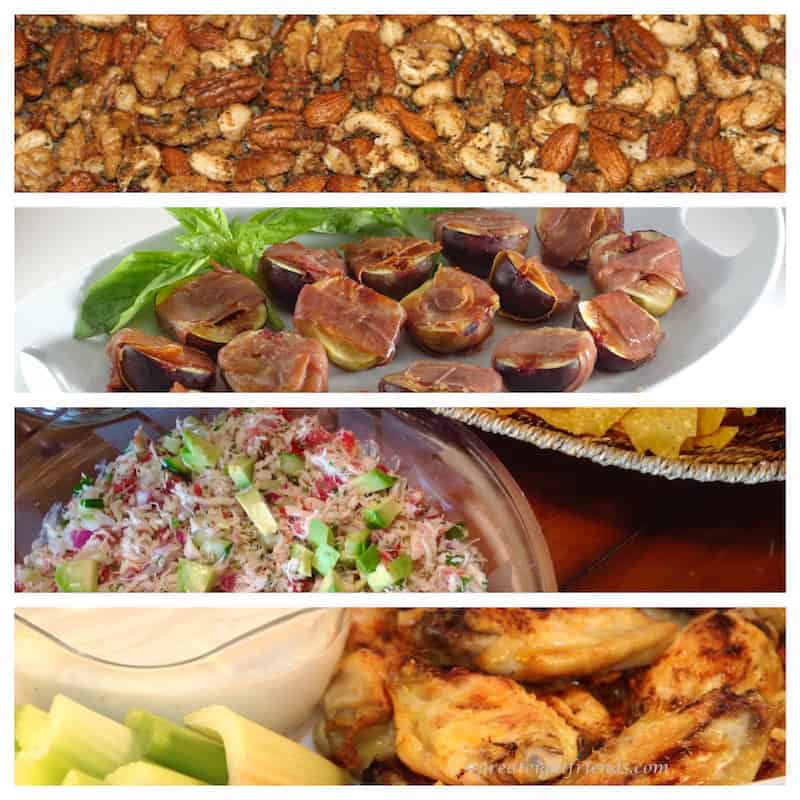 Rosemary & Spice Nuts, Figs with Prosciutto, Layered Crab Dip, Buffalo Chicken Wings with Blue Cheese Dip.
And all of our salsas are gluten-free, and so fresh and healthy! Salsa Fresca, Salsa Verde, Pomegranate Avocado Salsa, Papaya Mango Salsa... serve any of these with tortilla chips (most brands are GF, but you might want to check the label to be sure), and no one will feel like they are missing anything!
Salads:
There are many salads that don't contain gluten, be careful with things like croutons; also, some dressings can have hidden gluten, so make sure to check the label or ask the server at the restaurant.
The best option when having a salad at home is to make your own dressing. For years this sounded daunting to me...who has time for that? But in actuality it is very simple and quick. And you can make enough to last for several salads.
OR, do what my Italian husband taught me; after you have all the salad ingredients in the bowl:
drizzle first with extra-virgin olive oil and toss;
then sprinkle with salt and pepper and any fresh or dry seasonings you prefer. You can even buy Italian Seasoning in the spice aisle.
Toss again.
Then add a splash of your chosen acidic element, which could be wine vinegar, champagne vinegar, lemon juice, cider vinegar...or a combo. You can decide what best suits your palate for those quick weeknight salads.
Taste and adjust the seasonings and the vinegar. Easy, peasy! And oh, so healthy!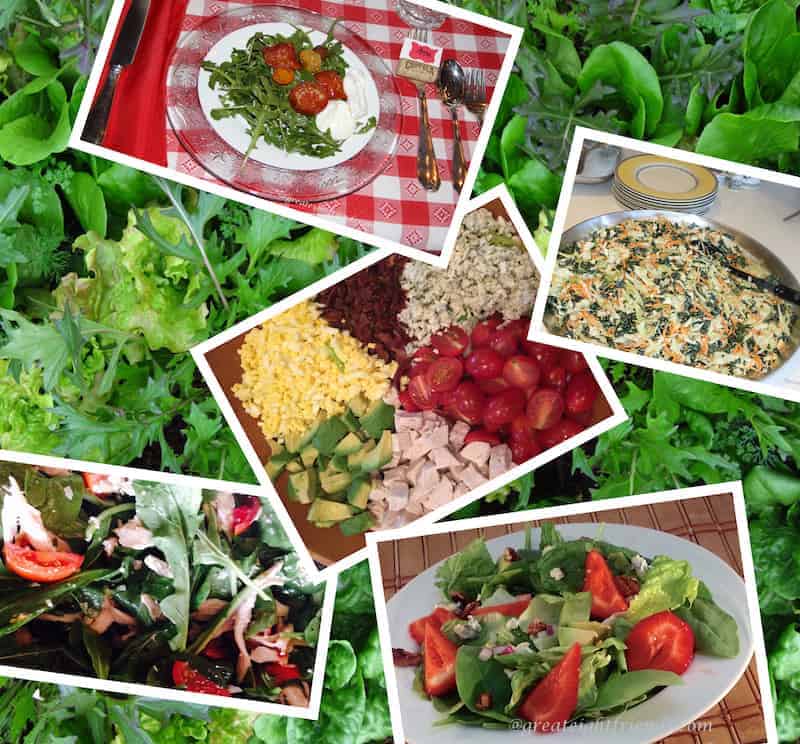 Here are some of Great Eight Friends' best GF salads: Strawberry Salad (a Gr8 choice for Valentine's Day dinner!), Kale Slaw, Arugula Salad with Lemon-Parmesan Dressing, Cobb Salad, Roasted Tomato and Arugula Salad.
Soups:
There are a lot of soup recipes that fulfill the GF requirements. Here are a few we've posted recently. Butternut Squash Soup, Clam Chowder (GF and Dairy Free, too!), Spicy Pumpkin Soup, Chicken, Artichoke and Cannellini Bean Spezzatino, and Italian Vegetable Soup.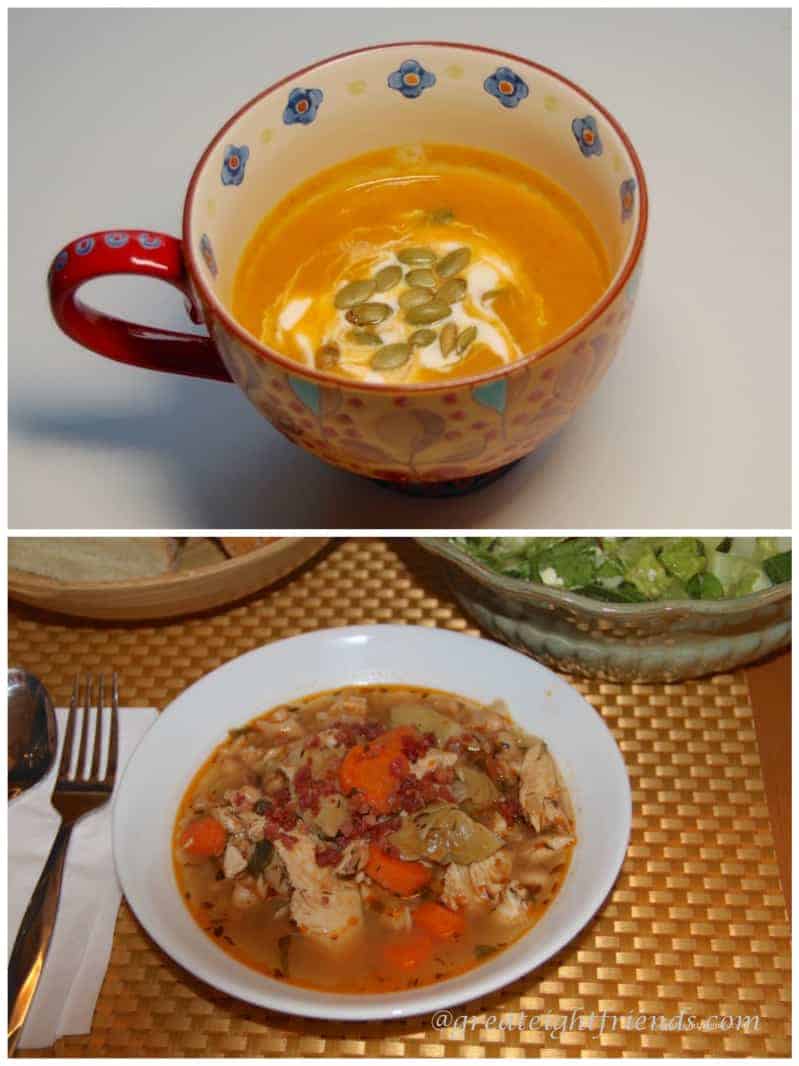 Main Courses: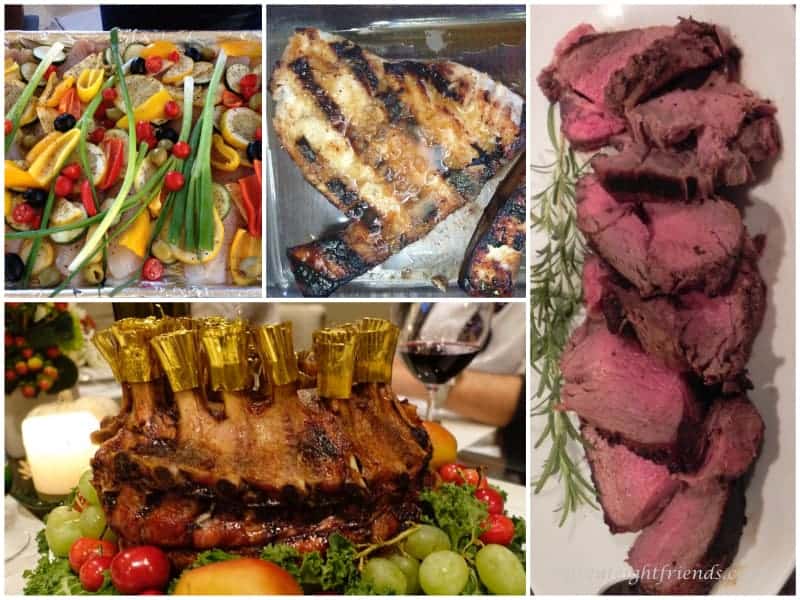 Gluten-free main courses are probably the easiest, because you can always grill or sauté or roast some kind of meat: steaks, fish, chicken, lamb, etc. Some of the main courses we like to make for our families: Complete Fish Dinner on the Grill, Beef Tenderloin with Steve's Rub, Marinated and Glazed Swordfish, Grilled Salmon, and for the real fancy dinner you can do the Crown Roast of Pork mentioned above.
Sides: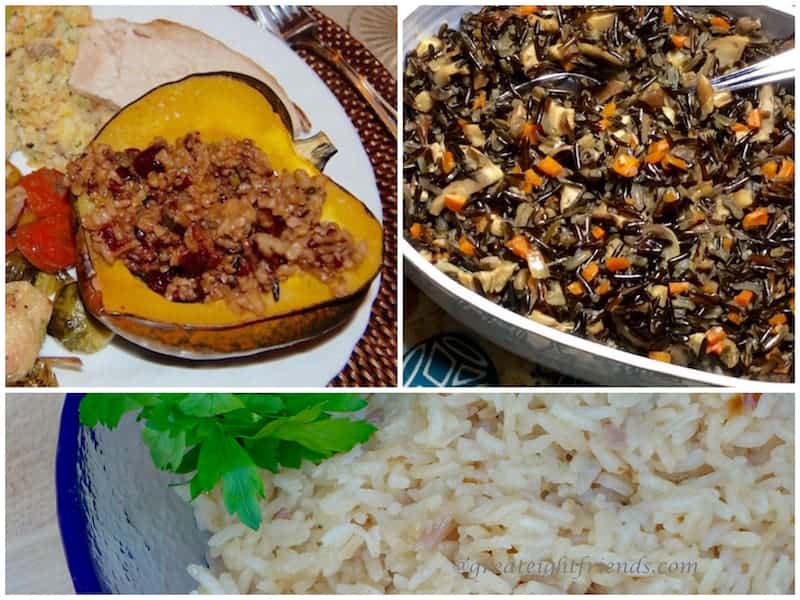 What to make to go along with the fabulous roasted meat or fish? We love our wild rice here at Great Eight Friends; that's why we have TWO recipes! Try Debbie's Wild Rice with Mushrooms or Kyle's Wild Rice Stuffed Squash. The Gr8 thing is these can each be served as meatless meals. We also have Jurga's No Fail Rice recipe. To get your green goodness going, try the Braised Greens or Broccoli Rabe. And another meatless meal or delicious, hearty GF side is Debbie's Awfully Good Beans.
Desserts
As I was writing this post, it became clear that as far as gluten-free desserts go, we are lacking.
OR, you can always serve ice cream and berries, top it with a splash of Chambord and you have a delicious adult treat.
So, there you have it...you can indeed put together an entire gluten-free meal making no sacrifices whatsoever.
Gr8 Tip:
When looking for recipes it can be confusing if certain condiments or grains contain gluten. To help clear up some of the mystery, here is a Gr8 resource from WebMD.