Our Gr8 Party Outlines set out the decisions we made to make these dinners a bit easier. You don't have to stress about having friends over!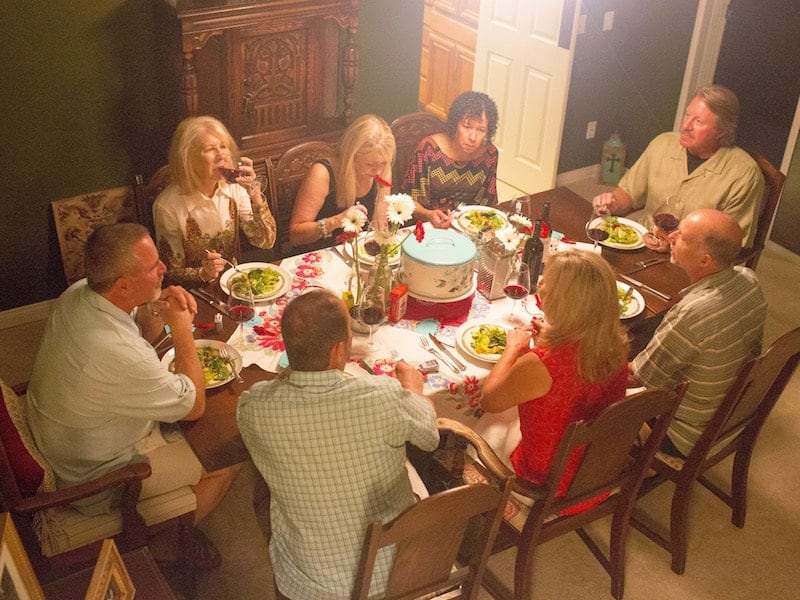 During our first meeting over 20 years ago, we set some ground rules.
Since all of us were moms of at least 2 kids, these dinners had to be considered fairly easy or we would never have begun this adventure!
And, most importantly, none of us were trained chefs, we are all just moms who learned to cook from our mothers or were self taught.
So, here are the rules we agreed on at that first meeting:
Each couple hosts one time per year at their house, this means we get together 4 times each year.
The 4 dates are set at the beginning of the year. All 8 of us try extra hard to not change a date (it's amazing how challenging it is to get 4 dates that work for all of us!).
The hostess is responsible for the theme, the invitations (see #6), and most of the cooking.
Generally, the hostess assigns the other 3 couples the salad, a side dish and dessert. But this can vary, sometimes one of the couples brings an appetizer. There is no hard and fast rule as to what everyone brings. But everyone does bring something!
The recipes don't have to be tried beforehand (we are all busy moms). If a dish doesn't turn out, we order pizza! (We've NEVER had to order pizza. Some recipes maybe weren't exactly as we wished, but we've always had PLENTY of food!)
The hostess always delivers an invitation at least a week ahead of the date. This is an IMPORTANT part of the success of our group. The invitation sets the tone and tells each couple what they are to bring. Now all of our friends look forward to seeing the creative invitations we get for each party. Remember, you only have to make 3 invitations.
We've had everything from casual parties about sports to fancy holiday parties to cultural themes, and more.
Check out all of our Gr8 dinner parties!