These "Awfully Good Beans" are super easy to prepare and have a delicious flavor making them a perfect meatless main dish or side dish!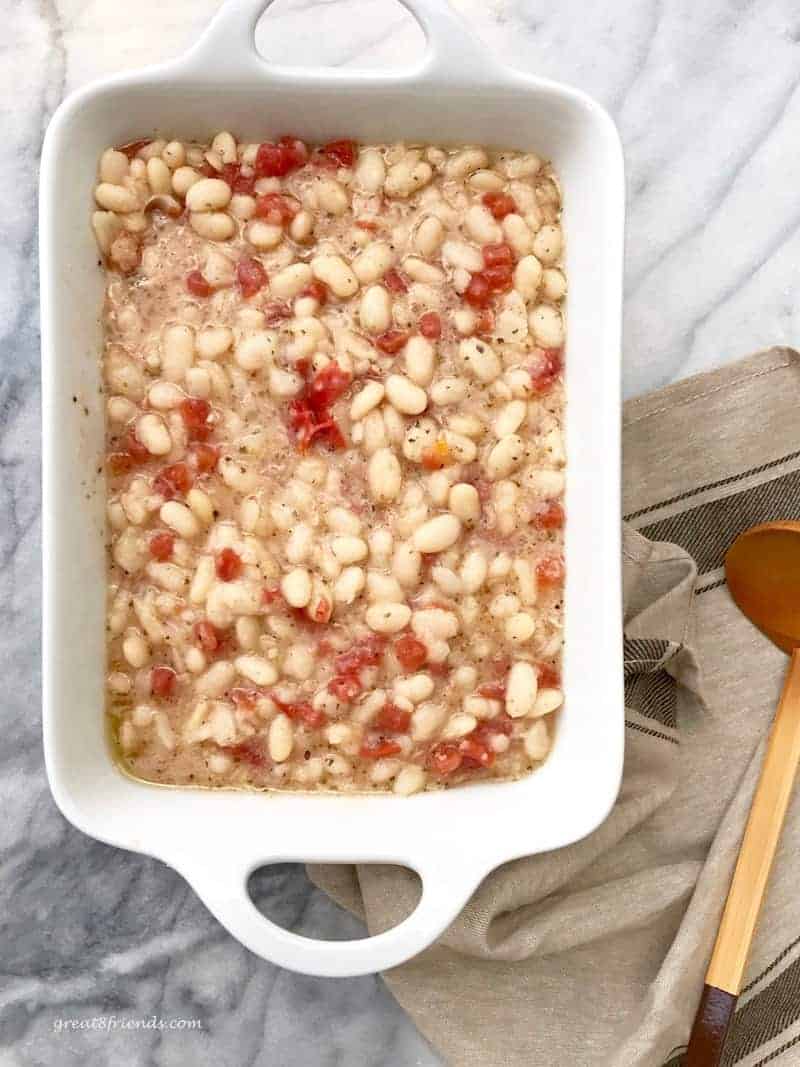 No really! Awfully Good Beans...that's really the name! This has always been the perfect side dish at our neighborhood block parties. Marjoram and the tang of tomatoes meld together perfectly with the beans, combined with the aroma, butter, oh my!
At my house, we often decide on a main course without meat. This is it! Choosing something hearty, this dish ends up being our "not having meat tonight" meal!
A staple found at most grocery stores, you'll have no trouble finding Great Northern Beans. No need to fret if it doesn't look like you'll have enough! You'll have plenty! They plump as they cook!
If I have time to wait, I love to order heirloom beans from Rancho Gordo. Their Alubia Bianca Bean is absolutely delicious in this recipe! With a little of the bean "liquor," as they call it in the south, sopped up with Anna's Savory Spicy Skillet Cornbread, there's our meal right there!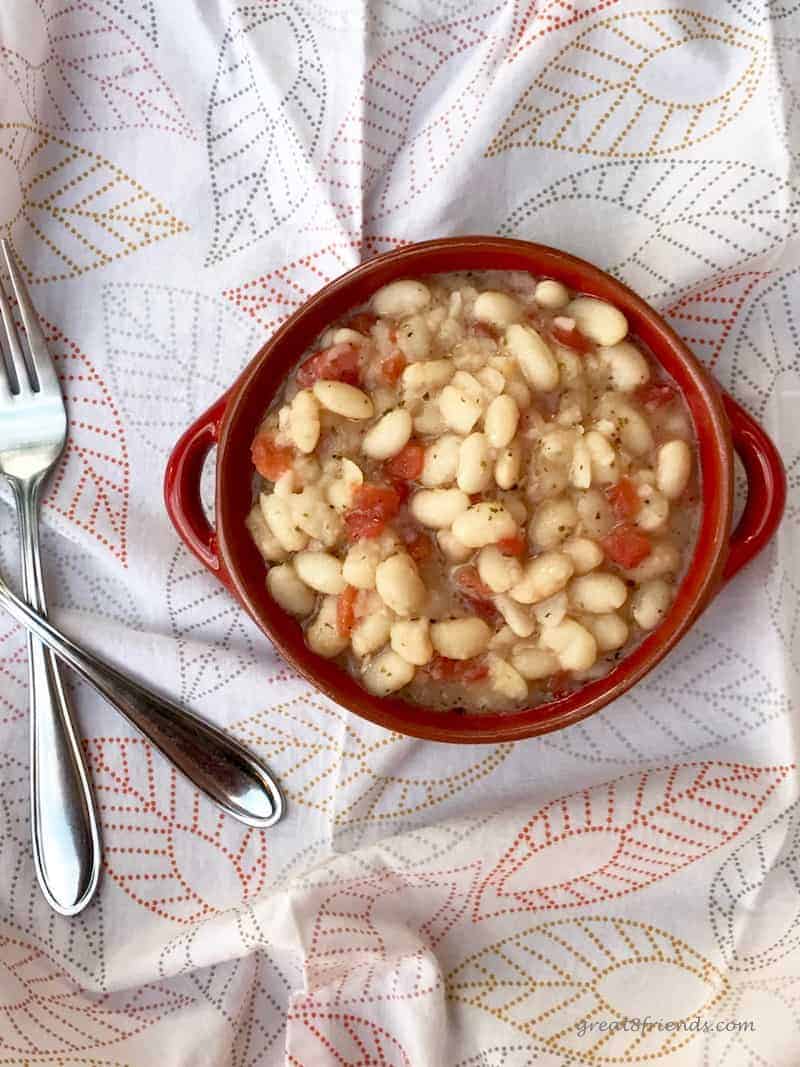 In a meaty mood? Go ahead and heat up the grill and enjoy these tasty Awfully Good Beans with Jurga's Barbecued Pork Ribs! I recently brought them to work for a annual company barbecue and they were raving about them!
The leftovers are even better and boy were my friends ever happy! Kept in the pot overnight and transferred to my slow cooker in the morning, it was the perfect dish to bring. Everyone walked away feeling satisfied and "Awfully Good!"
Edited from the original publication of September 10, 2016.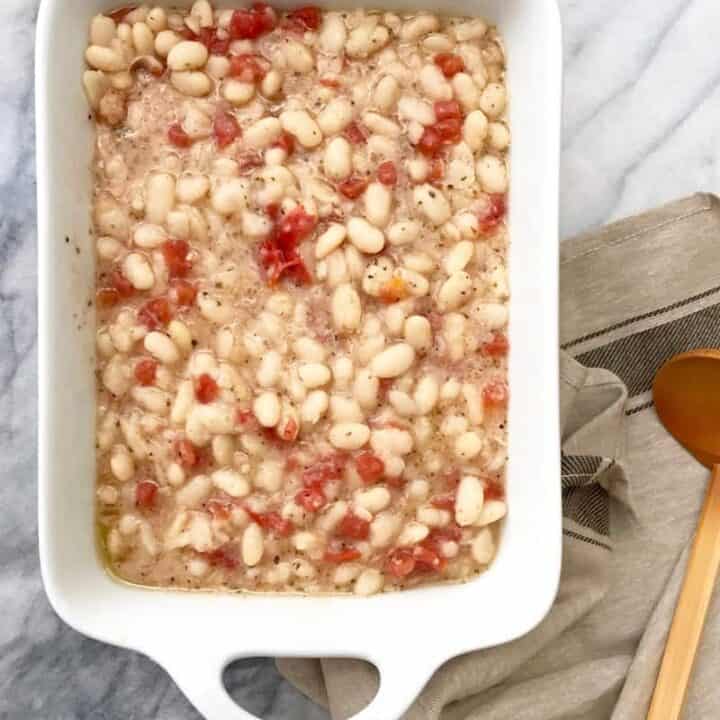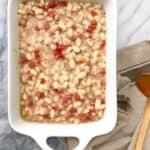 Print Recipe
Pin Recipe
Save this Recipe
Saved!
Please leave a rating!
Awfully Good Beans
Taste them! You'll agree...they're "awfully good", right?!
Ingredients
2

cups

dried great northern beans

6

Tablespoons (¾ stick)

butter

5

Tablespoons

olive oil

1 ½

teaspoons

dried marjoram leaves

,

not ground powdered

1

15 ounce can

diced tomatoes

,

drained. *(I like to use petite diced)

Salt and freshly ground pepper

,

to taste
Instructions
Place the beans in a large bowl.

Discard any stones or any misshapen beans. Rinse under cold water and drain.

Place rinsed beans in a large saucepan with a fitted lid. Cover with cold water by about 2". Covered, bring to a boil.

Allow to continue boiling for about 5 minutes. Remove pot from heat and remove lid. Let beans sit for about 1 hour. Drain. I love seeing the difference from when they were dried to after they've sat and soaked!

Transfer drained beans back to the pot and cover with water. Return to stove and bring to a low simmer, partially covered. Cook until the beans are tender but not squishy/mushy! About 45 minutes more.

In another large saucepan, heat the butter with the olive oil. Stir until heated through. Stir in the dried marjoram leaves. This is where I can't help but pick up a spoonful and breathe in the rich delicious aroma! The butter, olive oil and marjoram...Mmmmm!

Add the butter and oil mixture to the beans. Stir in the drained tomatoes. Add salt and pepper to taste.

Cook for 10 minutes on medium heat. See...they ARE "Awfully Good", right?
Notes
*I like to drain the canned tomatoes through a colander. With the back of a wooden spoon, I gently move the tomatoes around to remove as much liquid as possible.
Gr8 Do-Ahead Tip:
After step #7 above, set the beans aside or refrigerate and then heat 5 – 8 minutes on medium heat before serving.
SaveSave
SaveSave
SaveSave
SaveSave
SaveSave
SaveSave