This Italian Vegetable Soup soup has fresh beautiful vegetables and the flavors and aromas will entice anyone to return for seconds.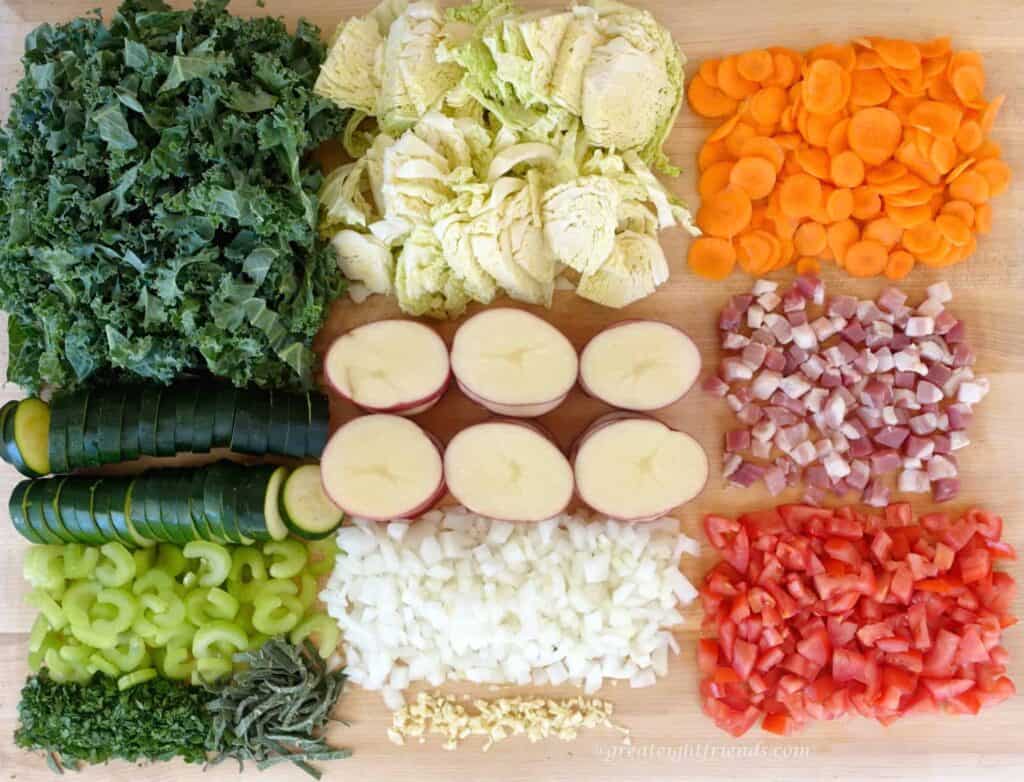 There are hundreds (maybe thousands) of vegetable soup recipes. Mostly because you can put any vegetable into a broth and call it "vegetable soup"!
Many people don't like soups with whole vegetables, but I think that may be because the only type they've ever tried is canned. And, in my humble opinion, there are not a lot of things worse than canned vegetables! (Canned tomatoes and canned beans are an exception to that.)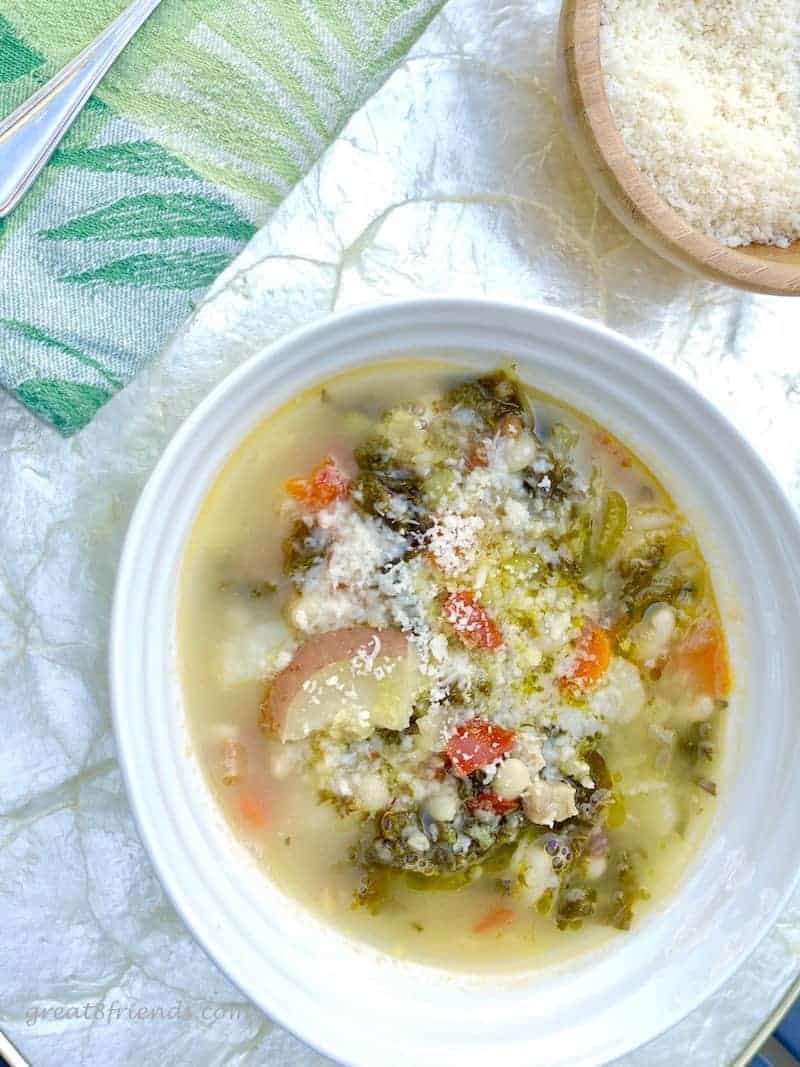 This soup has fresh beautiful vegetables and the flavors and aromas will entice anyone to return for seconds. My family begs me to make this.
If there is a particular vegetable that is in this soup that you don't care for...just leave it out...or maybe substitute in another veggie.
How to Make this Vegetable Soup
If you're using dried beans, then pre-soak them the night before. If you forgot to pre-soak, check out Debbie's instructions for quick soaking.
Once soaked, then simmer them for a bit.
While the beans are simmering, chop up the pancetta and vegetables. This may seem like a lot of veggies to chop, but it goes pretty quickly. (If you buy the pancetta already diced, then you're ahead!)
Make sure you have a stock pot or a large pot, at least 5-quarts, I use my 7-quart pot. Heat the olive oil and add the pancetta and cook until some of the fat has rendered. I use my big soup pot.
Add the onion, garlic, parsley, and sage and cook, stirring occasionally, until the onion is translucent.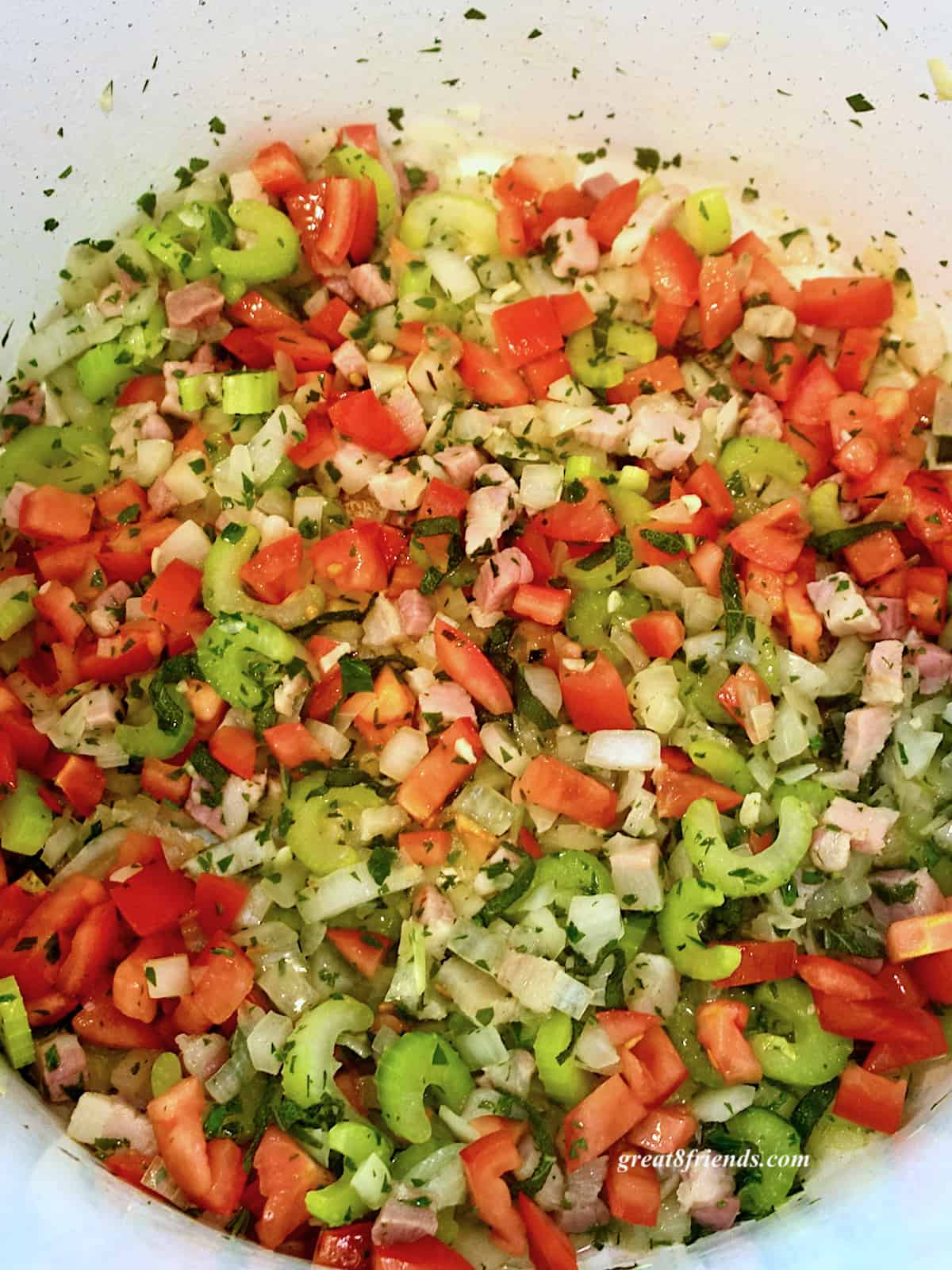 Then stir in the tomatoes and cook a couple minutes more. Then add the rest of the chopped veggies (not the beans) and 10 cups of the liquid.
Puree about ⅓ of the beans. I like to use my immersion blender for this step, or you can use your food processor.
Add the pureed beans to the soup. Keep the whole beans for later. These blended beans will act as a bit of a thickener.
Bring the soup to a boil then turn down to a simmer and cover. Let the yumminess simmer on the stove top for an hour or an hour and a half until the veggies are tender. (If you feel the soup needs more liquid, add it before bringing the soup to a boil.)
Once the veggies are tender add the rest of the beans and cook until heated through.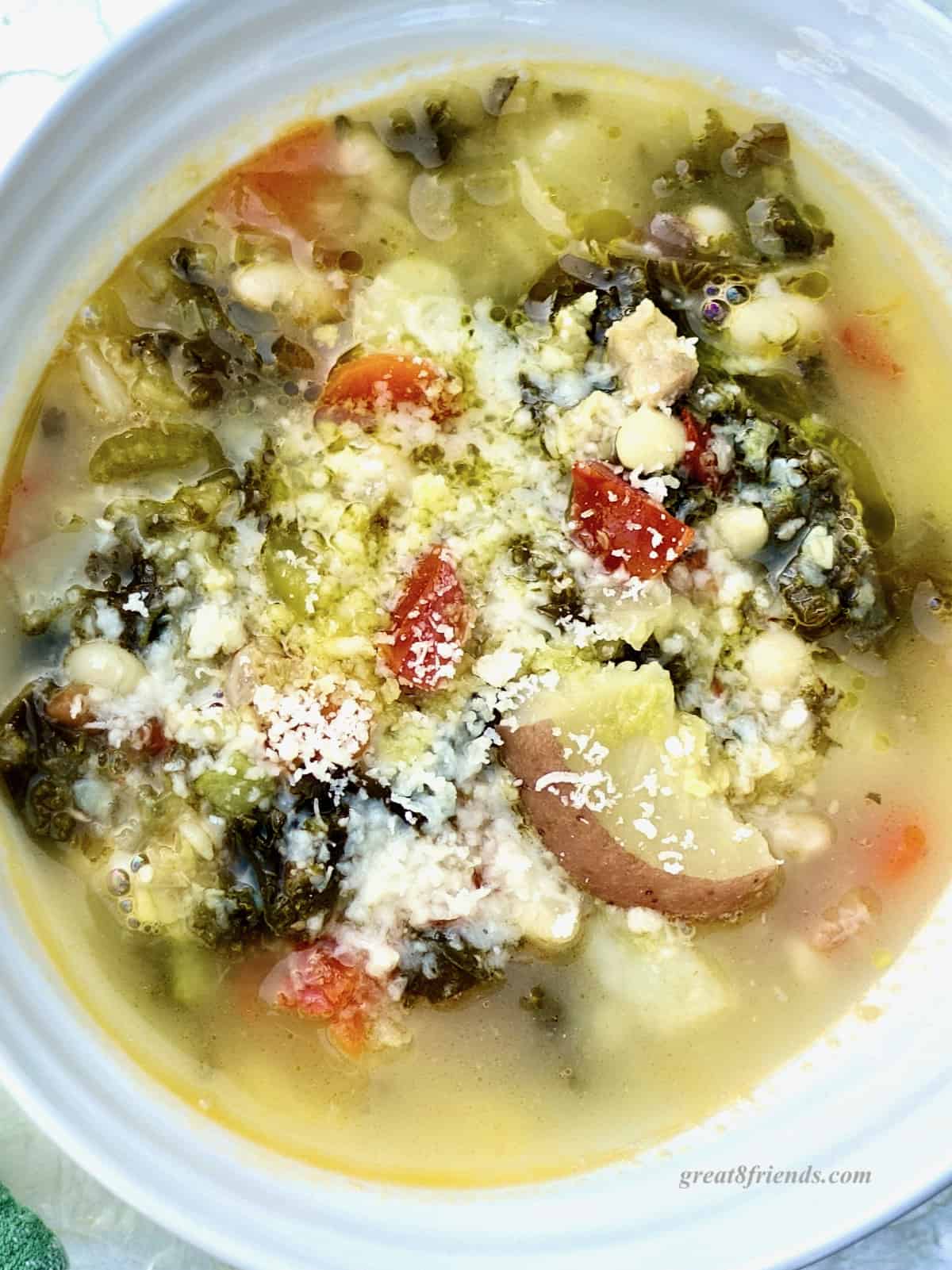 It's now ready to serve! Ladle into bowls and drizzle with a bit of tasty extra-virgin olive oil then sprinkle with parmesan cheese and enjoy!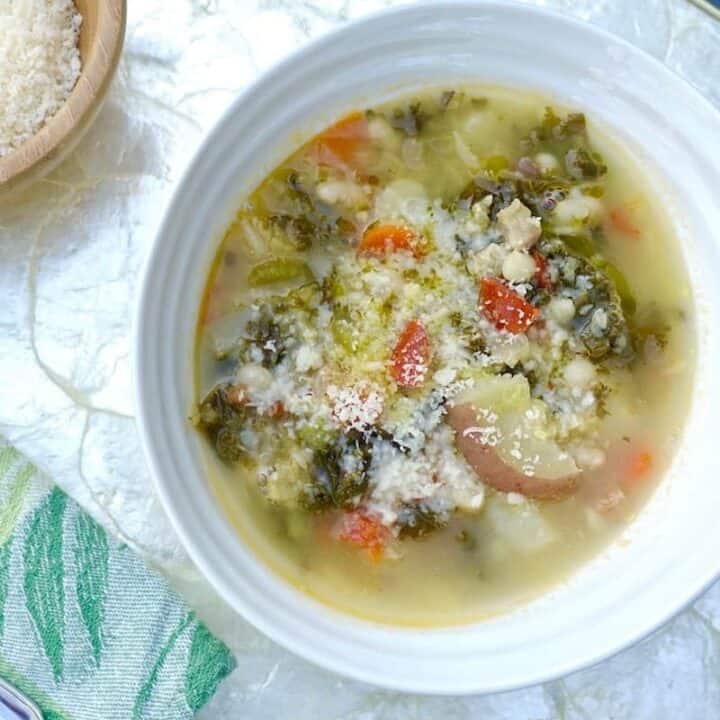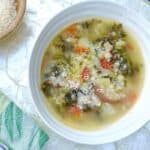 Print Recipe
Pin Recipe
Save this Recipe
Saved!
Please leave a rating!
Italian Vegetable Soup (Minestre di Verdure)
This Italian Vegetable Soup is a favorite in our family. My kids request it when they are home. It's Gr8 to keep the pot in the fridge. Easy to reheat for lunch, dinner or a snack!
Ingredients
1

cup

dry white beans

,

such as Great Northern or Cannellini or 2 15-ounce cans Cannellini or white beans, drained

2

Tablespoons

olive oil

5

ounces

pancetta

,

cut into ¼" cubes, sometimes you can find it already chopped.

1

cup

chopped onion

,

about 1 medium onion

2

cloves

garlic

,

minced

2

stalks celery

,

chopped

¼

cup

chopped parsley

5-6

leaves

sage

,

sliced

2

ripe Roma tomatoes, seeded and diced

,

or 1 Tablespoon tomato paste

2

medium zucchini

,

sliced about ¼" thick

2

carrots

,

peeled and sliced about ¼" thick

4

medium new potatoes

,

sliced ¼" thick, about 12 ounces

1

bunch

swiss chard, escarole or kale

,

sliced (use the leaves and discard any thick stems)

½

pound

Savoy cabbage

,

sliced (In a pinch, I have used regular cabbage)

10-12

cups

chicken broth or water

,

or more if you like it soupy rather than chunky

Extra-virgin olive oil,

for topping

Grated Parmesan cheese

,

for topping
Instructions
Directions for Cooking the Beans:
The night before, place beans in a large saucepan and cover with cold water, about 3 inches above the beans. Let soak overnight.

Drain the beans, return to the pan and add enough cold water to again cover the beans by 3 inches.

Simmer until the beans are tender, 45 minutes to 1 hour.

To quick cook the beans to make the soup the same day, follow Debbie's recipe for "Awfully Good Beans" up through Step 5; using only 1 cup of dried beans.

Set the beans aside to cool until needed for the soup recipe.
Directions for the Soup:
In a large soup or stock pot, heat the 2 Tablespoons olive oil over medium-high heat.

Add the Pancetta and cook for about 4 minutes, until some of the fat has rendered.

Add the onion, garlic, celery, parsley, and sage.

Cook, stirring occasionally, until onion is translucent, about 4-5 minutes.

Stir in tomatoes or tomato paste. Cook for about 2 minutes.

Add zucchini, carrots, potatoes, greens, and cabbage.

Add 10 cups of chicken broth or water. You can add more later if you prefer a thinner soup.

Purée ⅓ of the beans in a food processor or blender.

Add the puréed beans to the soup and stir, this will slightly thicken the mixture. Reserve the remaining beans.

Bring soup to a boil and immediately turn down to simmer.


Cover and cook the soup until the vegetables are tender, 1 to 1 ½ hours.

Add the remaining beans to the soup and cook until heated through.

After ladling into the bowls, drizzle with a little extra-virgin olive oil and sprinkle with grated Parmesan cheese...YUMMY!
Notes
Gr8 Tips:
Feel free to add cooked rice or short tube pasta to the soup if desired. This will add a nice texture and make this more like the classic "Minestrone" you may be used to eating.
In a pinch, use whatever veggies you have in the fridge. 
Gr8 Do-Ahead Tip:
This soup is almost better the next day! Just bring it to a boil then turn down to low and simmer until heated through. Make this on Sunday, then cool and refrigerate and have it for dinner on Monday. (That is, if you can keep your family from eating it all right away!)
Nutrition Information
Serving:
1.5
cups
|
Calories:
214
kcal
|
Carbohydrates:
24
g
|
Protein:
10
g
|
Fat:
9
g
|
Saturated Fat:
2
g
|
Trans Fat:
1
g
|
Cholesterol:
9
mg
|
Sodium:
1037
mg
|
Potassium:
1046
mg
|
Fiber:
6
g
|
Sugar:
4
g
|
Vitamin A:
4422
IU
|
Vitamin C:
50
mg
|
Calcium:
108
mg
|
Iron:
4
mg