Start off the Pumpkin season with a pot of this Spicy Pumpkin Soup on the stove! It's got all of the flavors of Fall.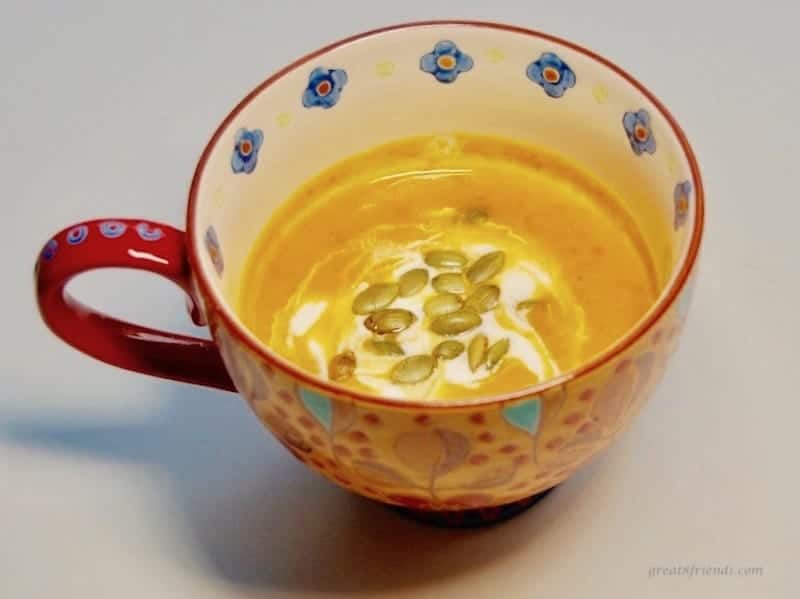 It's that time of year when I hear, "We are so ready for your pumpkin soup, Deb! You ARE going to make it, right?" A big pot of Spicy Pumpkin Soup with Mexican Cream and Toasted Pepitas is a constant every year at our Thanksgiving dinner for 30.
It's one of the dishes that I can make the day before...those are the best on a day like this! My sister and sisters-in-law, Claudia, Laura and Dawn, her mom, Kay, and our dear sweet friends, Bill and Lois, are the biggest fans of this savory soup.
There's a touch of cayenne that adds the perfect little kick, while the cool dollop of the crema is just what you need to mellow out the heat!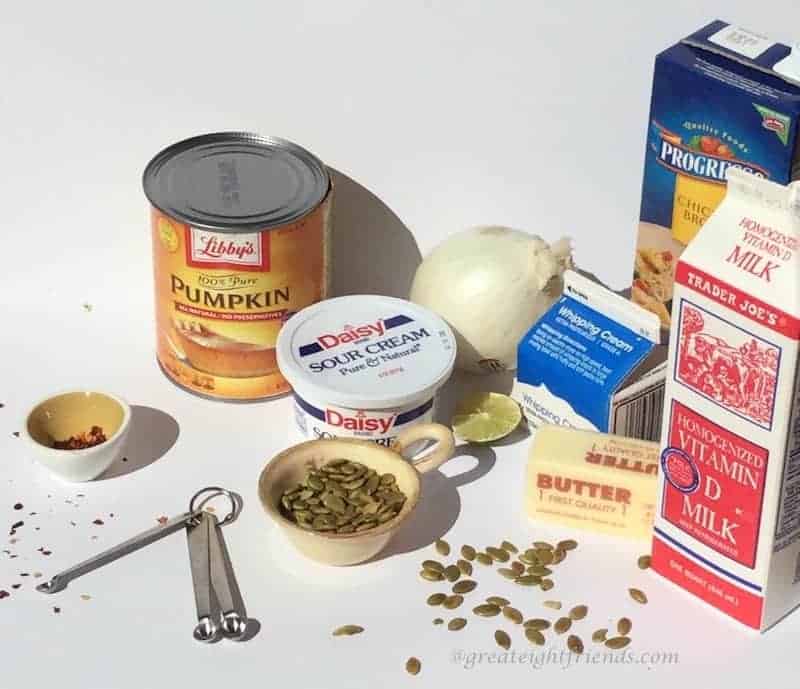 Sprinkled with shelled, toasted pumpkin seeds on top, this soup is an appetizer served in my pretty teacups.
A few of our more "proper" guests ask for a spoon, while the rest of us just sip as we mingle...no spoon required!
Make it a meal and serve it up in your favorite soup bowl with some of Olive Bread 2-2-2, minus the olives and thyme. It makes a perfect crusty loaf of French bread.
The recipe makes plenty of this deep orange pot of happiness...perfect, because for the next several days following the feast, reheated in a mug for lunch, it's as soothing as it was that wonderful Thursday before.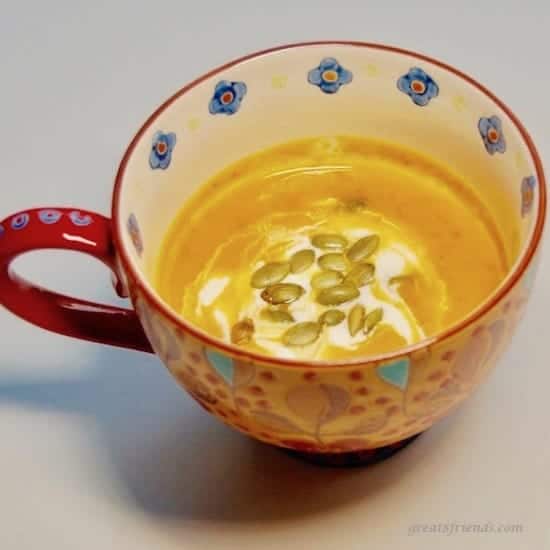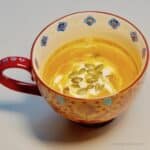 Print Recipe
Pin Recipe
Save this Recipe
Saved!
Please leave a rating!
SPICY PUMPKIN SOUP
Start off the Pumpkin season with a pot of this goodness on the stove! It's got all of the flavors of Fall. Begin at least 2 hours ahead so the Mexican Cream has time to chill.
Ingredients
½

cup

heavy whipping cream

½

cup

sour cream *

1 to 1 ½

teaspoons

fresh lime juice

6

Tablespoons (¾ stick)

unsalted butter

,

softened

6

cups

thinly sliced onions

1

28 ounce and 1- 15 ounce

cans solid packed pumpkin

,

make sure it's not pumpkin pie mixture...that's not good for a savory soup!

2

cups

milk

,

I choose whole milk, but I've used low fat and it's just as delicious.

1 ¼

teaspoons

dried crushed red pepper flakes

,

less if you can't take the heat!

9

cups

low sodium chicken stock or broth

,

can or carton

1

cup

pumpkin seeds, shelled (pepitas)

,

unsalted, toasted, (They're green in color and available at Latin American markets, natural food stores and most supermarkets.)

¼

teaspoon

salt

freshly ground pepper

,

to taste
Instructions
*Mexican Cream:
In a small nonreactive bowl, briskly whisk both the cream and sour cream. Slowly add the lime juice to the cream mixture. Continue whisking until thick and thoroughly combined. Cover and refrigerate for at least 2 hours. (This crema can be made 1 week ahead of time. Keep refrigerated.)
Spicy Pumpkin Soup:
In a heavy bottomed large pot, over medium heat, add the softened butter until melted.

Add the onions and sauté for about 10 minutes or so, until softened and translucent, but not beginning to brown.

In the same pot, thoroughly combine the canned pumpkin, whole milk and your desired amount of crushed dried red pepper. Continue stirring, slowly. You don't want the milk to splash around!

Purée the entire mixture. Depending on the "bowl" of your processor or blender, you may need to puree in separate batches or use an immersion blender.

Return pureed pumpkin mixture to pot.

Slowly and thoroughly stir in the broth. Simmer for 15-20 minutes to marry the flavors, returning to stir from time to time.

Season to taste with salt and freshly ground pepper.

Ladle soup into bowls, or cups. With a spoon, drizzle with chilled cream mixture and sprinkle with toasted pumpkin seeds. Sip Sip Away!
Notes
Gr8 Do-Ahead Tip:
Can be made 1 day ahead. Cool. Cover and chill. Bring to a simmer before serving.
The Mexican Cream can be made one week ahead. Keep sealed and refrigerated.
Gr8 Substitute 
*Mexican Cream can be substituted with the Cacique brand of Mexican Crema. It is available in most supermarkets in the refrigerated section, displayed with the Cacique brand cheeses. Another Gr8 (and healthy) substitute is plain Greek yogurt.
Gr8 Serving Tip:
If serving as an appetizer, ladle into coffee or tea cups. Sip or enjoy with a spoon. As a light lunch, serve in large mugs.