A Hot Toddy is the perfect solution if you're suffering with a cold! Just go to your pantry and mix together a few ingredients for this simple old-fashioned remedy. It's easy and warming and comforting.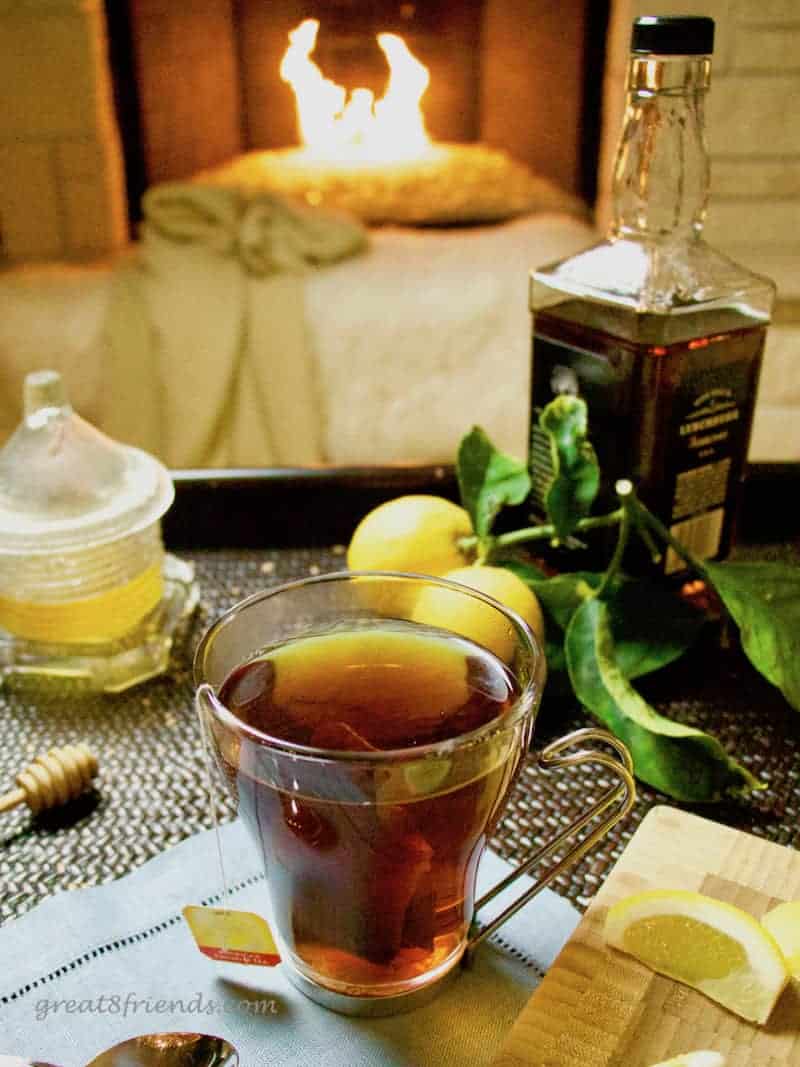 I woke up with a cold this morning....ugh! Best solution? A Hot Toddy! And it is so much tastier than those over the counter cold remedies.
Plus, I have the ingredients in my pantry and won't have to get out of my cozy jammies to go to the drug store.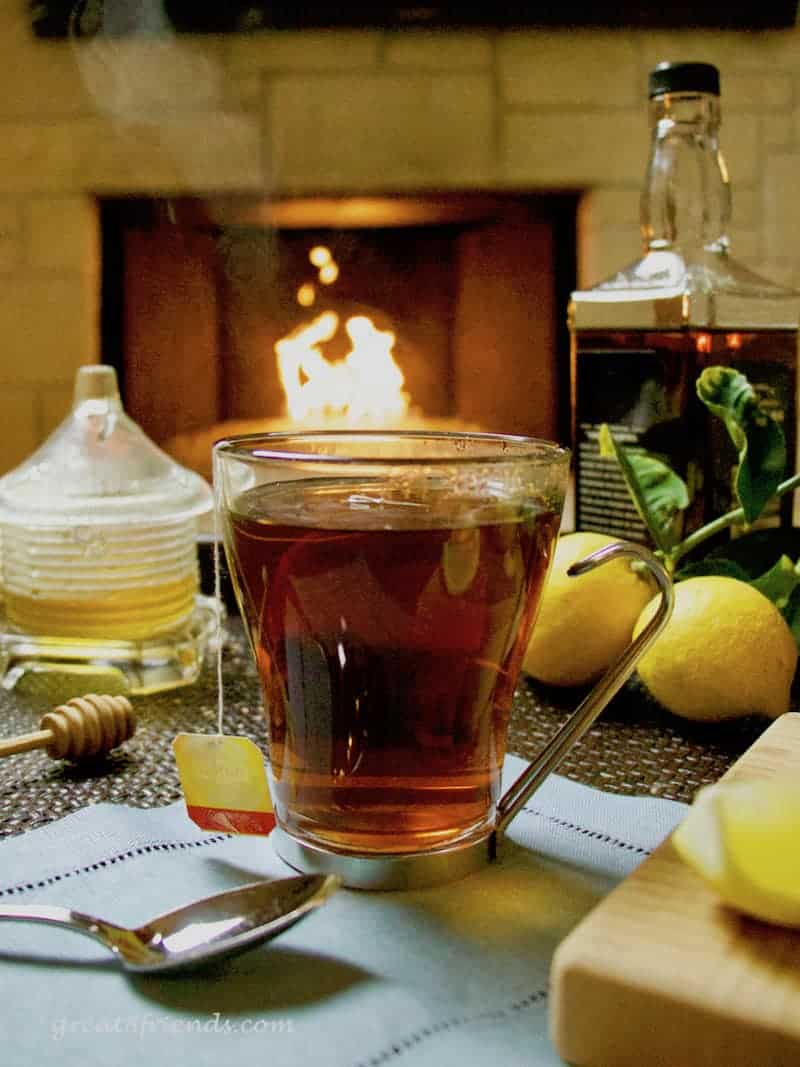 The heat warms, the lemon and honey soothes and the alcohol will lull me to sleep... sleep that gives my body a chance to heal.
If you're under 21 or don't drink alcohol, you can leave it out. The warmth of the drink can also help you fall asleep.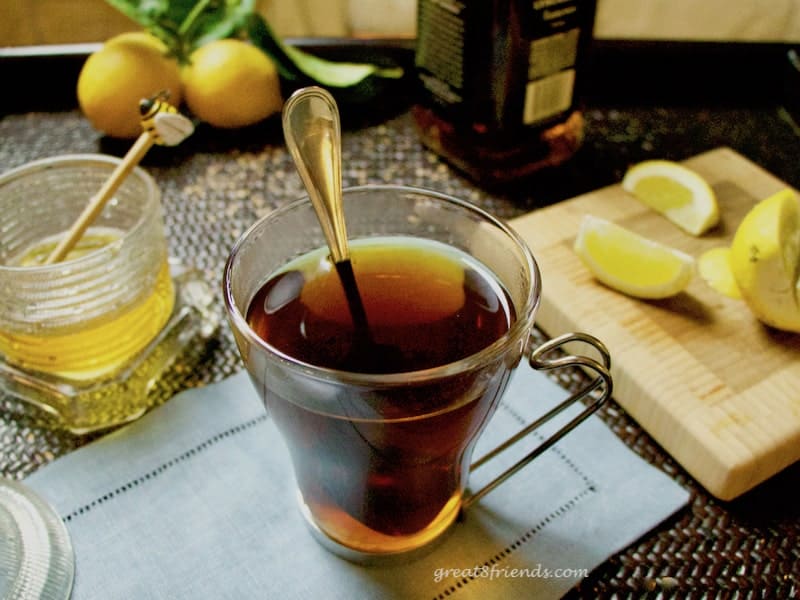 The alcohol in the hot toddy can dilate the blood vessels which may help the mucus membranes deal with the infection.
In this case, more is not better; only drink one. Too much alcohol will have the opposite effect and you won't be able to sleep!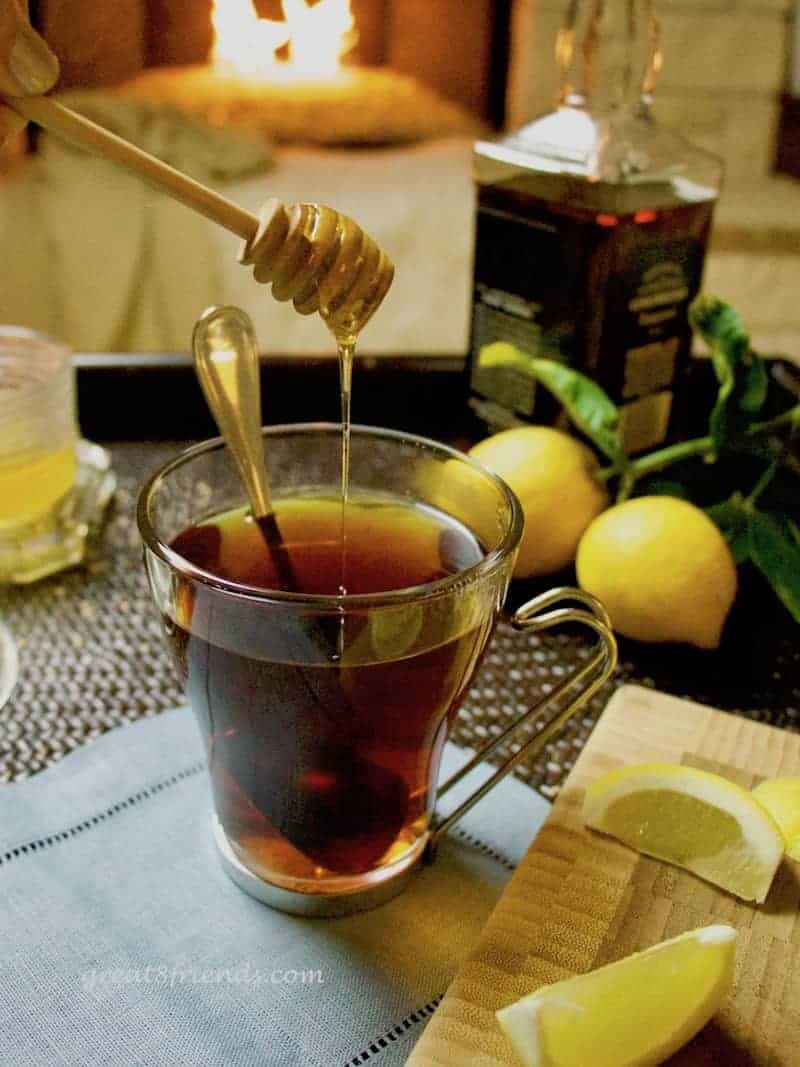 Families have been making hot toddies for generations to help get through cold and flu season. There is some science regarding the benefits of a hot toddy.
Even if you don't have a cold, this is a Gr8 winter drink! Jazz it up a bit with some extra spices like a cinnamon stick or two!
A Gr8 meal for this cold season is Kyle's Chicken Noodle Soup. Delicious and perfect for these cold winter days!
Hot Toddy
The perfect hot drink for cold winter months.

Ingredients
8

ounces

of boiling water

1

herbal tea bag of your choice

,

(Herbal tea is recommended the caffeine in black tea will only keep you awake...and you need to sleep!)

1

ounce

whiskey

,

any kind will work.

1

Tablespoon

fresh lemon juice

1

Tablespoon

honey
Instructions
Pour the boiling water over the tea bag into a mug.

Steep the tea for a couple minutes until it reaches the strength you prefer, then remove the tea bag.

Add the whiskey, lemon juice, and honey to the mug.

Stir until all the honey is dissolved.

Cuddle up under a cozy blanket and inhale the steam and sip your Hot Toddy until gone.

Notes
Gr8 Variations:
You don't have to use tea at all, simply add the whiskey, lemon juice, and honey to a cup of very hot water, this is the more classic version.
Try using apple cider instead of tea, just heat it up before adding the whiskey, lemon juice and honey.
sm 1/11/19