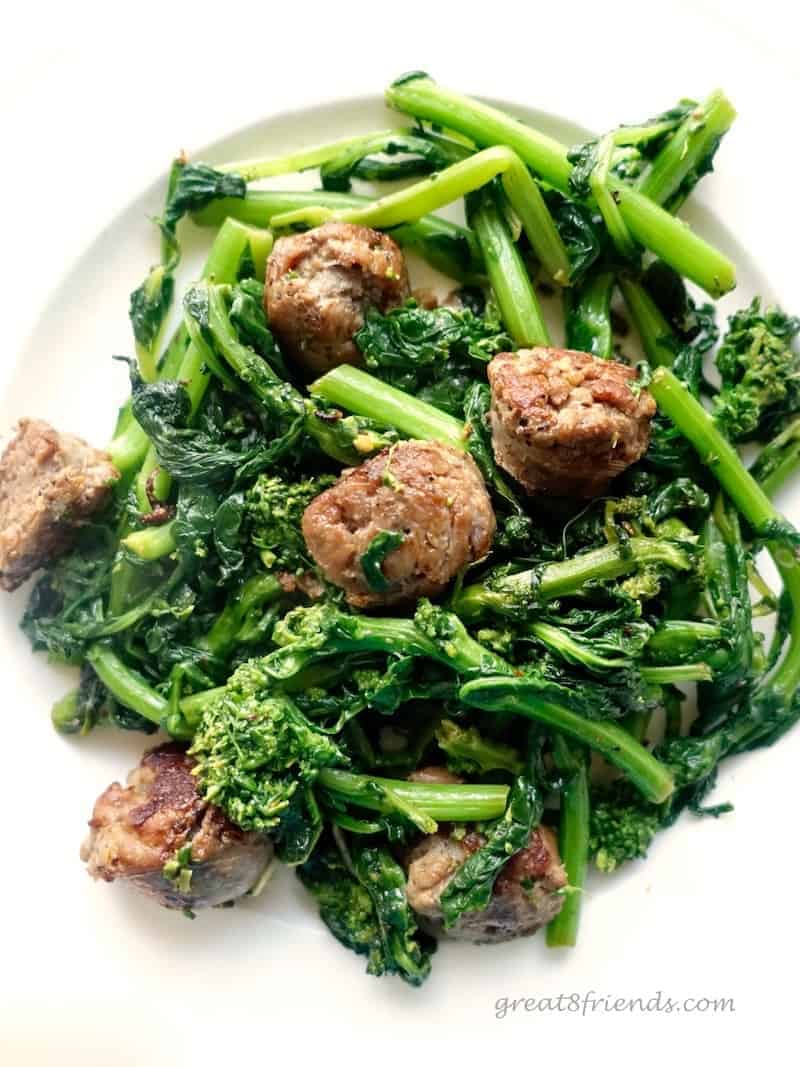 I had never had Broccoli Rabe until I met my Italian husband. And now I think I love it more than many Italians! It is probably my favorite green vegetable. Broccoli Rabe has a depth of flavor that isn't found in a lot of other green veggies.
Many people don't like it because it can have a bitter flavor. If prepared properly, however, it is a whole lot of deliciousness. In New York, at the Italian grocers', you can buy this already prepared from the deli counters, here in California, I have to make it myself; which isn't hard but definitely limits how often I get it!
Be sure to take the time to par boil the vegetable. This step minimizes much of the bitterness.

Print Recipe
Pin Recipe
Save this Recipe
Saved!
Please leave a rating!
Broccoli Rabe Two Ways
Broccoli rabe is also known as "rapini" and in Italy they sometimes call it "rocket."

Ingredients
Broccoli Rabe Solo
2

bunches

broccoli rabe

2

Tablespoons

olive oil

4-5

cloves

garlic

,

sliced thinly

½

teaspoon

sea salt

Hot pepper flakes,

,

a pinch if you want it mild, many pinches if you want it spicier
Broccoli Rabe with Sweet Italian Sausage
All ingredients above

1

pound

sweet Italian sausage
Instructions
Directions for Broccoli Rabe Solo
Bring a large pot of salted water to a boil.

While the water is coming to a boil, cut the thick stems off the broccoli rabe just below the first leaf, then cut the broccoli rabe into two inch long pieces. (You can cook the whole stem, which I think makes a nicer presentation, but it will be easier to eat in smaller bites.)

Put the broccoli rabe into the boiling water for 4 minutes.

After 4 minutes strain in a colander and rinse with very cold water to stop the cooking.

Spin dry in a salad spinner or wring the moisture out of the broccoli rabe using a clean dish towel.

Heat a large sauté pan on medium high heat then add the olive oil.

Once the olive oil is shimmering, add the garlic, the broccoli rabe, the salt, and the pepper flakes.

Cook for 10 minutes until tender but not mushy, stirring occasionally.

Remove from heat, add salt to taste and serve.
Broccoli Rabe and Sweet Italian Sausage - Main Course
Prepare the broccoli rabe through Step 5.

Heat 2 Tablespoons of olive oil in a large heavy skillet over medium-high heat.

Cut the sweet Italian sausage into 1 inch pieces.

Cook the sausage in the olive oil until cooked through. This should be about 8-10 minutes. The cooking time will depend on the sausage. When I buy the branded sausage, the cooking time is less than when I buy the fresh sausage from the butcher.


Remove the sausage from the skillet and set aside.

Add 2 more Tablespoons olive oil to the same skillet (less if there is still fat in the skillet, it will depend on the fat released from the sausage).

Once it is heated up, add the broccoli rabe, garlic, salt, and pepper flakes.

Cook for about 8 minutes, then add the sausage, with any juices that have accumulated, back into the skillet.

Continue cooking until broccoli rabe is tender crisp.

Add salt to taste and serve!

Notes
Gr8 Do Ahead Tips:
You can prepare the Broccoli Rabe up through Step 5 and sauté when ready to serve.
You can also, prepare the whole dish up to two hours ahead of time and serve at room temperature or gently re-warm over low heat.
Gr8 Serving Tips:
Make a sandwich using the leftovers; Italian or French bread, broccoli rabe, mozzarella cheese or ricotta cheese, tomatoes and olive oil.
Gr8 Wine Tip:
Pass a bottle of Chateauneuf-du-Pape or  Chianti Classico and you have a delicious feast!
Mangia!
Gr8 Tip:
This is an entire meal with a loaf of bread, or you can serve this over orrechiette pasta, which has been cooked and tossed in olive oil or butter.