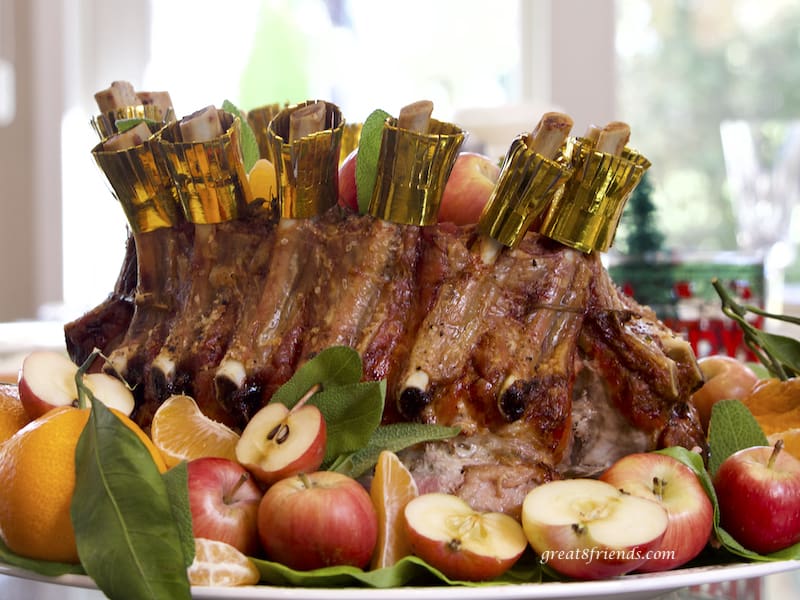 If you want a dish that will truly WOW all the senses, then this Crown Roast of Pork is for you. This roast makes a royal presentation, is full of flavor, and will fill your home with the aromas of comfort food. Plus, the preparation is EASY! Your guests will be amazed, I promise.
This post contains affiliate links, which means we may make a commission at no extra cost to you should you click on the link and make a purchase. As an Amazon Associate we earn from qualifying purchases.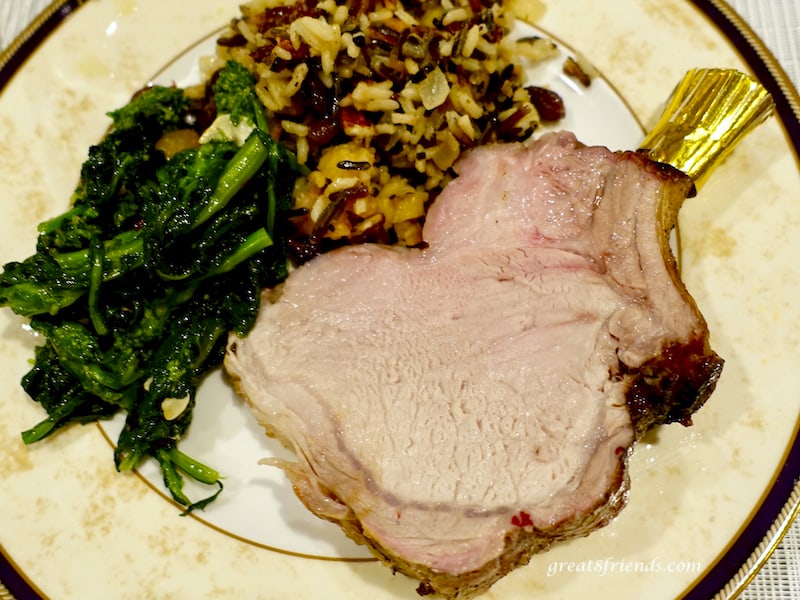 This was the main course at our very first Great 8 Dinner 20 years ago. And I recently made it for my husband's birthday dinner. Because roasts are so hands off (you basically put them in the oven and forget them), there was plenty of time to make the side dishes. Dinner for 10 was fairly simple (considering it was dinner for 10!). I mean, please, a dinner party for 10 is never super easy, but if you want elegant and are serving a large party, then this roast will make it easier.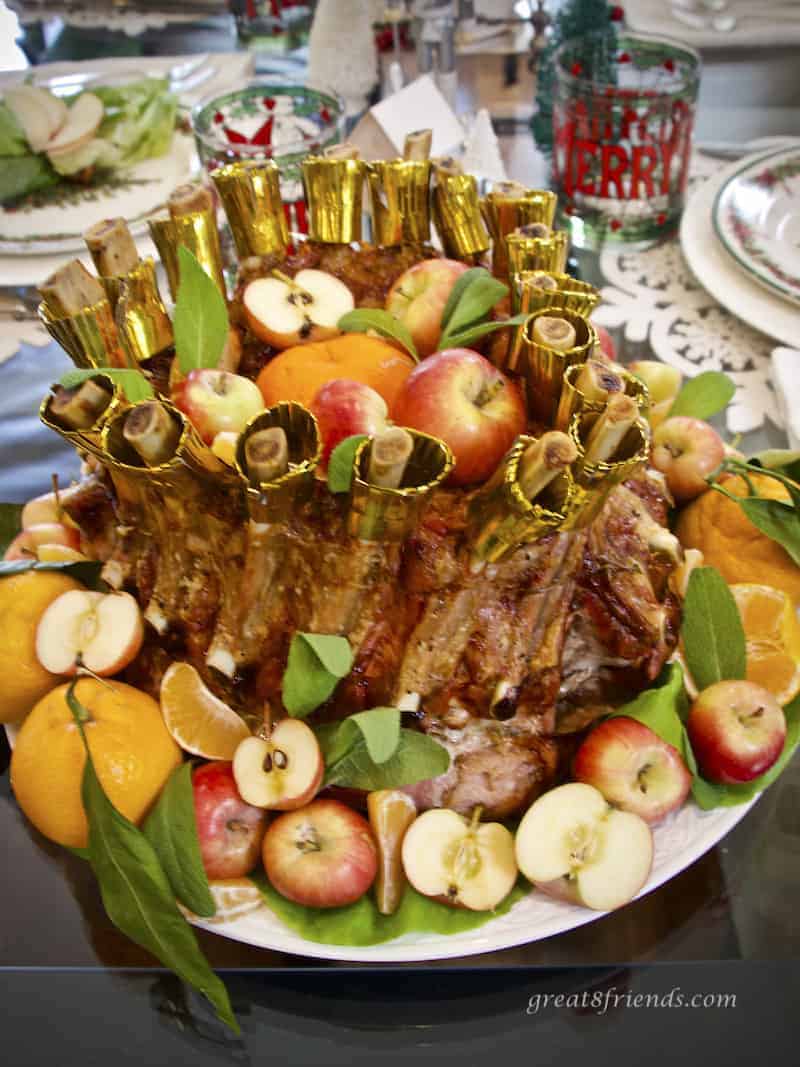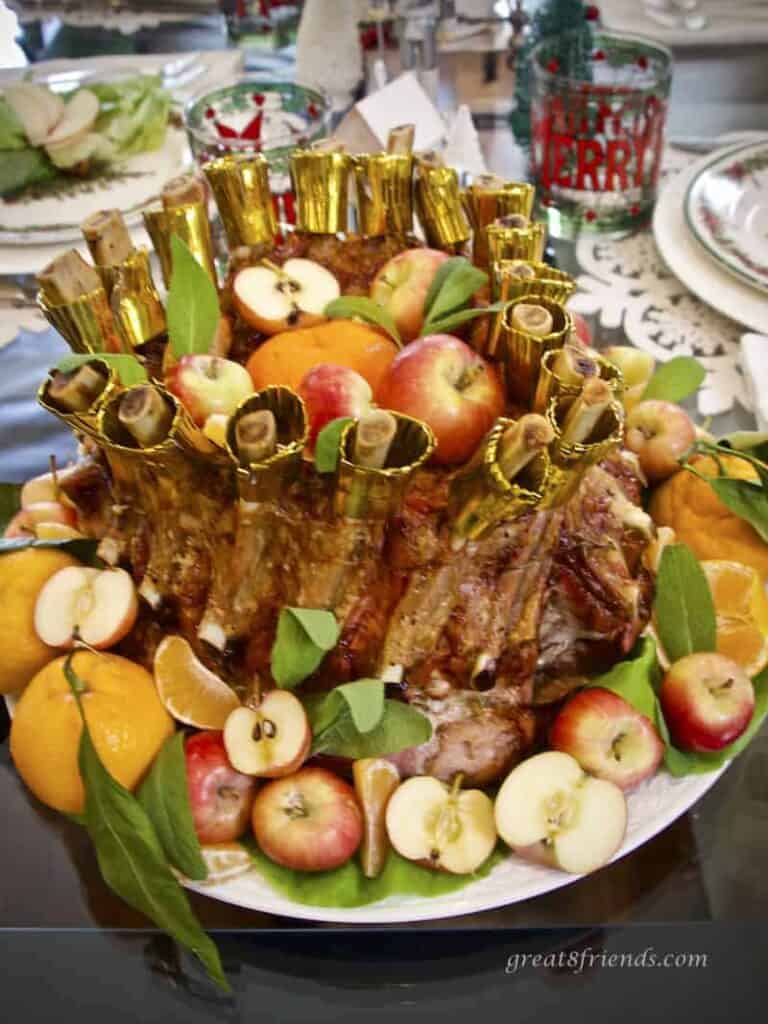 Start with a festive holiday salad, then serve the roast with Wild Rice Stuffing or Broccoli Rabe (or any green vegetable). Voilà! Dinner fit for the King or Queen in your life...and all your royal subjects!
The one thing you do need to remember is to order this roast ahead of time. Most stores don't just have these ready to go. Ask your local butcher how far ahead of time you should place your order.
Crown Roast of Pork
Remember to order this impressive roast from your meat counter ahead of time. They aren't generally available to just pick up.
Ingredients
Roast Ingredients:
1

Crown Roast of Pork,

,

**See Gr8 Tips for size info

2-3

Tablespoons

vegetable oil

6

slices

bacon,

,

divided

1

apple cut in 8 wedges

1

medium onion,

,

quartered

2

large

cloves garlic,

,

smashed

5

large

fresh sage leaves

6

stems

fresh thyme

1

teaspoon

salt

1/2

teaspoon

freshly ground black pepper

Fruits and greens for garnish
Sauce Ingredients:
Pan drippings

1/2

cup

white wine

1

cup

water or chicken broth

1

Tablespoon

butter

,

if dairy free is required, use vegan butter

Salt and pepper to taste
Instructions
Roast Directions:
Preheat oven to 350ºF.

Place roast on rack in shallow roasting pan. (You can use a standard 9"x13" pan if the roast will fit.)

Using toothpicks, attach 4 of the bacon pieces around the base of the roast. (If desired, this step can be skipped, but the bacon drippings add Gr8 flavor to the resulting gravy.)

Rub the vegetable oil over the roast, inside and out.

Sprinkle salt and pepper all over the roast.

Into the cavity, stuff the apple, onion, garlic, sage and thyme. You can mound as much as necessary, depending on the size of the cavity.

Lay the remaining 2 slices of bacon across the top of the "stuffing."

Wrap small pieces of foil around the exposed rib ends, this will prevent them from burning.

Roast, uncovered, for 12-15 minutes per pound.

Occasionally check the pan during cooking to see if there is enough liquid in the bottom. If it looks like the drippings are in danger of burning to the pan, add a little water to the pan, not too much, you want the pork to roast, not steam. But you also don't want scorched gravy.

After the required cooking time, use an instant-read thermometer to ensure that the internal temperature is between 145º and 160º. We like our pork more done so I take it out at the 160º temp.

Let stand for 15 to 20 minutes before slicing. This is the time to put it onto the platter. Scoop the apple/onion mixture out and discard. Remove the bacon. Add the garnishes. Remove the foil from the ribs and add the little "hats" (if using). Now is also a good time to garnish with other small fruits, if desired.

While everyone is ooh-ing and aah-ing and the roast is "resting" you can be making the sauce.
Sauce Directions:
If there is a lot of fat in the pan, tilt the pan and skim off as much fat as possible.

Place roasting pan on the stove-top, straddling two burners if necessary.

Turn the heat to medium-high and add the white wine to de-glaze the pan. Scrape up the delicious browned bits and stir.

Add the water or chicken broth, bring to a boil.

Boil gently for 5 minutes to concentrate the flavors.

Add the butter and stir until melted.

Strain the sauce into a gravy boat or bowl and serve with the delicious roast!
Notes
Gr8 Tips for the Roast:
Size depends on how many people you are serving. An 8-pound crown roast should serve about 10 people.
The butcher will ask you how many "ribs" you want. I got 16 ribs this last time and we had delicious leftovers. Figure that each rib gets cut into a beautiful chop.
Make sure to ask the butcher to "French" the ribs. That means to clean off the rib ends so they stand out and make the "crown."
And don't forget to order it ahead of time!
My butcher gives these frills to me when I pick up the roast, but if yours doesn't provide them...

If you have a cookie cooling rack that fits inside one of your large pans, you can use that. If not, I like these racks the best. Kyle gave us each a set and they work Gr8 and are a breeze to clean!