Our Great 8 gathered for a fun and original theme of '60s Sitcoms TV Dinner Party with all the delicious flavors of the past!
As a child I wanted to be a character like the genie in "I Dream of Jeannie," and fall in love with a handsome astronaut whom I'd eventually marry.
Or I wanted to strike it rich like the Beverly Hillbillies and move from hillbilly country to a mansion in Beverly Hills.
Lighthearted comedies of the '60s are still some of the most watched programs on television today, so one evening I had an idea for our next Great 8 Dinner theme.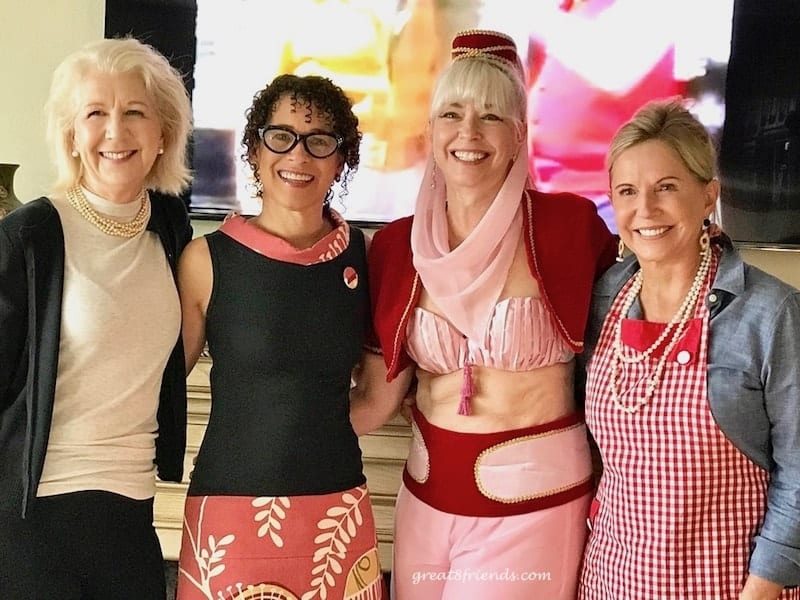 Why not recreate a popular cuisine of the '60s, a TV dinner, and make it a healthy and more gourmet version of the original?
According to Statistic Brain, even today, an estimated 67% of Americans regularly eat dinner while watching television, often on a portable folding tray. If I could find all the necessary items to create the event, then this would be a one of a kind theme.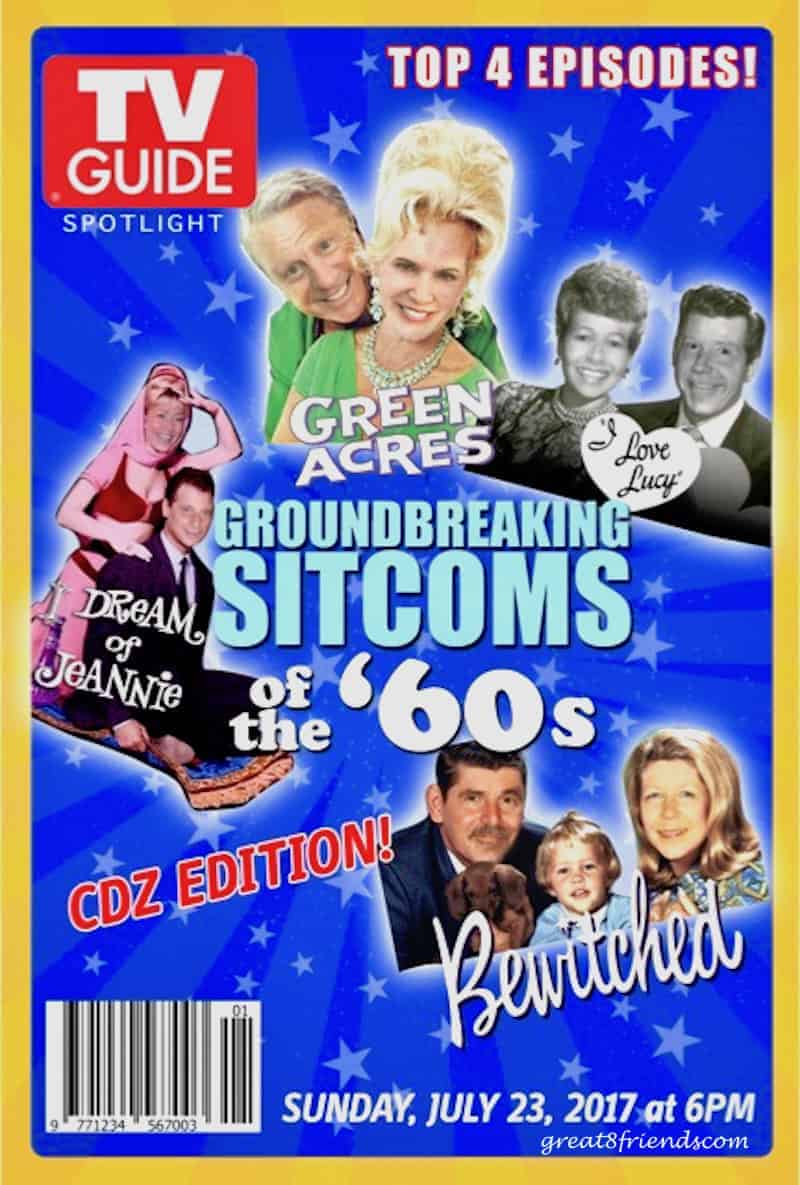 The Invitation
The next step was to plan the invitation. Even though I needed only three invitations, would I be able to create interesting ones about a TV dinner?
Well, everyone in the '60s used the "TV Guide" for programs on TV. The "TV Guide" would make a perfect invitation that could include the menu and details of the evening. But what about the cover?
I was inspired by a "TV Guide" cover that featured the top sitcoms of a certain era. Therefore, our cover would be a similar version that would have our faces photo-shopped onto the characters of the '60s sitcoms.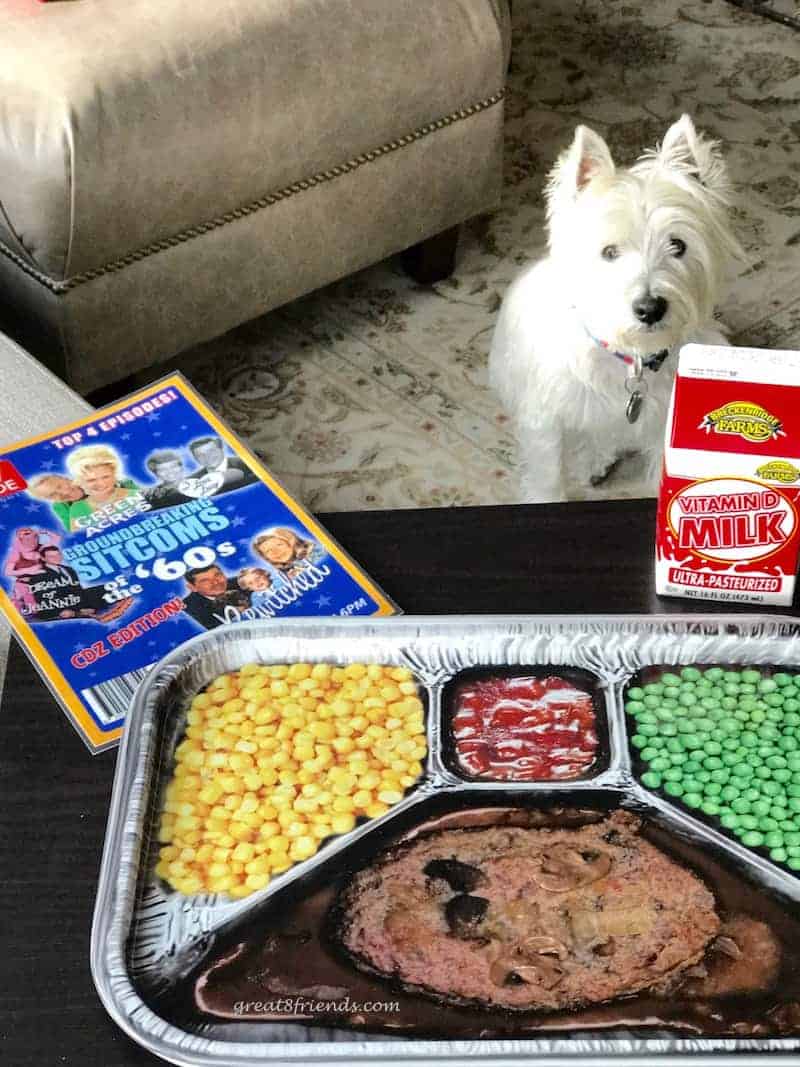 I sent our son Daniel dozens of photos of all of us taken over the years. He decided which faces fit which characters best from a variety of sitcoms.
Anna and Vince were Jeannie and Tony from "I Dream of Jeannie"; Debbie and Phil were Lucy and Ricky from "I Love Lucy"; Kyle and Joel were Samantha and Darren from "Bewitched"; and finally, Tim and I were Lisa and Oliver from "Green Acres."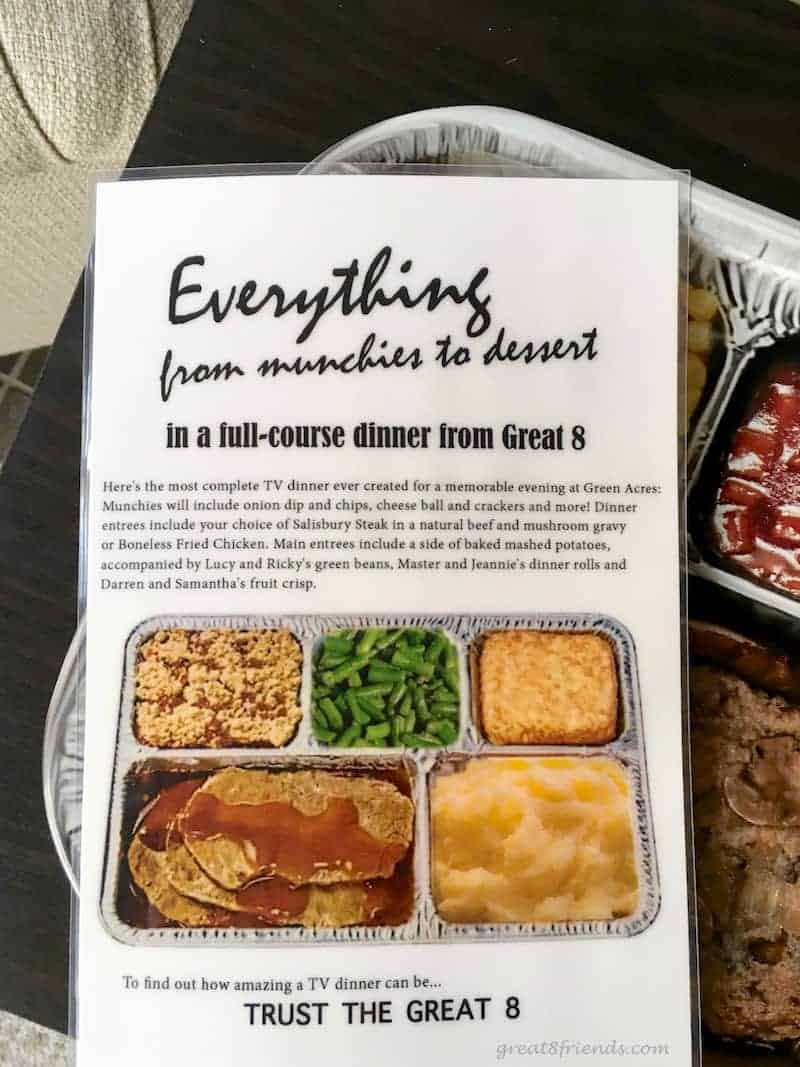 The cover was set. The flip side of the cover displayed the menu and was adapted from a traditional Swanson TV dinner advertisement found on the internet.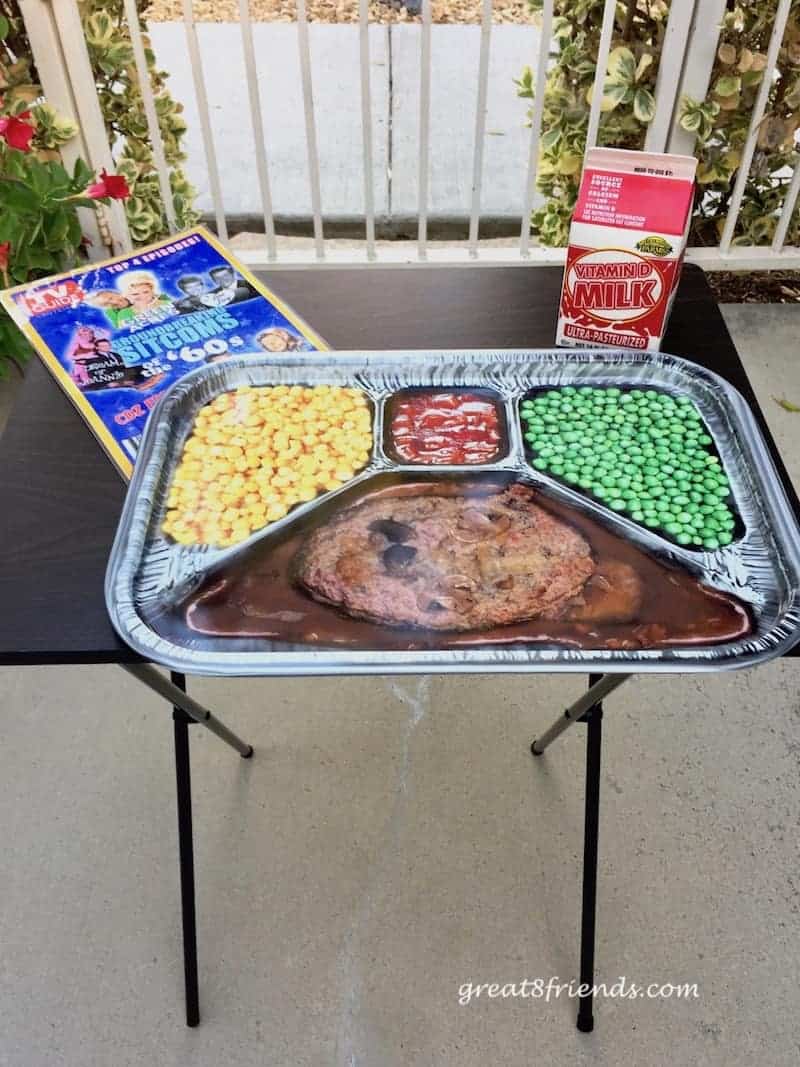 The next challenge was to locate the base for displaying the invitation. A google search found colorful aluminum retro TV dinner trays – so cute and so appropriate - on Amazon, while portable folding trays for under $10 a piece were easy to find at Walmart.
The complete invitation was now ready to be delivered to each couple. The folding TV tray, the colorful replica of a TV dinner, the TV Guide menu and a small carton of milk.
The Party!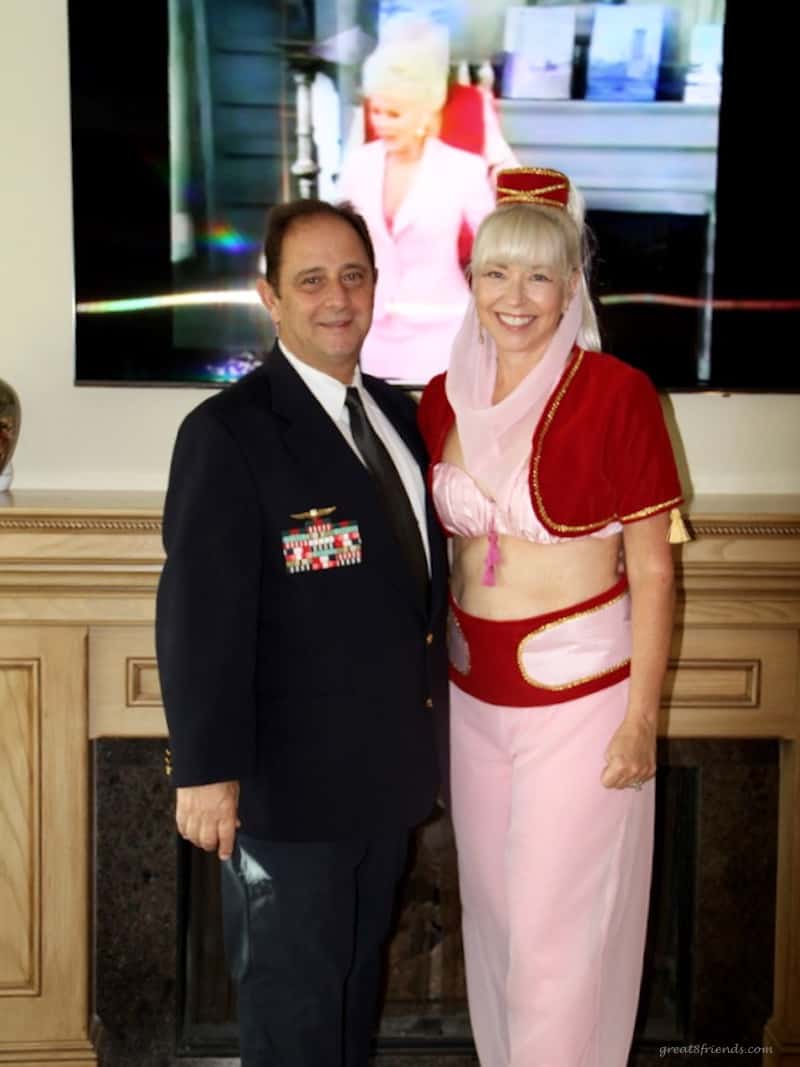 As the guests arrived, theme songs from the '60s sitcoms were playing in the background.
Never expecting anyone to dress up, we were pleasantly surprised when everyone arrived dressed as their character, especially Anna and Vince who were the perfect Jeannie and astronaut.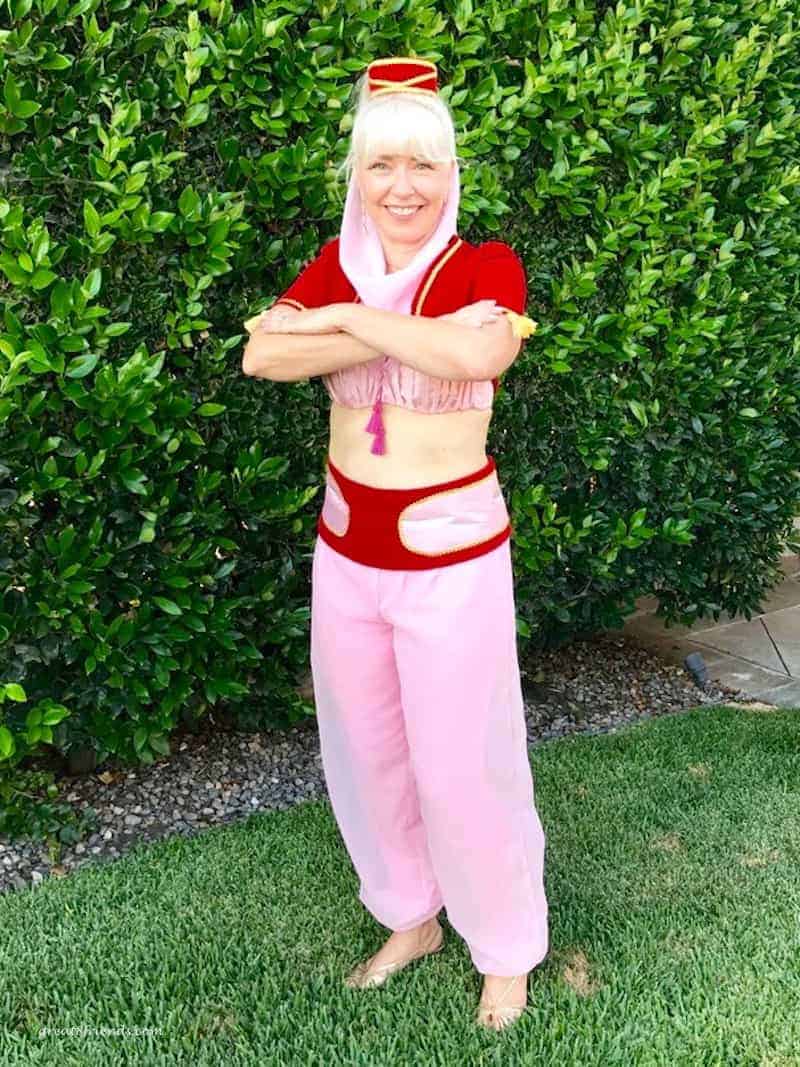 Anna spent a few evenings making her costume, which was a perfect carbon copy of the real "I Dream of Jeannie" outfit.
Table Setting and Menu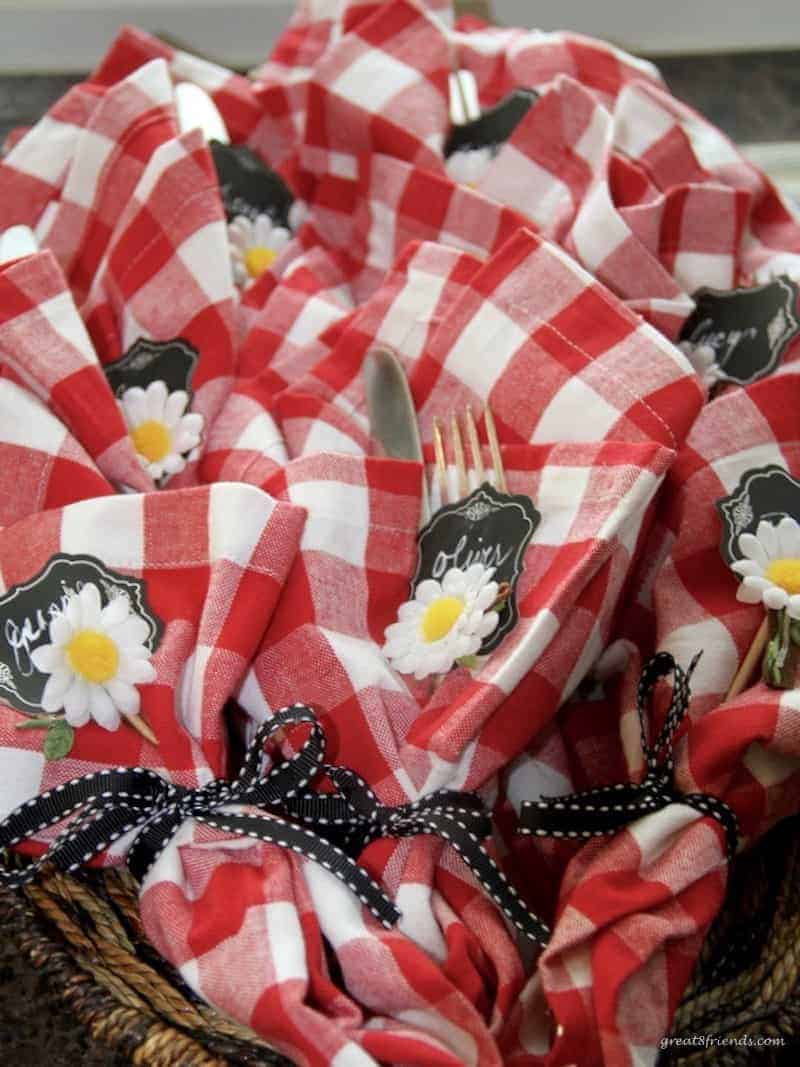 Since Oliver and Lisa lived on a farm, we decided on setting the theme country style. A red and white gingham tablecloth, place mats and napkins dressed the table and trays.
The starters included an assortment of '60s style appetizers including mini salmon patties.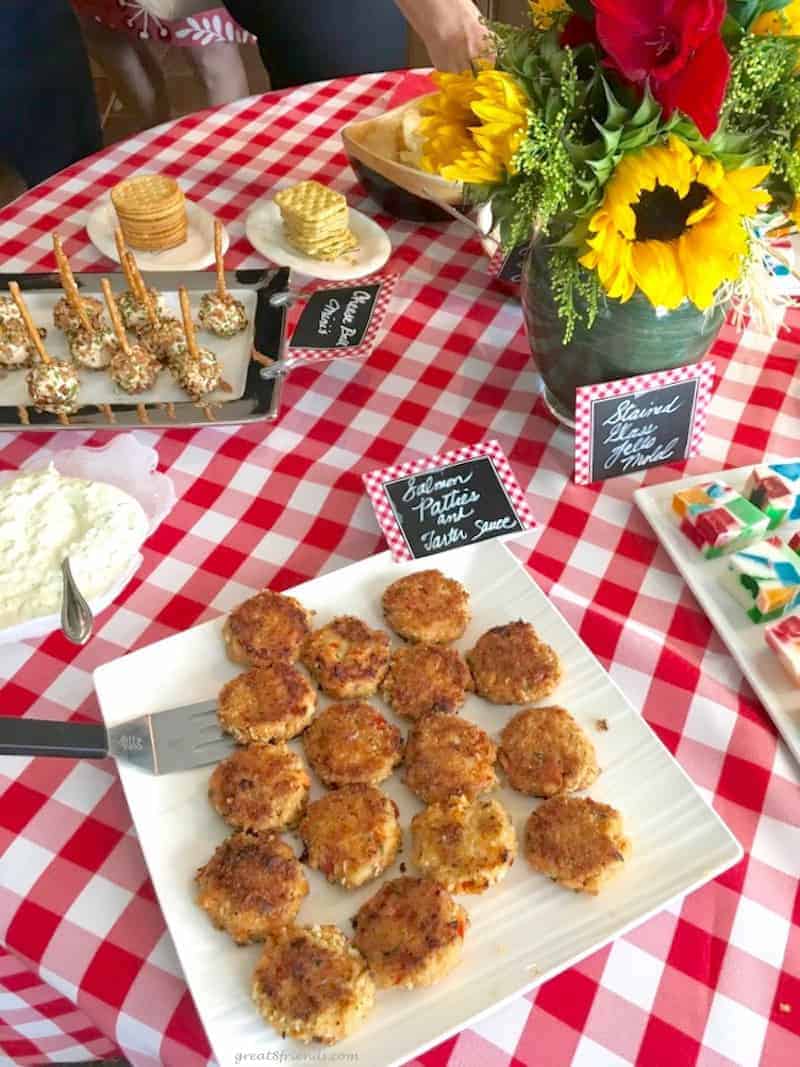 We also enjoyed meatballs, mini cheese balls and pretzel sticks.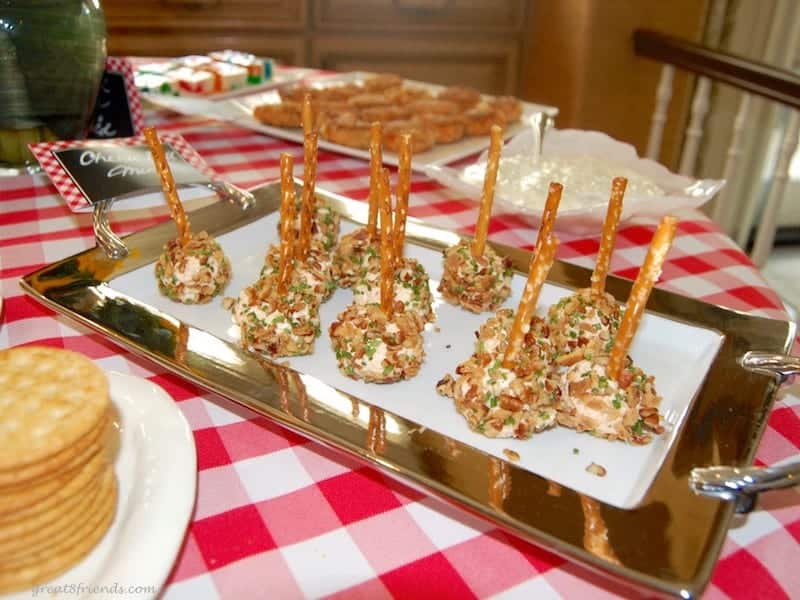 And of course, small cubes of jello mold, because... the 60s!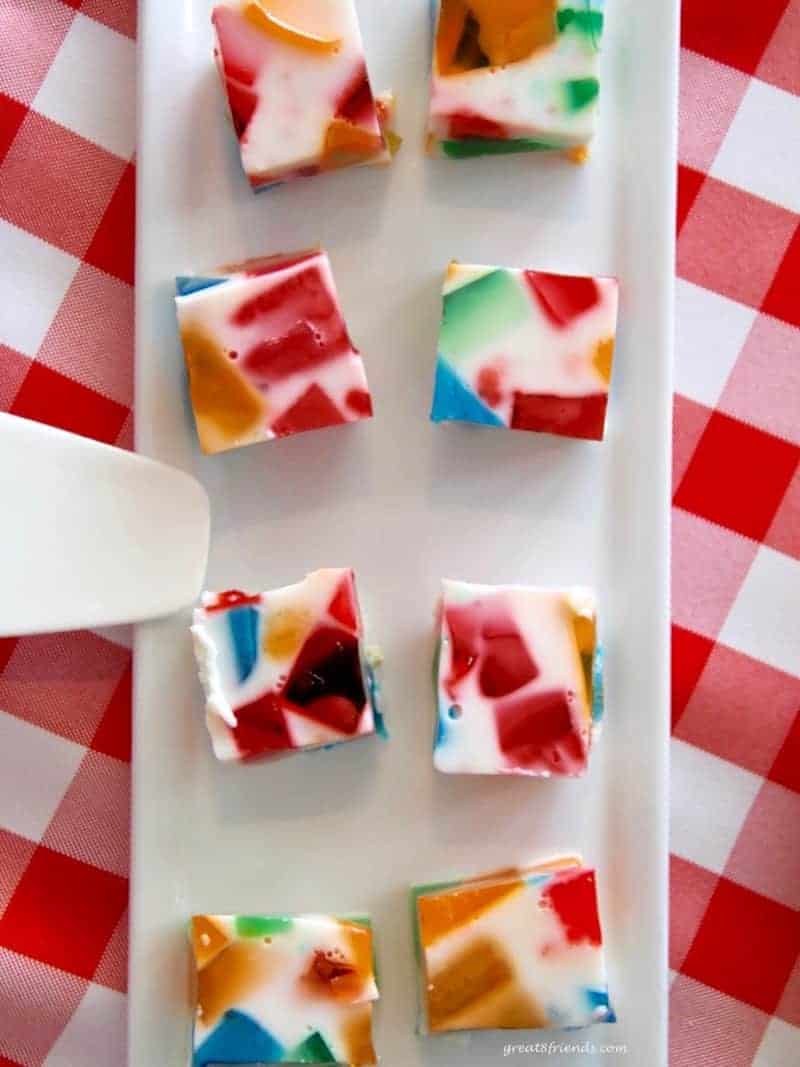 No party from the 60s would be complete without a caramelized onion dip and chips, a gourmet version of Lipton's Onion Dip!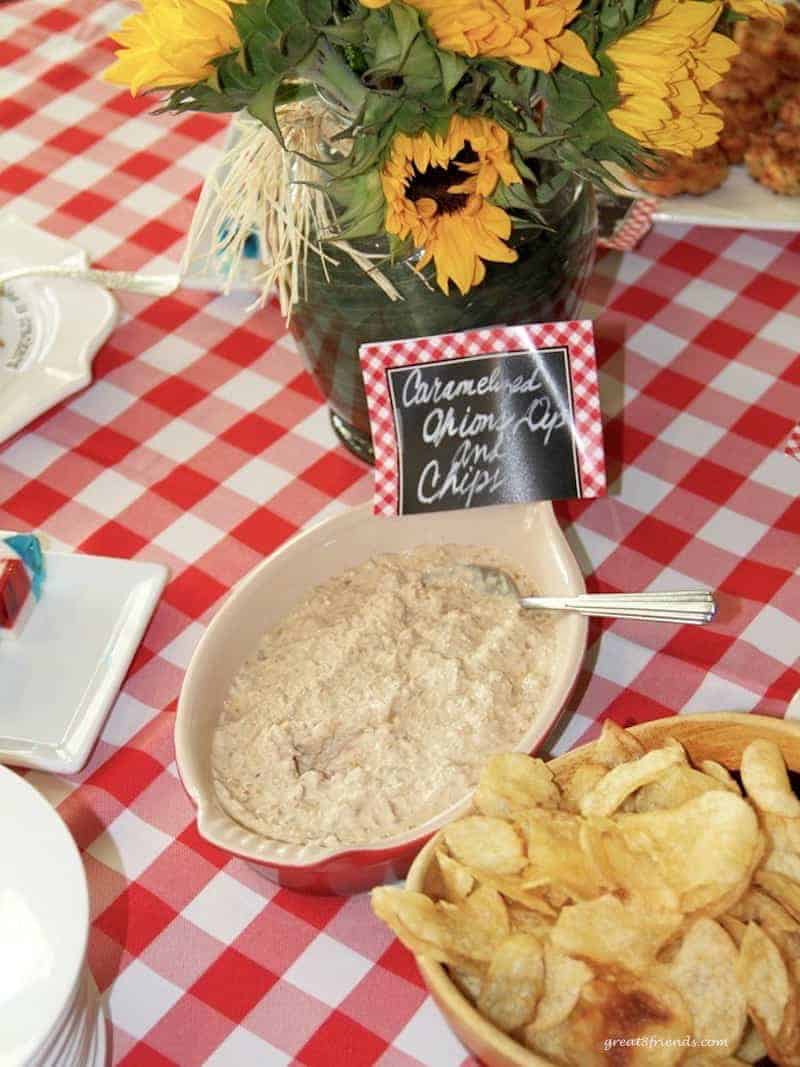 The TV was on of course … continuously playing sitcoms while we enjoyed our gourmet dinner on our TV trays!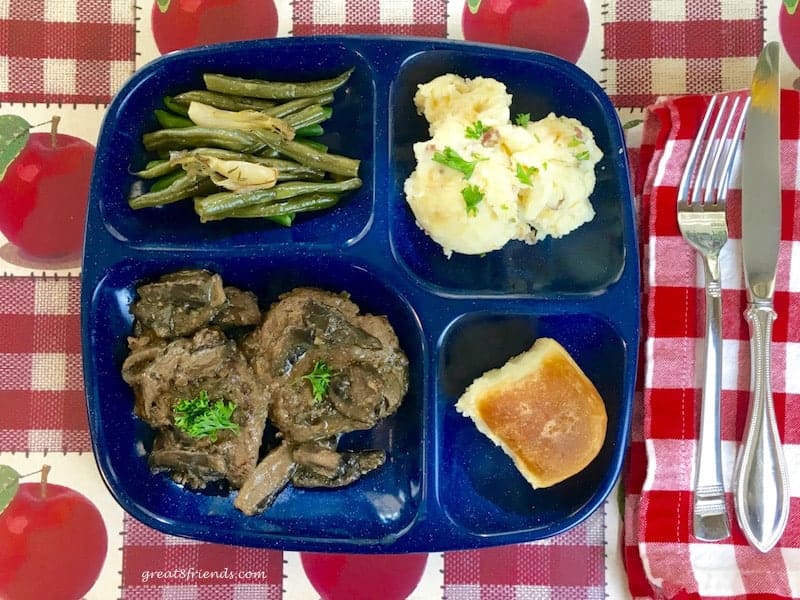 Dinner was served on blue melamine compartment dishes purchased at the local dollar store.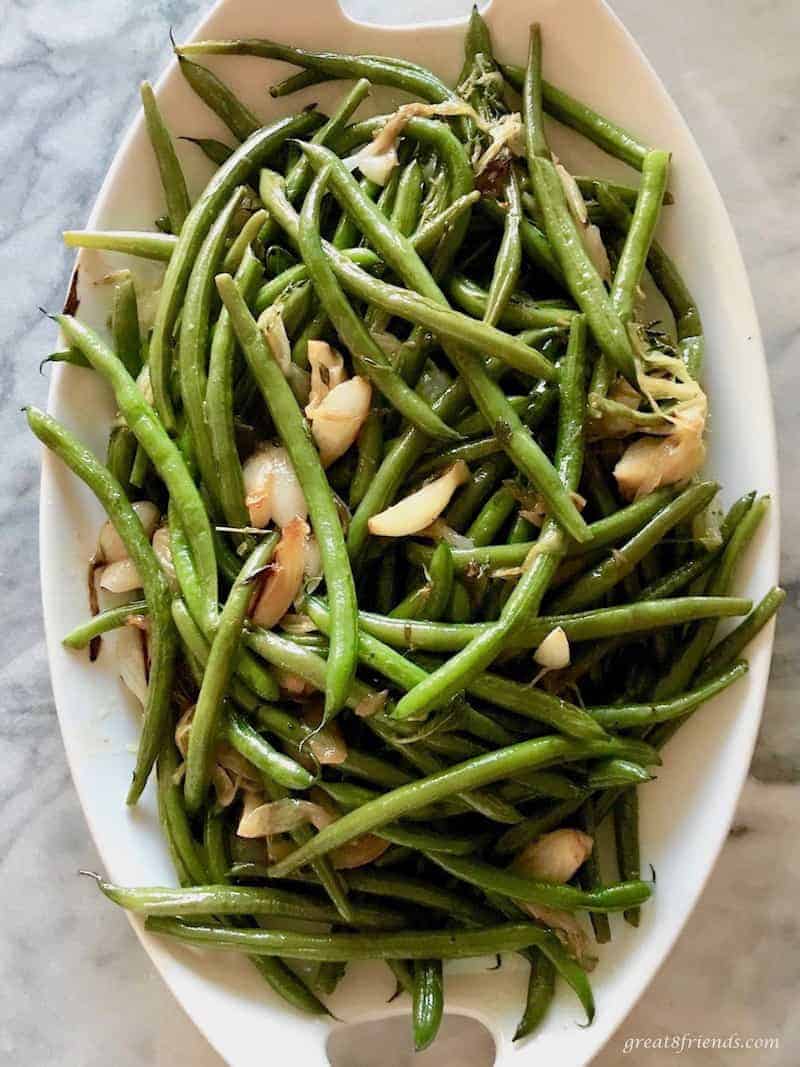 The menu consisted of the classic Salisbury steak with Mushroom Onion Gravy and mashed potatoes or a choice of fried chicken.
We assigned Debbie a green vegetable and she didn't disappoint by bringing her fresh-from-the-farm delicious Green Beans and Onions.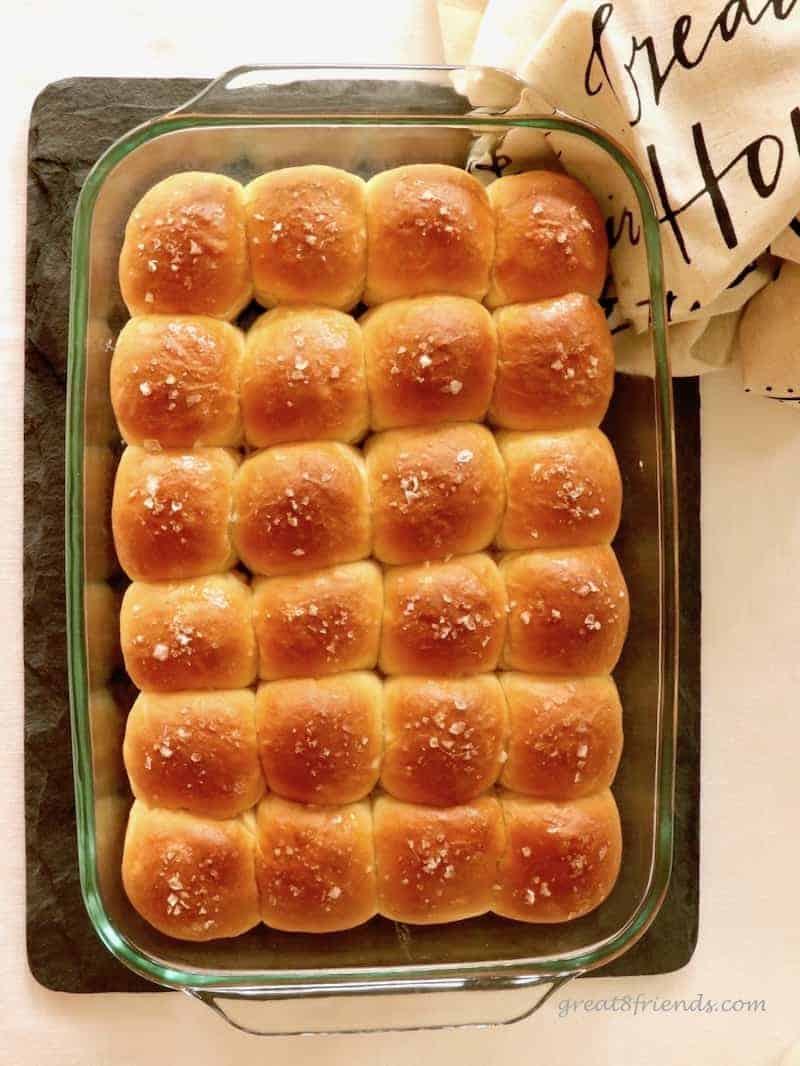 A hearty and wholesome dinner would need some homemade bread so Anna baked some of her yummy fluffy Dinner Rolls.
So there you have it! A Gr8 evening of watching reruns, reliving our favorite classic TV shows from the 60s, fun with creative costumes and celebrating our love for food, fun and friendship!
The Recipes!
Salisbury Steak with Mushroom Onion Gravy
A great revival in cuisine is taking place! Salisbury steak was a comfort food staple in the 50's and is once again being enjoyed for its low-carb, high-protein diet that will have you "smacking your chops" in delight.
Gr8 Recipe Here!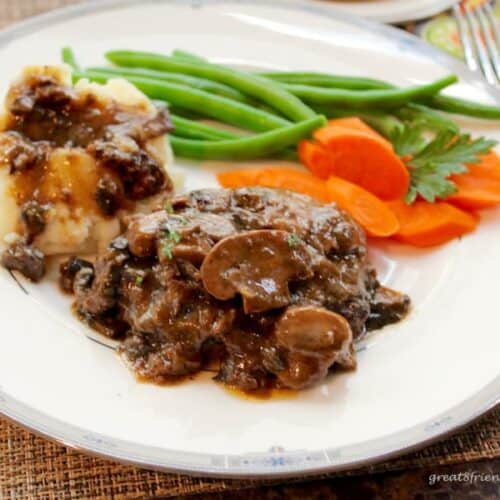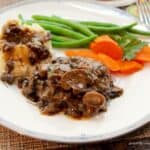 Green Beans and Onions
The cooked to a bright green crisp, brings out the fresh flavor of this delicious green beans and onions side dish!
Gr8 Recipe Here!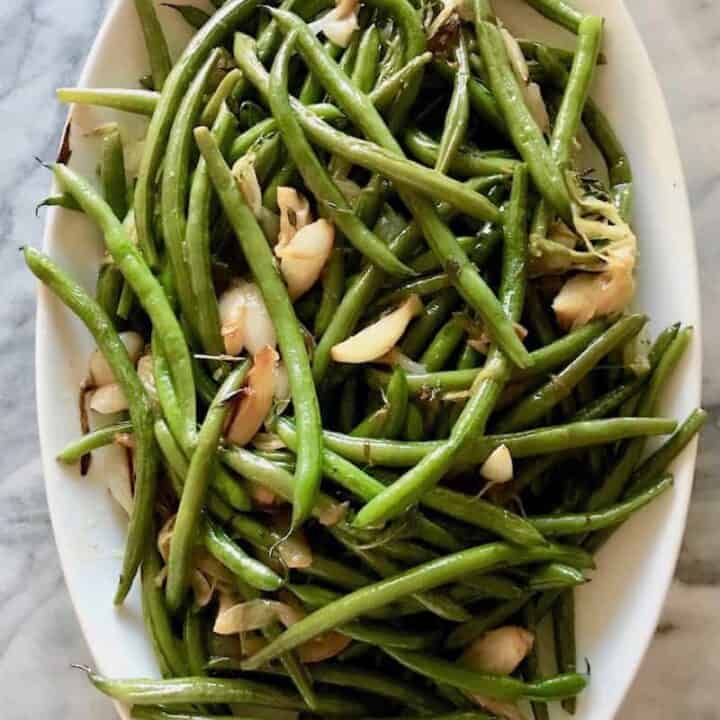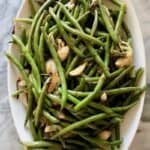 Dinner Rolls for a Crowd!
This is a Gr8 recipe for a crowd because it makes 48 rolls and you can do the first rise and form them into rolls the day before baking!
Gr8 Recipe Here!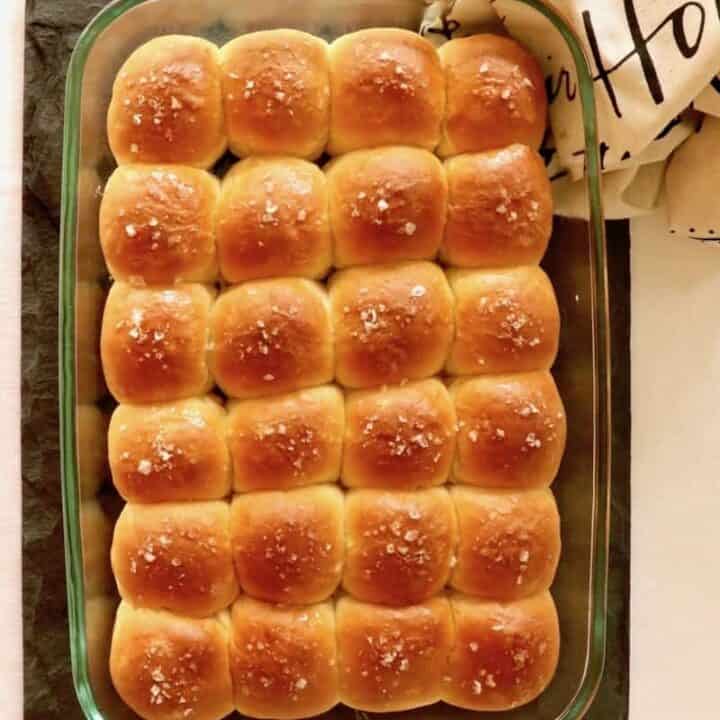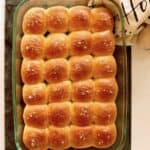 ABC Apple Blackberry Crisp
The juicy fruit and buttery topping combined is a delicious dessert and easy to prepare!
Gr8 Recipe Here!