You CAN put Thanksgiving Dinner for 8 on the table, even if you're working full time. No stress! We've planned it all just for you, the timeline, the menu, and even the grocery list!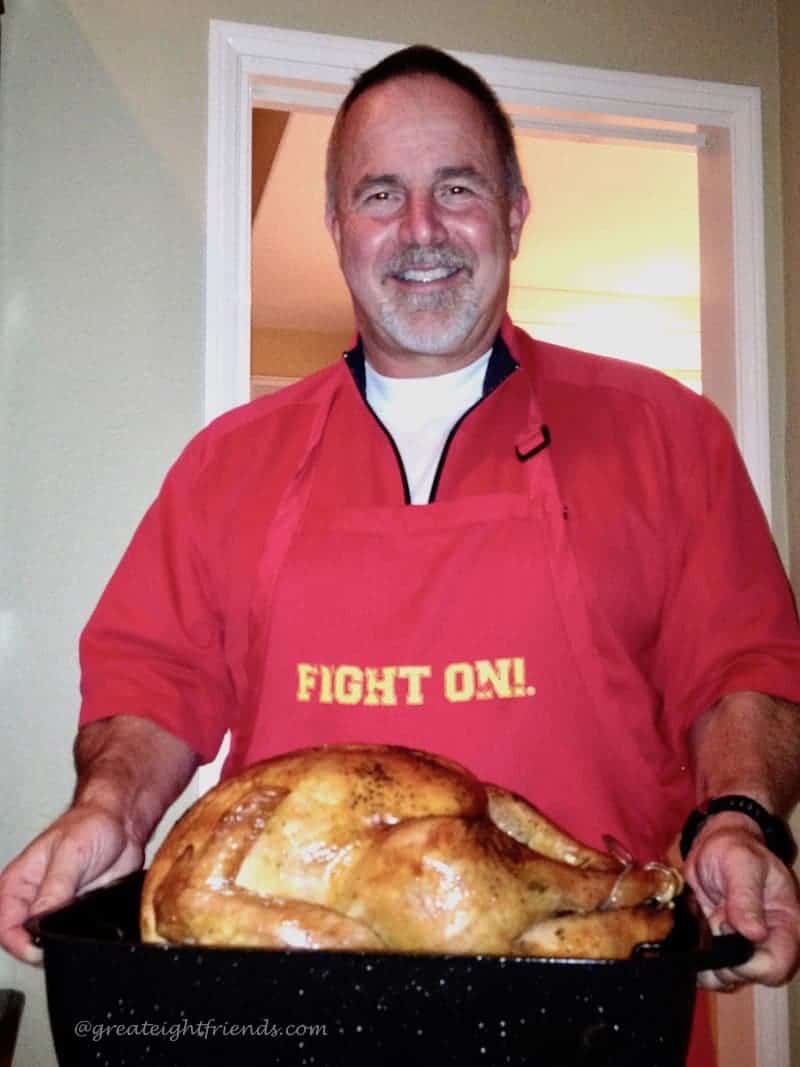 And away we go! Are you ready? What? Not so much? That's okay...don't panic. We've got you covered!
Today is Saturday, I know you are working Monday, Tuesday and Wednesday, but here's your guide to a beautiful "Less Stress Thanksgiving Dinner" for 8 people. AND...they will be amazed at your prowess in the kitchen.
How to Make Less Stress Thanksgiving Dinner for 8
Part of the way we have Gr8 Fun when we get together is by planning ahead. So here you go....all planned for you!
Today, Saturday, go grocery shopping. That's right, you can buy everything for your dinner today, no last minute shopping with this menu.
Sunday, make a couple of dishes.
Monday, put your feet up, grab a glass of wine and figure out your Thursday time-line.
Tuesday, stop on the way home and pick up fresh flowers, then set the table.
Wednesday evening, do a little more prep.
And Thursday, finish up and sit down to a beautiful, homemade dinner.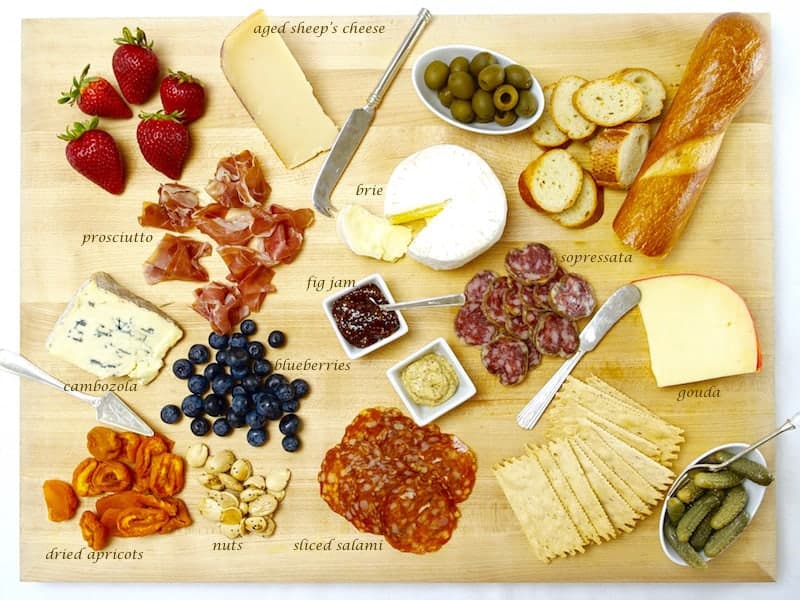 What Appetizers should I serve at Thanksgiving Dinner?
Appetizers are NOT included in this menu. If you want appetizers, I recommend you task your guests with bringing a couple. That is the easiest and it makes people feel good to contribute.
If you want or need to do the appetizers yourself, here are a couple of ideas. PLEASE NOTE: The ingredients are NOT included in the grocery list for any of these. You will have to add them yourself.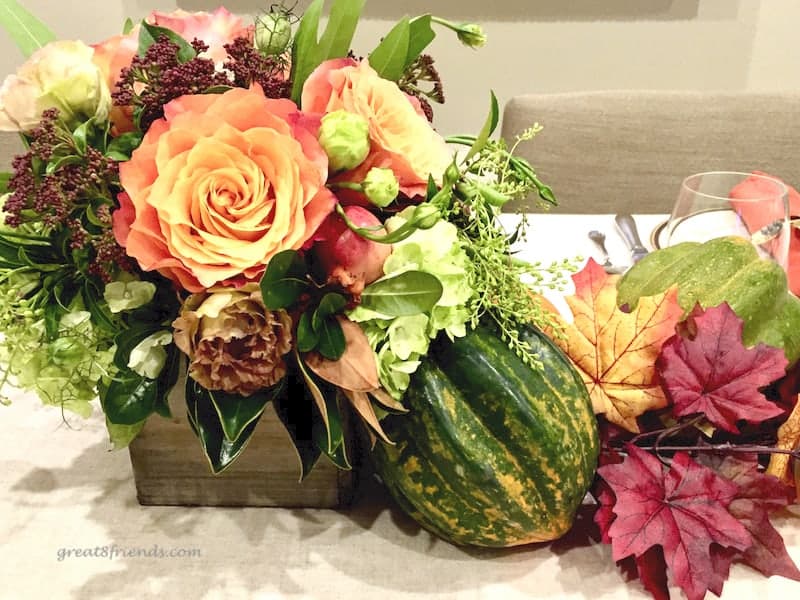 Thanksgiving Dinner Menu
Menu:
Roast Turkey, or just do a turkey breast, or roast a chicken.
Stuffing - Use your family recipe or a boxed mix. Add the ingredients to the shopping list.
Gravy, jarred gravy is on the list, if you prefer to make your own, add your ingredients to the list; (it's okay to fill in with store bought items to make your life easier, hence "less stress"!)
Green Beans, Bacon and Onion - Use frozen green beans for ease.
Apple Pie with ice cream
Less Stress Thanksgiving Dinner for 8
If you have busy days leading up to Thanksgiving, but want to put a beautiful dinner on the table, this is the guideline for you. Start 5 days ahead of time, do a bit each day, and end up with a gorgeous meal.
Special Equipment
Roasting Pan large enough to hold the turkey

Rack for roasting pan

Slow cooker
Ingredients
MENU
Roast Turkey

Stuffing

Slow Cooker Mashed Potatoes

Gravy

Sweet Potato Casserole

Apple Cranberry Sauce

Green Beans with Bacon

Apple Pie with Ice Cream!
Meat
12

pound

turkey

,

fresh or frozen

1/2

pound

bacon
Produce
2

onions

1

small red onion

1

head garlic

5

pounds

russet potatoes

2 1/2

pounds

sweet potatoes

8

large fresh sage leaves

8

large fresh thyme stems

2

lemons

7

Granny Smith Apples

,

medium to large

12

ounce

bag fresh cranberries
Dairy
1

quart

milk

,

whole

1

pound

unsalted butter

1

pint

half and half

,

you'll have extra

1

pint

heavy cream

,

you'll have extra

3

eggs
Frozen Foods
24

ounces

green beans

,

frozen

1

quart

vanilla ice cream,

if you want to serve it with the pie
Miscellaneous
12

ounce

jar turkey gravy

,

unless you choose to make your own

1

small bottle port wine

,

you'll use 1/2 cup

Ingredients needed for your stuffing

1

bag

miniature marshmallows

4

ounces

pecans

,

to chop (you'll need 1/2 cup)
Pantry Items
Kosher or Sea Salt

Table Salt

Black Pepper

,

I use a pepper grinder

Granulated Sugar

Brown Sugar

Flour

Cooking Spray

Maple Syrup

Red Wine Vinegar

Ground Nutmeg

Ground Cinnamon

Ground Ginger

Vanilla Extract
Instructions
Saturday - 2 hours
Read through the recipes.

Grocery shop.
Sunday - 1 hour
If your turkey is frozen, put it in the refrigerator to thaw.

Make the Cranberry Apple Sauce, cool, put into your serving dish, cover tightly with plastic wrap and refrigerate.

Make the Apple Pie filling, Steps 4 & 5, place into a resealable plastic freezer bag, freeze.

Make the pie crust dough for double-crust pie. After chilling, roll out two rounds, lay a piece of parchment over half of each round, fold in half; lay another piece of parchment or wax paper over half and fold over. Use sprinklings of flour to prevent sticking. You should have two triangles of rolled dough ready to be laid into a pie plate and unfolded. Lay flat in separate resealable plastic bags and freeze. (Or, just buy frozen pie crusts!)
Monday Evening - 45 minutes - Put your feet up and...
Figure out your Thursday time line:

What time do you want to eat?

Work backwards to figure out when the turkey should go in the oven, remember, it needs to come out of the oven AT LEAST 15 minutes before serving. It can even sit for 30 minutes.

Figure out when the other dishes should go in the oven.

This is your time line for Thursday.
Tuesday Evening - 1 hour (or more, depending on how much detail you put into the table)
Pick up flowers for the centerpiece. I love fresh flowers and always think I have time to arrange them (sometimes that's true and sometimes not so much). If you want to arrange them yourself, Gr8! If not, just pick up a pre-arranged bouquet.

Set the table; you will be amazed at how nice it is to have the table set ahead of time.
Wednesday Evening - 1 1/2 hours
Remove the apple mixture from the freezer and place in the refrigerator to defrost overnight.

Make the Sweet Potato Casserole, and make the topping separately. Cover separately and refrigerate. The recipe serves 12 to 16 and it's rich. If you like, it can be divided in half and baked in an 8"x8" pan. OR, you can send leftovers home with your guests!

Follow the Gr8 Do Ahead Tips for the Green Beans, Bacon and Onion. This recipe is for 4 servings, please double for 8, the grocery list already includes the doubled amounts.

Chop and cut up the ingredients for your stuffing and refrigerate. If you start with a cooked onion mixture, then go ahead and cook these up and then refrigerate the mixture.
Thursday Morning - 5 hours, don't panic! Some of this time is active and some is just oven time.
Remove the pie crusts from the freezer to defrost. This should take about 45 minutes at room temperature.

Prep the potatoes and put in the slow cooker.

Lay one pie crust into the pie pan, dump the defrosted apple mixture in.

Follow the recipe to complete the pie.

Bake.

Clean and prep the turkey. Put it in the oven or on the grill when your time line requires. In the meantime, you can keep it covered in the fridge.

Make your stuffing and bake it per your time line.
At Least One Hour Before Eating
Put the toppings on the Sweet Potatoes and bake for 30 minutes.

Mash the potatoes per the instructions.

Finish the Green Beans, Bacon and Onion dish.

Remove the turkey from the oven.

If you are making the gravy, do that while the turkey rests.

If you are using a jar of gravy, heat it up. You can add some of the turkey drippings for extra flavor.

Put the food on the table and give thanks for your Gr8 Family and Friends!
Happy Turkey Day!
Last published November 19, 2016.