We all need less stress in our life! And we all need gravy, especially on Thanksgiving Day! Help yourself out and make this stress-free turkey gravy ahead of time!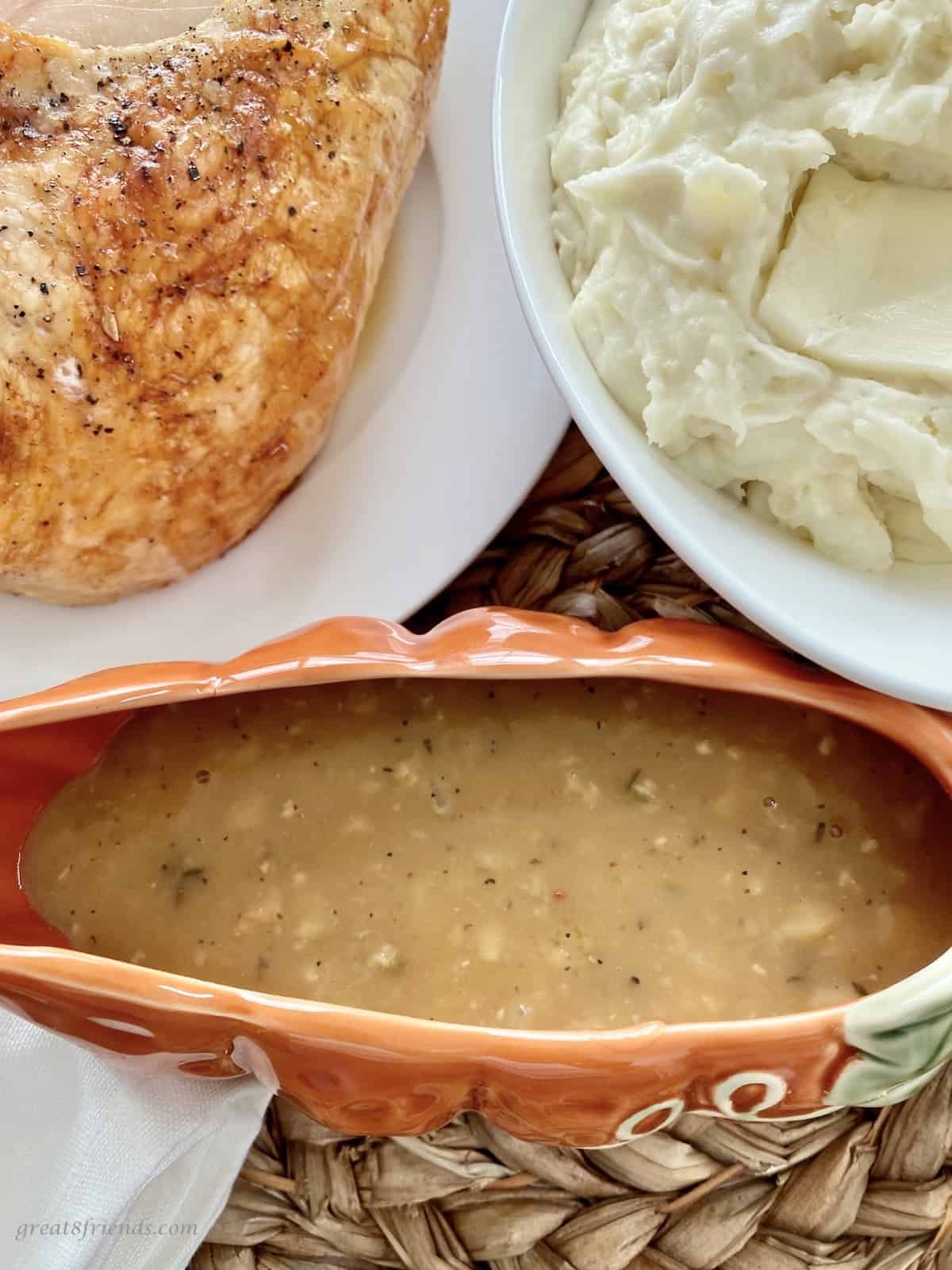 When planning your Thanksgiving meal, preparing dishes ahead of time will give you more time with your family and friends on Thanksgiving Day.
Last minute food preparation on that day is not fun! Because gravy is a must, let's include it in your make-ahead meal planning!
I have hosted Thanksgiving Dinner for many years and because the gravy always stresses me out, I would leave the job up to someone else. My mom always volunteers.
Although she makes a wonderful gravy, it meant she would be standing at the counter for quite awhile stirring, tasting, adding, stirring...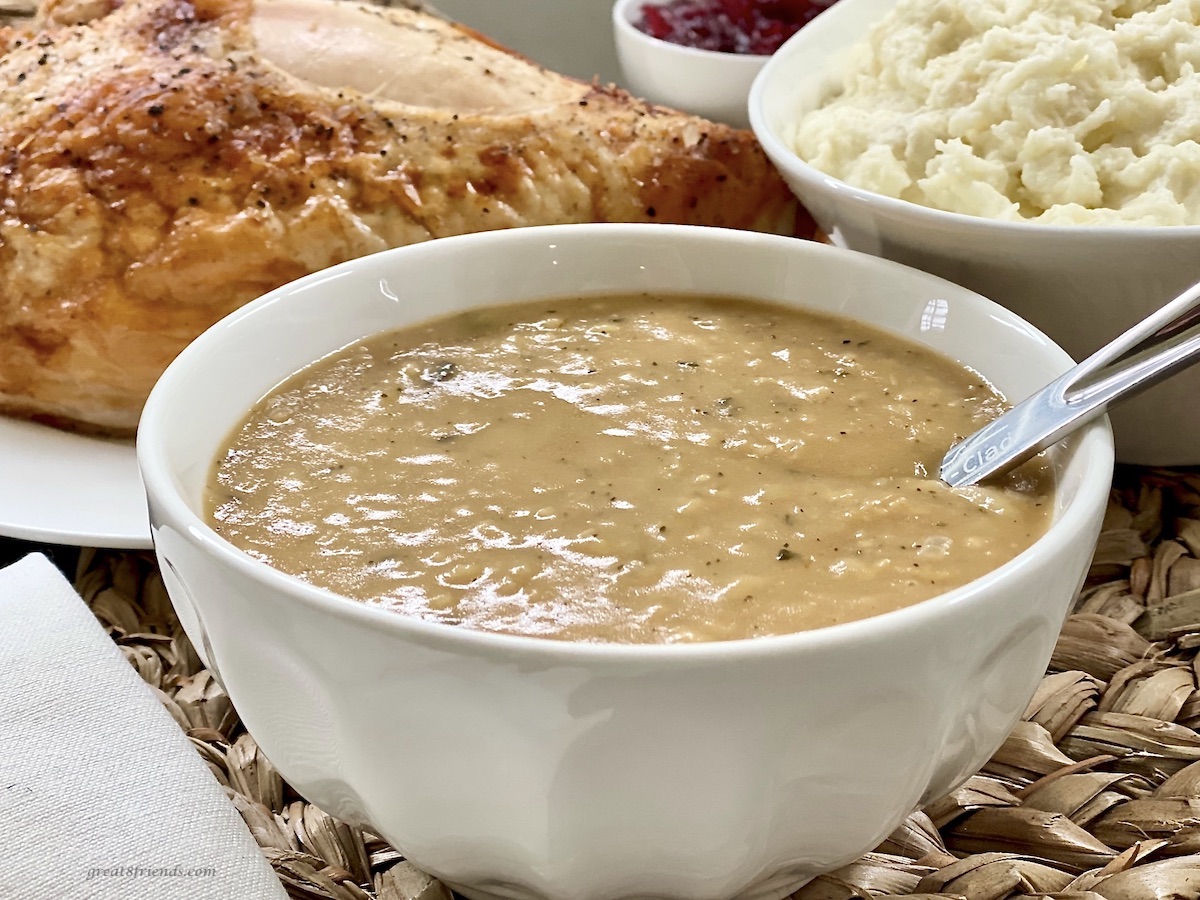 For many years I thought that you had to prepare it last minute. There are plenty of other fun things to do than to stand and continually whisk the ingredients for the gravy. So, to relieve myself and my family of the task, I have come up with a make-ahead gravy recipe. YES!
What ingredients do you need to make turkey or chicken gravy?
Not many! And most of them you will already have in your pantry!
Turkey or chicken stock
white wine
butter
flour
onions
garlic
fresh thyme
worcestershire sauce
salt and pepper
(pan drippings if available)
Kitchen Bouquet (optional)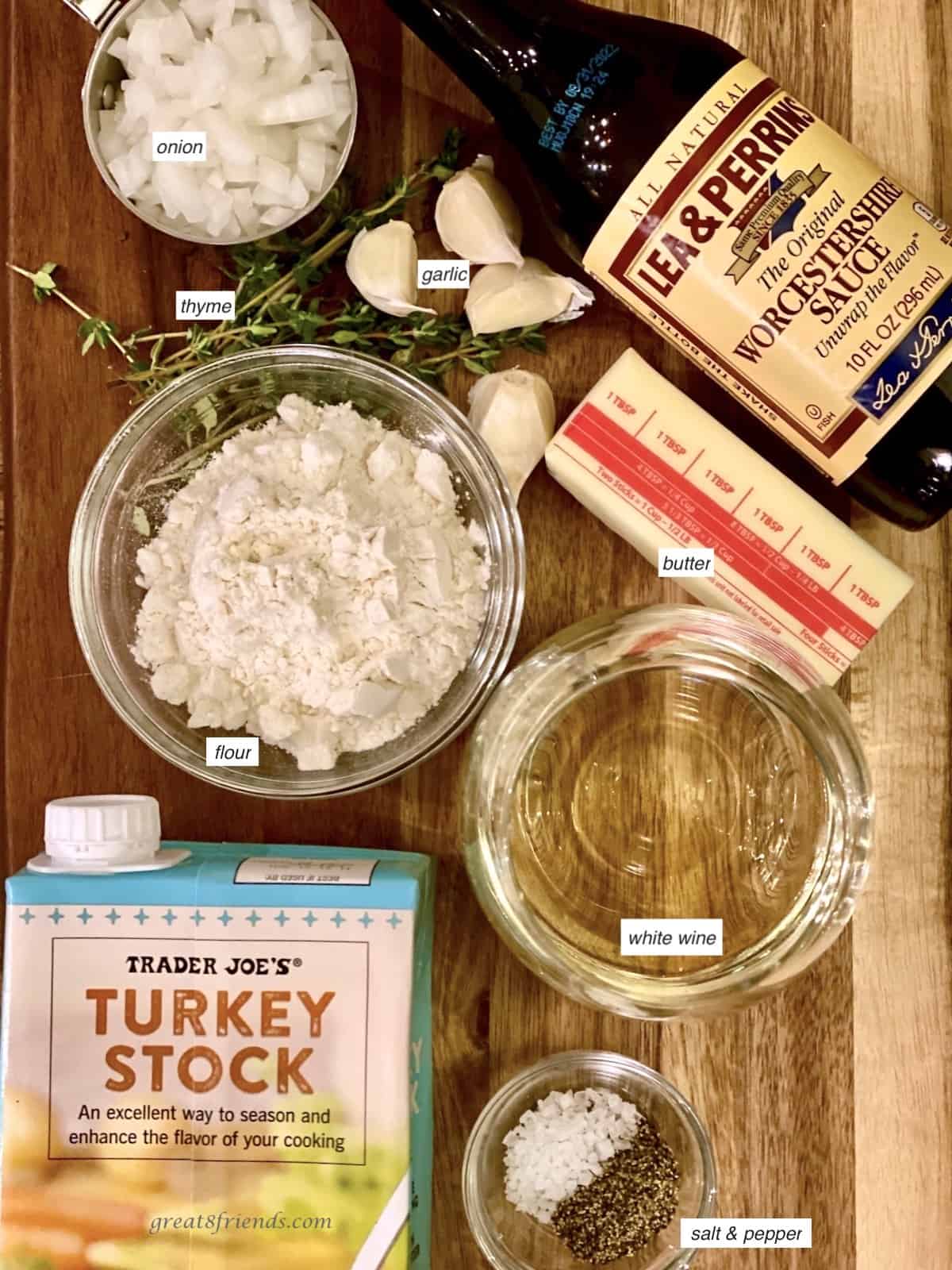 How far in advance can you make the gravy?
With very few ingredients, the gravy can be made in about 30 minutes.
Once the gravy is cool, store in an airtight container in the refrigerator for up to 5 days or in the freezer for up to 3 months.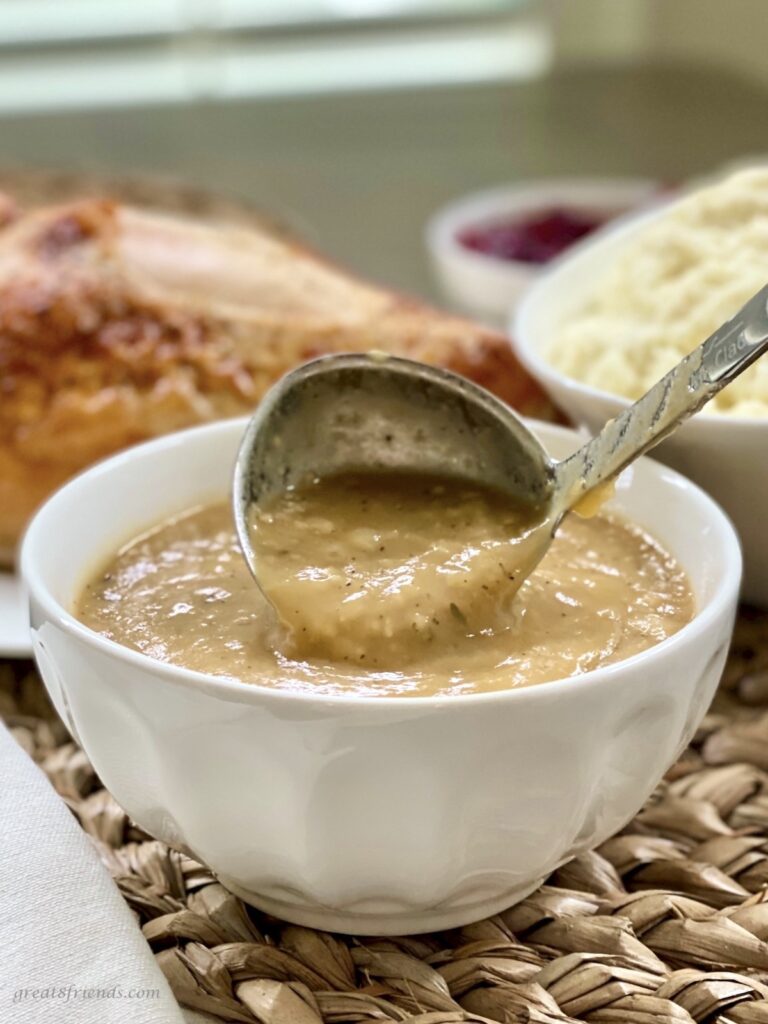 Warming the turkey gravy on Thanksgiving Day
When ready to serve, warm on the stove on medium heat.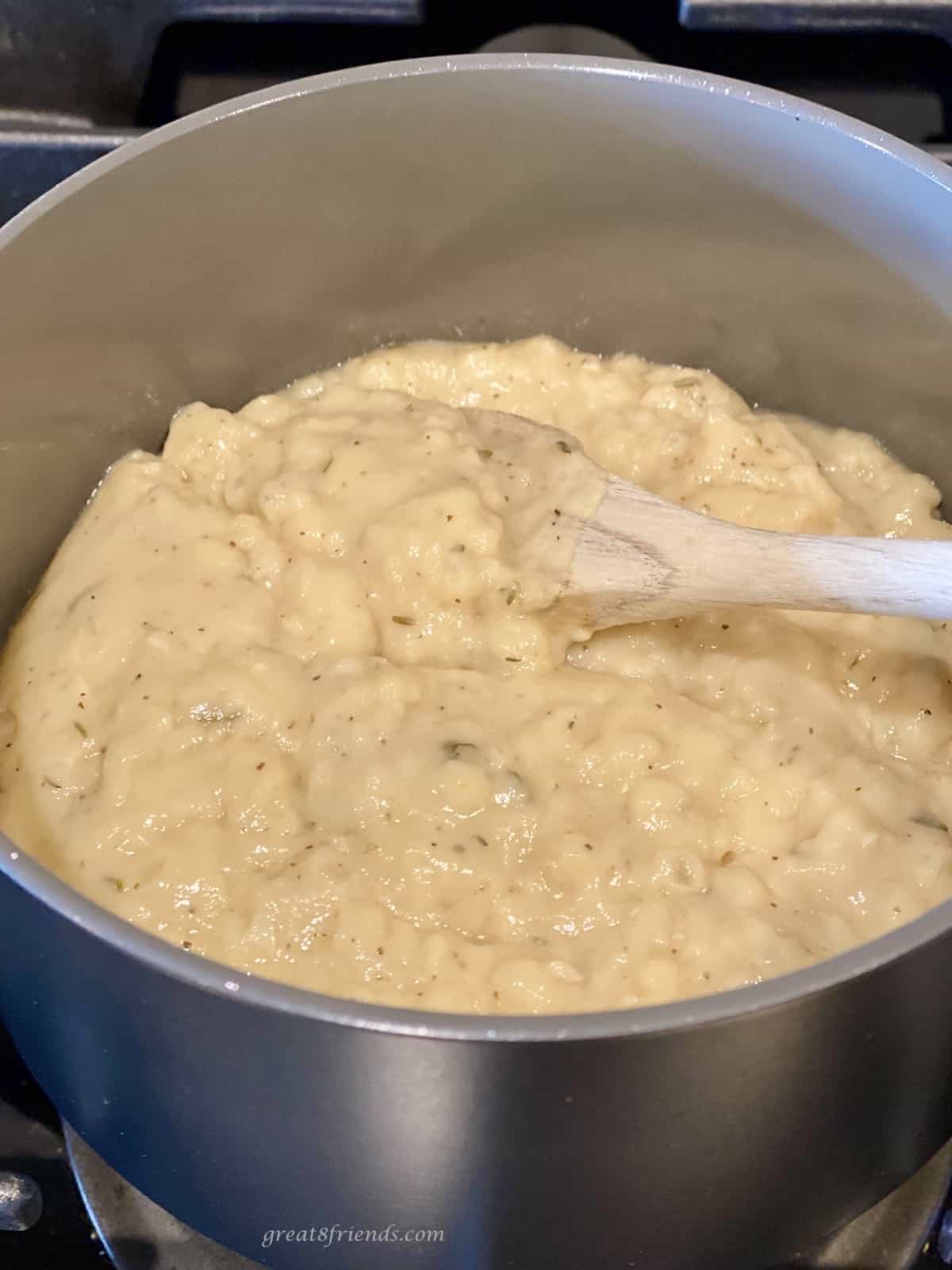 Add any drippings and scrapings from the pan if roasting a turkey or chicken. This really kicks up the flavor! (Defatting the drippings is easy using a fat separator.)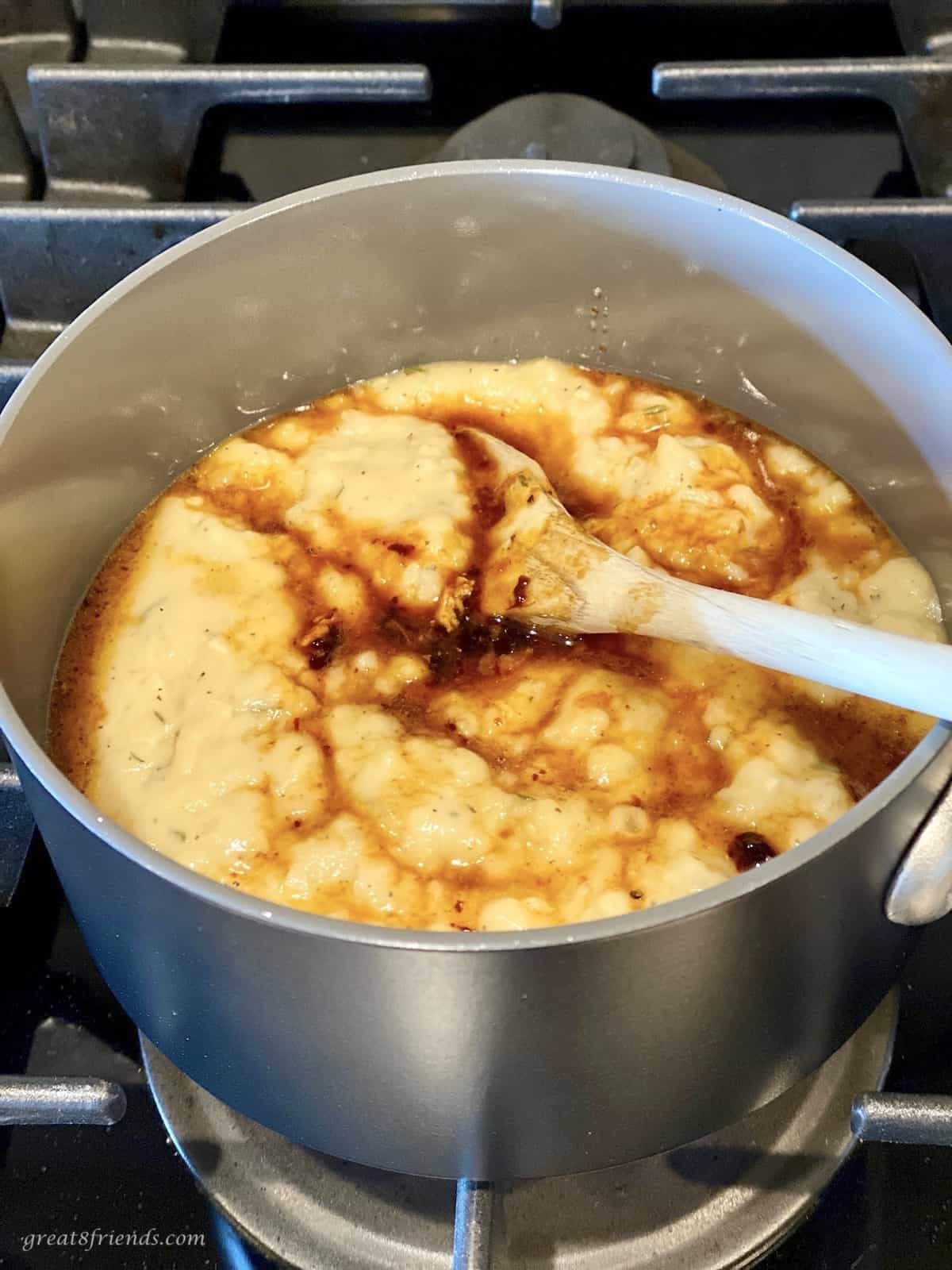 The drippings adjust the consistency as well as gives it a darker golden brown color. Let's not forget the FLAVOR the drippings add!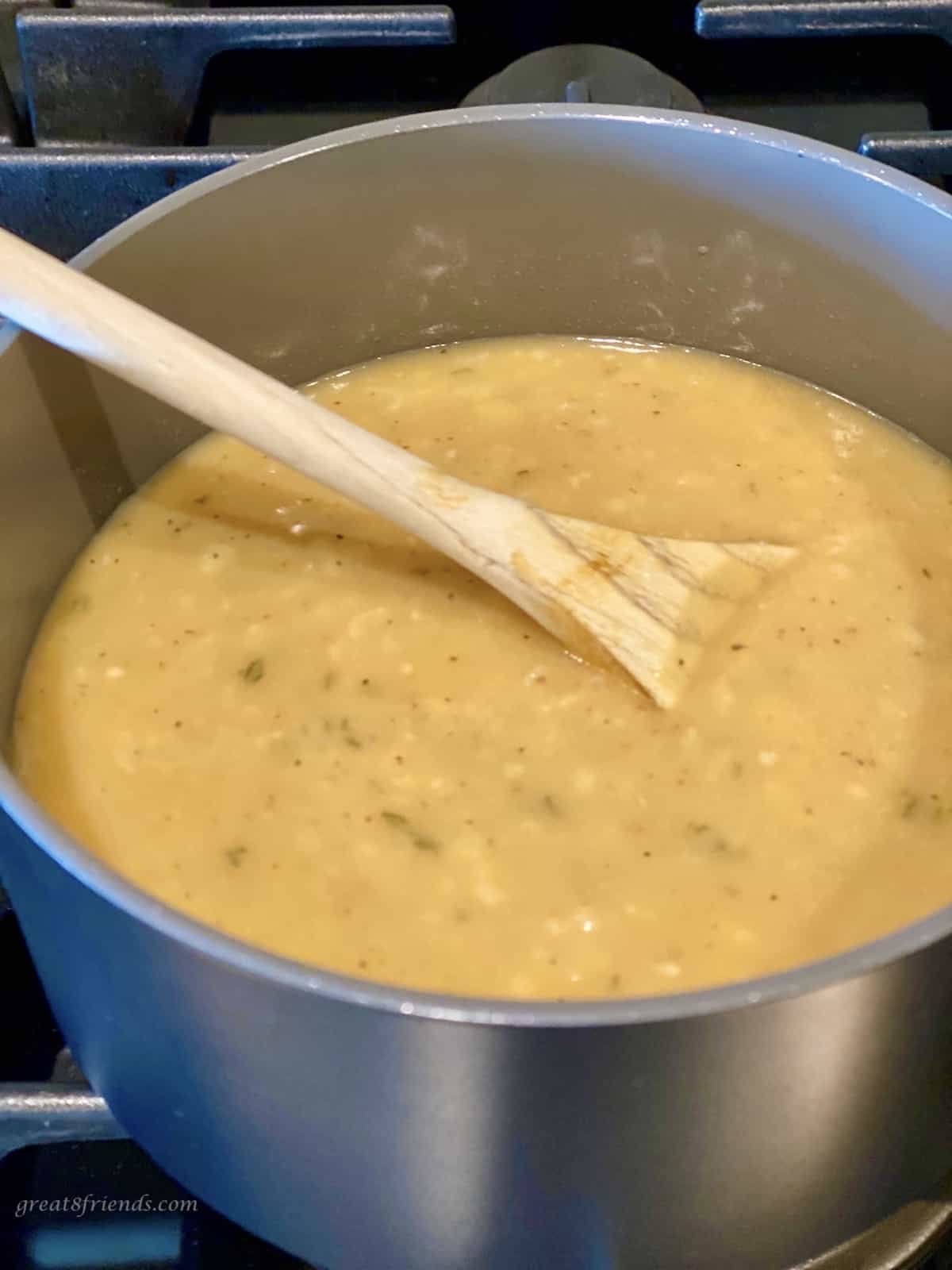 If you do not have turkey drippings, more stock can be added. Also, my mom introduced me to Kitchen Bouquet which can be added if you don't have drippings and want a browner gravy color.
Enjoy!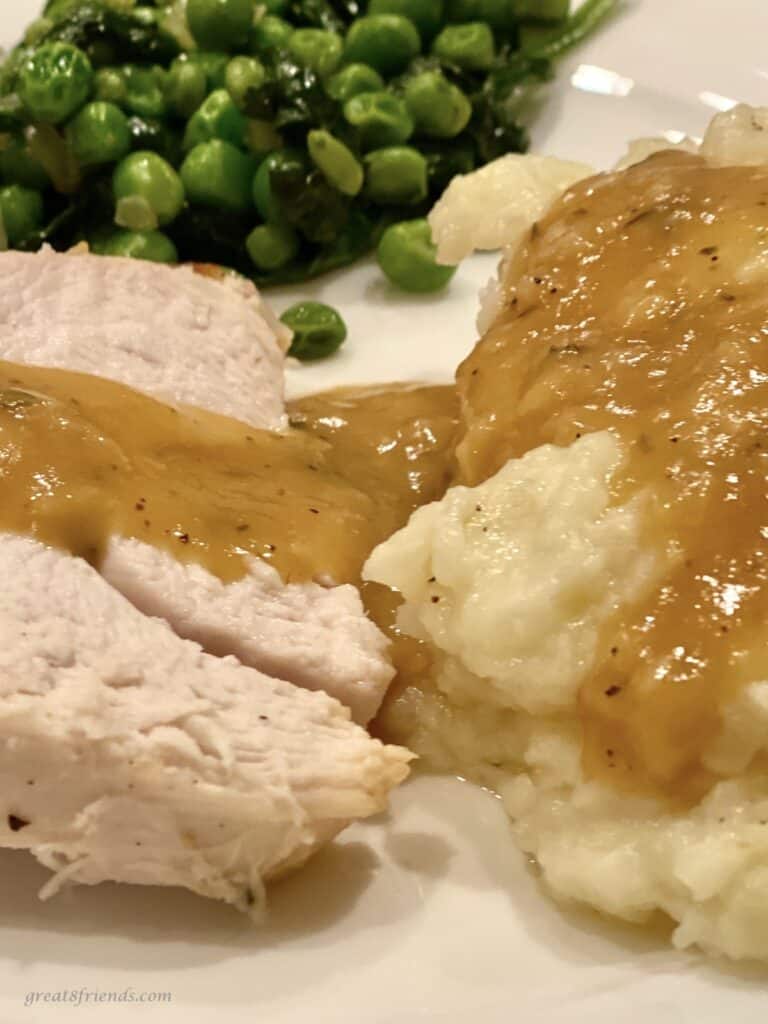 Other stress-free recipes you could serve on Thanksgiving Day or Any Day!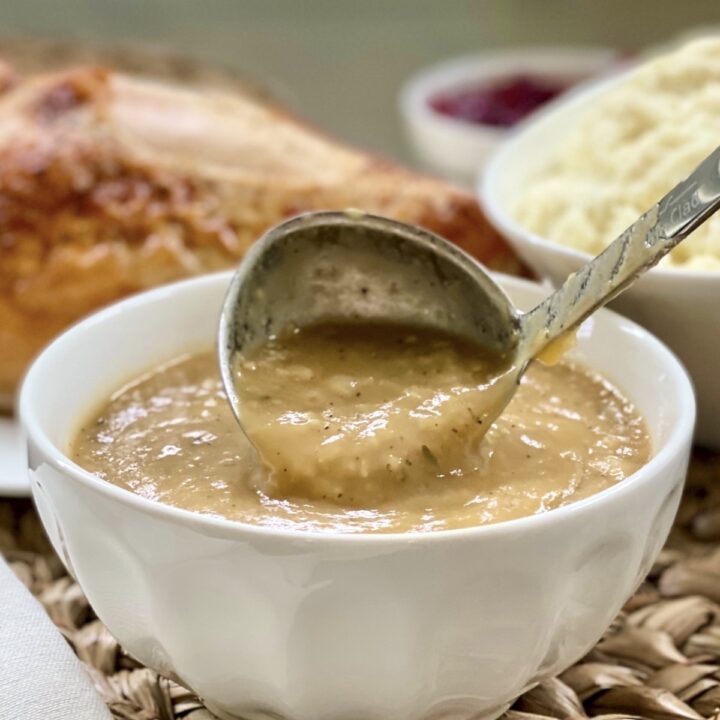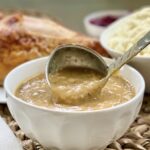 Print Recipe
Pin Recipe
Save this Recipe
Saved!
Please leave a rating!
Easy Make-Ahead Turkey Gravy
Your Thanksgiving meal preparation can be so much easierif you make this Make-Ahead Turkey Gravy recipe that only takes 30 minutes! Refrigerate or freeze until time to serve!
Ingredients
4

cups

turkey stock

,

or chicken stock (have extra on hand to thin the gravy if desired)

½

cup

dry white wine

,

like a pinot grigio or chardonnay, or turkey or chicken stock

6

Tablespoons

unsalted butter

½

cup

diced onion

,

(dice as small as you can)

4

cloves

garlic

,

minced

2

teaspoons

chopped fresh thyme

6

Tablespoons

all-purpose flour

1 - 2

teaspoons

worcestershire sauce

½

teaspoon

kosher salt

½

teaspoon

freshly ground pepper

pan drippings from roasted turkey or chicken

,

when available

Kitchen Bouquet,

optional, see Gr8 Recipe Notes below
Instructions
In a small saucepan on medium heat, warm the 4 cups of turkey stock and white wine.

While the stock is warming, melt the butter In another heavy medium saucepan.

Add the onions to the melted butter and sauté on medium heat until translucent. About 5 minutes.

Add the garlic and thyme to the melted butter and continue to sauté for 1 more minute.

Turn the heat to low-medium and add the flour by sprinkling it on the onion mixture and cook while continually whisking for about 5 minutes.

Slowly add the warm stock and continue to whisk until completely combined.

Add one teaspoon of worcestershire sauce and the salt and pepper.

Continue to heat the gravy for 5 - 10 minutes until heated through.

Taste the gravy and only add the remaining teaspoon of worcestershire sauce and more salt and pepper if you want to. Or if you are preparing the gravy ahead of time, wait for this step and taste the gravy again before adding the seasonings.
Notes
Gr8 Make-Ahead Notes:
The gravy can be refrigerated in an airtight container for up to 5 days or in the freezer for up to 3 months.
If the gravy is frozen, defrost for a couple of hours in the refrigerator before warming.
Gr8 Recipe Notes:
The recipe can be easily doubled. The pan size is the only adjustment you would need to make.
If you don't want to add the wine, substitute with stock.
The recipe indicates 1-2 teaspoons of worcestershire. Start by adding one teaspoon and let that settle in over the heat. Then taste the gravy and add another if you desire or wait until before serving the gravy.
When warming up the gravy, add roasted turkey or chicken pan drippings for more flavor, a darker color, and for a thinner consistency. If you do not have drippings, use turkey or chicken stock.
Kitchen Bouquet is a browning agent and an option for adding a caramel color.