These Baked Yams with Nutmeg Butter ooze with the cozy warm goodness of of a holiday flavored brown sugar glaze. Make it different this year!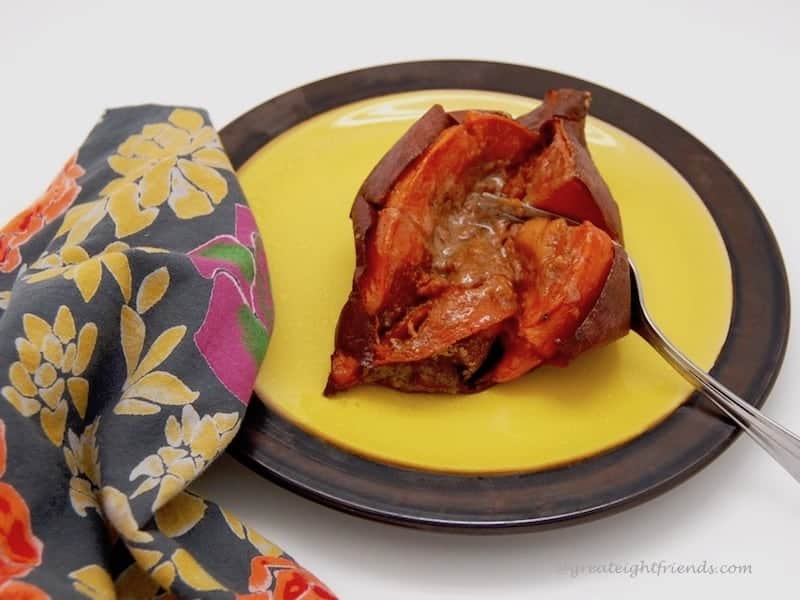 I love reminiscing about all the flavors and aromas throughout my childhood home during my favorite time of the year, especially Baked Yams with Nutmeg Butter (I added that additional little twist of spiced up butter!)
The best are the gasps and stunned looks I get when telling friends of the Thanksgiving dinner traditions I had growing up.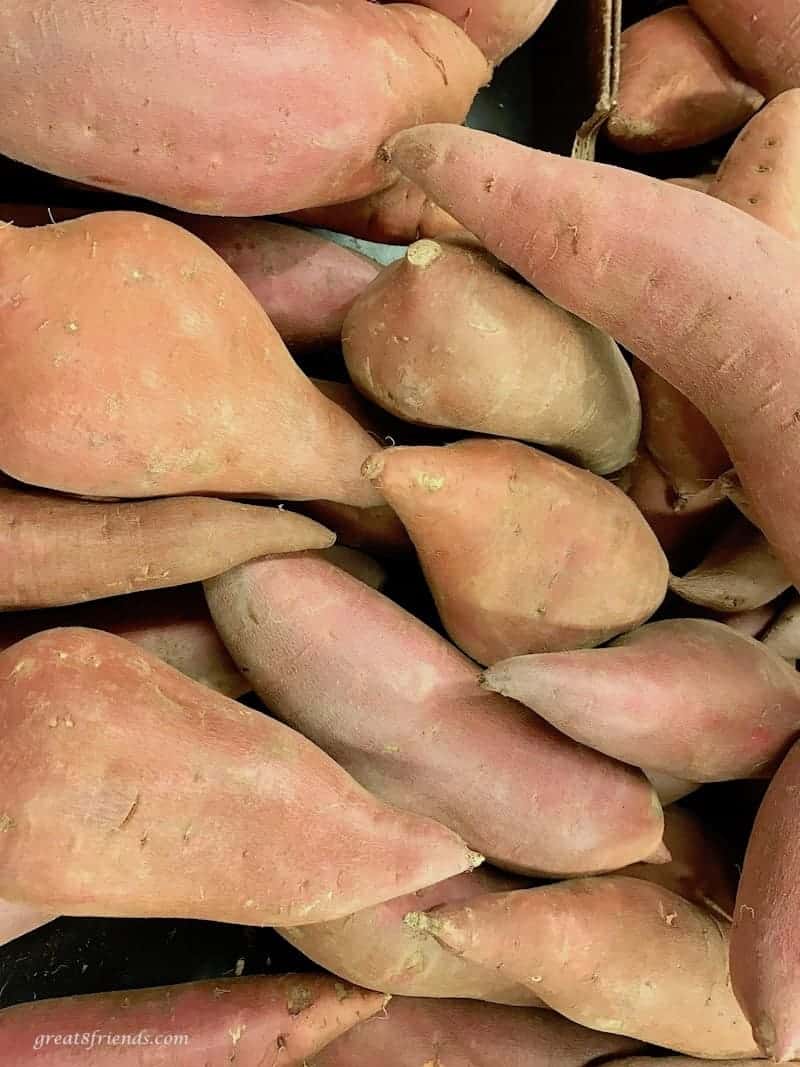 The first time Phil and I hosted Thanksgiving, he said, "where are the mashed potatoes?" "Mashed potatoes?" I asked… "who has mashed potatoes on Thanksgiving?" "Ummm everyone," he said! Well, not me! Never have! But don't fret!
No, my friends, we didn't have pumpkin pie at Thanksgiving, either. How wide are your eyes at that piece of information?
Nor did we have the green bean casserole with crispy onions or the sweet potato casserole with melted marshmallows.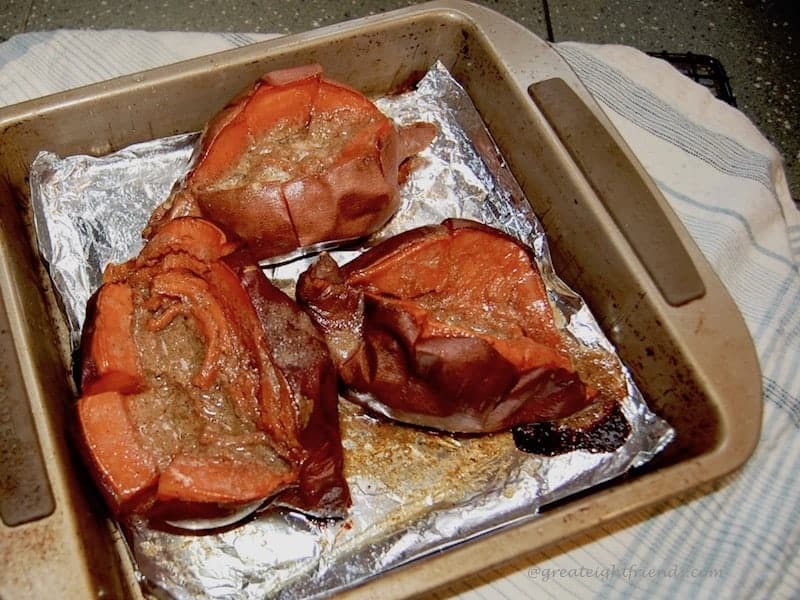 Nope! I'm not kidding! Growing up in an African American home, the dishes on our Thanksgiving table were mainly the typical southern style.
One of the stars, besides the huge bird being front and center, were the yams. My grandmother's yam recipe was simple and delicious, but like I mentioned above, I wanted to change it up a bit!
Always loving the crispy, almost candied like coating on Easter hams, I thought, what if yams had that same sweet goodness. Not hardened though, but oozing with melted nutmeg-y brown sugar butter!
Close your eyes and imagine! The "glaze" is just the right amount. Not too much that it takes away from this sweet, orange colored root vegetable.
With Anna's Cranberry Apple Sauce, the vibrant colors will jump from the plate!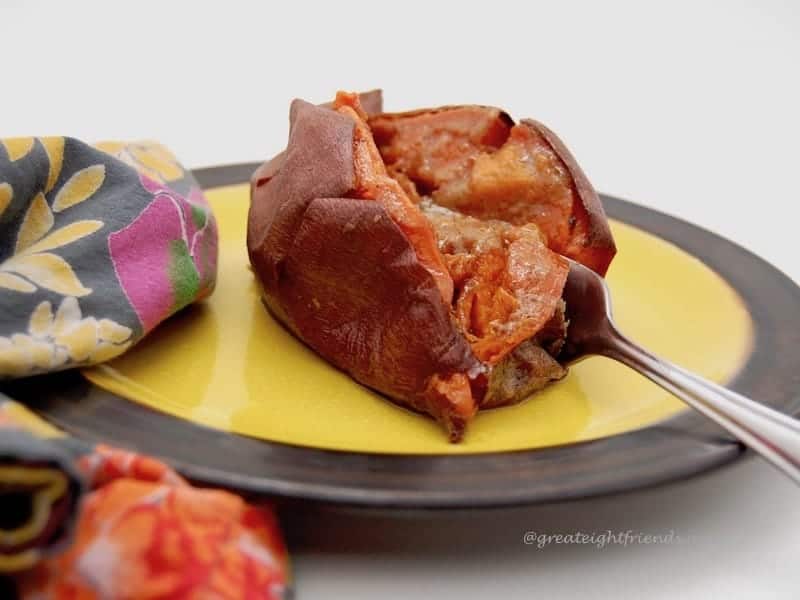 The Baked Yams with Nutmeg Butter is a favorite every Thanksgiving, and I have a little piece the next day...if there's any left over!
But don't worry friends! Phil has gotten his mashed potatoes ever since our first Thanksgiving! His sister, Laura, always brings plenty for all 35 of us!
We still enjoy many of my grandparent's originals every year, and I think Granny especially, would be proud of the spin I've put on a few of her recipes.
And Grandpa would be thrilled that I go to a fellow farmer at Manassero Farms for the Yams!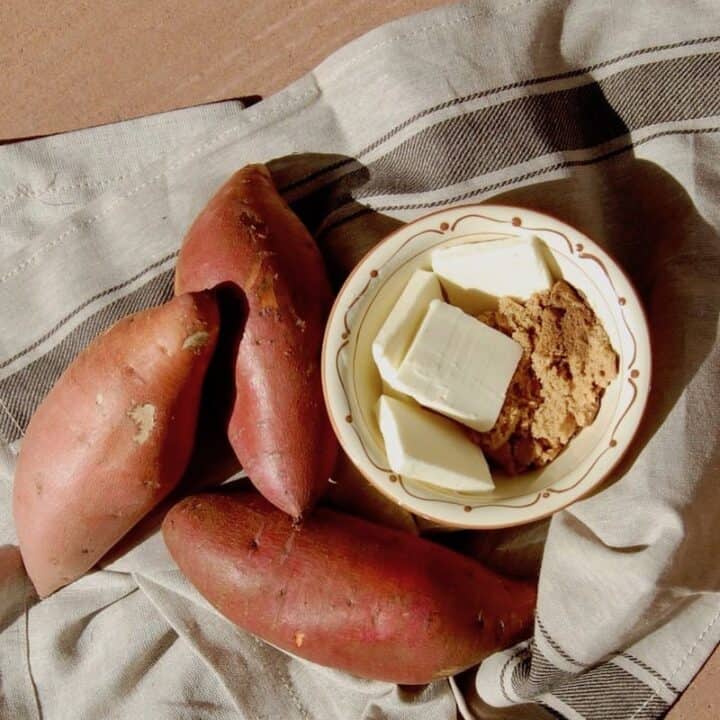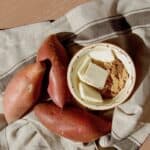 Print Recipe
Pin Recipe
Save this Recipe
Saved!
Please leave a rating!
Baked Yams with Nutmeg Butter
The nutmeg butter brings on a new twist to the traditional yam/marshmallow side dish. The aromas and flavors are 100% Fall. Absolutely delicious.
Ingredients
¼

cup

unsalted butter, at room temperature

,

½ stick

¼

cup

packed brown sugar

¾

teaspoons

ground nutmeg

3

medium sized red-skinned yams
Instructions
In a small bowl, combine the butter, brown sugar and nutmeg. Whisk (or beat) until light and fluffy. (The butter can be made 3 days prior)

Line a small baking dish with foil and lightly grease.

Cut a slit, 1" deep down the length of each yam. Do not cut all the way through the ends, leave about 1" to 1 ½".

Bake for 45 minutes to 1 hour, until yams "give" when lightly squeezed.

When cool enough touch, make 2 cuts crosswise in each yam.

From each end, squeeze to expose the goodness inside.

Spread the butter mixture over each yam.

Return the yams to the oven for about 5 minutes or until heated through and the nutmeg butter is melted.
Notes
Gr8 Tips:
If making the dish the night before, prepare through Step 6. Cover the dish in foil and refrigerate. The next day, bring dish to room temperature, and continue with Step 7.
sm 11/20/18