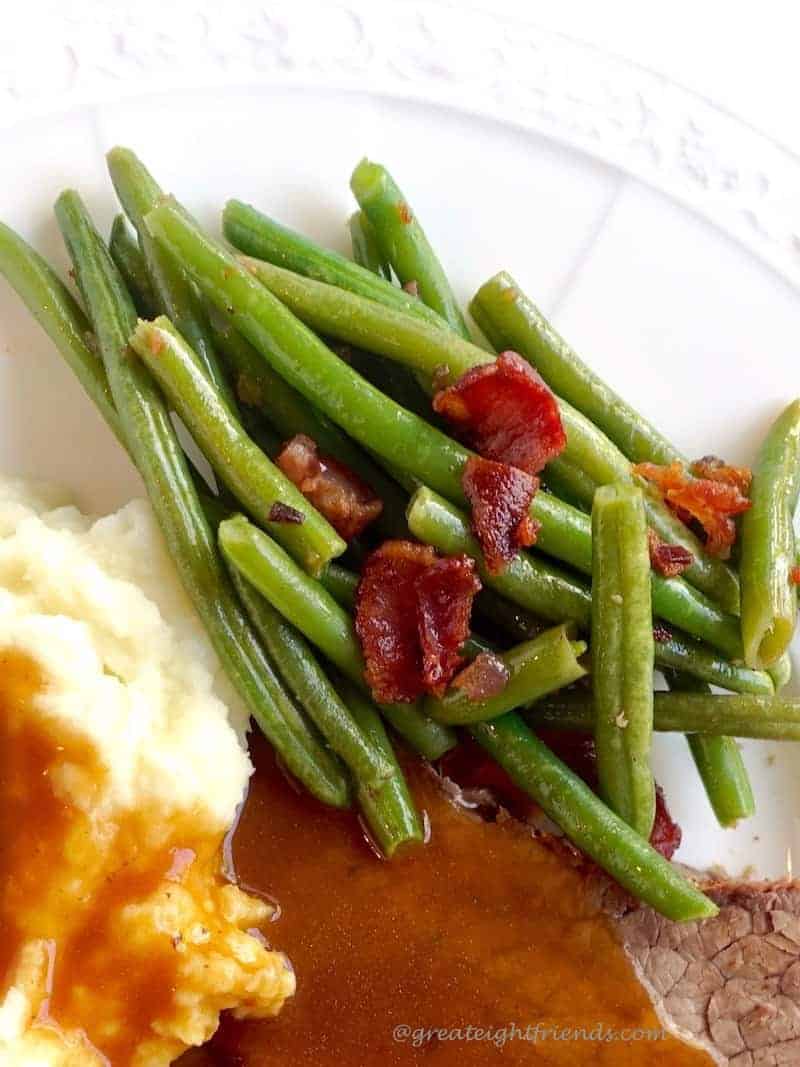 My grandmother used to use vinegar in a lot of her cooking. And as I've been thinking more about recipes and writing about them in this blog, I've realized that many of the older recipes incorporated vinegar. Thankfully, it seems like we are getting back to that. Vinegar, just a little, adds a nice tangy note and is a Gr8 counterpoint to any sweetness in a dish.
This is an easy and wonderfully flavorful side dish. Serve it alongside your holiday Turkey or a Sunday roast, or even with grilled hamburgers! Sure it's a green vegetable, but it has bacon in it! Bacon makes everything tastier.... Who doesn't love bacon?
I love to serve this because I can do most of the prep ahead of time. And so far, there's never been anyone who hasn't eaten it...except, of course, the vegetarians and vegans in my life! And that's okay, you can't please all the people all the time.
Green Beans, Bacon and Onion
The perfect green veggie side dish. Most of the prep can be done ahead of time!
Ingredients
12

ounces

green beans,

,

fresh or frozen

1/4

pound

bacon slices

2

Tablespoons

bacon fat

1/3

cup

diced red onion

1

teaspoon

red wine vinegar
Instructions
Cook the fresh green beans in a pot of boiling water for about 6 minutes until just tender.

Plunge into a bowl of ice water to stop the cooking. Drain and set aside.

If using frozen green beans, then cook according to package directions.

In a medium frying pan, cook the bacon until crispy, remove and drain on paper towels.

Remove all but 2 Tablespoons bacon fat from the pan. (If there isn't 2 Tablespoons then add olive oil or butter so you have the correct amount.)

Sauté the red onion until translucent, about 4-5 minutes.

Add the green beans to the red onion mixture and sauté until heated through.

Put the red wine vinegar onto the beans and toss to fully incorporate.

Crumble the bacon and toss with the beans.

Serve warm or at room temperature.
Notes
Gr8 Do Ahead Tips:
Bacon can be cooked up to a day ahead of time. Drain and store in a sealed container in the refrigerator. Refrigerate the bacon fat separately until ready to continue.
The beans can also be cooked a day ahead of time, store in the refrigerator.
Dice the onion the night before, too, and store in a sealable plastic bag in the refrigerator.
The onion can be sautéed up to 2 hours ahead of time. Leave it in the frying pan at room temperature until ready to reheat and proceed with Step 7.