This Balsamic Vinegar with Cheese appetizer is as easy as it gets! It's just two things, balsamic vinegar and Parmigiano Reggiano cheese, so simple!!!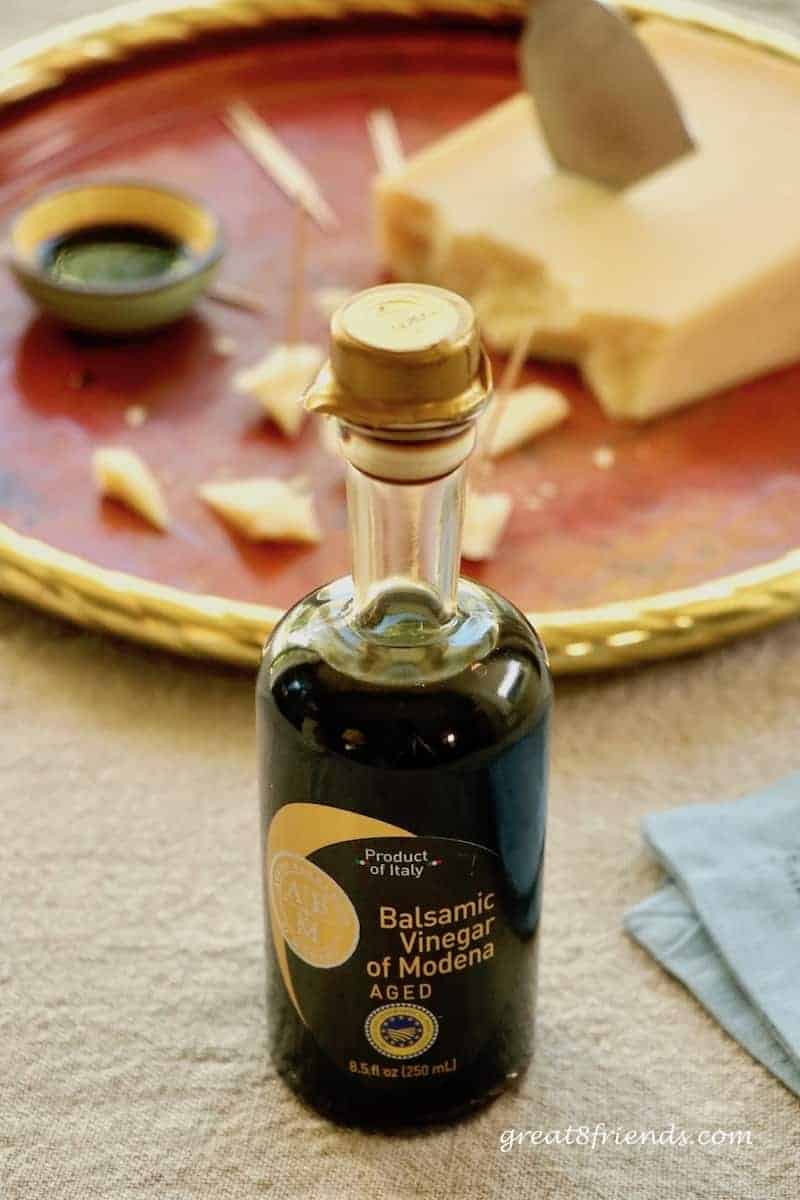 Last minute company coming? The neighbors are stopping by for a glass of wine? This Balsamic Vinegar with Cheese is the easiest appetizer you will ever serve.
Since Costco came on the horizon I always have a hunk of Parmigiano Reggiano in the refrigerator.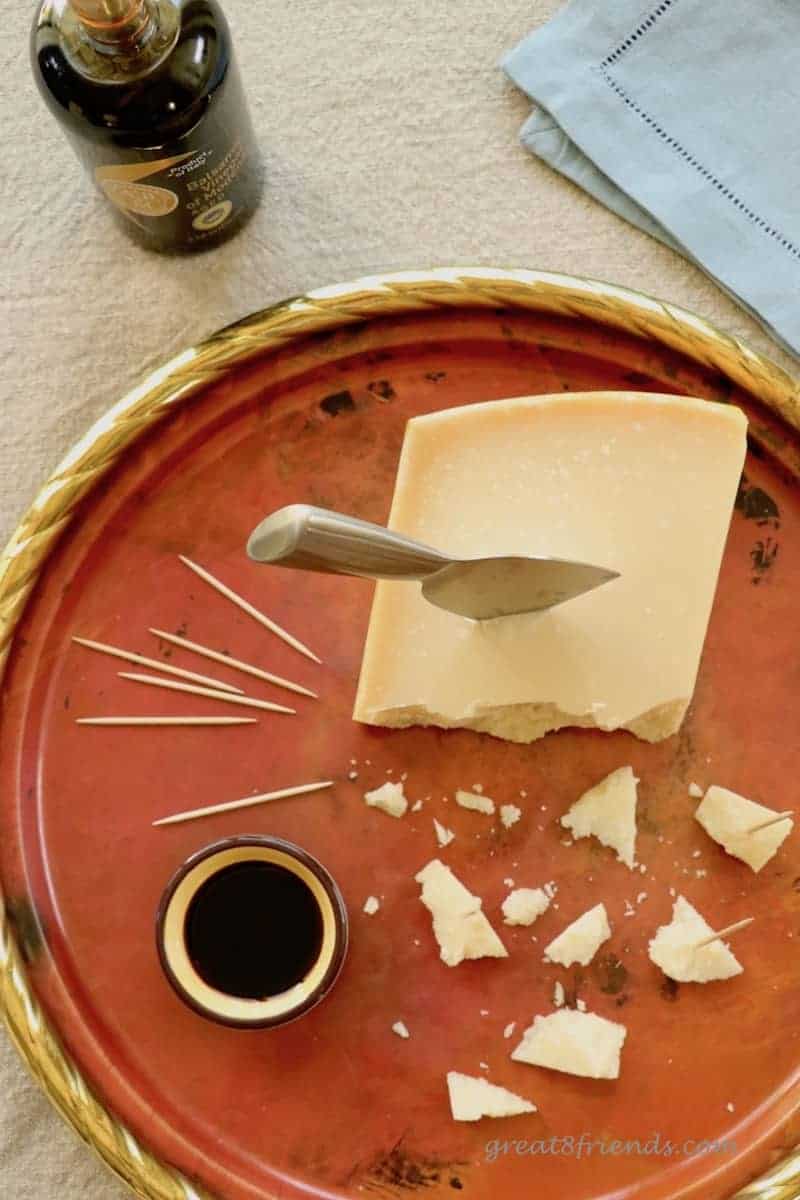 Lay the cheese on a platter or board and break off a few chunks. Then put a small bowl containing good Aged Balsamic Vinegar of Modena next to it.
Your guests can dip pieces of the Parmigiano Reggiano into the aged Balsamic Vinegar and enjoy a sublime bit of Italy!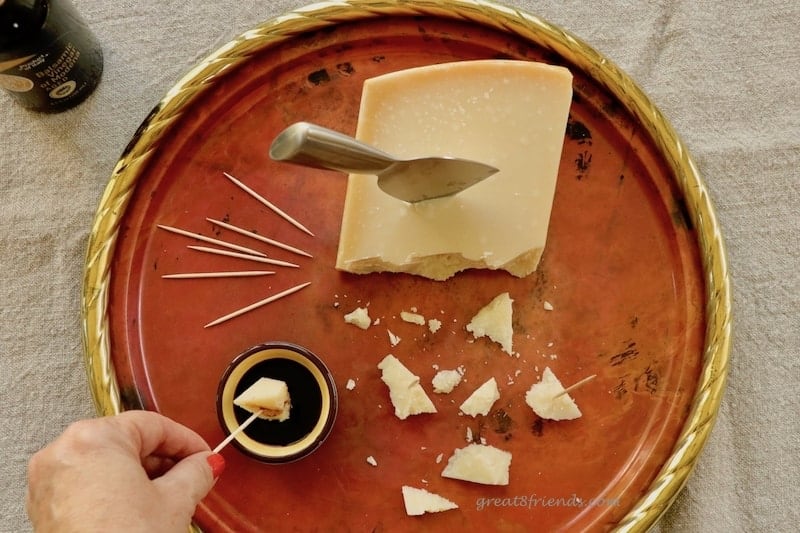 Make sure you buy (or maybe you already have) real aged Balsamic Vinegar of Modena. There are a lot of copycats which don't come close to true aged Balsamic Vinegar. Vince has always maintained he doesn't like Balsamic Vinegar, but I wasn't using the right kind!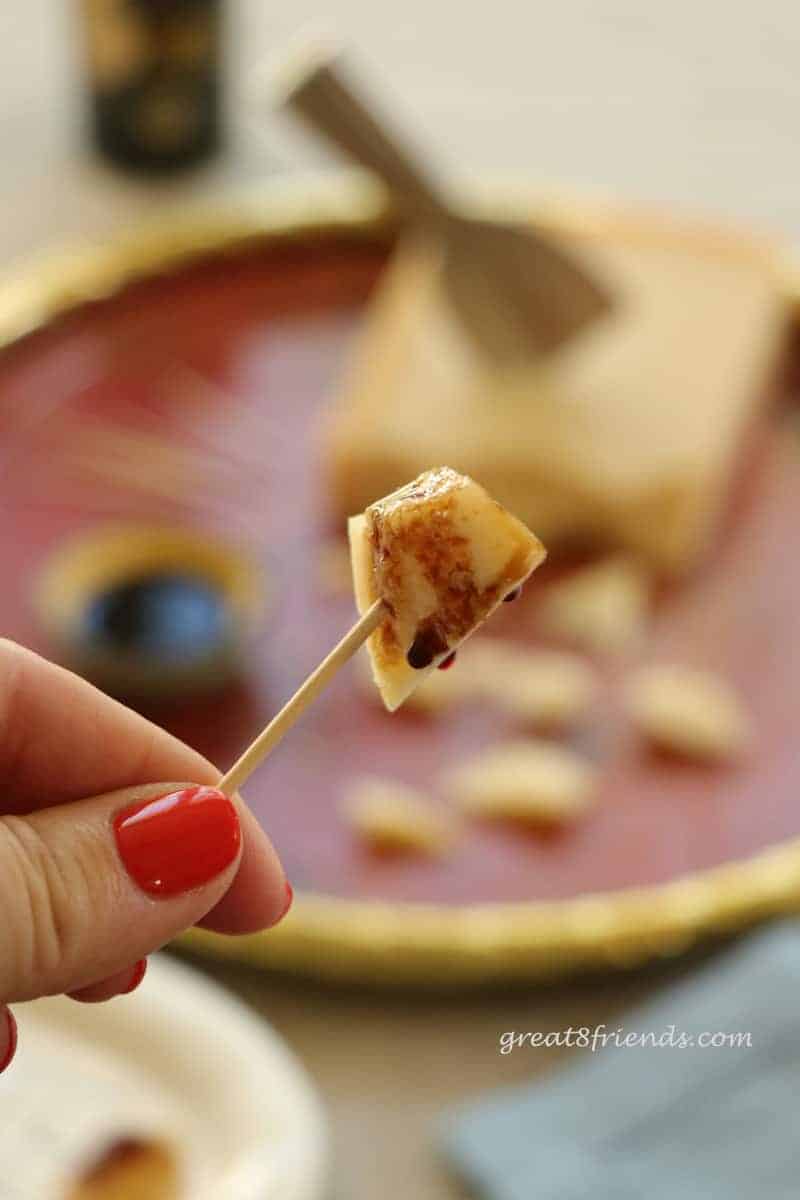 At the International Food Bloggers Conference recently, I participated in a session teaching us all about this divine liquid, and boy was it eye opening!
Balsamic Vinegar originated in Italy, in the provinces of Modena and Reggio Emilia. It's made from cooked grape must (juice) and two kinds of wine vinegar.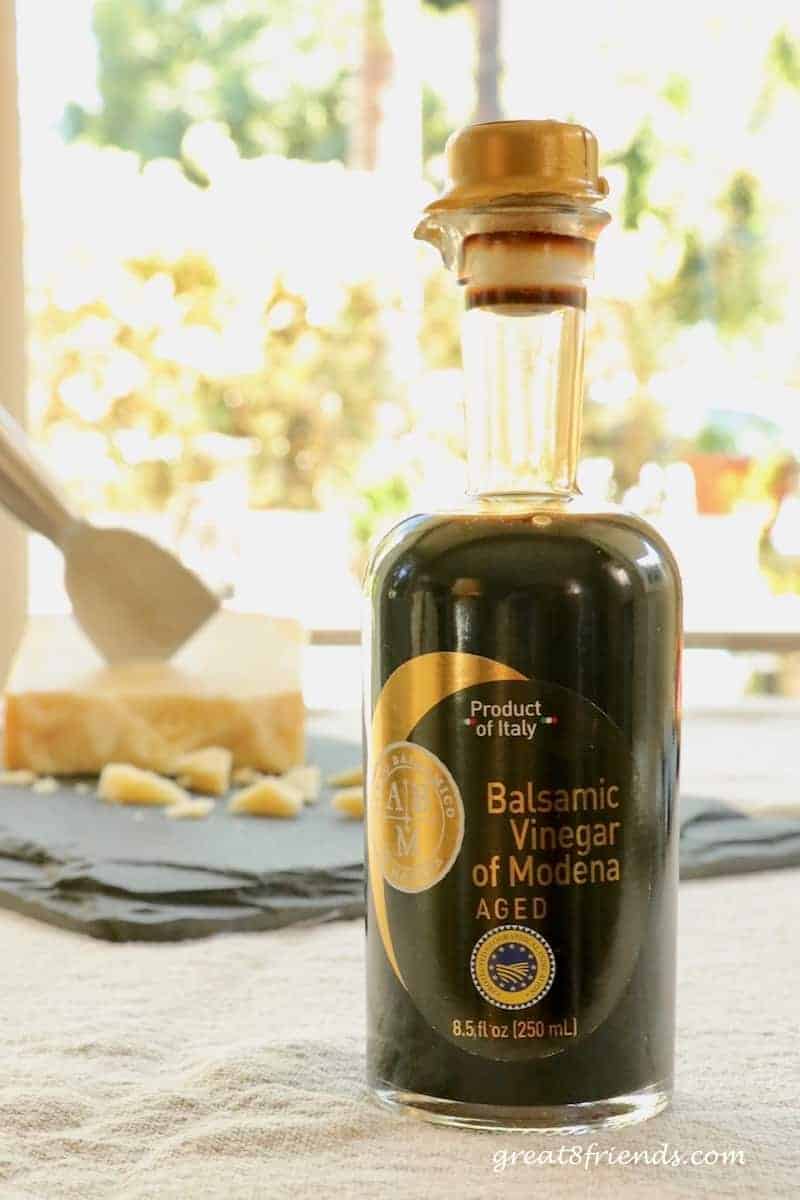 Just like champagne has to be from the Champagne region of France and Parmigiano Reggiano can only be produced in certain areas in Italy, Balsamic Vinegar of Modena must come from one of the producers certified in the region.
The label must read "Balsamic Vinegar of Modena PGI." PGI means Protected Geographic Indication so you know that the liquid in the bottle is the real thing.
Good Balsamic Vinegar is more viscous than other vinegars and the flavor is divine. It has a slight sharpness like vinegar but also a sweetness similar in flavor to overripe plums.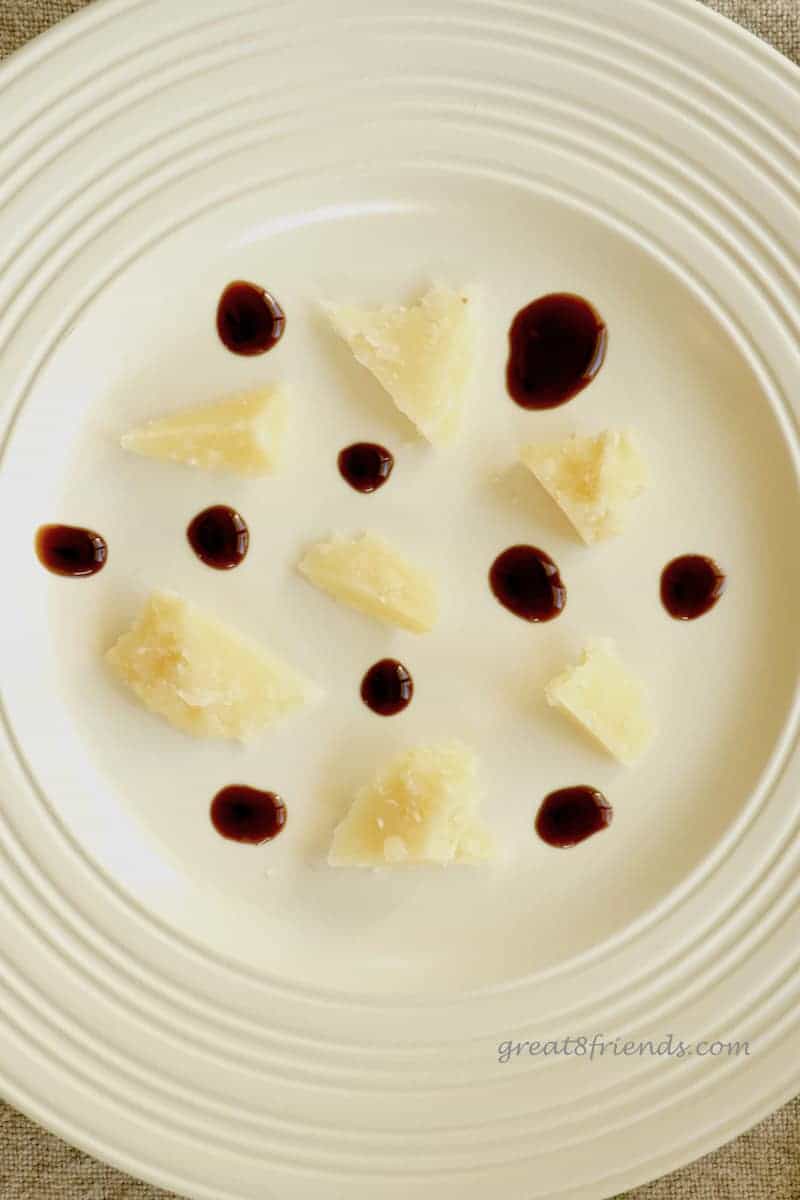 In addition to this Balsamic Vinegar with Cheese appetizer, make dessert with it by drizzling it over vanilla ice cream! The pairing of fatty food with the vinegar makes all the flavors pop.
The Italians maintain that Balsamic Vinegar helps digestion! You can also add a small amount to gravy for extra intensity; or drizzle it on grilled or roasted vegetables. And of course, use it in salad dressing!
Because it is a strong flavor, you won't need much in any of the applications. But if you are using it, be sure you are using authentic Balsamic Vinegar of Modena PGI.
Why is it called balsamic vinegar?
The original term from Latin, 'balsamico,' means something that heals or cures.
Is balsamic vinegar good for you?
Yes. Balsamic vinegar is rich in antioxidants and contains acetic acid which can help with digestion.
How do you use balsamic vinegar?
This vinegar can be used in salad dressings, in desserts, and you can drizzle it on the plate to make food look and taste better.
What's the difference between balsamic vinegar and apple cider vinegar?
All vinegars are acidic, but balsamic vinegar is a little sweeter. And authentic balsamic vinegar of Modena is a bit thicker than other vinegars.
How long does balsamic vinegar last?
If you keep the bottle tightly sealed after each opening and keep it in a cool, dark place away from direct heat or sun, it SHOULD stay good for many years. The vinegar will remain at best quality for at least 3 years, but can still be used after that.
Click here to learn more about Balsamic Vinegar of Modena, or check out their Facebook page.