Easy Roast Chicken is the main course that everyone can make. It makes a perfect family dinner or serve it for company. Once you get it in the oven you can practically forget it while creating the rest of your feast!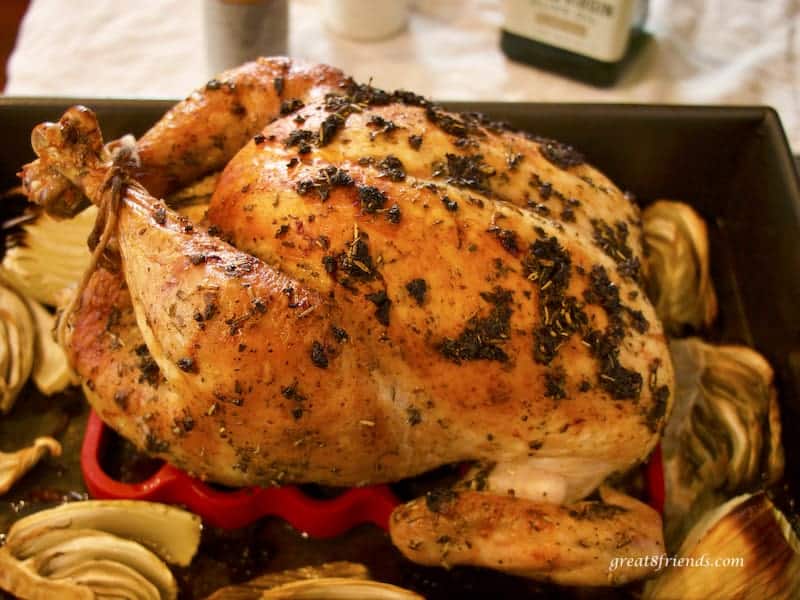 I've been roasting chicken for my family for years. Normally my roasted chicken is fairly simple, this one is a little fancier because I wanted something a bit special for my Provence Gr8 Dinner Party. And this recipe is special, so much amazing flavor!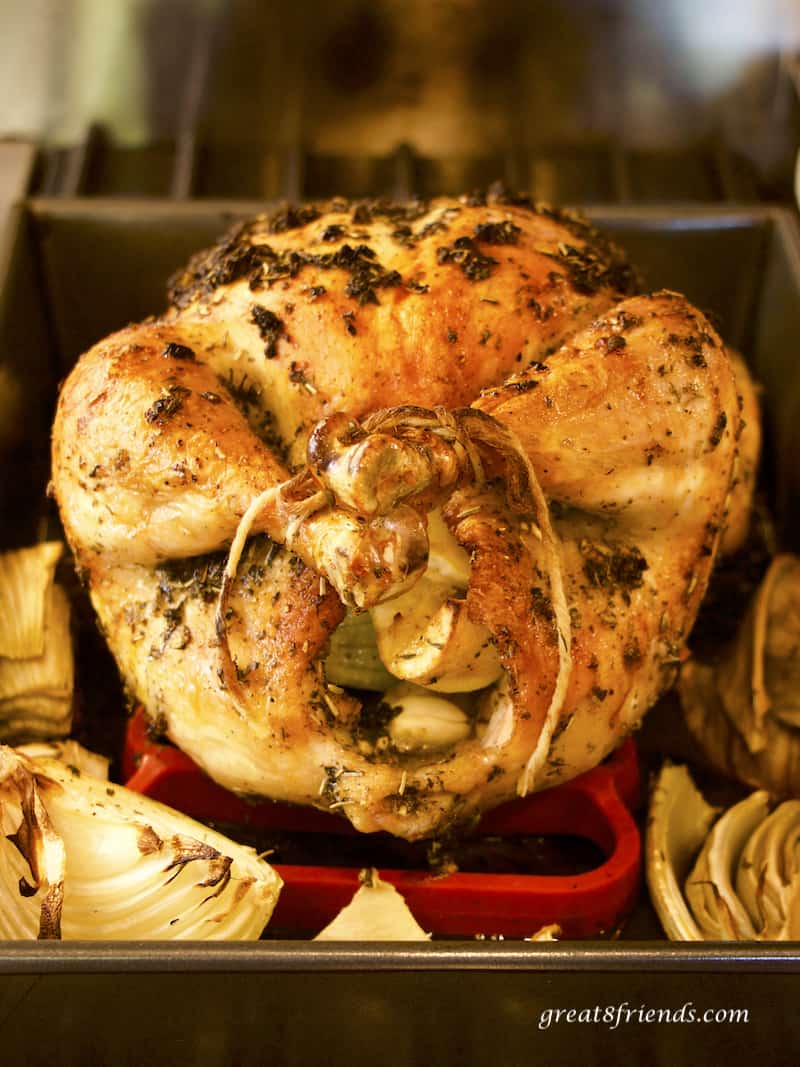 Gr8 Tips for your Easy Roast Chicken Dinner
Buy a roasting chicken, which is typically 4 to 6 pounds. The smaller fryer birds may dry out when roasted and you want succulent and juicy meat. (And leftovers!)
Be sure you have a 9"x13" pan or the equivalent, and a rack. Either a small metal cooling rack or this roasting rack is gr8!
Always remove the giblets and neck from the cavity before beginning and then rinse and dry your chicken.
After prepping the bird, you can tie the legs together with kitchen twine. If you don't have any, don't worry, the legs can also just hang out.
Allow 20 minutes per pound for roasting, then an additional 15 minutes for the chicken to rest before carving. (Your guests can ooh and aah over this golden brown beauty at this point.)
While Ms. Chicken cooks, you have plenty of time to prepare some delicious side dishes. If you're ambitious, and want to keep the French theme going, try these potatoes, total buttery goodness! For super simple this new potato recipe is about as simple as it gets.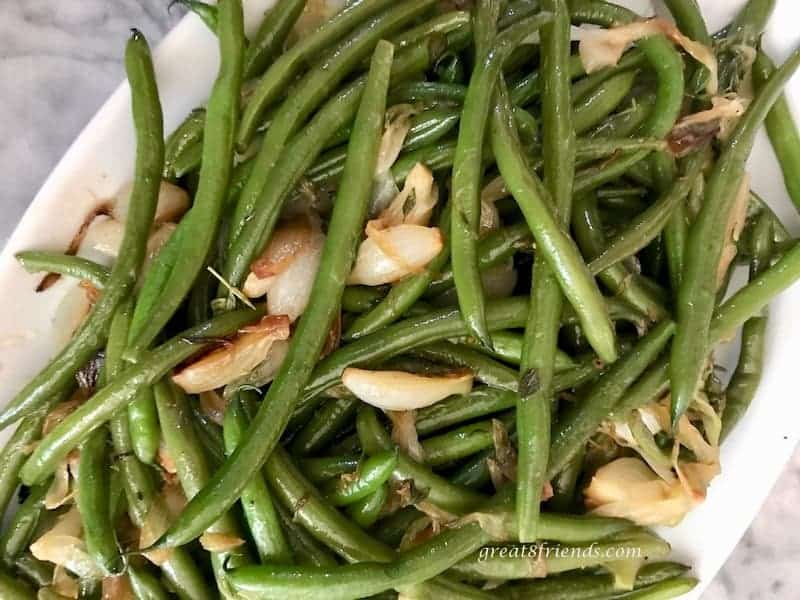 And this green vegetable recipe is the perfect counterpoint to your roasted chicken.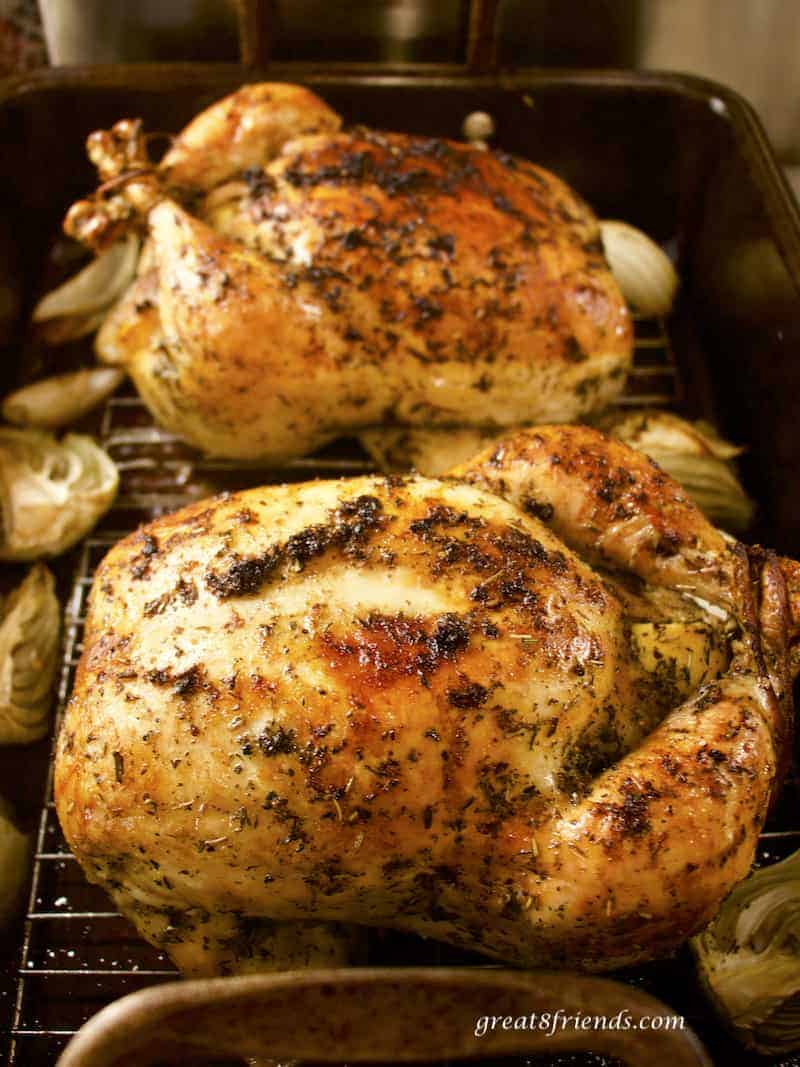 The other Gr8 thing about this Roast Chicken recipe is that if you use a large roasting pan, you can do TWO! Same effort, double the reward. I made two for our Gr8 Dinner to serve 8 people and still had leftovers.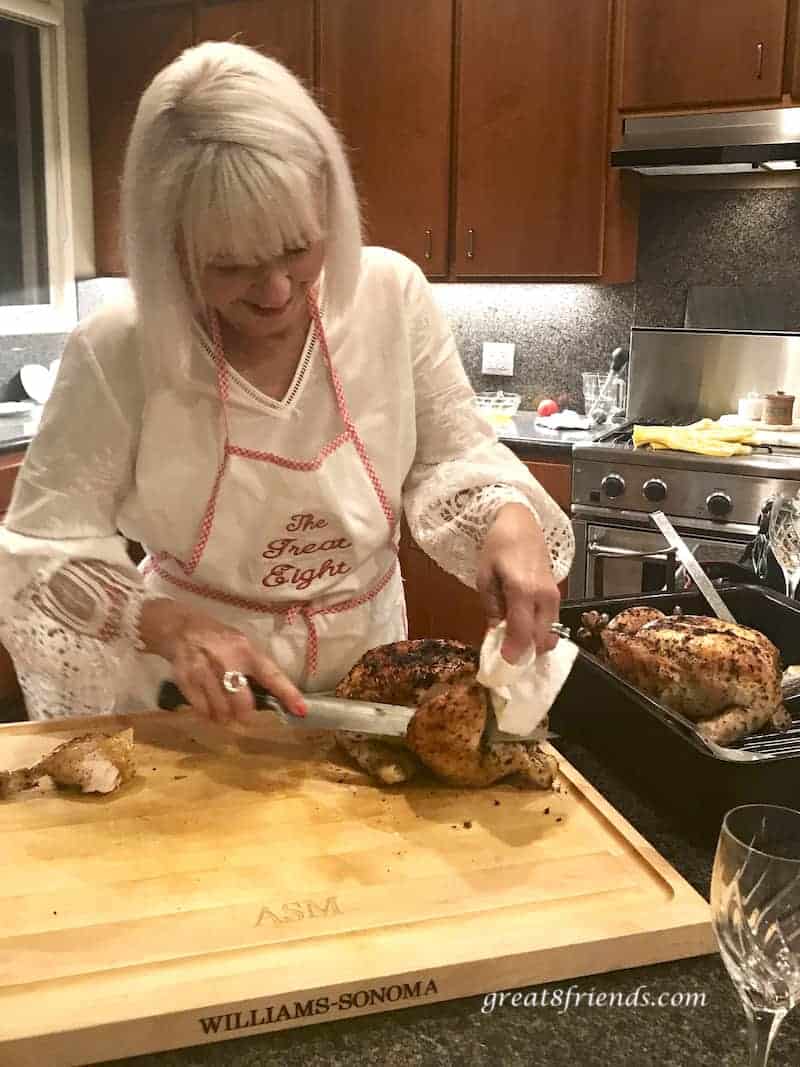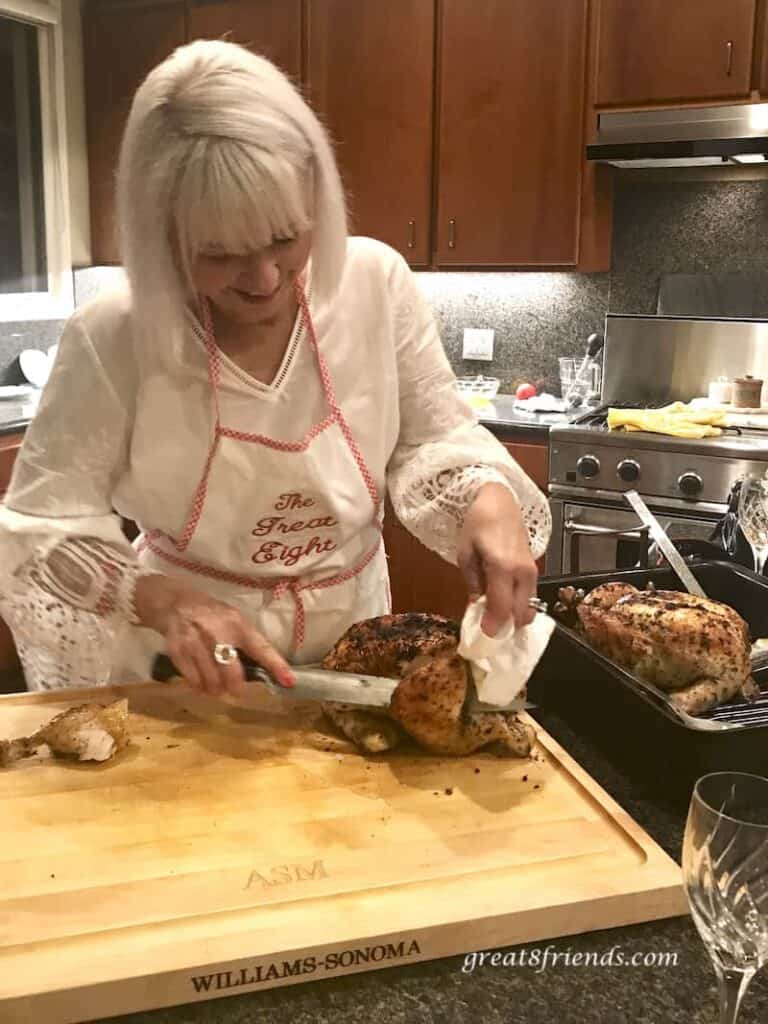 What to do with the leftovers: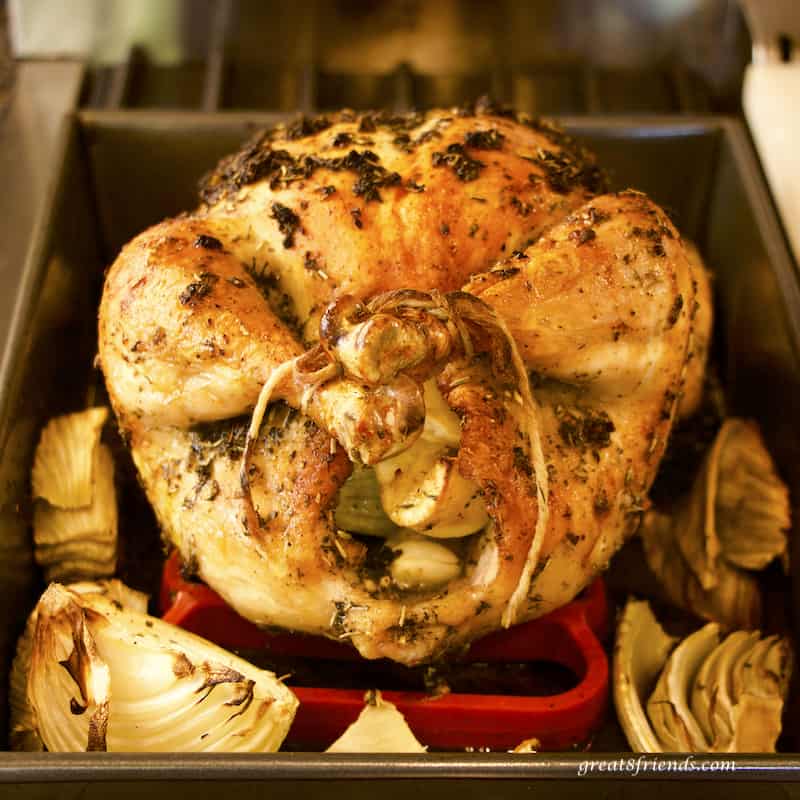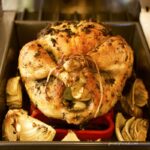 Print Recipe
Pin Recipe
Save this Recipe
Saved!
Please leave a rating!
Easy Roast Chicken Provençal Recipe
This perfect family meal is also Gr8 for company. And it's easy to double, same effort, double the reward!
Ingredients
1

whole

lemon

,

zest and juice, reserve peels

2

Tablespoons

olive oil

2

Tablespoons

Herbes de Provence

4

garlic cloves

,

2 minced, 2 halved

2

teaspoons

salt

2

teaspoons

freshly ground black pepper

1

whole

large brown onion, aka yellow onion

,

cut in quarters

1

large

fennel bulb

,

stems removed and cut in eighths, if you can't find this, sub celery or leave it out.

1

whole roasting chicken

,

about 4 ½ to 5 pounds
Instructions
Heat your oven to 450°F. Ensure that your oven rack is low enough to accommodate the height of the chicken in the pan without touching the top of the oven.

In a small bowl mix together the lemon zest, 1 Tablespoon of the lemon juice and oil.

Add the Herbes de Provence, minced garlic, salt, and pepper and mix well to form a paste. Add more lemon juice as needed to get a nice paste.

Remove any giblets and the neck from the chicken. Pat the chicken dry with a paper towel. Set the chicken on a rack in a roasting pan (for only one chicken a 9"x13" pan may be adequate.) Tuck the wings under.

Rub the herb mixture all over the chicken. And rub any remaining inside the cavity.

Put 2 onion quarters inside the chicken along with the lemon carcasses and the 4 garlic clove halves. Lay the fennel pieces and the remaining 2 onion quarters around the chicken in the roasting pan.

Tie the legs together with kitchen string. If you don't have any string, don't worry, they can just hang out; just be aware, they will spread out while cooking.

Place the chicken into the heated oven and roast for 20 minutes.

Then lower the heat to 350°F and roast for an additional 1 hour to 1 hour and 20 minutes. Your guideline is about 20 minutes per pound. You can tell if it's done when an instant read thermometer inserted in the thickest part of the thigh reaches 165°F. Be sure not to let the thermometer touch any bone or gristle.

Remove from oven and let the bird sit for 15 minutes before carving.