Dinner for 8 friends can be easy, tasty and fun. This Shipwrecked Gr8 Dinner theme is a fun summer party. It's casual with tropical flavors, and everyone can contribute something!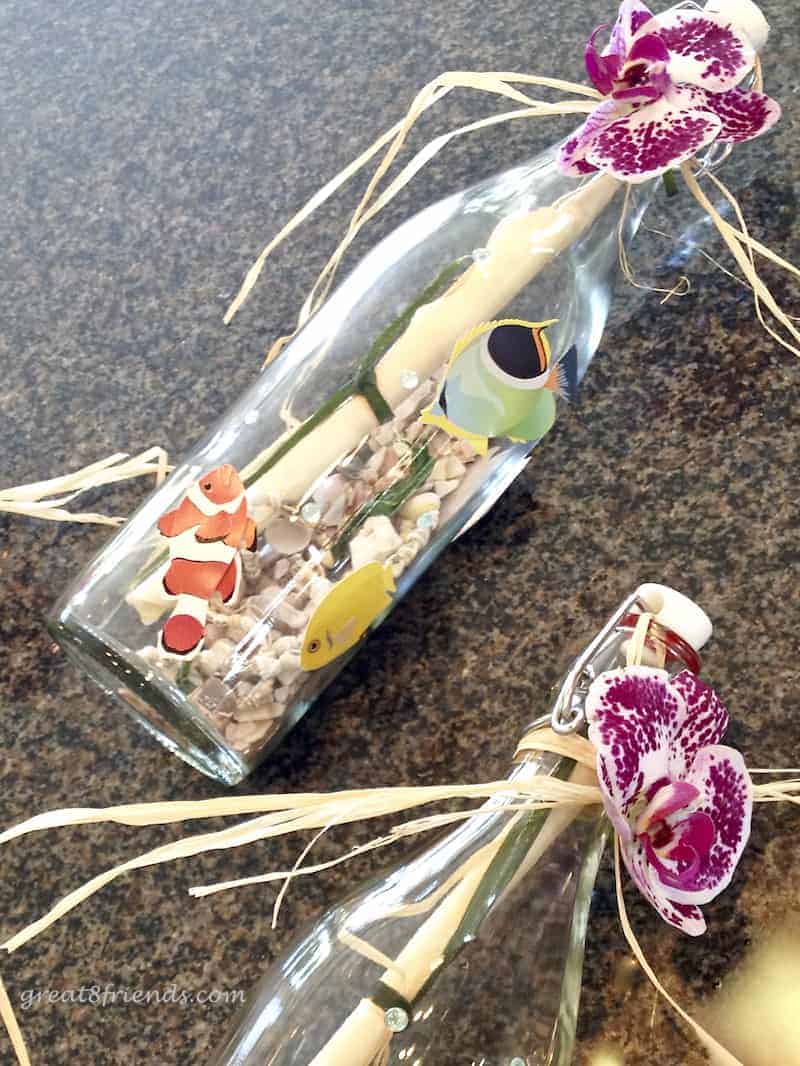 After we downsized and moved into our village home about a mile from the beach, Vince only wanted to do Gr8 Dinners in the summertime and use the grill.
Well, as you can imagine, hogging all the summer dates is not really fair! (Somehow we managed to get the summer date 5 years in a row...shhhh, don't tell the others!)
The second year in we decided on a Shipwrecked theme. How perfect is that?!?!
The Menu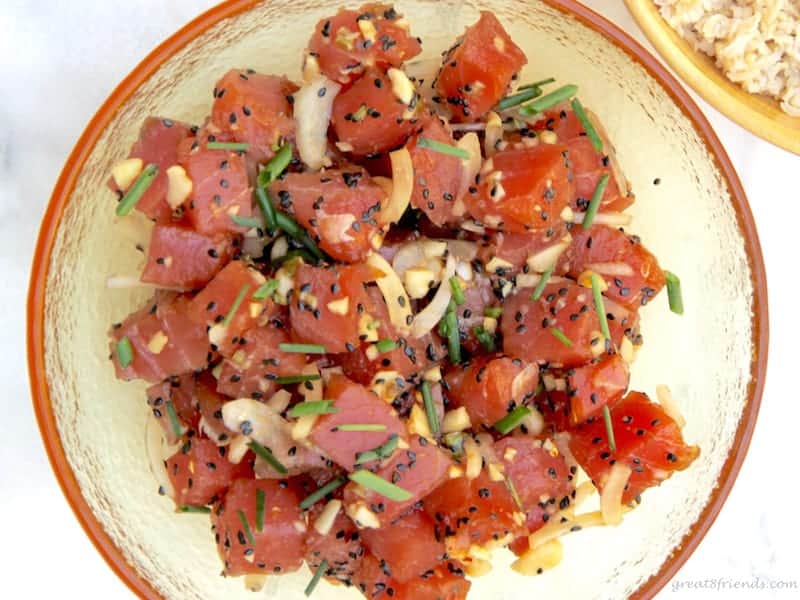 Shipwrecked was such a fun theme because we got to use all "island-y" flavors with a lot of fish dishes.
Appetizers
For appetizers I made Kyle's Ahi Poke, some Herbed Scallops and also Sweet Potato Chips to dip into a favorite of mine, Mango Papaya Salsa (also delicious on grilled fish).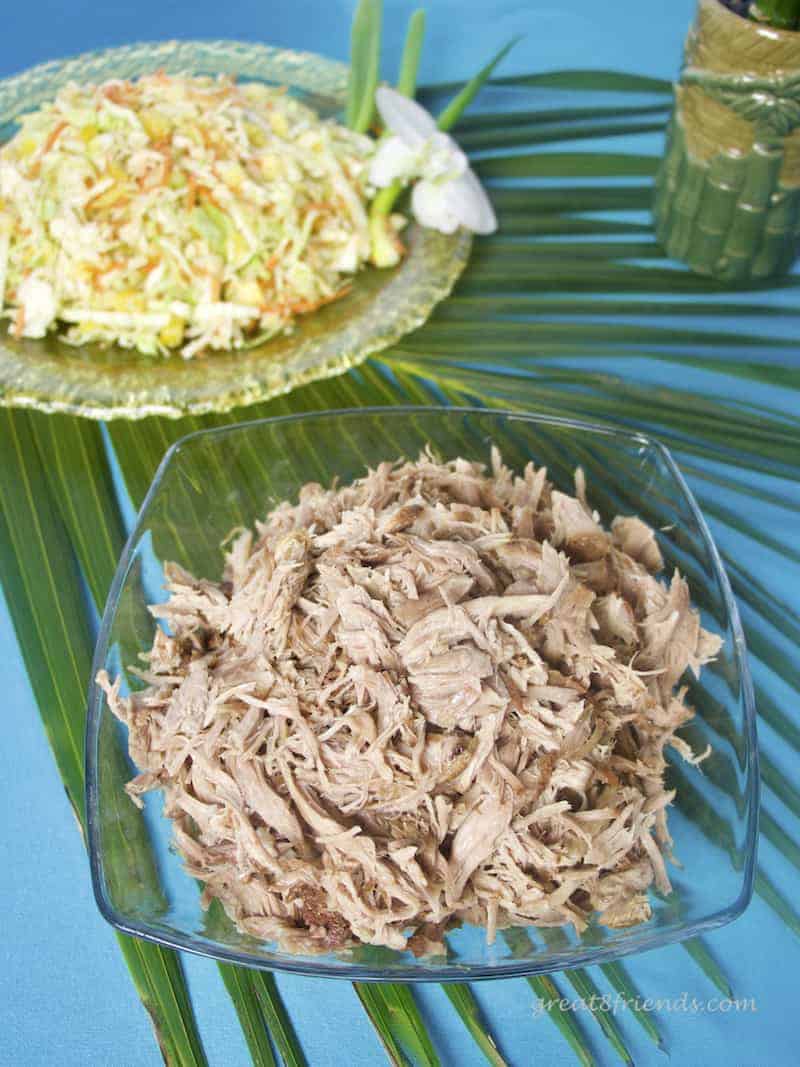 Main Course
The entrée was grilled fresh fish, of course, plus we had Island Pulled Pork and Pineapple Sesame Slaw.
The pork can be cooked the day before and the slaw can be put together early in the day, making these Gr8 choices for a dinner party.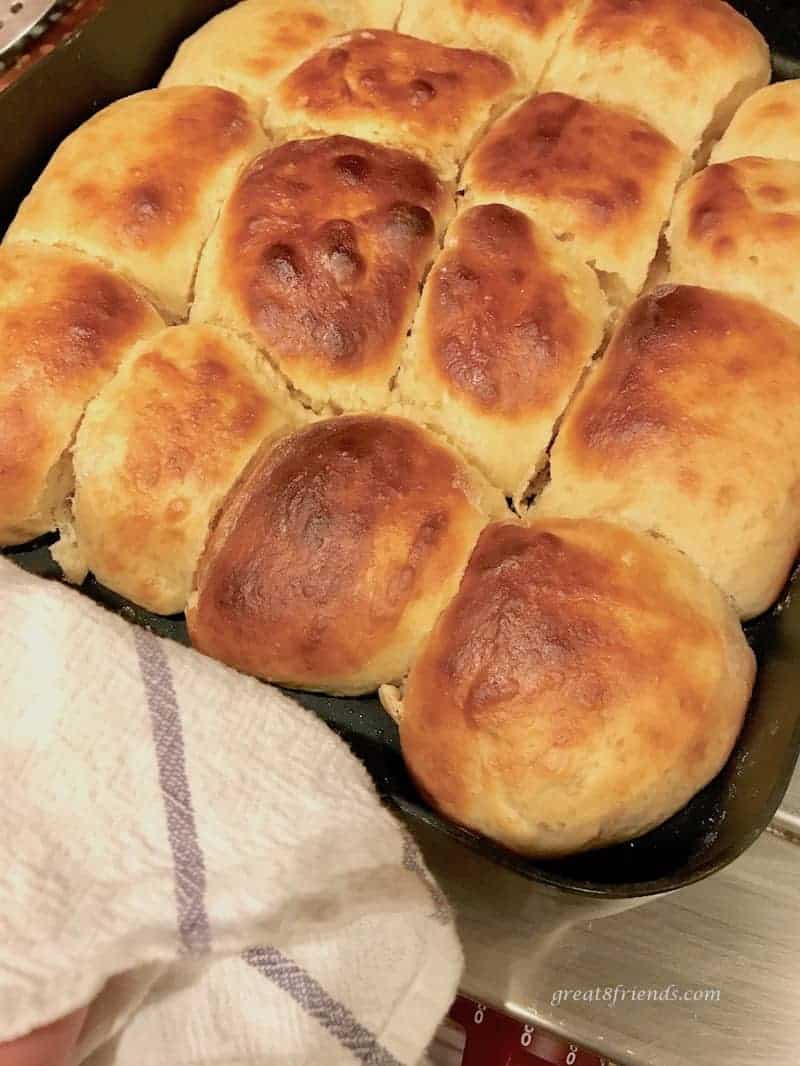 Jurga brought Pineapple Rice, yum! And Debbie, our "bread queen" brought her delicious version of Hawaiian Rolls.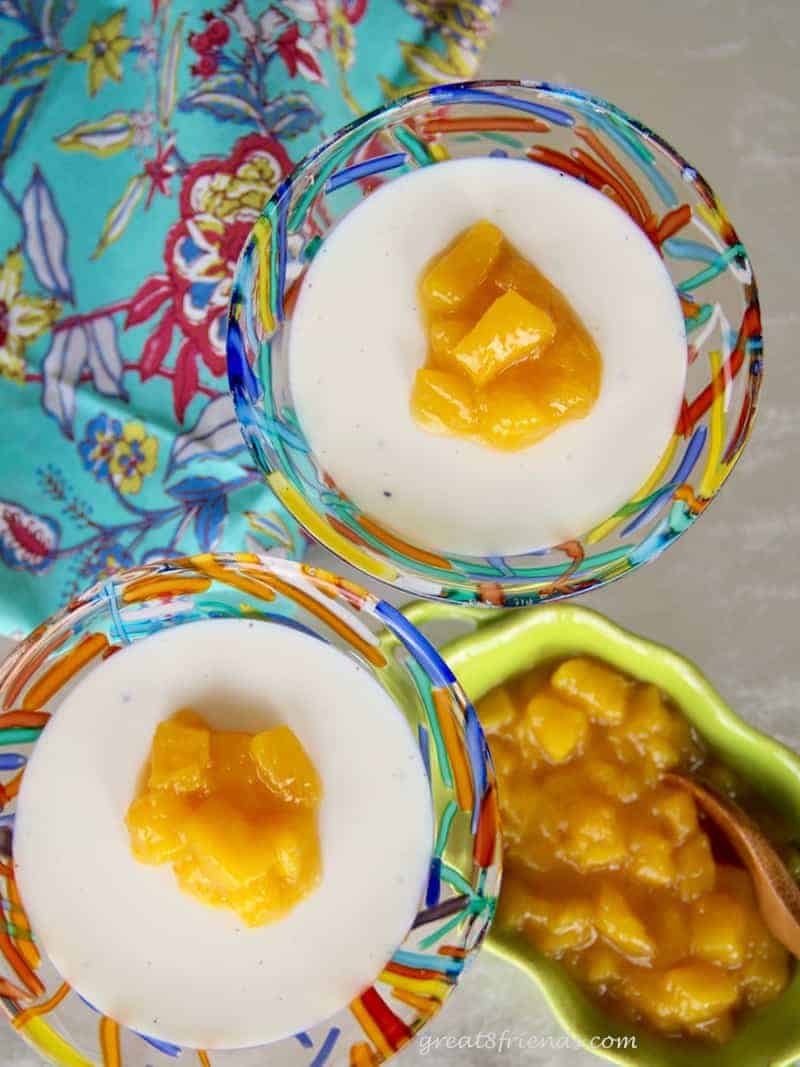 Sweet Dessert!
Dessert is always a favorite and this one was the perfect light island ending for our Shipwrecked group of 8, Kyle's Vanilla Panna Cotta with Mango Compote. Look how refreshing and creamy that is!
The Shipwrecked Invitation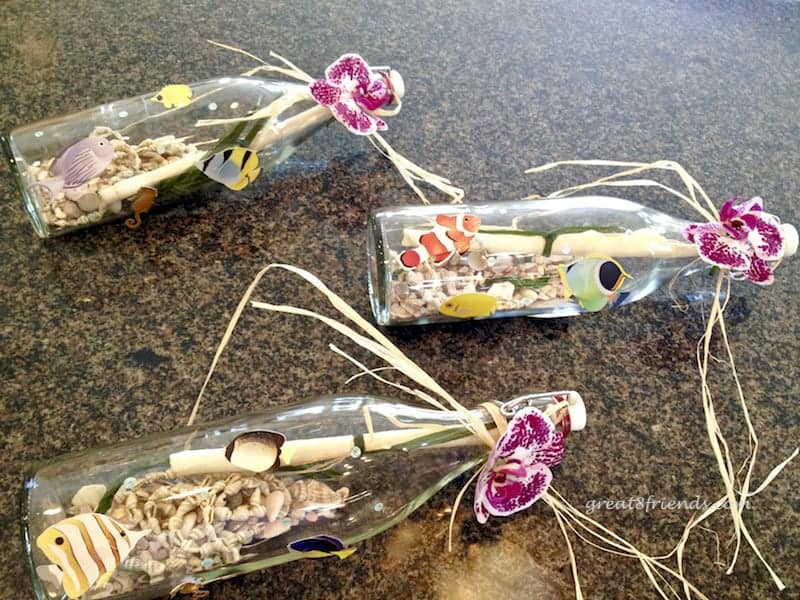 Once the menu is chosen it's time to make the invitation and this was an easy one. Can you guess what it was?
Yes! A message in a bottle!
To remain authentic I hand wrote each invite in red pen (berry juice!) and slipped it into a inexpensive bottle to "wash up" on the shore of each front porch. (Remember, we only have to make 3; so while it was time consuming, it wasn't ALL consuming.)
I think one of the reasons the Great 8 has stayed together for 20 years is because of the invitations.
Receiving a beautiful offer to join someone in their home to break bread tells you that thought and love are part of the preparation.
The invitation sets the tone for the event and gets the guest into the mood, whether it's a shipwreck, a tailgate party, a Renaissance Faire, or a Friendsgiving party.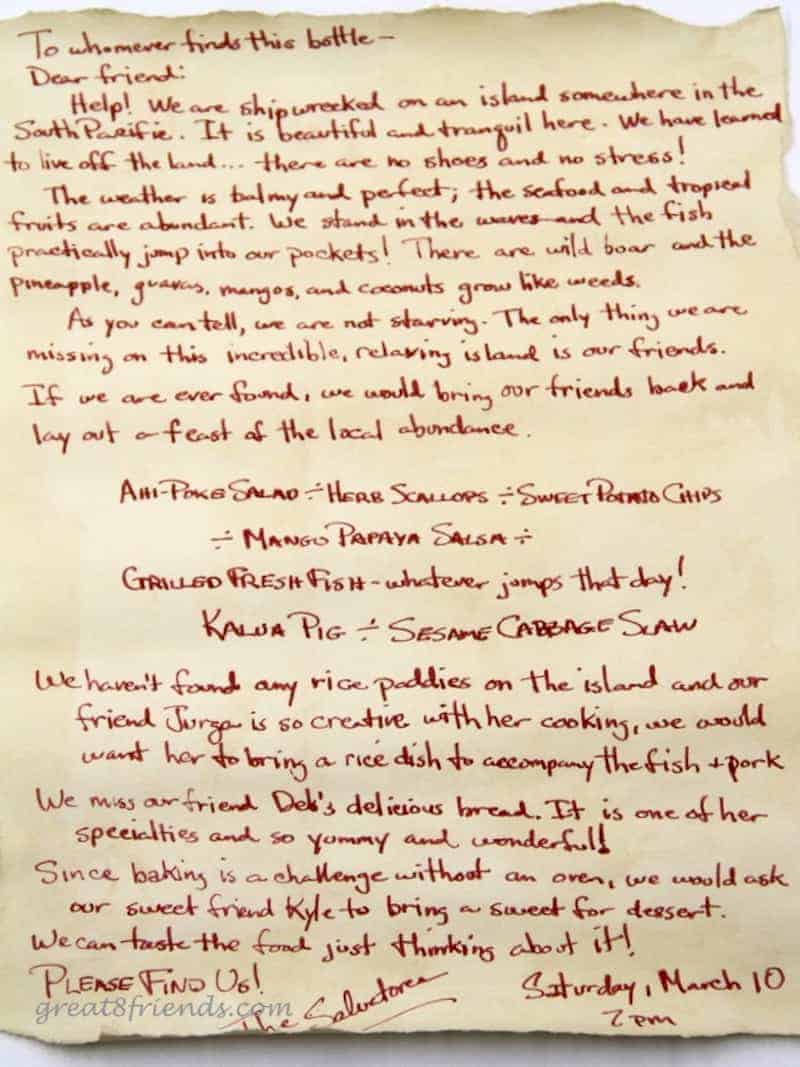 Invitations don't have to be elaborate (I know we kind of go over the top!), but they should convey the idea that a Gr8 time will be had by all!
The Table
After the menu and invitations are decided, the table setting and any decorations need to be prepared.
Some themes are easier than others and a shipwreck theme may be the easiest of all. These beautiful miniature plants from the nursery were perfect as the main focus of the table.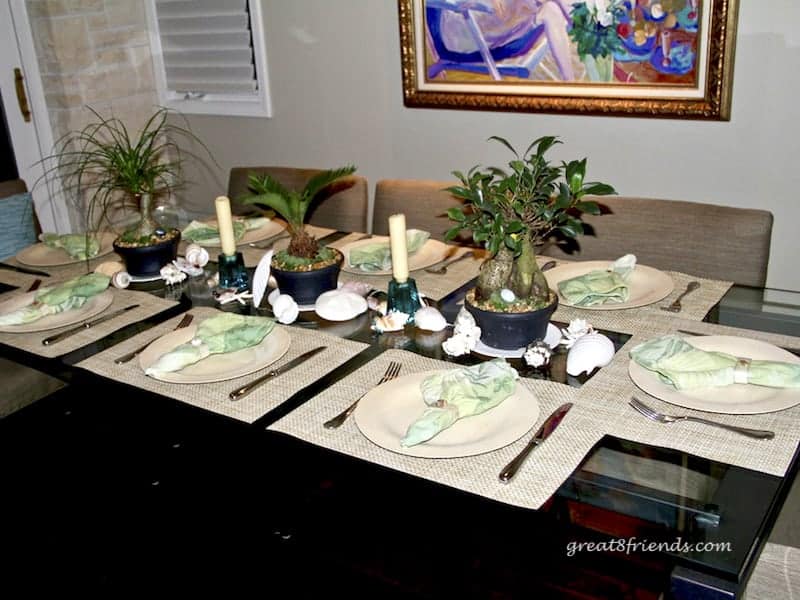 And my casual collection of shells came in handy to bring it all together. A couple of candles, and voilà! a centerpiece is born. (Looking back I would now add some tropical flowers to the mix!)
And the plants were the perfect gift to give my guests as they were leaving! The plates are these fabulous disposables made of bamboo. Or use regular plates, you're in charge!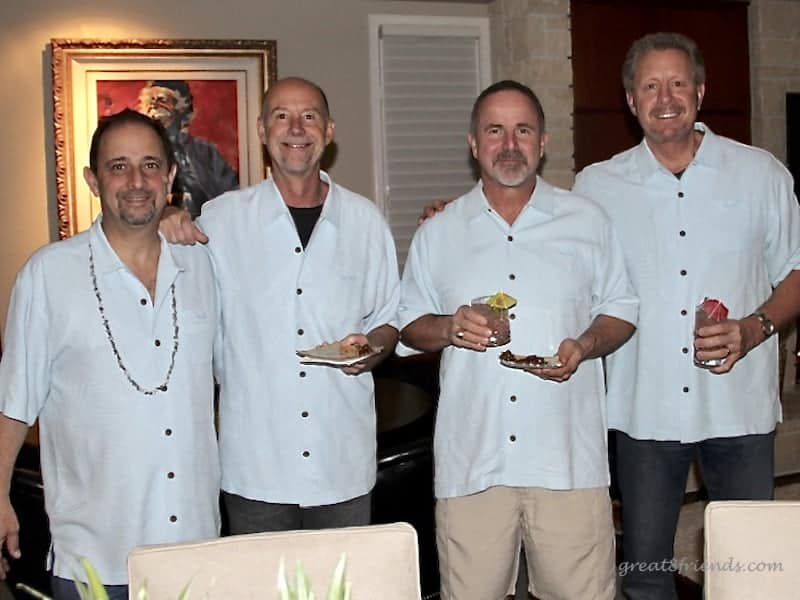 Our guys wearing matching shirts, aren't they handsome? Vince found these tropical shirts and had "Great 8" embroidered on the pocket...(no, they don't normally dress alike!😂).
Another evening of Gr8 Food, Gr8 Friends and Gr8 Fun!
Gather your Gr8 Friends, have everyone bring some Gr8 Food, and we guarantee you will have Gr8 Fun! Let us know how YOUR Gr8 Dinners turn out in the comments below.