Windows to the Aegean became our dinner party theme after a journey to Greece. The table setting and delicious menu were also inspired by our trip.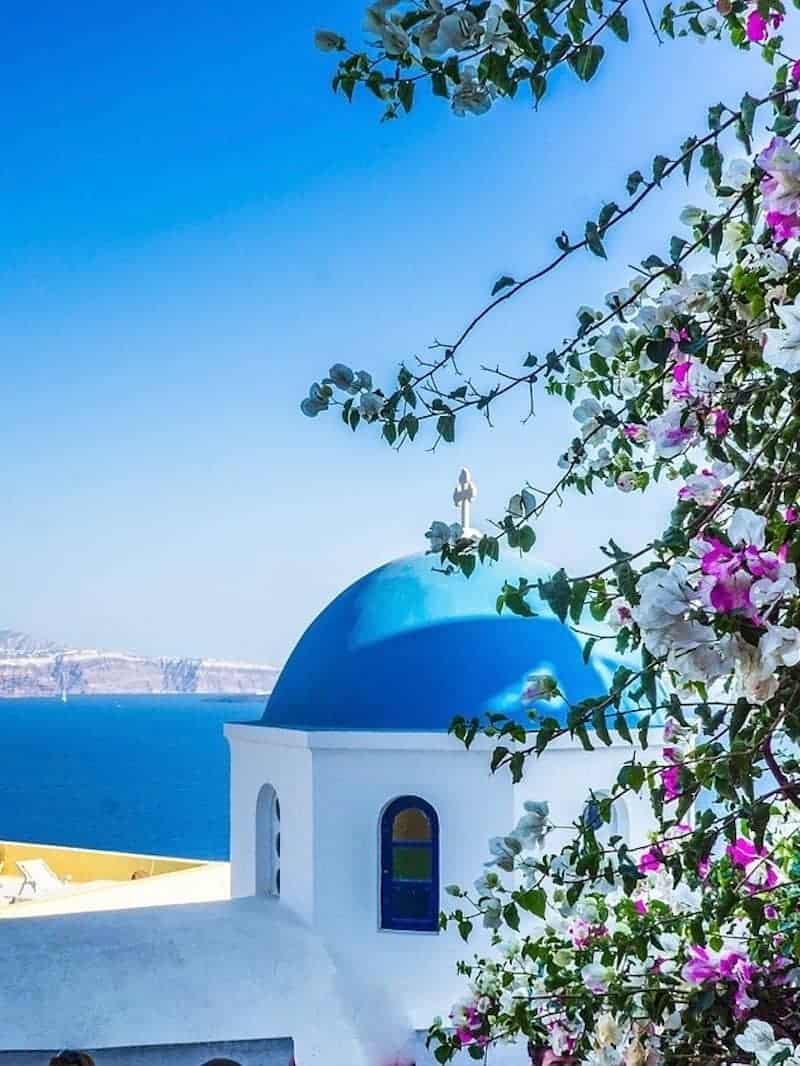 On a recent sailing journey on the Aegean Sea, I was spellbound by the beauty of the Greek Islands, the deep blue water, and the clear blue skies.
The traditional Greek white houses with their blue windows, arched doorways and cheerful pink Bougainvillea trees were my inspiration for our Greek themed dinner, Windows to the Aegean.
The Theme and Invitation
Since the colors of blue, white and pink are so vivid in the Greek Islands, I used scenic photos of islands we visited in the invitation.
I chose a picture frame of six small windows with tiny clips to feature the photos and the printed invitation.
To continue the Greek theme, the frame was supported by a pink Bougainvillea plant wrapped in blue and white striped fabric. The invitation for Windows to the Aegean was complete!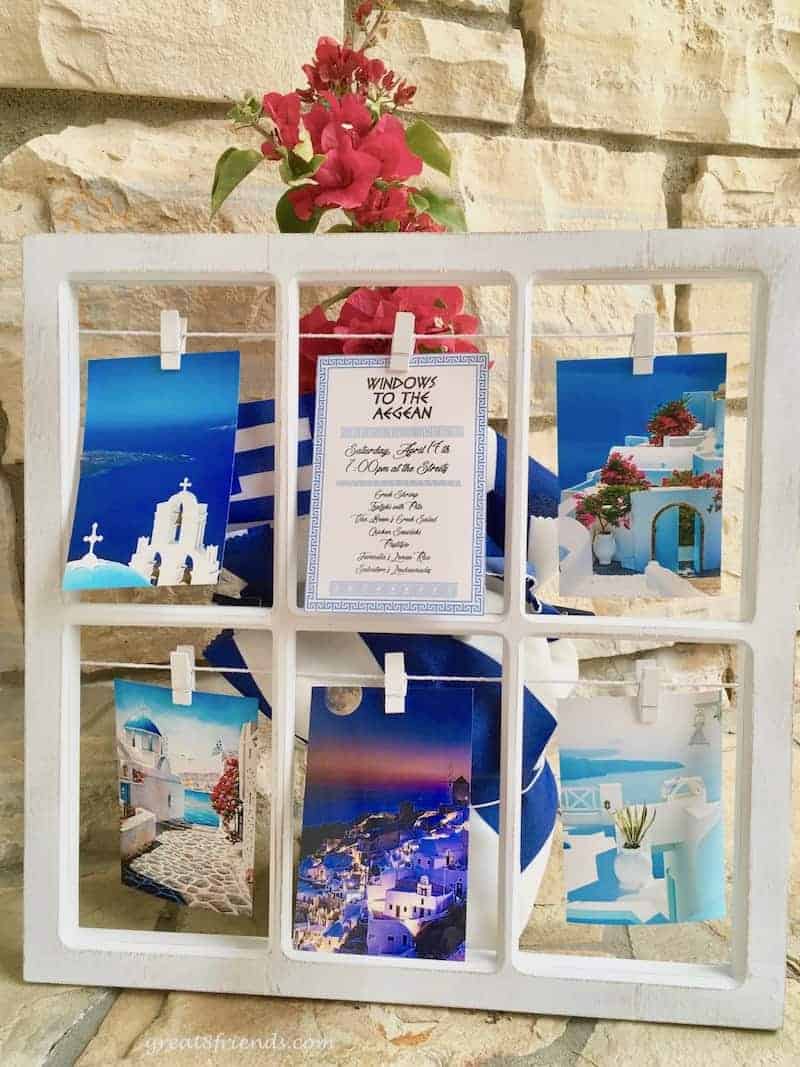 The Menu
Greek cuisine has the reputation of being healthy and nutritious, so I wanted to create classic Greek dishes for our dinner.
We started with an assortment of traditional Greek Mezes - or small bites - of olives, sautéed shrimp Saganaki, Tzatziki dip with pita wedges, and lamb and feta meatballs.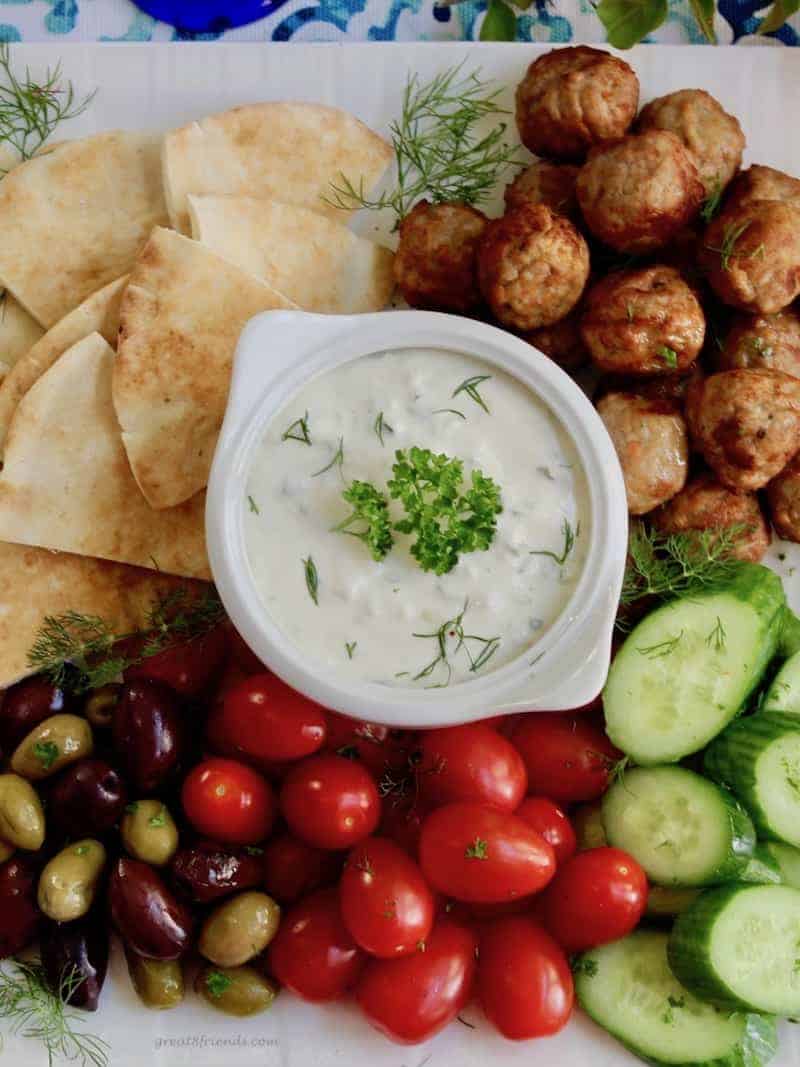 We also served small cups of Avgolemono, lemon chicken soup.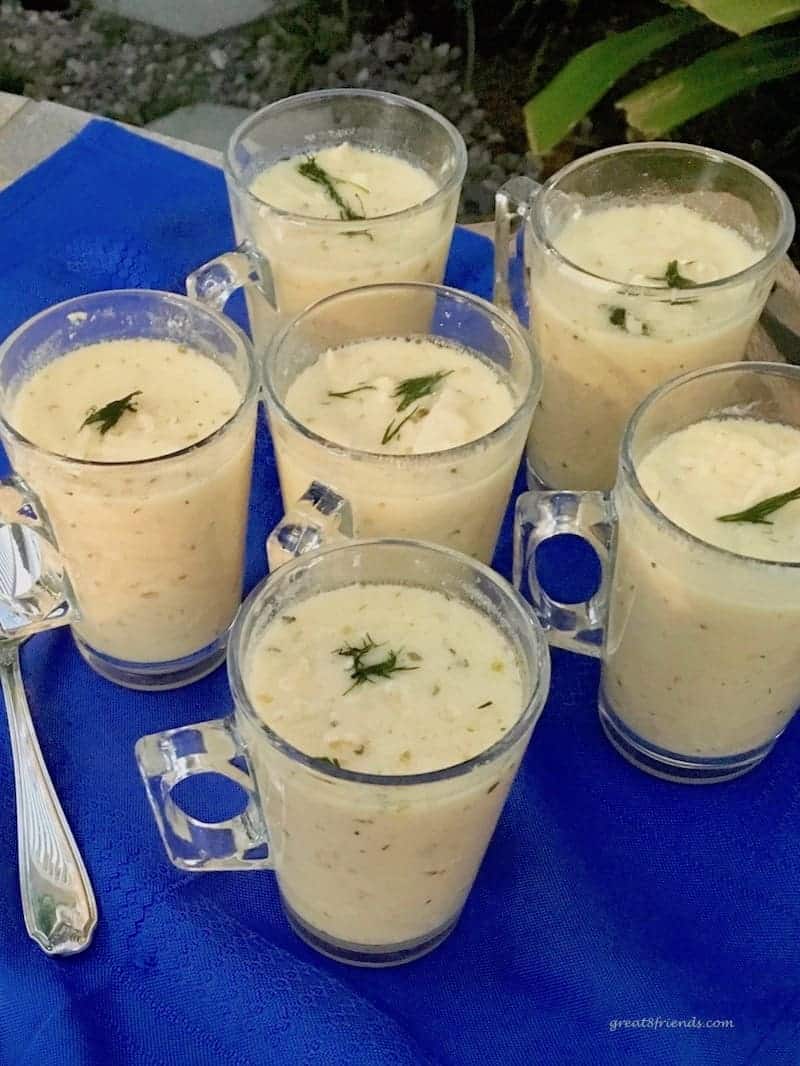 The appetizers were followed by Kyle's refreshing traditional Greek Salad.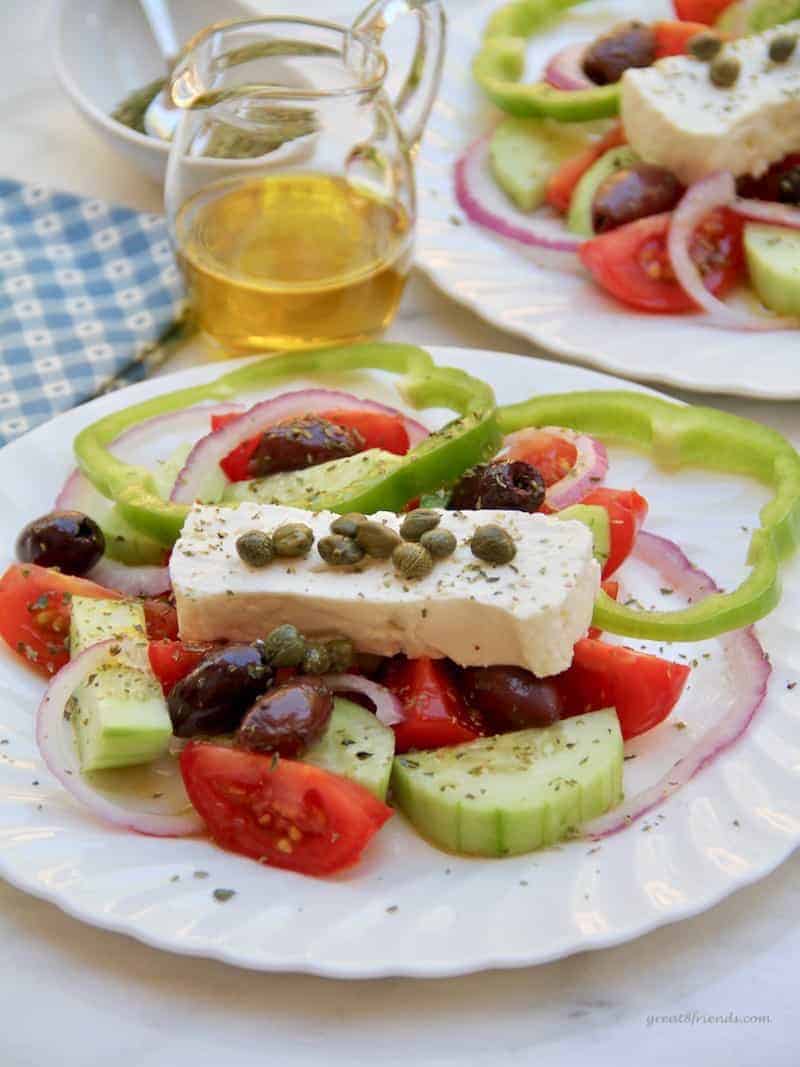 As a main course, Debbie's Zesty Lemon Rice topped with our Chicken Souvlaki made us want to dance "horos," like Zorba the Greek!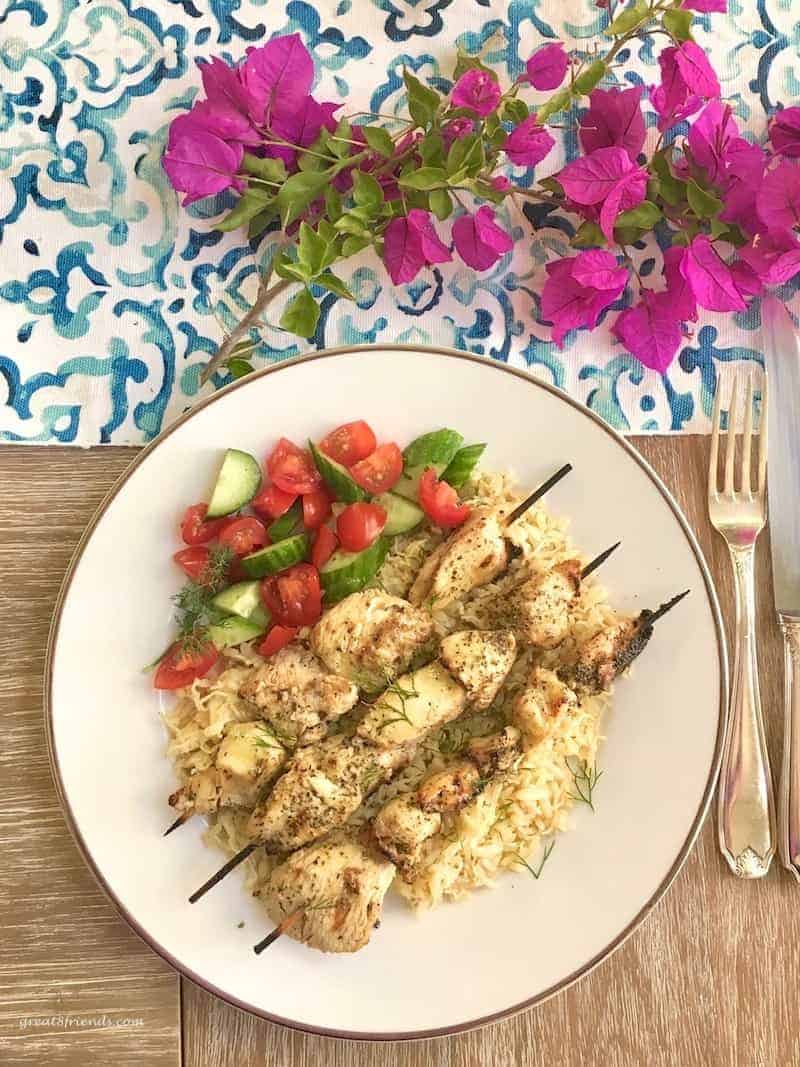 After enjoying Baklava, a sweet dessert made of layers of filo, honey and chopped nuts, as well as a cup of strong Greek coffee accompanied by Anise flavored Ouzo, we felt as if we were gazing upon the pristine waters of the Aegean Sea.

We'd been entranced by all the emotions of the evening and the sight and taste and pleasant aroma of the authentic Greek cuisine we had just experienced!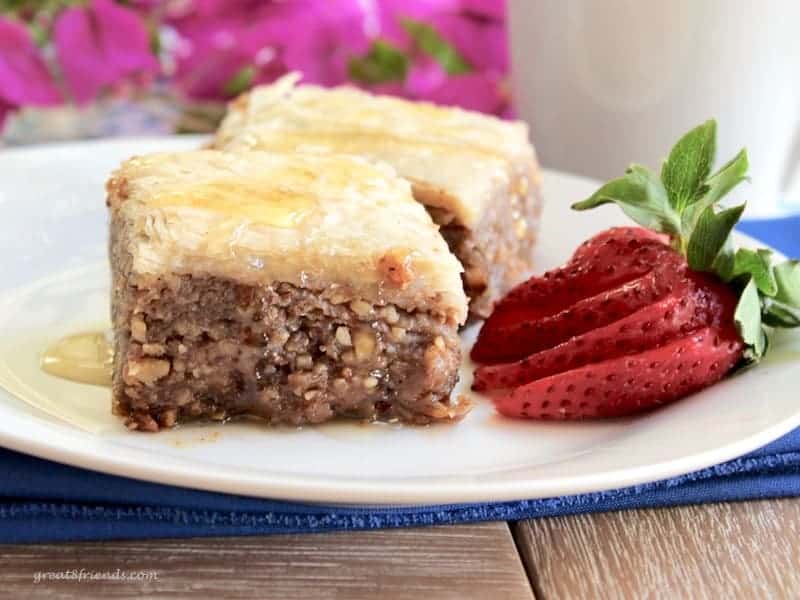 The Table Setting
Our table setting was inspired by the colorful Bougainvillea trees draped over the white stucco buildings on the Greek Isles, as well as the azure water of the Aegean Sea.
Bougainvillea is a very popular landscape plant here in Southern California, so blooms are plentiful to find.
For northern areas, any pink blooming plants or flowers would be just as effective. Combined with white dinner plates, blue napkins and (inexpensive) blue wine glasses, the pink (or white) blooms create a simple yet elegant statement. Several white candles completed the decor.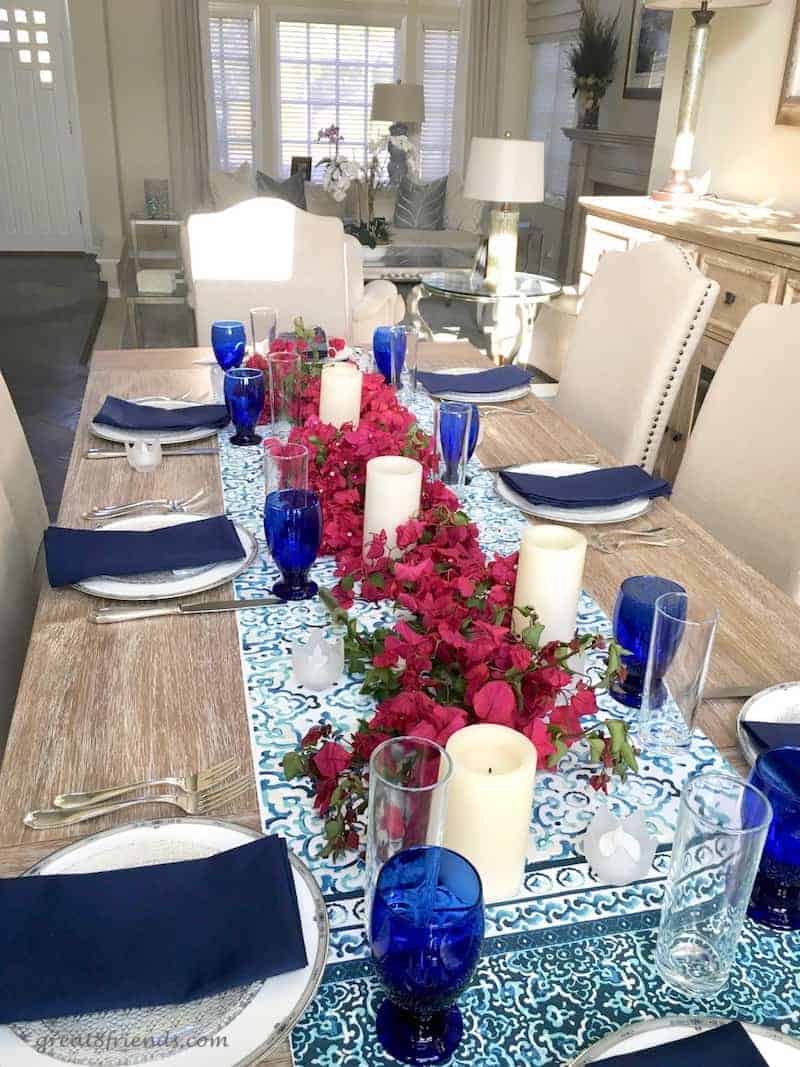 The beauty of the Greek Islands is unsurpassed in the visual banquet of colors and the splendor of the landscape. The food left a lasting impression, forever etched in my mind.
Creating a Greek themed dinner is easy to do. So put on some Greek music, kick off your shoes, dance a little, try the recipes and bring the wonderful flavors of Greek cuisine into your very own home.