Add these delicious homemade Hawaiian Bread Rolls to your island menu. The secret addition will make these slightly sweet rolls melt in your mouth!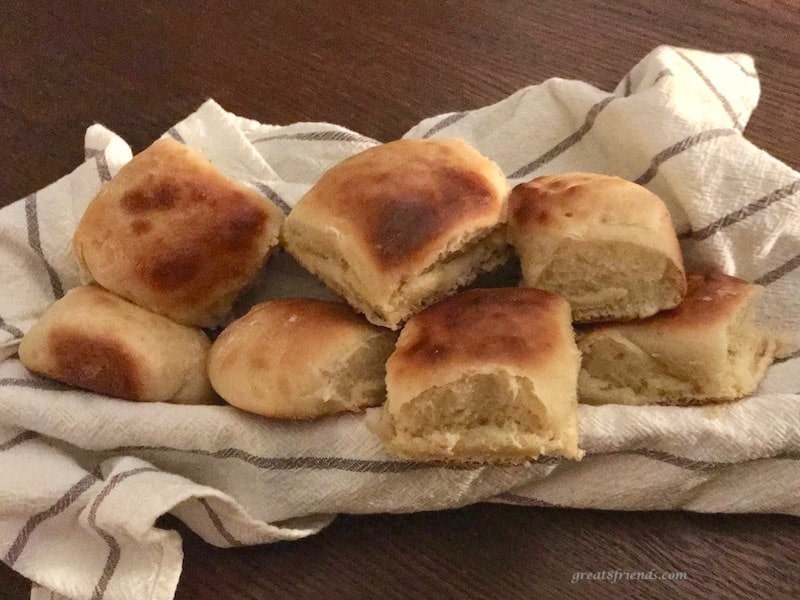 When our daughters were younger, they always loved the flavor of the traditional Hawaiian bread rolls. I think it was because of the sweetness…the bread and our girls!
It was always a bit too sweet for me though. Hard to imagine enjoying it with something savory.
When given the task of bread for Anna & Vince's Shipwrecked theme Great 8 Dinner, I knew exactly what I wanted to bring! A version of the Hawaiian bread, but a tad less sweet.
Give me the duty of bread, and I am one happy gal! Yay! One more recipe to have fun with! Let's play!!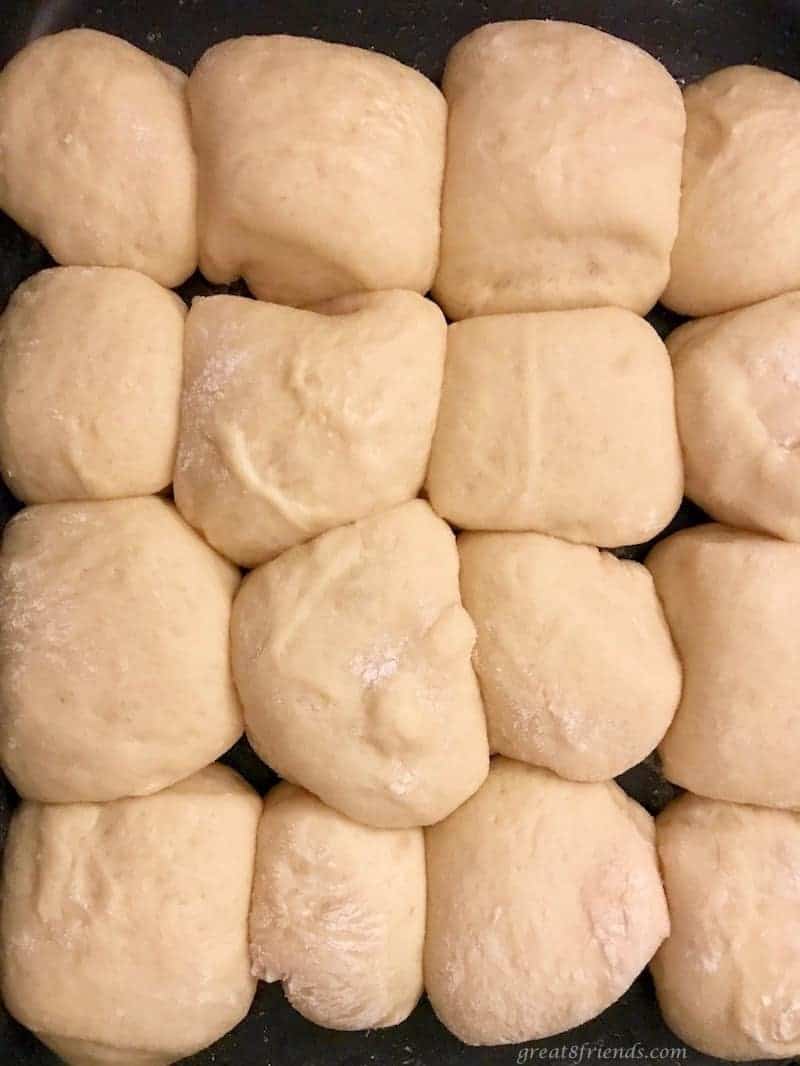 After playing with the ingredients, pineapple juice was what gave it the "island" like flavor and brown sugar, instead of the typical white, was the perfect added sweetner.
Of course when trying new combinations, especially when baking bread (or baking anything)! I'm always eager and anxious to see what the final outcome will be!
With bread, it's patience! Will it rise?! I can't help but peek mid way!!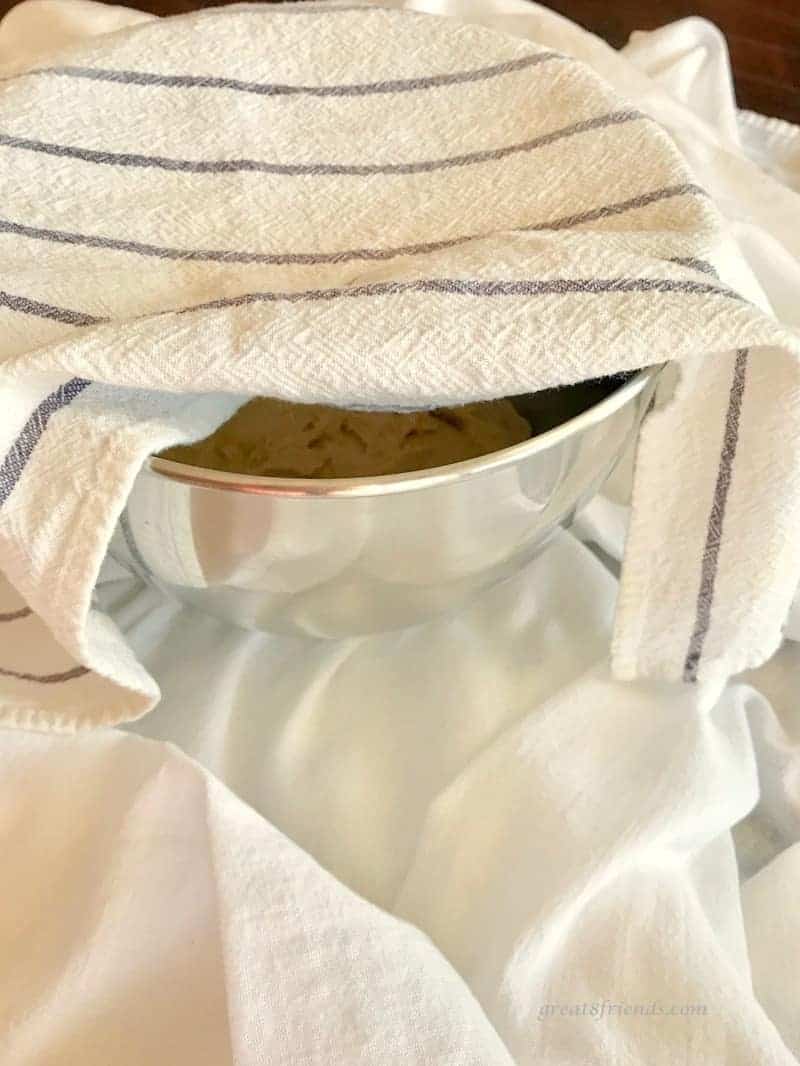 When the rising time is up, I can't wait to see the result…Puffed and happy or flat and sad! Hooray! Puffed and happy for the win! So far so good!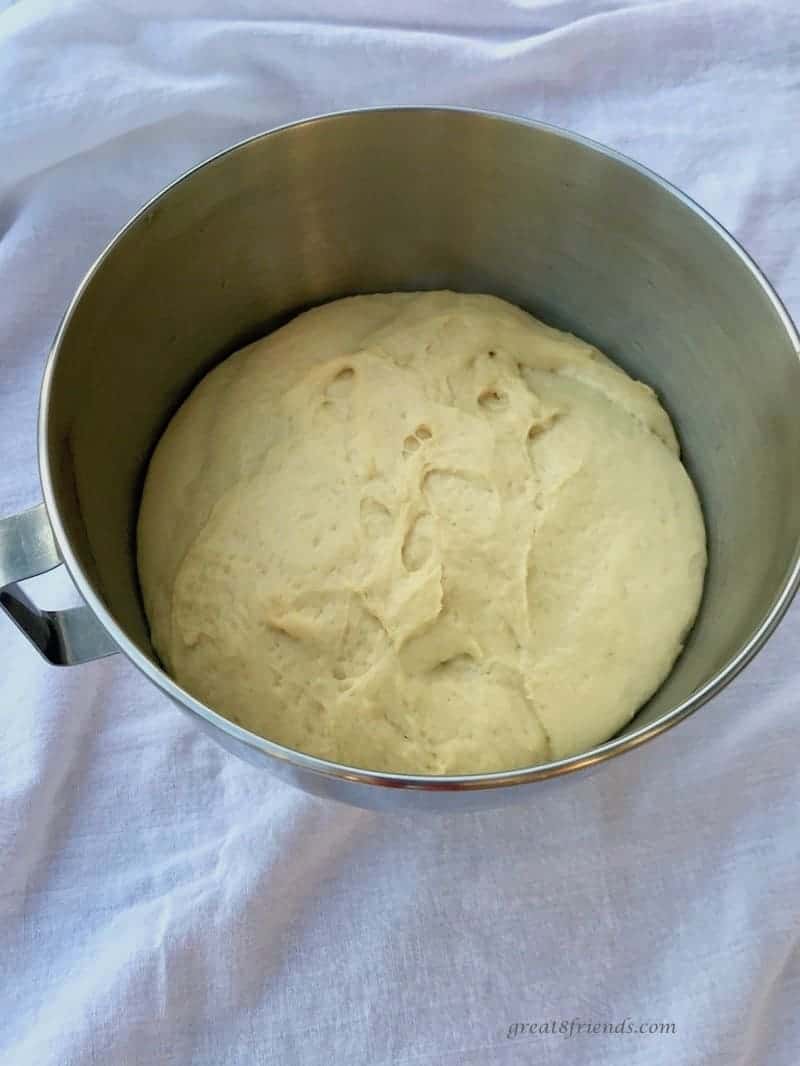 I'm always surprised when dough has risen for so long, that the heat is still evident when it's deflated…pillowy soft and warm! Kinda like a comforter!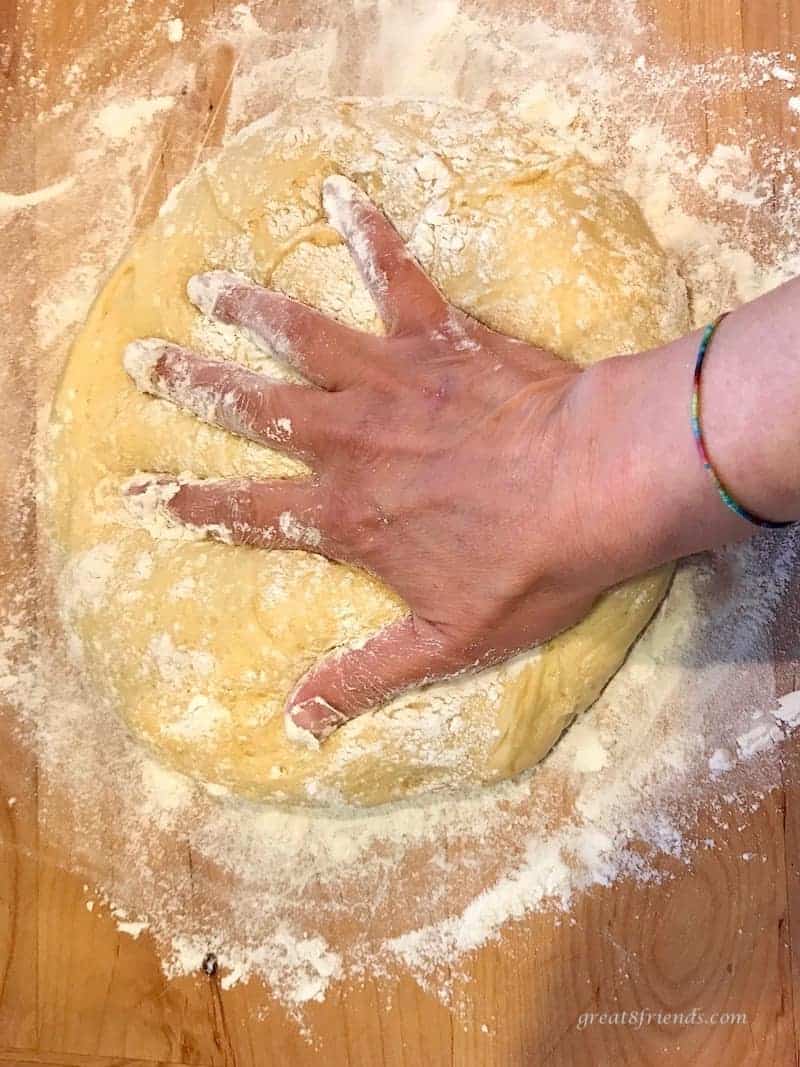 For me, the fun part of bread making is what comes after the initial rise. Whether you're making buns, loaves, rolls or braiding it, getting it ready for the last rise before oven time is what gives it its "personality."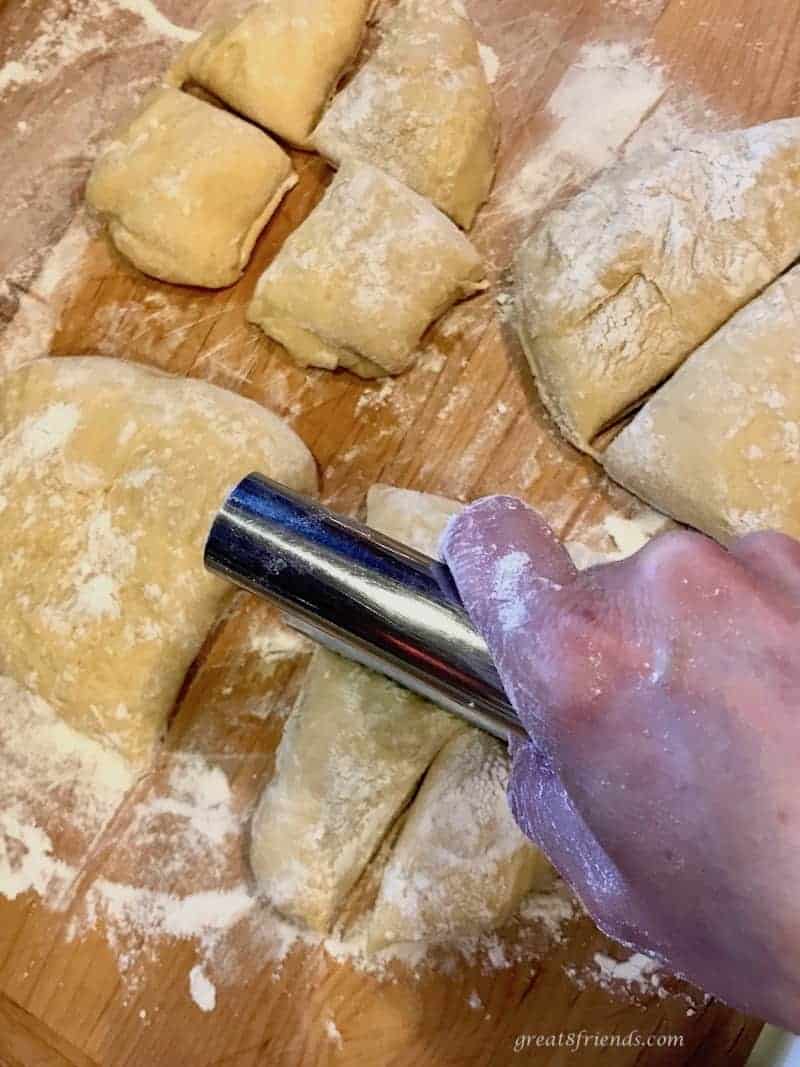 Yes, bread has a personality! Airy, dense, puffy, etc. Kinda like us! 😉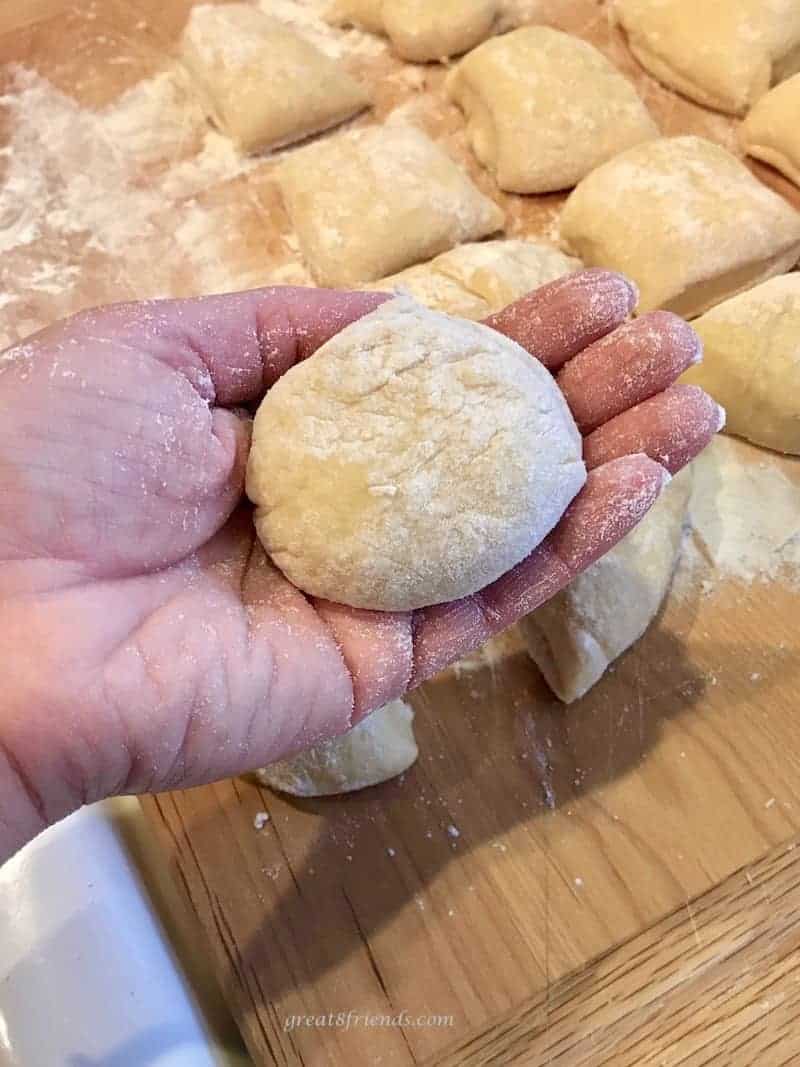 Puffed and happy and ready for the oven…another test of my patience was about to take place! Almost time!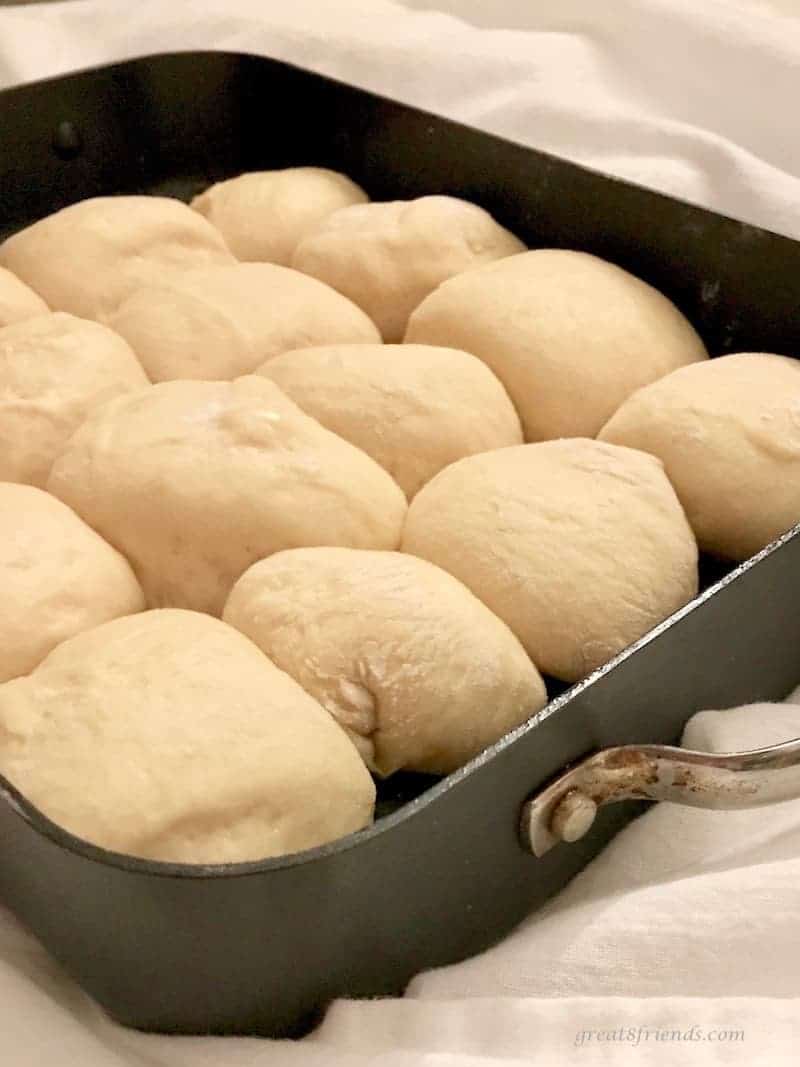 Lucky for Phil, my oven tends to be a bit warmer in one area. The reason I say he's lucky, is because when it comes to baked goods, he's always chosen the darker ones! Cookies, rolls, muffins, you name it.
When he saw that there were a few over-done rolls, and knowing I wouldn't bring them to the party, he grabbed a jar of preserves and marked his territory!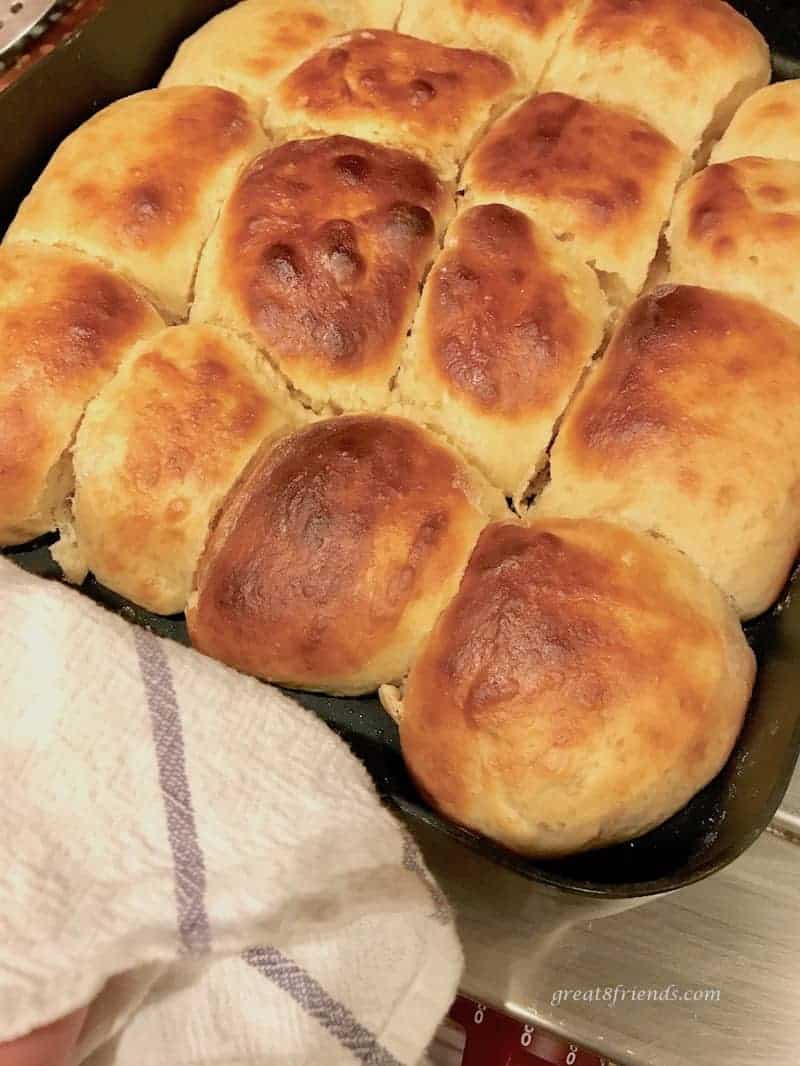 Here's a funny tidbit! Although the ingredients for these Hawaiian bread rolls are SO different, our girls thought that these rolls tasted "just like my Challah Bread, but as rolls not loaves."
Now they've got me thinking…the next time I make my Challah, instead of braiding one of the loaves, I might make rolls! Stay tuned!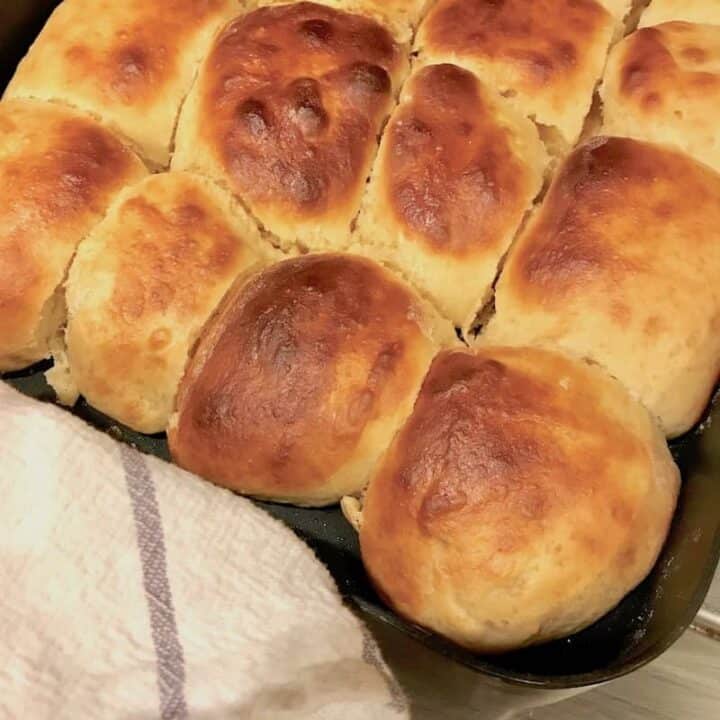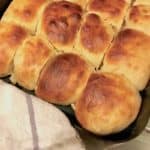 Print Recipe
Pin Recipe
Save this Recipe
Saved!
Please leave a rating!
Hawaiian Bread Rolls
Add these delicious homemade Hawaiian Rolls to your island menu. The secret addition will make these slightly sweet rolls melt in your mouth!
Ingredients
¼

cup + 1 Tablespoon

bread flour

1 ½

Tablespoons

instant yeast

2

Tablespoons

hot water

½

cup

pineapple juice, warmed

4

Tablespoons (½ stick)

unsalted butter

,

softened

⅓

cup

brown sugar

,

not packed

2

large

eggs

1

egg yolk

1

teaspoon

vanilla extract

scant 3

cups

bread flour

1 ¼

teaspoons

salt

cooking oil

,

for greasing the pan and plastic wrap

1

egg

,

for the egg wash

1

Tablespoon

water
Instructions
Place the ¼ cup and 1 tablespoon of bread flour, yeast, water and warmed pineapple juice in the bowl of your stand up mixer. Mix thoroughly with a wooden spoon.

Let rest for 15 minutes.

Add butter, brown sugar, 2 eggs, the egg yolk, and vanilla. With the whisk attachment, mix until well combined.

In a separate bowl, lightly whisk together the remaining flour and salt.

Add flour and salt mixture to the liquid ingredients. Mix on medium for about 3 minutes.

Replace the whisk attachment with the flat beater attachment. Mix and knead until the dough is of a smooth (but sticky) consistency. Beat on medium-high for about 3 minutes, scraping down dough from time to time.

Replace flat beater attachment with the dough hook attachment, and "knead" for about 5 minutes. If dough is still sticking to the sides of the bowl, add a Tablespoon of flour (do not exceed 2 additional Tablespoons of flour).

Transfer dough (don't wash out bowl yet!) to a lightly floured surface and knead for 3 minutes.

Lightly grease the mixing bowl.

Return dough back to greased bowl. Cover with a clean dish towel.

Place covered bowl in a draft-free area and let the dough rise until doubled (or more) in size, about 1 ½ to 2 hours.

While dough is rising, lightly grease a 9" x 13" baking pan.

Dump the dough from the bowl onto a lightly floured surface. Gently press to deflate the dough. Evenly divide the dough into 16 equal pieces. I cut deflated dough in half, then each ½ in ½ again…Continue until you have 16 equal pieces.

Gently shape each piece into a ball. Space the buns in the greased baking pan.

Grease 1 side of a sheet of plastic wrap. With greased side down, lightly tent the pan gently with plastic wrap.

Allow the dough to rise for 1 hour, until the rolls are nicely puffed and connected to each other.

Meanwhile before the hour is up, preheat oven to 350°F.

Whisk together the egg and 1 Tablespoon of water and brush onto the top of rolls.

Bake the rolls for 20 to 25 minutes.

Let rest for 3 minutes before turning out onto serving dish or basket.
Notes
Gr8 Do Ahead Tip:
These rolls freeze beautifully. Just let them cool to room temperature, seal in a plastic freezer bag and freeze for up to one month. Defrost at room temperature and enjoy home baked bread!