Our Gr8 Independence Day Dinner was a historical party marking the founding of our great nation. You will love the invitation, menu and more!
One of our favorite Gr8 Dinners honored our country. When you're hosting a party near or on the Fourth of July, this is the obvious choice for a theme!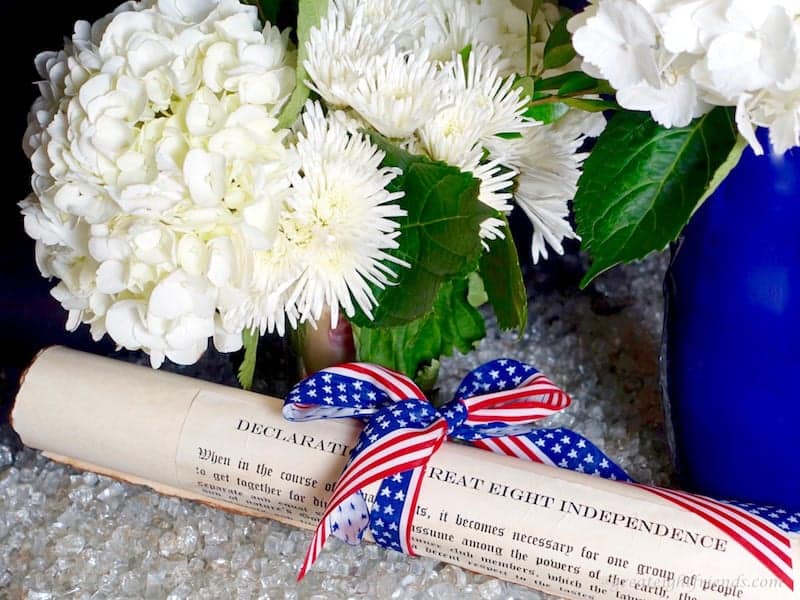 Invitation
While great food, friends and fun is a staple of every Great 8 Dinner event, the invitation is a critical feature for several reasons.
The invitation not only announces the date of the gathering but, more importantly, reveals the theme along with the menu and assignments for all food preparation.
When Jurga and I hosted a 4th of July themed event several years back I decided to use the Declaration of Independence as the format and foundation of the invitation.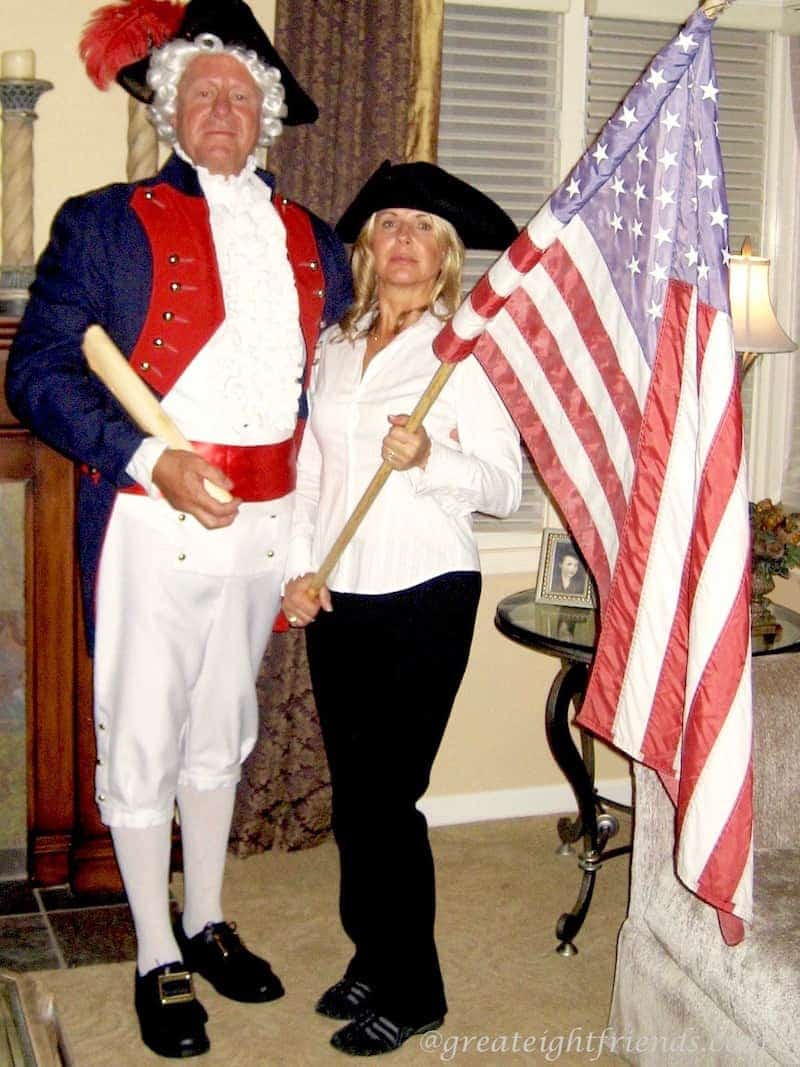 On scrolled "parchment" paper, to evoke the era, I altered the Declaration in a manner that communicated the theme and purpose of our gathering. We came up with a unique and personally interactive means to deliver the invitation.
We presented the invitation in full costume fitting of the Revolutionary Era. I wore a George Washington outfit while Jurga dressed á la Paul Revere with a tri-tipped hat and carried an over-sized American flag.
When the invitees opened their front door to receive the official invitation I loudly and proudly began the invitation/proclamation with a robust "Hear Ye, Hear Ye," rolled out the scroll and proclaimed the menu and manner in which we would celebrate the founding of our great nation.
And while we did get a few odd looks from the neighbors a good laugh was enjoyed by all.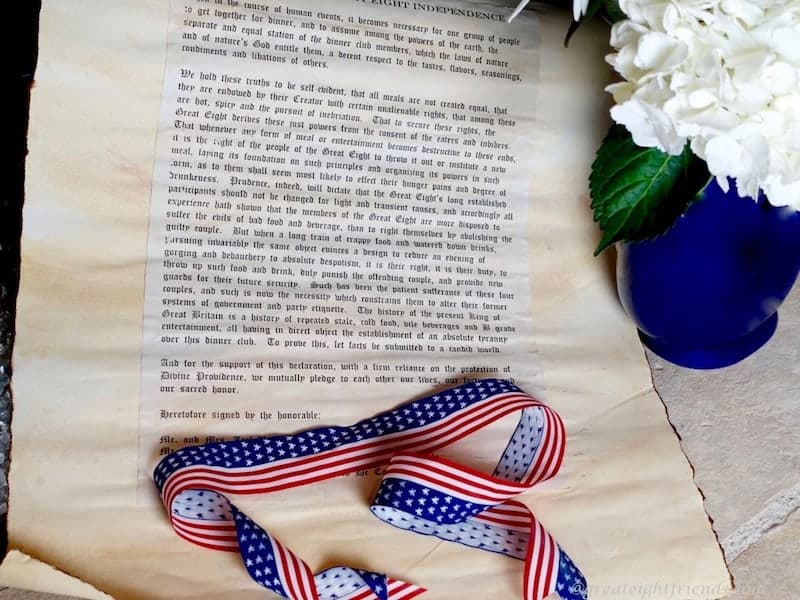 Decorations and Ambience
Independence Day may be the easiest theme in terms of decorations. Some flags, large and small, and some red, white and blue and the ambience is set!
On the day of the party I draped bunting and decorated the table while Jurga created red, white and blue fresh floral arrangements and placed them throughout our home.
As guests arrived they were greeted with patriotic background music by John Philip Souza, Lee Greenwood, Charlie Daniels and more.
Our Delicious Menu
Outside by the pool we enjoyed appetizers consisting of slow roasted Revolutionary Barbecued Ribs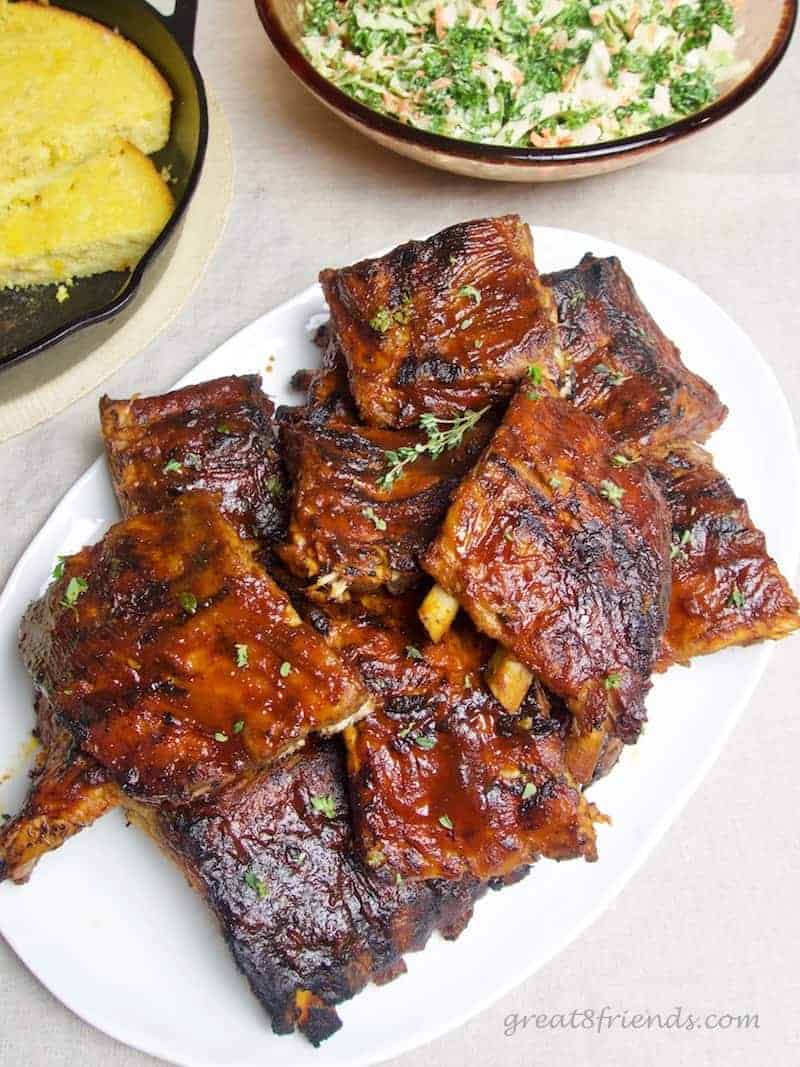 and Ben Franklin's Caprese Bruschetta, along with my signature Martha Washington Appletini.
A Fourth of July celebration would not be complete without the aroma of grilling; so I fired up the barbecue in preparation for the main course of Marinated Grilled Salmon, Beef Tenderloin, and grilled asparagus wrapped in prosciutto with balsamic glaze.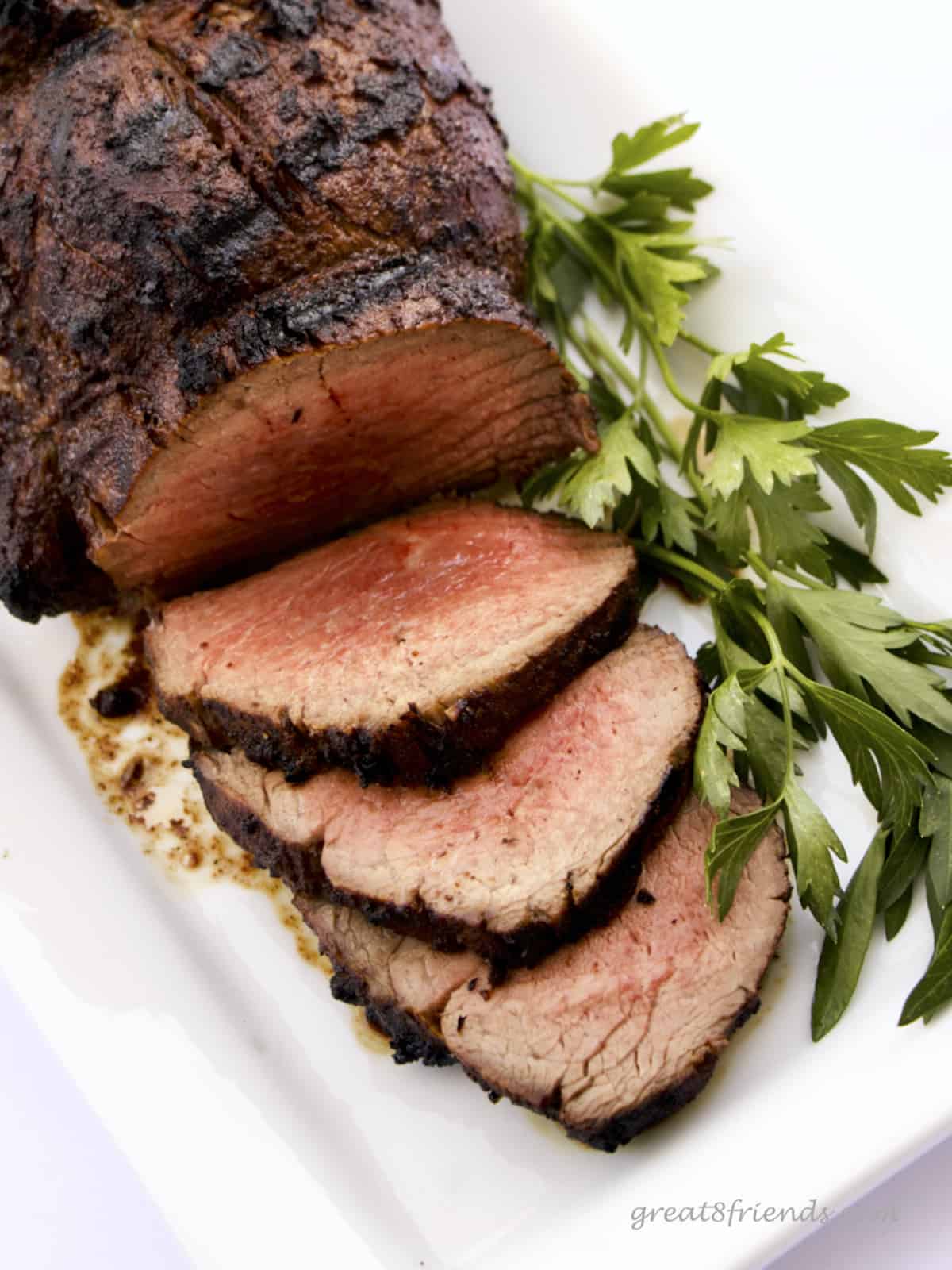 Joel and Kyle were busy in the kitchen assembling their Classic American Salad. Phil and Debbie brought freshly baked Cornbread (Debbie has that special "touch" for bread) and dinner was ready! Oh and let's not forget the mashed potatoes that were made earlier (and kept in a slow cooker). Always a timesaver!
Anna and Vince's traditional Peach and Berry Cobbler finished off the dinner beautifully. Not a crumb was left! This was truly A Gr8 Independence Day Dinner to mark history!