The best way to cook fresh fish is to keep it simple and easy. Four ingredients, (including the fish!) is your path to the best tasting fish.
Is there really a "best" way to cook fish?
When I was growing up the only fish we ate was tuna noodle casserole (remember that?!), salmon croquettes, and fish sticks. The tuna and salmon came from cans and the fish sticks came out of a box from the freezer.
I do remember once or twice eating fresh fish that my dad caught. He cleaned it and grilled it and mom served it with tartar sauce. And it was always yummy!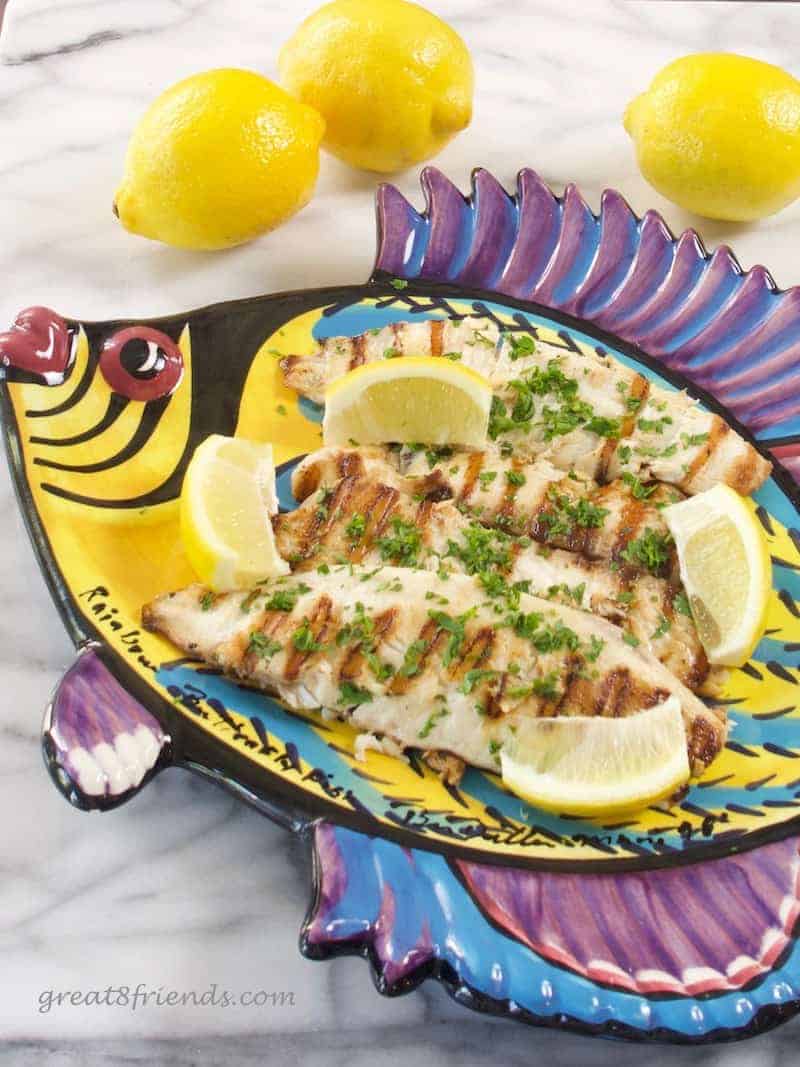 Vince, on the other hand, grew up on the Long Island Sound and his dad always owned a boat; so they had fresh fish often.
AND his mom and grandmother were both gourmet cooks. (No pressure on me!)
There is an ongoing debate in our house about the "BEST" way to cook fresh fish. Of course, Vince thinks his mom's way is the best and only way.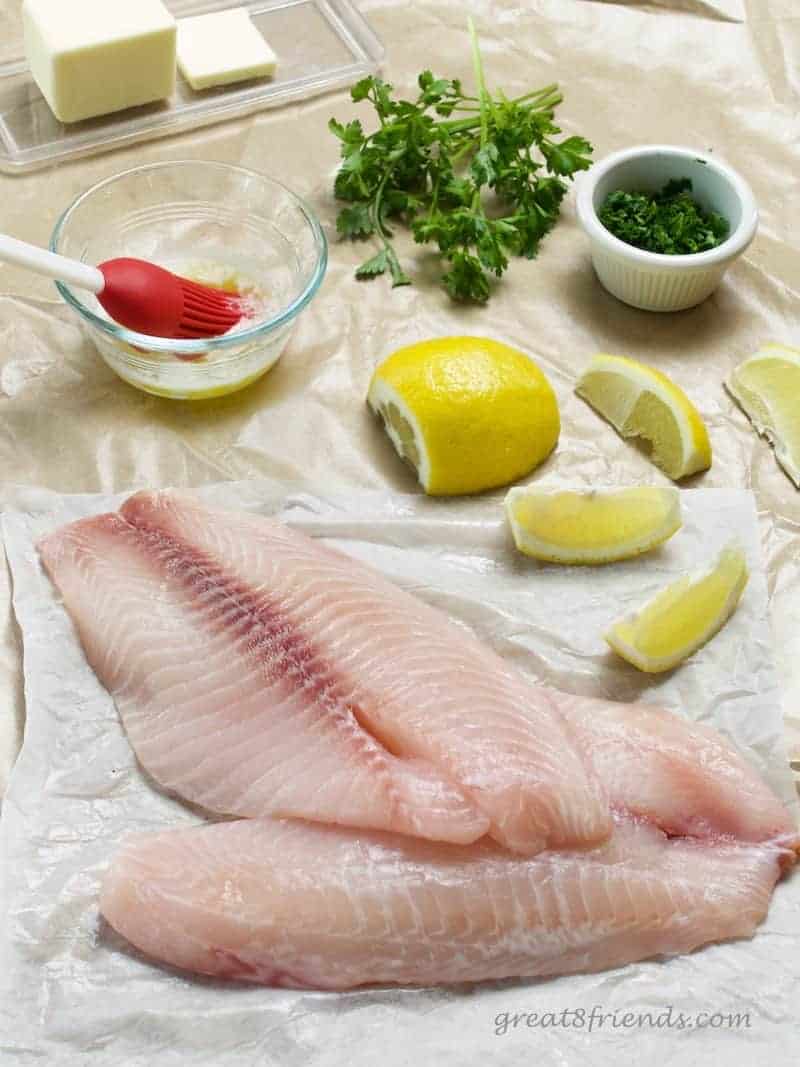 His mom's way is delicious, no argument there, but there are OTHER equally as delicious ways to cook fresh fish.
How to Cook
Gr8 Friends, fresh fish is not difficult to cook. In fact, it is one of the easiest entrées you can make. The way Vince's mom, Jo Marie, cooked her fresh fish uses the KISS method - Keep It Simple, Sweetheart.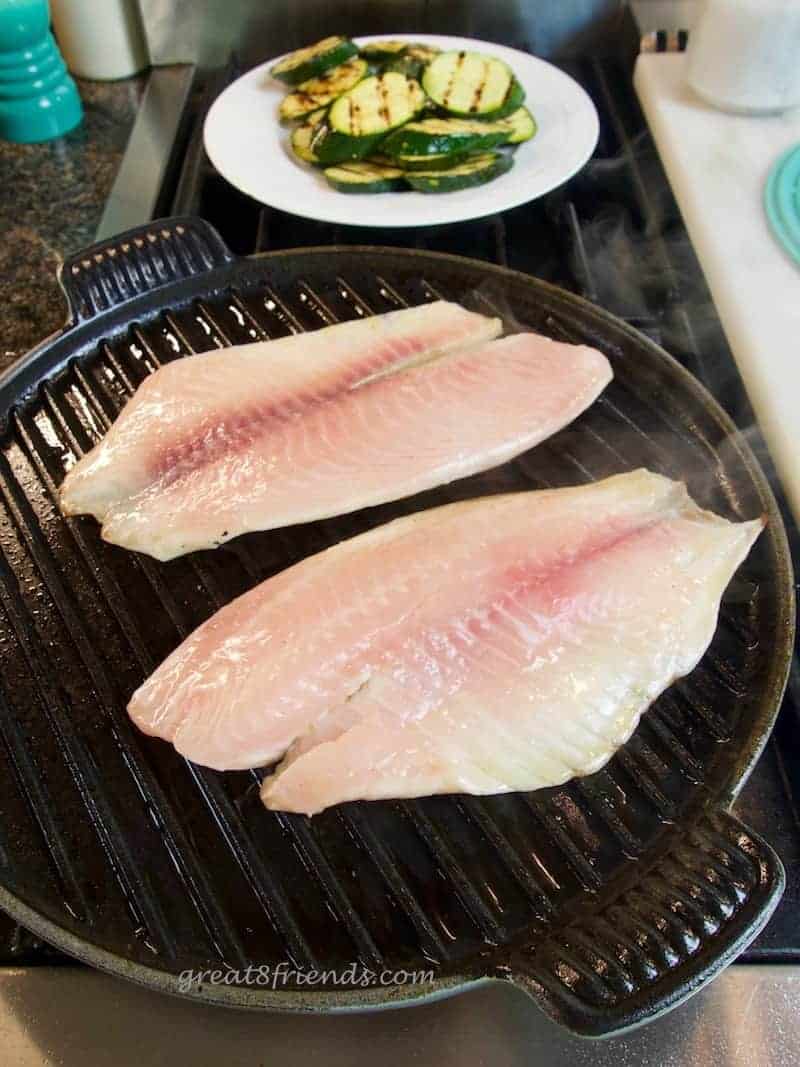 The Main Secret:
The fish MUST BE FRESH, as fresh as possible. So, find out when your local market or fishmonger gets their deliveries and plan your fish dinners for those days. Or...go fishing!
Jo Marie used only 4 ingredients when making fresh fish: the fish, butter, lemon (or lime) and Italian parsley. (I think that it's better to use olive oil instead of butter, but Vince won't hear of it.)
Just brush the melted butter on the fish, sprinkle with lemon juice, grill it, then sprinkle with parsley. See, easy!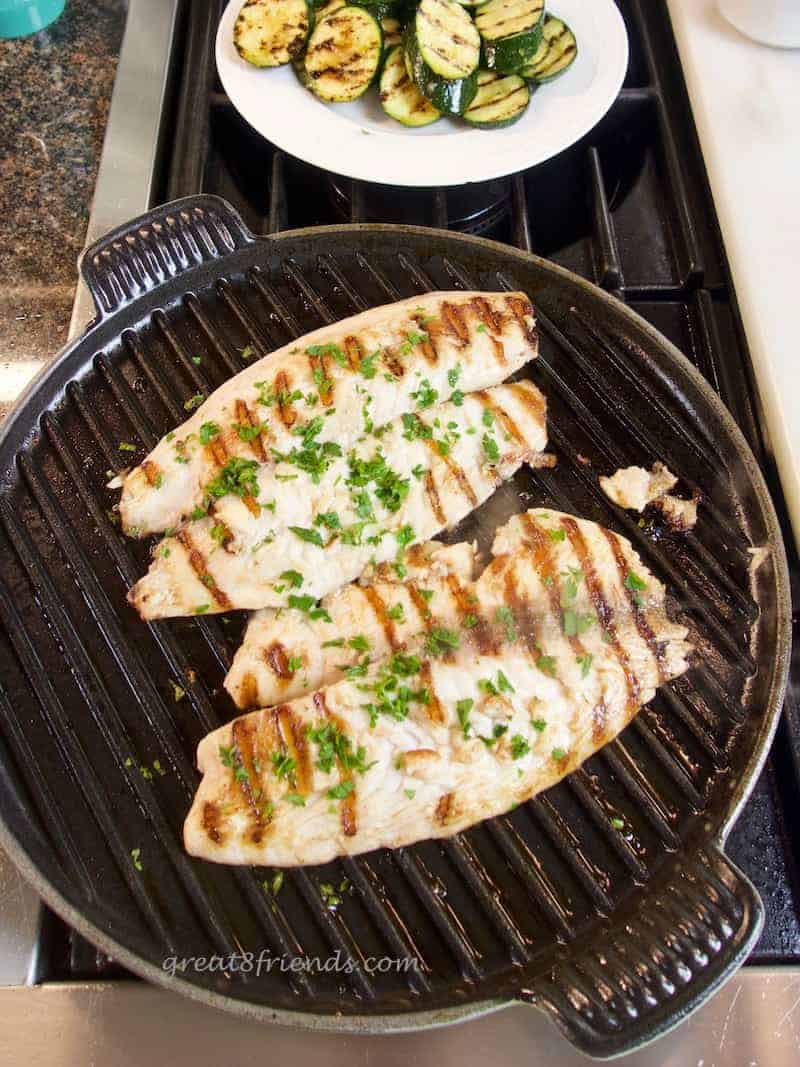 Now, you've probably noticed that I haven't specified any particular type of fish; that's because this method works pretty much across the board with any fish...as long as it's FRESH!
More Gr8 Fish Recipes
If you want to do something a little fancier with more layers of flavor, here are some other Gr8 fish recipes: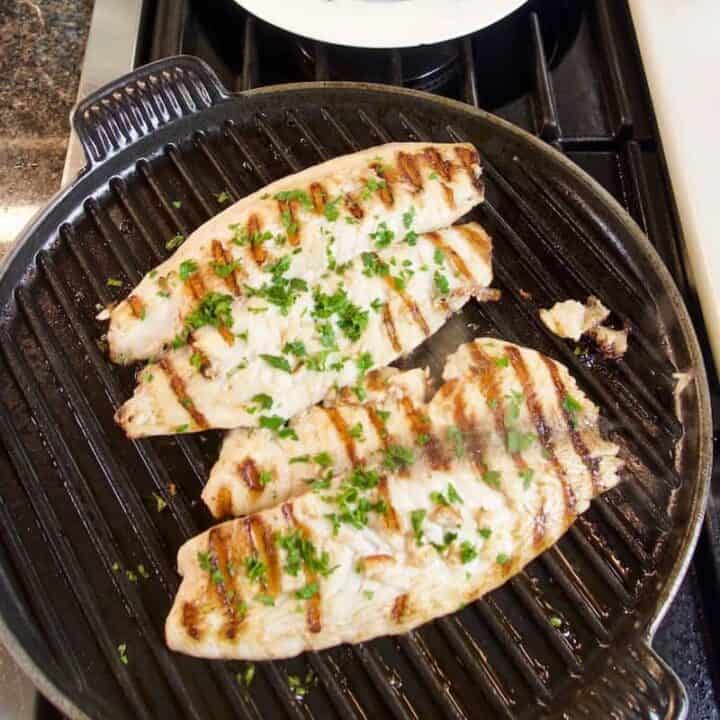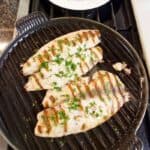 Print Recipe
Pin Recipe
Save this Recipe
Saved!
Please leave a rating!
The Best Way to Cook Fresh Fish
This is for 2 servings, but easily doubled or tripled.
Use any kind of firm fish, such as, swordfish, halibut, tilapia, bass, mahi mahi, ono, etc.
Special Equipment
Outdoor Grill or Grill Pan

Pastry brush
Ingredients
1

pound

fresh fish fillets

,

½" to ¾" thick

1 ½

Tablespoons

melted butter

,

or olive oil

1

whole lemon

,

cut into 8 wedges

1

Tablespoon

chopped Italian parsley
Instructions
Pat the fish fillets dry with a paper towel and use a pastry brush to brush half the melted butter onto one side of the fillets.


Heat your grill using medium heat. (This method works for a grill pan on your stove or your outdoor grill.)


Lay fish with the buttered side down on the grill and brush the remaining butter onto the top side.


Then squeeze 2 of the lemon slices over the buttered fish.

Cook for 3 to 5 minutes, until it is browned and releases from the grill.

Flip the fish over, squeeze 2 more lemon slices over the fish, then sprinkle with half the parsley.


Cook for 3 to 5 more minutes until flaky and cooked through.


Remove to serving platter and serve with the remaining 4 wedges of lemon.

Notes
This nutritional information is only an estimate. We do not guarantee the accuracy of the nutritional information for any recipe on this site.
Nutrition Information
Calories:
309
kcal
|
Carbohydrates:
5
g
|
Protein:
46
g
|
Fat:
13
g
|
Saturated Fat:
7
g
|
Trans Fat:
1
g
|
Cholesterol:
136
mg
|
Sodium:
195
mg
|
Potassium:
773
mg
|
Fiber:
2
g
|
Sugar:
1
g
|
Vitamin A:
443
IU
|
Vitamin C:
31
mg
|
Calcium:
42
mg
|
Iron:
2
mg
sm 3/16/19