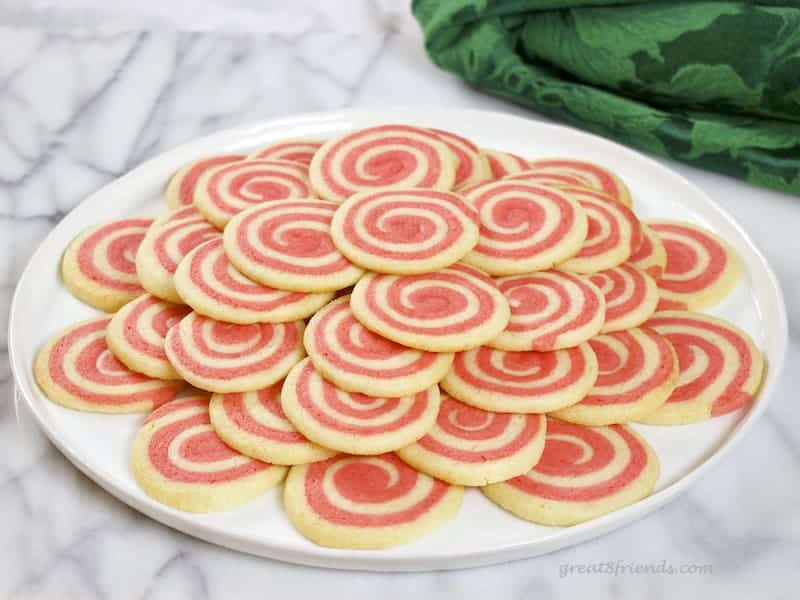 Cookies!! I've always loved cookies, eating them AND making them. My grandma used to bake with me at Christmas and we'd make a huge platter of assorted cookies. These yummy Peppermint Pinwheel Cookies add color and fun to any plate of holiday cookies. And did I say they're delicious?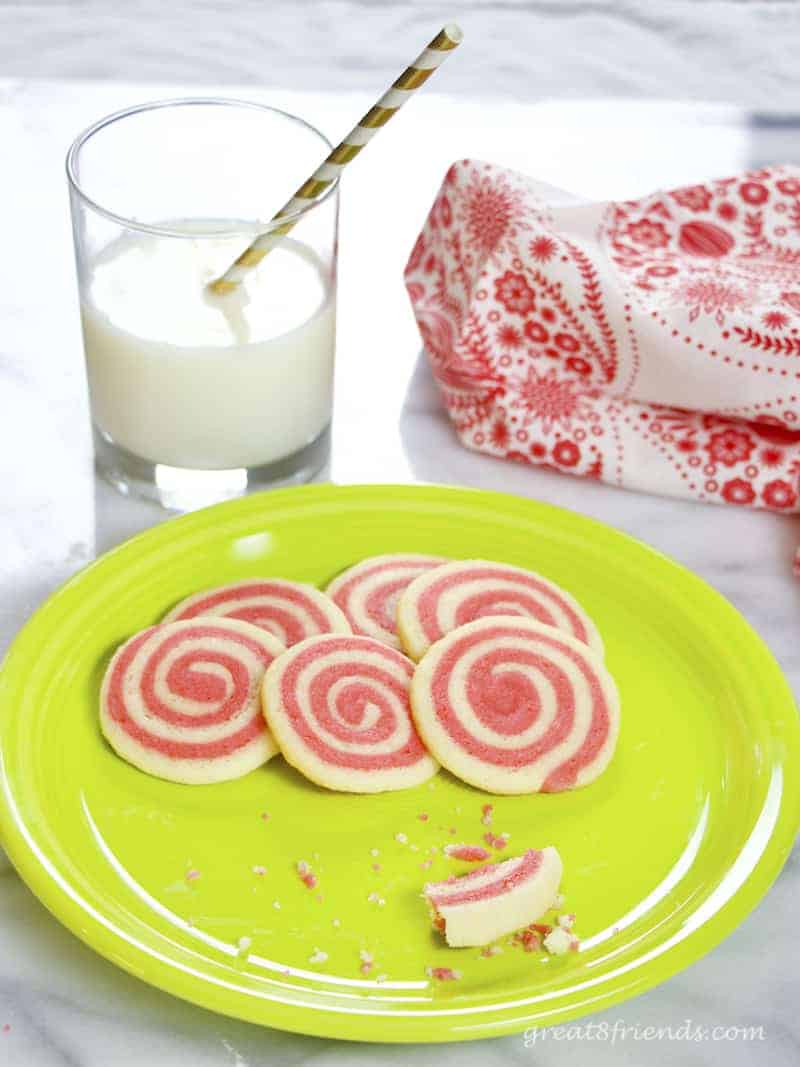 Every year Debbie hosts a lively Cookie Exchange and this recipe makes the perfect amount to take and share. Among the Snickerdoodles, Brownies, and Snowballs on a tray Peppermint Pinwheel Cookies look adorable! Every dessert buffet needs a plate of festive Christmas cookies!
Some Gr8 things about this recipe:
This yields a large quantity, about 78 cookies!
The rolls can be made and frozen before slicing and baking so you can have freshly baked cookies any time. See the Gr8 Do Ahead Tips in the recipe.
The peppermint flavor makes them perfect for dipping into a mug of hot chocolate!
Santa LOVES these taste of the season cookies. And your kids or grandkids can help you slice them to bake for the jolly guy!
Perfect Peppermint Pinwheel Cookies
These Peppermint Pinwheel Cookies are the perfect holiday snack. And the pretty design looks beautiful on a platter of cookies!
Ingredients
2 1/2

cups

flour

1

teaspoon

baking powder

3/4

teaspoon

salt

1

cup

butter

,

at room temperature

1

cup

granulated sugar

1

large

egg

1

teaspoon

peppermint extract

1/2

teaspoon

vanilla

Red food coloring

,

gel food coloring is best

1

Tablespoon

milk

,

to use as "glue"
Instructions
Whisk the flour, baking powder, and salt together in a medium bowl to combine, then set aside.

In the bowl of your electric mixer beat the butter and sugar. Add the egg, the peppermint and vanilla extracts and beat until well mixed.

Pour in the flour and mix on low speed until all ingredients are combined.

Divide the dough in half and use enough food coloring in one half to make the dough as red as you prefer. I use gel food color. The liquid food coloring can dilute the dough and make it stickier.

Wrap each half in plastic and refrigerate for at least an hour.

On a piece of parchment paper roll out the non-colored half to a 12"x16" rectangle and set aside. (I put mine on a rimless baking sheet and return it to the fridge.) Then roll out the red half to 12"x16" on a second sheet of parchment paper. Use flour as needed to keep the rolling pin from sticking.

Lightly brush the milk onto the non-colored half of the dough.

Carefully lift up the red dough and flip it over onto the dough brushed with milk. Try to line up the edges.

Lightly sprinkle the top of the red dough with flour and use a rolling pin to roll the two pieces together until the size is about 11"x17". With a sharp knife, cut in half across the short way so you have 2 pieces, each about 8-1/2"x11".

Brush the top of each half with milk and roll up tightly starting on the long (the 11") side. Use the parchment to help you lift up the dough. Once both rolls are done, they should each be about 11" long.

Wrap each roll in plastic wrap and refrigerate for at least an hour. To eliminate a flat side, roll up a couple dish towels to support the rolls in the fridge.

When the rolls are firm and you are ready to bake, preheat the oven to 400°F.

Remove one roll from the refrigerator, unwrap, and slice into 1/4" thick slices. Try to keep them thin for a crisp, dunk-able cookie. (I use a ruler because 1/4" is thinner than I think!)

Place each cookie onto a parchment lined cookie sheet, about 1-1/2" apart. They will spread a little.

Bake for 6 to 8 minutes. Until the edges just barely start to brown... barely.

Remove the cookie sheet from the oven and place on a cooling rack. After the cookies have cooled for about 10 minutes, remove them from the baking pan onto another cooling rack.

Repeat with the second roll. OR, freeze the second roll for cookies another day!
Video
Notes
Gr8 Tip:
I always get some not so perfect cookies from the ends of each roll. These are Gr8 to have for people who just can't wait to try them! I put them on a plate while I'm finishing up in the kitchen so hungry fans can take what they like.
Gr8 Do Ahead Tip:
The Peppermint Pinwheel Cookies can be made up through Step 11. Once the rolls are formed and wrapped in plastic, place in freezer zip bags. Freeze for up to 2 months.