Biscotti are fun cookies to make, it's a very different process, but easy! And Biscotti and Cappuccino are a perfect combo!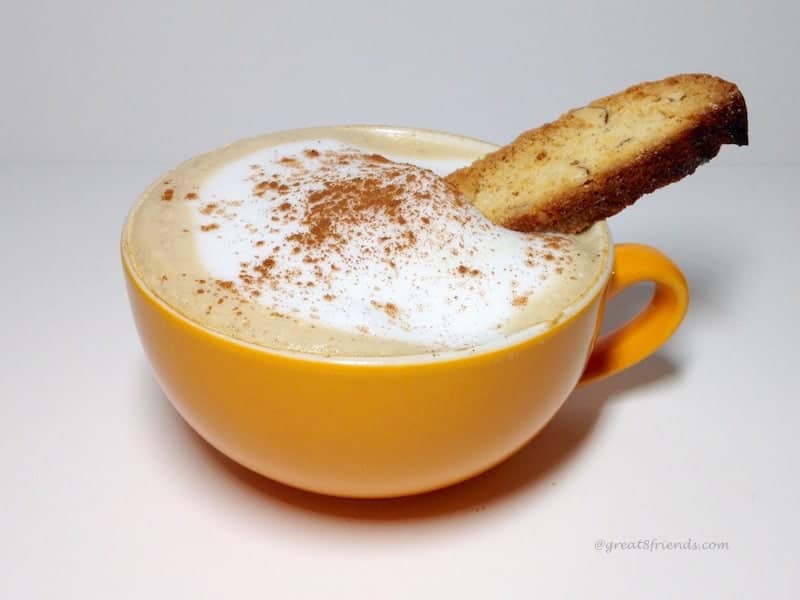 The first time I dipped a biscotti into a cappuccino, I wondered what took me so long to discover this perfect combination! I knew then that it was time for me to find a recipe!
I wanted one that would be quick to make with ingredients that I would normally have on hand in the kitchen. The reason for this is, every time I'm in the mood to make cookies, I'm usually home for the day or night, hoping to whip up a batch and start baking at a moment's notice!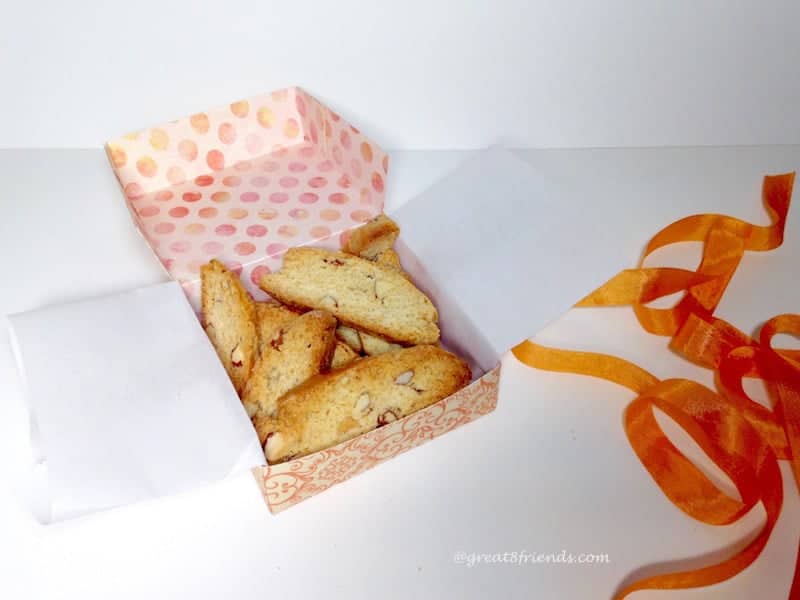 My husband likes to have a little something with his morning coffee, so these are the perfect treat to have on hand and they last several days...if you're lucky! A plate of Pumpkin Biscuits with Maple Candied Bacon...perfection!
A favorite memory I have of this recipe is, while making them one day I was talking on the phone with my late, and oh so sweet mother-in-law, Blanche. She asked what I was doing, and when I told her, she said, "Oh that sounds so good."
"Charlie!" she lovingly shouted, "Deb's making biscotti!" Then to me she said, "Dad and I sure wish we lived closer." Change of plans, I thought to myself!
Once out of the oven, those biscotti were wrapped up and a cute little note was written! Rushing to the post office, I overnighted them straight to Blanche & Charlie in Palm Desert!
The next morning, I received the sweetest phone call! And that note...it was still on their refrigerator until the end. You don't hear very many good stories about mothers-in-law...My mother in law was the Gr8-est!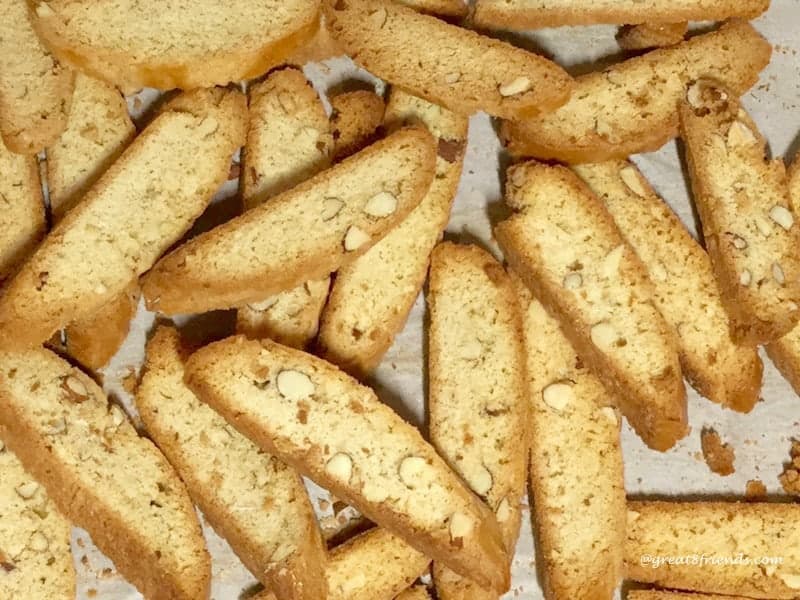 I hope you enjoy these as much as they did! If you decide to wrap them up in a cute box, make a smaller version of the biscotti and create a fun box or bag. Using a Sizzix Big Shot Machine and the Tall Bag Die-cut cut from decorative cardstock, the presentation would add to the fun of giving!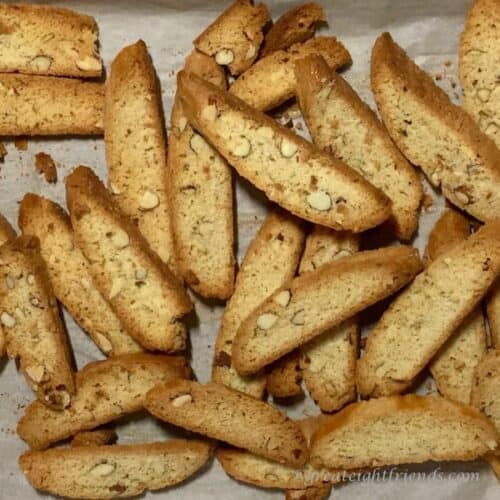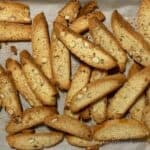 Print Recipe
Pin Recipe
Save this Recipe
Saved!
Please leave a rating!
Anise-Almond Biscotti
When you want that perfect little something to add to your morning tea or coffee, Anise-Almond Biscotti will be the perfect choice. Everyone loves homemade! They're the perfect little treat to wrap up and give!
Ingredients
3 ¼

cups

all-purpose flour

1

Tablespoon

baking powder

⅓

teaspoon

salt

1 ½

cups

sugar

10

Tablespoons (1 ¼ sticks)

unsalted butter,

,

melted, cooled

3

large

eggs

,

lightly beaten

1

Tablespoon

vanilla extract

2

teaspoons

aniseed,

,

coarsely ground

1

cup

whole raw almonds,

,

toasted, coarsely chopped

1

large

egg white
Instructions
With rack placed to center position, preheat oven to 350ºF.

Line baking sheet with parchment paper.

In a medium bowl, sift together the flour, baking powder and salt, set aside.

In a large bowl, mix the sugar with cooled melted butter, 3 lightly beaten eggs, vanilla extract and ground aniseed.

Add dry ingredients mixture to the egg mixture and stir thoroughly with a wooden spoon until well combined.

Add toasted almonds and mix in gently until well combined and almonds are evenly distributed.

With hands lightly floured, shape each dough half into 2, 13 ½" long, 2 ½"wide logs.

Place both logs onto prepared baking sheet, spaced apart evenly.

Whisk egg white in a small nonreacive bowl until foamy. Brush over top and sides of the logs.

Bake logs for about 30 minutes, or until golden (they will spread out slightly)

Don't turn off the oven yet!

Place baking sheet on a rack and cool completely, about 25 minutes.

Transfer logs to a flat workspace. Remove and discard parchment paper.

Using serrated knife, cut logs on the diagonal into ½" wide slices.

Arrange slices, cut side down on same baking sheet.

Bake 10 minutes, until dry and "toasty" to touch. Turn biscotti over; bake until just beginning to color, about 7-8 minutes more.

Transfer to rack and cool.
Notes
Gr8 Tips:
These biscotti, wrapped in a cute food safe tin or box would be a Gr8 hostess gift.
Delicious dipped in coffee, a cappuccino or hot chocolate!
Once baked and cooled, dip each cookie halfway into melted chocolate. Let chocolate cool and harden before wrapping up.
Gr8 Do-Ahead Tip:
Can be prepared up to 1 week ahead. Store in an airtight container at room temperature.