These Snowball Cookies go by a lot of different names, but a cookie by any other name will taste as sweet! They are flaky and buttery with a hint of almond. Definitely a favorite!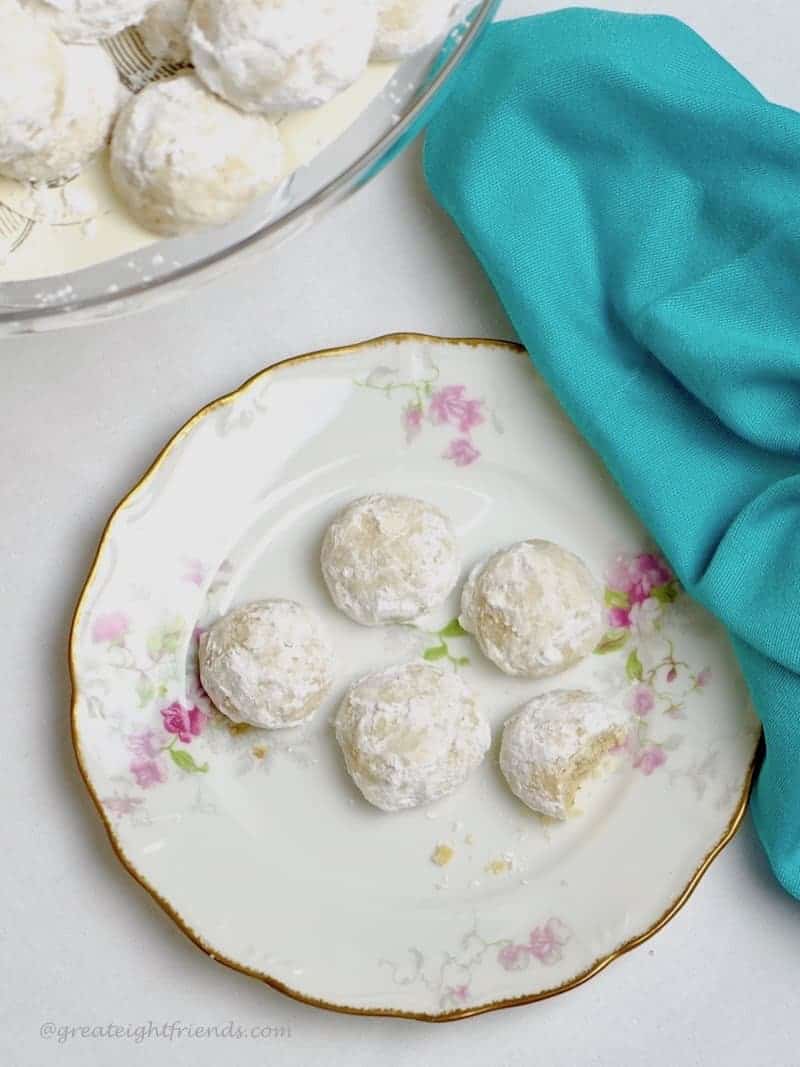 Whatever you call these, Wedding Cookies, Italian Wedding Cookies, Mexican Wedding Cookies, Snowballs, Russian Tea Cakes, Butterballs, or Meltaways ....they're always delicious. A rose by any other name, right?
In the past I have made these into 2" balls, and when you eat them crumbs and powdered sugar go everywhere.
We recently had a party and I wanted these for the dessert table but didn't want confectioner's sugar all over my dark wood floor, so I made them much smaller.
They were a hit! You can pop one into your mouth and easily chew it with no mess!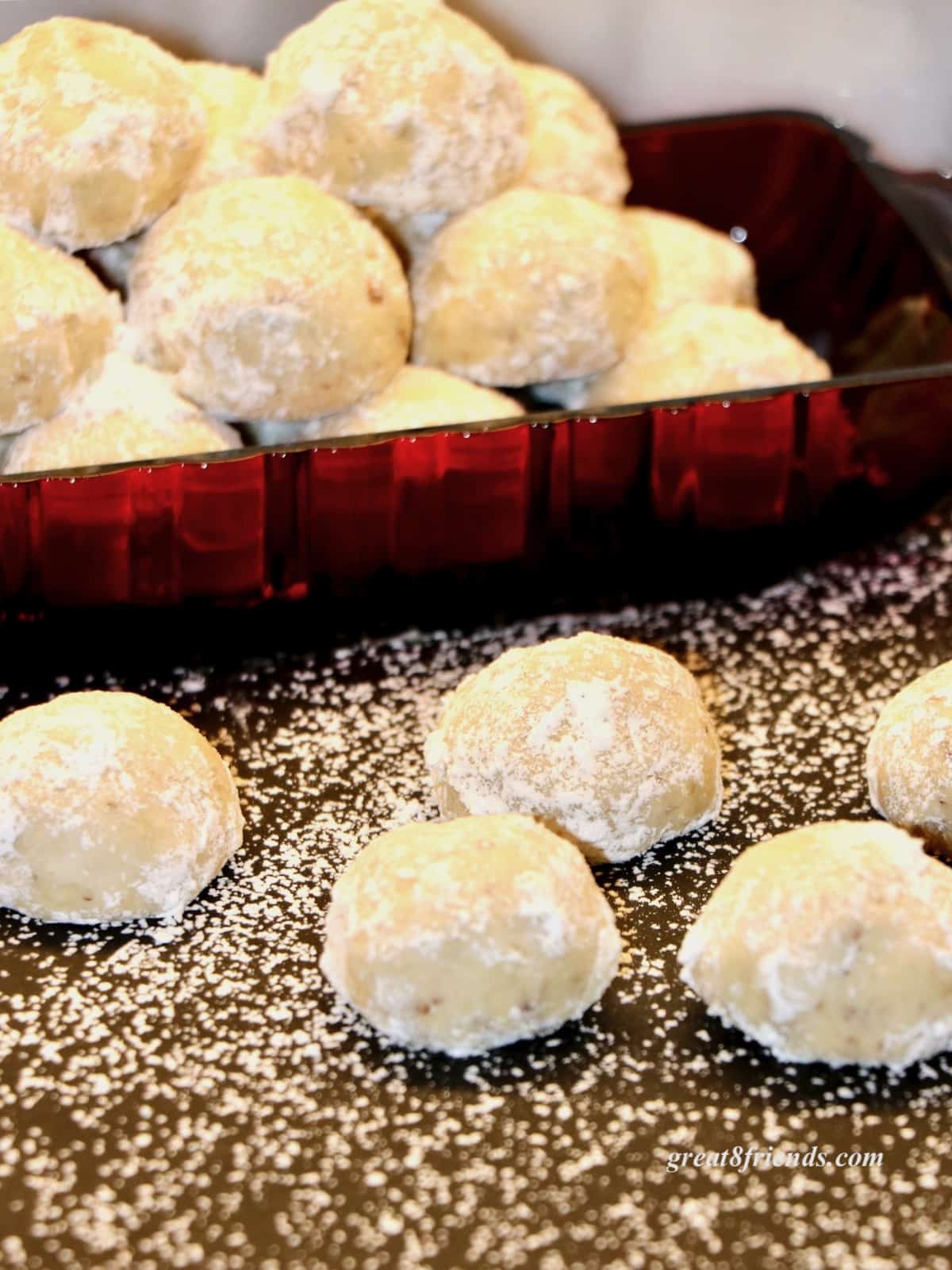 How to Make Snowball Cookies
The ingredients are simple and straightforward, the only "prep" is to grind the almonds ahead of time.
Yes, you can chop them, but since these cookies are small and delicate, the cookie will hold together better with ground almonds.
Simply put them in your food processor and pulse. Watch carefully, you don't want almond butter!
This dough goes together pretty quickly. Like many cookie recipes, the butter and sugar are creamed together first.
Then whisk the flour with the ground almonds and salt. Doing this before adding these ingredients to the butter mixer helps the almonds to be well distributed throughout the dough.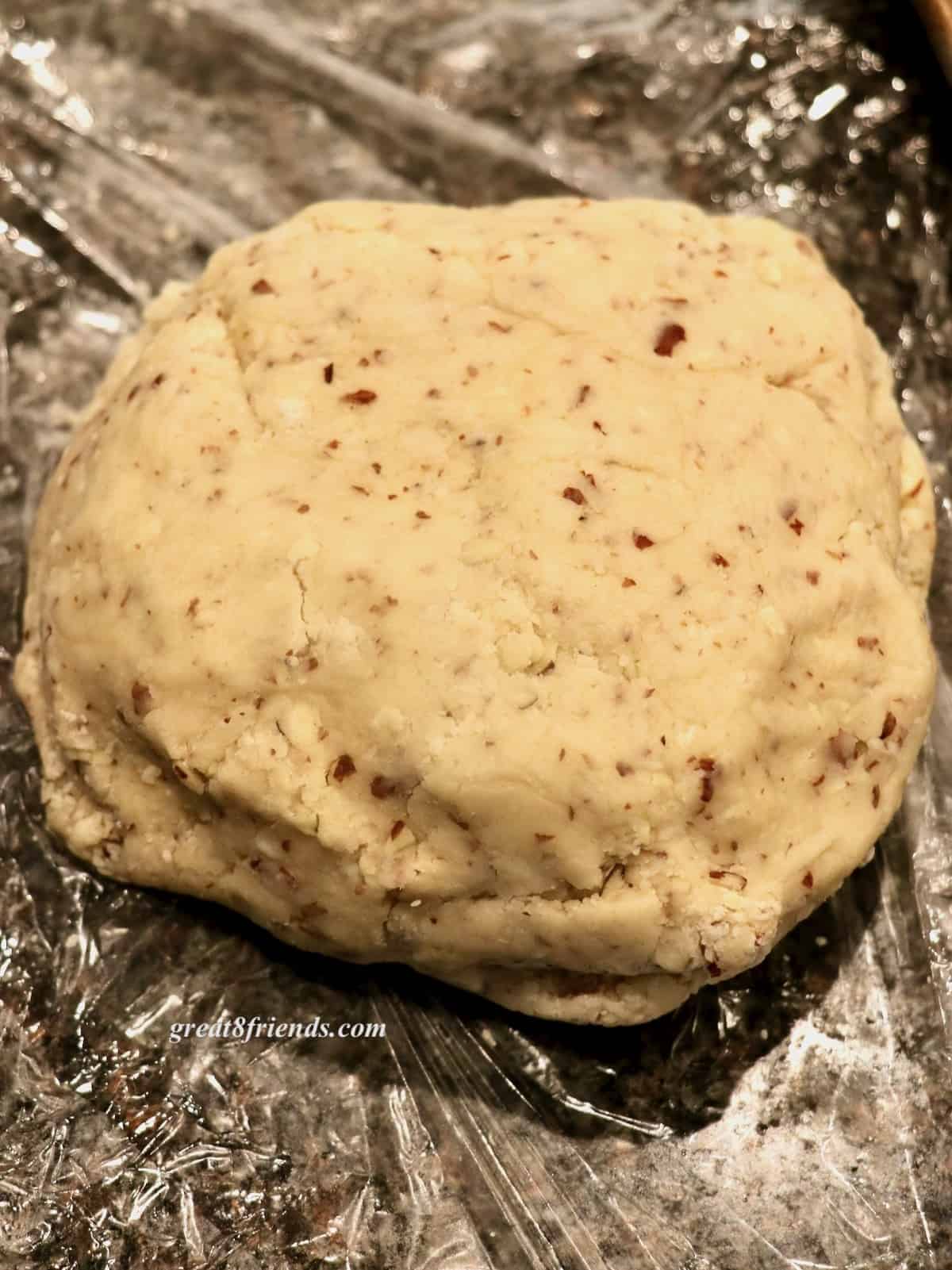 Stir this mixture until well combined. The dough will be stiff. It may even be crumbly. That's okay, just press it together.
Then wrap it up and chill for at least 30 minutes. You can leave it in the fridge for up to 3 days if you want to do the baking later.
When ready to bake be sure to preheat your oven until it's up to temperature. Also, if you have parchment paper or a silicon mat, it's a good idea to line the cookie sheet for easier clean up.
Roll the dough into ¾" balls. You can just eyeball this or use a cookie scoop. I like using the scoop as I get more uniform cookies and it's a little neater. If you make the cookies any larger they will need a longer cooking time.
Place them on the cookie sheet and bake. Once they are slightly golden brown on the bottom remove the baking pan from the oven and place on a rack to cool.
Cool the cookies for about 5 minutes, then roll each one in powdered sugar. Cool and roll a second time if desired.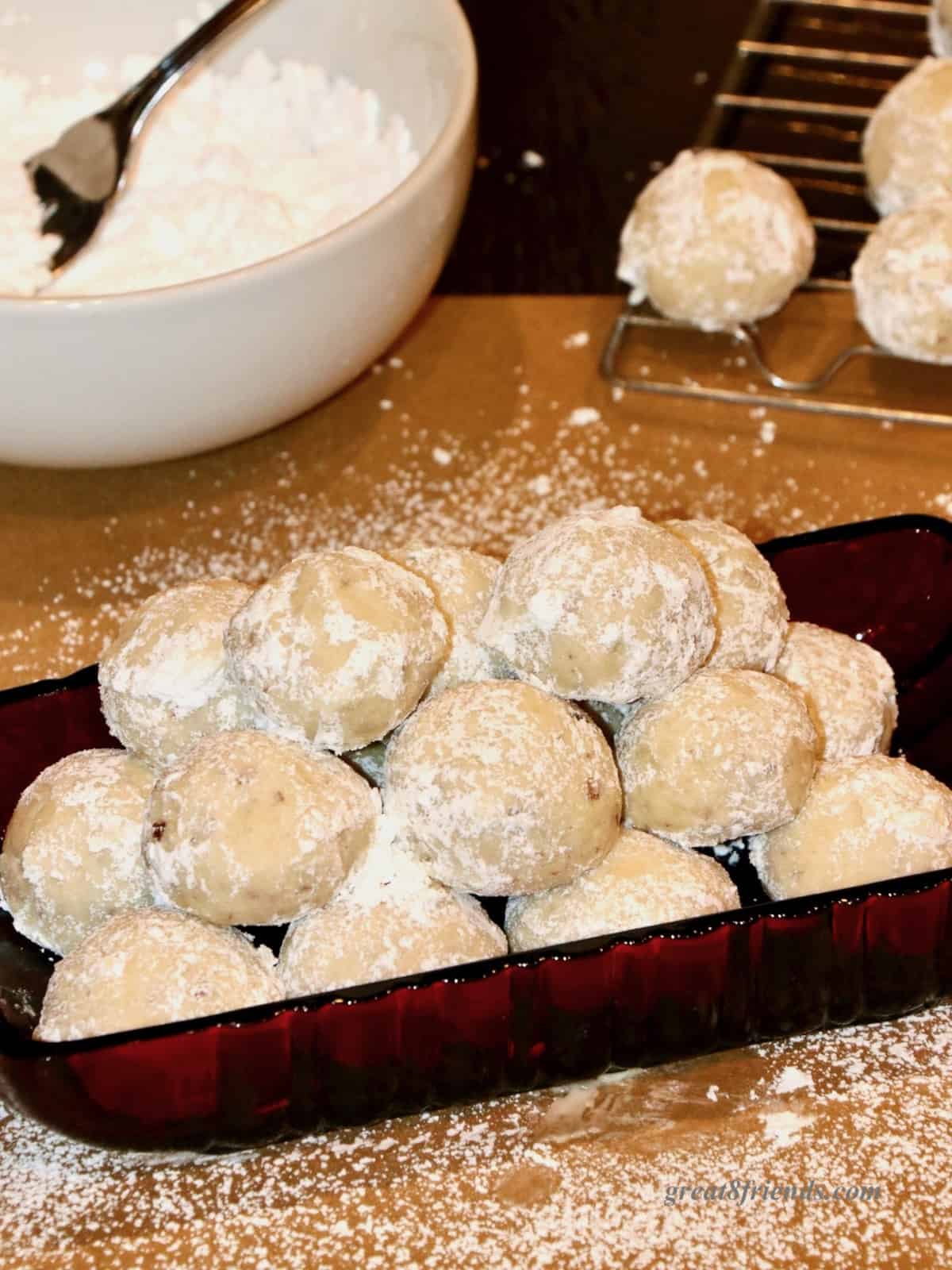 Rolling the cookies while warm is optimal because the butter is still melty and the sugar will adhere better.
If you want to freeze these, after the first application of confectioner's sugar, and when fully cooled, place in a sealed container and freeze.
Three reasons you should make these cookies:
They are the perfect addition to a dessert buffet or your holiday cookie tray.
They are less messy because they are small enough to be popped into your mouth whole.
There are fewer calories in each one because they are smaller...A bonus!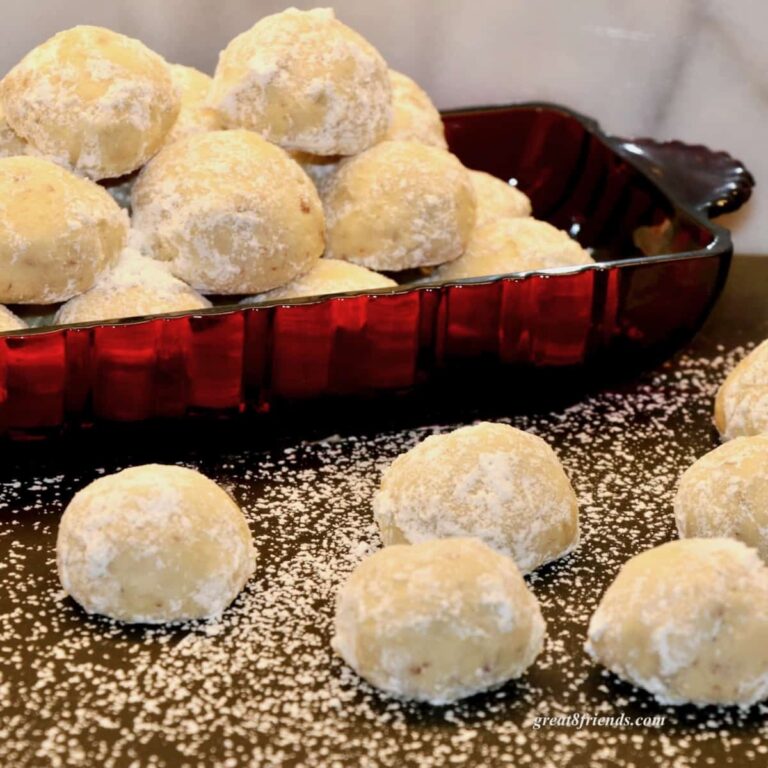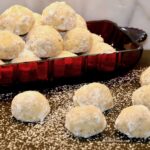 Print Recipe
Pin Recipe
Save this Recipe
Saved!
Please leave a rating!
Wedding Cookies
These bite-sized cookies are perfect for your dessert buffet, they can be popped into your mouth whole so powdered sugar doesn't go everywhere!
Ingredients
1

cup

unsalted butter

,

at room temperature

½

cup

powdered sugar

,

sifted

2

teaspoons

vanilla extract

2 ¼

cups

flour

¾

cup

ground almonds

,

I pulse mine in the food processor

½

teaspoon

salt

½

cup

powdered sugar for rolling the cookies

,

or more, if needed
Instructions
With your mixer on high speed beat together the butter, powdered sugar and vanilla until creamy and light yellow in color.

In a separate bowl whisk together the flour, ground almonds and salt.

Stir the flour mixture into the butter mixture until completely incorporated. Dough will be stiff.

Wrap dough in plastic wrap and chill for at least 30 minutes or up to 3 days.

Preheat oven to 325ºF.

Roll pieces of dough into ¾" balls and set on cookie sheet about 1 ½" apart. (These cookies don't spread.) I like to use a cookie scoop to make the job easier and less messy.

Bake for 8-10 minutes until lightly golden brown on the bottom.

Cool cookie sheet on a rack for about 5 minutes.

Put ¾ cup powdered sugar in a shallow bowl.

Carefully roll each warm cookie in the powdered sugar then set on cooling rack.

When completely cool, you can roll the cookies again if you desire.

If freezing, roll in powdered sugar, then freeze. Once out of the freezer you can roll them again, if desired.
Notes
Gr8 Do-Ahead Tip:
After the first roll in the powdered sugar, cool completely. Put cookies into a tightly sealed container and freeze for up to 2 months. When defrosted, roll in powdered sugar again, then serve.