This Creamy Caramel Candy recipe is easy to make, delicious, and makes a wonderful gift. Everyone loves to receive homemade candy!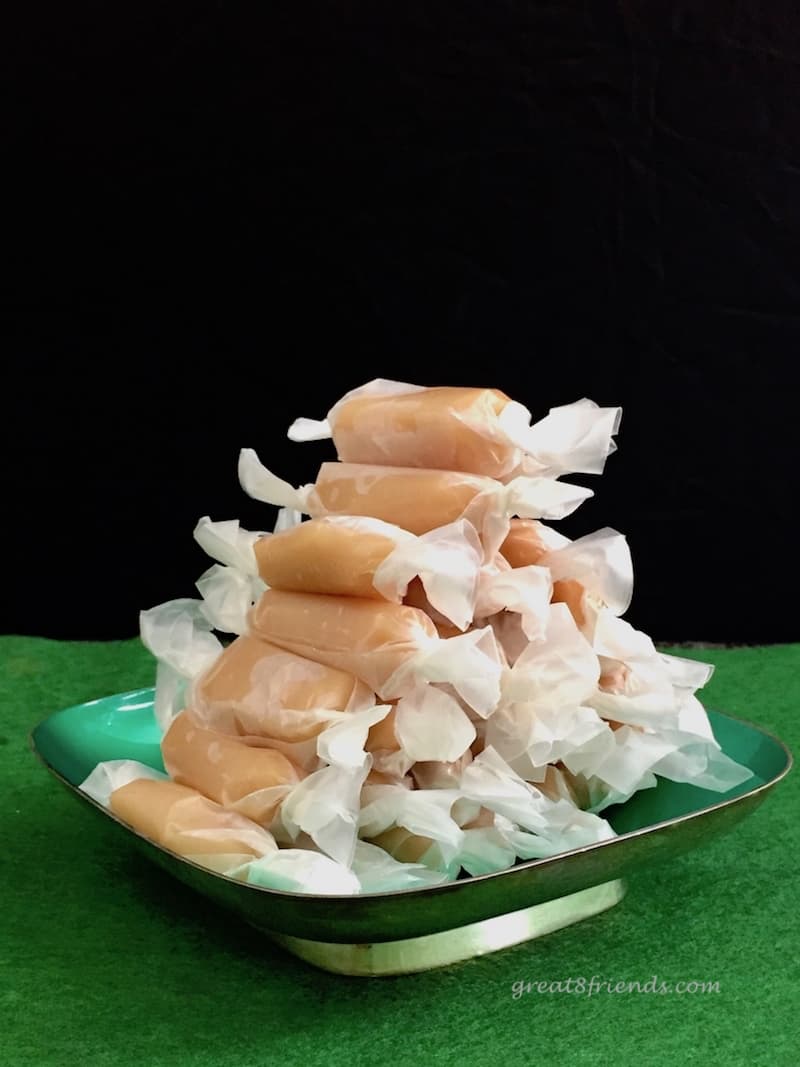 Caramel, even the word sounds silky and wonderful. Car-a-mel, it just rolls off the tongue. And your tongue will thank you when you put this candy on it!
Caramel candy is not difficult to make, it simply takes a little uninterrupted time and then you have these beautiful little sugar jewels.
Wrap them in pieces of lowly waxed paper and suddenly waxed paper never looked so good!
I like to make one kind of candy or another each holiday season to put in with the homemade cookie packages that I give away.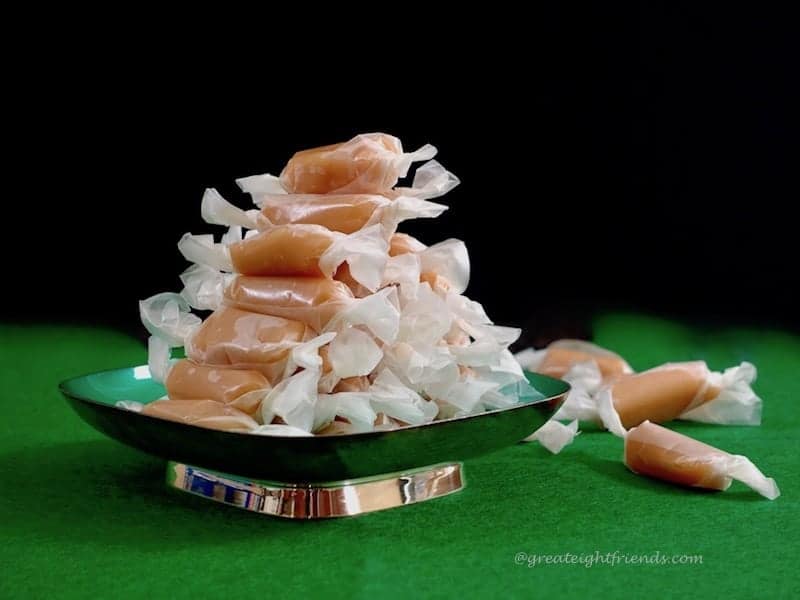 In the past, I've made a batch of caramels, wrapped them up and been done with it. Well, this year, after I made the batch with the recipe I always use, they were so greasy that I wasn't happy with them (maybe "buttery" is a better term).
So then I tried a recipe from a new baking cookbook of a renowned chef. That recipe had very little flavor.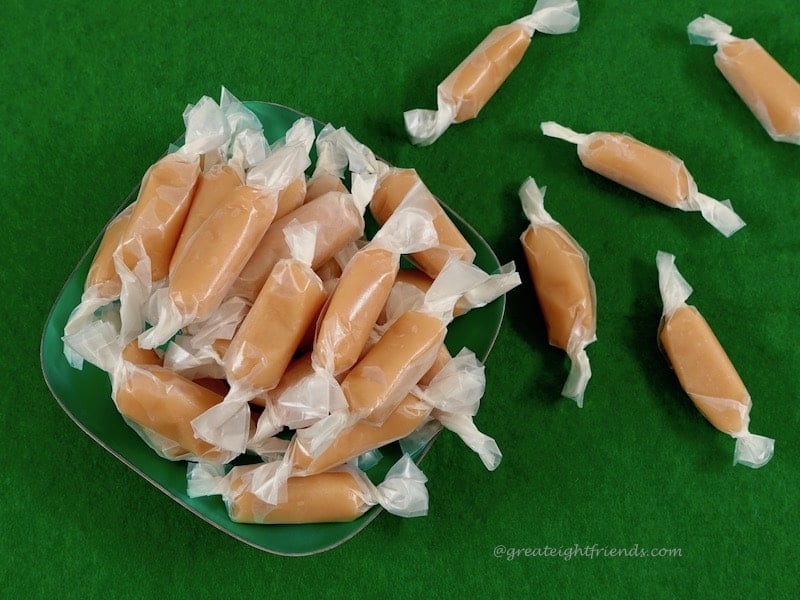 Sigh, since I wanted to publish a recipe for all of our Gr8 Friends it needed to be perfect...and I finally found perfect! At least, perfect in my opinion.
My mother found a wonderful old book in her mother's attic. It's about 4 inches thick, and it's really 3 books in one: The People's Home Library - a Library of Three Practical Books: Home Medical Book, Home Recipe Book and Home Stock Book.
And there, in this incredible treasure that was published in 1914, that's right, at the start of WWI, was a recipe for Creamy Caramels.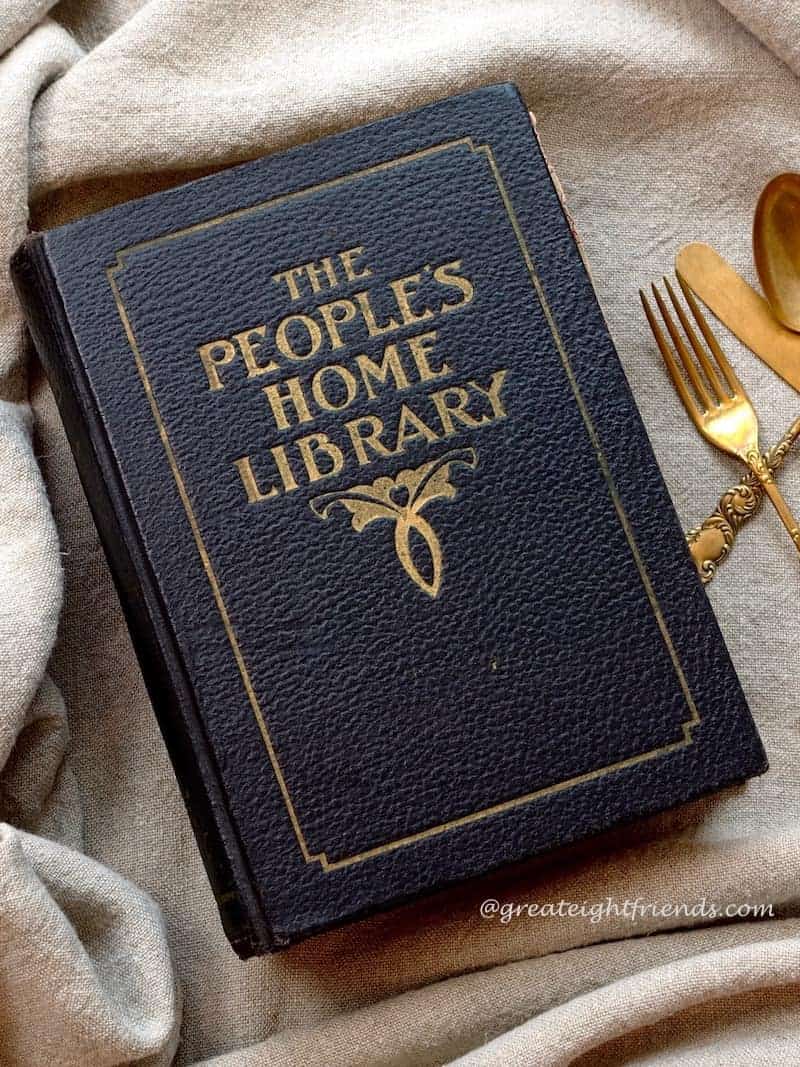 Well, the recipe is actually 8 times what I made...yes, it would actually make 288 caramels! (Note to self: if almost 300 caramels are required, just take these measurements times 8!)
I added some salt to the recipe, both table salt and sea salt; had to find a substitute for glucose, which is corn syrup; and upped the vanilla a smidge.
And voilà! the caramels were delicious! My friend, Marta, was kind enough to do a taste test. As soon as she popped it into her mouth, she closed her eyes and savored the flavor saying, "These taste just like my grandma used to make!"
So, my friends, it seems like we have a winner. This does take some stirring time, so leave yourself about 30 minutes for that step. But once you pour them out, they just have to set and cool until you decide to take the next step.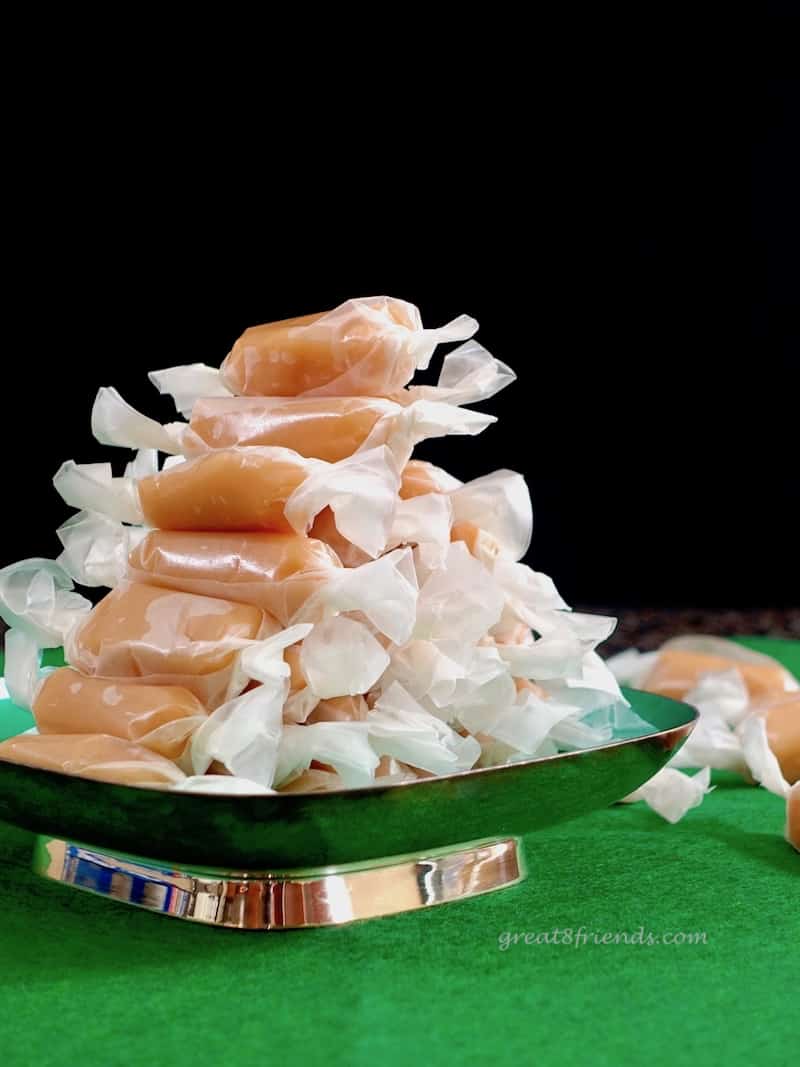 First, make sure you have a space prepared to pour the hot candy syrup from the pan. This can be a large baking sheet or slab of granite or marble. It must be heat resistant and at least 15" x 15". Spread some softened butter onto this surface
Then cook the cream, sugar and corn syrup until the mixture reaches 250˚F on a candy thermometer. You must stir this constantly and perhaps modulate the heat on your stove so it doesn't boil over.
When the candy reaches the correct temp, remove it from the heat and stir in vanilla and some salt. The mixture will sizzle, but that's okay, just keep stirring.
Once all ingredients are combined, immediately pour the hot syrup onto your prepared surface. The candy will spread out.
Then sprinkle with the sea salt and let stand for a couple hours.
When completely cooled start at the long edge and roll tightly. (If your candy has settled into an almost perfect circle, then it doesn't matter where you start rolling!)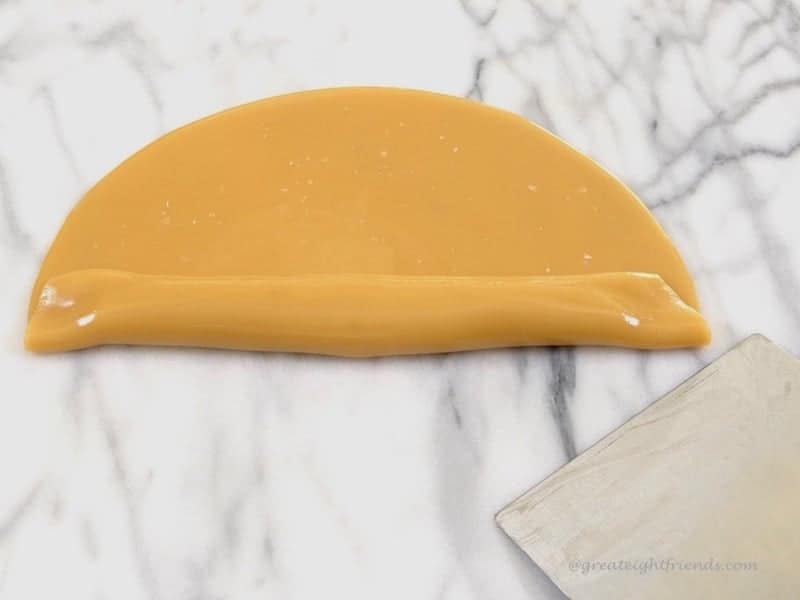 Butter the edge of a bench scraper and cut into 36 pieces. If you don't own a bench scraper, a buttered metal knife will do.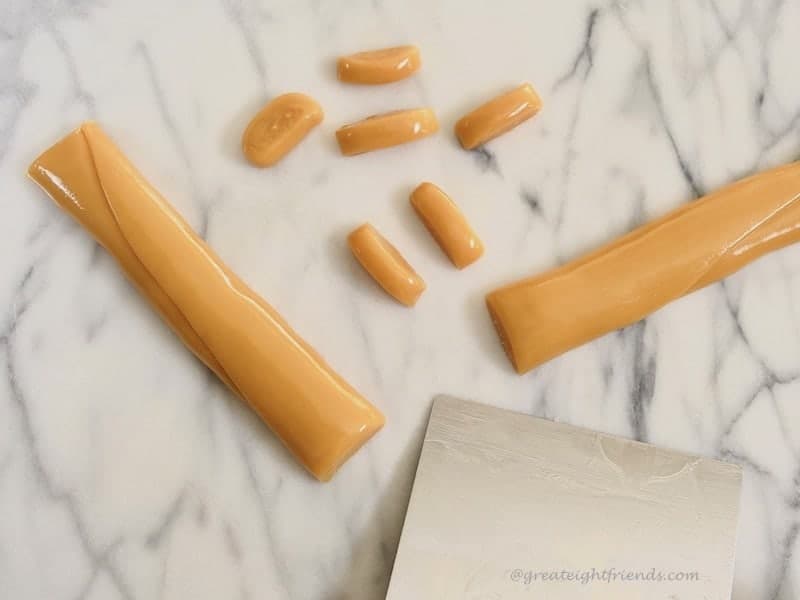 The wrap each individual caramel in a small piece of waxed paper and twist the ends.
Voilà! You have caramel candy!
Be sure to keep these in a sealed bag or covered container.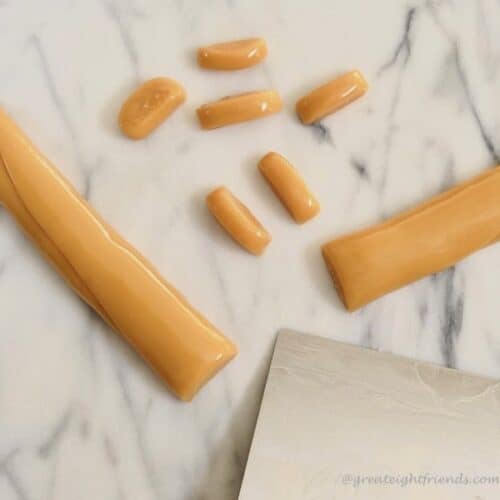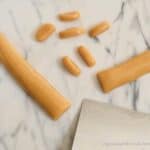 Print Recipe
Pin Recipe
Save this Recipe
Saved!
Please leave a rating!
Chewy Creamy Caramels
From "The People's Home Book" published in 1914, the original recipe makes almost 300 candies, and I cut it down by ⅛. So feel free to double, triple or quadruple this recipe.

Ingredients
1

cup

heavy cream

1 ½

cups

granulated sugar

,

or 10 ounces if you like to weigh

2

Tablespoons

light corn syrup

1

teaspoon

vanilla

¼

teaspoon

table salt

¼ to ½

teaspoon

sea salt

,

I used Maldon Sea Salt
Instructions
Prepare a baking sheet or a marble or granite slab by spreading some butter in a 15"x15" area. (The caramel will probably spread to about 12" or 13", but having extra is good.


Put the cream, sugar and corn syrup into a small saucepan over medium heat.


Cook, stirring continuously until mixture reaches 250°F on a candy thermometer. Mixture will boil, modulate the heat on your stove so it doesn't boil over.


When mixture reaches 250°F, remove the pan from the heat and stir in the vanilla and ¼ teaspoon table salt. Mixture will sizzle a little, but stir until combined.


Then immediately pour the caramel onto the prepared surface.


Sprinkle the sea salt over the top of the caramel and let cool, at least 2 hours.


When mixture is completely cooled start at the long edge, if there is one, mine spread into an almost a perfect circle, and roll up tightly.


Butter the edge of a bench scraper or knife and cut 36 pieces.


Wrap each piece in waxed paper.

Notes
Gr8 Do Ahead Tips:
Caramels will keep in a tightly sealed container in a cool, dry spot for up to one month.
Or, seal tightly and freeze for up to six months.
Gr8 Gift Idea:
Candy makes a wonderful holiday gift and homemade candy is even more special! Package this in sealed cellophane bags or containers with a pretty ribbon to give a delicious and beautiful gift.