Cozy Sweaters. Crisp Air. Apple Picking. Hot Cocoa. Crunchy Leaves. Autumn. Oh and don't forget cookies! Delicious Pecan Walnut Crescent Cookies to be exact!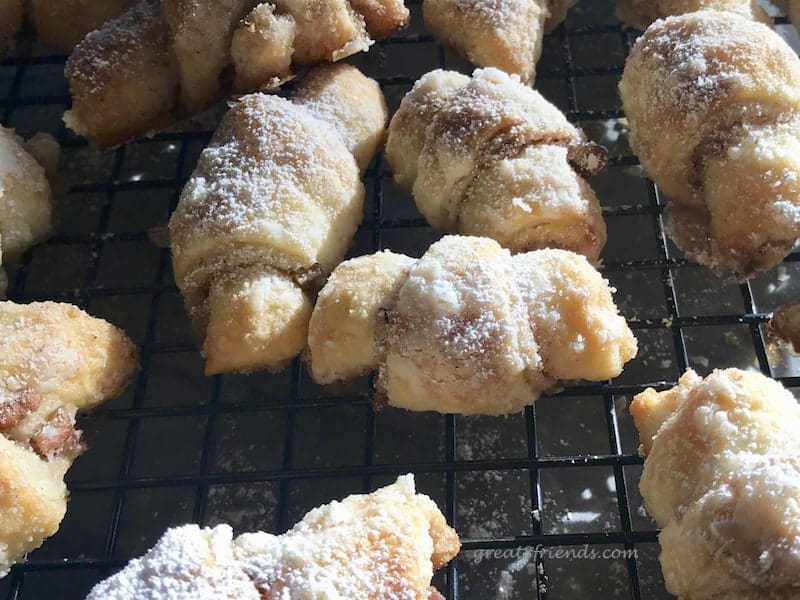 The best time of the year!
My favorite season, Kyle and Joel chose it for their Great 8 dinner theme AND I get to make the dessert?! It doesn't get any better than that!
A Fall dessert! Oooh...(rubbing my hands together!) What should I make, what should I make?
I bet you can imagine the aromas though, right? Nutmeg, cinnamon, pumpkin...the best flavors and spices of the season!
The ideas that crossed my mind: Pie? Nah. Cake? No. I know! How about COOKIES!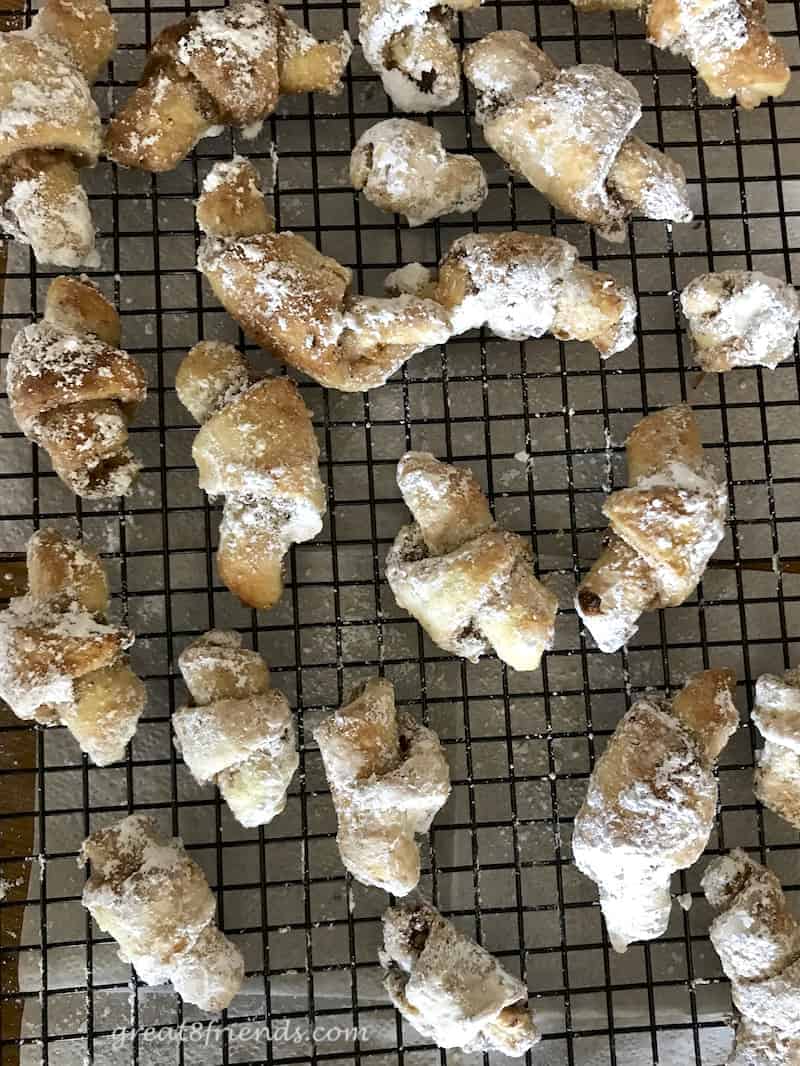 That's it! But wait... 8 people and 1 type of cookie? That doesn't sound right!
I'd better bake an assortment! After all, the poet William Cowper says in "The Task," "Variety's the very spice of life." So, I'd better go with that thought and serve Pecan Walnut Crescent Cookies, homemade Fig Newtons® and Pumpkin Cookies with Pepitas.
Okay friends...so I don't mean to tease you, (sorry!) but the recipe featured here is just 1 of the 3: Pecan Walnut Crescent Cookies.
The other 2 recipes will follow in the weeks to come, I promise. "Patience is a Virtue"! (Another quote from another poet! Pierce Plowman). You'll agree. They're totally worth the wait!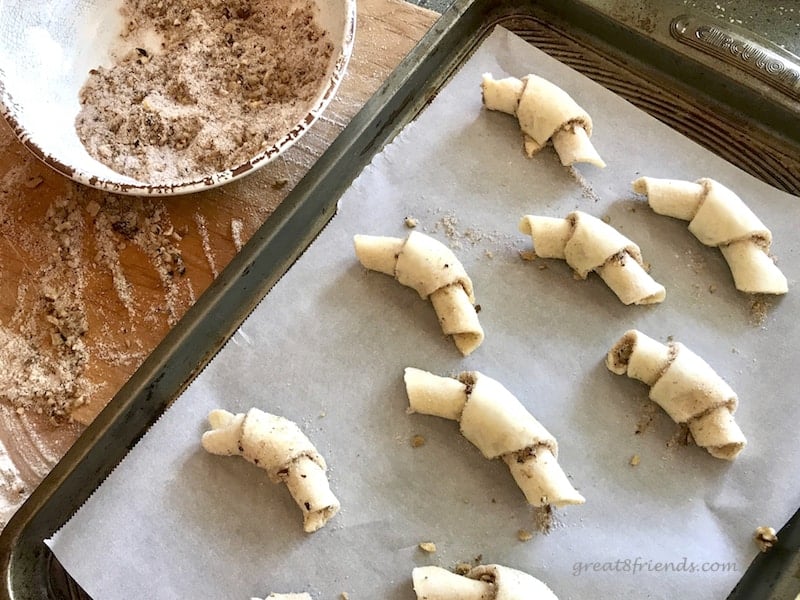 After giving the dough the time to chill, you'll be happy you did! Not only in the ease of rolling, but also in the flakiness of the dough!
That, matched with the richness of the butter is evident in that first bite, fresh out of the oven.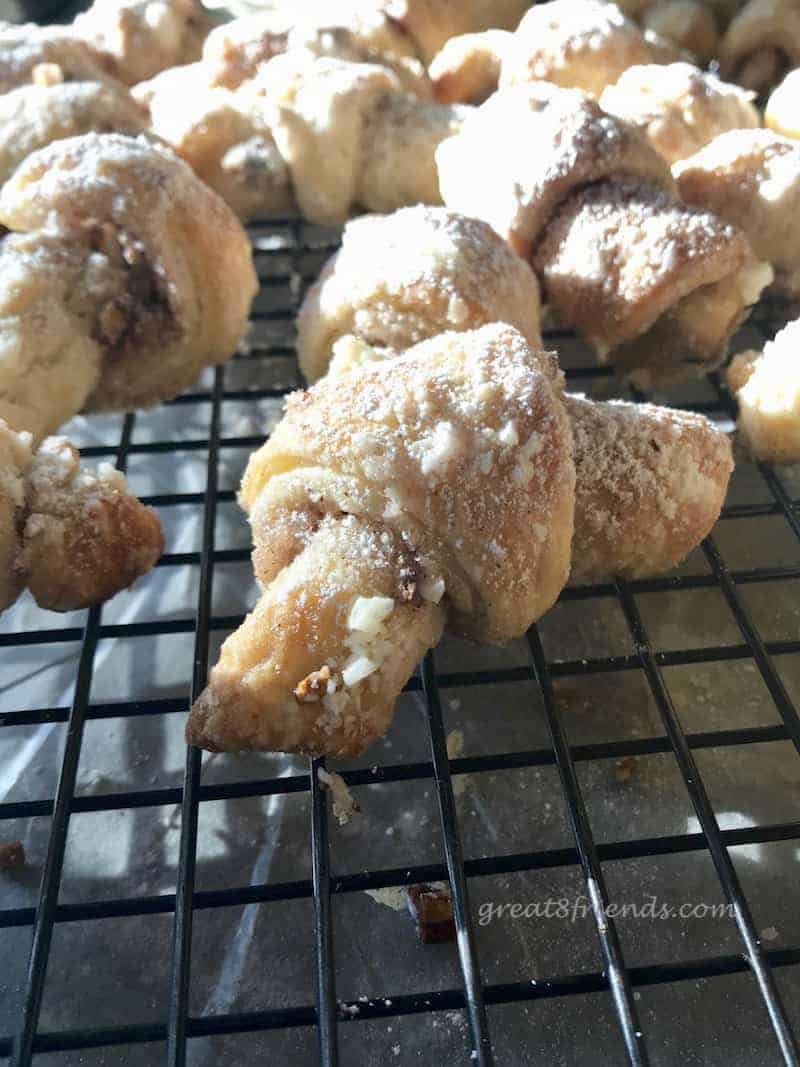 All of my favorite aromas of Autumn are in these delicious cookies! With the chilly crisp air outside, grab a couple with a cup of coffee, cocoa or tea and cozy up to the season!
These might need to be my cookie at my Annual Cookie Exchange this year!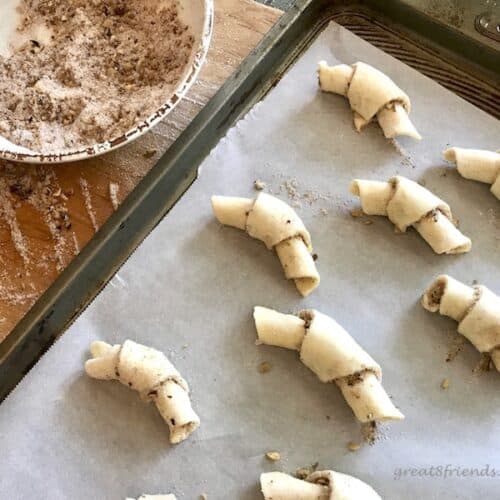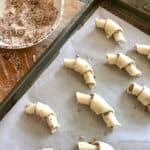 Print Recipe
Pin Recipe
Save this Recipe
Saved!
Please leave a rating!
Pecan Walnut Crescent Cookies
These buttery nutty and delicious crescent cookies are the perfect treat with your coffee, tea or end of the meal sweetness. One of those recipes you'll want on hand all year long.
Ingredients
1-½

cups

granulated sugar

2

teaspoons

cinnamon

1-½

cups

walnuts or pecans or a combination of the two

,

chopped

4

cups

all purpose flour

4

sticks

butter, chilled

,

cut into ½" cubes

⅛

teaspoon

Kosher salt

2

egg yolks

1-½

cups

sour cream

powdered sugar for coating
Instructions
In a medium bowl, combine the sugar, cinnamon and nuts. Set aside.

In a large mixing bowl, place flour,

cold cubed butter and salt. Using your fingers, crumble butter within the flour until small clumps of floured butter form.

Mix egg yolks into flour mixture. Add sour cream and combine with a wooden spoon until fully incorporated, making sure to collect the dry bits from the bottom of the bowl. If need be, finish mixing with an electric mixer, but don't overmix.

Divide dough into 3 equal sized balls. Dust dough balls with flour and wrap in wax paper. Refrigerate for 3 hours or overnight.

Prepare your rolling surface by sprinkling lightly with flour.

One ball of dough at a time, roll out each one to a 9"-10" circle, about ⅛" thick. Sprinkle the full circle with ⅓ of the cinnamon, nut, sugar mixture.

With a scraper or sharp knife, cut out "slices" like a pizza, giving yourself 8-12 "slices" per circle, depending on your desired cookie size.

Press sugar mixture gently into each triangle.

Starting from the wider end (not the point), roll each piece. Transfer to a cookie sheet and shape into a ½ moon crescent shape. Repeat with all the "slices." If you'd like, dust with a light layer of powdered sugar.

Bake for 15 minutes or until golden brown. Continue until remaining refrigerated dough balls are rolled, sprinkled and rolled.

While still warm and just out of the oven, definitely dust (yes, once more, if you already did before baking) with powdered sugar.