Cookie Exchange!
Oh how I love to entertain! And entertaining during my favorite time of year...OMG! Love Love Love! Celebrating sweets at Christmas? No better combination, right? I'm so excited to share my Annual Cookie & Gift Exchange with you. I started I can't tell you how long ago. The size has changed with some friends moving away, but now the list has been set for many years. No new additions. Just us. Me and 19 of my closest friends. We all met many years ago. All moms of kids attending the same parochial school; we all volunteered regularly in the classrooms, at school events and fundraisers.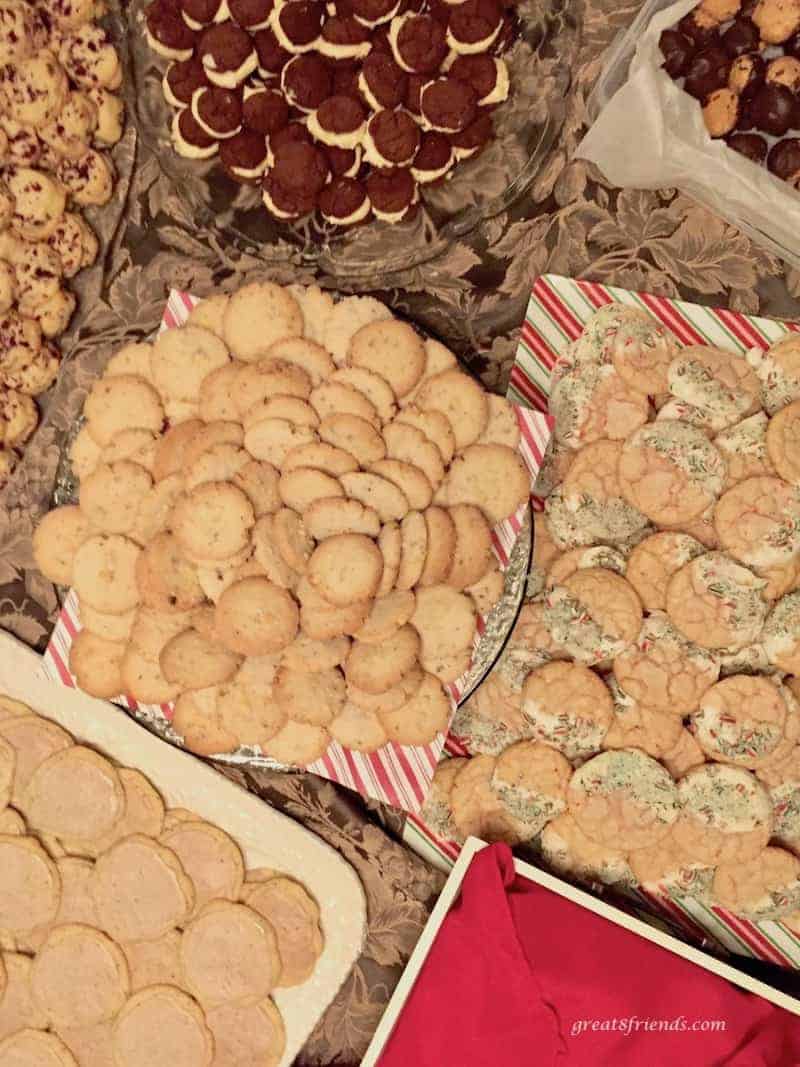 One evening in the weeks before Christmas we gather together with festive lights and Christmas music. We catch up and fill our bellies with food, and our platters with cookies...and we do some sipping, too! It starts with the save the date email that goes out early November. Knowing it's such a busy time with holiday commitments and family traditions, I want to make sure everyone has a heads up and can ink it in their calendars. They need time to decide on a cookie recipe and select the perfect gift that will be picked from under the tree or stolen from under a nose!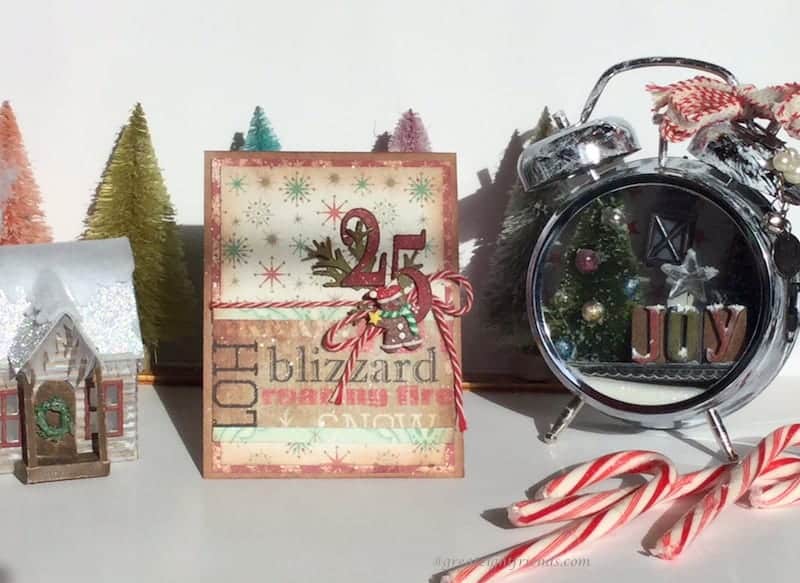 This post contains affiliate links, which means we may make a commission at no extra cost to you should you click on the link and make a purchase. As an Amazon Associate we earn from qualifying purchases.
Working in the paper crafting industry, I love deciding on the look of the invitation. Never simple, never a folded flat flier and NEVER online. They know me better than that! Plus, doesn't the invitation set the tone for the festivities ahead? You've gotta make it fun! Using my Sizzix Big Shot die cutting machine, I go to town, cutting away...and I have a ball doing it!
The Rules
7 dozen homemade cookies
An empty platter for collecting
A new and wrapped gift (monetary value is up to the hostess and printed on invitation)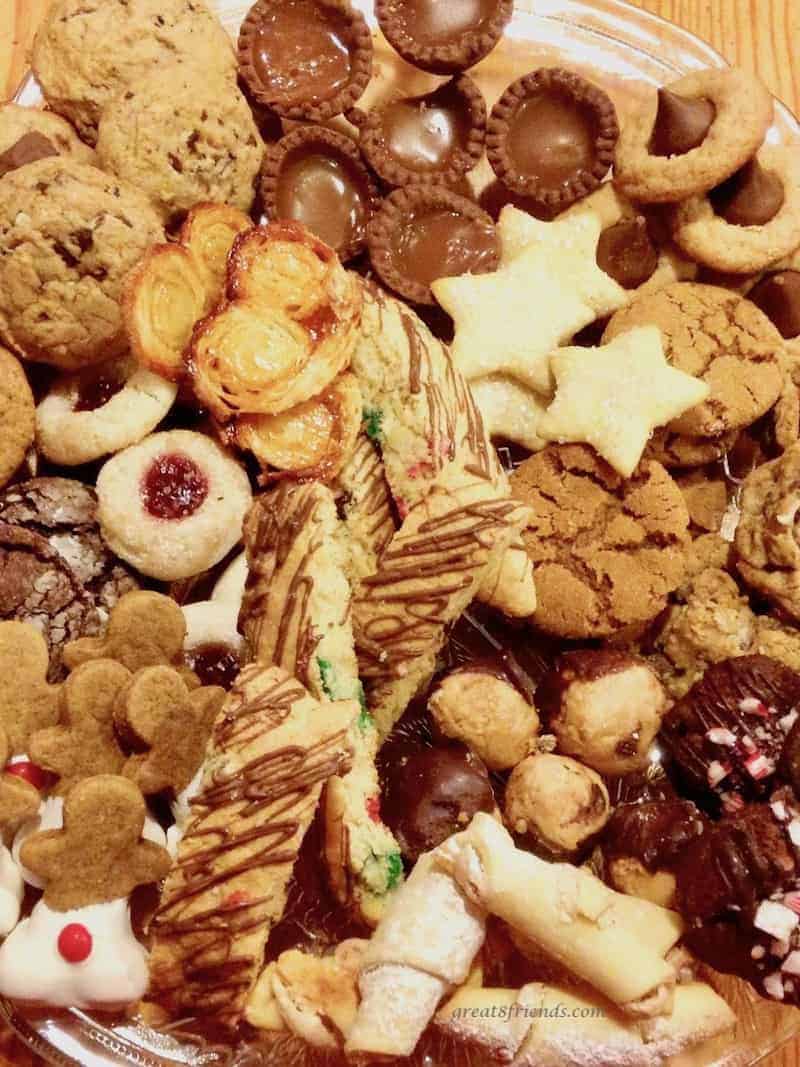 Back in the day, I always had the party mid-week and early in the month. It pretty much worked in my favor. My husband would come home from work and our 3 girls would hopefully have finished their homework by then. He'd take them out for dinner and they'd all go Christmas shopping...for ME! Yay! He'd have my wish list in hand and off they'd go, giving me the empty house to finish up those few things the hostess has to do just before hearing the first knock at the door!
Although an assortment of appetizers is set out, I know a few of my friends are coming from work and need something more substantial. Serving 3 different hearty winter soups in my triple food warmer has proven to be a hit. One year another success was a baked potato bar complete with all the fixings: butter, sour cream, chives, cheese, bacon and chili. At first I thought, "Oh man! They'll roll off the plate! What will I serve them in?" I had the best luck! I found oval plastic white bowls at Daiso, a Japanese discount store, nearby! Whether it's soup ladled into small bread bowls or in pretty coffee or tea cups, or a baked potato topped with all their faves, my girlfriends can mingle, laugh, hug and chit chat and I love it!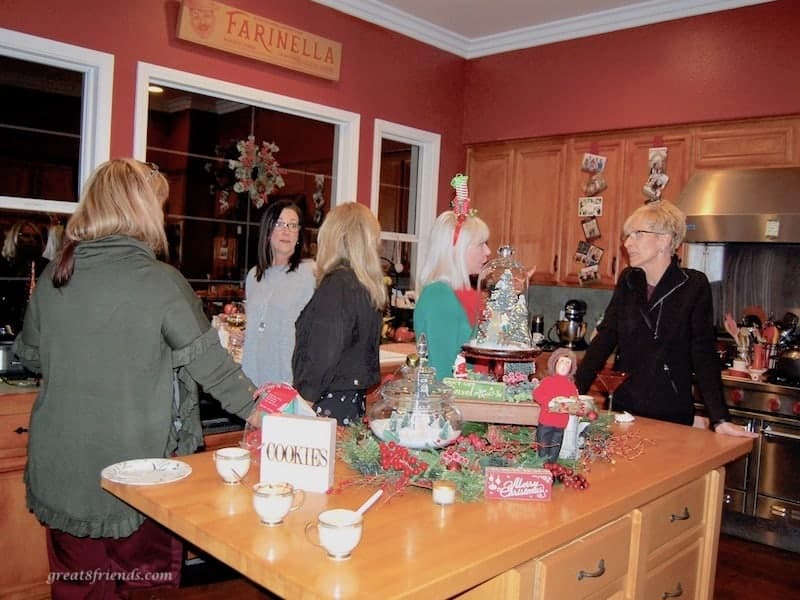 Save time
Before my husband heads out with his "elves," he pre-makes and appropriately names a Christmas martini for us. It's so greatly appreciated. Now I don't have to spend time measuring. Just shake and pour. Wine is also served, as well as soda, and beer with green olives for my sweet friends Donna and Janie!
Pick a number
As they mingle, I walk among the gals with a bowl of paper strips numbered 1-20 for the gift exchange. After all numbers are blindly chosen, I ring the bell (the same one that rings at Thanksgiving!) Time to come to the dining room! We gather around the dining room table and buffet where all of the trays of sweet Christmas goodness are laid out! One by one we each say what we brought (also good, just in case of allergies at home).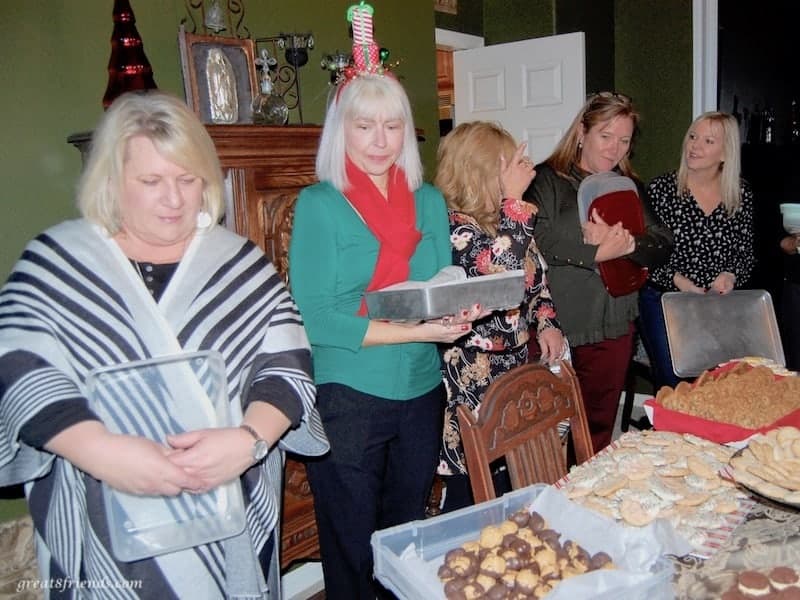 Once we get to Donna, Patty, Carla G and Linda, we all hold our breaths hoping and praying that they each brought what they're known for....Great Grannie's Oatmeal Chocolate Chip, Mini Gingerbread Men with little white pants, Biscotti, and Buckeyes! Whew! Hopes and prayers are answered. And I've heard, they'll never share their recipes...not even to this hostess. Dang it!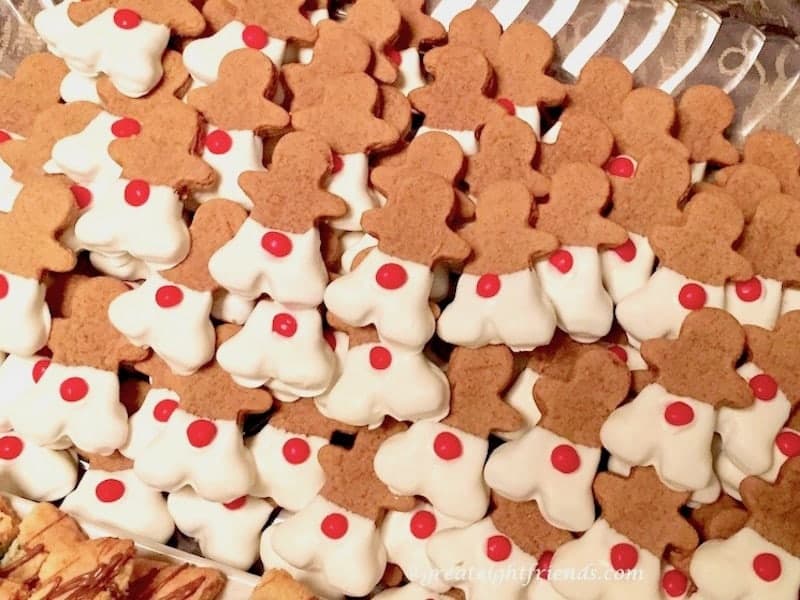 The collecting starts by first taking 3 of each cookie, then 2 of each, then your favorites, until all platters are empty.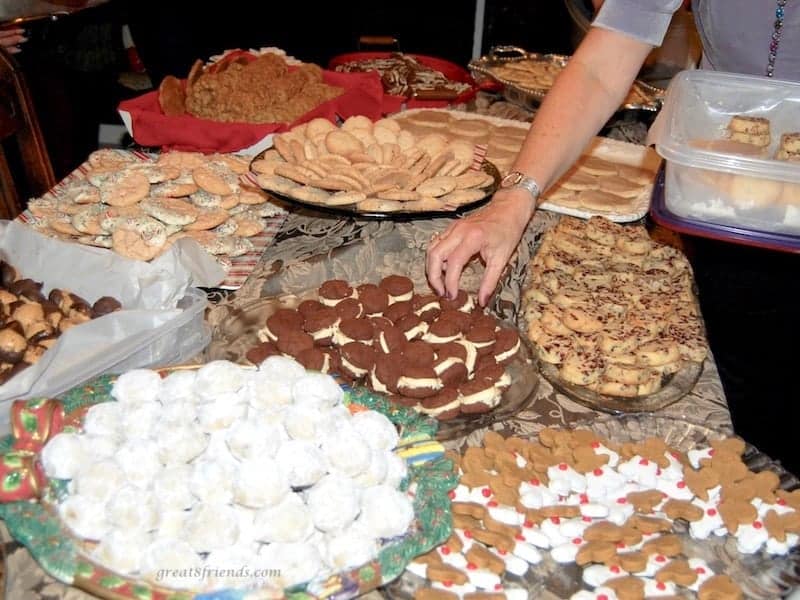 I pull out the roll of foil, the ladies cover up their "loot" and label it with their name. Done!
Now for the gifts! We LOVE gifts!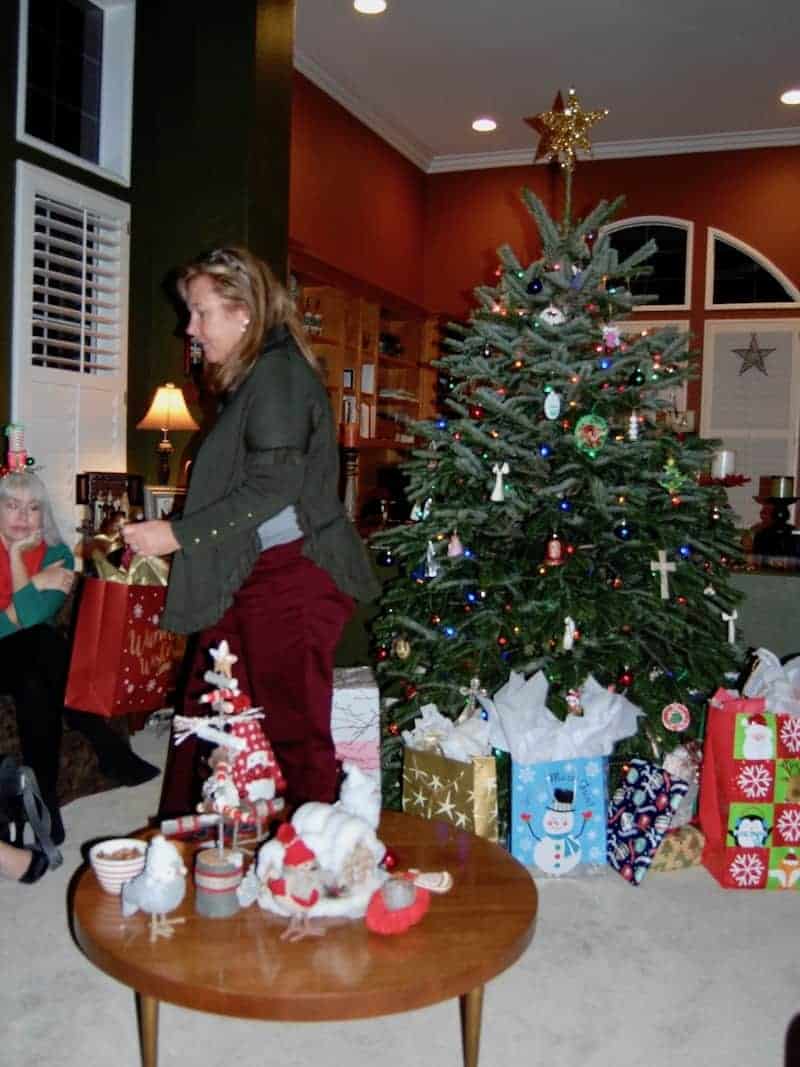 "Who's got Number 1?" She goes to the Christmas tree first; selects the pretty gift that she has been eyeing and opens it up as the other curious eyes watch, ooh and aah! "Number 2, you're up"! Hmmm, will #2 go to the tree or steal from #1? This is when it gets fun, and we see all sorts of craziness!
Rules for the gift exchange
Frozen after 3 "owners"...(stolen twice). No one can take it from the 3rd "owner."
#1 gets to choose again because she didn't get to a chance to choose from all of the opened gifts. She picked first and only from under the tree.
I purchase one extra gift...not huge. It's for the gal who was stolen from the most (almost every time she opened something, someone stole it!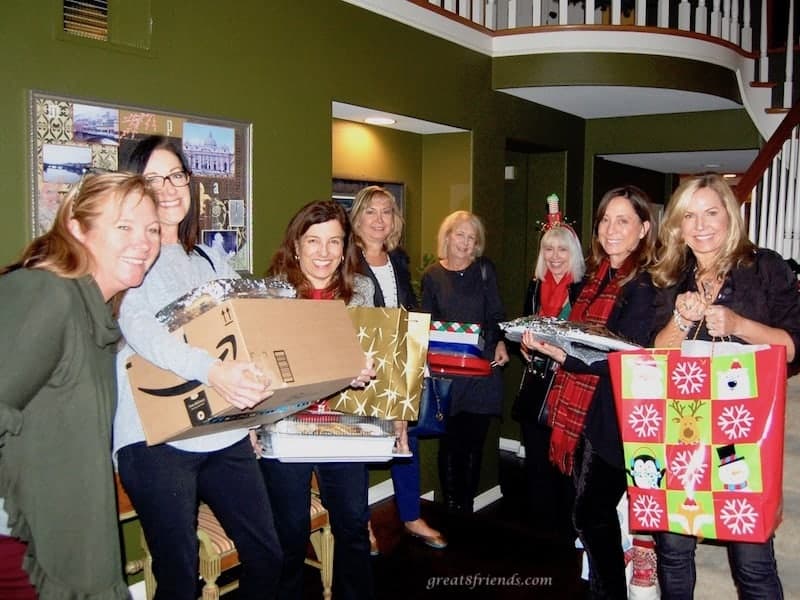 Try some of our favorites cookie recipes: Snickerdoodles, No-Bake Peanut Butter Kiss Cookies, Chocolate Truffles, and, of course, the ever popular Chocolate Chip Cookie!
If you want to host your own cookie exchange, you can ask any questions and I will be happy to answer, you will see the answers by checking back on this page.
sm 12/3/18