Plan a picnic! We have menu ideas, Gr8 recipes, a checklist of things to bring, and tips and tricks so everyone has fun!
Did you know there's a National Picnic Day? It's April 23. And National Picnic Month is July!
We've had several picnics over the course of this past year, and it's about time we share some basics.
When you picnic with 4 couples, everything is easier, because each couple contributes. Going on a picnic with a bunch of kids? Priceless, but a lot of work!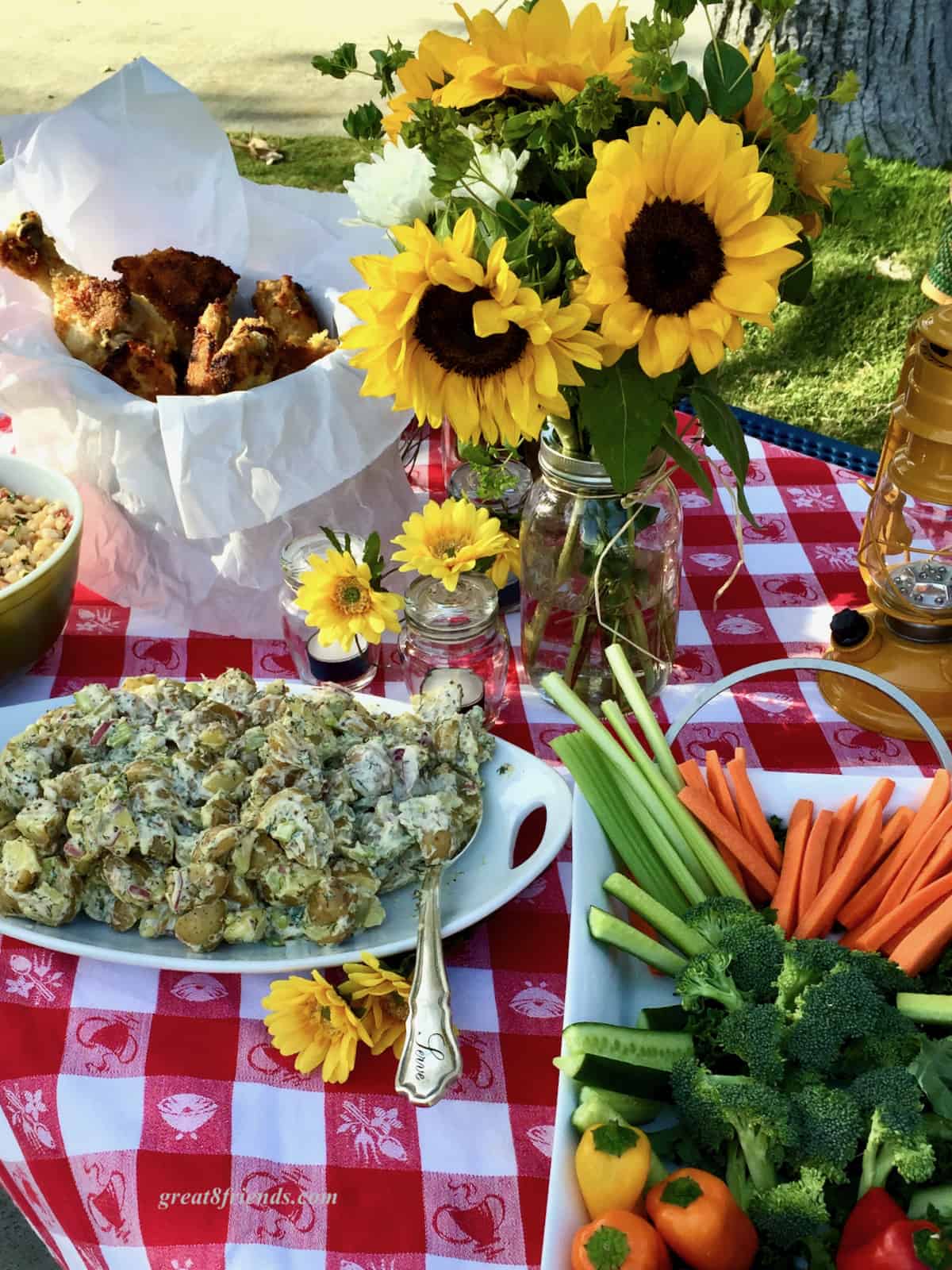 Food to Pack for Outdoor Dining
Your friends may each have their specialty dishes that they want to bring to the picnic. Or you may choose to decide the menu in advance.
For this particular picnic we decided to go classic with our food choices:
Our Appetizers
Fresh veggies are easy to transport and can be enjoyed at room temperature. Add a couple of delicious dips and you have an easy, portable (and healthy-ish) appetizer.
We love Jurga's Herb dip and Debbie's Salsa Fresca. These 2 choices provide a creamy ranch like dip and a spicy fresh option.
Another Gr8 picnic appetizer is Deviled Eggs.
Gr8 Picnic Tip! Put each Deviled Egg into a cupcake paper for no mess transport. This also makes it easier for each person to pick up on egg without touching the others.
Picnic Main Course and Sides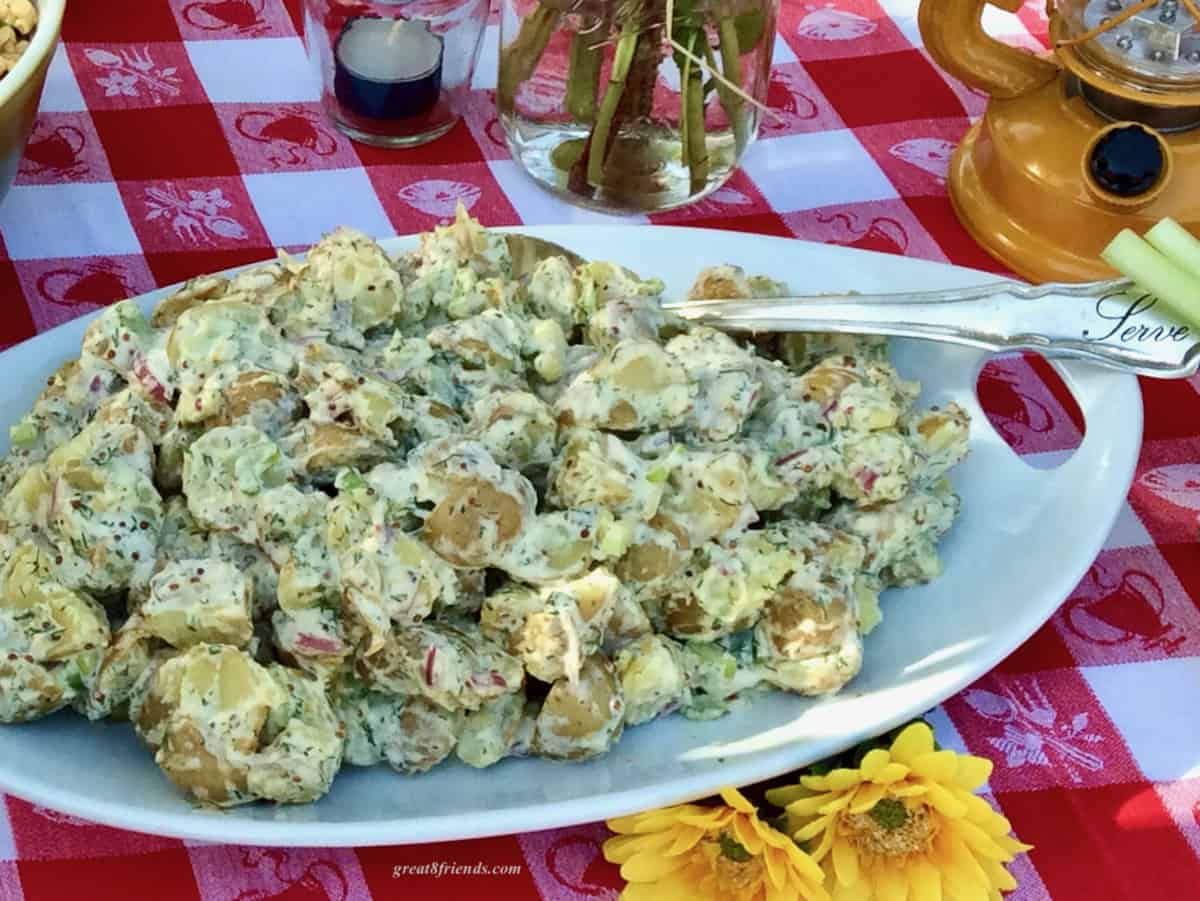 If you're going somewhere with grills or fire-pits, check out our Beach Barbecue for menu ideas and lists of what to bring.
Dessert
The easiest dessert choice for a picnic is cookies! Choose a bar cookie, brownie, or regular cookie. They're not messy, guests can just grab and enjoy, and you don't really need a plate or utensils.
We enjoyed Kyle's famous Chocolate Chip Cookies, I could eat TEN of them! Seriously! And that's another reason this recipe is the one to choose, it makes a big batch!
Gr8 Picnic Tip! Cookies are easy to pack and transport, just put them in a jar or box and everyone can grab one... or FIVE... when they're ready!
To Drink
We enjoyed some delicious Pinot Noir wine with dinner. Pinot Noir is a lovely, lighter red that's a perfect for picnic food.
And since red wine is good at room temperature, the vino doesn't have to take up room in your cooler.
Water is always a good idea for any outing. I have a couple of 2 gallon beverage coolers that are perfect for drinks. We always fill one with ice and water; and how about filling the second one with fresh lemonade?!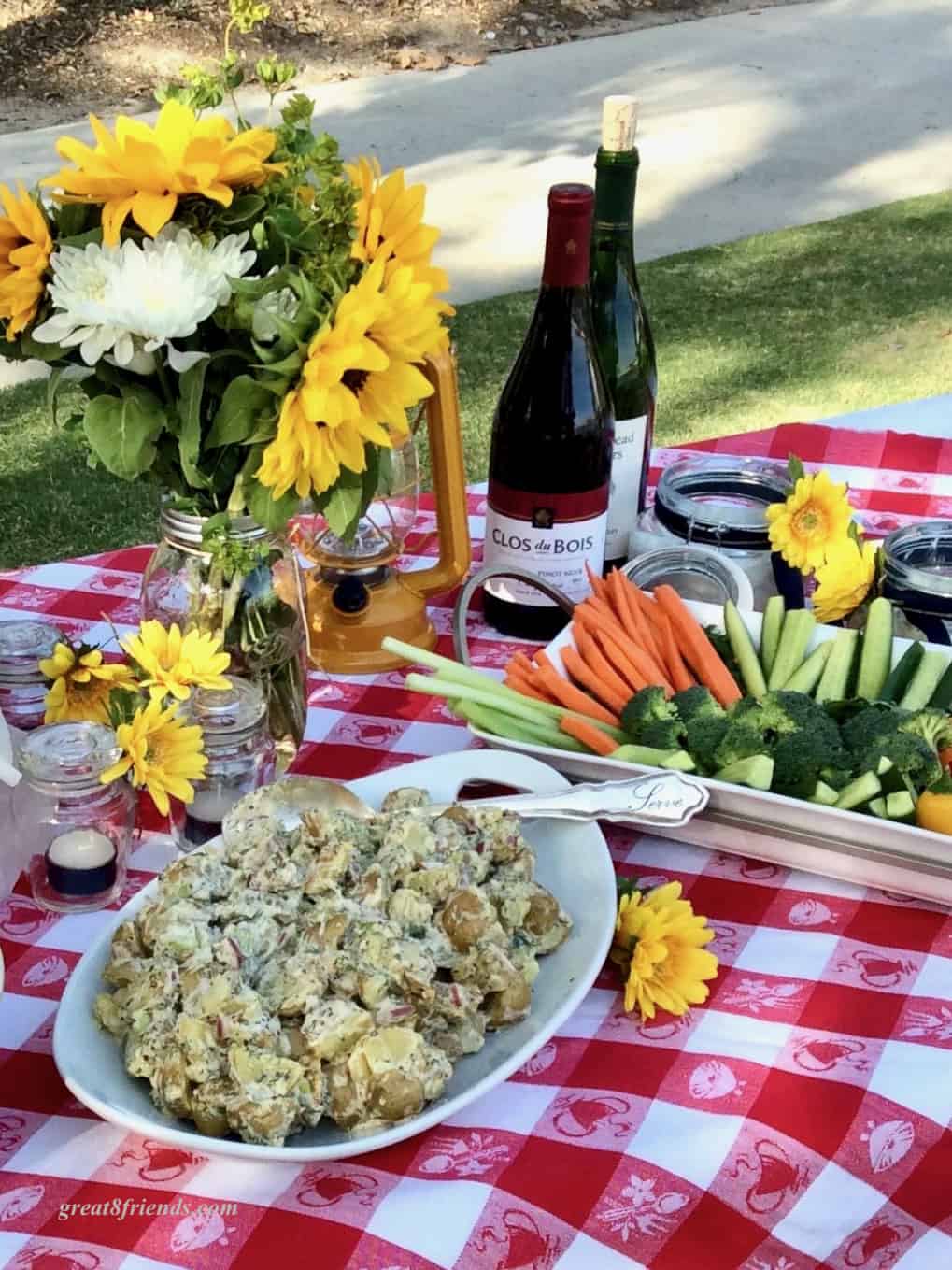 What to Pack and Bring
Table Top
A tablecloth if you're going to a park with tables or a large blanket if you plan sit on the ground. If you're sitting on the ground each guest can bring their own beach chair or you can provide cushions for comfort.
Pack a bag or bin with plates, napkins, utensils and plastic glasses for the drinks. I have cute plastic plates that I just throw in the dishwasher when I get home.
If you're doing an evening picnic, pack some candles. We put votives in small mason jars. When you're done, just put the lids on and take them home. Easy clean-up!
A lantern is also a nice addition!
Flowers! Every table needs a centerpiece so pick up some fresh flowers and bring a vase or use an empty mason jar.
Food Tents - If you live in a buggy area, these mesh tents are easy to use to keep the bugs off of your delicious food.
Gr8 Picnic Tip! Buy inexpensive dishtowels to use as napkins. They're large and easy to launder when you get home... and totally reusable!
Food
Containers - When planning the food, also figure out what you will put it in to get it to the picnic. For items that have to be kept cool, make sure the container fits into your cooler. I like to carry the food to the picnic in something that is also nice for serving, if possible. This saves space.
Serving utensils - I have plastic serving utensils that are "disposable" but also sturdy enough to wash and re-use.
Ziploc bags - to store any extra food, or to divide up the leftovers to send some home with each person.
Drink
Water glasses - small disposable paper cups are useful, especially if you will be at the picnic a long time. Or, provide a large cup for each person.
Wine glasses - I like to drink wine in style, so I bring plastic wine glasses. But there's nothing wrong with disposable cups for wine!
If you're serving something other than wine, then provide the type of glass or cup that you need.
Wine Glass Writer or Sharpie - each person should write their name on their cups because when you're out in the wild, there are limits to availability.
Miscellaneous
Wet wipes - always nice since there probably won't be running water.
Paper towels - it's easy to throw a roll of paper towels into one of the bags and they come in handy for all sorts of things!
A roll of TP - Yep! You never know...
Matches - for the candles.
Corkscrew - for the wine.
Trash bag - in case there aren't convenient receptacles, or maybe they're already full. In fact, pack 2, an extra trash bag could come in handy in some unforeseen circumstance.
Insect repellent - You don't want to be eaten while you're eating.
Bluetooth speaker - if you want to listen to something other than birdsong and the wind in the trees.
Gr8 Picnic Tip! Designate one person to be in charge of the music if you choose to have some. Make sure you like their vibe when picking who it will be!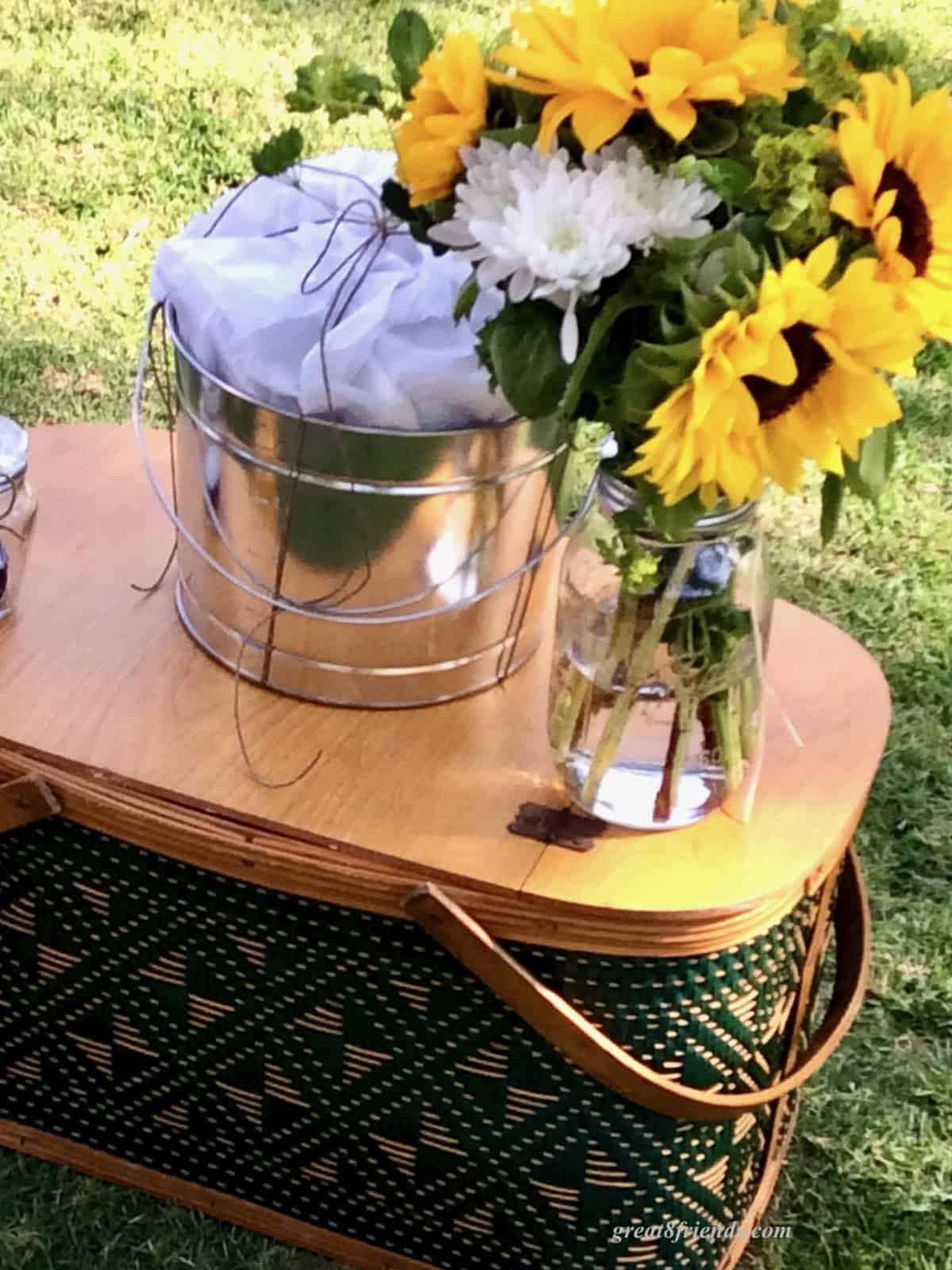 Totes and Coolers
We have a few different coolers at our house. Some are the soft sided coolers that are light to carry and some are the hard sided that do an excellent job of keeping food cold. You can choose the type of cooler depending on your menu.
If you're doing a picnic for a lot of people, you may want one cooler for the food and a second one for drinks and ice.
Gr8 Picnic Tip! Freeze water in plastic bottles to use in the coolers. As it melts you won't have puddles of water in the bottom of the cooler. AND you can add it to the water jug when melted.
Square bottom tote bags also come in handy and your items will pack and travel nicely in them.
Or maybe you own a picnic basket, mine was handed down to me from my grandparents and I love it!
So, what are you waiting for? Plan a picnic and invite your friends, we know you'll have a Gr8 time!
Check out the Birthday Picnic that the gals set up for my birthday one year. Such Gr8 Fun!
We'd love to hear your picnic tips and tricks. Just drop a comment below!