There is nothing devilish about these deviled eggs! The spicy mayonnaise addition really kicks the flavor up a notch. Enjoy this perfect snack or appetizer!
Growing up, whenever my mom made deviled eggs, it was always for a special occasion, or because my dad was craving them!
They were often the requested dish that she was asked to bring to a family potluck, or summer picnic.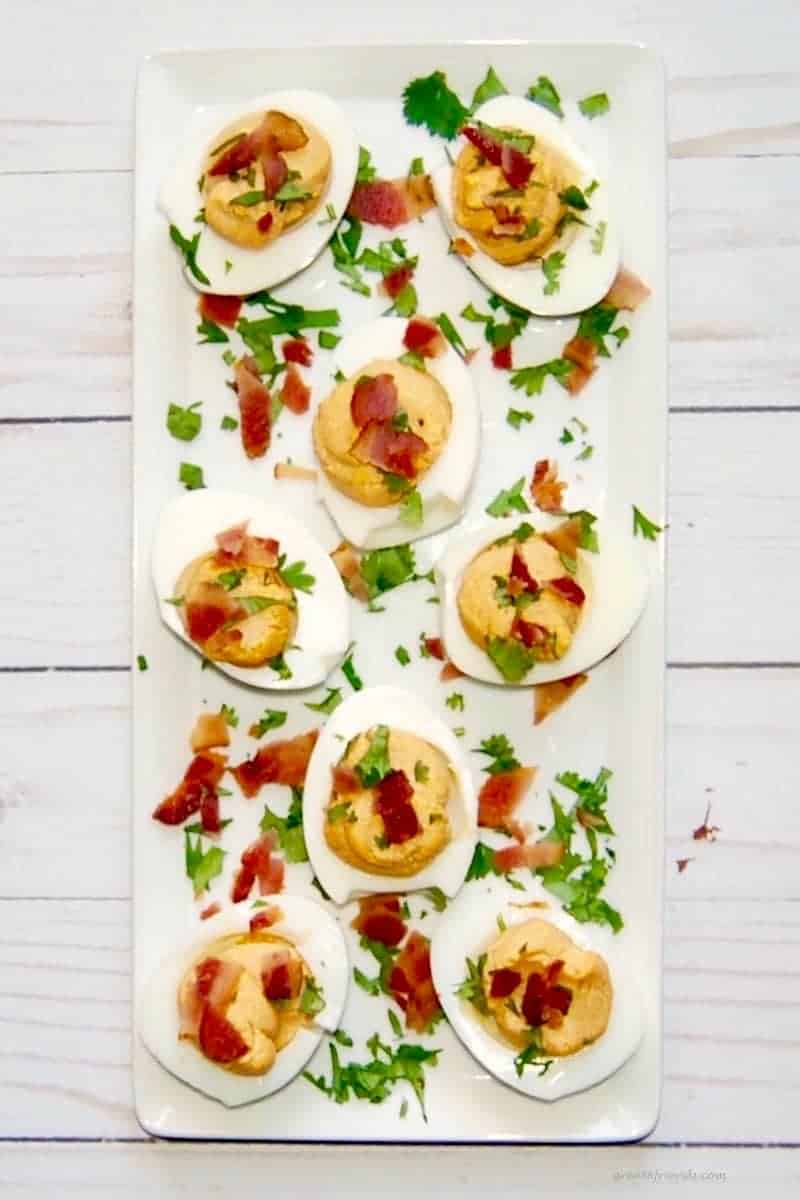 I remember them so well. Her simple recipe consisted of egg yolks, a little mayo and finely diced sweet pickles…and oh no, she never touched the relish in a jar! Those pickles were finely diced by hand! All mixed together, that was pretty much it!
Well, let me tell ya…times have changed and she LOVED the two deviled egg versions I shared with her recently! Chipotle & Sriracha! Instead of mixing mayonnaise with something to add flavor and a kick, Sir Kensington's has saved you that added step!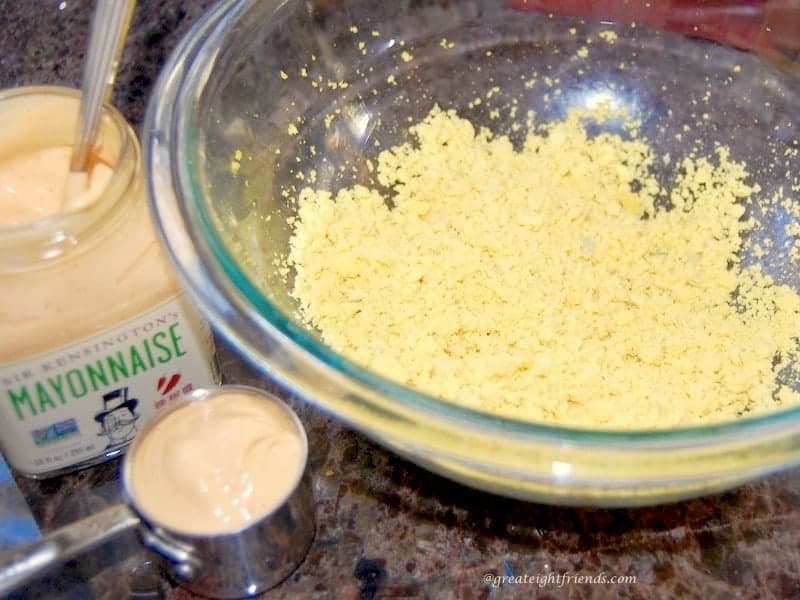 Add their Chipotle Mayonnaise or their Sriracha Mayonnaise right into the yolk and you're done! It's that simple! Bring a ½ dozen each of the Chipotle and Sriracha Deviled Eggs to your next gathering!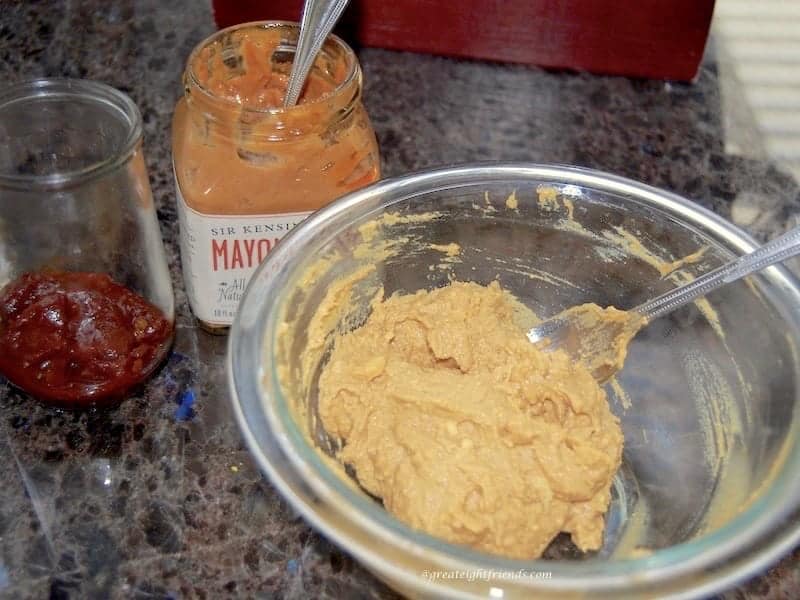 They're just as easy as mom's from back in the day (actually probably easier!) And with these newer and hipper flavors, they'll disappear in a flash!
And you know what? I bet my dad would have LOVED them, too! They're EGG-ceptional!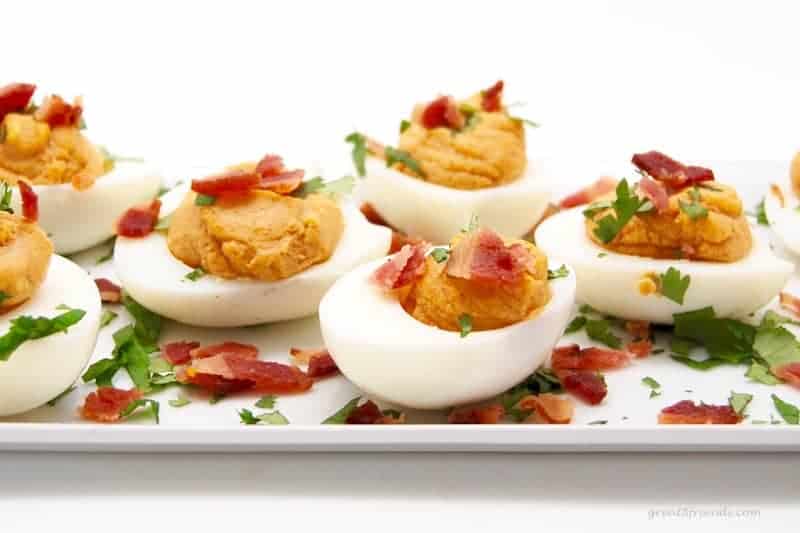 More Egg Recipes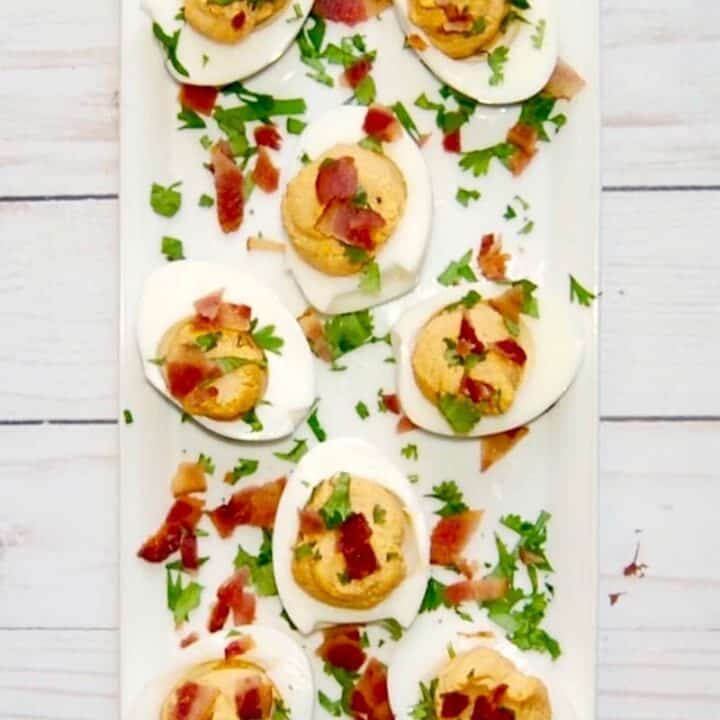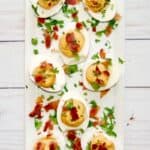 Print Recipe
Pin Recipe
Save this Recipe
Saved!
Please leave a rating!
Chipotle Deviled Eggs and Sriracha Deviled Eggs
Ingredients
Chipotle Deviled Eggs
12

large

eggs

⅓

cup plus 2 Tablespoons

Sir Kensington's Chipotle Mayonnaise

2

teaspoons or more

sauce from canned chipotle chiles

,

for added heat (optional)

6

slices

bacon

,

cooked crisp and crumbled

2

Tablespoons

chopped fresh cilantro
Sriracha Deviled Eggs
12

large

eggs

⅓

cup plus 2 Tablespoons

Sir Kensington's Sriracha Mayonnaise

6

slices

bacon

,

cooked crisp and crumbled

2

tablespoons

chopped fresh cilantro
Instructions
Boil eggs your favorite way.

Drain eggs; cover with ice and water and crack them while still in the water to let the cold water get under the shell.

Peel and cut the eggs in half lengthwise.

Spoon yolks into a small bowl and place the egg whites on a platter.

Mash the egg yolks with a fork.

Mix in the mayonnaise of your choice.

If making the Sriracha version, skip this step -- Mix in 2 teaspoons chipotle sauce, if using. Add more sauce, if you'd like a little more kick!

Add salt to taste and mix well.

Fit a pastry bag with a star tip. (or see Gr8 tip below)

Pipe the filling into the egg whites.

Cover with plastic wrap and chill eggs at least 2 hours and up to 1 day.

Sprinkle a few pieces of bacon onto each filled egg, sprinkle with cilantro and serve. We won't blame you if you eat as you go! I do!
Notes
Gr8 Tip:
If you do not have pastry bags, fill a sandwich plastic sandwich bag with the egg filling. Bring all of the mixture down to the corner of the bag, as much as possible without air bubbles. Snip off corner of plastic bag. Pipe into egg whites as directed.
Gr8 Make Ahead Tips:
You can boil the eggs up to 3 days ahead of time. Cool and refrigerate. The day before serving, peel the eggs, slice, make the filling then store the filling in a plastic bag in the fridge separately from the egg whites. Two hours before serving, and up to one day before, snip the corner of the plastic bag and pipe the filling into the whites. Cover and refrigerate until serving time.
sm 06/3/19