Whether you're planning a buffet or sit down Christmas Brunch this menu is almost entirely make ahead. Which means you have just a few things to do the morning of and can enjoy the party!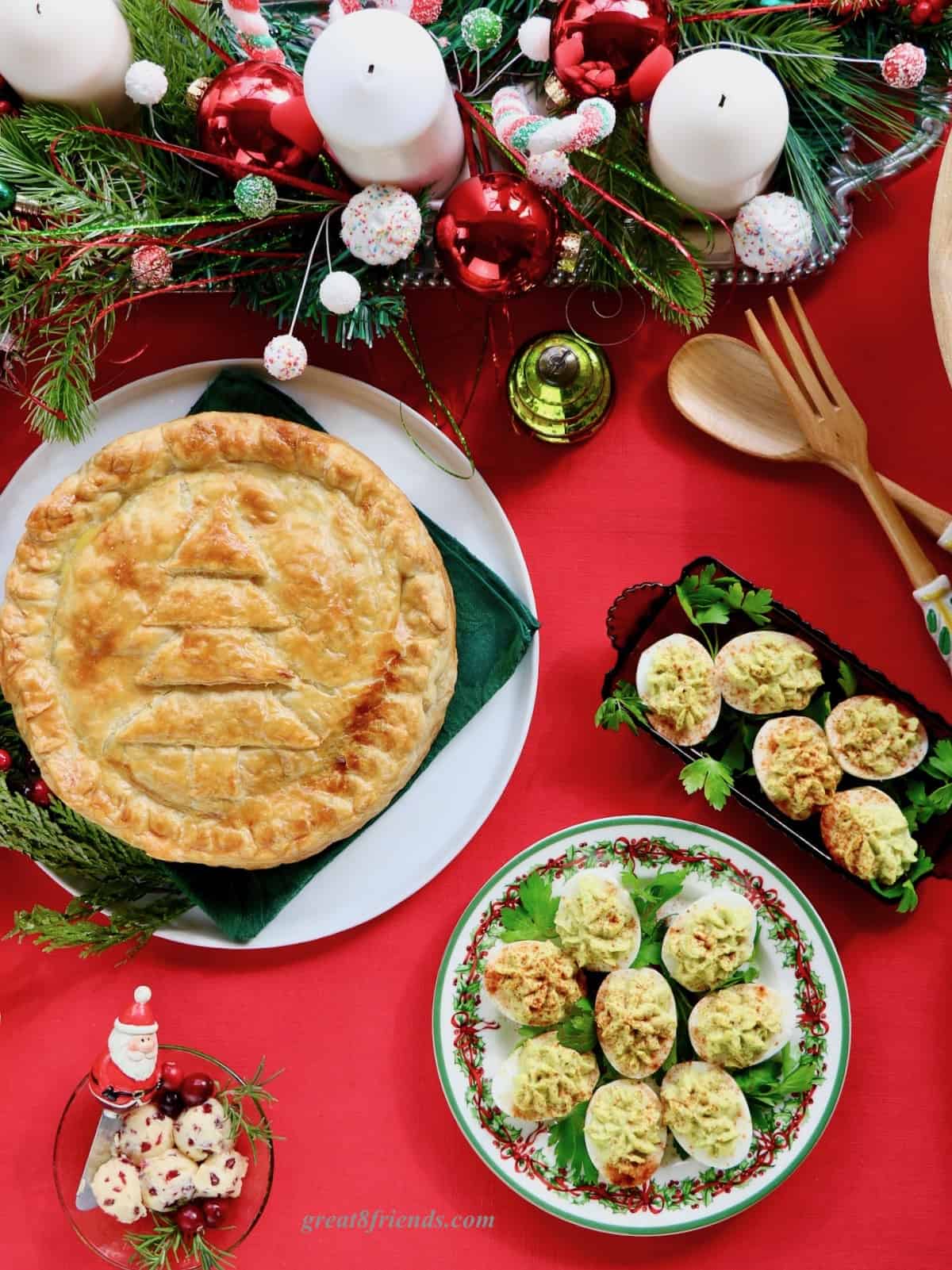 The Great 8 rarely gets together once the holidays start because of all the obligations each couple has. Usually, just the gals gather after the New Year to exchange gifts and share a meal.
But a couple of years ago we decided that, since we are all empty nesters, maybe we could do a Christmas Brunch. How fun would that be?
We put a date on the calendar, but something came up and we had to cancel. (It must have been something big, because we rarely cancel our plans.)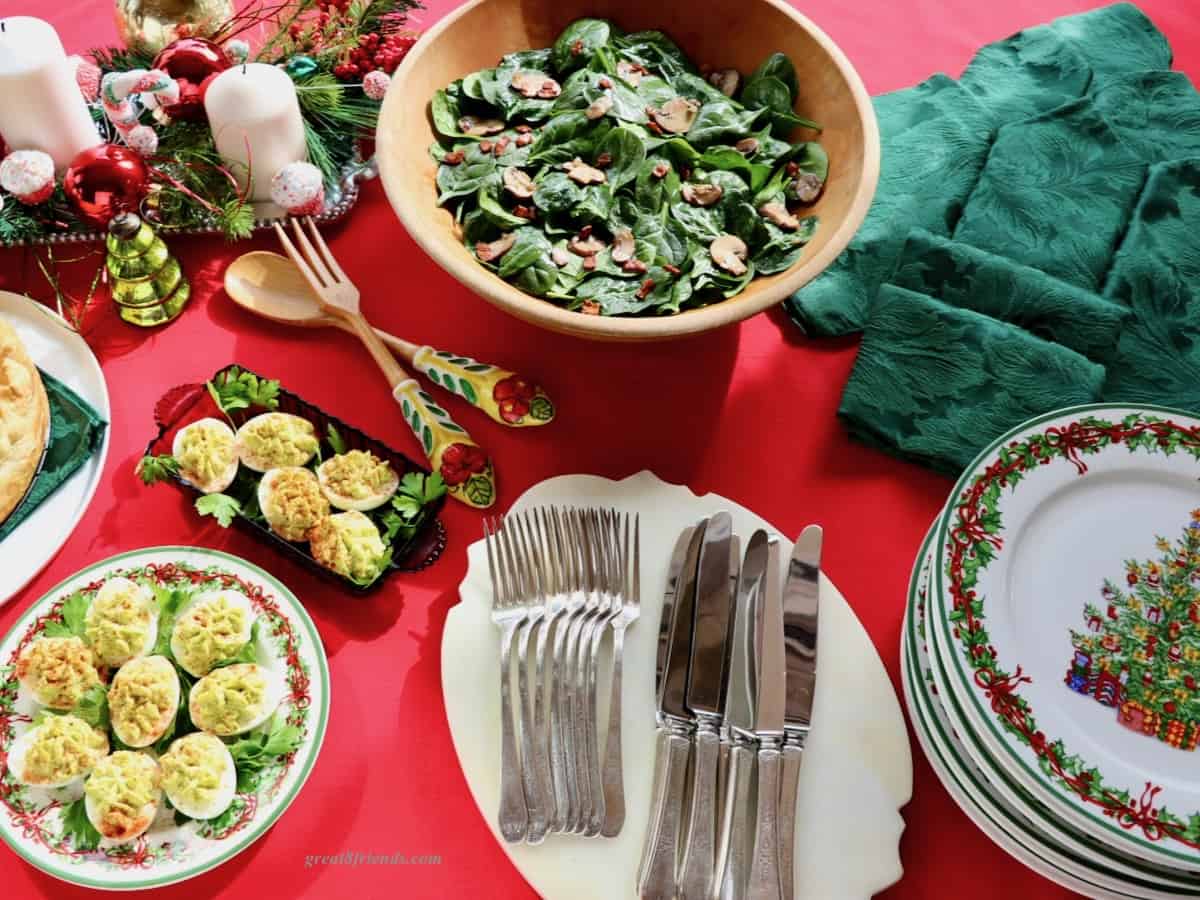 Then last year one of our Gr8 kids was getting married in December. And now this year we have a lockdown... so.... while we can't gather for a brunch, here is a suggested menu and guideline for an easy, make ahead Christmas Brunch.
We are hopeful that next year we can actually gather, exchange greetings, gifts, hugs (remember those?) and love. Then we will add some fun photos of us to this post! And maybe more food, too!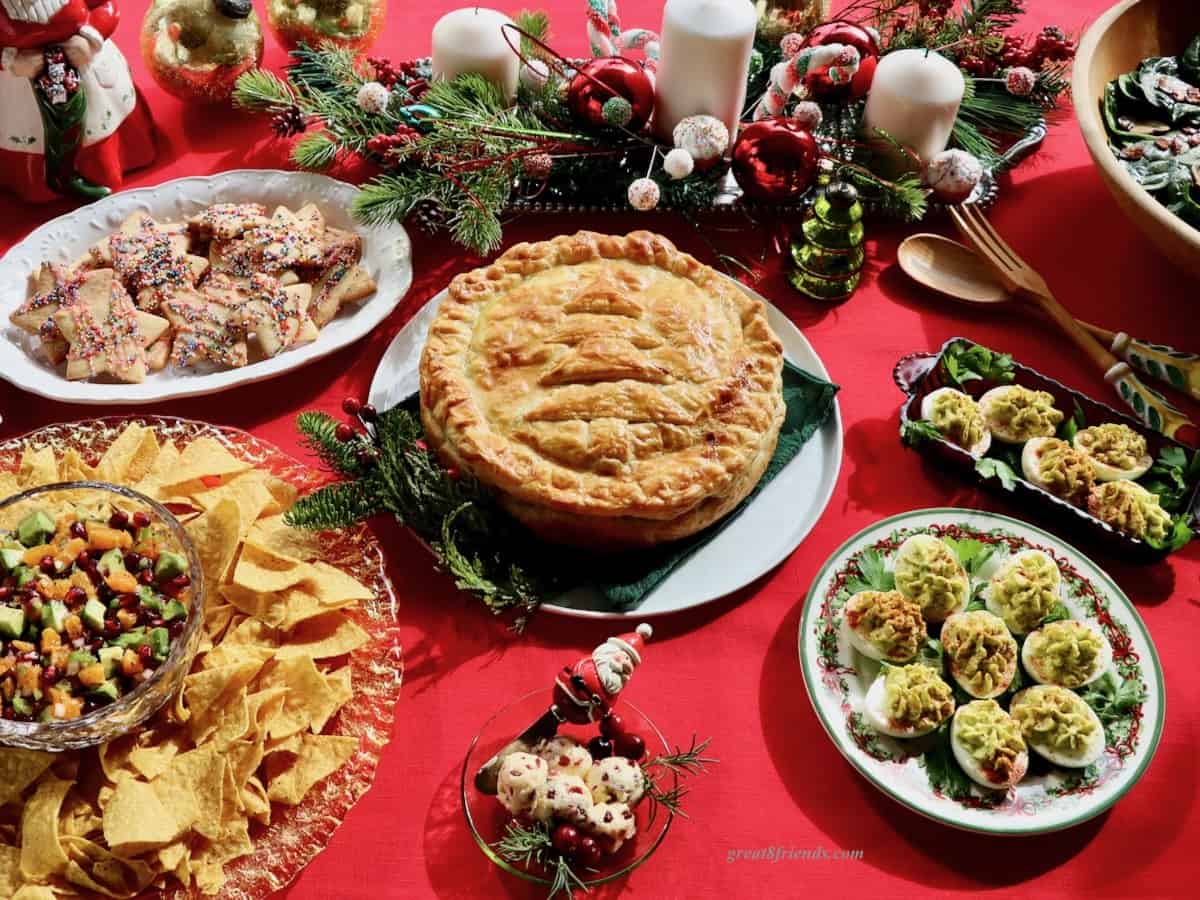 Whether you're serving this to friends sometime in December or making it for Christmas morning, I think you'll see that there is something for everyone on this menu.
The Menu
And of course, champagne and coffee!
The Table Setting
This year I decided on bright, traditional Christmas colors because I needed the cheeriness. You can choose any color scheme that you love.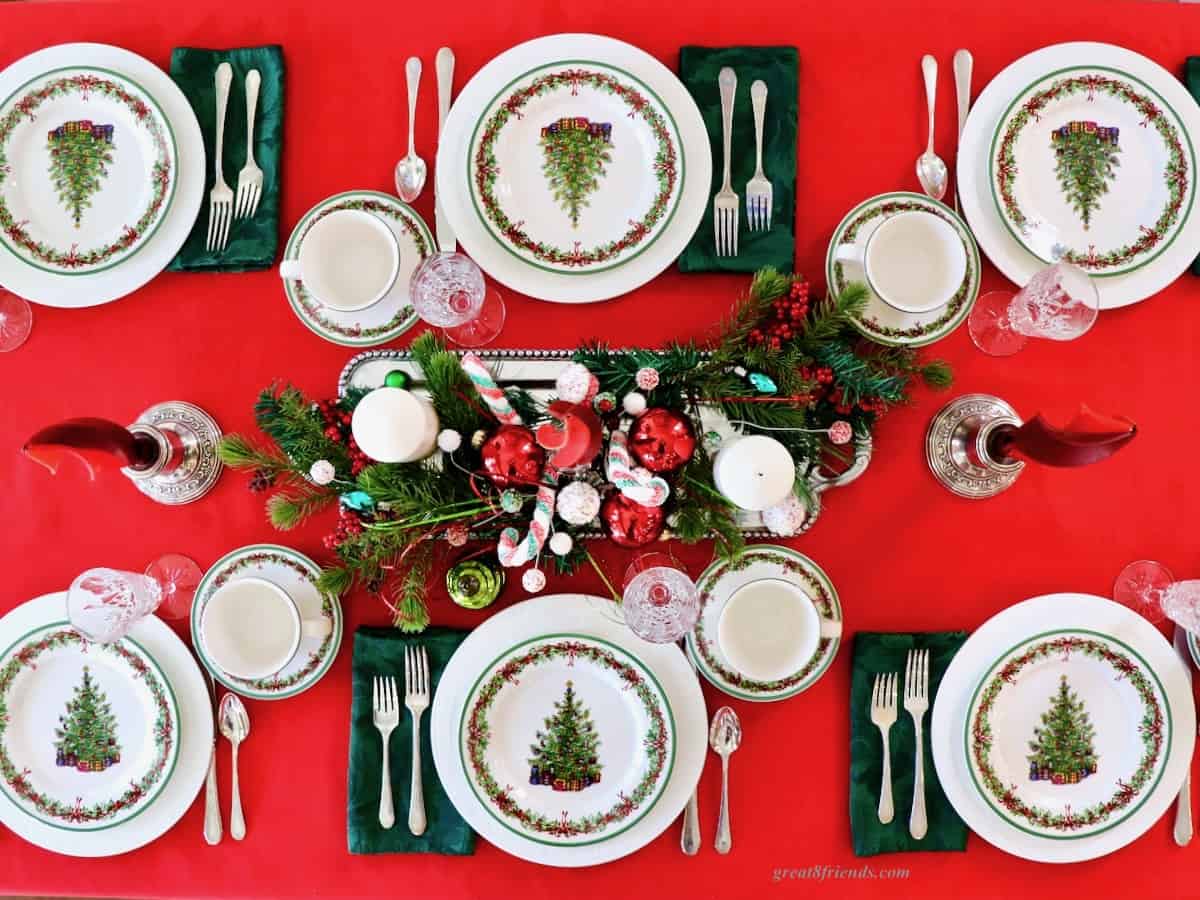 Whether you choose to do a buffet where everyone mills around with their food and sits anywhere, or a sit down meal, a centerpiece sets a festive tone.
Fortunately, you can can create a Christmas centerpiece way in advance if you decide to use artificial greens. You may need two centerpieces if you do a buffet and also a table set for eating.
Go through your decorations and pick out what you want to include. Or, pick up a beautiful fresh centerpiece from your local florist.
Gr8 Tip: Use your everyday dishes. One of my tricks is that I rarely buy holiday specific plates or cups. You can see that these sweet Christmas tree salad plates sit on top of my regular white dinner dishes.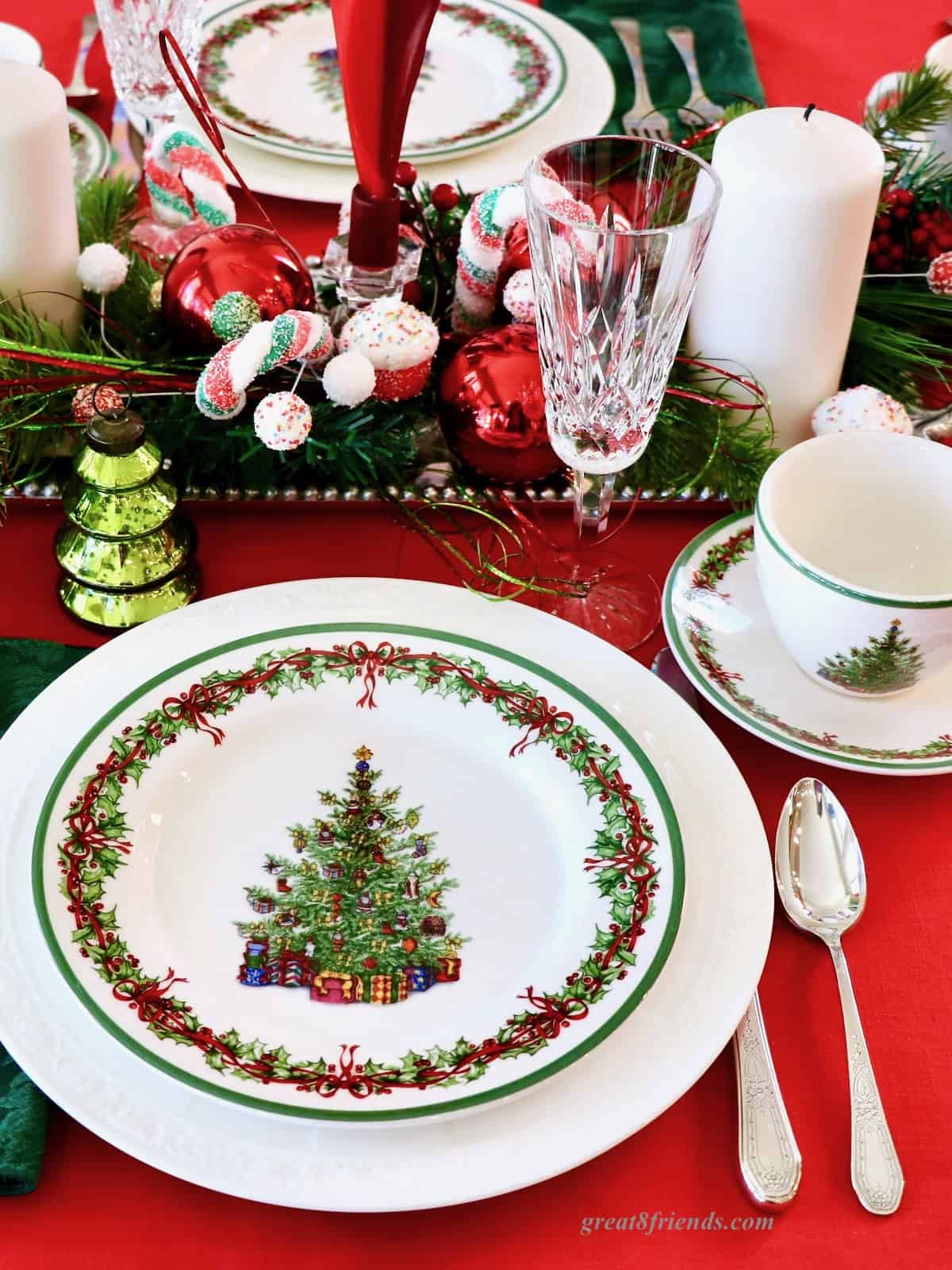 I have the matching coffee cups because my sweet daughter-in-love gifted them to me several years ago, from eBay, to match the salad plates I use every year for our family brunch.
You know I love a tablecloth, an easy way to start your color palate. I keep solid color washable cloths in useable colors, white, red, dark green, flax, coral, blue, gold, etc.
Preparing Brunch Ahead of Time
The table can be set as far ahead of time as you like, especially if you are not using fresh flowers. And if you have a dining area that is not used on a daily basis, this is a good way to decorate.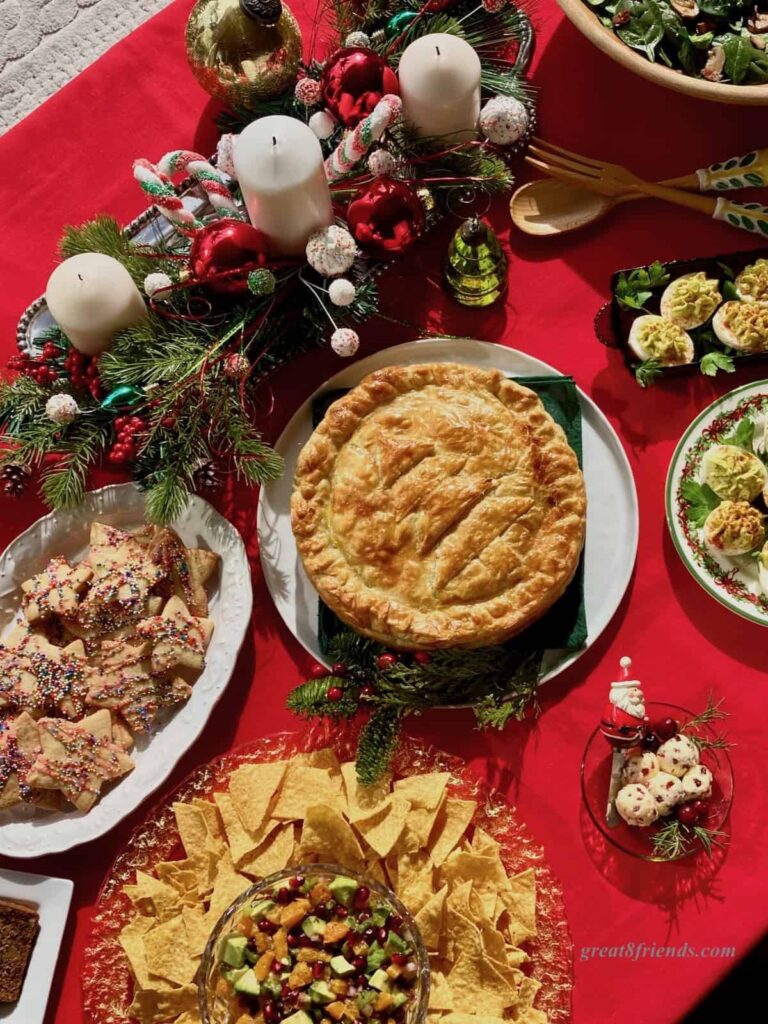 Two Days Ahead of Time
Do your grocery list and shopping.
Make the Cranberry Bread
Hard boil the eggs for the deviled eggs.
Plan the serving dishes and serving utensils you will need for each dish. Gr8 Tip: take them out and stack them up somewhere out of the way so they're easily available.

Deviled egg tray or you can use a regular plate
A chip and dip set or a pretty bowl for the salsa with a larger tray or basket for the chips
A large (~12" diameter) round tray for the torte, with a sharp knife for cutting and a pie server
Salad bowl and salad servers
A small plate or tray for the Cranberry Bread
Small dish for butter with a spreader
A pretty platter for your Christmas cookies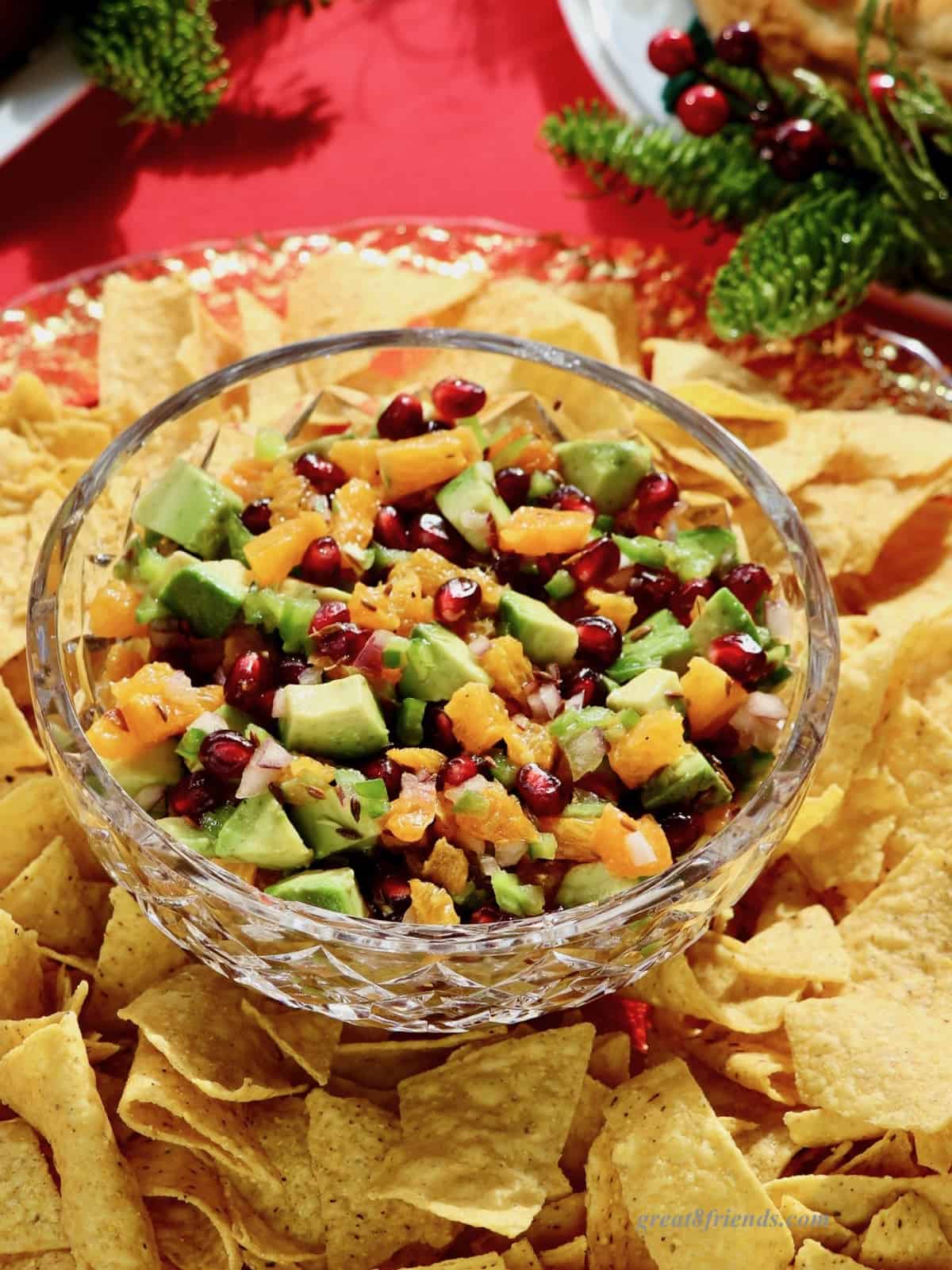 The Day Before
Prepare the salsa mixture except for the avocado and lime juice. Cover and refrigerate.
Make the Brunch Torte minus the egg wash and baking. Seal with foil and refrigerate.
Arrange the Christmas cookies on a platter and cover tightly.
For the salad -

Wash the spinach, let dry, and store in fridge.
Fry the bacon, cool, seal in a plastic bag or bowl, and refrigerate.
Cook the mushrooms and shallots. Remove from heat, cool, and refrigerate. Gr8 Tip: if you store the dressing in a Pyrex glass measuring cup, you can reheat it in the microwave easily the next day.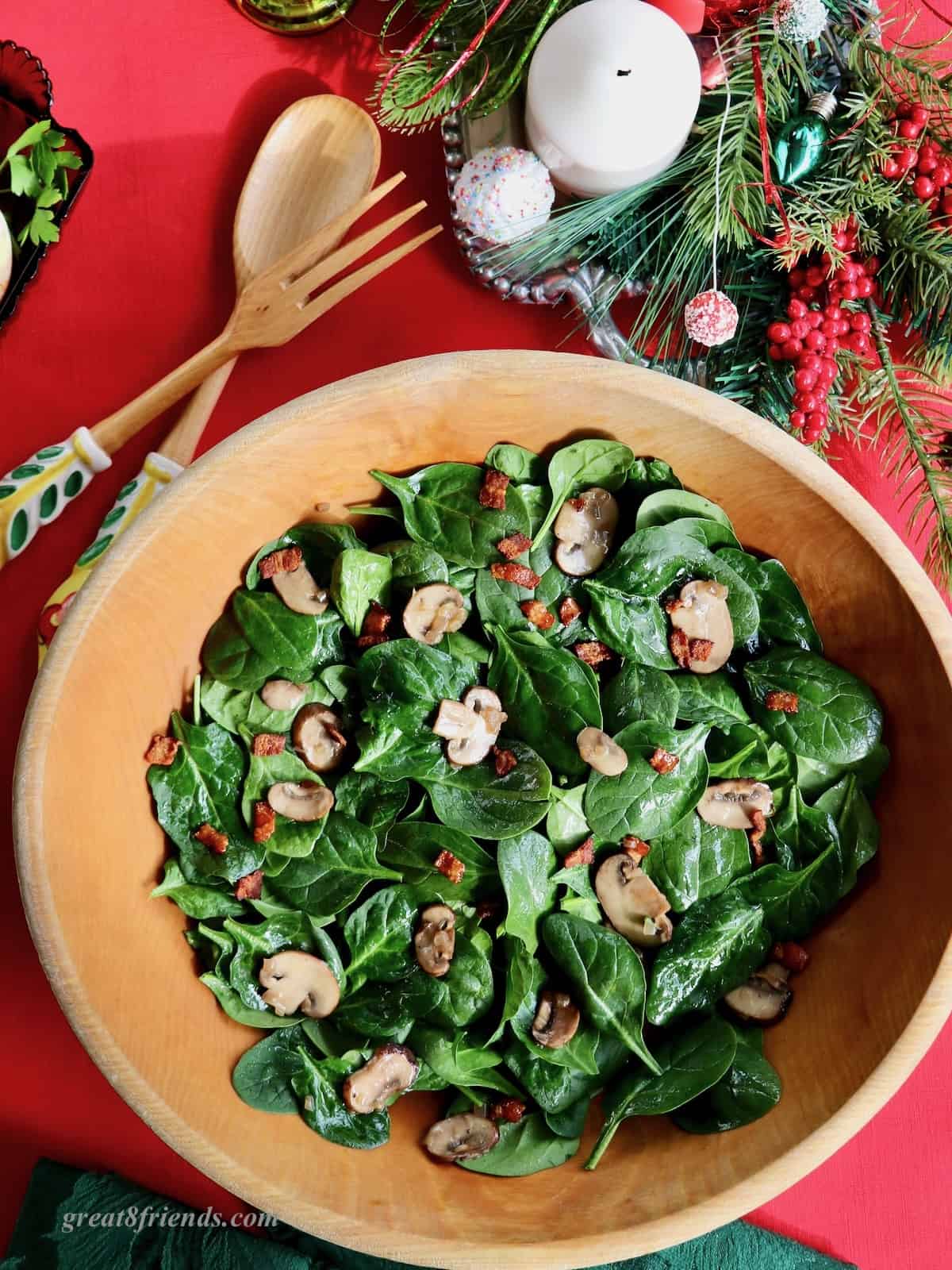 The Morning of the Party
90 Minutes Before Serving
Remove the torte from the fridge to come to room temperature before baking.
Remove some butter from the fridge to soften for the Cranberry Bread.
Preheat your oven to 375°F.
Make the deviled eggs and place on the serving plate. Cover lightly and refrigerate until ready to serve.
Finish the salsa by cutting the avocado and adding the lime juice. Put in the chosen bowl.
Put the chips in the serving dish.
60 Minutes Before Serving
Put the torte in the oven and bake for 30 to 35 minutes.
Slice the cranberry bread, arrange on serving plate.
Put butter and spreader in serving dish.
Put the spinach in the salad bowl.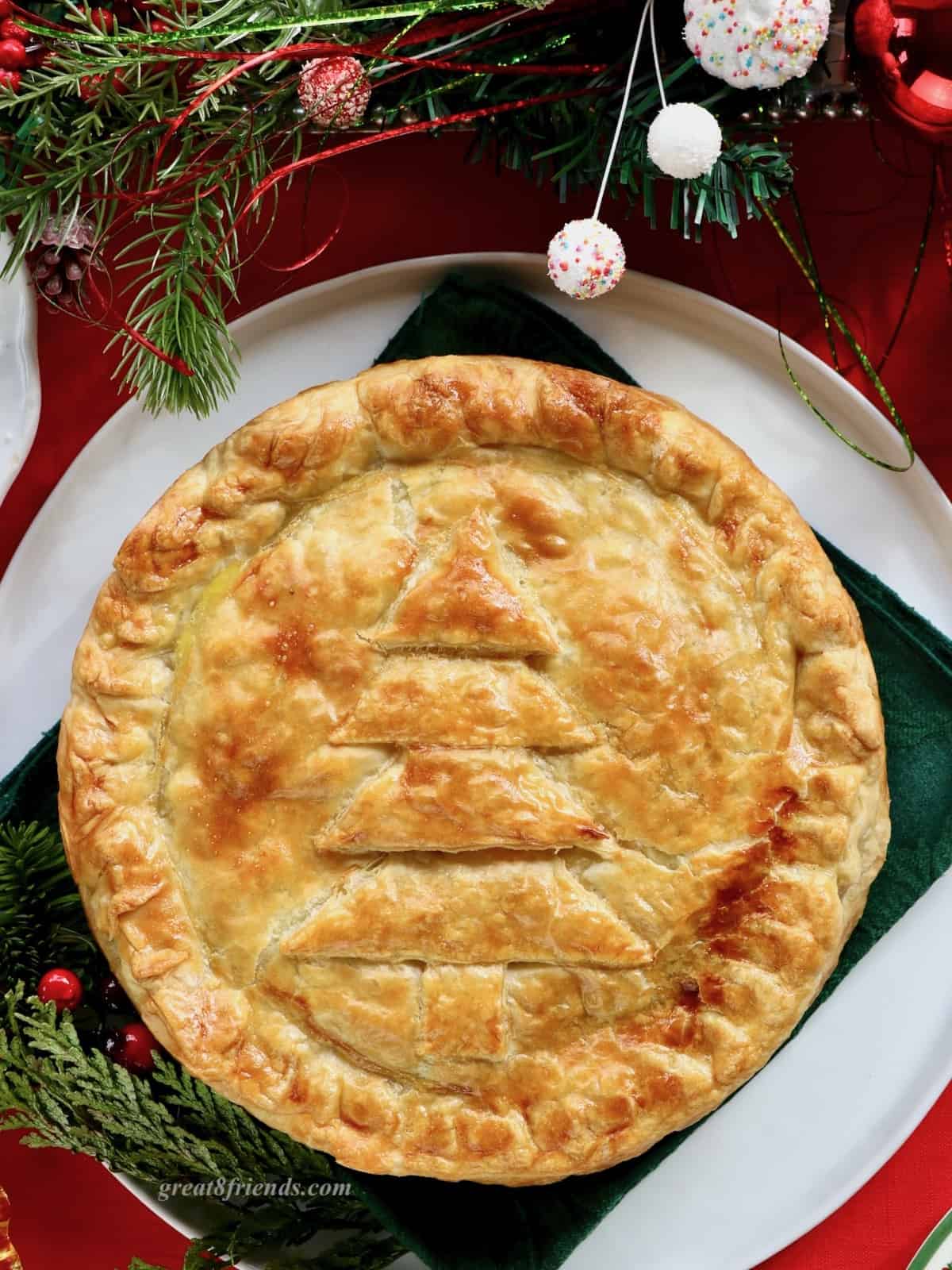 30 Minutes Before Serving
Remove torte from oven if it's golden brown. If not, leave in for a few more minutes.

Once removed from oven, set on a cooling rack, after about 10 minutes take the springform pan ring off.

Place the torte on your serving platter. Gr8 Tip: I put a cloth napkin folded in quarters under the torte to prevent any slipping from the bottom of the pan against the platter.

Reheat the salad mushrooms and shallots, add the balsamic vinegar.

Toss the salad with the warm dressing and bacon.
Once everything is ready place all the food on the buffet or serving table and enjoy your meal!
Merry Christmas Brunch!
Continue reading for more menu ideas below.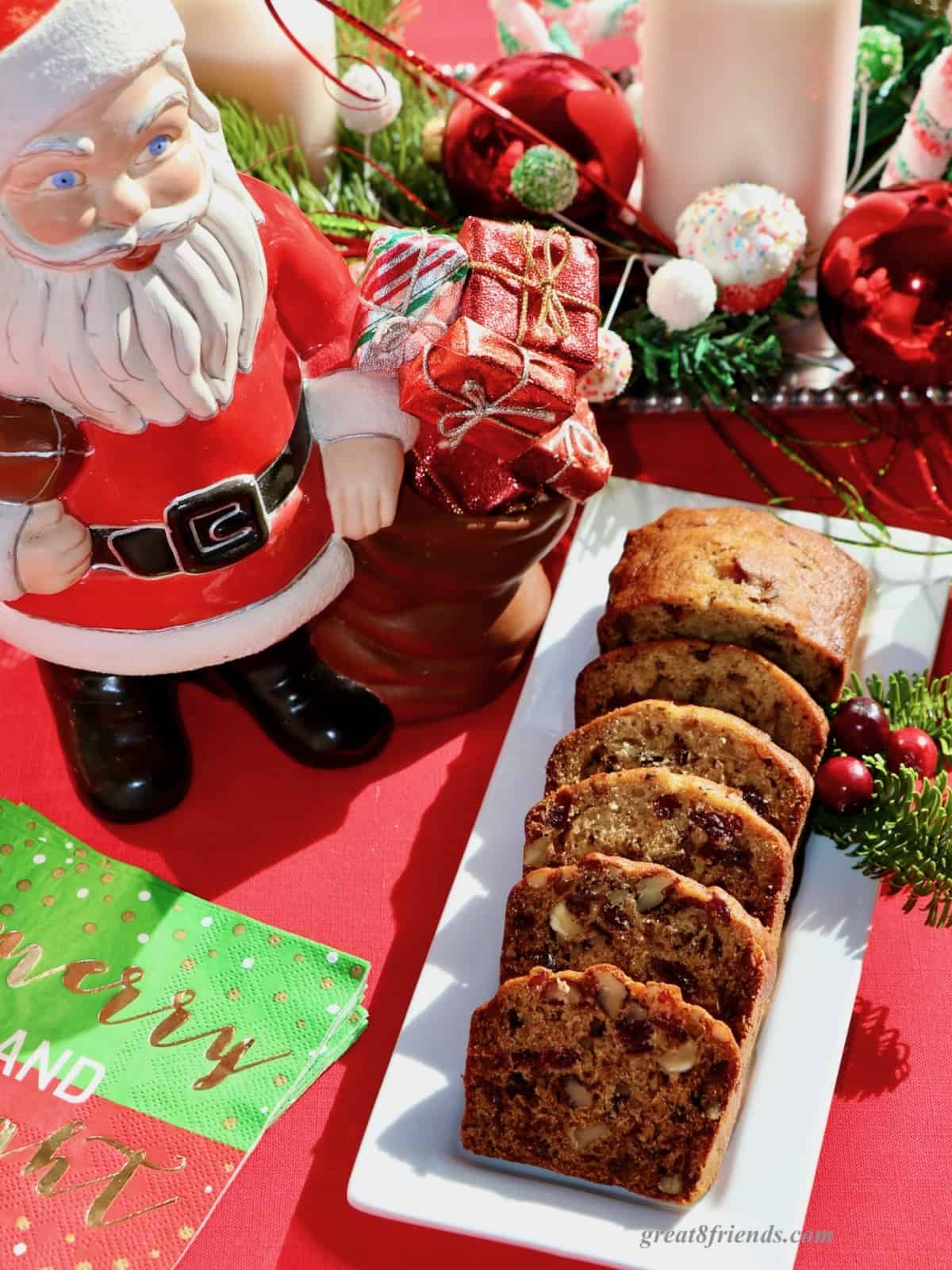 More Brunch Recipe Ideas
Savory Rosemary and Spice Nuts
The combination of fresh rosemary, cumin and cayenne pepper spices gives these Rosemary and Spice Nuts a depth of flavor that is irresistible.

Gr8 Recipe Here!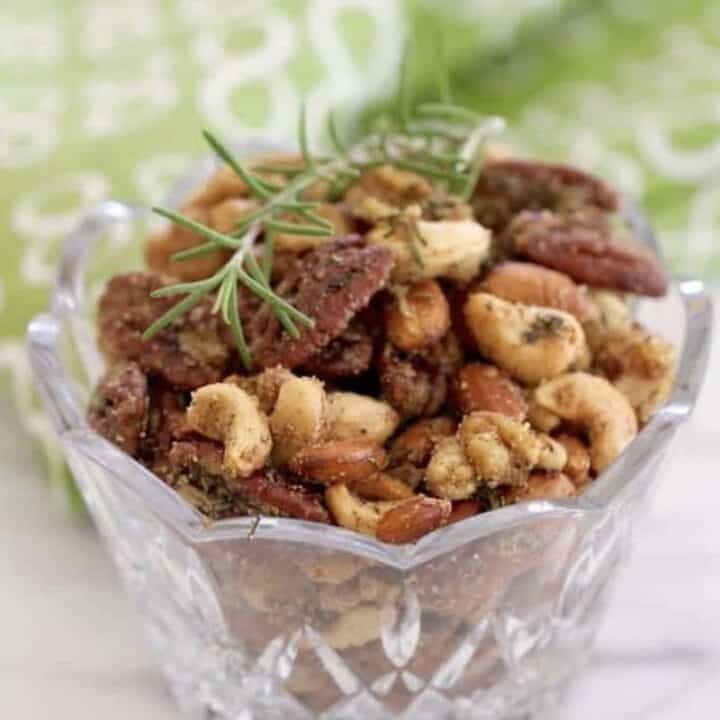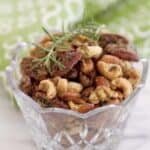 Smoked Salmon Layered Dip with Wasabi Sauce
Everybody LOVES this appetizer! It can be easily doubled for a larger crowd (just use a larger platter).
Gr8 Recipe Here!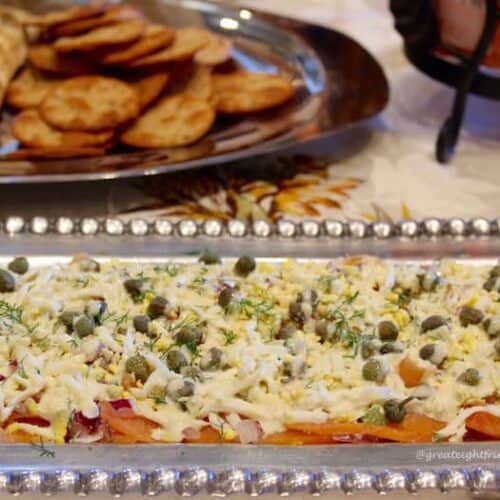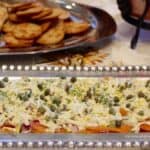 Egg Casserole for Breakfast Time or Anytime!
This hearty egg casserole can be prepared the night before and baked in the morning!
Recipe adapted from a recipe on http://www.cozycountryliving.com.
Gr8 Recipe Here!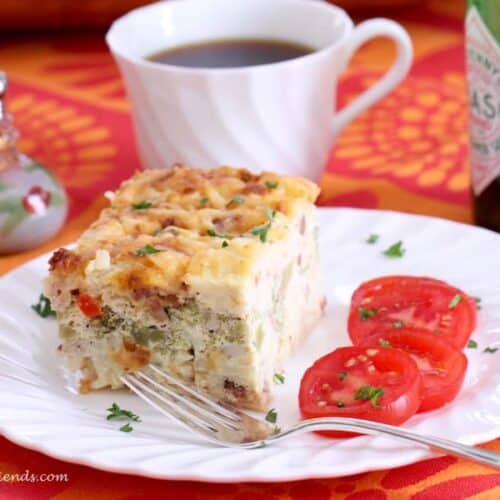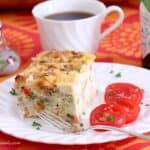 Baked Eggs with Mushrooms and Parmesan Cream
This Baked Eggs with Mushrooms and Parmesan Cream is an easy recipe and a wonderful main dish for breakfast, lunch or dinner!

Gr8 Recipe Here!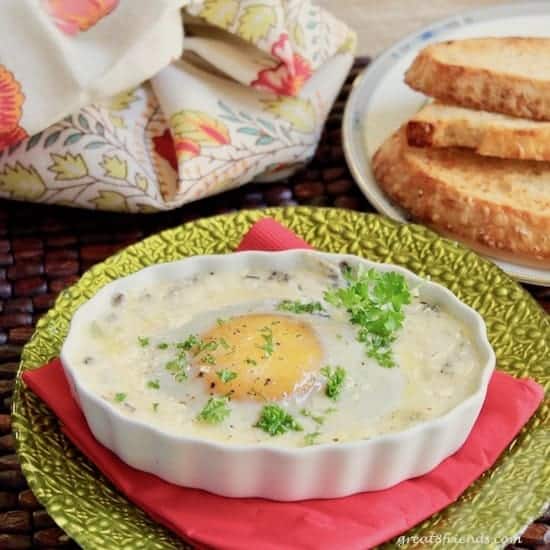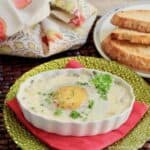 Warm Spinach Potato Salad with Bacon Vinaigrette
This warm spinach potato salad with a bacon vinaigrette is a perfect salad or side dish recipe of fresh ingredients and flavors!
Recipe from Sur La Table.
Gr8 Recipe Here!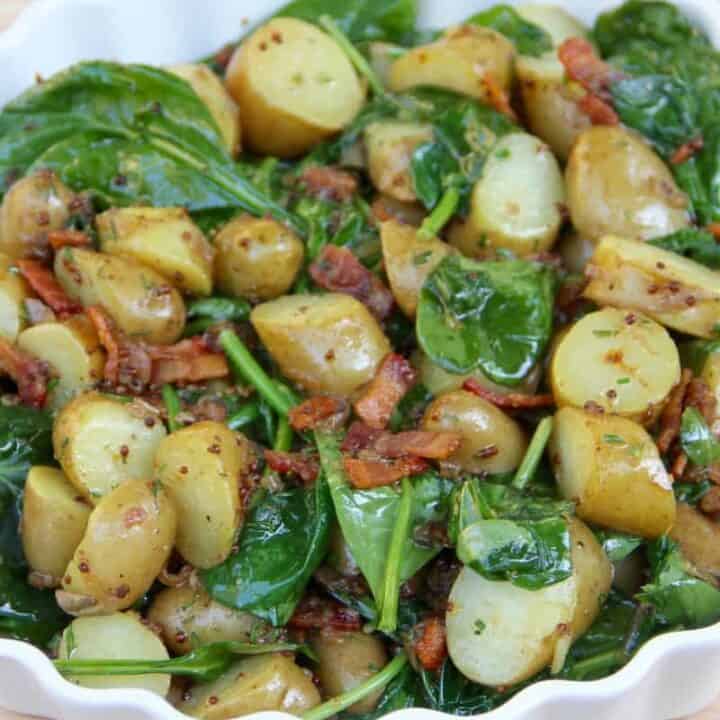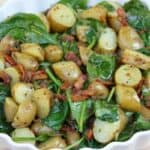 Sticky Buns
These sticky buns are so easy to make with only six ingredients and after rising while you sleep, in the morning you will have a delicious treat.
Gr8 Recipe Here!