Profiteroles, often called cream puffs, are also delicious with coffee ice cream and chocolate sauce. Impress your guests with this easy, elegant dessert!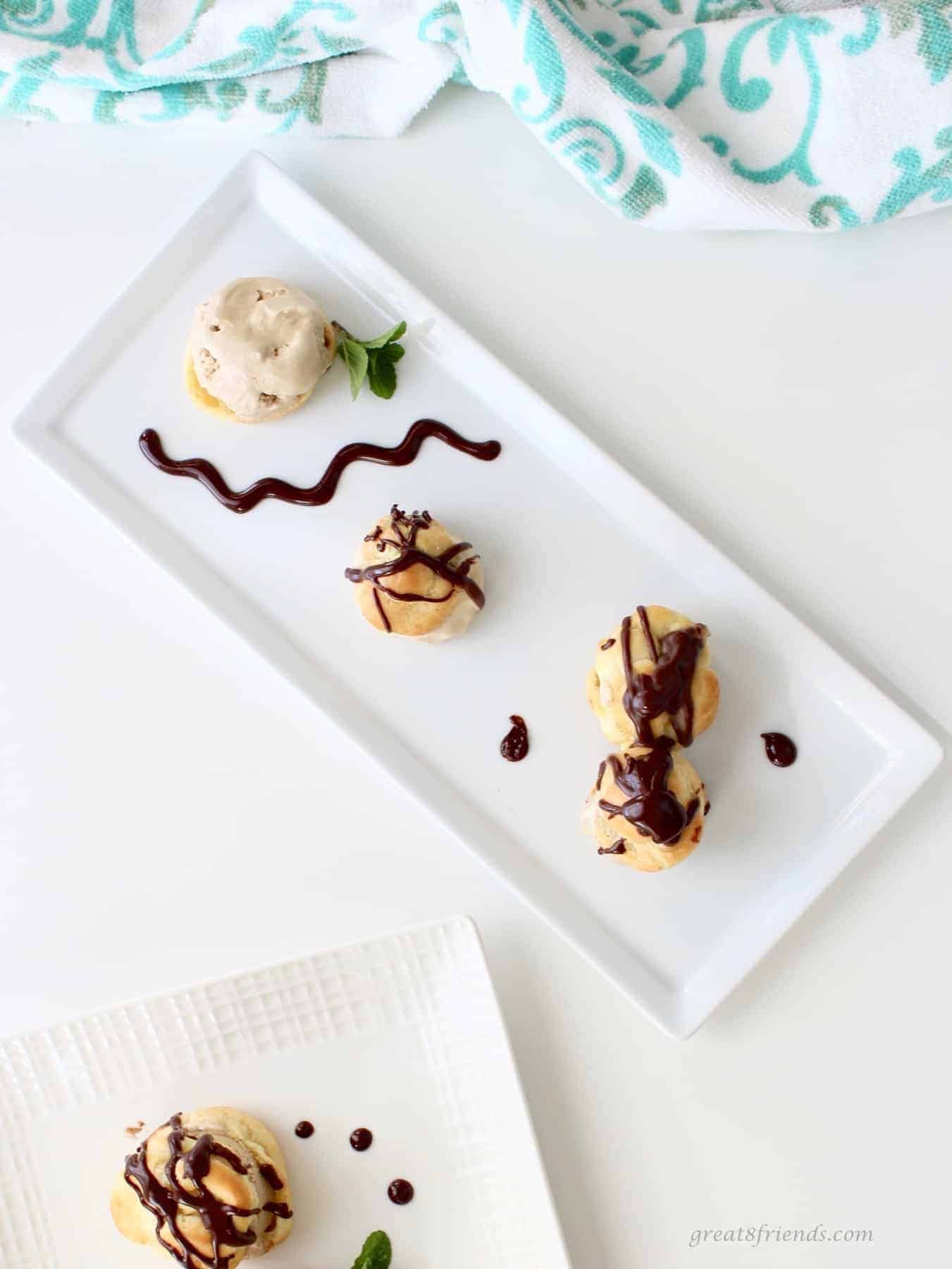 The word Profiterole is derived from the French term Choux à la crème, which means cream puff. Profiteroles with Coffee Ice Cream and Chocolate Sauce is an elegant dessert and will surely impress your guests.
These light and flakey pouches are very easy to make and can be prepared in advance and assembled right before serving. Of course just about any ice cream flavor would be delicious inside this sweet treat!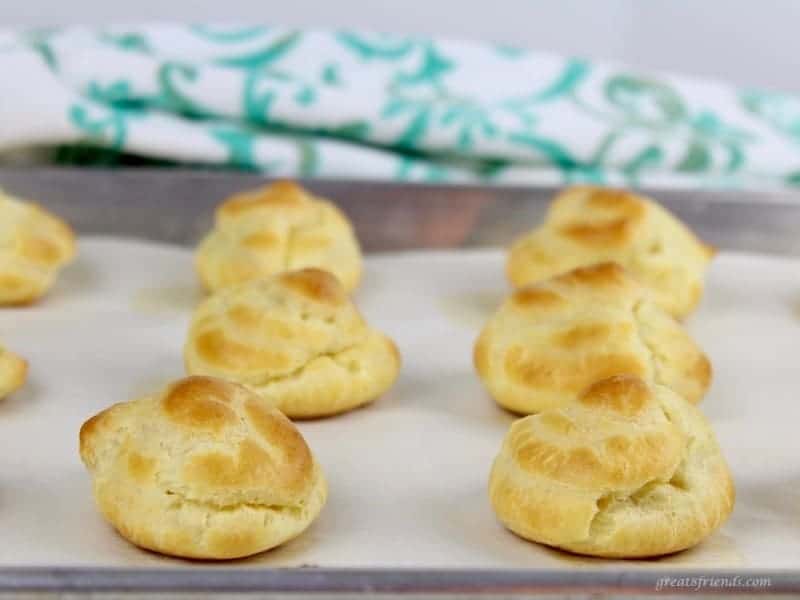 Profiteroles may be served to your guests as individual pieces garnished with fresh berries or for a regal presentation, piled into a pyramid tower on a fancy cake plate to be brought to the table.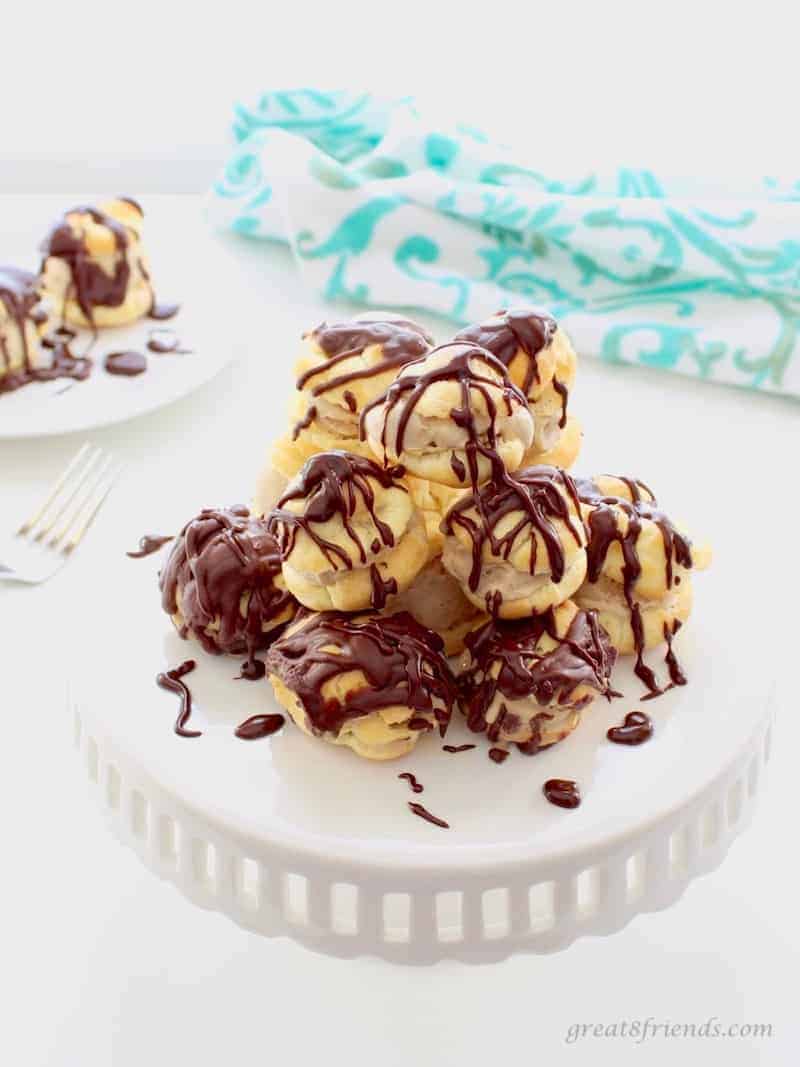 Either way, your guests will be extremely impressed with and licking their plates in appreciation!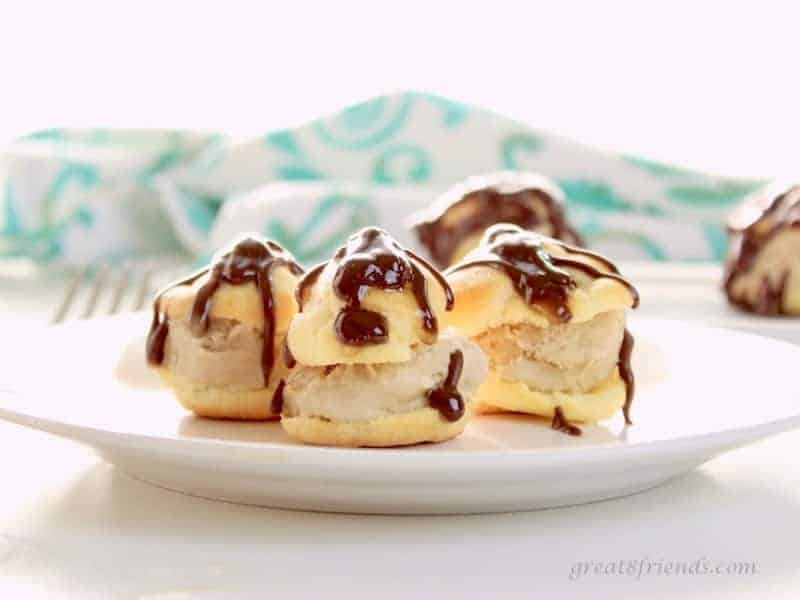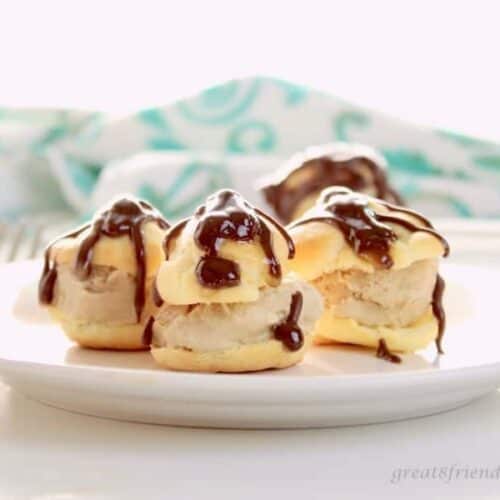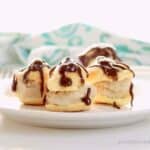 Print Recipe
Pin Recipe
Save this Recipe
Saved!
Please leave a rating!
Profiteroles with Coffee Ice Cream and Chocolate
Ingredients
Equipment needed:
rimmed baking sheets

1 ½

inch

ice cream scoop

large pastry bag fitted with a ¾-inch tip

,

or see Gr8 Tip below
Ingredients for Profiteroles:
½

cup

water

½

cup

milk

1

stick (½ cup)

unsalted butter

¼

teaspoon

salt

½

teaspoon

sugar

1

cup

flour

4

large

eggs

,

room temperature

Good quality coffee ice cream

,

such as Häagen-Dazs, scooped and formed into small 2" balls
Ingredients for Chocolate Sauce:
¾

cup

heavy cream

1

Tablespoon

butter

8

ounces

good quality bittersweet chocolate

,

no more than 60% cacao, finely chopped (or 8 ounces Ghirardelli 60% bittersweet chocolate chips)

¼

teaspoon

pure vanilla extract

1

Tablespoon

dark rum

,

optional, but recommended!
Instructions
Directions for the Profiteroles:
Preheat oven to 425º F.

Line a rimmed baking sheet with parchment paper and set aside.

Measure out all ingredients and set aside.

Bring the water, milk, butter, salt and sugar to a boil in a medium heavy saucepan.

When butter is melted, reduce the heat to low and stir.

Add the flour to the butter mixture all at once and beat the mixture vigorously with a wooden spoon for 1 minute until it pulls away from the sides of the saucepan and forms a ball of dough.

Transfer the dough to a mixing bowl and let cool for 3-4 minutes, stirring occasionally, until dough is lukewarm.

Add eggs one at a time, beating well after each addition with an electric mixer or a wooden spoon. (It may seem that the mixture is not blending and coming together, but it will. Just keep beating!)

Spoon the warm mixture into a pastry bag fitted with a large ¾-inch round tip. (If you do not have a pastry bag, you can use two spoons to scoop out the mixture and form the pastry or a large freezer bag for piping. (See Gr8 Tip below).

Pipe (or scoop) 18 mounds (about 1 ¼ inches wide and 1 inch high and 1 inch apart) on the baking sheet.

Moisten your finger with water and lightly press down on the swirl at the top of each mound of dough.

Bake the pastries in a 425º F oven for 12 minutes.  Lower the heat to 375º F and bake for an additional 10-12 minutes, or until puffed and golden brown (they should sound hollow when tapped on the top and bottom). Keep an eye on them as you don't want them to burn.

Prick the side of each profiterole with a skewer to allow the steam to escape.

Return to the 375 ℉ oven to dry, propping the oven slightly ajar, for about 2 minutes.

Remove and cool on a sheet of parchment paper on a wire rack.
Directions for the Ice Cream Filling:
Line a rimmed baking sheet with parchment paper and freeze until chilled.

Scoop out 18 balls of ice cream (they should be about the same width as the pastry) and place them on the frozen baking sheet.

Cover the ice cream with plastic wrap and freeze until ready to serve.
Directions for Chocolate Sauce:
Add the the cream and butter to a medium heavy saucepan and heat on medium-high until the mixture just starts to bubble but not boil.

Stir in the chocolate, vanilla and rum (if using) remove from the heat and whisk until the chocolate melts and the sauce is very smooth.

Keep warm and covered until ready to use.
Serving the Profiteroles:
Slice each profiterole horizontally in half (a bread knife works best). There should be a hollow shell in each pastry.

Fill the bottom with one small scoop of the frozen ice cream. Use the other half and place on top of the ice cream to sandwich them together.

Arrange the profiteroles on a rimmed baking sheet and place it in the freezer while you are assembling the others.

Place 3 profiteroles on a serving plate and drizzle with the warm chocolate sauce (keep the sauce warm until ready use).

Serve immediately.
Notes
Gr8 Tip:
A sturdy plastic Ziploc bag can be used instead of a pastry bag for piping the dough.  Cut a ½-inch piece off the corner of the bag.
The pastry may be baked a day ahead, cooled and then kept in an airtight container at room temperature (they can also be frozen up to a month). To recrisp the pastry, place on a baking sheet and reheat in a 350º F oven for 5 minutes.  Cool completely before filling with the ice cream.