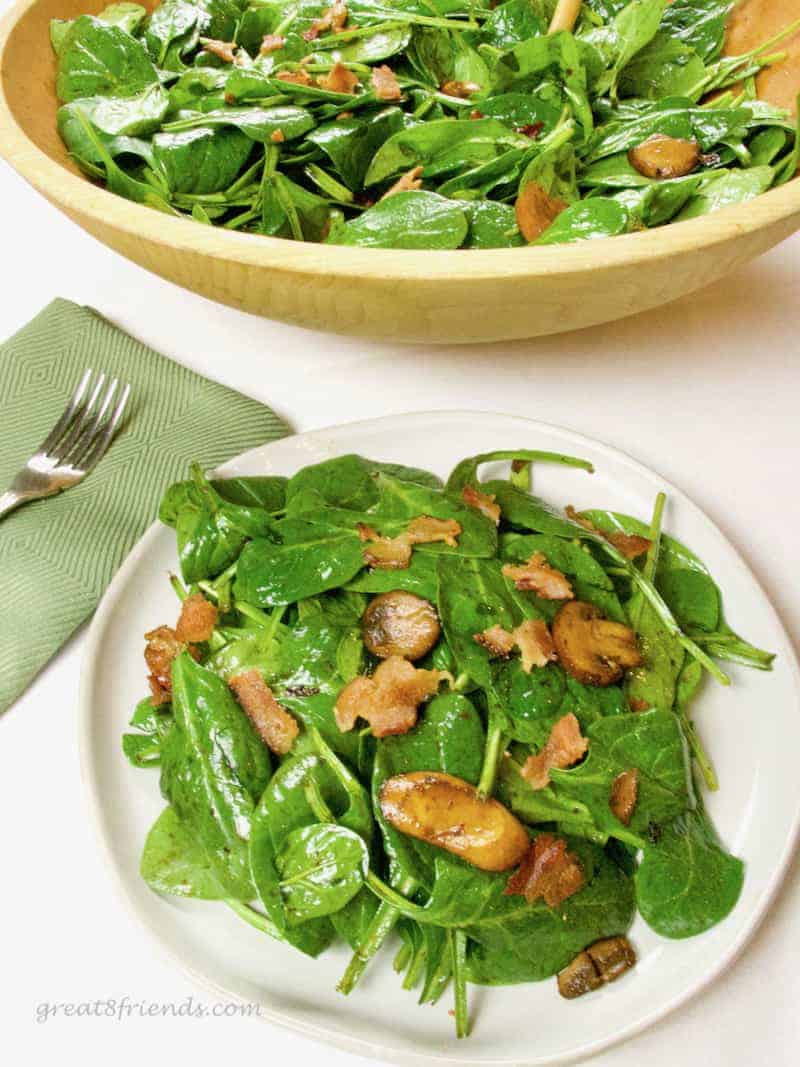 This Warm Mushroom Bacon Spinach Salad is the perfect starter to an elegant dinner. Even though the dressing starts with bacon, it's a fairly light salad, with just the right amount of flavor to begin a delicious meal.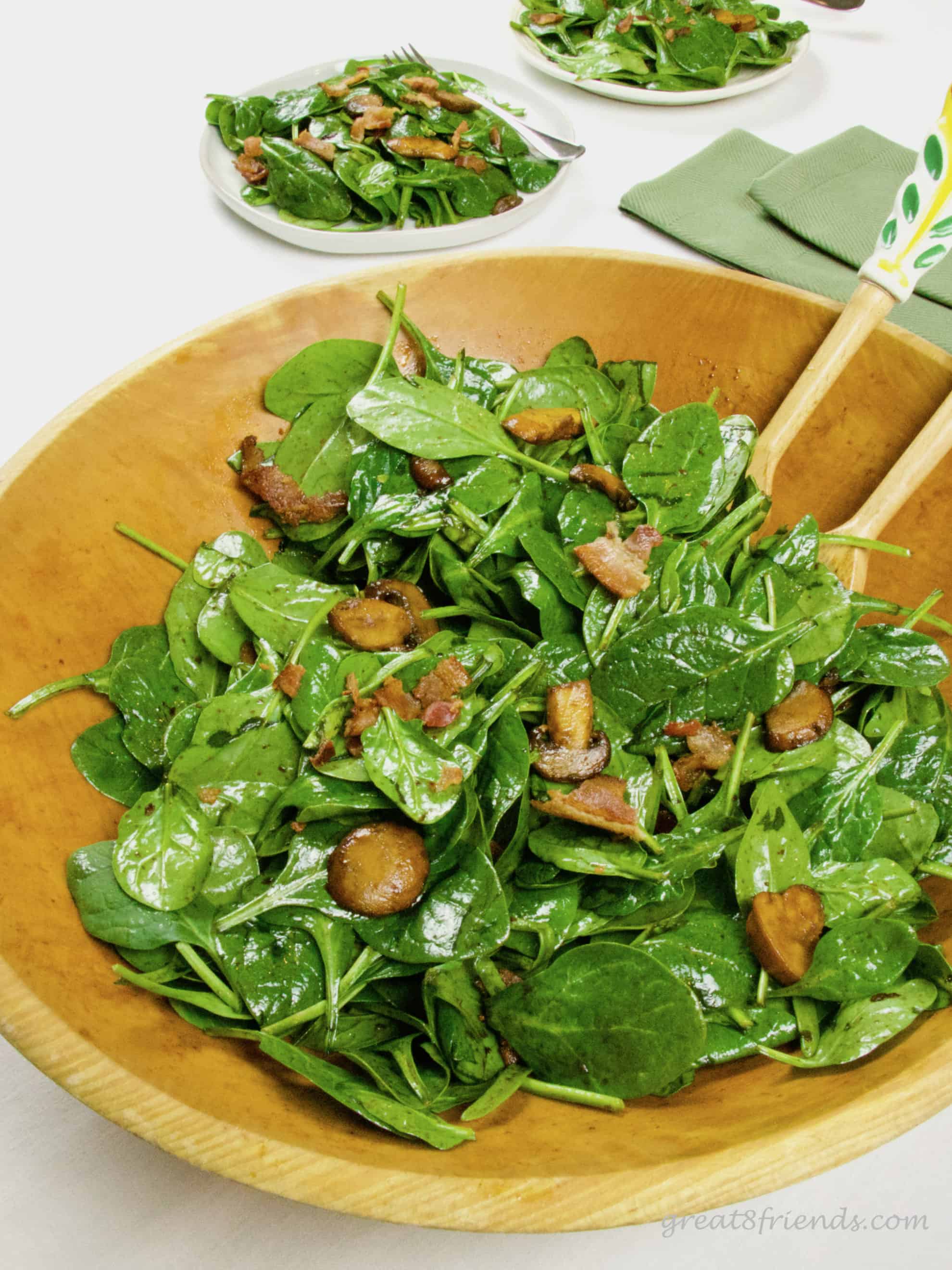 And even though this is a warm dressing, which, of course, requires "cooking," it's quick to put together. Bonus: the dressing can be made ahead of time, then reheated when ready to make the salad.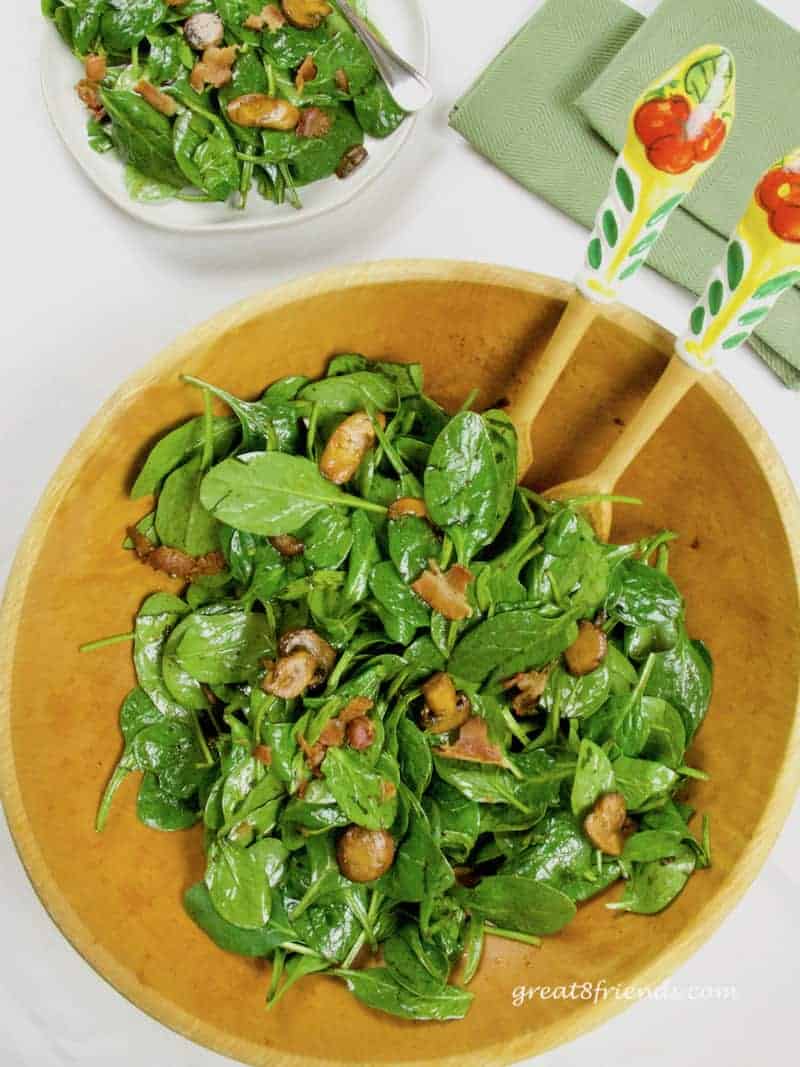 Many warm spinach salad recipes add a hard-boiled egg on top. I don't add egg to this salad because it's the beginning of your meal, not the meal itself. The egg can certainly be added, but I want to be able to eat the main course and still have room for dessert!
Make this Warm Mushroom Bacon Spinach Salad the first course of an elegant dinner of Lobster Tails, Green Beans, and Twice Baked Potatoes. Or add the egg and serve it all alone as a light dinner!
When choosing balsamic vinegar, be sure to choose the original and best for the height of flavor, Balsamic Vinegar of Modena. You don't need to use much, so you may as well use the best!
Warm Mushroom Bacon Spinach Salad
It's important for the spinach to be at room temperature so the dressing stays warm when tossed into the salad.
This makes 6 first course servings.
Ingredients
12

ounces

fresh spinach,

,

at room temperature

6

slices

bacon,

,

chopped into small pieces

2

Tablespoons

olive oil

2

cups

sliced mushrooms

2

Tablespoons

minced shallot

2

Tablespoons

balsamic vinegar

Black pepper to taste
Instructions
Cook the bacon in a 12" frying pan on top of the stove until crispy.

Put the spinach in a serving bowl and set aside.

With a slotted spoon, remove the bacon from pan and drain on paper towels. Leave 2 Tablespoons of bacon fat in the pan and add 2 Tablespoons of olive oil.

With the burner on medium, heat the oil, then add the mushrooms and shallots. Stir to coat, and cook until the mushrooms are tender and cooked through.

Remove from heat and stir in the balsamic vinegar.

Pour the warm dressing over the spinach, crumble the bacon into the salad, then toss. Add the black pepper to your taste. Salt should not be needed because of the saltiness the bacon and bacon fat lend to the dish.
Notes
Gr8 Do Ahead Tip:
The dressing can be cooked through Step 4, then set aside. When ready to serve, reheat the dressing over medium-low heat. Proceed with the balsamic vinegar and the remaining steps.
Another reason to choose a Spinach Salad for your meal? Spinach is very high in many vitamins and minerals.
      sm 1/19/19