This baked eggs with mushrooms and parmesan cream is and easy recipe and a wonderful main dish for breakfast, lunch or dinner!
How many times have we found ourselves coming home from a full day at work or from running errands and realizing we have nothing planned or prepared for dinner...then scrambling to pull something together for the family?
Well, this Baked Eggs with Mushrooms and Parmesan Cream recipe was my perfect answer to an easy yet nutritious meal using ingredients leftover from our fridge. The family loved the dish and thought it was egg-cellent!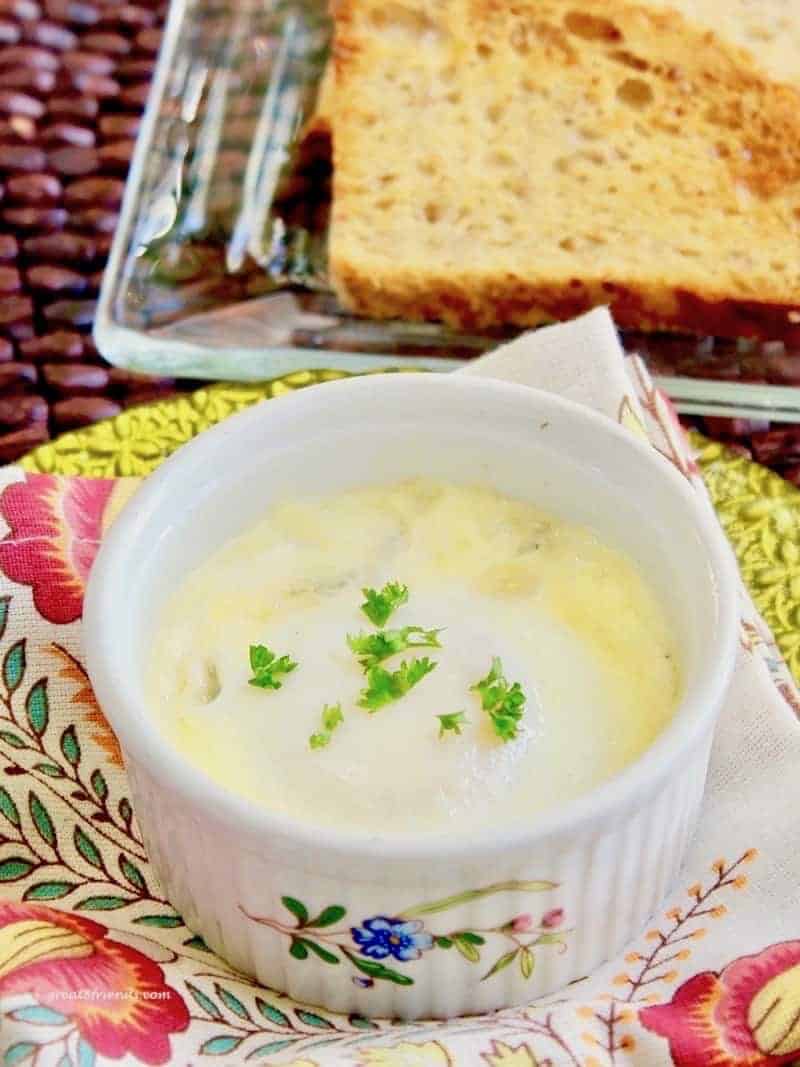 It was a novelty to have an egg dish for dinner, as eggs are traditionally served at breakfast. However, eggs are no longer considered just a breakfast item; many fine restaurants are now incorporating the simple trusty egg into many of their gourmet dishes to be enjoyed any time of day.
This was the perfect dish to include in the menu for our upcoming Great 8 dinner "Breakfast for Dinner."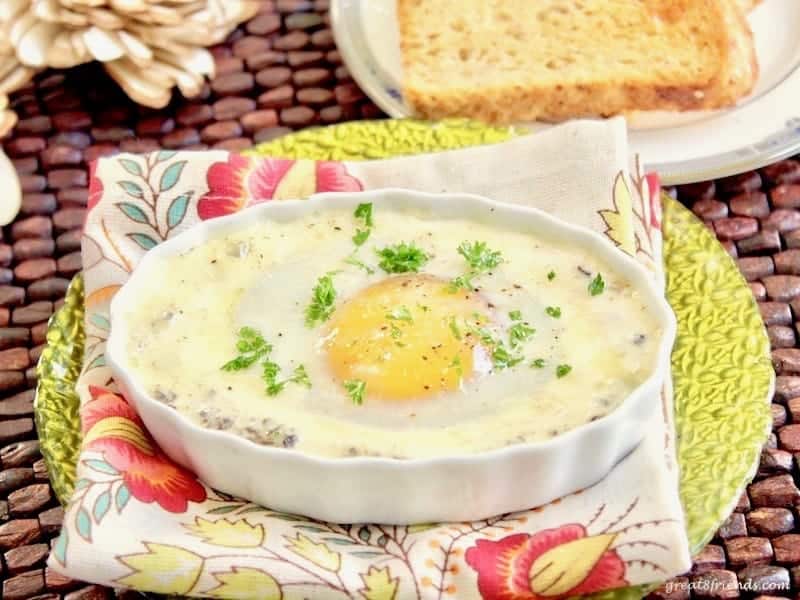 These eggs may be baked in a water bath or on a rack in a toaster oven. I prefer to cook them in a hot water bath because it gently cooks the eggs all the way through resulting in a cross between a poached and an over-easy egg.
They are perfect accompanied by Kyle's Tasty Tomato Onion Tart.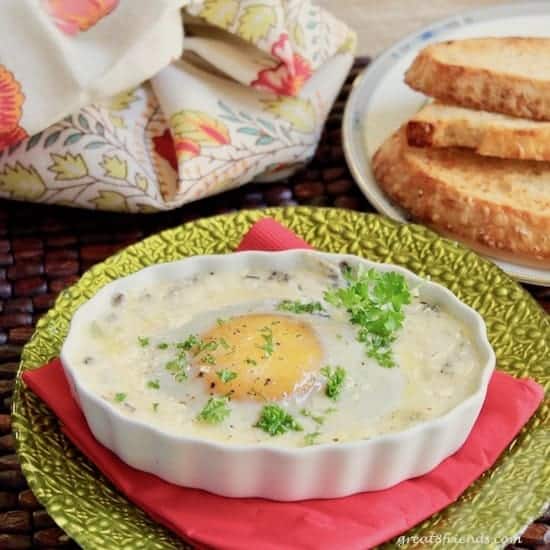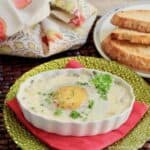 Print Recipe
Pin Recipe
Save this Recipe
Saved!
Please leave a rating!
Baked Eggs with Mushrooms and Parmesan Cream
This Baked Eggs with Mushrooms and Parmesan Cream is an easy recipe and a wonderful main dish for breakfast, lunch or dinner!

Ingredients
3

Tablespoons

butter or olive oil

,

plus extra to grease the ramekins

1

pound

assorted mushrooms

,

trimmed, stemmed and finely chopped

1

shallot

,

finely chopped

1

clove

garlic

,

finely chopped

½

teaspoon (or to taste)

dried tarragon

¼

teaspoon

salt

¼

teaspoon

freshly ground pepper

2-3

Tablespoons

brandy

3

Tablespoons

freshly grated parmesan cheese

¾

cup

whipping cream

4-8

large eggs

,

amount depends on the size ramekin used

chopped Italian parsley and chives

,

for garnish
Special Equipment needed:
four

3 to 5 ounce

ramekins or custard cups

roasting pan or other oven-safe dish

clean kitchen towel

,

for the bottom of the roasting pan
Instructions
Preheat oven to 400℉. In a medium saucepan, boil enough water to prepare the baking dish (see step 12 below).

Heat the butter in a large skillet over moderately high heat.

Add the mushrooms, shallots, garlic, tarragon, salt and pepper and cook until mushrooms are tender and the liquid has evaporated, about 8 minutes (this will cook down to about 1 ¼ cups mushrooms or 12 tablespoons).

Remove from the heat and carefully stir in the brandy. Return to the heat and cook for 1 minute. Set aside.

Line a baking dish or roasting pan with a small clean dish towel (this will keep the ramekins from sliding).

Lightly grease the bottom and sides of the ramekins.

Spoon 2-3 Tablespoons of the mushroom mixture into the ramekins. With a spoon, make a small indentation in the middle of the mixture where the egg yolk will go.

Break 1 or 2 eggs onto the mushroom mixture.

Sprinkle the egg(s) with a pinch of salt and pepper.

Stir together the whipping cream and grated cheese.

Top the eggs with 1-2 Tablespoons of the cream mixture.

Place the ramekins in the baking pan and fill with enough very hot water to reach halfway up the sides of the ramekins. (Sometimes it is easier to add the hot water when the pan is on the oven shelf.)

Gently transfer the baking dish with the ramekins to the middle rack of the oven.

Cover the baking dish with foil and bake until the whites are opaque and firm but the yolks are still runny, about 13-15 minutes or until cooked to your liking.

Carefully remove the ramekins using oven mitts.

Allow to set for one minute then sprinkle with chopped parsley or chives.

Serve with your favorite toasted bread.
Notes
Gr8 Tips:
You may customize this baked eggs recipe by using the same method but combining your own special ingredients. Some great flavor combinations include:
Canadian bacon, wilted spinach, shredded cheddar
tomato, basil, shredded mozzarella
crumbled bacon, onion, shredded cheddar
sm 3/18/19