Homemade Pumpkin Puree is easier than you think and so economical! One small to medium pumpkin makes a large amount of puree to use in your favorite fall recipes.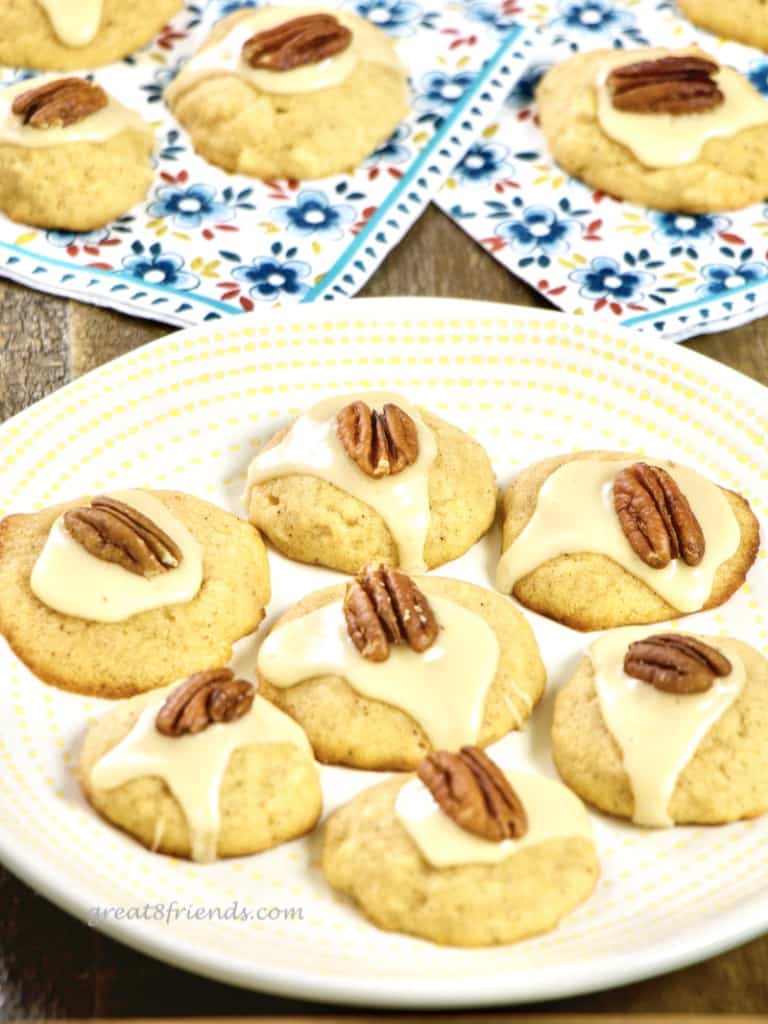 Or you can buy canned pumpkin. Yes, you can do canned. BUT, if you want a real treat, and/or want to "re-purpose" the pumpkins you bought as holiday decoration, then try this very simple method.
Our friend, Susanne, from Makeover My Leftover, will be so proud of us for not throwing away those pumpkins!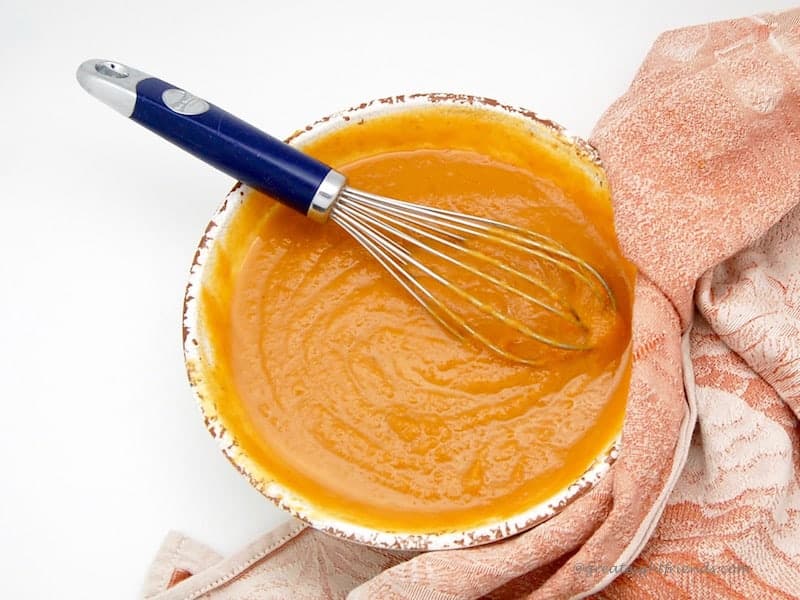 I love doing this and then freezing the puree, it yields a lot. That way, I always have fresh pumpkin when I need it!
How to Make Homemade Pumpkin Puree
Most recipes will tell you to use sugar pumpkins for cooking. And you definitely can (and maybe even should). But instead of throwing away a perfectly good pumpkin, this is a good option.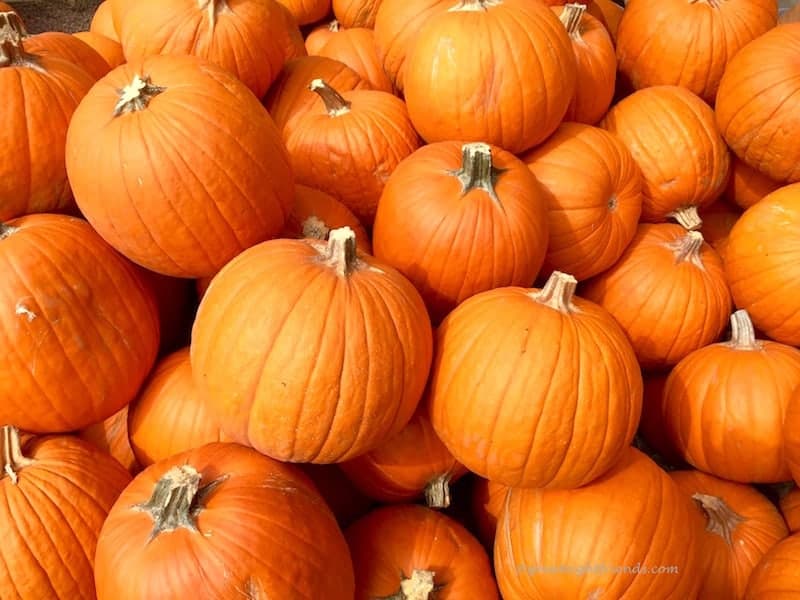 First of all, I'd advise choosing a small to medium pumpkin. A smaller pumpkin will be easier to handle and will give you plenty of flesh. Plus the smaller pumpkins tend to be tastier. The largest pumpkin I've ever used is 8 pounds.
Choose a long, sharp knife, not a butcher knife. The wide blade on a butcher knife will give you more resistance, making the cuts more difficult. But if that's what you have, then proceed!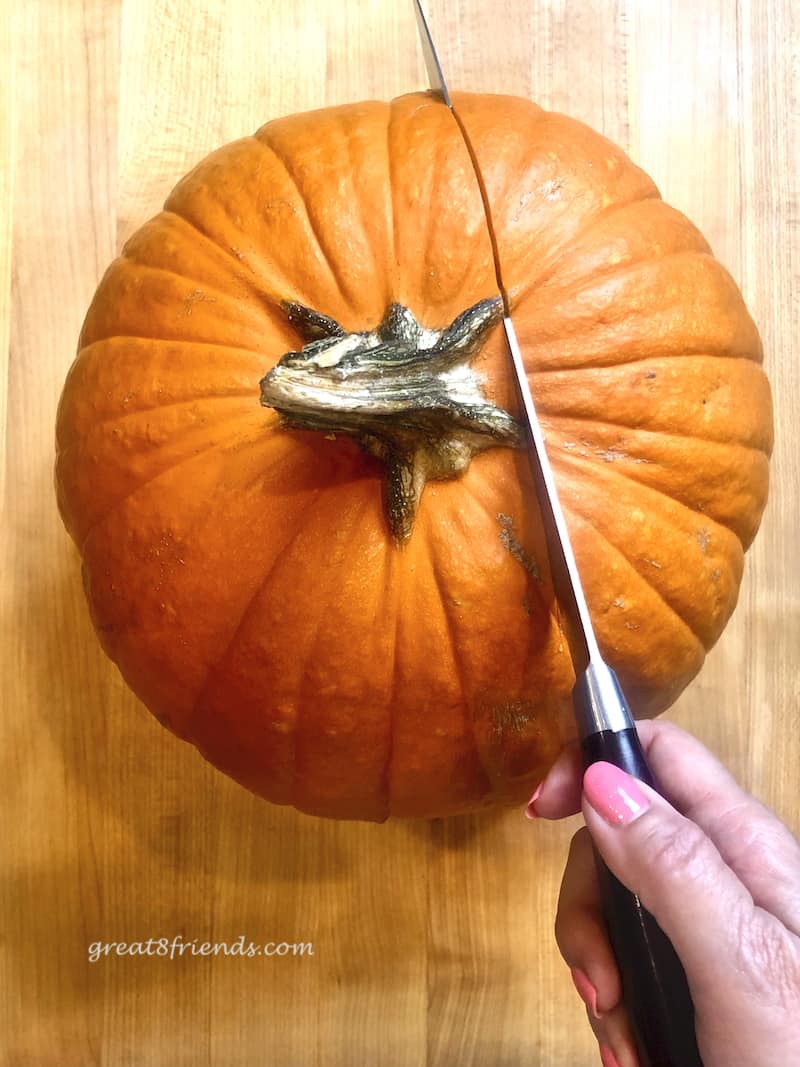 Set the knife to the side of the stem, (trying to cut through the stem is frustrating, unless you're Supergirl!) and cut down to split the pumpkin in two. Then clean out the seeds. Save them if you want fresh roasted pumpkin seeds!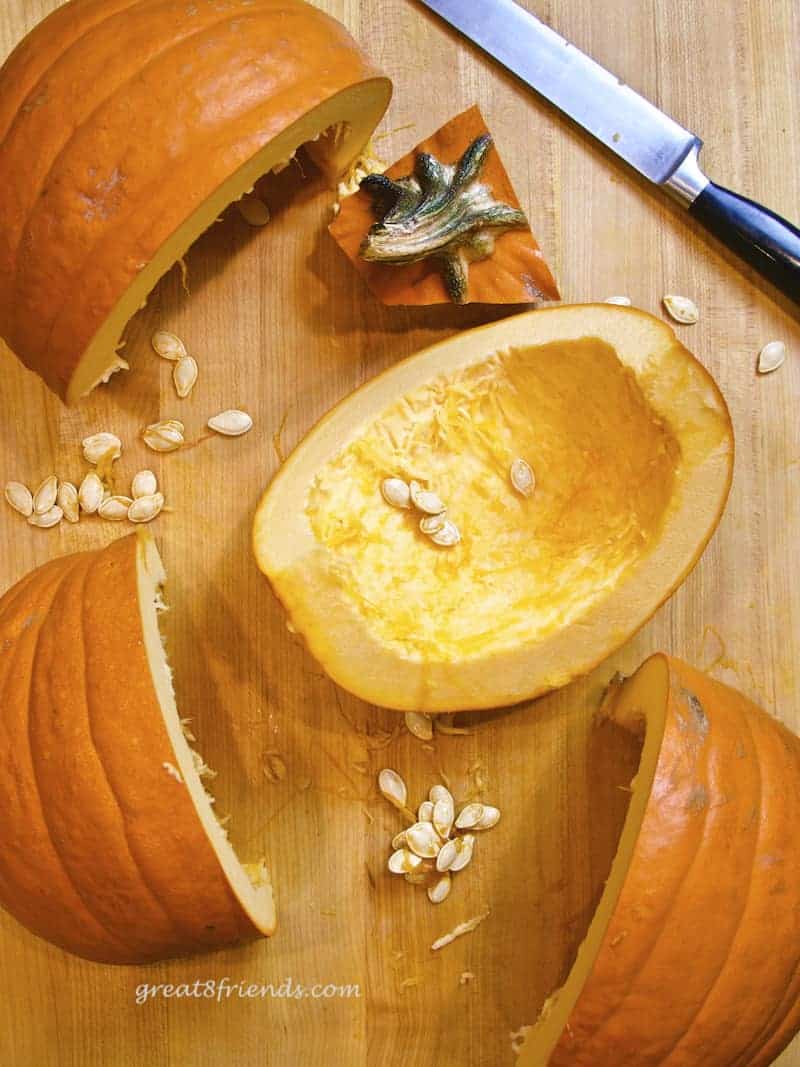 Turn both halves flesh side down on your cutting board, so they sit flat, and cut each in half. You should now have four pieces of pumpkin. Simply place these on a large baking pan and roast.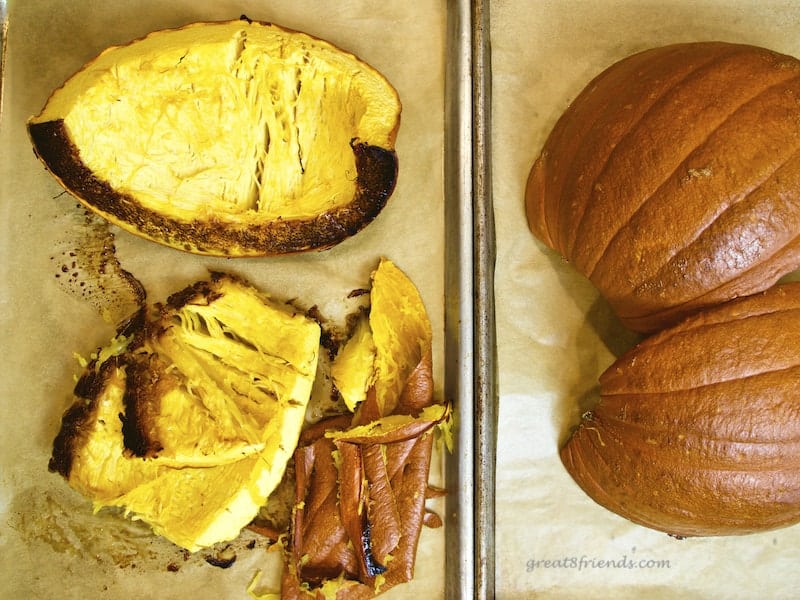 Once they're soft, let the pieces cool, peel, then purée. Voilà! Fresh Homemade Pumpkin Puree!.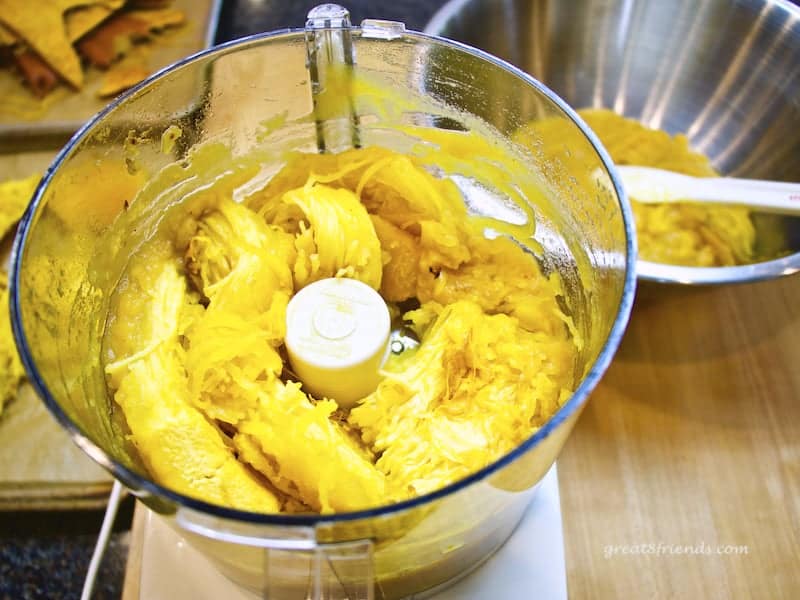 Portion into freezer zip bags and freeze or go ahead and bake up a storm!
Some Yummy Pumpkin Recipes!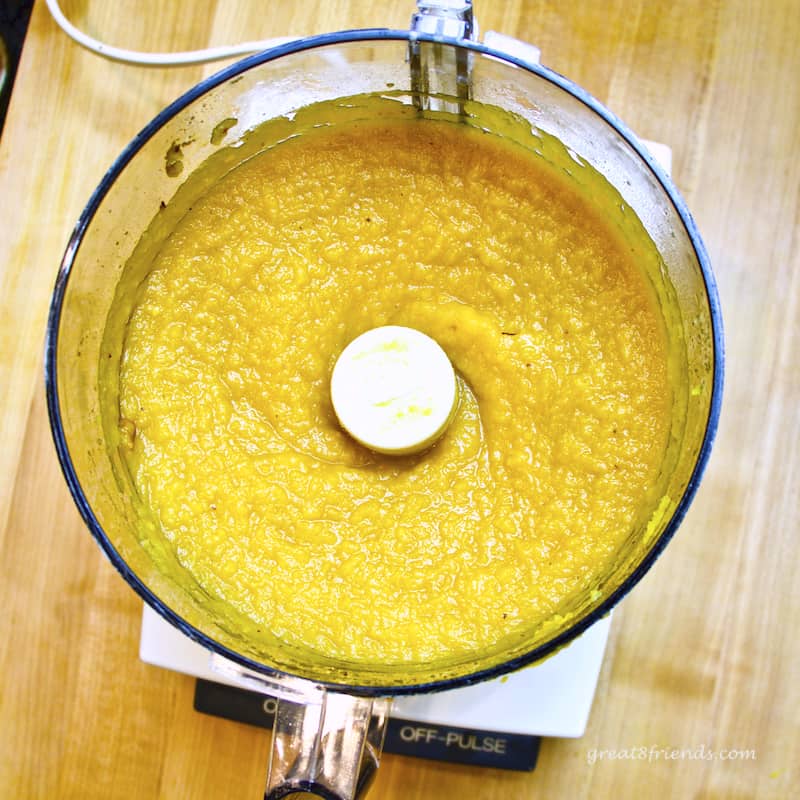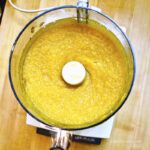 Print Recipe
Pin Recipe
Save this Recipe
Saved!
Please leave a rating!
Easy Homemade Pumpkin Puree
You can buy canned, but it's so satisfying to make your own pumpkin puree.
Ingredients
1

Pumpkin

,

not larger than 8 pounds
Instructions
Preheat the oven to 400°F.
Cut the Pumpkin in Quarters
Using a long, sharp knife, cut the pumpkin in quarters. The easiest way to do this is to set the knife NEXT to the stem and cut the pumpkin straight down. You won't have equal halves but you will have two pieces.

Clean the insides out with a large spoon, whatever size is easiest for your hands to manage. If you want to roast your pumpkin seeds, then save them in a bowl.

Turn the halves cut side down on your cutting board and cut the pumpkin halves in half again. Be sure to cut to the side of stem. Then cut the stem off and discard. Voilà! Four (unequal) quarters. Basically, you want large pieces.
Roast the Pumpkin Quarters
Either line a large baking sheet with parchment paper or lightly oil the surface. Place the pumpkin pieces on the prepared baking sheet.

Place in the 400° oven and roast for 45 minutes or until the flesh gives easily when pierced with a fork.
Making the Puree
Cool slightly then peel away the skin.

Pulse the flesh in a food processor or blender until pureed. My food processor broke halfway through so I tried my blender. My very basic Oster blender did not work for this. If you have a different type, it may work.

You now have LOTS of puree for your holiday baked goods!
Notes
A Gr8 Note:
I don't use any olive oil or salt as I want the pumpkin flavor to come through in my dishes.