Be prepared to prepare ahead for an amazing dish! This Roasted Eggplant Parmesan Recipe, you will love love love!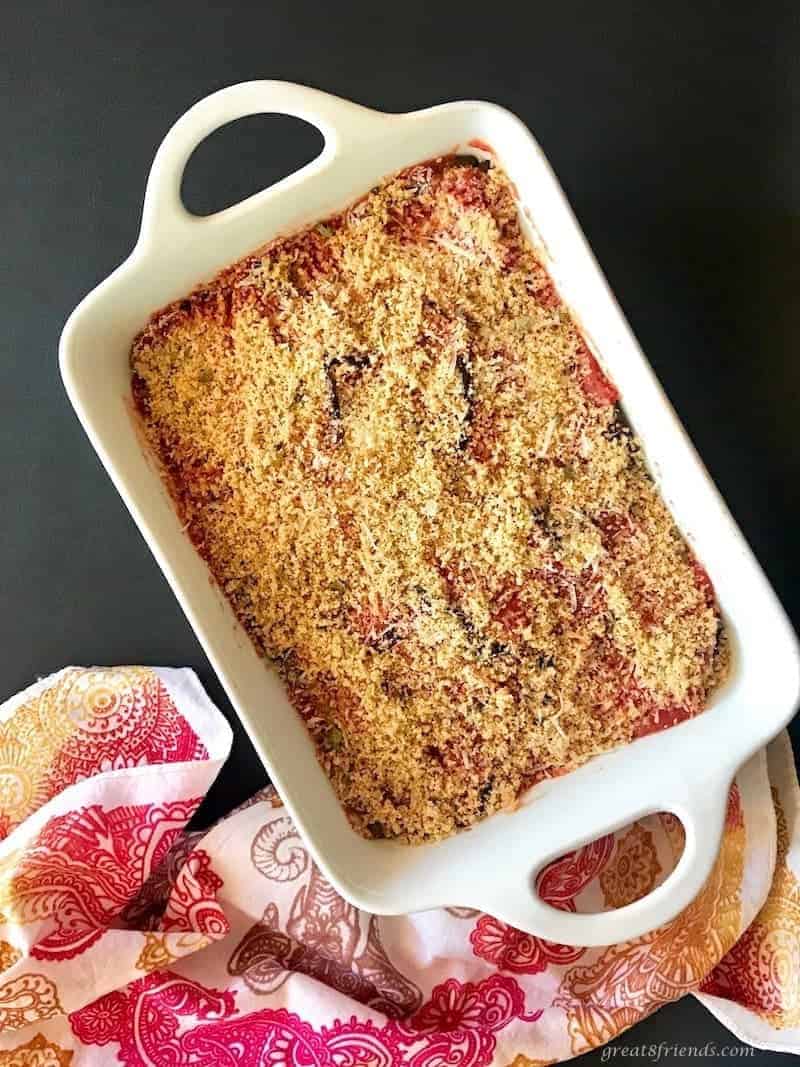 If you crave Eggplant Parmesan like I do, but not a big fan of the breading and frying, either. The shiny, purple, pear shaped "fruit" (Yep, it's a fruit!) takes on a healthier note in this recipe. It's a lighter version of the dish we have all come to savor.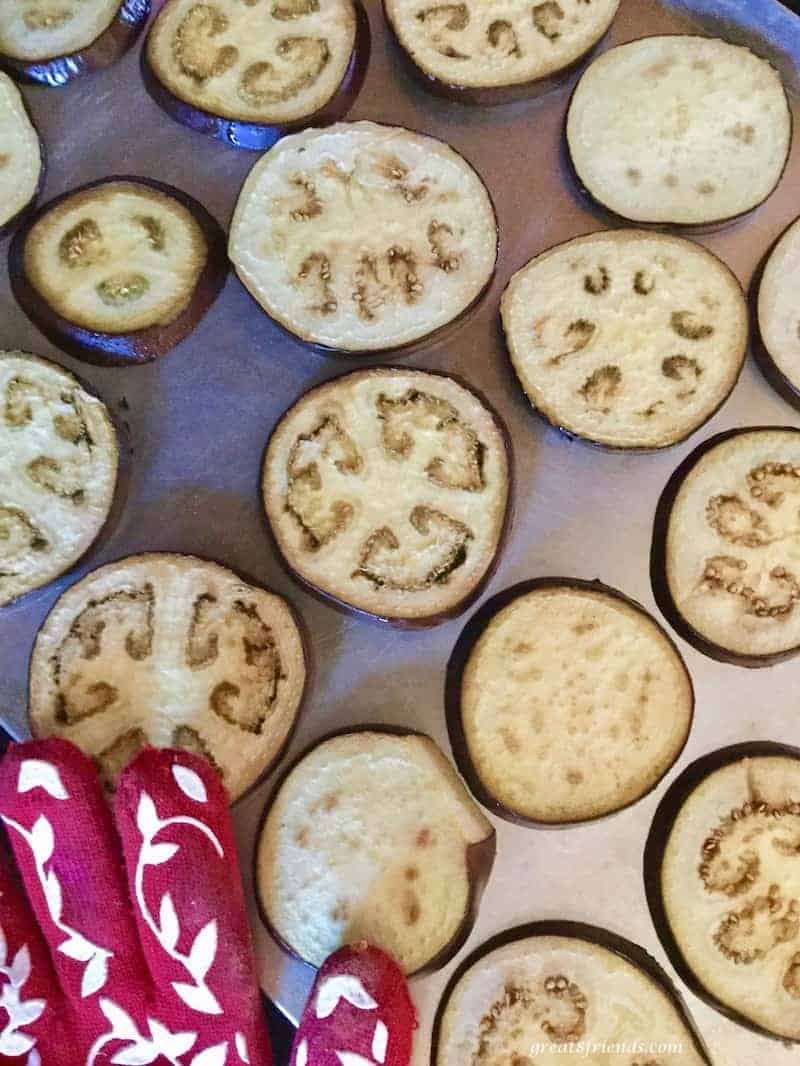 Lighter, how? You might wonder. The eggplant, instead of being dipped in oil and breaded while frying in more oil, is just brushed with a bit of olive oil and then roasted.
This is one of my favorites, for that no-fry reason alone...well and the amazing flavor of course! Off to our local Manassero Farms to do some "picking"! (well, actually shopping!)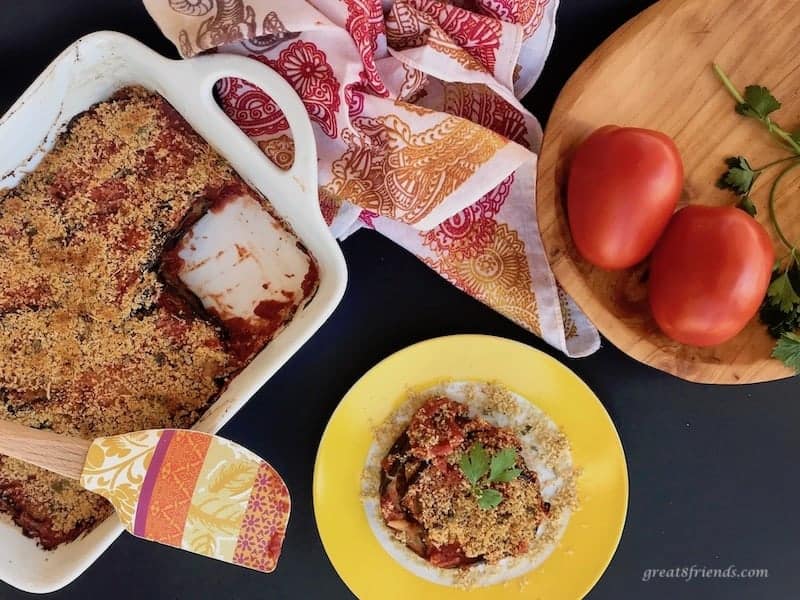 I can't think of anything better than quality time spent with family and friends. You won't want to spend it in the kitchen cooking for them, and they won't want that either! They've gathered in your home to enjoy Gr8 company.
If you have some Italian Red Sauce pre-made, that'll save time, too! Go ahead and use that as your sauce instead! This Roasted Eggplant Parmesan Recipe is easy to prepare, easy to assemble and just popped in the fridge or freezer for a do ahead dinner. It's as simple as that!  
If you have little extra time, make an additional smaller pan to have on hand for a busy weeknight. Better yet, give it to a friend who needs a little love!
And the leftovers, oh my gosh...even better!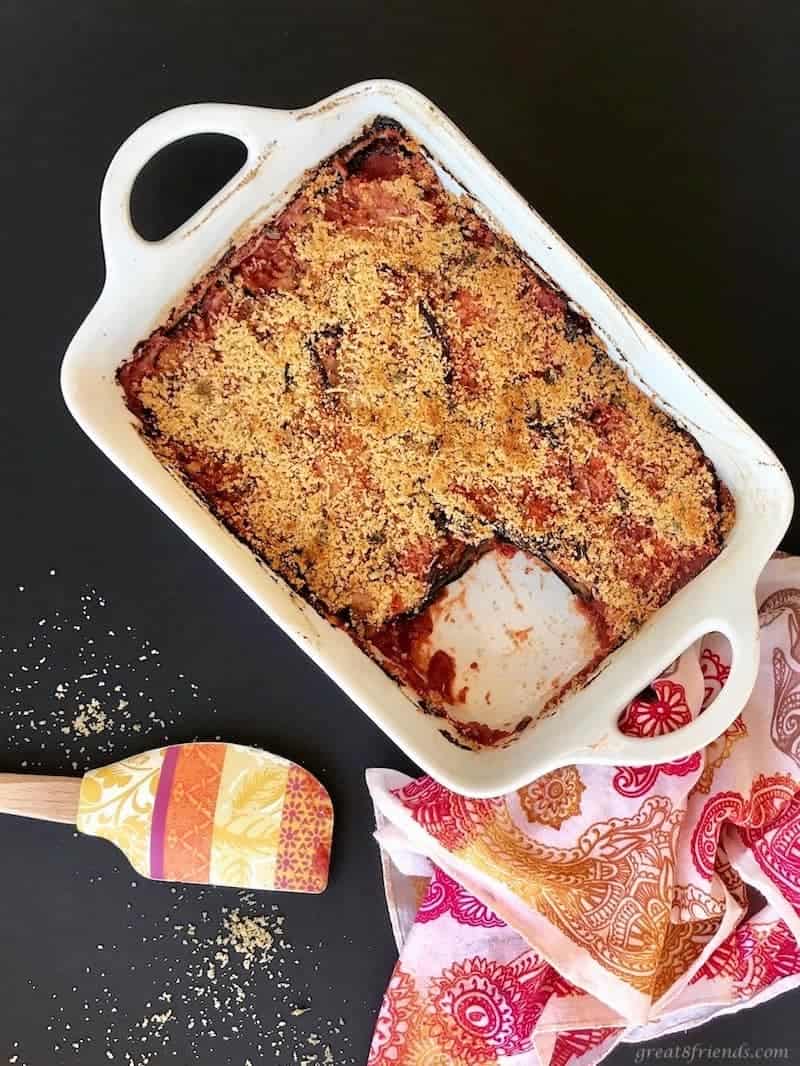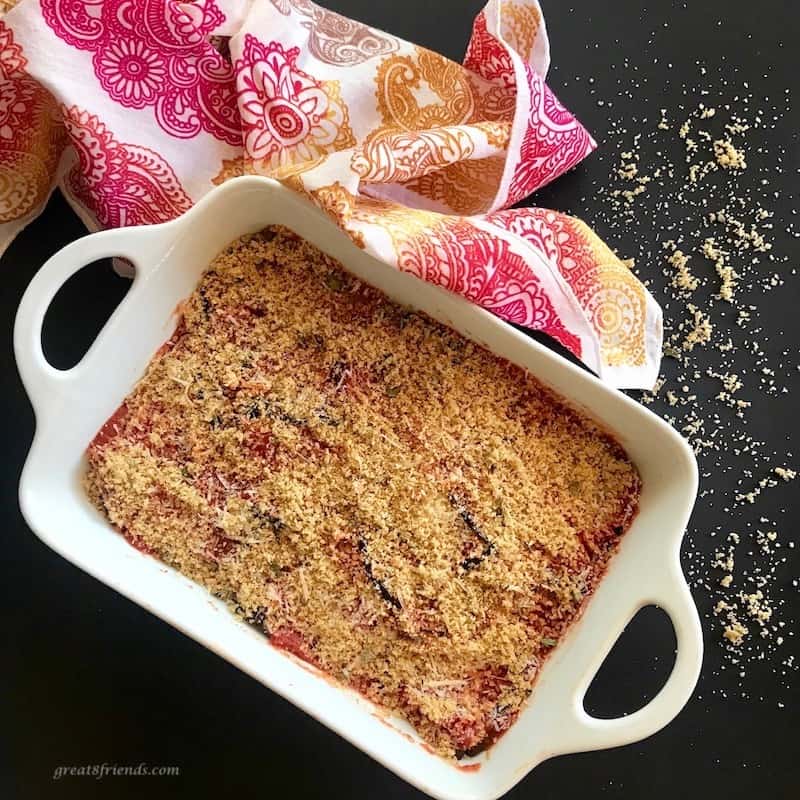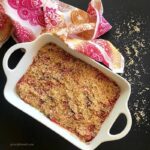 Print Recipe
Pin Recipe
Save this Recipe
Saved!
Please leave a rating!
Roasted Eggplant Parmesan
One of my favorite meatless meals, adapted from Jamie's Italy. The best part...no frying necessary!

Ingredients
3

medium-large

eggplants

,

cut crosswise into ½-inch slices

1

large

onion

,

finely chopped

1

large clove

garlic

,

thinly sliced

1 ½

teaspoons

dried oregano

1

28-ounce can

no-salt plum tomatoes or crushed tomatoes

½

cup

packed fresh basil leaves

1

Tablespoon

red wine vinegar

salt and freshly ground black pepper

½

cup

freshly grated Parmigiano-Reggiano cheese

,

or as needed

⅓

cup

fine dry bread crumbs

1

Tablespoon

chopped fresh oregano leaves

,

optional
Instructions
Preheat oven to 450ºF.

Brush the eggplant slices, both sides, with the olive oil. Placing each slice in a single layer on baking sheet(s), careful not to overlap too much.

Bake for 10 to 15 minutes, or until undersides are golden. Turn over to bake other side until lightly browned, about 8-10 minutes. Set aside.

Reduce oven temperature to 375ºF.

Meanwhile, over medium heat, heat 2 tablespoons olive oil, until warm but not smoking.

Add chopped onion and sauté until translucent. About 10 minutes.

Add sliced garlic and dried oregano. Sauté for about 30 seconds.

Add tomatoes and their juices, breaking them up with your hands.

Cover and reduce heat to low.

Simmer for 15 to 20 minutes.

Tear the basil leaves into small pieces and add to the sauce.

Add salt and pepper to taste.

Prepare either a 9-by-9-inch, 10-by-5-inch or 10-by-6-inch baking pan, by spreading a small amount of tomato sauce on the bottom.

In layers, sprinkle a small amount of Parmigiano, followed by a single layer of eggplant.

Repeat the layers, with the last ones being the sauce and a sprinkling of Parmigiano.

Combine bread crumbs and oregano, in a small bowl.

Add a little olive oil, just enough to moisten the breadcrumbs. Sprinkle on top.

Bake for 35-45 minutes, or until mixture is bubbling and heated throughout.

Let rest for 5-10 minutes before serving.
Notes
Gr8 Do-Ahead Tip:
Make recipe through Step 16. At this point, cool dish, cover tightly, and refrigerate for up to 2 days; or, cover with plastic wrap, wrap well in foil and freeze for up to a month. If frozen, defrost in refrigerator before starting back at Step 17. Bring to room temperature before baking.
Recipe adapted from "Jamie's Italy" by Jamie Oliver.