This Roasted Pumpkin Olive Oil Quick Bread is the perfect holiday bread that can be made ahead of time and frozen. And this recipe makes 4 large loaves!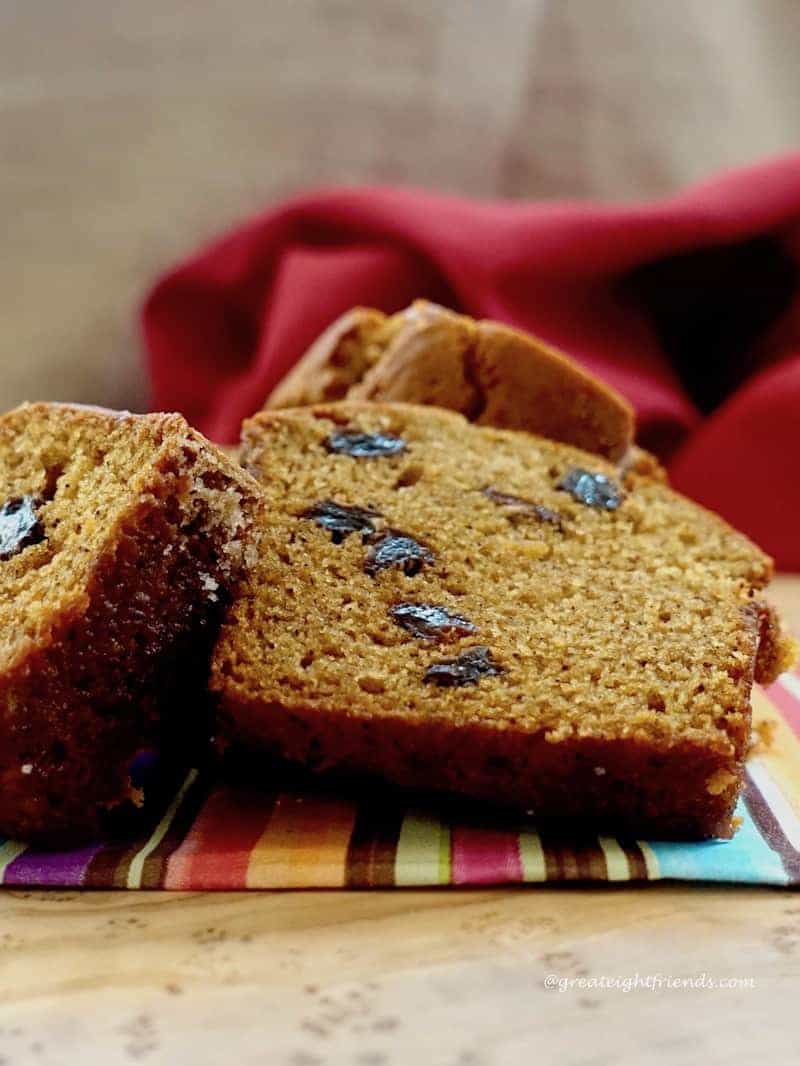 Quick breads (breads made without yeast) are super simple to throw together and they're Gr8 for giving to friends.
Most of the time they're slightly sweet which makes them perfect to serve as dessert, or breakfast, or an afternoon snack! I love versatility!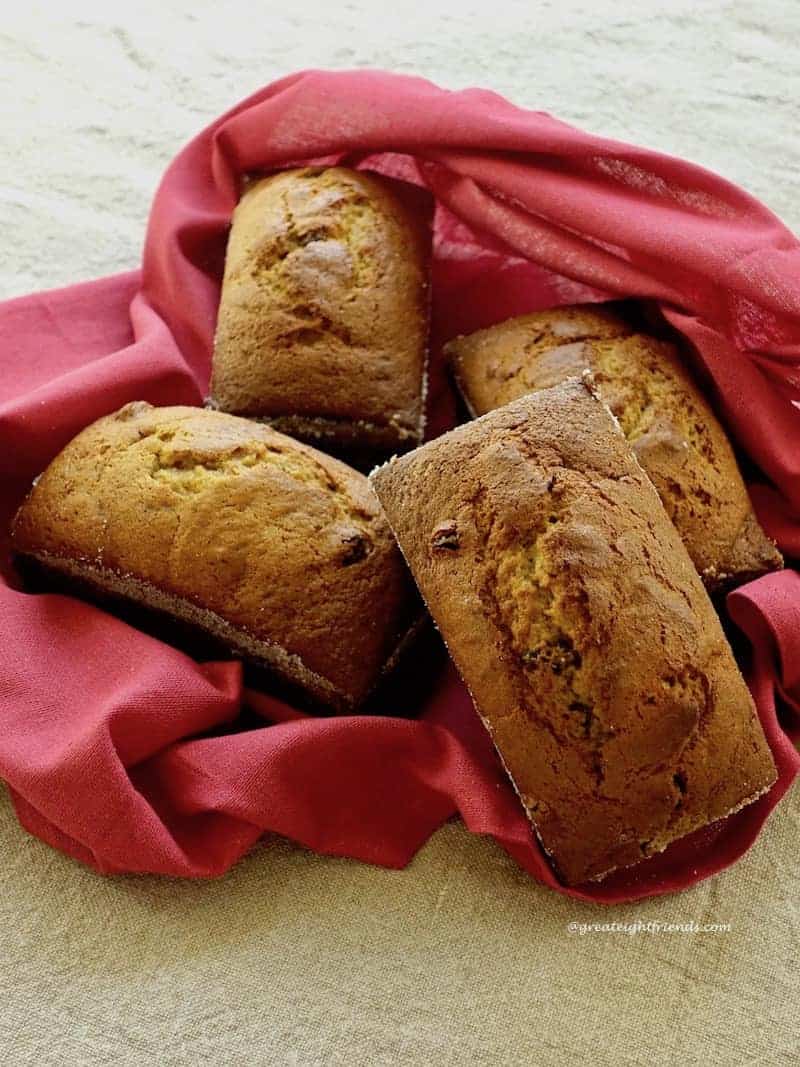 This Pumpkin Bread recipe is from the mother of one of my high school friends, and it makes 4 loaves!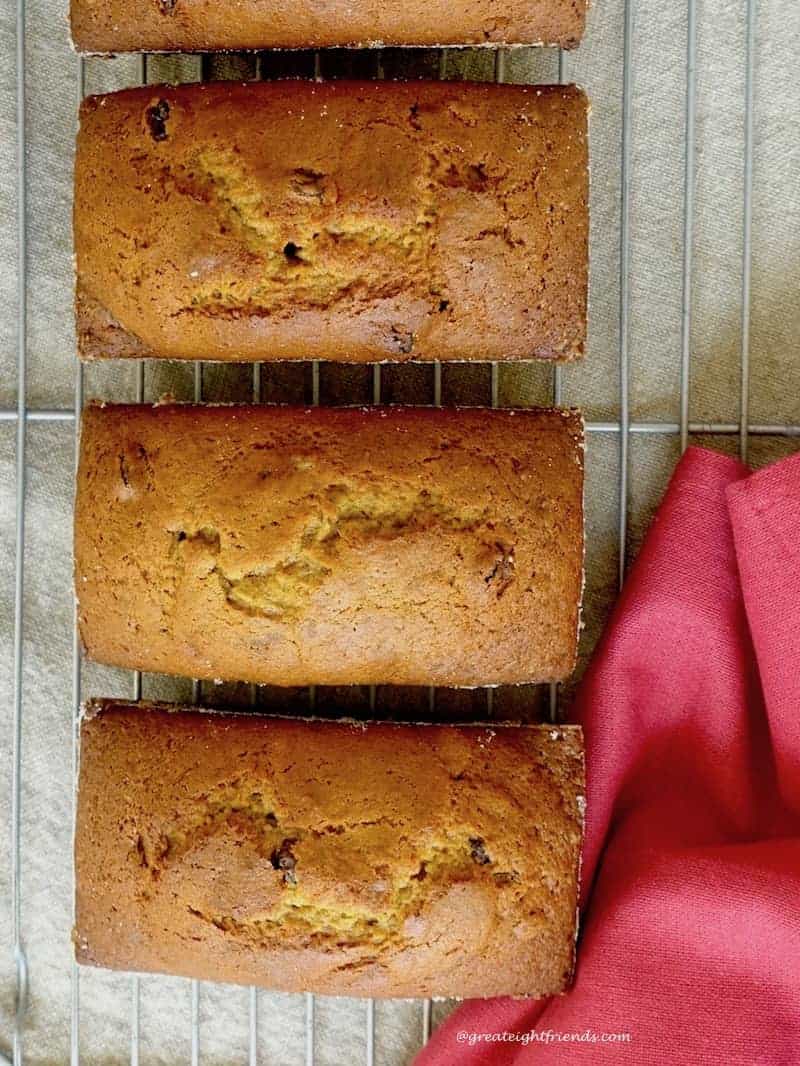 She was the mom who worked when many of the other mothers didn't, but somehow, always had hot meals and yummy baked goods for anyone who happened in her door.
She's also the first person I ever knew who cooked her pumpkins instead of just tossing them in the garbage.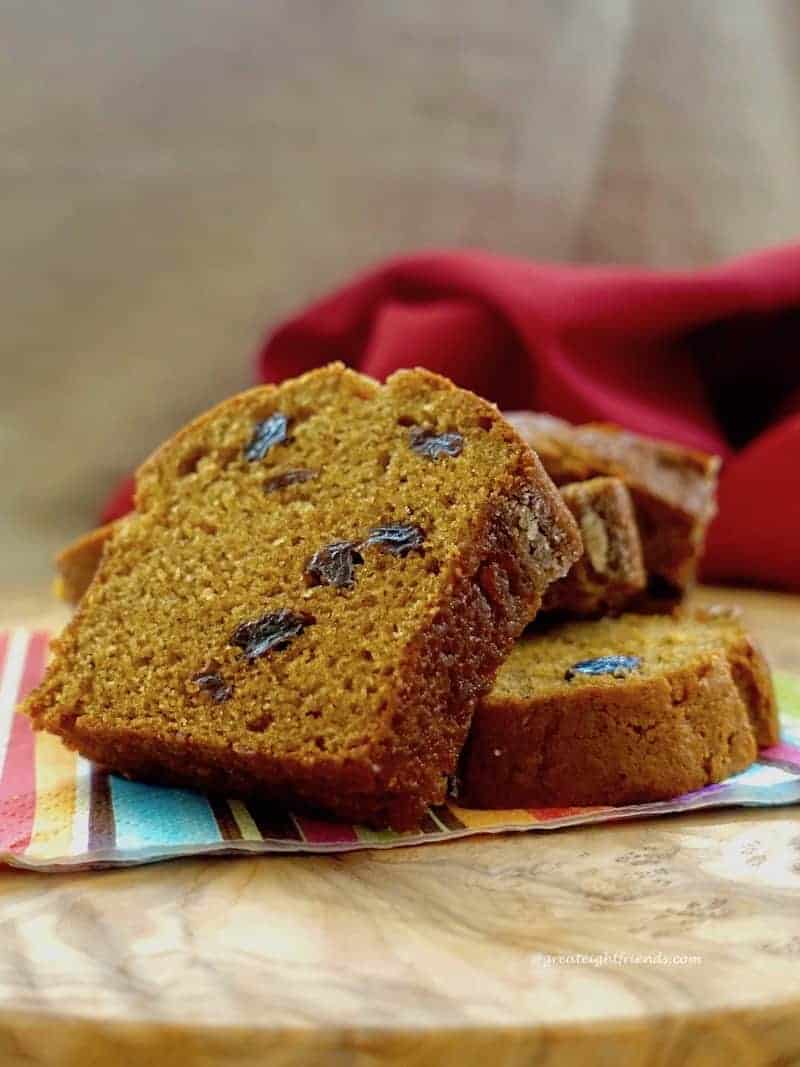 I have adapted her recipe to lessen the sugar and used olive oil instead of vegetable oil.
Since learning more about olive oil recently, I use it much more often in my baking and the results are tasty! The earthiness of the olive oil is perfect with the savory pumpkin.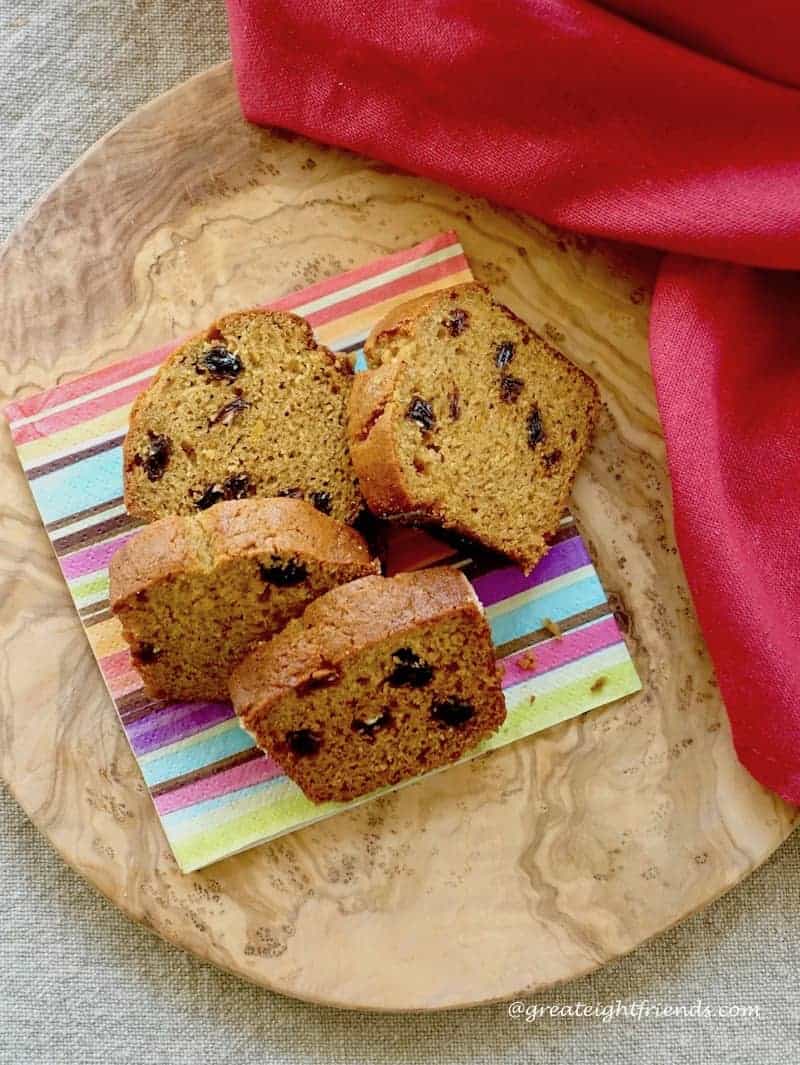 The beautiful round wooden board shown here is from The Little Market.
So, make a plan, bake four large loaves of this Roasted Pumpkin Olive Oil Quick Bread, eat one, and wrap up and freeze three. You will then be ready for anything!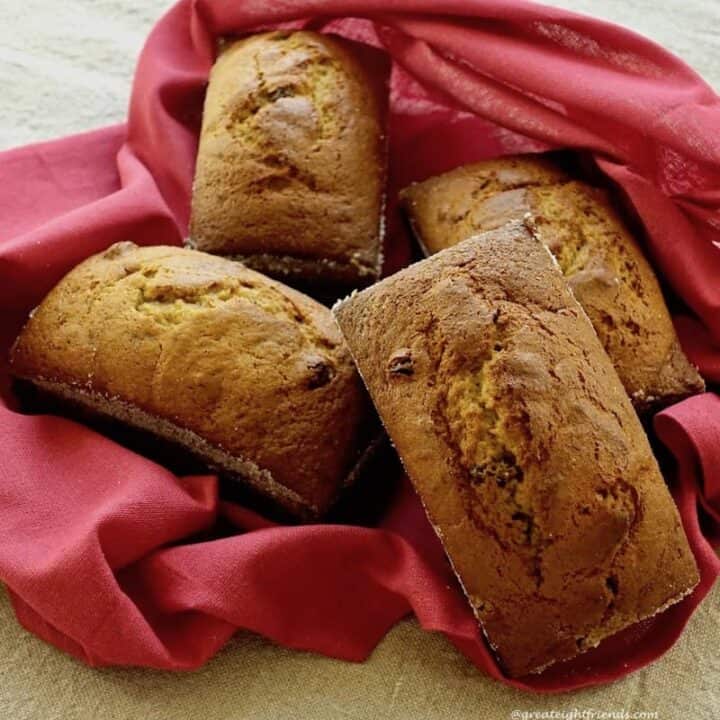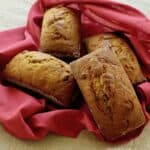 Print Recipe
Pin Recipe
Save this Recipe
Saved!
Please leave a rating!
Roasted Pumpkin Olive Oil Bread
You can use either fresh pumpkin that you've roasted or, for simplicity, use canned pumpkin.

Ingredients
4

cups

pumpkin puree,

canned or fresh roasted

3

cups

sugar

2

eggs

1

cup

olive oil,

or vegetable oil

5

cups

all-purpose flour

4

teaspoons

baking soda

4

teaspoons

cinnamon

1

teaspoon

ground cloves

1

Tablespoon

salt

2

cups

raisins or nuts or chocolate chips...or a combo!

,

optional
Instructions
Grease and sugar 4 9" loaf pans; or you can use 8 small loaf pans for gifting. Set aside.

In a large bowl stir together the pumpkin, sugar, eggs, and olive oil, until well combined. In my KitchenAid I used the lowest "Stir" setting. Or you can just stir it together with a large fork. No mixer needed!


In a separate bowl whisk together the flour, baking soda, cinnamon, cloves, and salt.


If using, add the raisins and/or nuts now to the flour mixture and stir to coat well with the flour.


Mix half of the flour mixture into the pumpkin mixture, until combined; then mix the other half in. I used my KitchenAid on 4 for this step. Or just stir it together.


When the ingredients are all well combined, fill each loaf pan about halfway up and spread the batter flat on top. (If you don't have 4 loaf pans, fill one or two and bake, then cool for 10 minutes, remove the bread and refill the pans and bake.)

Bake in preheated oven. The large loaf pans should take about an hour. The smaller pans will take 40 - 45 minutes. They are done when a knife inserted in the center comes out clean.

Notes
Gr8 Do Ahead Tip:
Use 8 small loaf pans and freeze for up to 2 months. Wrap them in plastic wrap then put into freezer bags. You will be happy to have this part of your holiday baking done ahead of time!
sm 11/19/18
SaveSave
SaveSave