Use fresh pumpkin to make this Roasted Pumpkin Olive Oil Quick Bread for the perfect holiday bread that can be made ahead of time and frozen.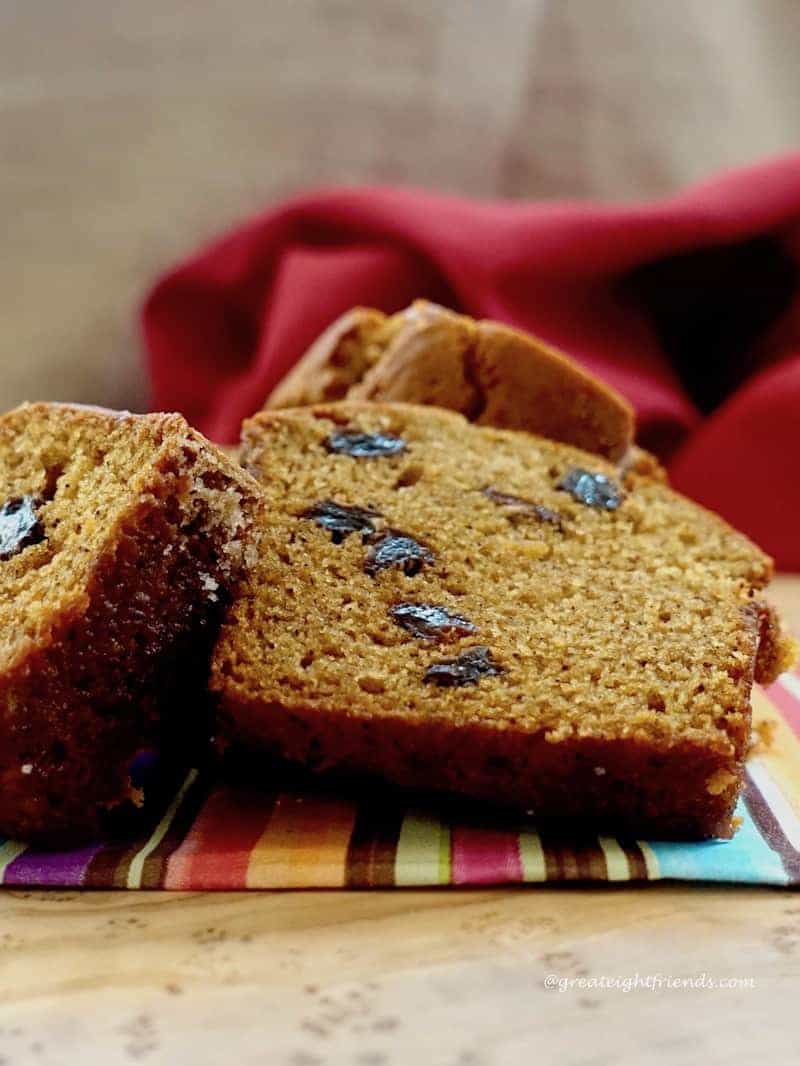 Halloween and Thanksgiving have passed and my fresh pumpkins were sitting around just looking at me; wondering if they were destined for the trash bin or to continue on to a nobler calling.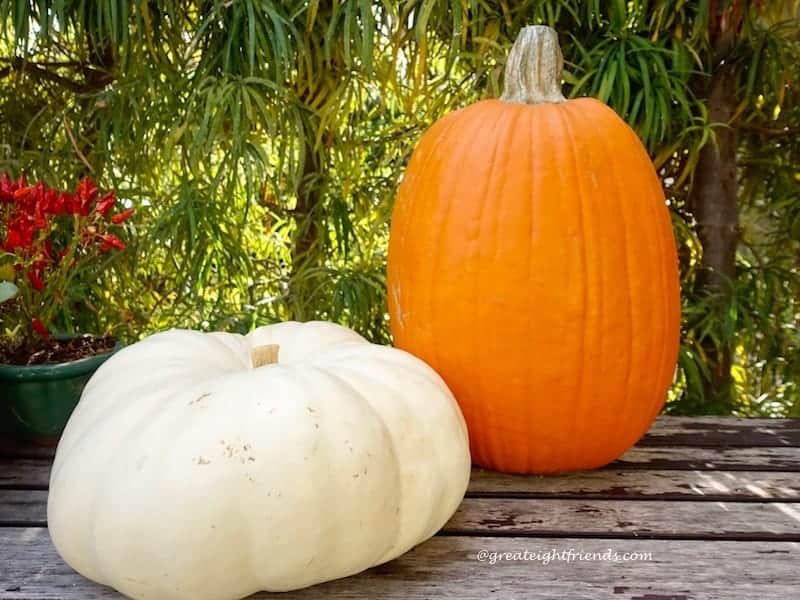 Since I had to make room for the Christmas decorations, the pumpkins had to move. I put it off and put it off and finally decided to roast them for fresh pumpkin, so they could be eaten as warm, comforting baked goods.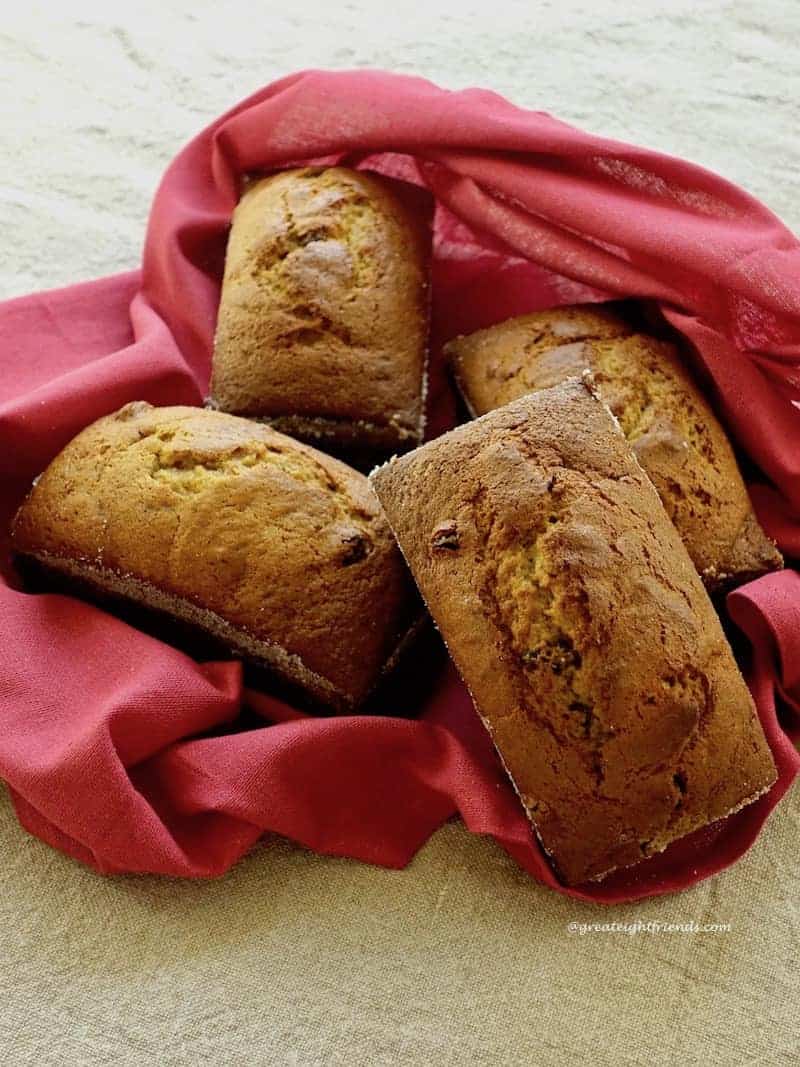 How to Roast the Pumpkin
Roasting the pumpkins, while it sounds daunting, is actually very easy. The hardest part is cutting them! Be sure you have a long, sharp, strong knife. Cut the pumpkin in half starting next to the stem (the stem is too hard to cut through) then clean out the seeds from each half. Lay each pumpkin half on its cut side and cut in half again, next to the stem. 
Then cut off the stem. You should have 4 quarters. (Basically, you just need to make large pieces to fit on a baking sheet.) Bake at 400ºF for about 45 minutes or until the flesh gives easily when pierced with a fork. Cool slightly, peel off the skin and purée in a food processor or blender. You are now ready to bake! (I didn't use any olive oil or salt as I wanted just the pumpkin flavor for baking. Plus, you want some of the water to evaporate from the flesh as it roasts, otherwise the resulting purée can be watery.)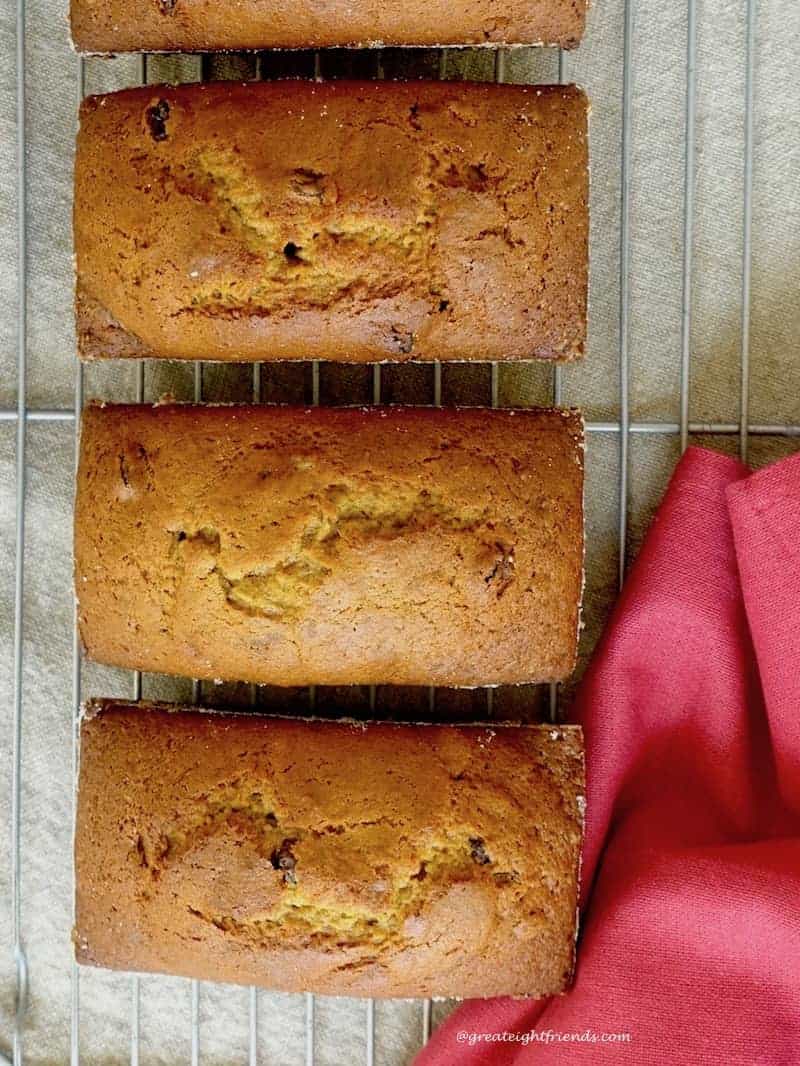 ...Or...go the easy route and use canned pumpkin!
My smallest pumpkin yielded about 10 cups of pumpkin, that's right, that's a LOT of pumpkin! I thought, "what in world am I going to do with all this pumpkin?"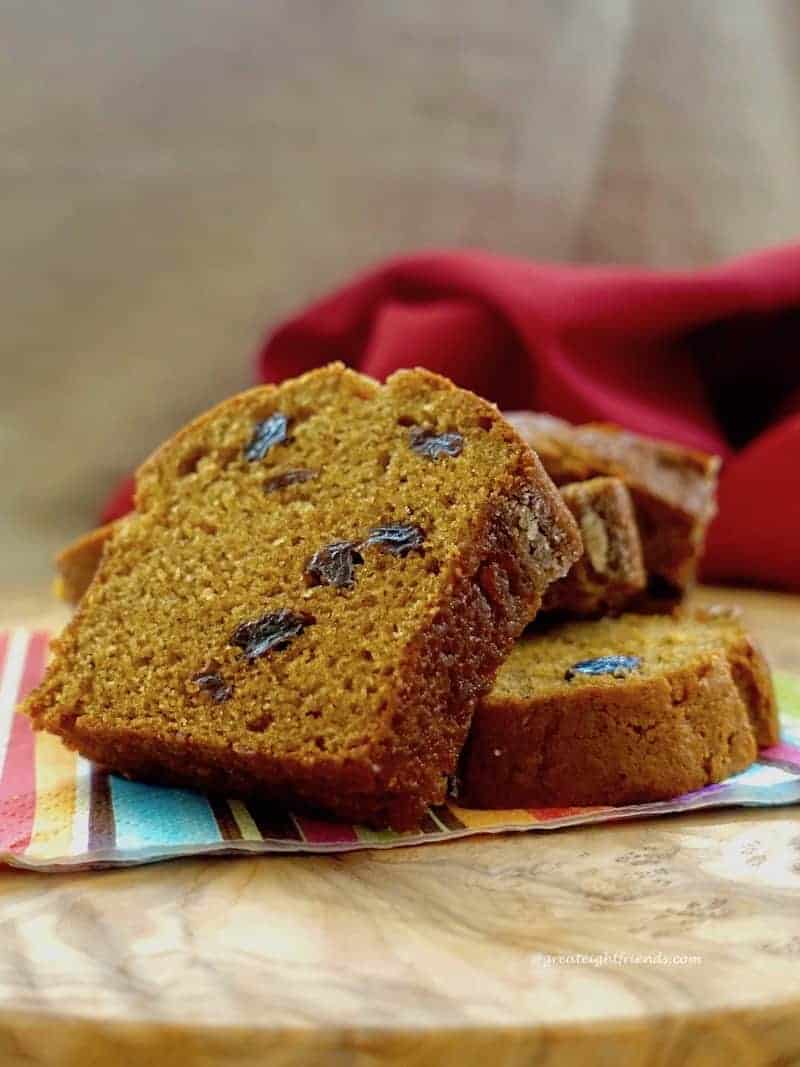 Pumpkin Bread was my first choice because of 2 reasons: 1) it can be frozen to then be given as gifts, a perfect do ahead recipe! And 2) I have a recipe that makes a large amount! This recipe is from the mother of one of my high school friends, and it makes 4 loaves! She was the mom who worked when many of the other mothers didn't, but somehow, always had hot meals and yummy baked goods for anyone who happened in her door. She's also the first person I ever knew who cooked her pumpkins instead of just tossing them in the garbage.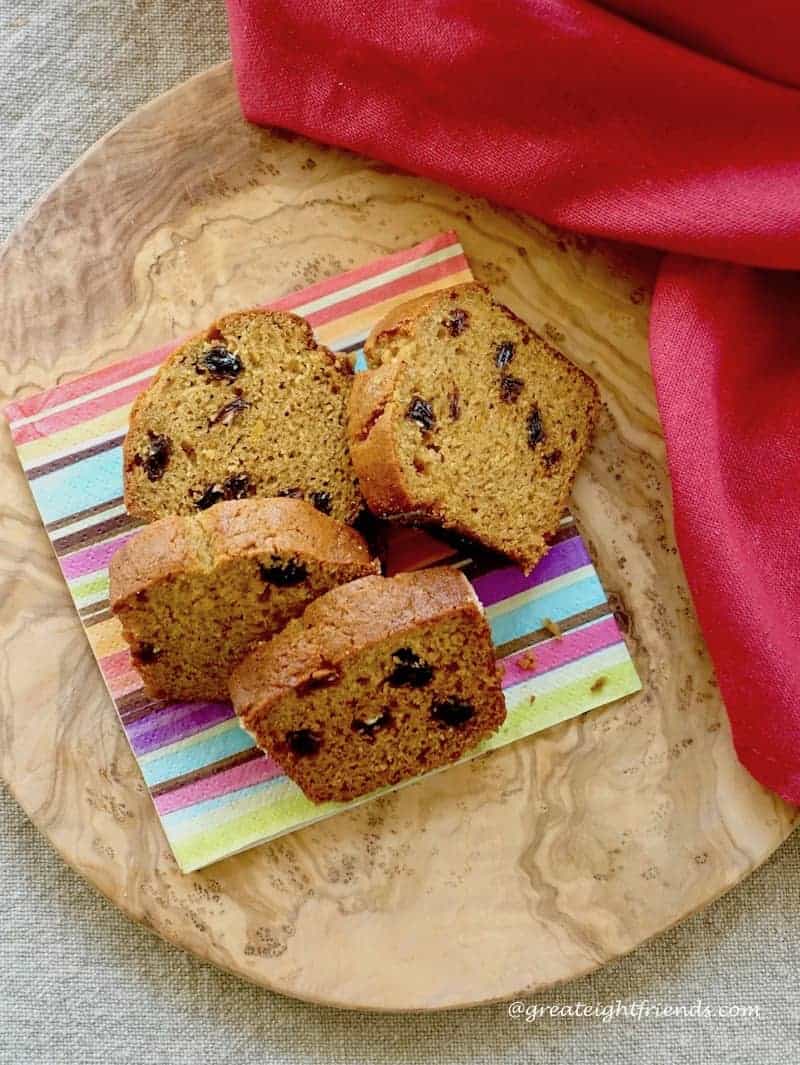 I have adapted her recipe to lessen the sugar and used olive oil instead of vegetable oil. Since learning more about olive oil recently, I use it much more often in my baking and the results are tasty!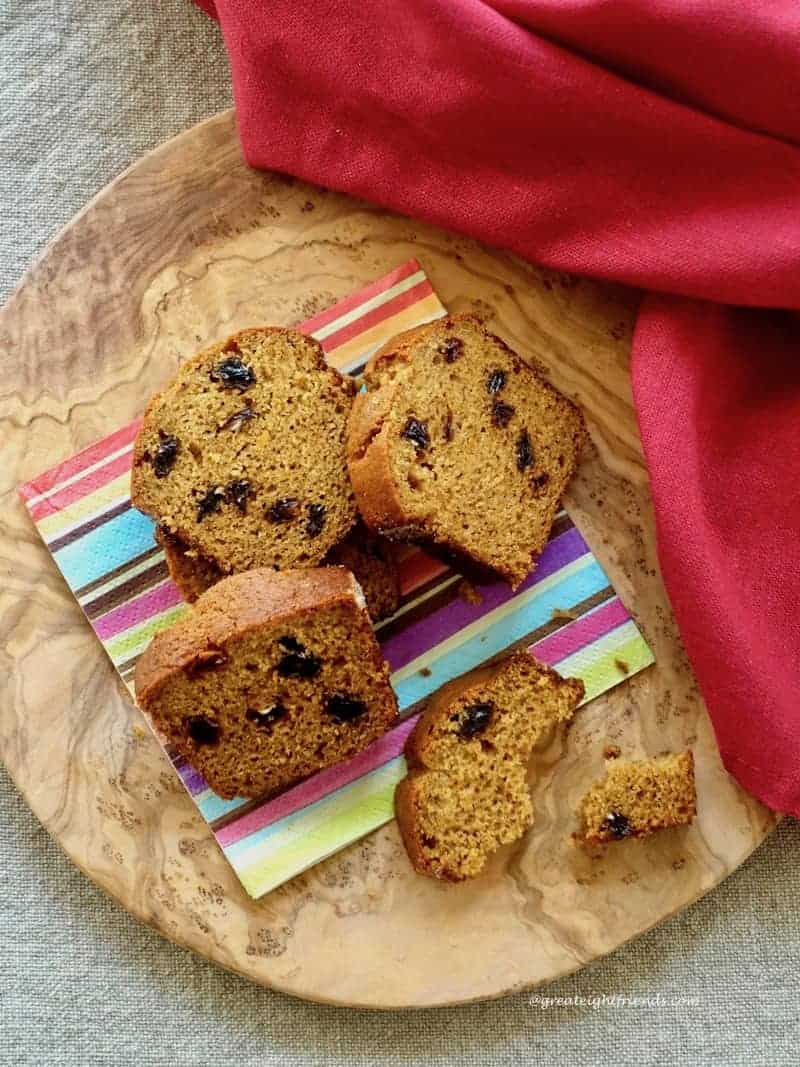 The beautiful round wooden board shown here is from The Little Market.
The best thing about quick breads is that they can be served for breakfast, brunch, snack or dessert...I love versatility!
Roasted Pumpkin Olive Oil Bread
You can use either fresh pumpkin that you've roasted or, for simplicity, use canned pumpkin.

Ingredients
4

cups

pumpkin puree,

canned or fresh roasted

3

cups

sugar

2

eggs

1

cup

olive oil,

or vegetable oil

5

cups

all-purpose flour

4

teaspoons

baking soda

4

teaspoons

cinnamon

1

teaspoon

ground cloves

1

Tablespoon

salt

2

cups

raisins or nuts or chocolate chips...or a combo!

,

optional
Instructions
Grease and sugar 4 loaf pans; or you can use 8 small loaf pans for gifting. Set aside.


In a large bowl stir together the pumpkin, sugar, eggs, and olive oil, until well combined. In my KitchenAid I used the lowest "Stir" setting. Or you can just stir it together with a large fork. No mixer needed!


In a separate bowl whisk together the flour, baking soda, cinnamon, cloves, and salt.


If using, add the raisins and/or nuts now to the flour mixture and stir to coat well with the flour.


Mix half of the flour mixture into the pumpkin mixture, until combined; then mix the other half in. I used my KitchenAid on 4 for this step. Or just stir it together.


When the ingredients are all well combined, fill each loaf pan about halfway up and spread the batter flat on top.


Bake in preheated oven. The large loaf pans should take about an hour. The smaller pans will take 40 - 45 minutes. They are done when a knife inserted in the center comes out clean.

Notes
Gr8 Do Ahead Tip:
Use 8 small loaf pans and freeze for up to 2 months. Wrap them in plastic wrap then put into freezer bags. You will be happy to have this part of your holiday baking done ahead of time!
PS: You can also freeze fresh pumpkin purée! I put mine in 1 and 2-cup quantities into zipper freezer bags. If you press the air out, the bags will lay flat on top of one another in your freezer.
sm 11/19/18
SaveSave
SaveSave