A Danish Christmas Dinner is a Gr8 theme for a party around the holidays. The decorations are simple, the food delicious, and hygge is a real thing!
Finally! We settled on A Danish Christmas Dinner as the theme for our Great 8 Dinner. The decision process often starts with the season.
We were hosting in November a couple years ago and since the Great 8 has already done Friendsgiving and Autumn, and even Christmas, we were wondering what else could be done.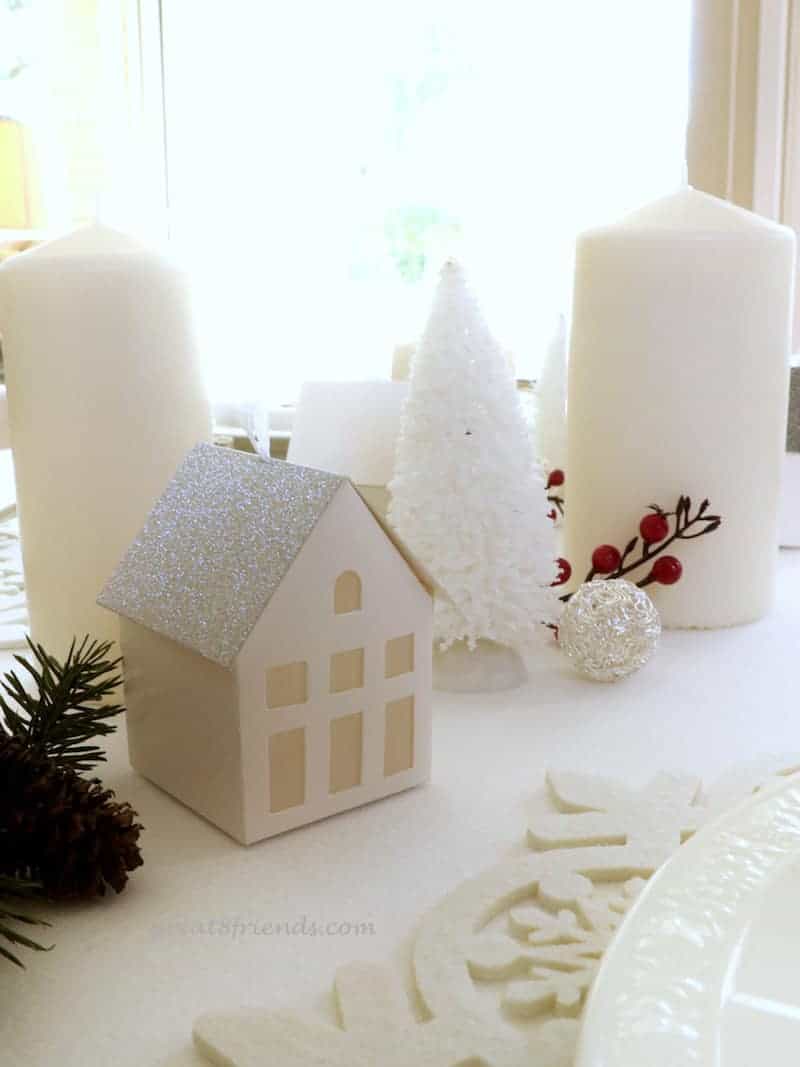 We had been particularly busy that year enjoying a new grandbaby and we wanted something fairly easy.
The Danish culture is simple and elegant, which we love. So Vince and I decided that hosting A Danish Christmas Dinner would be perfect.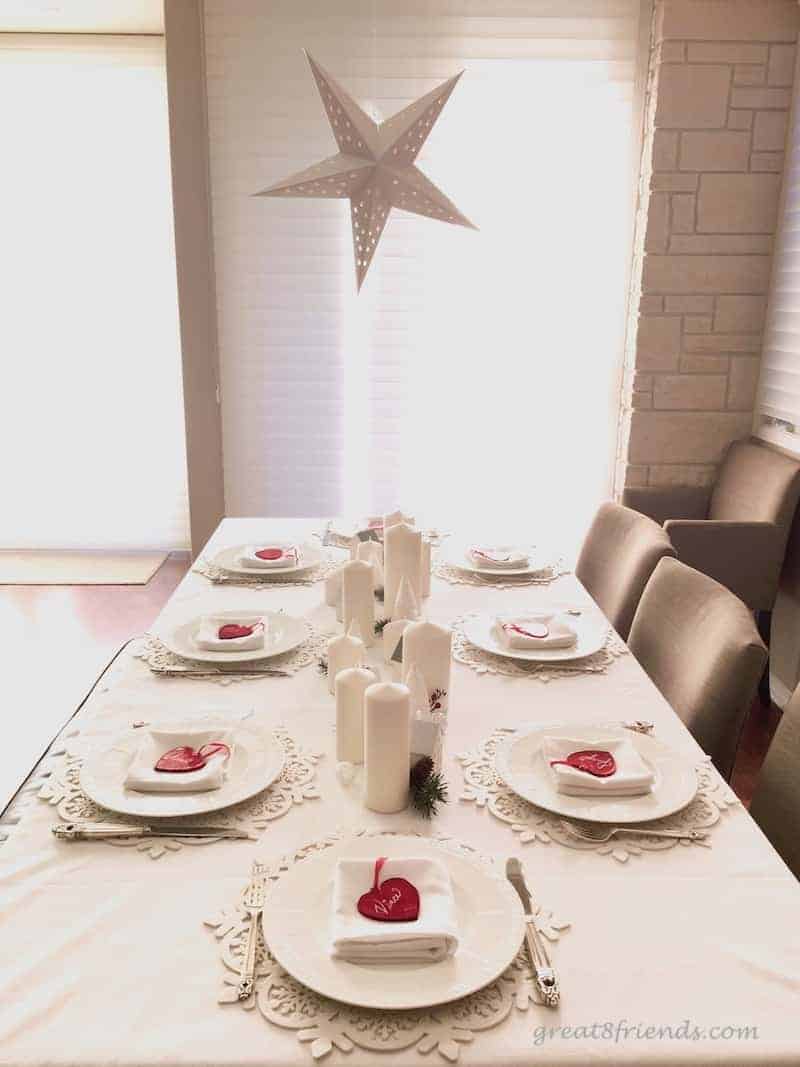 I started the process with a call to Vince's business partner. Ole was born in Denmark and loves to share his culture.
He immediately referred me to his mom, Ulla, who was thrilled to spend time with me and teach me about Danish Christmas traditions. She invited me over for lunch to tell me all about it.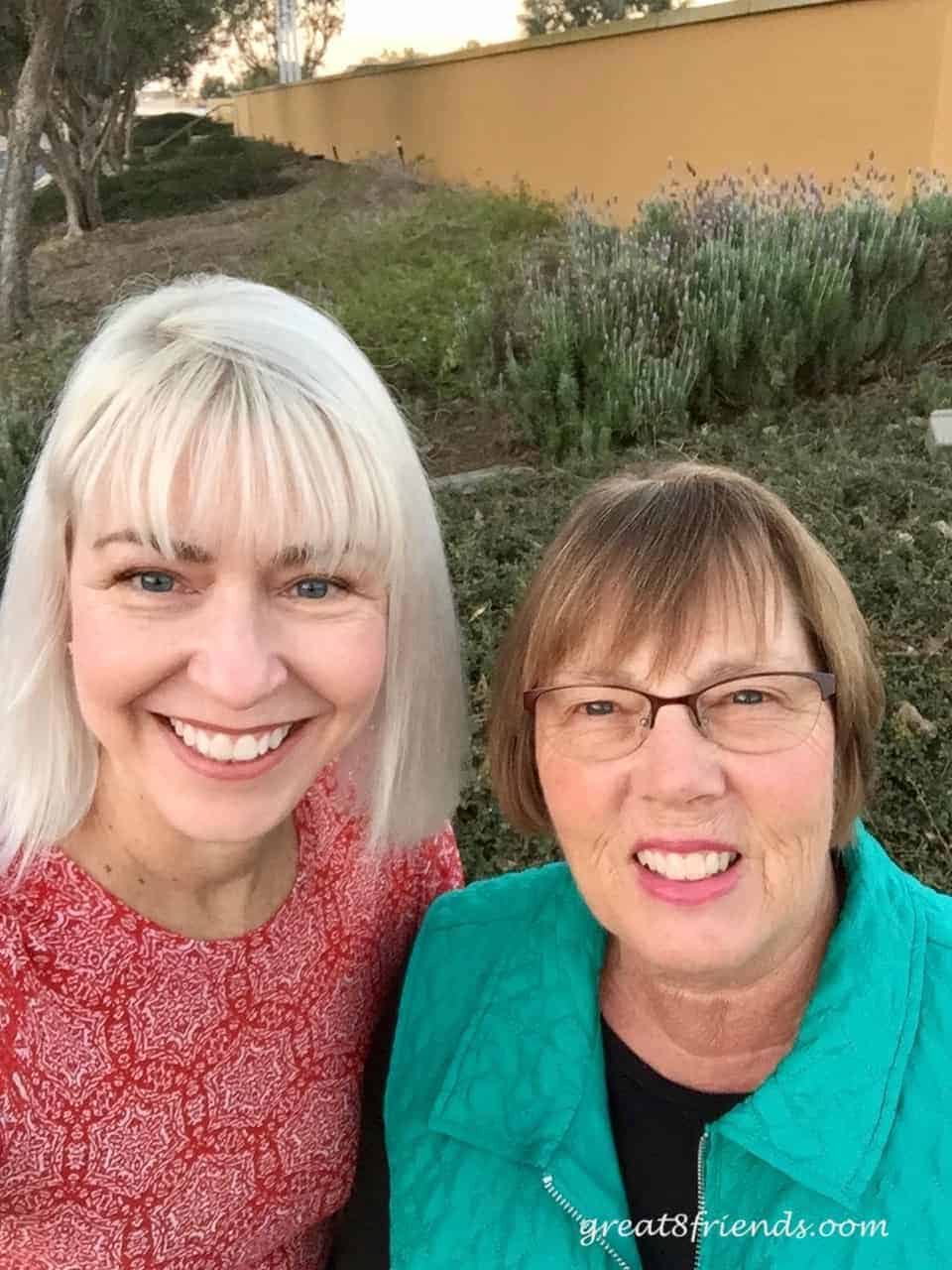 When I arrived at Ulla's for my "lesson," she had created a delightful lunch of smørrebrød, Denmark's famous open-faced sandwiches. And there is a specific method to making and eating this traditional meal.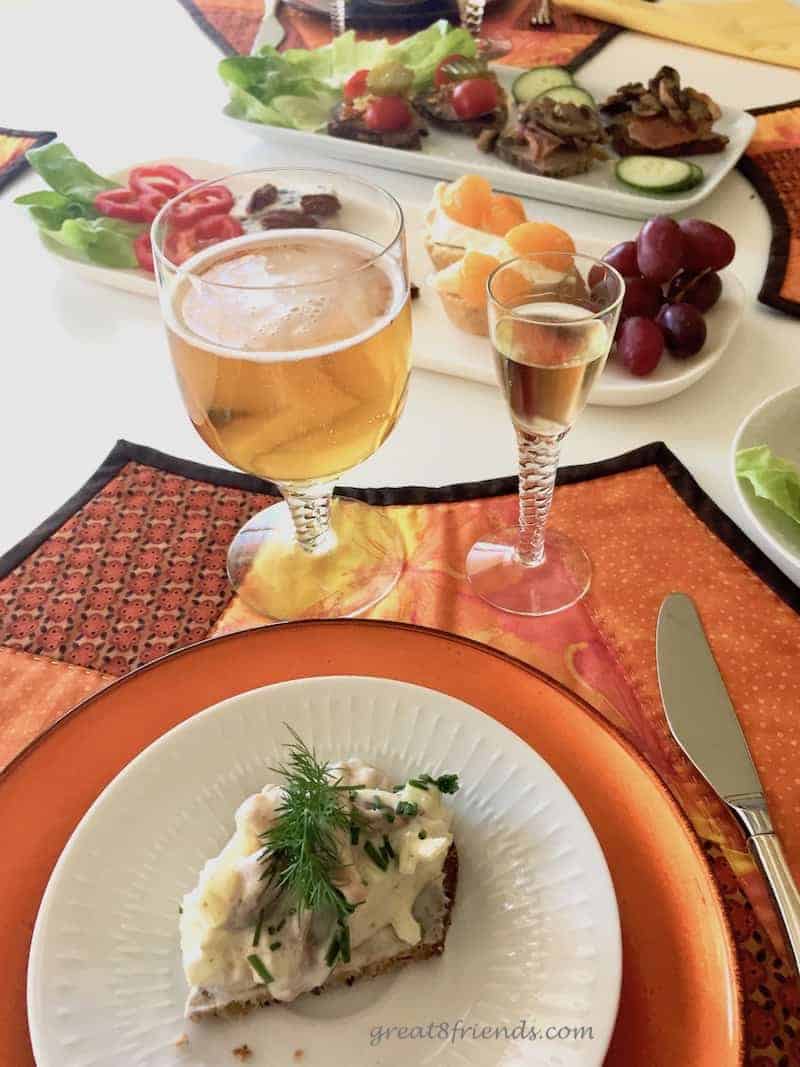 I was so smitten with this that I re-created the entire lunch for our appetizer course. (Every course was smaller because we were eating a full meal afterward!)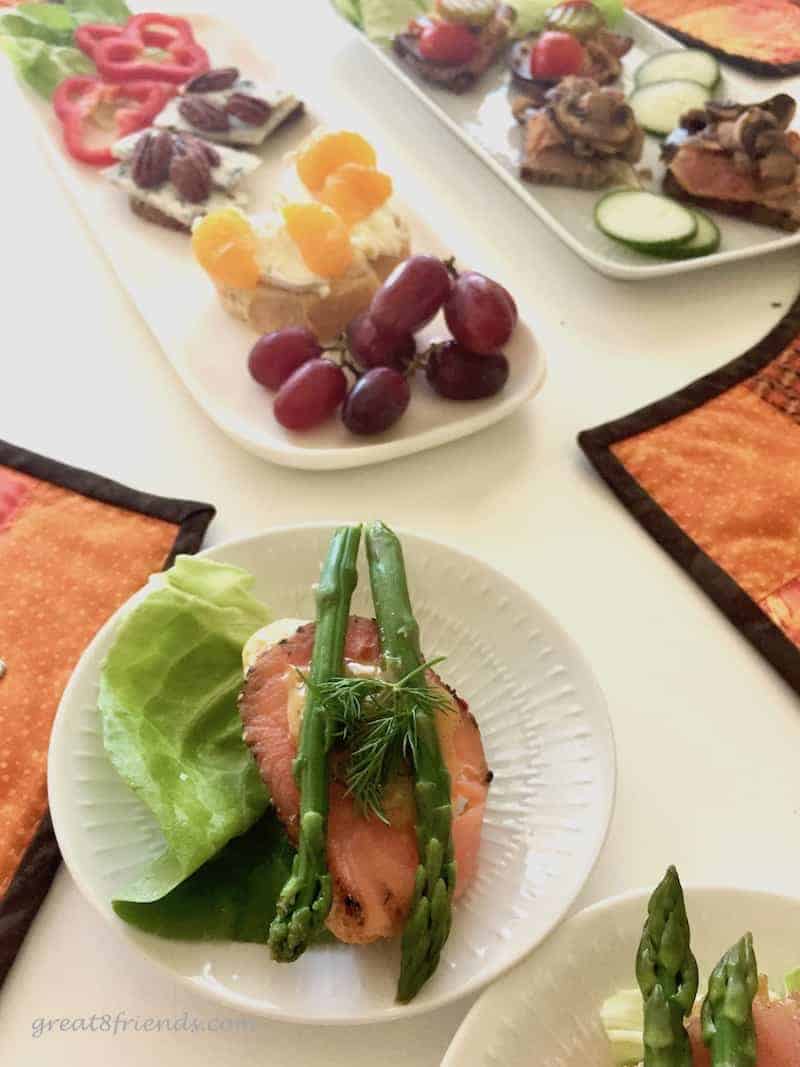 What is Hygge?
The most important part of any Danish get-together is Hygge. Hygge is more a feeling than a definable word; it is the feeling of welcome, warmth, and coziness.
And it is created in Denmark during the long, dark evenings, using lots of candles, a warm fire, good food and the love of family and friends.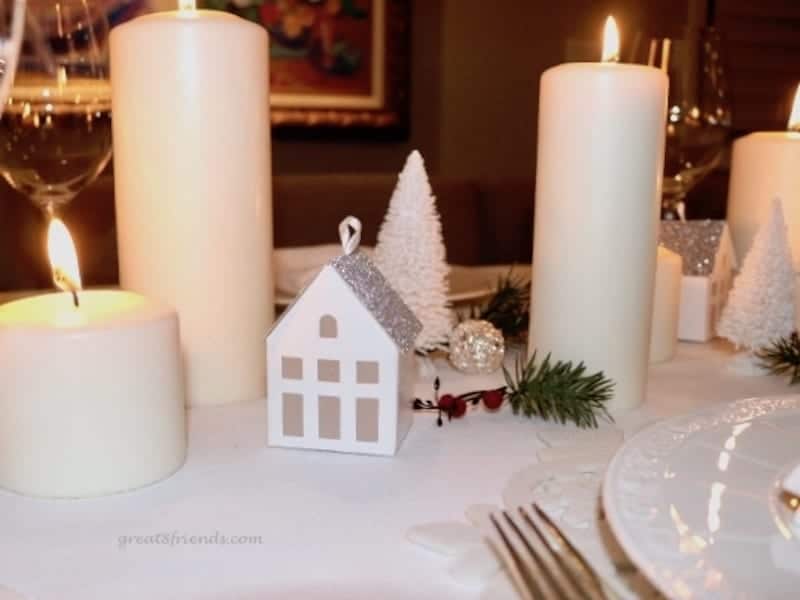 The Invitation
A surprising discovery was that the red heart is the symbol for Christmas in Denmark. The Danes have a clever way to weave hearts that hang on a tree and hold small candies and gifts. This was the perfect idea for the invitation!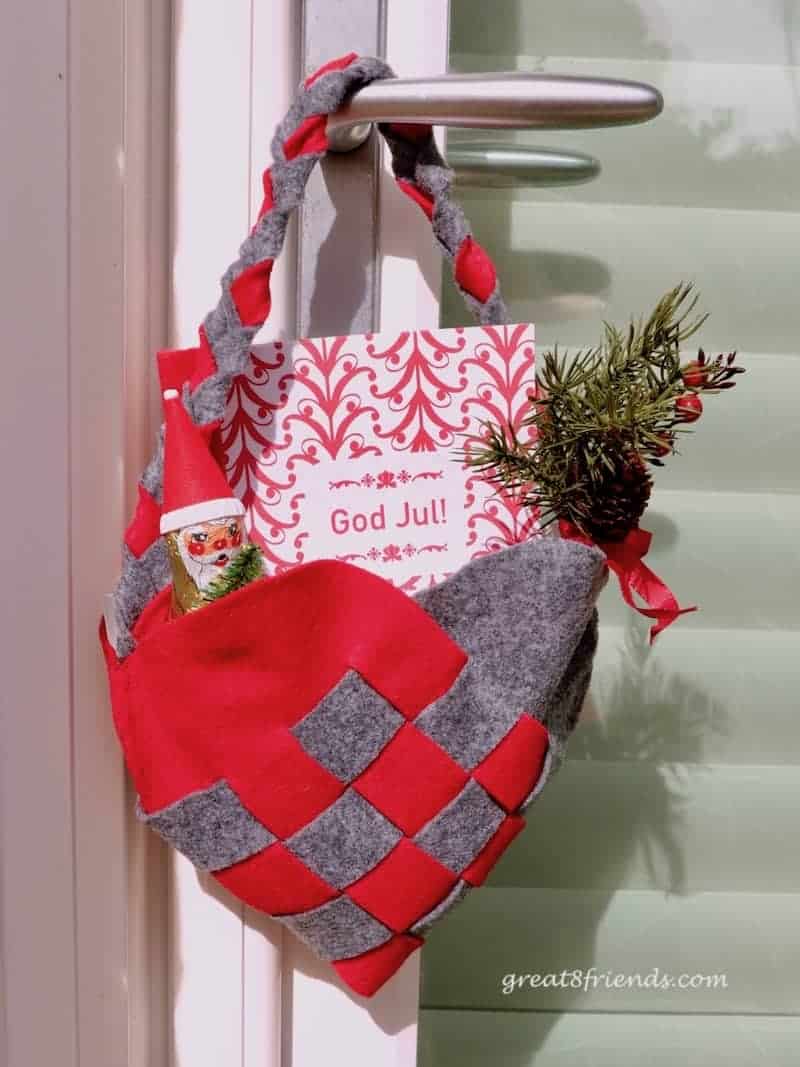 A trip to my local craft store yielded the red and grey felt needed for the hearts.
And World Market carries candies from all over. So I picked up a few foil wrapped chocolate Santas and some Swedish fish (okay, okay, I know they're not Danish...but it's close!) to fill the heart.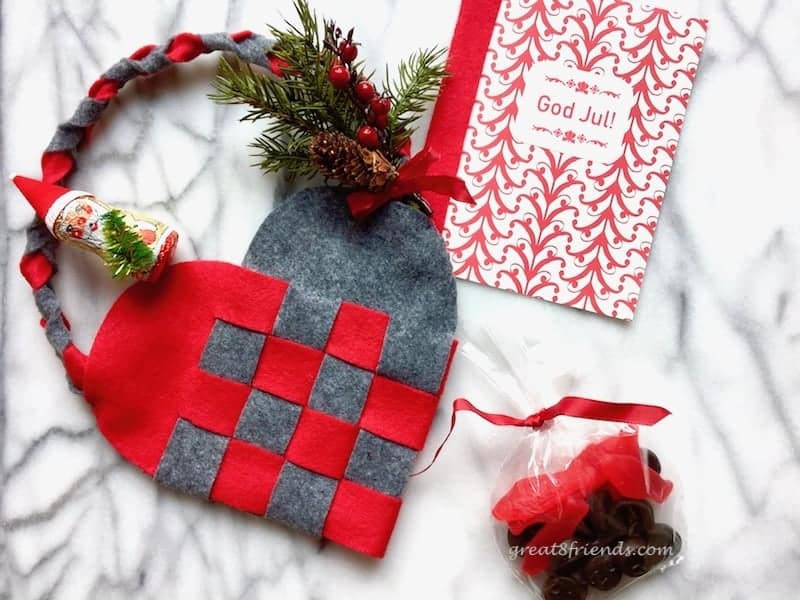 The actual invitation with the information was in a little booklet, easily printed out at home. I used scrapbook paper for the cover and Googled the correct spellings of the dishes.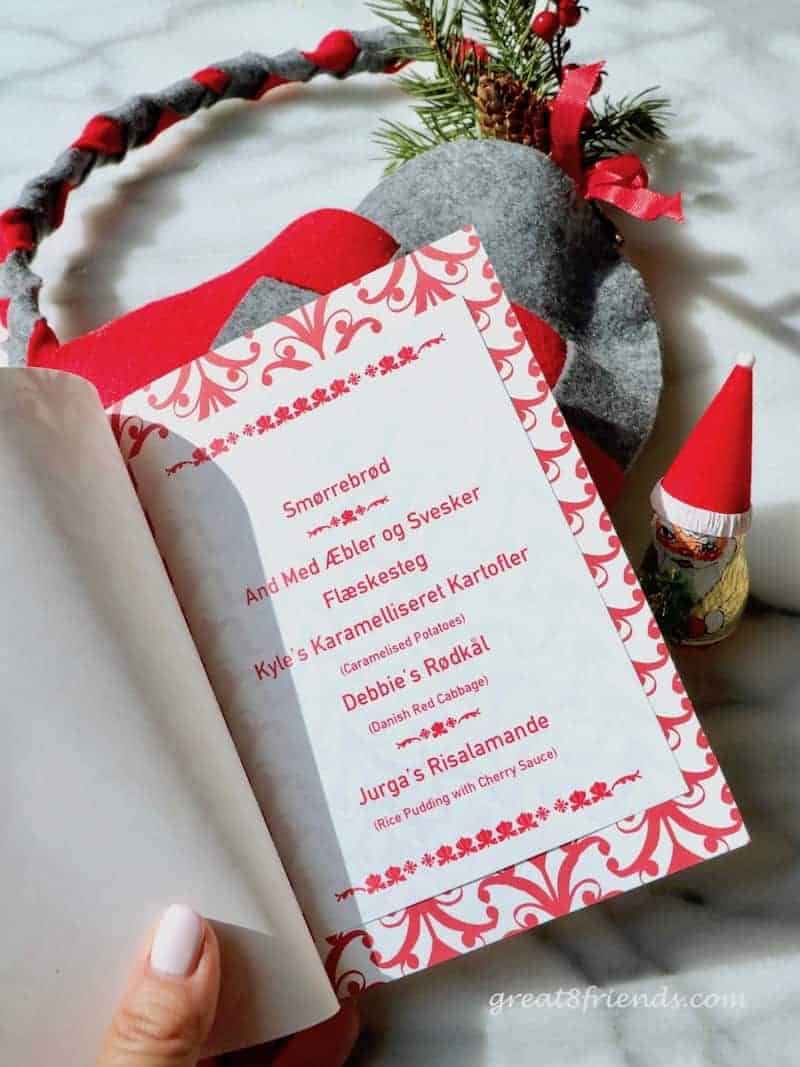 Almost every family in Denmark makes the same dishes for Christmas. Most households would choose one main course, either the pork or the duck, but I decided to do both so we could get a good "taste" for the culture.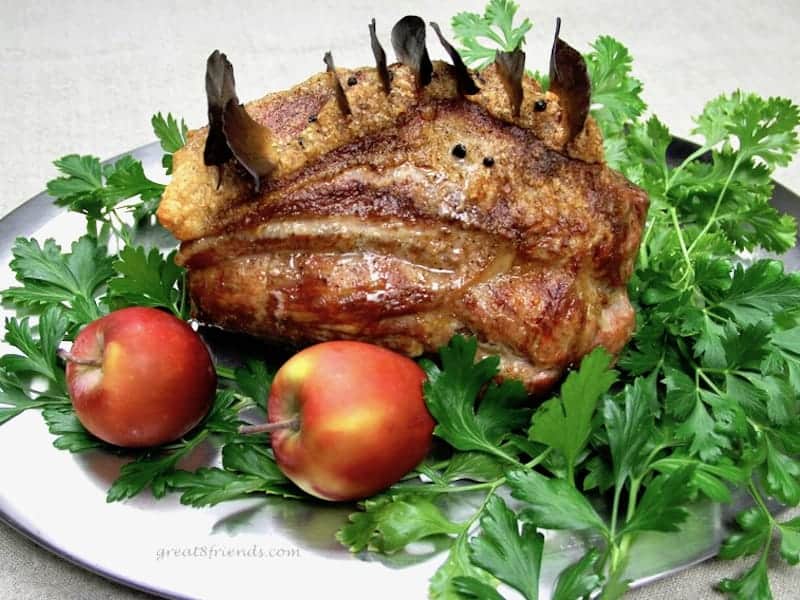 Ulla generously shared her recipes and hints with me for the entire meal.
A Danish Christmas Dinner Menu
Aquavit
Danish Beer - Carlsberg
Roast Duck Stuffed with Apples and Prunes
Hint #1: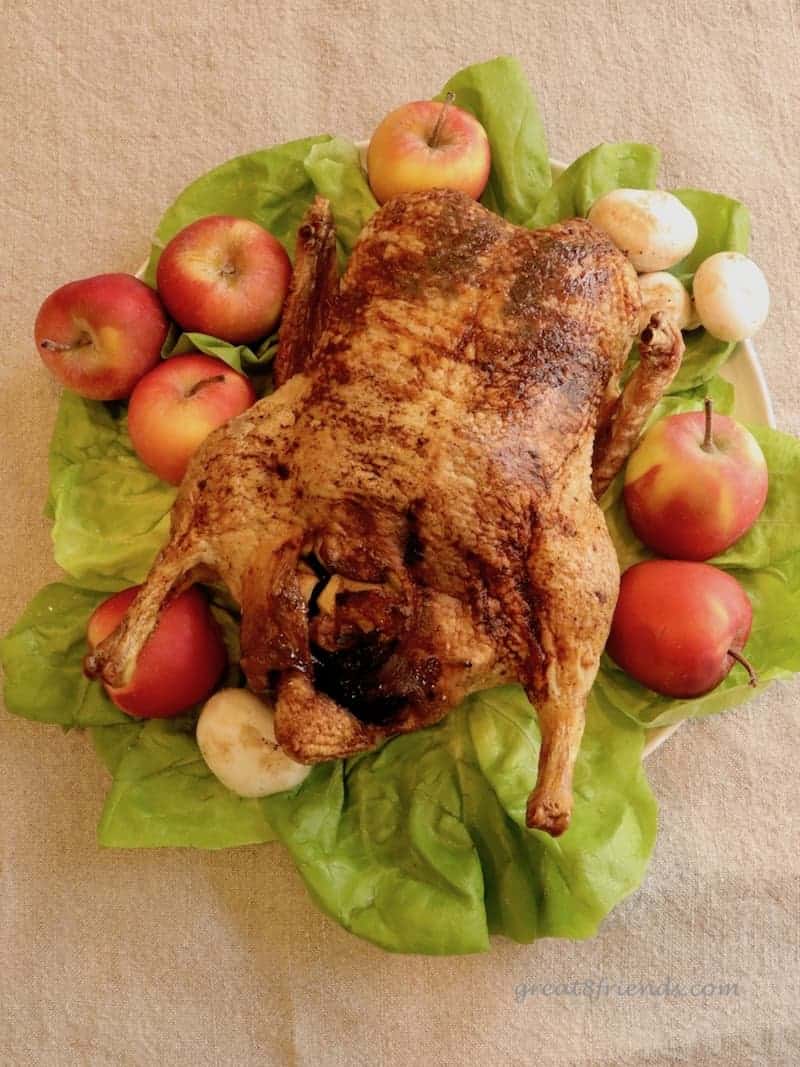 Ulla cooks her Roast Duck stuffed with apples and prunes the day before; then it goes in the refrigerator.
Just before serving Ulla carves the duck and reheats the pieces on a sheet pan in a 350°F oven for about 20 minutes. This not only warms the meat but also crisps the skin.
Hint #2:
The other benefit to cooking the duck the day before is that you can make the gravy ahead of time (**Gr8 Timesaver).
And the gravy made from the drippings of duck fat, apples and prunes has a wonderful sweet, savory, silky sumptuousness!
Hint #3: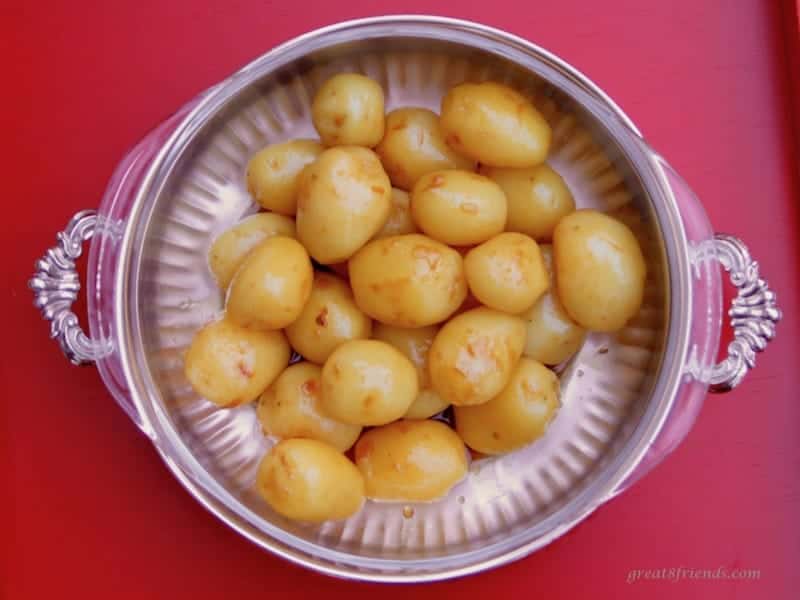 The potatoes can be boiled the day before for the Caramelized Potatoes.
Hint #4: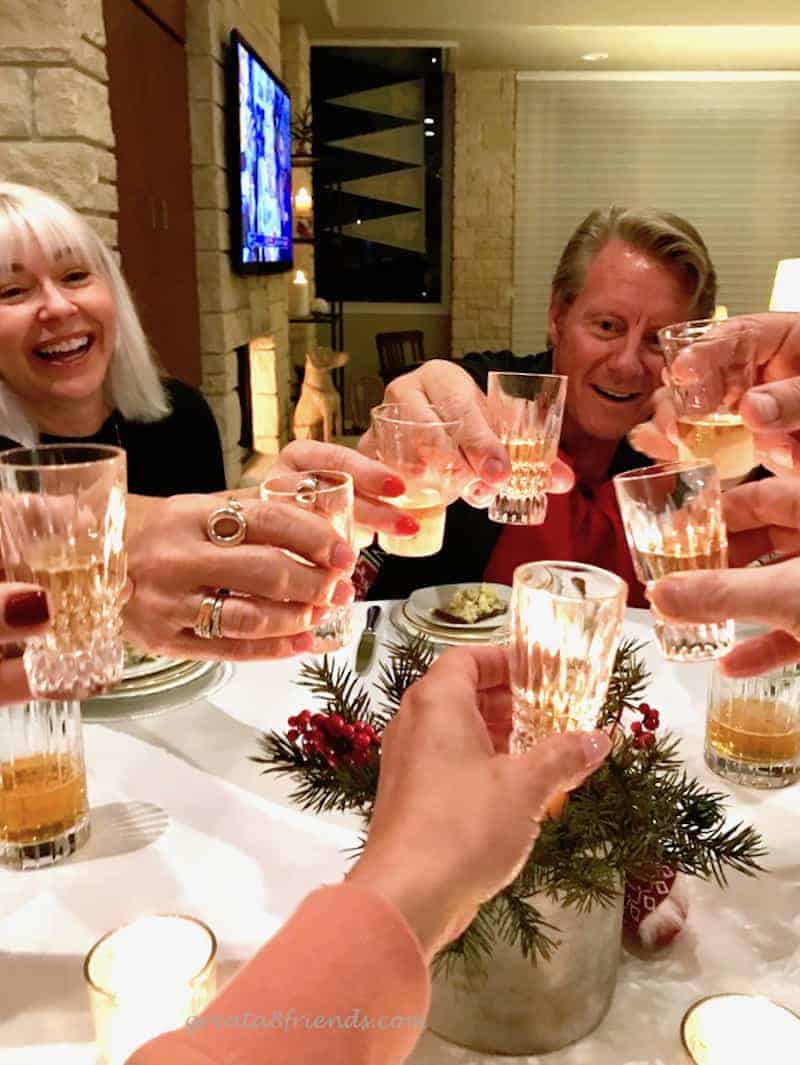 Every Danish Christmas begins with a shot of Aquavit (that's right, a full shot!). And you must start with a toast, "Skoal!" And the meal ends with more Aquavit.
And don't forget to drink in between! (You may want to arrange a ride home!)
Hint #5: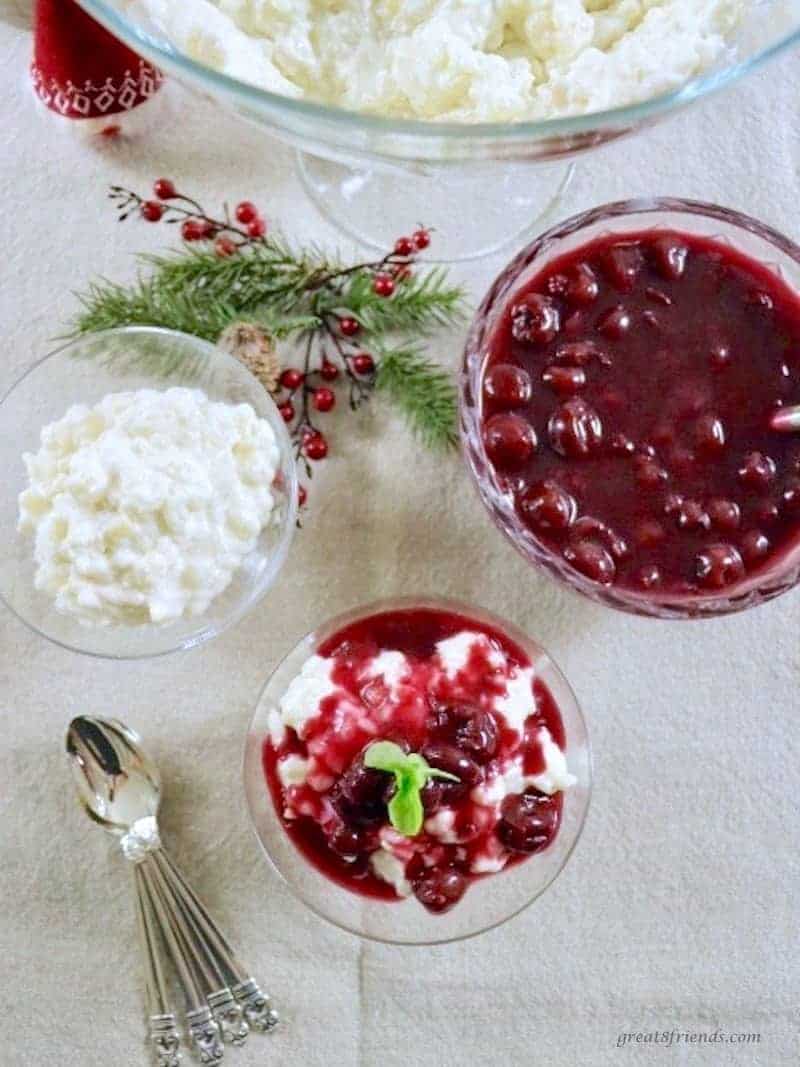 The dessert, Risalamande, is made in a large bowl and a whole blanched almond is buried in the pudding. Jurga's post tells all about the tradition surrounding the hidden almond.
Hint #6:
IKEA has a lot of the food items that may be hard to find in other stores. (And the prices are good!)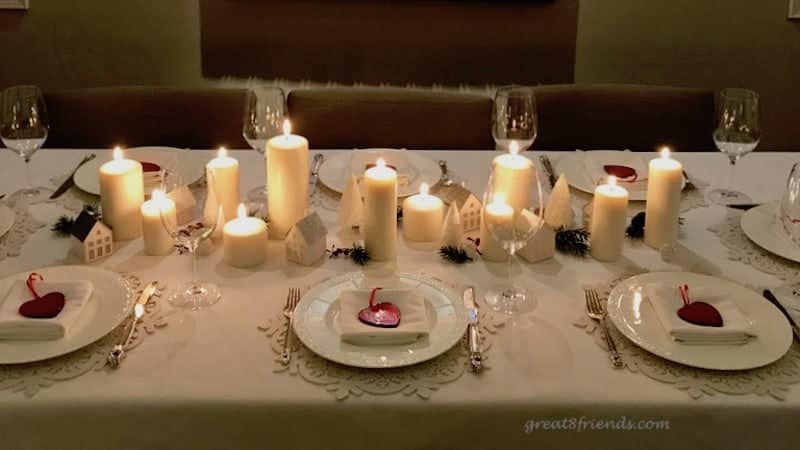 Hint #7:
Use lots of candles to create Hygge.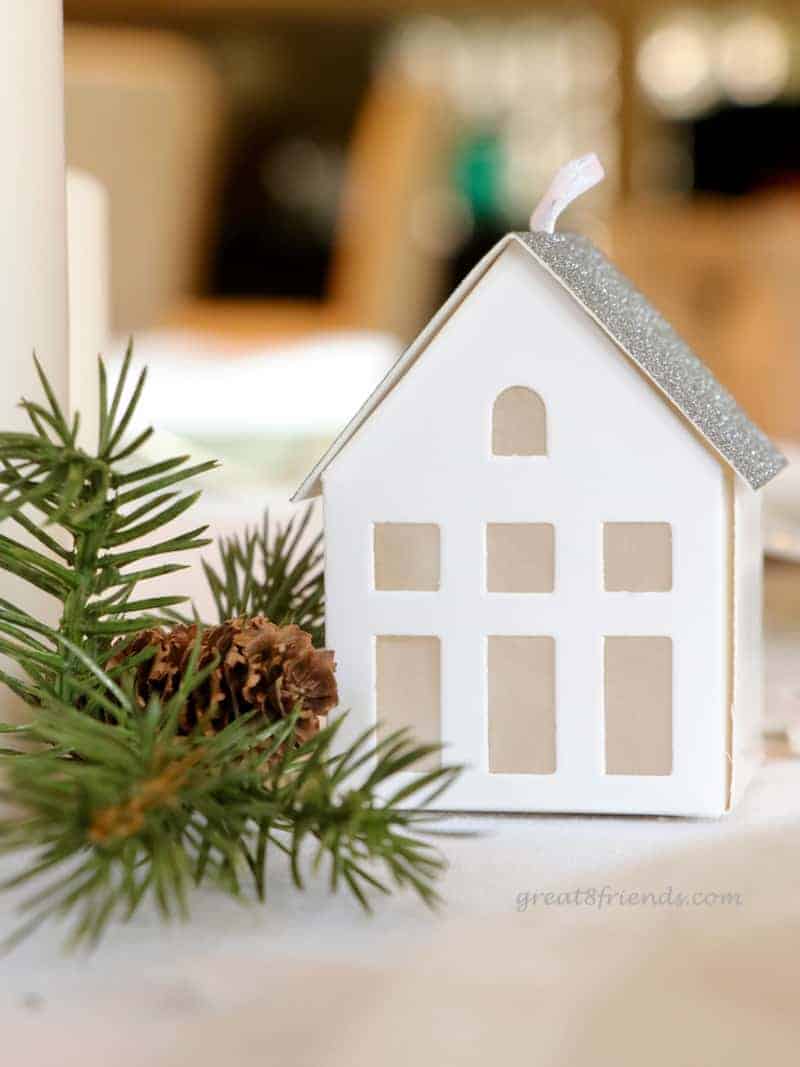 Decorations
I kept the decorations simple, in the Danish tradition. Everything was red and white with touches of pine branches.
World Market had these gorgeous laser cut felt snowflake placemats, which I will also use for Christmas breakfast.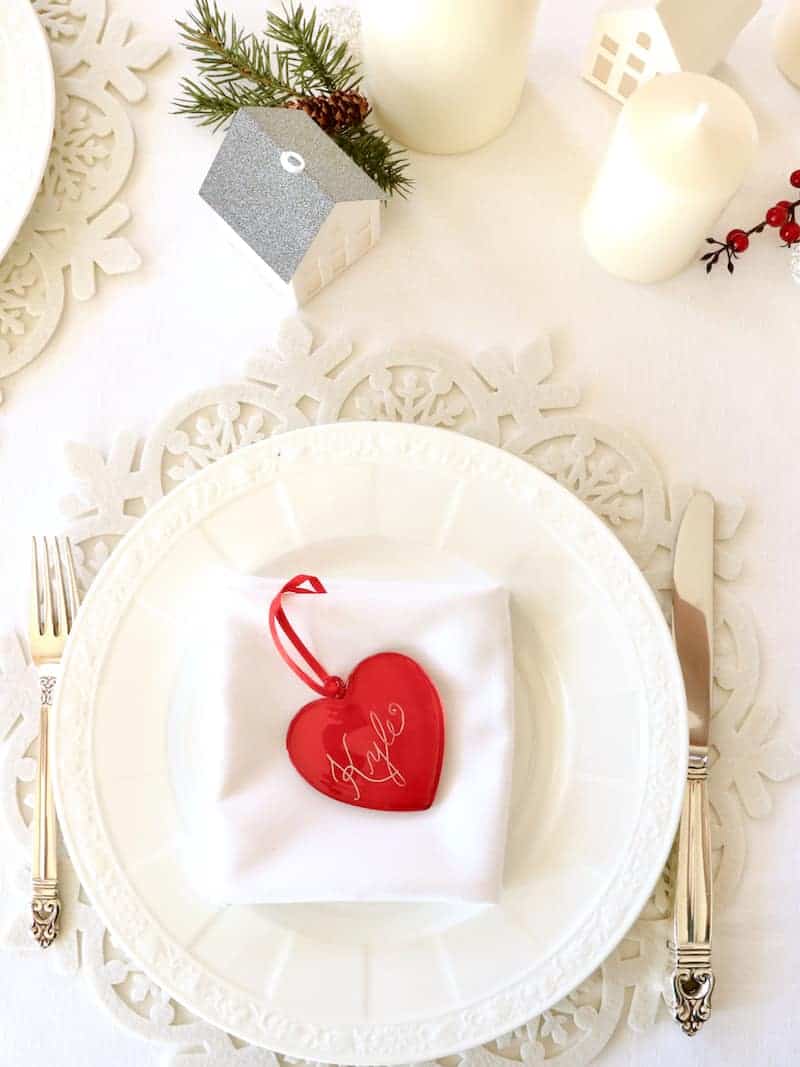 I bought tons of white candles, paper buildings and sisal trees and made a little Christmas village down the center of the table.
The place cards were red glass hearts, also from IKEA. I wrote each guest's name on the hearts with a silver Sharpie. This also makes a nice keepsake for guests to take home.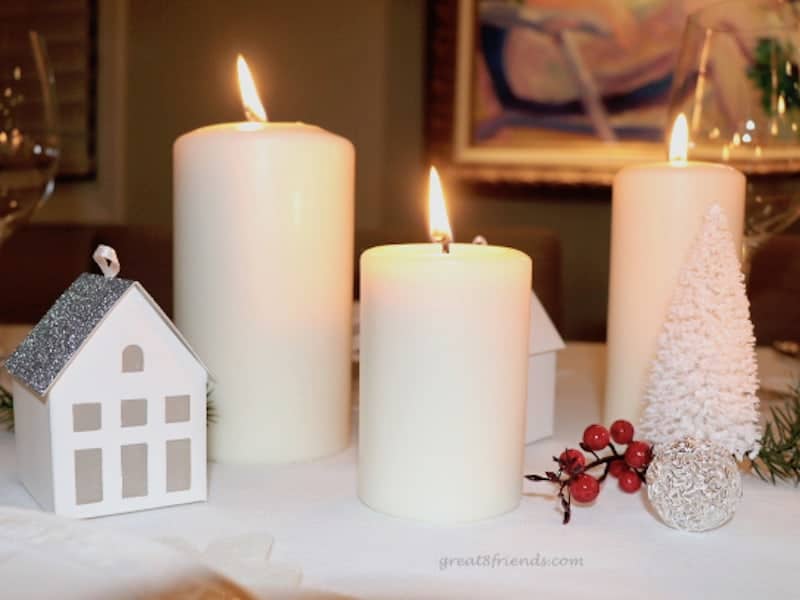 Since Christmas was close, I removed many of the regular decorations from shelves in my living room and replaced them with simple red and white decor...and more candles! This also made decorating for Christmas simpler!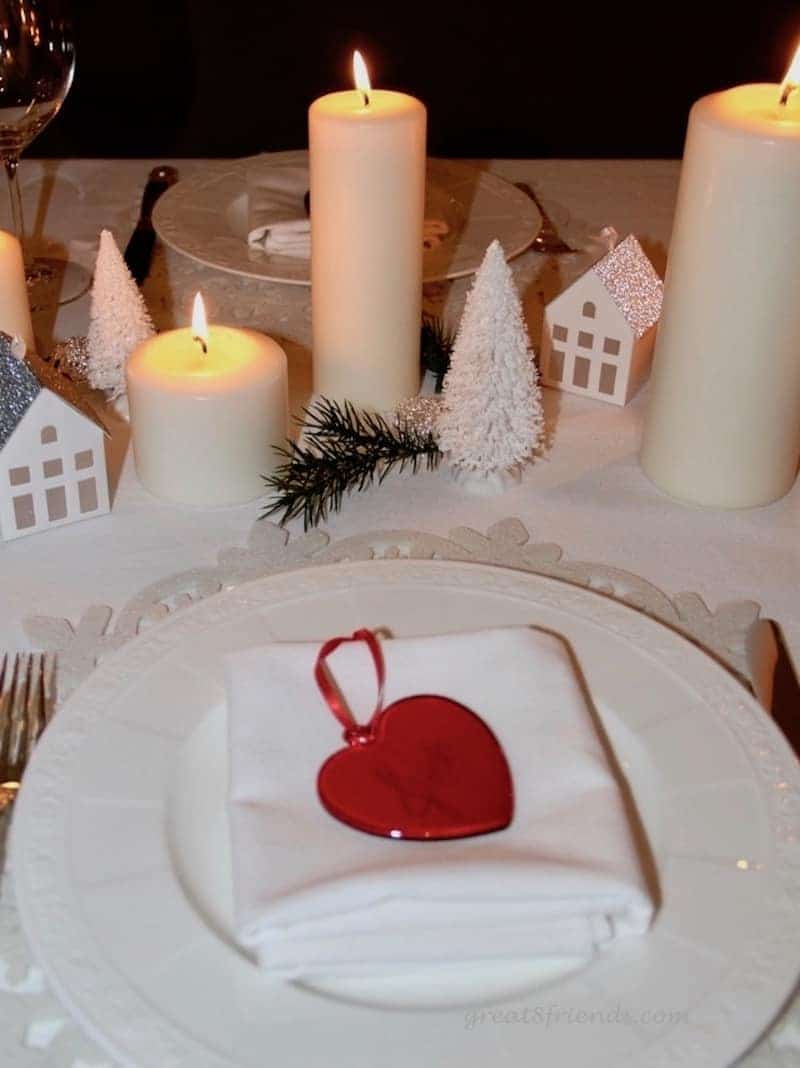 A Danish Christmas Dinner is a Gr8 theme for any dinner party. And asking your guests to each bring one of the simple side dishes cuts down on the work tremendously!
Or just have a smørrebrød party! Create some hygge and have some Gr8 Fun!