Open faced sandwiches are not boring in the Danish culture. Smørrebrød are scrumptious, beautiful, and interesting! Serve them for lunch or dinner or have a smørrebrød party! Don't forget the Aquavit!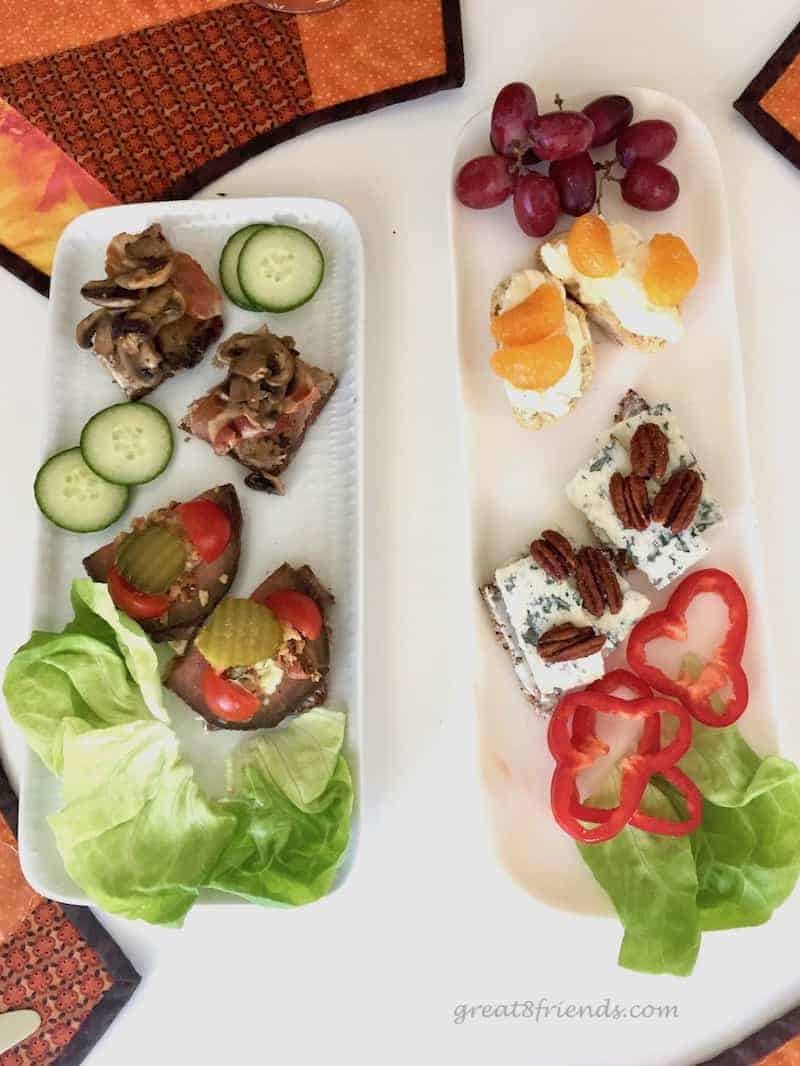 Smørrebrød is a fun word to say and it's the Danish word for their open faced sandwiches. Now, how did little old me come to make smørrebrød you ask?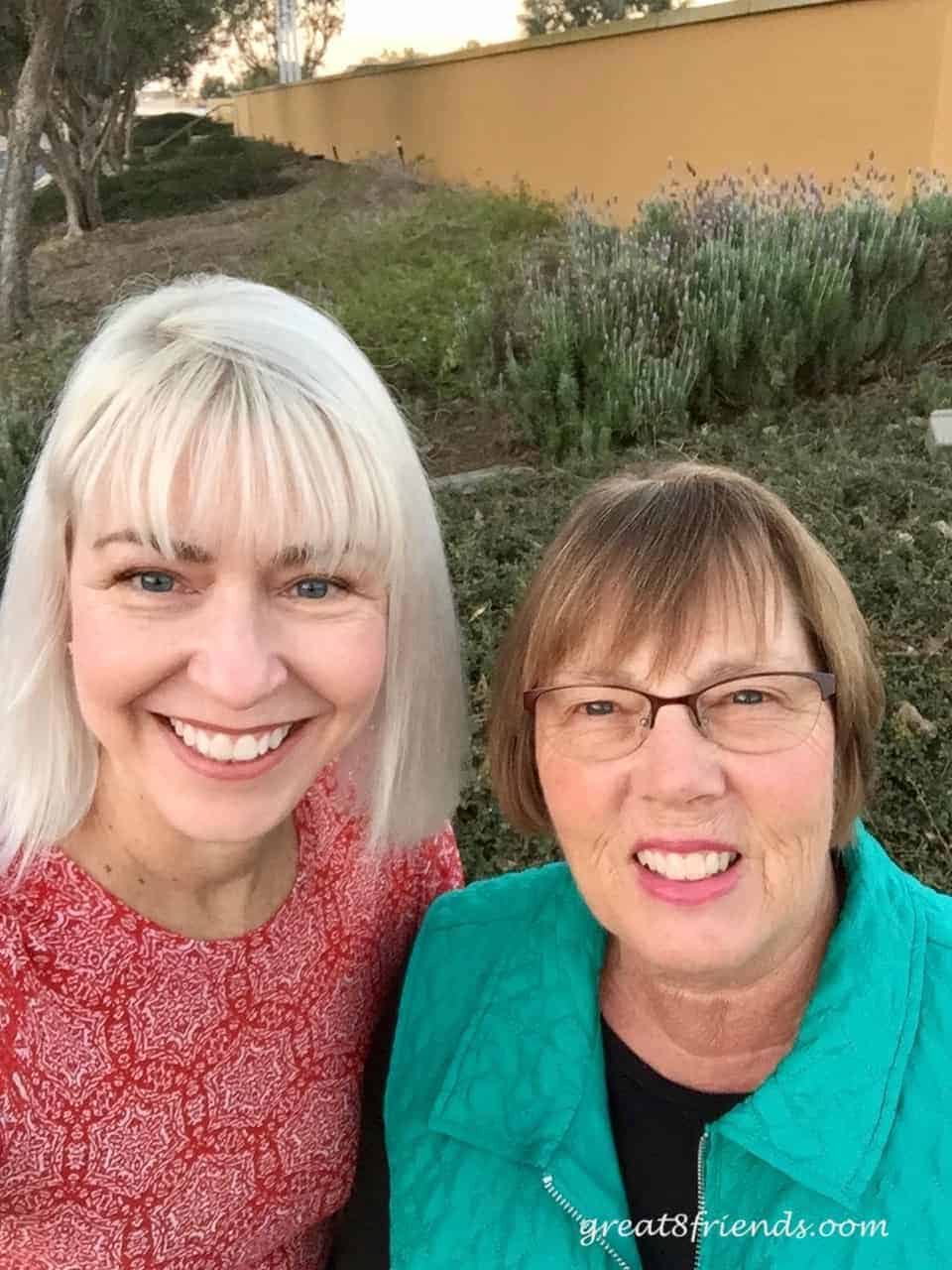 Vince and I decided our recent Great 8 Dinner theme would be A Danish Christmas. So, of course, I called upon Vince's business partner for some tips.
Ole is Danish and I figured he would be a good resource. Well, he sent me straight to his mom, Ulla.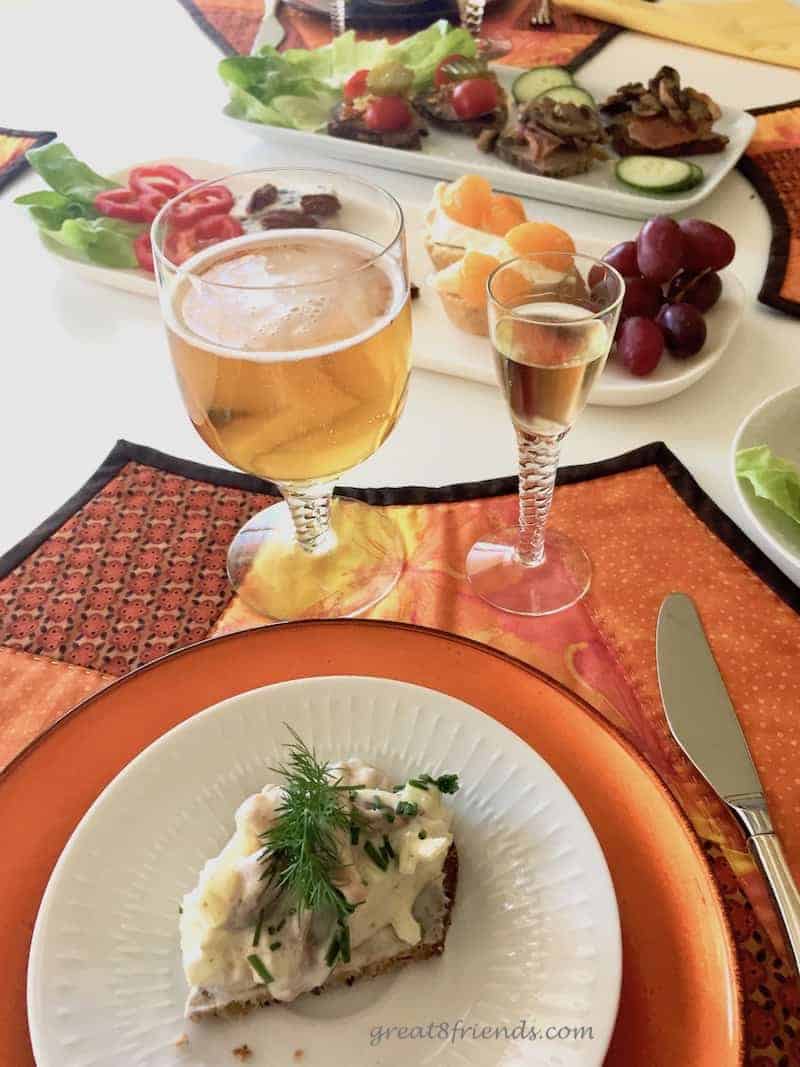 Ulla invited me over for lunch so she could tell me about Danish traditions and give me some recipes. When I arrived, she had made smørrebrød for lunch and it was delightful!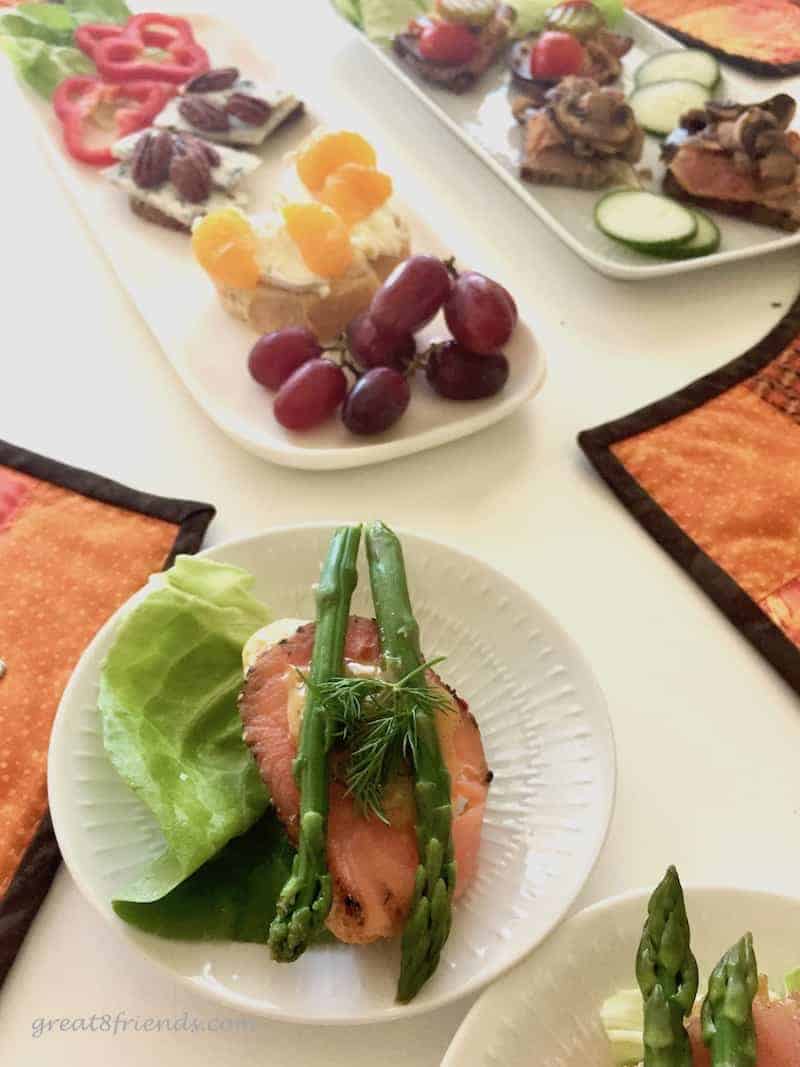 A traditional Christmas dinner in Denmark is Roast Duck stuffed with apples and prunes or a Pork Roast, Flæskesteg.
I wanted to serve the traditional dinner, but I was so smitten with this Danish tradition of open faced sandwiches that it had to be part of the meal. So smørrebrød became the appetizer course!
Every smørrebrød begins with a piece of bread smeared with butter. Literally translated the word smørrebrød means, "butter bread." The butter keeps the other ingredients from soaking into the bread and making the whole thing a soggy mess.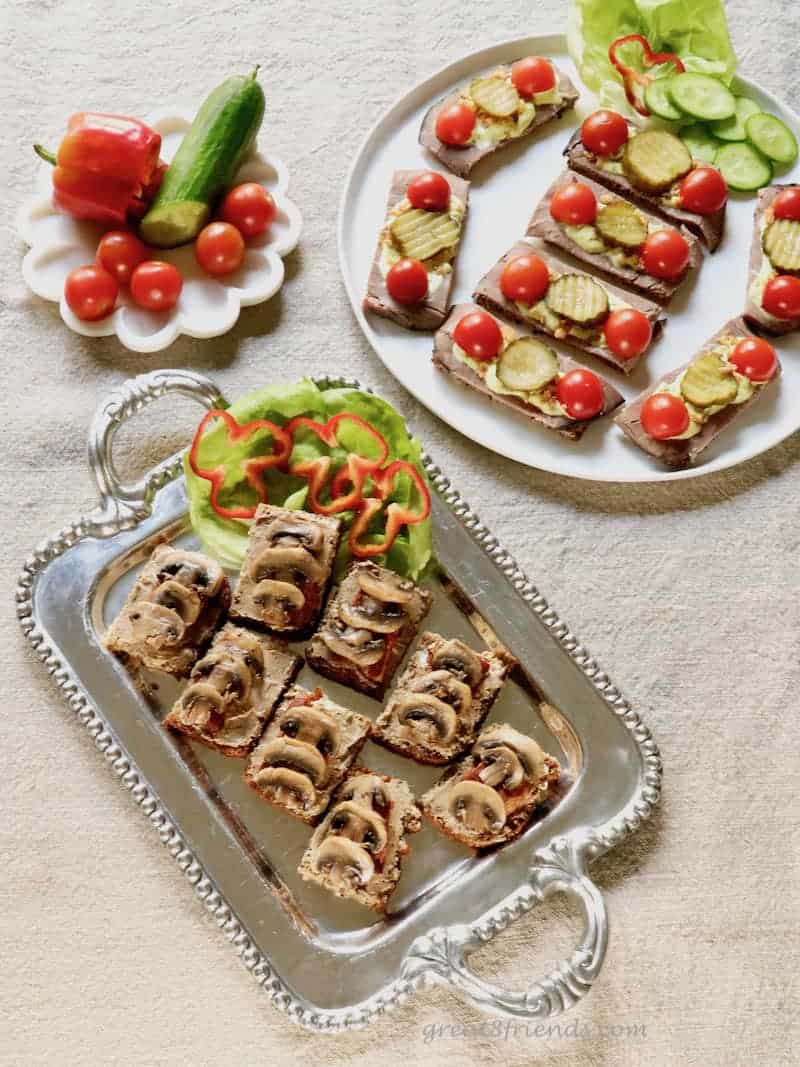 Since the butter creates this shield, the sandwiches can be made ahead of time, which is always Gr8 when entertaining!
Or, let everyone make their own sandwiches! Put all the ingredients on a buffet or just the middle of the table and everyone can create their own smørrebrød.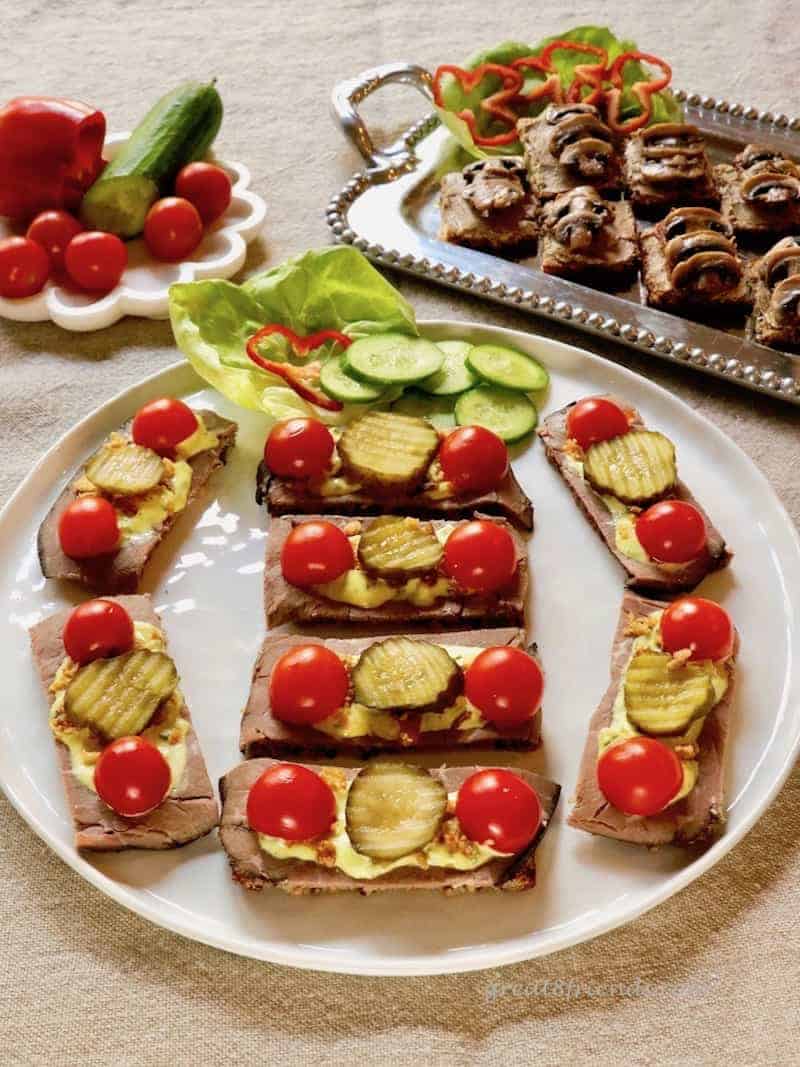 How to Make Smørrebrød
The bread, traditionally, is a dense sourdough rye. Ulla uses Trader Joe's European Style Whole Grain Bread. She also uses a regular French baguette.
I recommend using a good salted European butter for the first layer of the sandwich. Then the toppings!
There is a traditional order in which the sandwiches are eaten:
First course - Fish - this may be shrimp, lox, herring, mackerel, etc.
Second course - Meat - roast beef, pâté, chicken, lamb, pork, etc.
Third course - Fruit and Cheese - just like in the rest of Europe, fruit and cheese are served as dessert.
I didn't need to reinvent the wheel, so I made everything Ulla made us for lunch as the Great 8 Dinner appetizers.
First Course - Fish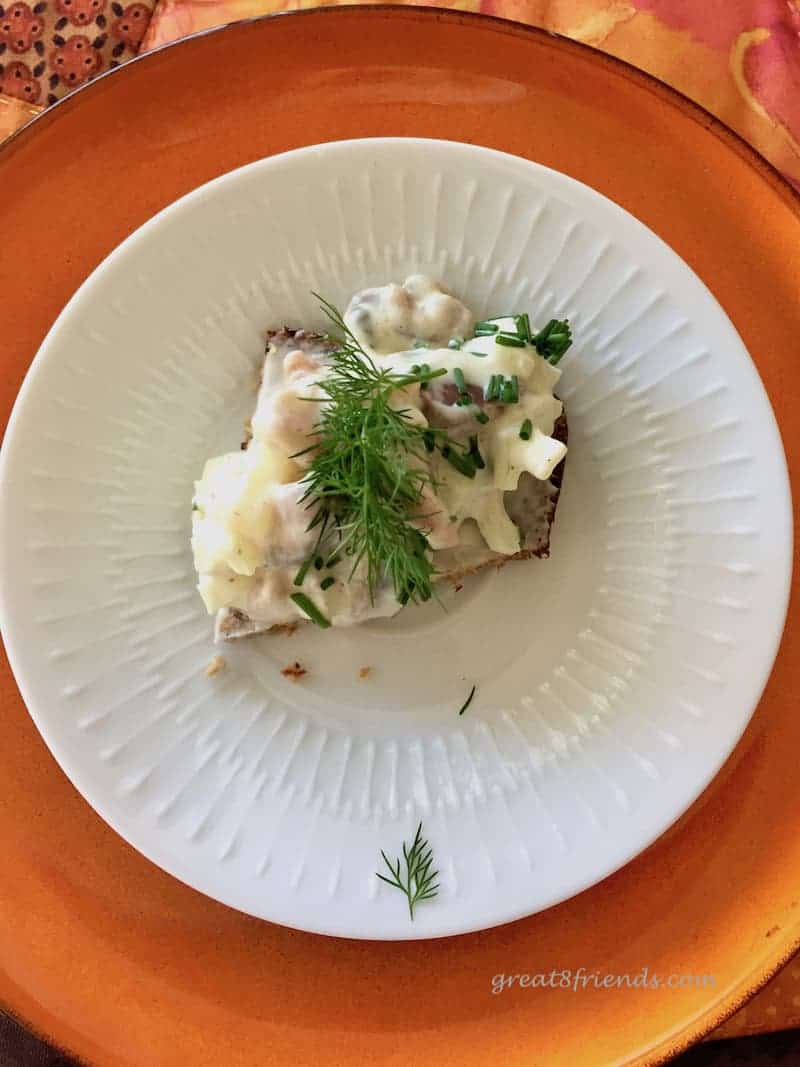 We started with a Pickled Herring Salad atop the dense European style whole grain bread, spread with butter, of course! And topped with a sprig of dill.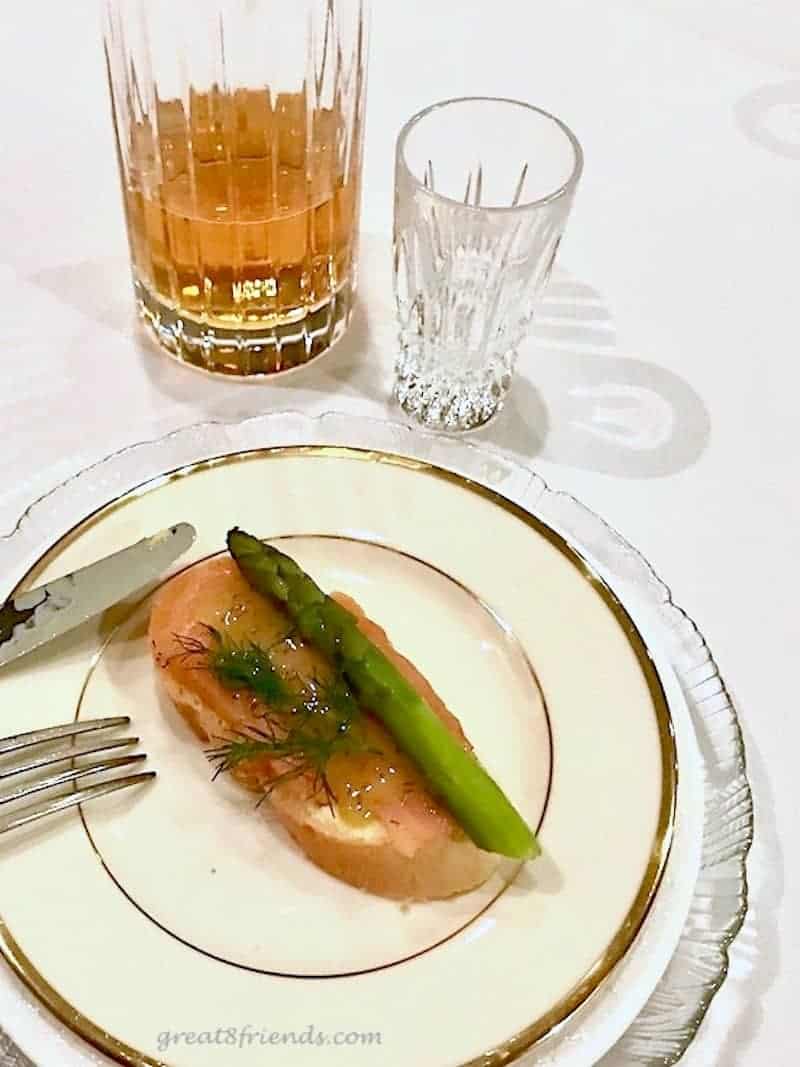 Then we enjoyed a sandwich of smoked salmon, dill sauce, and steamed asparagus.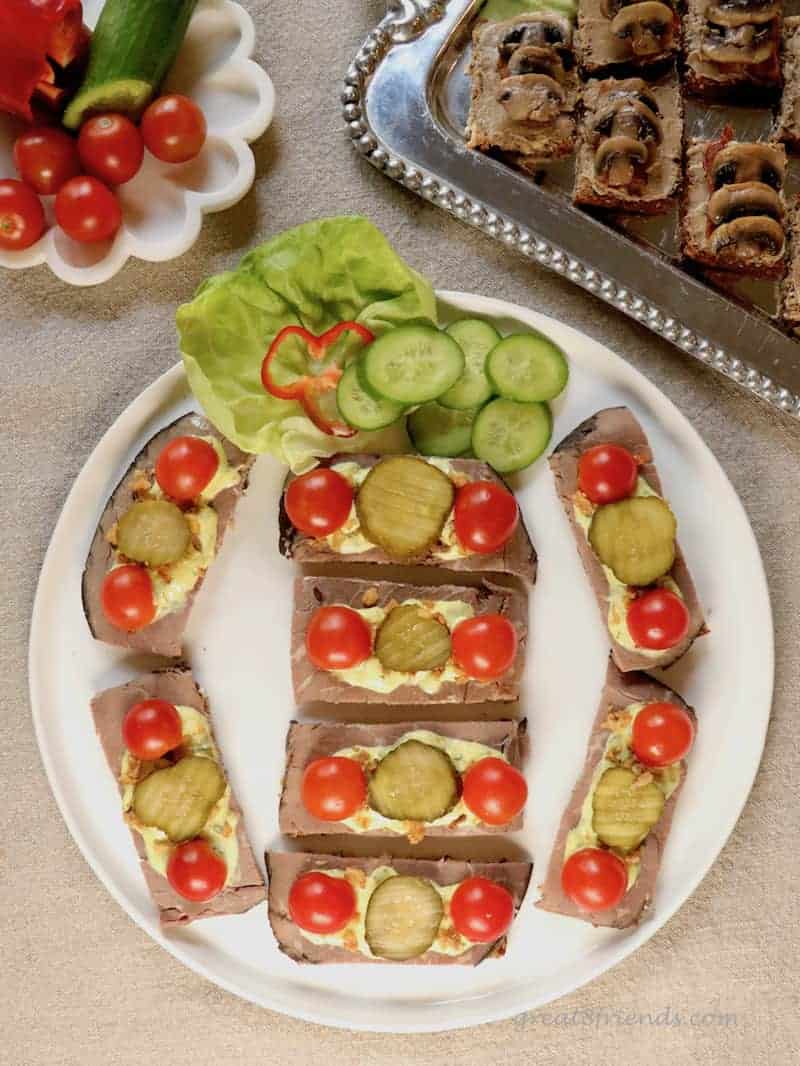 Second Course - Meat
The meat course was two different sandwiches.
The first was pumpernickel bread, buttered then topped with roast beef, a remoulade sauce (recipe below), crispy fried onions, sweet pickles and cherry tomatoes.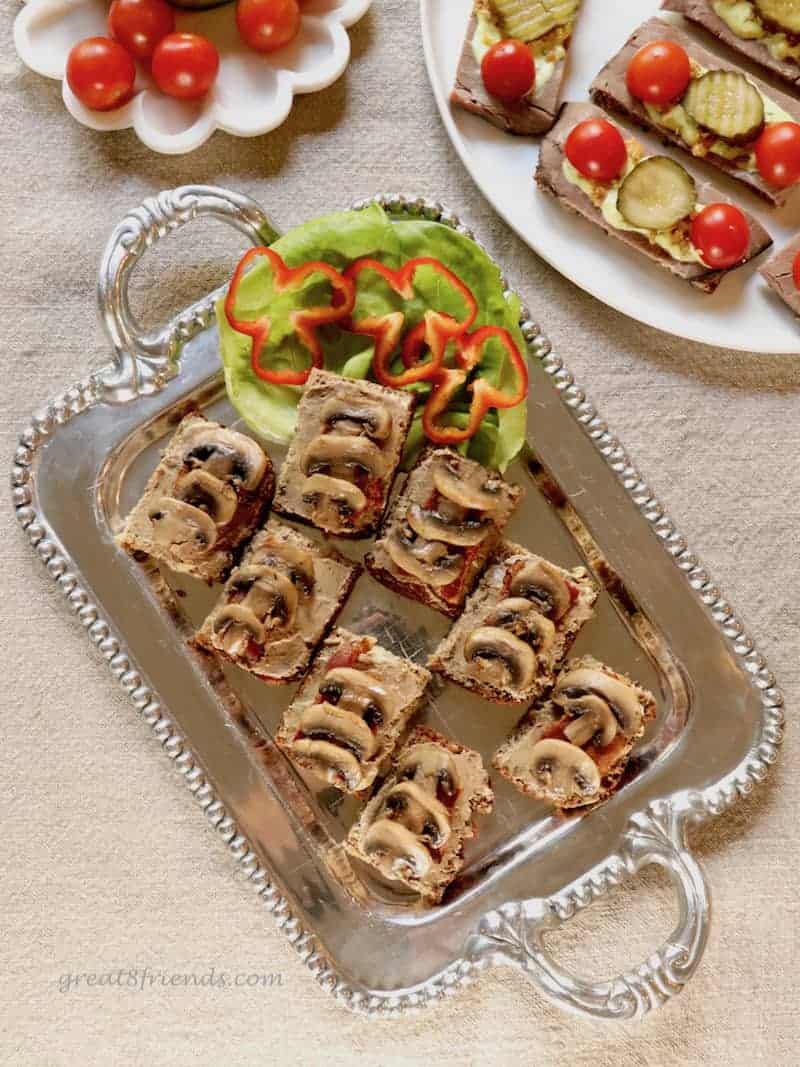 The other meat sandwich was a slice of the European style whole grain bread, buttered, with Truffle Chicken Mousse Pâté; topped with crispy bacon and sautéed mushrooms.
We also enjoyed a Danish Meatball (Frikadeller) with some pickled beets.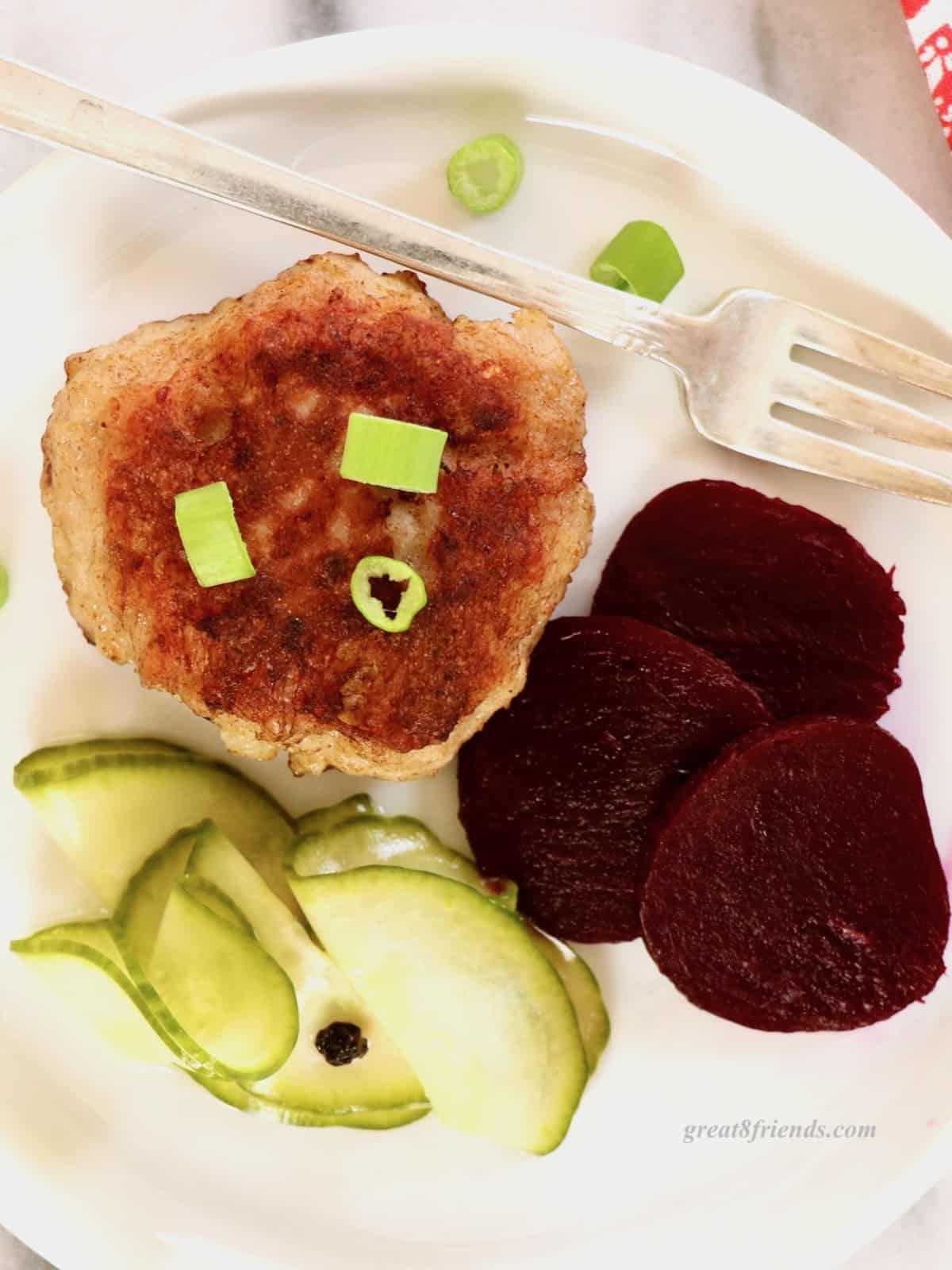 Third Course - Fruit and Cheese
For the fruit and cheese course, we had the European style whole grain bread with butter, bleu cheese, sugar and spice pecans and mandarin oranges.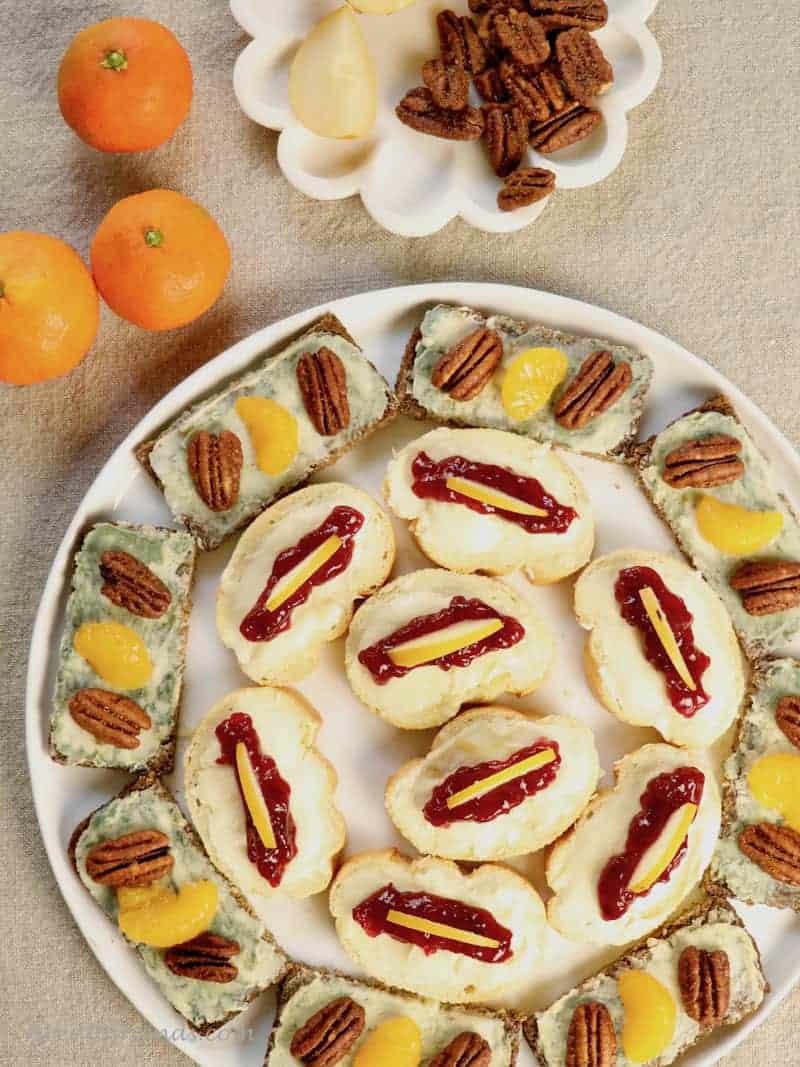 Then a slice of baguette with butter, brie, lingonberry jam and a slice of Asian pear.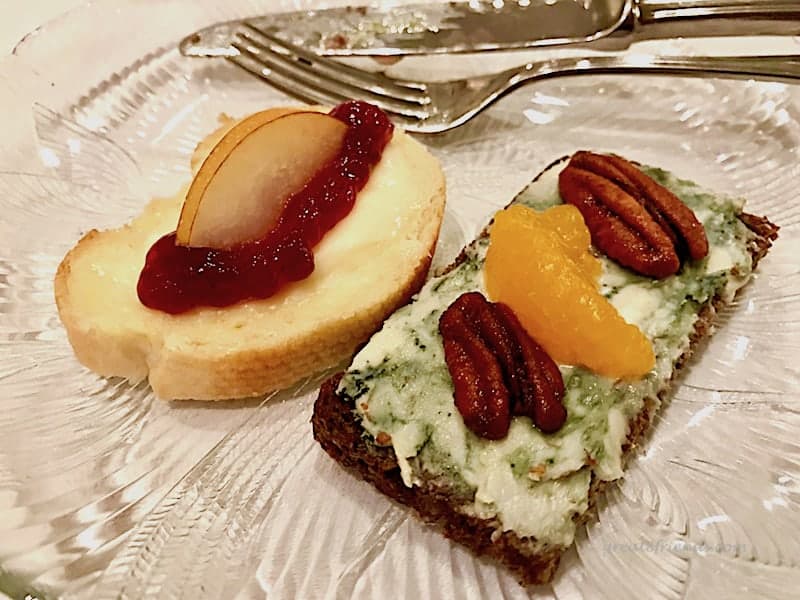 How to Eat Smørrebrød
The "courses" are served separately on clean plates so as not to move flavors from one sandwich to the next.
And they are eaten not with hands, but with a knife and fork. Because there are often so many toppings piled on top, using a knife and fork ensures that you get every delectable morsel!
When I made the smørrebrød I cut each slice of bread in thirds or fourths to make small sizes for appetizers. If serving as a meal, the sandwiches could be made full size, or cut the bread smaller if you like!
The Menu
Here are the combinations we enjoyed at our Danish Christmas Dinner. There are many more yummy combinations in this list.
Fish
Herring Salad on buttered European Whole Grain Bread or European Rye
Smoked Salmon on buttered baguette with dill sauce and topped with steamed asparagus
Meat
Roast Beef on buttered European Rye or Pumpernickel topped with Remoulade Sauce (recipe follows), crispy fried onions, sweet pickle and tomato
Chicken Pâté on buttered European Whole Grain Bread topped with crispy bacon and sautéed mushrooms
Danish Meatball (Frikadeller) with a Pickled Beet
Fruit & Cheese
Baguette buttered and topped with Brie Cheese, lingonberry jam and pear slice
European Whole Grain Bread buttered with bleu cheese, sugar and spice pecans, and mandarin oranges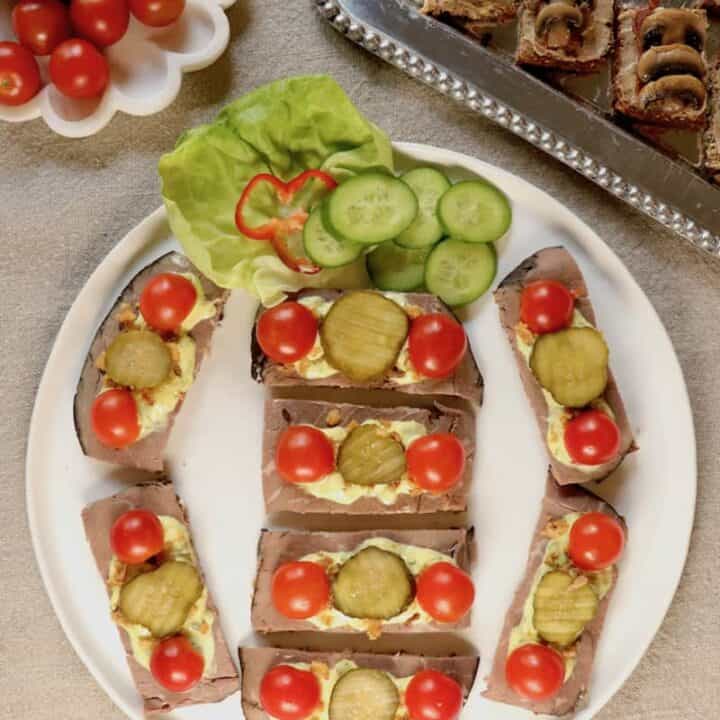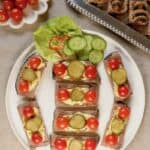 Print Recipe
Pin Recipe
Save this Recipe
Saved!
Please leave a rating!
Ulla's Danish Remoulade
This sauce can be used with beef, fish or chicken. It's a delicious sandwich topping, or use it separately with some grilled fish.
Ingredients
½

cup

mayonnaise

⅙

teaspoon

curry powder

2

teaspoons

chopped bread and butter pickles

,

or other sweet pickles

1

teaspoon

chopped capers

2

teaspoons

finely chopped chives or finely chopped onion

2

teaspoons

fresh lemon juice

Salt and pepper, to taste
Instructions
Mix all ingredients together and adjust seasonings to your taste.
Notes
Gr8 Do Ahead Tip:
This remoulade can be made a day or two ahead of time. Keep it sealed in the refrigerator until ready to use.
SaveSave
SaveSave