Savory Danish meatballs, called Frikadeller, are a traditional Nordic recipe made with mainly pork and onion. Fried traditionally or air-fried these meatballs are delicious little flattened orbs that you can serve as an appetizer, main course, or even in a soup!
I first learned about Danish meatballs, not to be confused with Swedish meatballs, when preparing for our Danish Christmas Gr8 Dinner. Ulla, my mentor for making the dinner authentic, gave me this recipe.
And they are truly so simple... and delicious!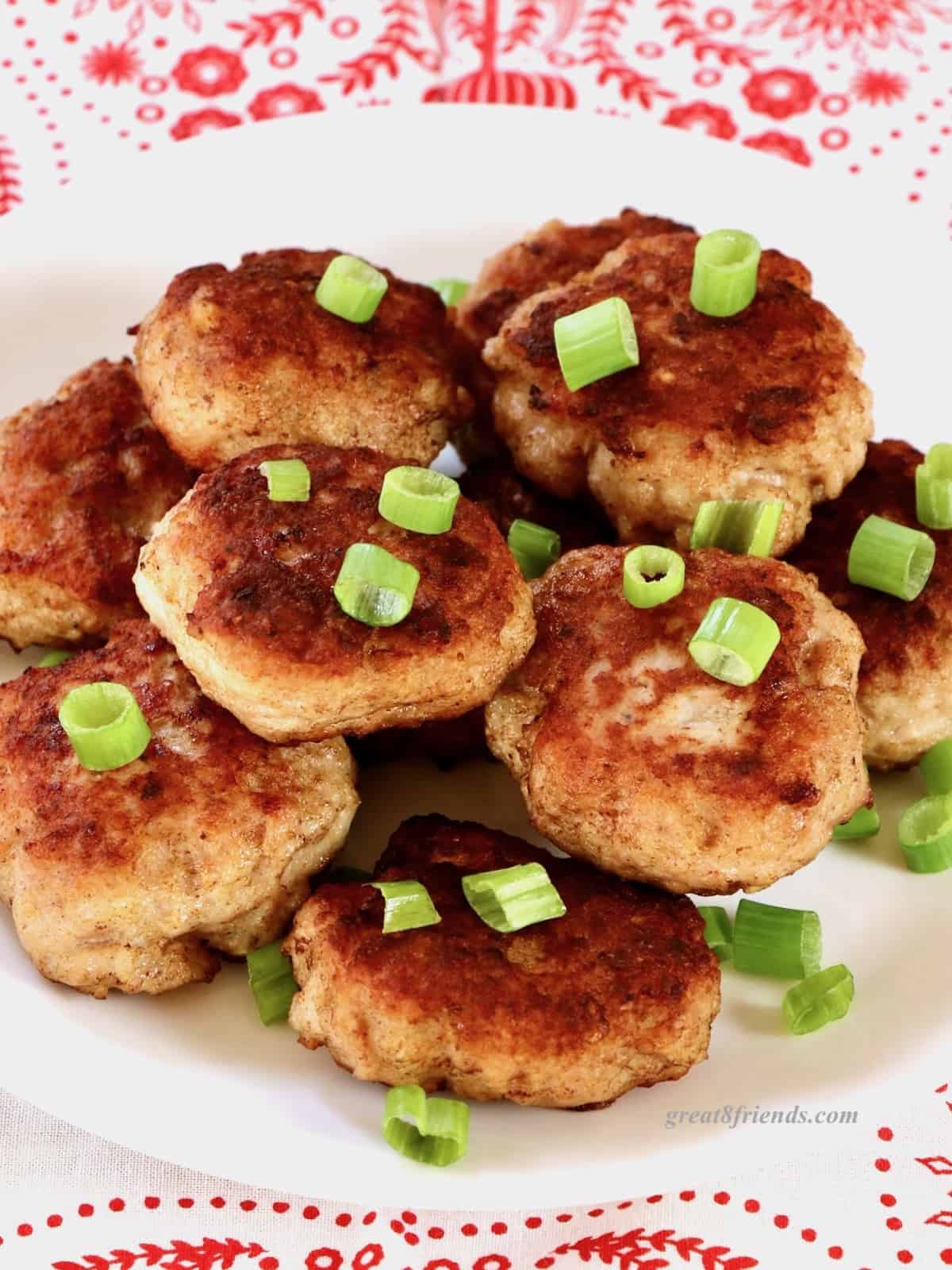 There are many variations of these meatballs, just like there are many recipes for Italian meatballs.
This recipe goes together so quickly that you could make these for a weeknight dinner and enjoy with a simple salad.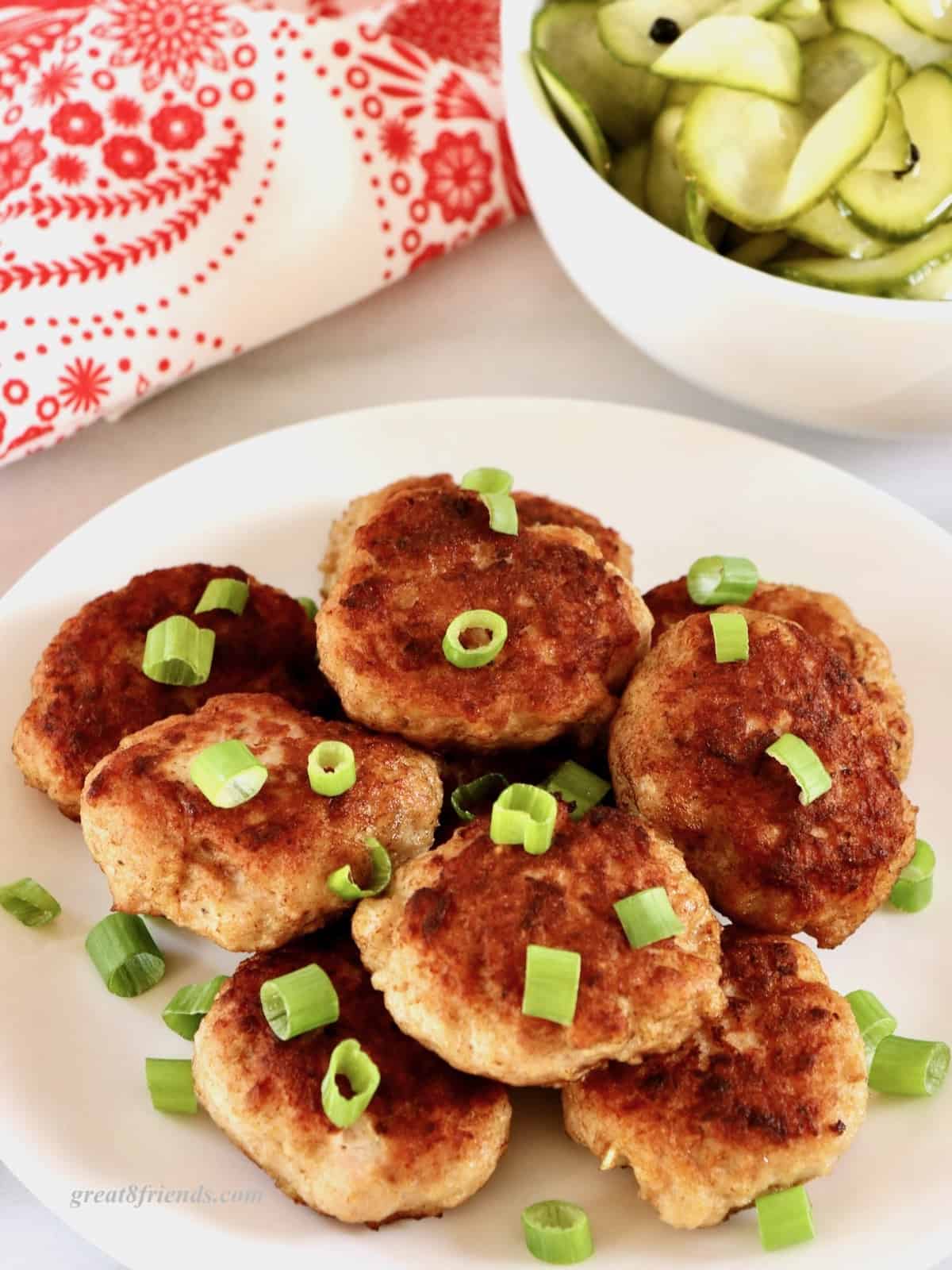 How to Make Danish Meatballs
Straightforward ingredients mixed together in one bowl create this amazing dish.
Pork
Flour
Onion
S & P
Liquid - Water or Milk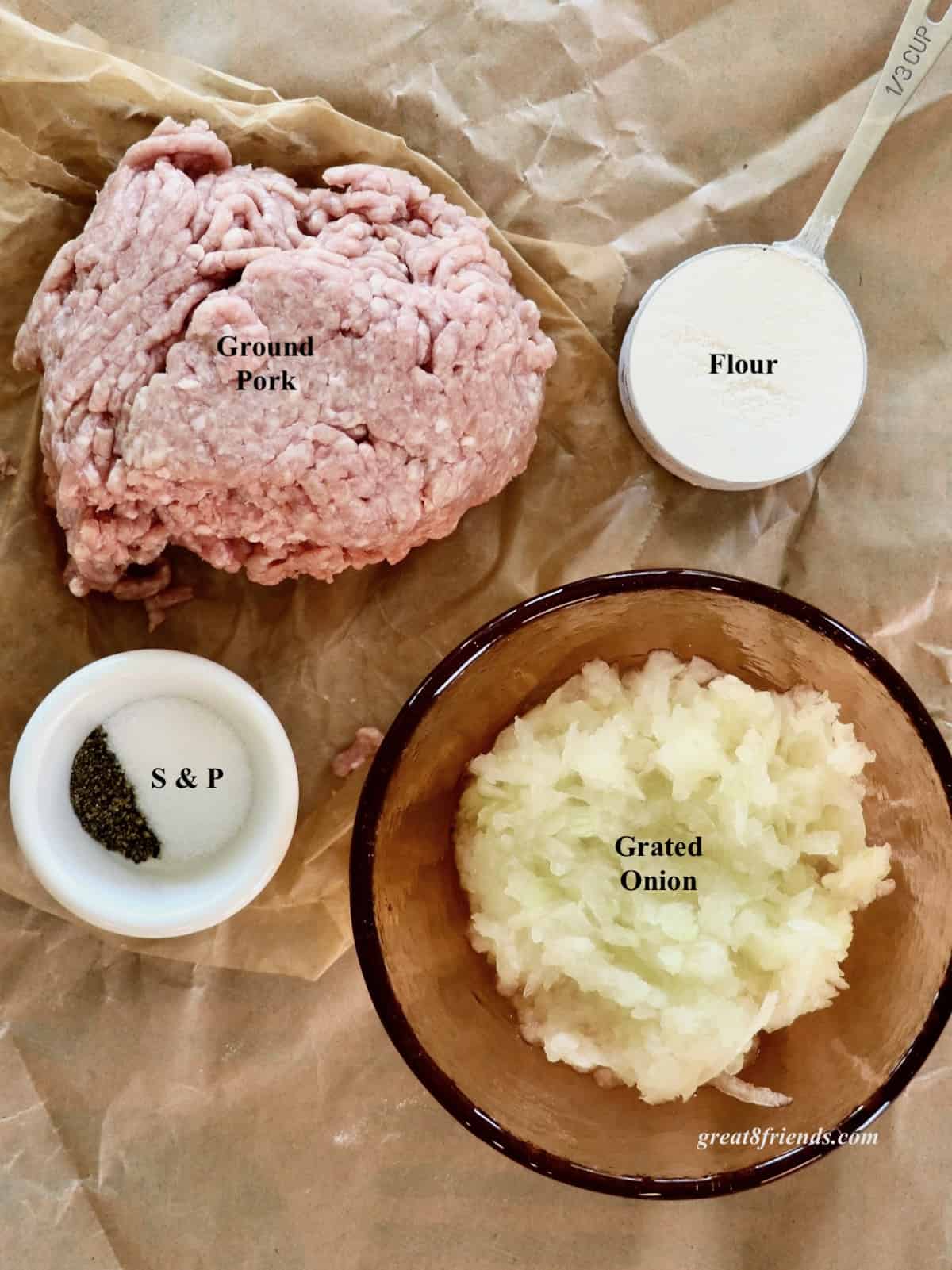 Gather everything together. The most difficult one is the grated onion, which isn't really even difficult.
If you have a box grater, use the shredder side. (It's the side you would use to grate mozzarella cheese.)
When you grate the onion there will be some liquid, go ahead and keep as much as you can to use in the mix.
Once you have the ingredients measured, mix everything together except for the milk or water.
Mix it well, including the onion water. I use my hands so I can really get in there and mush it all together. The meatballs will be more evenly flavorful if you get the pork well mixed.
Plus, you don't want them to fall apart while frying, so be sure it's well blended.
Once all of that is combined, start adding the liquid, either milk or water. I use water. Start with ¼ cup, combine it. You may not need any more liquid. You want a sticky, tender consistency so continue until you achieve this.
How to Form
Using a large spoon, form the meatballs. They shouldn't be round balls, they should be flatter. I make mine more like a croquette shape, sort of oblong, easy to do when forming in a spoon.
This shape makes it easier to get the meat to cook all the way through.
You can either pan fry or air fry these babies. The only difference is that with air frying you aren't adding any extra fat.
Here's a photo with the pan-fried meatball on the left and air-fried on the right. They don't look much different and they certainly don't taste much different!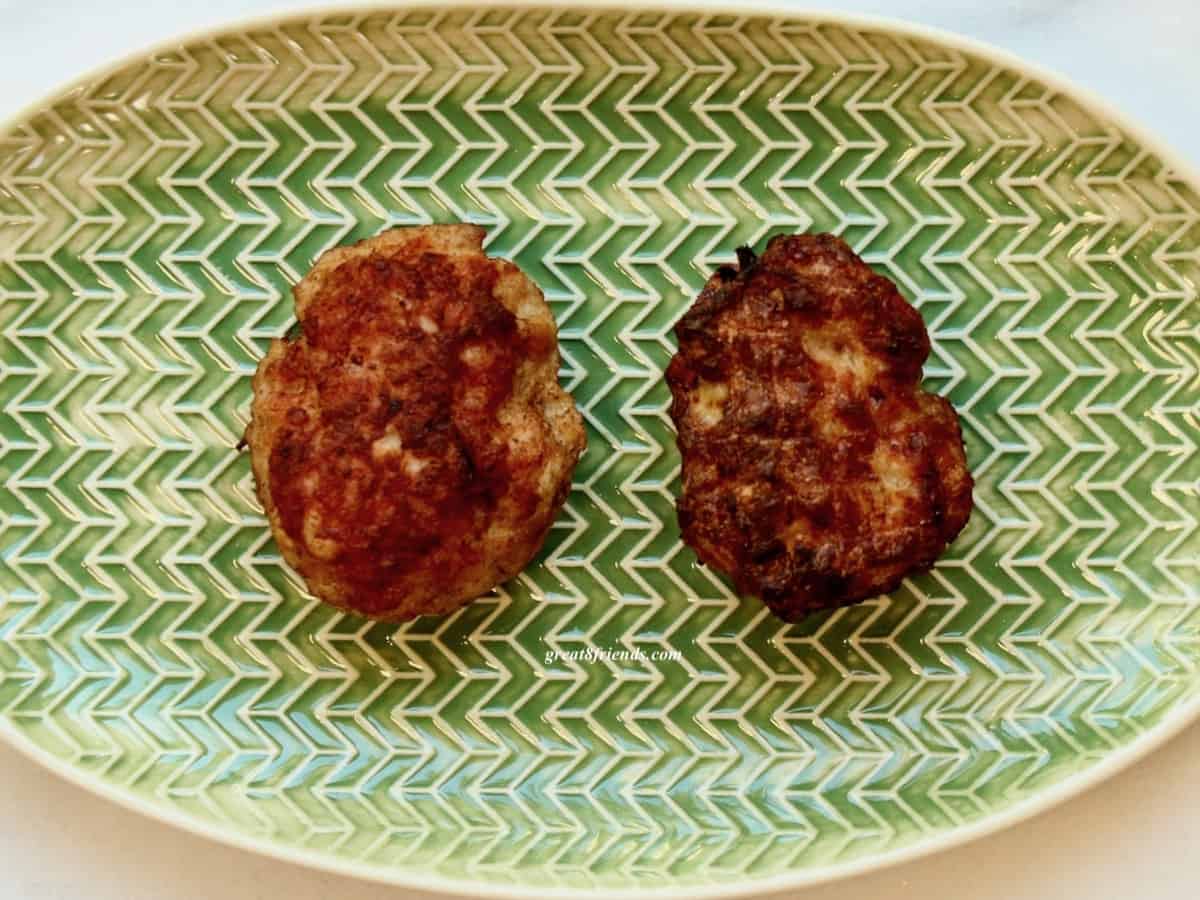 Pan Fry the Frikadeller
Heat some oil or butter in a (preferably) non-stick frying pan over medium-high heat. I like to use half vegetable oil and half butter.
Affiliate Link: This is my favorite new non-stick frying pan. It cleans up like a dream, even after making caramel! I got mine at our local hardware store. If you can't find it in your local store, Amazon has it:
Place the formed meatballs in the oil keeping them at least an 1-inch apart. Don't crowd them.
When you add the meat to the oil, the temperature naturally lowers, so don't rush to put them in. You want to keep the pan temp as even as possible for the best frying.
The frying may have to be done in a couple of batches depending on the size of your frikadeller and the size of your pan.
Cook until deep golden brown then flip them over and cook on the other side until the meat is cooked through.
Use a meat thermometer, to make sure the internal temp is 160°F.


Drain on paper towels.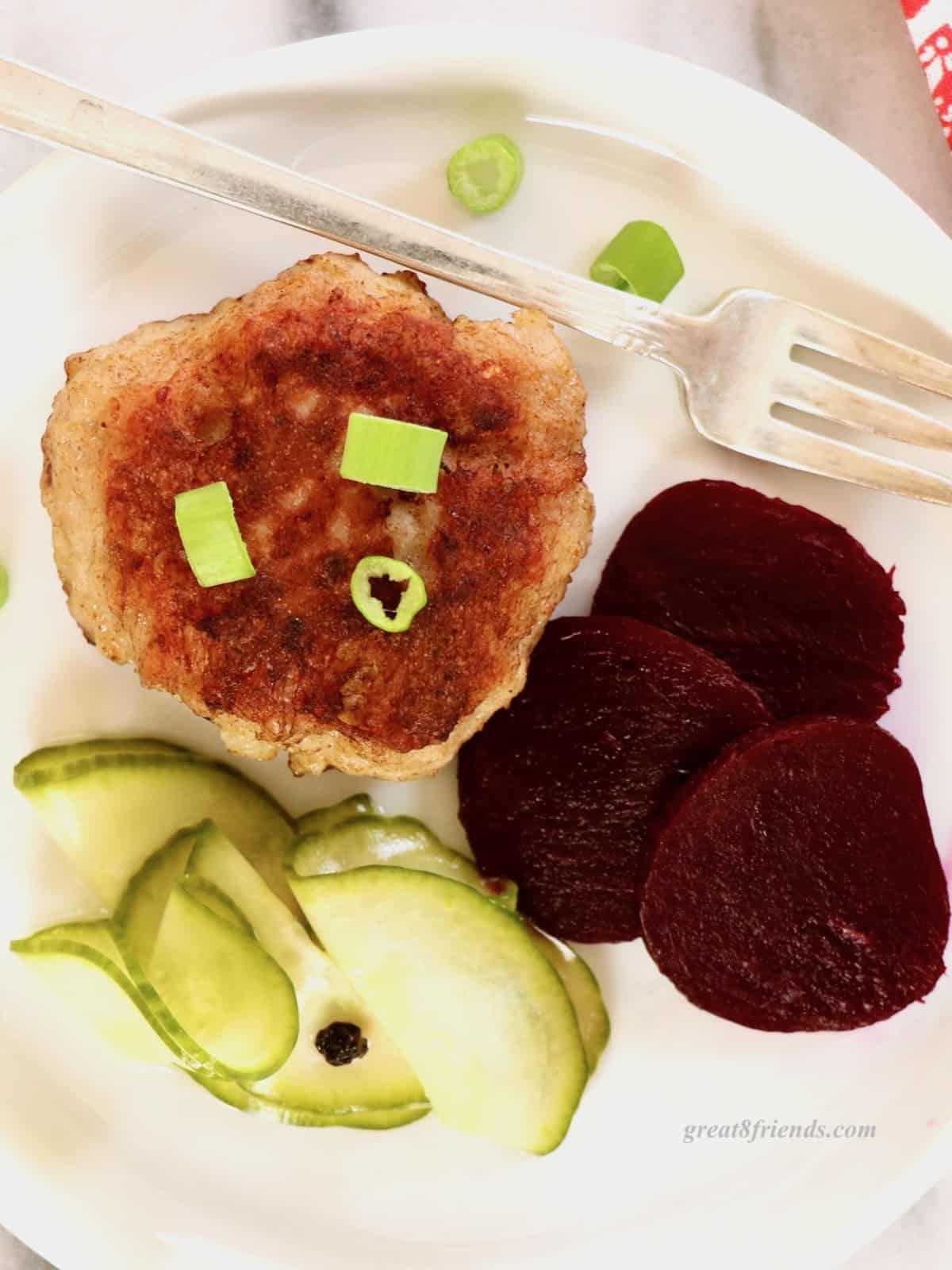 To Cook Meatballs in an Air Fryer
The invention of the air fryer has given us the ability to have "fried" foods without the extra added oils and fats. It's so amazing!
Place the meatballs in the basket of your air fryer in a single layer. Cook at


400°F for 6 to 8 minutes, then flip over and cook for an additional 4 to 6 minutes.
Again, the internal temp should be 160°F to be considered safe to eat.
Since every air fryer is a bit different, you may need to adjust the temp and/or the cooking time to get the meatballs browned and cooked through.
My favorite air-fryer is linked below.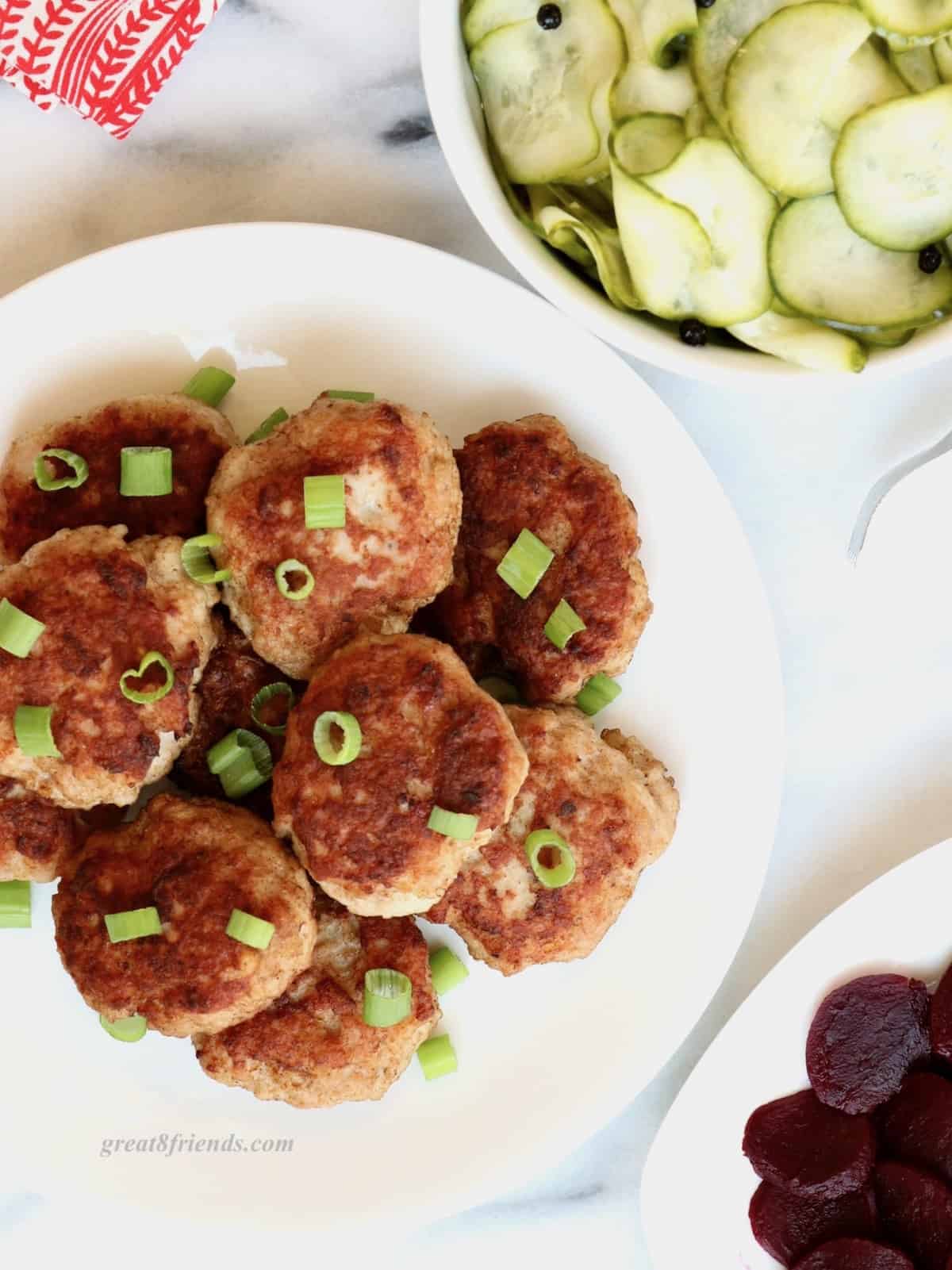 To Serve
As an Appetizer
Make the meatballs a little smaller and serve with sliced pickle beets or a slice or two of cucumber salad (recipe below).
As a Main Course
Serve these for dinner with Braised Red Cabbage (Rødkål), and Caramelized Potatoes. This makes a yummy, traditional Danish meal!
In Soup
If you want to add these to a soup, they don't have to be fried ahead of time. Simply bring your beef broth to a boil, form the pork mixture into small balls and drop into the soup.
You can also add barley or rice or pasta and any desired veggies to the soup for a hearty and delicious Meatball Barley Soup.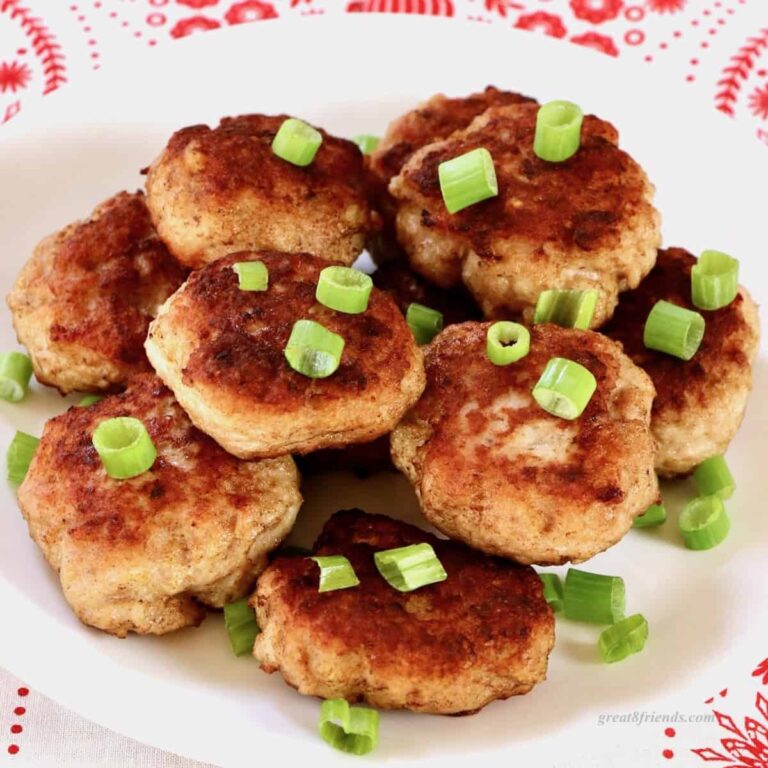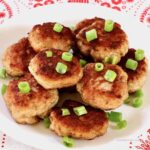 Print Recipe
Pin Recipe
Save this Recipe
Saved!
Please leave a rating!
Ulla's Danish Meatballs - Frikadeller
These little orbs of meat and onion are delicious on their own or use them in your next Smørrebrød!
Servings:
4
main course servings
Special Equipment
Grater

10" or 12" frying pan or air fryer
Ingredients
1

pound

ground pork

⅓

cup

flour

¾

cup

grated onion

,

use the large side of the box grater and include the liquid from the onion in the mix.

1

teaspoon

salt

¼

teaspoon

pepper

¼ to ½

cup

water or milk

,

I've always used water with Gr8 results.

1 ½

Tablespoons

oil for frying

,

or use half oil and half butter. You may need more if your pan is larger.
Instructions
Thoroughly mix together the pork, flour, onion, salt and pepper. I do this with my hands and really mix and squeeze it all together to ensure it's very well combined.

Add ¼ cup of the water. If necessary, add more water, up to ½ cup. To determine if more water is needed, make a meatball using about a rounded tablespoon, the frikadeller should be tender and sticky (it will feel very sticky and soft). If it isn't soft enough, add the remaining water. The amount of water will vary depending on how much liquid comes from the onion and the particular pork you are able to get.

Scoop the meatballs into a rounded tablespoon. Flatten each meatball a bit, this makes them easier to cook and eat.
Fry on the Stove
Heat a thin layer of oil or butter or a combo in the bottom of your frying pan. Then fry each meatball on both sides until cooked through. Try not to crowd the meatballs in the pan, leave about an inch between each. You may need to cook these in a couple of batches.

The internal temperature of cooked ground pork should be 160°F.
Cook in an Air Fryer
Place in a single layer in your air fryer basket and cook on 400° for 6 to 8 minutes until browned. Then flip over and cook for another 4 to 6 minutes until browned and cooked through. Every air fryer is different, so you may need to adjust the temp or time.

The internal temperature of cooked ground pork should be 160°F.

Serve with pickled beets and/or pickled cucumber salad. See below for cucumber salad recipe.
Notes
Gr8 Do Ahead Tip:
The meatballs can be made up to 2 days ahead of time and refrigerated until ready to serve. Remove from fridge about 20 minutes before placing in the oven so some of the chill is off. Heat oven to 350

°F and heat the meatballs. 
You can also steam them which will be less apt to dry them out. Put about an inch of water in the bottom of a covered pot, place the steamer basket in then stack the meatballs in the basket. Cover and steam for about 8 to 10 minutes until heated through.
Pickled Cucumber Salad
What you need: water, white vinegar, granulated sugar, 1 English cucumber, 15 peppercorns, one sprig of fresh dill (I have made this without the dill and it's still delicious!)
Thinly slice the cucumber (I use a Kyocera ceramic hand-held slicer. Affiliate Link) and place in a heat-resistant bowl. (Pyrex or metal) Add the peppercorns and dill to the cucumber.
Heat 1 cup water, 1 cup vinegar, and

½ cup sugar in a small pan over medium-high heat until the sugar is dissolved. Don't let it boil.
Pour the vinegar mixture over the cucumbers and peppercorns. Let it sit for 3 hours. Once it's cooled, cover and place in the refrigerator. 
As you eat the salad, you can add more cucumbers to the liquid. The salad should last about a week in the refrigerator.