These Buttered Popcorn Cookies are melt in your mouth, can't eat just one deliciousness! Fresh, salty popcorn encased in a brown sugar sweet cookie, YUM!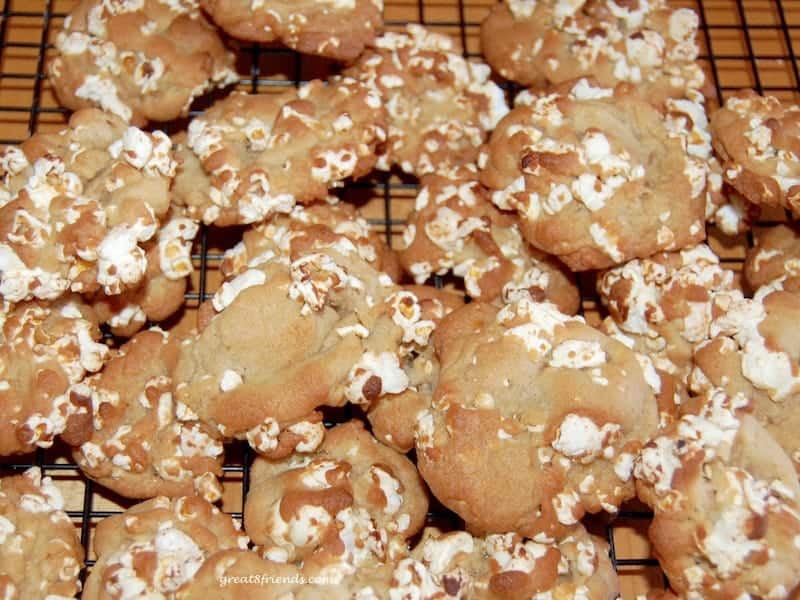 What's the aroma that hits you as soon as you step into the movie theater? Yep, that's right: popcorn!
Well, the next time you go to the movies, these would be perfect to take along! You've got your buttered popcorn right here...and it's in a cookie! Buttered Popcorn Cookies!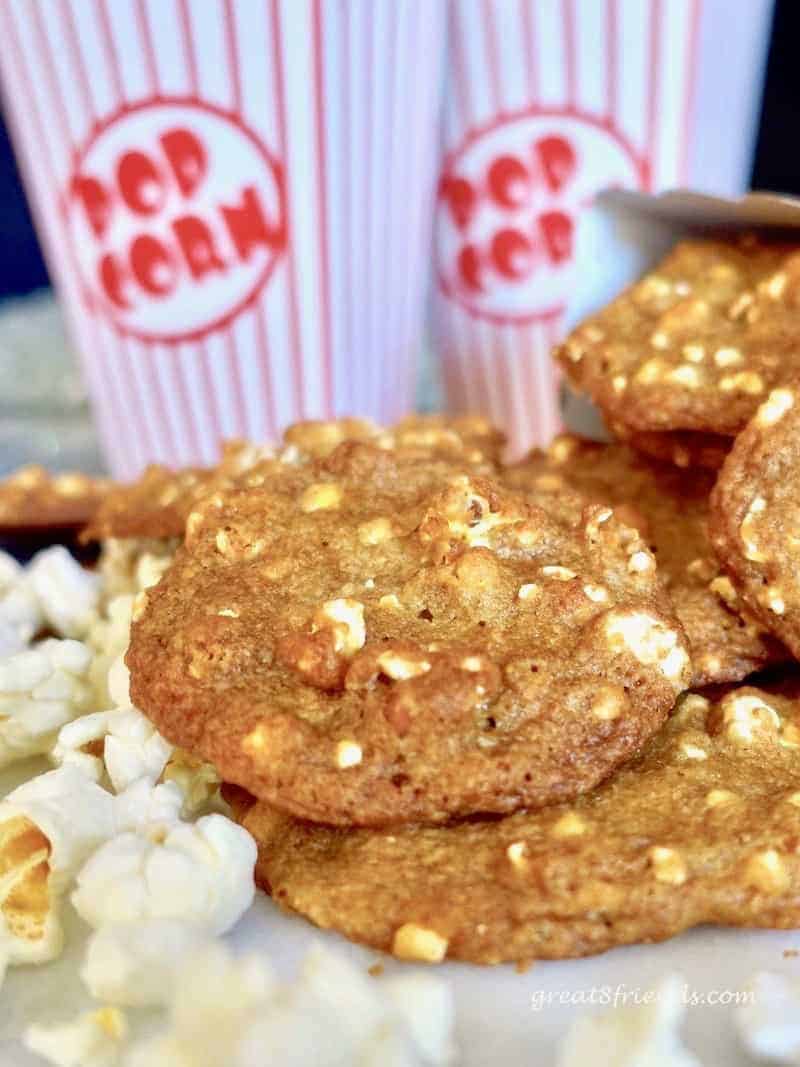 Would you have ever thought you'd have a cookie with popcorn in it? Well my friends, here you go!
I absolutely LOVE these. Getting my house to smell like a movie theater (and a bakery!), I've got 2 ways you can make that happen!
One way, is shown below, by popping the kernels in a pot on the stove. Another Gr8 option (and my favorite) is our microwave popcorn recipe, not the packaged ones sitting in your pantry! A healthier, simpler, kernels only way without all the additives.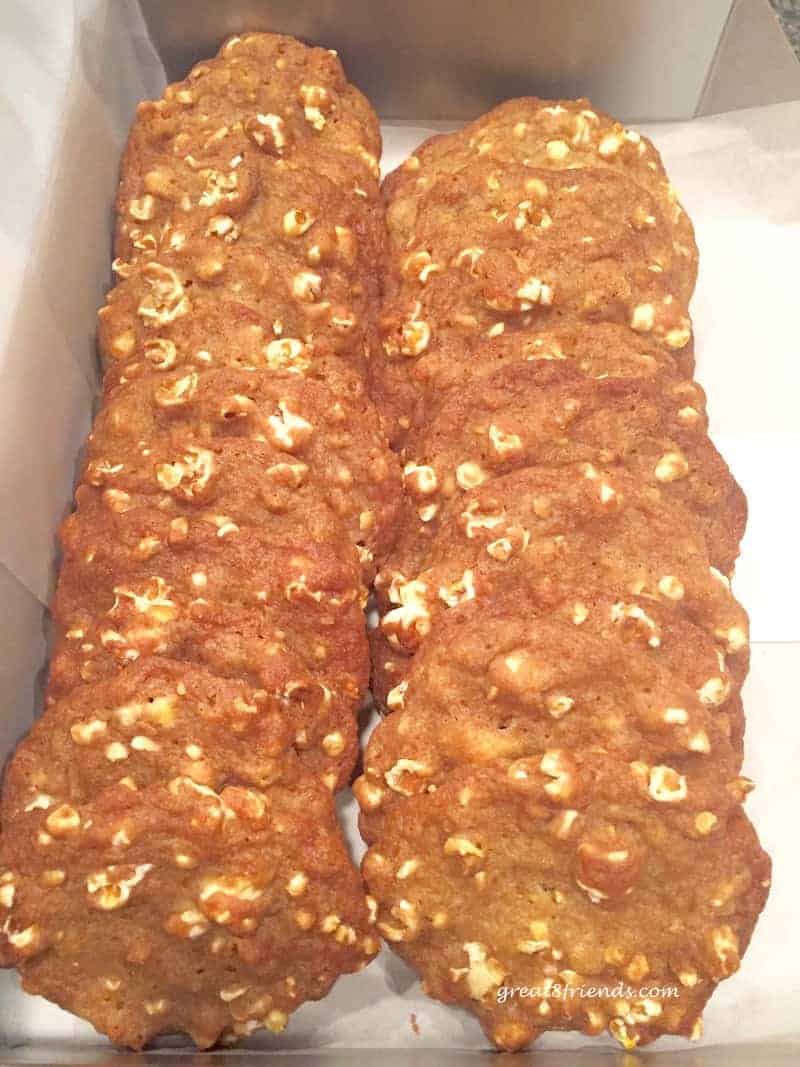 These are a favorite cookie at our house. Whenever someone asks if I can bring cookies to something, say a picnic, a cookie exchange, a day at the beach, I love to bring these imperfect, bumpy irregular treats.
I often bring these to share with my friends at Sizzix! Everyone loves them..."Wait! Buttered Popcorn cookies? What? Really?! I've GOT to try this....Oh my gosh, can I please have the recipe?" is pretty much the response I get every time!
I happily share the recipe with my co-workers and I'm more than happy to share it here with you, too.
So let's go! Preheat the oven, measure your Orville Redenbacher Popcorn Kernels and a few other ingredients! Maybe choose a favorite movie! Relax and enjoy!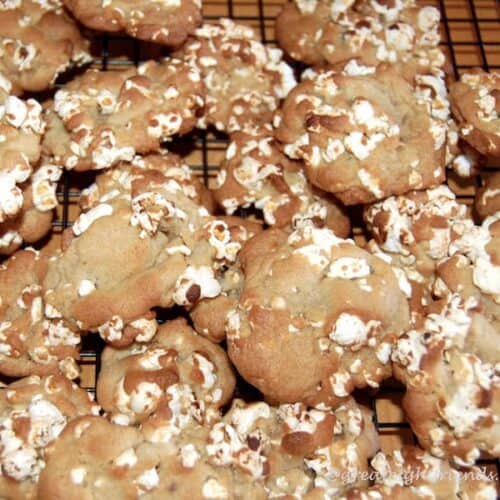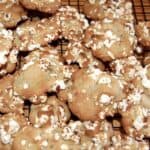 Print Recipe
Pin Recipe
Save this Recipe
Saved!
Please leave a rating!
Buttered Popcorn Cookies
In the mood for popcorn, but not dripping with butter in a bowl? Here's an idea that you will love, in cookie form! Buttered Popcorn Cookies! With or without a movie, you can't eat just 1!
Ingredients
Ingredients for the Popcorn:
2

Tablespoons

vegetable oil

¼

cup

popcorn kernels

,

I like the Orville Redenbacher Orginal Yellow Gourmet Kernels.

¼

teaspoon

table salt

1

Tablespoon

butter

,

melted
Ingredients for the Dough:
½

cup (1 stick)

unsalted butter

,

softened

½

cup packed

light brown sugar

⅓

cup

granulated sugar

1

large

egg

½

teaspoon

vanilla extract

1 ¼

cups plus 2 Tablespoons

all-purpose flour

½

teaspoon

baking soda

1

Tablespoon

Kosher salt
Instructions
Directions for the Popcorn:
Add oil to a large saucepan and add popcorn kernels. Shake pan arranging the kernels in 1 layer. Cover.

Heat pot over medium high heat. Once the kernels start popping, continously keep the saucepan moving until all of the kernels have popped, about 5-7 minutes. If you notice a lull in the popping, remove from the heat to avoid burnt kernels.

While still in the pot, toss the popcorn with the table salt and melted butter.

Transfer popcorn to a bowl, removing unpopped kernels. There should be close to 4 (or a tad more) cups.
Directions for the Dough:
Preheat oven to 350ºF.

In a large mixing bowl, cream together the softened butter, brown sugar, granulated sugar, egg and vanilla. Mix at medium to high speed until smooth.

In a separate medium bowl, whisk together the flour, baking soda and salt.

With a spatula combine the dry ingredients with the butter-sugar mixture.

Carefully fold in the cooled popcorn until it's evenly combined. Although it may look like there's more popcorn than needed, it's actually the perfect amount. The broken popcorn pieces actually add a little charm and character!
Bake cookies:
Line a cookie sheet with parchment paper.

With a cookie scoop or a measuring tablespoon, mound the dough and place 2 inches apart onto prepared cookie sheet.

Bake the cookies for 10-12 minutes, until the edges are light brown.

Let them sit on the baking sheet for a few minuets to firm up, before transferring them to a rack to cool.