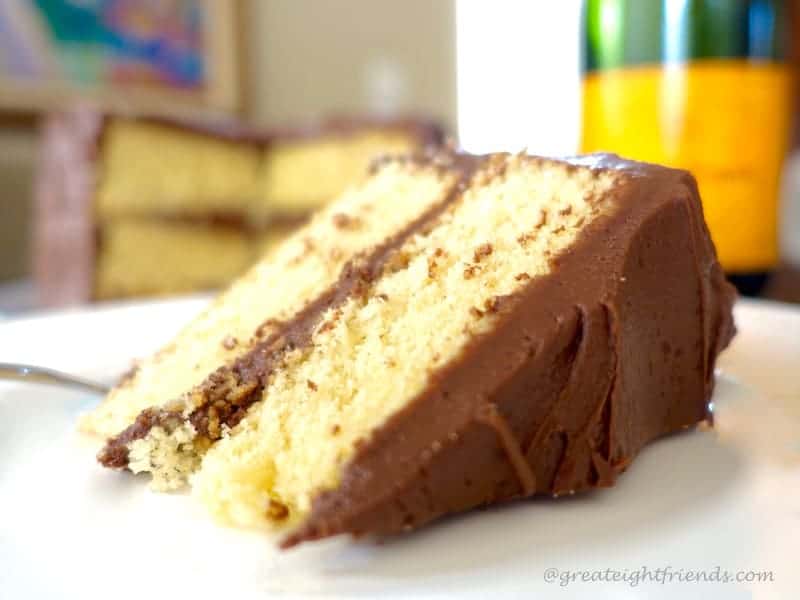 Every once in while you just need a good yellow cake recipe. Maybe you are celebrating a special occasion or maybe you just have a craving for "birthday cake." As a girl of 4 or 5, I have memories of my dad helping my sister and me make a birthday cake for my mom. After mom blew out the candles, they let us scoop the frosting off the cake with our fingers and eat it!
Most of us resort to cake mixes because they are foolproof and time-saving, but the resulting cakes are not the lovely, luscious homemade cakes of our childhood. In reality, my Gr8 baking friends, making the cake from scratch does take longer, but not that much longer. And the homemade version is so much better!
Because cakes have to rise and have a certain texture there are a few things to remember when baking from scratch.
A few points about baking a cake:
Most importantly, follow the recipe explicitly and measure accurately. Baking is chemistry. If you must be creative with your amounts, do that in your cooking. If the amounts of dry, liquid and leavening ingredients are off when baking, you could end up with a heavy brick rather than a light baked item.
It is best to have the butter and eggs at room temperature.
All you have to do is line the bottom of your pans. No need to grease the sides; this will allow the batter to crawl up the sides and your cake will be flatter and easier to frost and decorate.
Once the cake comes out of the oven, cool on a rack for 7-10 minutes, then run a knife around the edge, between the cake and the pan. Then turn out onto a cooling rack to finish cooling down.
For the best results only frost the cake when it is completely cooled.
Yellow Cake
Adapted from The Gourmet Cookbook, edited by Ruth Reichl
Makes 1 - 8" or 9" double layer cake. This can serve anywhere from 10 to 18 people, depending on how it's sliced!
Ingredients
Yellow Cake
2

cups

cake flour,

,

not self-rising

2

teaspoons

baking powder

½

teaspoon

salt

½

cup

unsalted butter,

,

at room temperature

1

cup

sugar

3

eggs, at room temperature,

,

leave them out of the fridge for 30 minutes and they should be fine.

2

teaspoons

vanilla

¾

cup

whole milk
Cocoa Frosting
¾

cup

unsalted butter,

,

melted

1

cup

cocoa

1

teaspoon

salt

6

cups

powdered sugar,

,

sifted

½

cup

milk

1 ½

teaspoons

vanilla
Instructions
Yellow Cake
Preheat oven to 350ºF, and make sure the rack is in the center of the oven.

Line just the bottom of 2 round cake pans (8" or 9") with parchment paper.

Measure the flour, baking powder and salt into a medium bowl and whisk together or sift together. Set aside.

With an electric mixer cream the butter, then add the sugar and mix on medium speed until pale and fluffy, 3 - 5 minutes. Stop halfway through mixing and scrape down the bowl.

Add the eggs one at time, beating after each addition.

Mix in the vanilla and beat until thoroughly blended.

Reduce speed to low and add the flour mixture and milk alternately in 3 batches; starting and ending with the flour mix.

Mix until batter is just smooth, do not over mix.

Pour batter into the prepared pans and smooth the tops.

Bake for 20 - 25 minutes.

Cake is done when a toothpick or knife inserted into the center comes out clean.

Remove from oven, cool on rack for 7 - 10 minutes, then run a knife around the edge and turn out onto rack to finish cooling. Peel parchment paper off of cake.

Frost when cake is completely cool.
Cocoa Frosting
In the bowl of an electric mixer, on low speed, mix together the melted butter and the cocoa until thoroughly blended.

Add the salt and mix until incorporated.

Alternate adding the powdered sugar and milk, occasionally scraping down sides of the bowl, until completely incorporated. (When adding the powdered sugar, start the mixer on low speed and then raise the speed to high. If you start on high the sugar will fly out of the bowl!)


Stir in the vanilla.