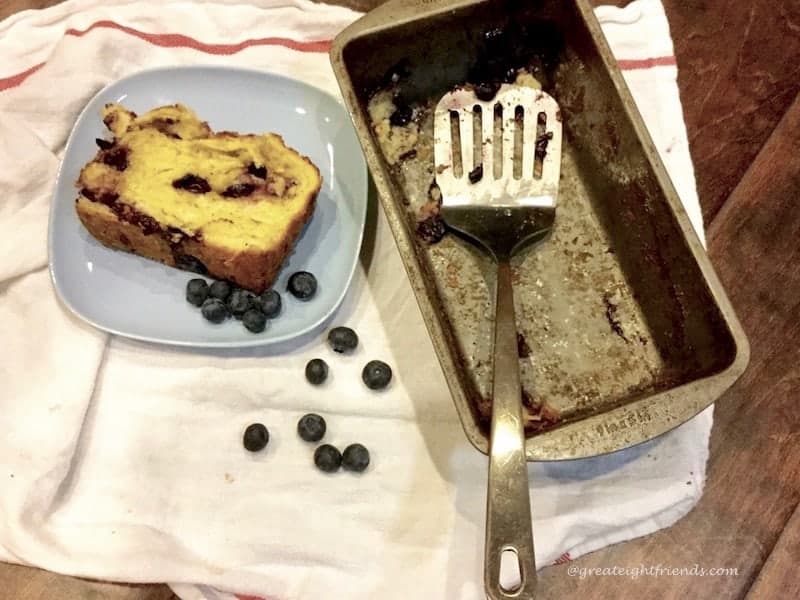 Blueberries IN a loaf of amazing bread? Yes Yes and Yes....please! Once I saw this in Huckleberry by Zoe Nathan, my new favorite cookbook, I was ready to grab the ingredients and preheat the oven! My 2 favorite things all baked together! Sure sounds like heaven to me! And boy was it ever!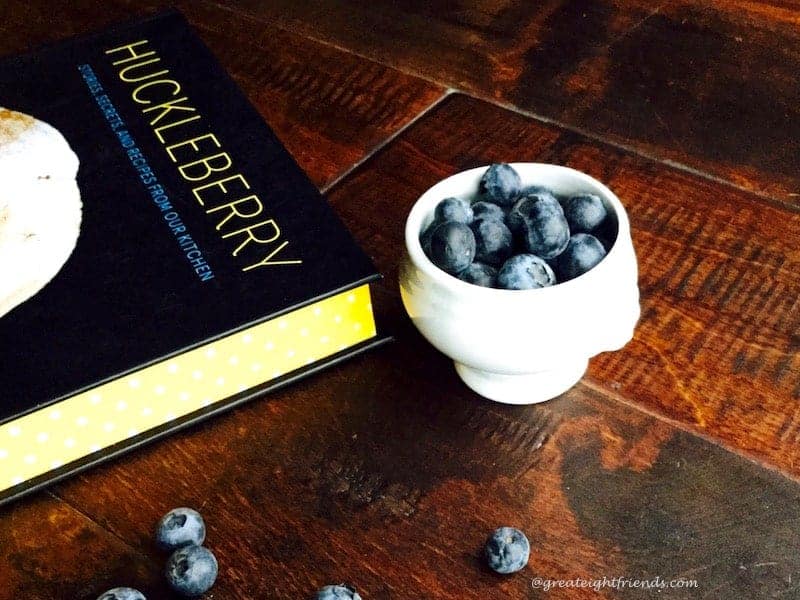 The ingredients are readily available (and may already be in your pantry!) I bet you have some summer ripened blueberries waiting right there behind you! And the assembling is easy, too! You'll probably have as much fun with the assembling as I sure did! Sprinkling the blueberries on your ready to go dough (hey that rhymes!) I was secretly hoping some would roll out on their own so I could eat 'em!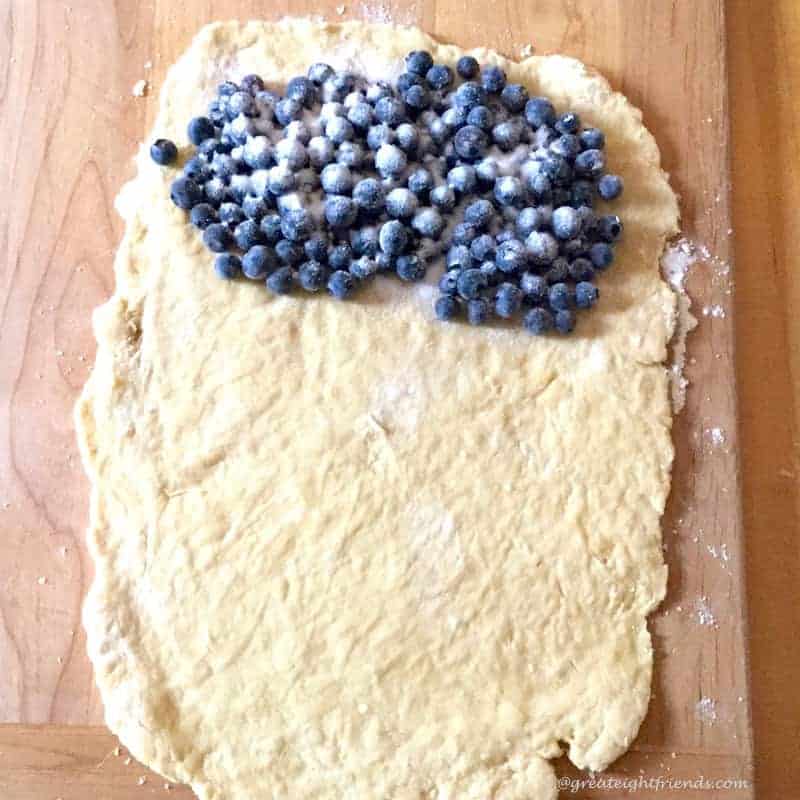 This is when you should, if you can, let it rest in the refrigerator overnight.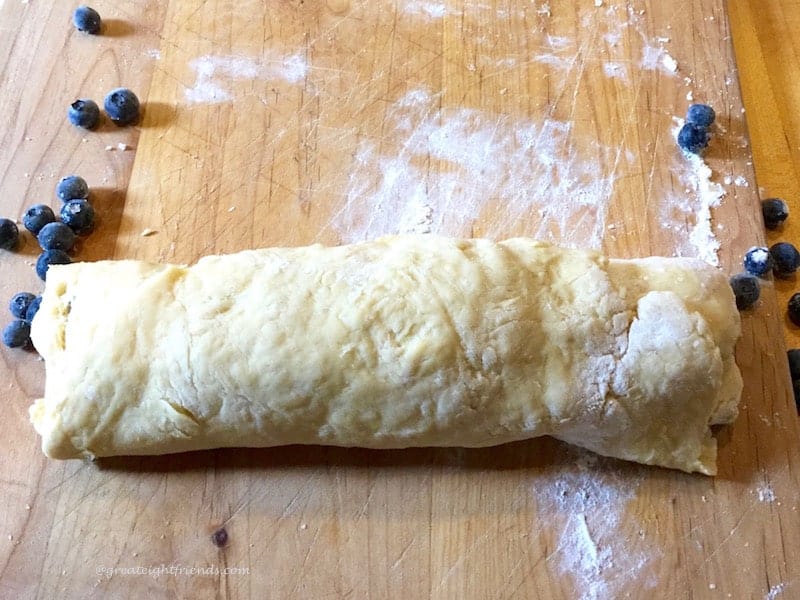 You'll be so excited that you'll probably wake up before the sun rises!
The aromas of this homemade loaf of deliciousness will make their way through the bedroom doors, awakening the rest of the house. The rich blue color of the blueberries against the pale golden color of the brioche, tastes even better than you imagined...if that's possible! Your family will be anxiously awaiting the ding ding ding of the timer!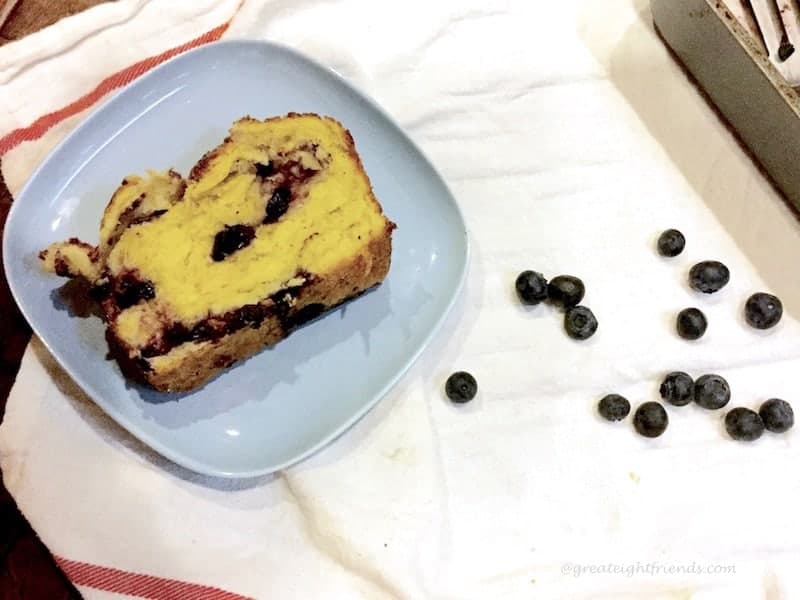 Preferably a 2 day process AND (not "but") SO worth the wait!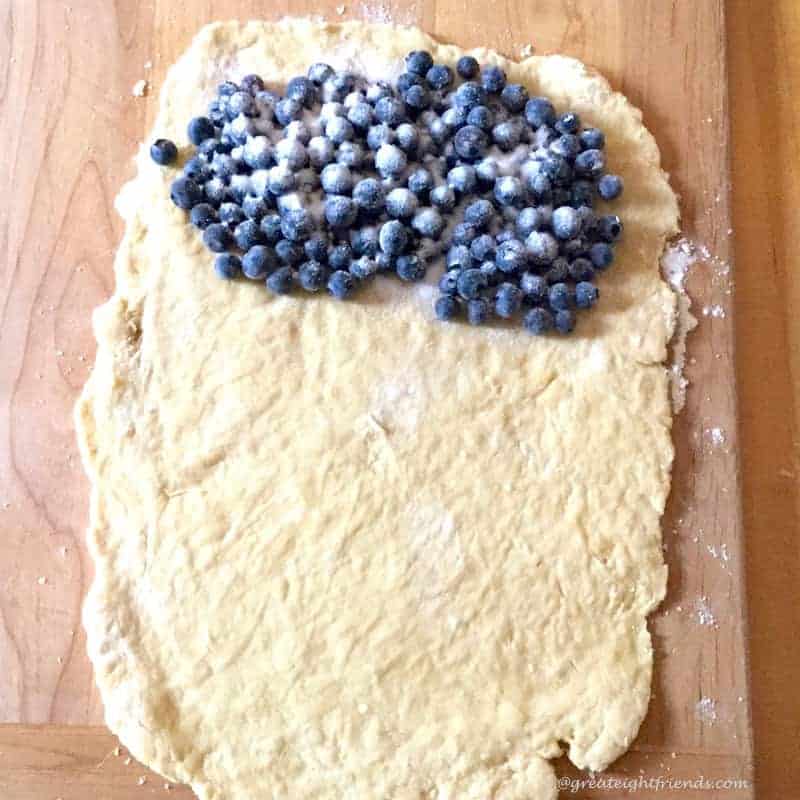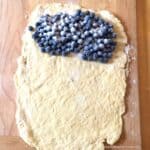 Print Recipe
Pin Recipe
Save this Recipe
Saved!
Please leave a rating!
Fresh Blueberry Brioche
Makes 1 loaf
Ingredients
1 ½

cups

fresh blueberries

2

Tablespoons

whole milk

1

Tablespoon

active dry yeast

1

cup plus 2 Tablespoons

all-purpose flour

1

cup plus 2 Tablespoons

bread flour

6 ½

Tablespoons

sugar,

,

divided, plus more for sprinkling

1

teaspoon

kosher salt

3

eggs

1

egg yolk

½

cup plus 2 Tablespoons

unsalted butter,

,

very soft

1

batch

Egg Wash
Whisk together until combined:
2

egg yolks

2

Tablespoons

heavy cream

pinch of Kosher salt
Instructions
Day 1:
Freeze fresh blueberries in a single layer. (Previously frozen blueberries are too watery.)

Warm the milk and pour into a mixing bowl, preferably that of a stand mixer with a dough hook attachment. Whisking by hand, add the yeast to combine. Continuing to whisk, add both flours, 2 ½ Tablespoons of sugar, the salt, eggs, and egg yolk to bowl. With mixer on low speed, continue to mix until dough comes together into a ball, about 1-2 minutes.

Increasing speed to medium-low, continue for 5-6 minutes, pausing to push dough down the sides and off of the hook. Continue until dough pulls away from the walls of the bowl and becomes firm bread.

Reduce speed back to low and add butter, in intervals, slowly for about 2 minutes, pushing dough off the hook as you go.

Once butter is incorporated, increase the speed to medium-high until the dough comes together, about 5-6 minutes more.

Place dough onto a lightly floured work area and press into a 16" x 10" rectangle.

With a short side nearest you; evenly add the blueberries and sprinkle 2 Tablespoons sugar along the top edge. Gently roll towards you, creating a log.

Place onto a greased cookie sheet. Wrap log and cookie sheet together in plastic.

Refrigerate for at least 1 hour, or if possible, overnight.
Day 2:
Oil a 9" x 5" loaf pan with vegetable oil.

Press dough to reshape into a 12" x 6" rectangle.

Sprinkle with remaining 2 Tablespoons sugar and with a short side nearest you tightly roll down toward you.

Place loaf into prepared pan and wrap loosely in plastic. Allow to rise in a warm draft-free area for about 3 hours, until almost doubled in size.

While brioche is at the end of its rising time, preheat oven to 350°F.

Brush dough with Egg Wash, being careful not to let egg pool around edges.

Sprinkle liberally with sugar.

Bake for 40-45 minutes, or until golden. Allow to cool for about 15 minutes in pan.

Transfer to a cooling rack.
Notes
Gr8 Do-Ahead Tip:
Keep wrapped at room temperature, for up to 3 days. If it lasts that long! Don't count on it! 
Recipe from...(cutest couple ever) "Huckleberry stories and recipes from our kitchen" by Zoe Nathan with Josh Loeb & Laurel Almerinda
Just to let you know, some of the links on this page may be affiliate links, which means that Great Eight Friends will earn a small commission from purchases made through these links (this does not change your cost). These earnings help to support the cost of running this website. Thank you so much for being a Gr8 Friend!