This Spicy Chocolate Cake with Jalapeño Fudge Frosting is the perfect dessert. The slight spice is a delicious complement to the rich fudginess.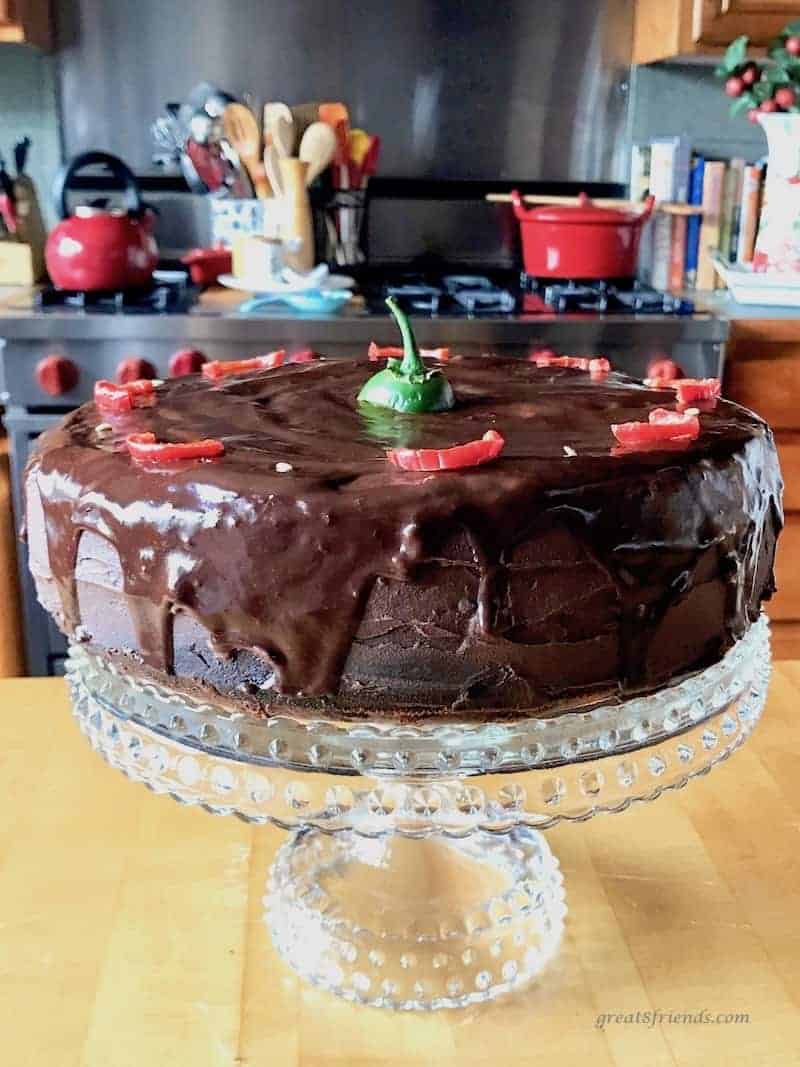 Loving all things spicy, I could eat something everyday with a little bit of heat! I'd take it in a cocktail, a snack, a meal...even in a dessert!
Yep! That's right! A little heat with something sweet! Spicy Chocolate Cake with Jalapeño Frosting is the best of both of my worlds! Chocolate with Spicy! Boy is it ever good!
Whether you're serving it for dessert or just a little something to satisfy your sweet tooth, you'll agree that the combination of flavors is sure to get your tastebuds doing the tango!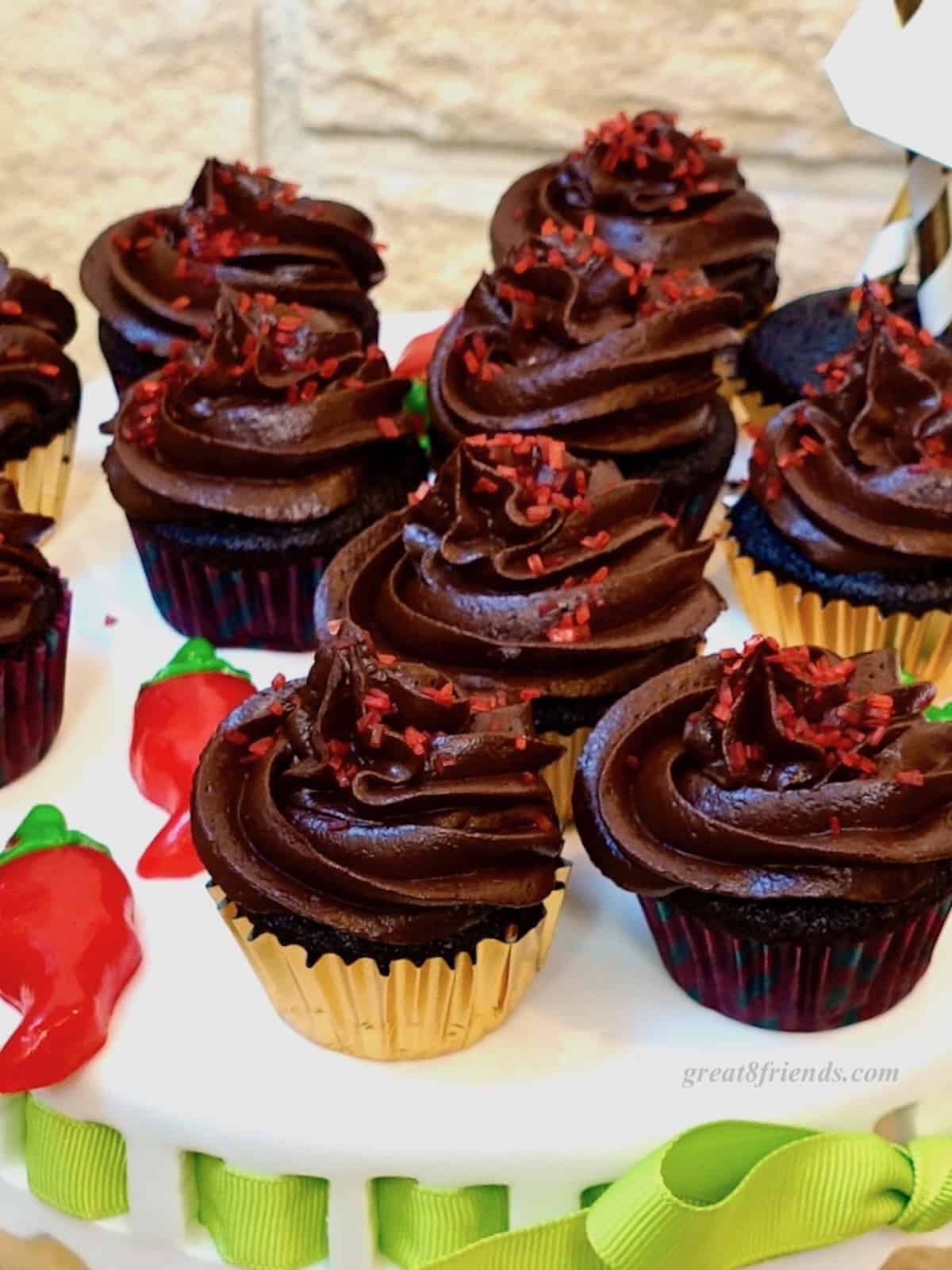 Now remember, you don't want to singe your palate with intense, off the Scoville Scale chart, heat pungency! So be careful with the peppers you use.
My Gr8 Trick: I slice the chili and lightly touch the knife with my finger do a taste test. Too hot? Reduce the amount of pepper used.
Cocoa Powder, cayenne and jalapeños in a cake? Crazy fun, right?! It's sure to heat things up! Can it get any better than that? No way! Wait! I take that back! Kyle's Heavenly Hot Chocolate would pretty much top it off!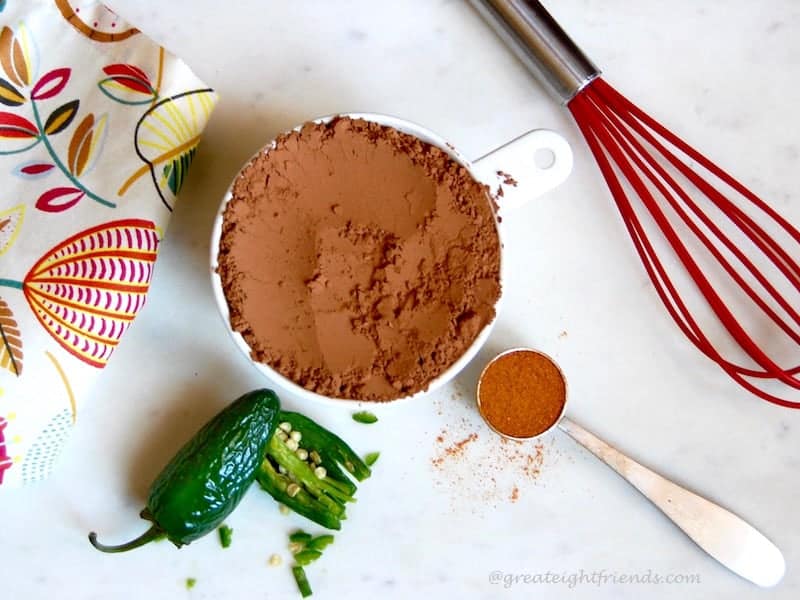 I don't need to remind you to lick the whisk, do I?! Didn't think so!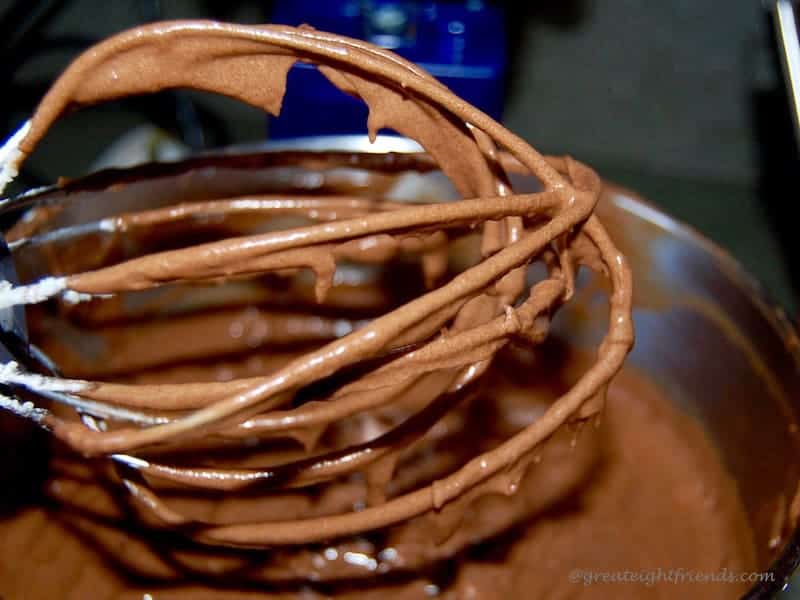 Edited from original publication of September 6, 2016.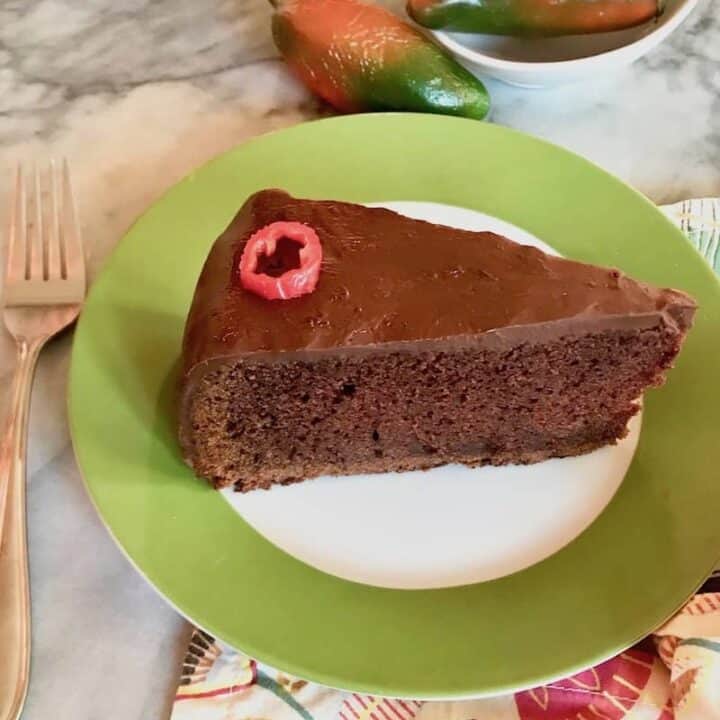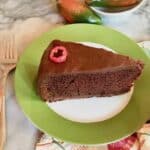 Print Recipe
Pin Recipe
Save this Recipe
Saved!
Please leave a rating!
Spicy Chocolate Cake with Jalapeño Fudge Frosting
Not your typical chocolate cake! Rich and delicious with a little added heat to add some character! Spice it up! You'll be glad you did!
Ingredients
Chocolate Cake Ingredients:
1

cup

hot water

½

cup

unsweetened cocoa powder

2

teaspoons

cayenne pepper

,

* see recipe notes

2

cups

sugar

1

cup

vegetable oil

2

large

eggs

2

large

egg yolks

1

cup

buttermilk

2 ¾

cups

all-purpose flour

2

teaspoons

baking soda

1

teaspoon

baking powder

½

teaspoon

salt
Jalapeño Fudge Frosting Ingredients:
1 ½

cups

whole milk

½

cup (1 stick)

butter

,

melted

1

large

jalapeño

,

roughly chopped (with seeds and veins) *see recipe notes

20

ounces

dark chocolate chips

,

(two 10 ounce bags)
Instructions
Prepare a Bundt® cake pan or three 8" round cake pans with baking spray. If using cake pans, add parchment paper rounds to the bottom of each after spraying each with the baking spray.

Place the cocoa powder and cayenne pepper in a medium bowl and add the hot water. Whisk until smooth and set aside to cool.

On high speed in a stand mixer or using a hand blender, blend the vegetable oil and sugar together. Add the buttermilk. Continue mixing until fluffy. Beat in the eggs and egg yolks until all are fully incorporated.

In a separate bowl, whisk together the flour, baking soda, baking powder and salt. Set aside.

Add the cooled chocolate mixture to the batter. Slowly add the dry ingredients to the batter, mixing well on low speed, until smooth.

Pour batter into the fluted pan or evenly divide the batter between the three prepared cake pans. Bake at 350ºF for 25 minutes or until tester when inserted in the center comes out clean. While the cake is baking, make the frosting.

When cakes are finished, remove from the oven and let cool on racks for no longer than 10 minutes. Turn cakes out of the pans onto racks, peel off the parchment paper, if using. Let cool completely.
Jalapeño Fudge Frosting:
In a medium saucepan, bring the milk, melted butter and jalapeño to a simmer over medium heat, stirring occasionally.

Add the chocolate chips and remove the pan from the heat. Set aside.

After 5 minutes, whisk heavily the milk and chocolate mixture until it is very smooth. Use an immersion blender to completely purée the jalapeño chunks into the frosting. Alternatively purée the mixture in a food processor or blender.

Set it aside for about an hour, to cool and thicken. You can speed up this process by placing it in the refrigerator.

Frost the cake when it is completely cooled. If making the layered cake, place one of the cake layers on a cake plate. Using less than ¼ of the frosting, spread it as a filling over the first layer. Add second cake layer. Repeat with a second layer of frosting on top of second layer of cake. Add the last cake layer. Finished frosting all the sides and top of the cake.
Notes
Gr8 Do Ahead Tips:
If baking one day and planning to frost another, you can freeze the cake, unfrosted. Wait until it has fully cooled. Wrap extra well in plastic wrap and then in foil. When placing in freezer, do not let it touch sides or tops of freezer. The day you choose to frost it, let the cake thaw for 45 minutes.
Frosting: If making frosting ahead of time, you can refrigerate it in a covered container for a couple of days. Let frosting sit on counter for about 15-20 minutes until of spreadable consistency.
A Gr8 Note from Anna:
I made mini cupcakes with this recipe and the yield was 8 dozen…96 cupcakes! Just fill the mini cupcake container about ⅔ full and bake for 10-12 minutes.
Recipe Notes:
*If you'd like a little extra kick, you can add an additional teaspoon (or less) of the cayenne to the cake batter as well as an additional jalapeño (or ½) to the frosting.
Recipe adapted from Heather Christo.
sm 10/11/19