This Italian Ricotta Cake with orange zest is a little cakey and little creamy. The cheese layer moistens the cake layer for a dreamy delicious dessert. The recipe makes a large cake, perfect for a party, or make two and give one to a friend!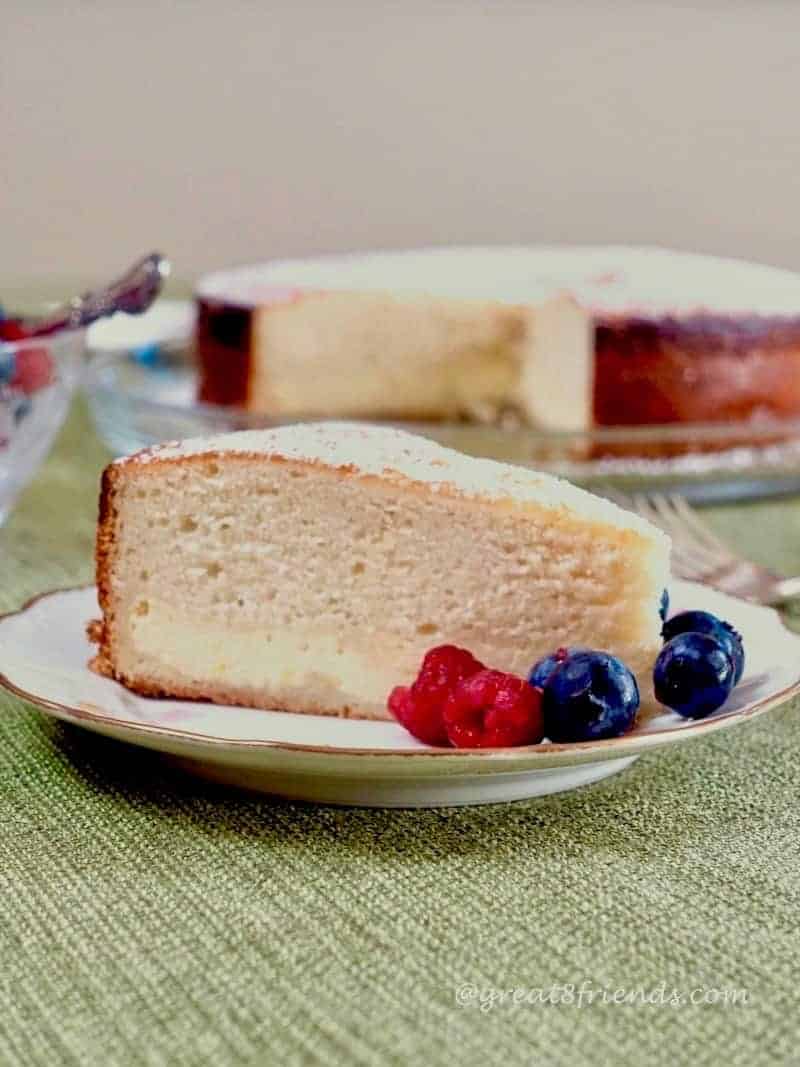 Cheese and cake together is protein and carbs...so the protein cancels out the carbs, right?!?! Well, maybe not so much, but that didn't stop me from having this cake for breakfast two days in a row after making it!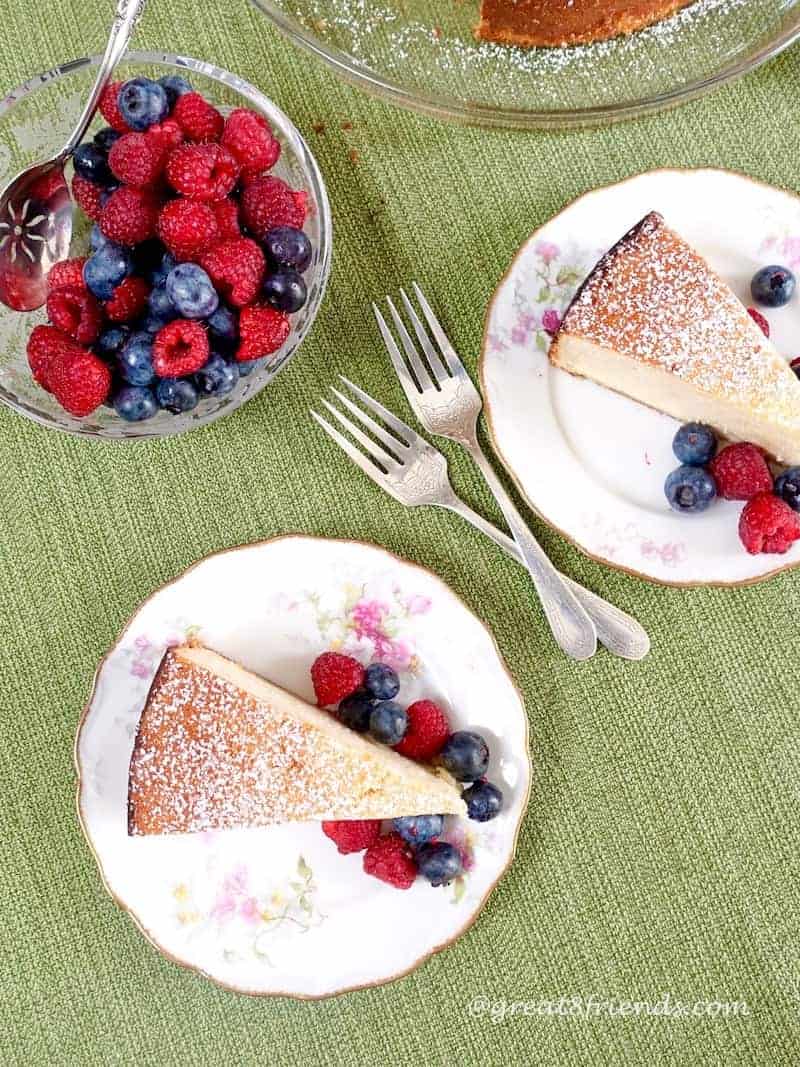 Here at Great 8 Friends we love to improve our skills, get ideas for new recipes and EAT! So every once in a while we take a cooking class. No homework, just Gr8 Food, Fun and Friends!
One of our favorite chefs to learn from is Chef Caroline Cazaumayou in Laguna Beach. This cake is from her recent class.
I went home from the class and made it that afternoon. I had to, the cake is that delicious! It just happened that in my refrigerator sat two tubs of ricotta cheese, the perfect quantity!
If you are having a crowd, make this cake, it serves at least 20 (depending on the size of the pieces you cut). OR, make TWO and give one to a Gr8 Friend!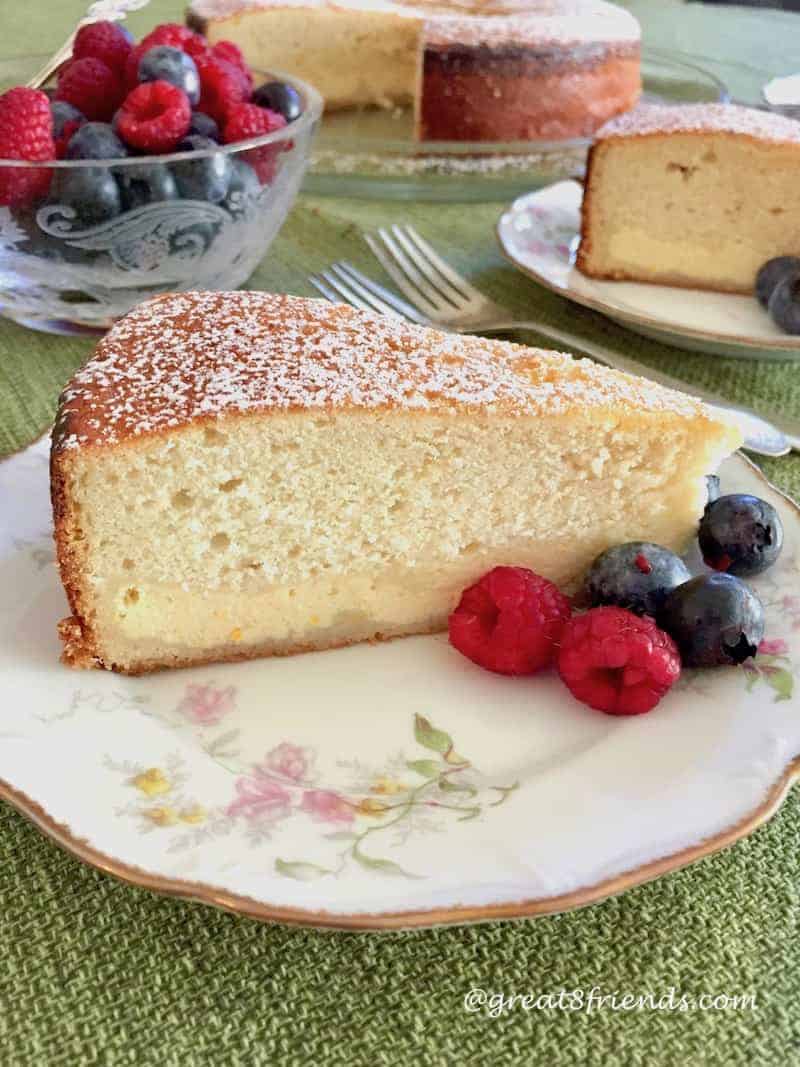 When making the cake the cheese layer is laid on top of the cake batter. In the baking, the batter rises above the cheese so the creaminess is encased by a beautiful light cake...amazing!
Be sure to make this the day before or start early in the day, it's easier to cut when it has cooled a bit.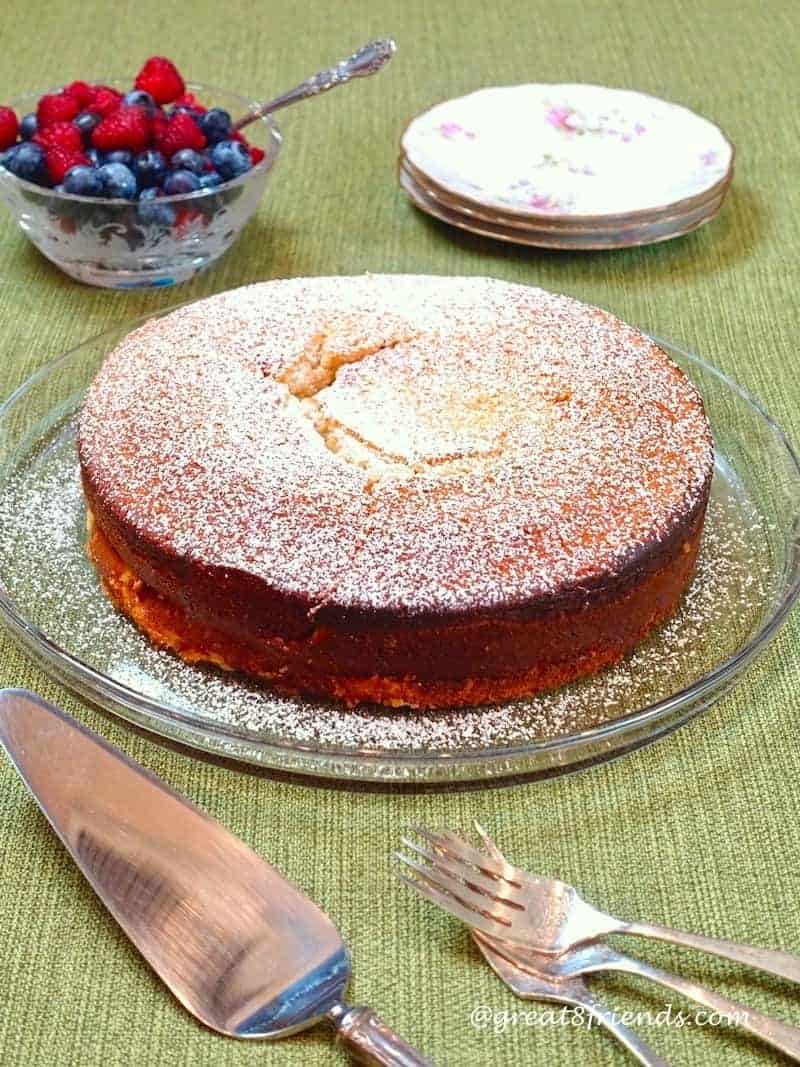 This Italian Ricotta Cake recipe is baked in a 10"x14" pan, I wanted a round cake so I made two, one in a 9" springform pan and one in an 8"x8" square pan.
That was wonderful because I was able to give one to a friend and use the other! Don't you just love options?
Baked Italian Ricotta Cake
Use one 10"x14" pan or divide the batter and make two cakes. I used one 9" springform pan and one 8"x8"x2" pan.

Ingredients
Cake Layer
3

cups

cake flour

1

Tablespoon

baking powder

1/2

teaspoon

salt

1/2

pound

unsalted butter

,

at room temperature

2

cups

granulated sugar

5

large

eggs

,

at room temperature

2

teaspoons

vanilla extract

1 1/4

cups

buttermilk

,

low-fat is okay here
Cheese Layer
2

pounds

whole milk ricotta cheese

4

eggs

3/4

cup

granulated sugar

1/2

teaspoon

anise extract

Zest of one orange
For Serving
Confectioner's sugar

,

optional for sprinkling on top

2

cups

mixed berries

2

Tablespoons

fresh orange juice
Instructions
Liberally grease a 10"x14" pan. Or, one 9" springform pan and one 8"x8"x2" pan. (You can use the wrappers from the butter to grease the pans, if you like.)


Sift the flour, baking powder and salt into a medium bowl, and set aside.


Cream the butter using the paddle attachment on your electric mixer for 3 minutes on medium-high speed. (I used "8" on my KitchenAid.) The butter will be light in color, almost white, and creamy. Scrape down the sides of the bowl then mix for an additional minute.


Slowly add the sugar, 1/2 cup at a time. Beat well at medium-high speed after each addition, for about a minute. Scrape down the sides of the bowl when necessary.


One at a time, add the 5 eggs, beating on medium-high speed until just incorporated.


Mix the vanilla extract into the buttermilk.


With the mixer on medium-low (4 on the KitchenAid) add 1/3 of the flour mixture and beat until just incorporated. (It's important not to over-mix.) Then add 1/2 of the buttermilk mixture. Continue alternately adding the flour and buttermilk until all is incorporated.


Remove the bowl from the mixer stand and, using a spatula, stir for an additional 30 seconds by hand to ensure that all the ingredients in the bottom of the bowl are mixed together.


Pour the batter into the prepared pan or divide it between the two pans and smooth the top with your spatula.


In the same bowl (only one bowl and you don't have to wash it between mixes!) stir together the ricotta cheese, 4 eggs, 3/4 cup sugar, anise extract, and orange zest.


Spoon this cheese mixture on top of the cake batter and smooth the top.


Bake for one hour, or until a knife inserted in the center comes out clean. The edges will be caramelized slightly and have a delicious crunchiness.


Add the orange juice to your berry mixture and stir. Let the berries hang out in the juice for a while.


For cakes baked in a rectangular or square pan, you can leave the cake in the pan, slice and serve. If baked in a springform pan, remove the sides for serving. I transferred mine from the springform base onto a cake plate using a large spatula, but that is not necessary.


When ready to serve sift powdered sugar over the top of the cake.


Slice and serve with the berries on the side.

Notes
Gr8 Do Ahead Tip:
This cake can be made a day ahead of time. Cover and refrigerate. It is tastiest if brought to room temperature before serving.