A simple Mimosa is the perfect brunch drink, easy yet elegant, and made with orange juice! With only two ingredients, it may be one of the simplest cocktails you'll ever make.
If you're hosting or attending a brunch, chances are you'll be having a Mimosa or Bloody Mary (or 3!). These are socially acceptable morning indulgences. And a lovely way to spend a Saturday or Sunday.
This cocktail is so easy, that there really is no need for a "recipe." There are, however, a few tips and tricks to making the very best drink possible.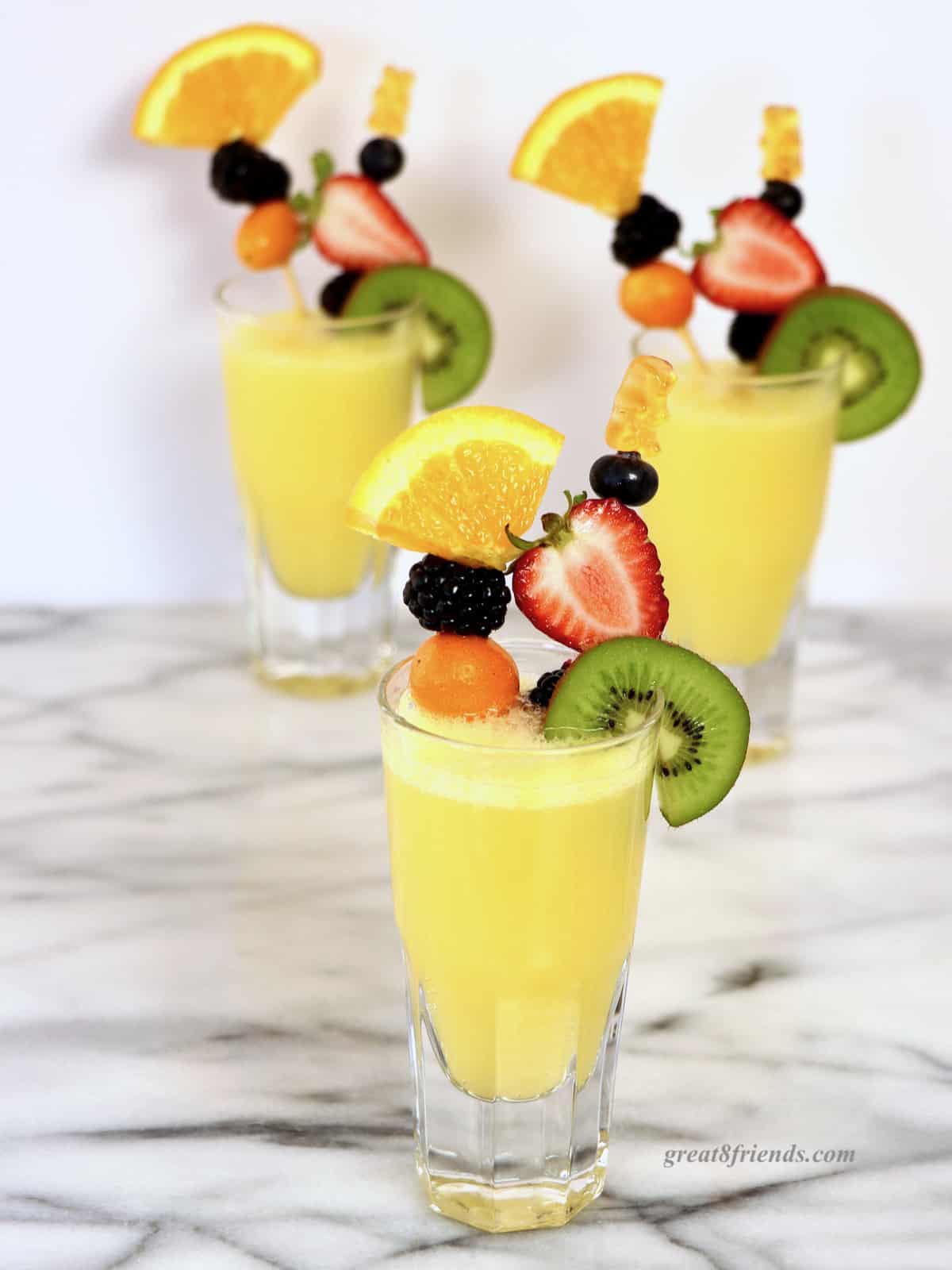 Here is the recipe, read beyond to get all of my best tips and tricks.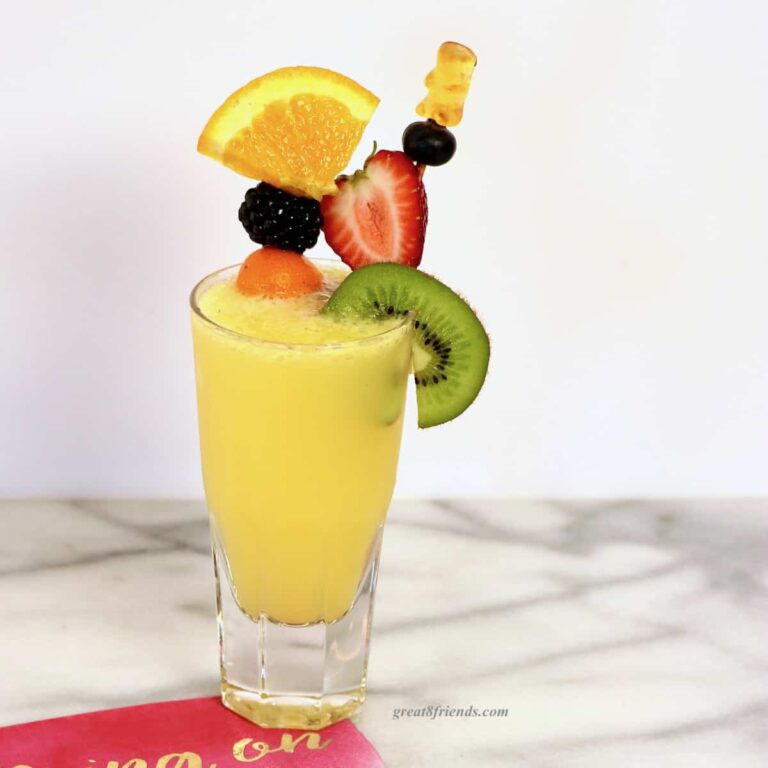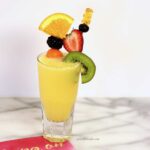 Print Recipe
Pin Recipe
Save this Recipe
Saved!
Please leave a rating!
Simple Mimosa Recipe
With only TWO ingredients, you can't go wrong.
Ingredients
Classic Mimosa
1

part

Champagne, Sparkling Wine or Prosecco

1

part

Fresh Orange Juice

Fruit for garnish

,

optional

Long wooden skewers

,

optional for the fruit garnish
Instructions
Classic Mimosa
Prepare the fruit garnish first. If you're just garnishing with strawberries or oranges, make a slice in several so they're ready to slide on the glass. If you're going all the way with the skewers, then assemble those ahead of time so they're ready to add to the Mimosa.

Fill your glass halfway with orange juice.

Top off with the sparkling wine for the other half.

Or create whatever mix tastes best to you!

Then add the garnish. Cheers!
How to Make the Best Mimosas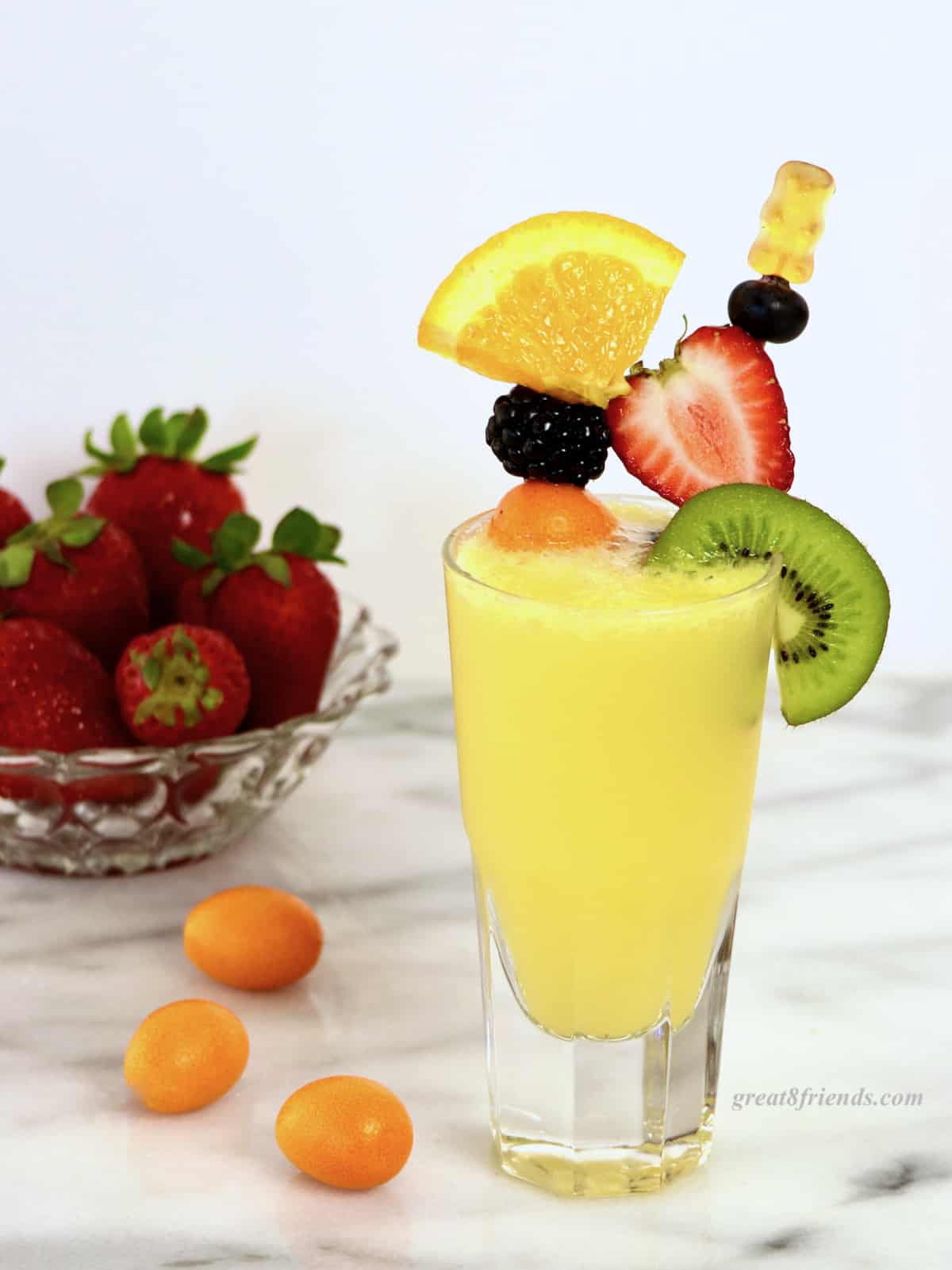 Tip #1:
Use a quality, dry, sparkling wine, champagne, or Prosecco.
I used to think that when mixing drinks or cooking I could use the cheapest alcohol, because it would be masked by the other flavors.
Sometimes that is the case, but not always. And since this is only 2 ingredients, it's important that you use a dry sparkling wine that you like. Trust me, if you don't like the Champagne or sparkling wine, you won't like your drink!
A good Prosecco is often more affordable than a champagne or sparkling wine, so maybe experiment with that.
Tip #2:
Fresh-squeeze your orange juice OR use a good fresh OJ from the store.
When hosting brunch and doing a million other things, I buy the best OJ I can; you have to make some things simple, right?
If you're just making a couple of drinks, or have a wonderful juicer, then it may be possible to squeeze enough fresh juice. And believe me, you'll be able to tell the difference!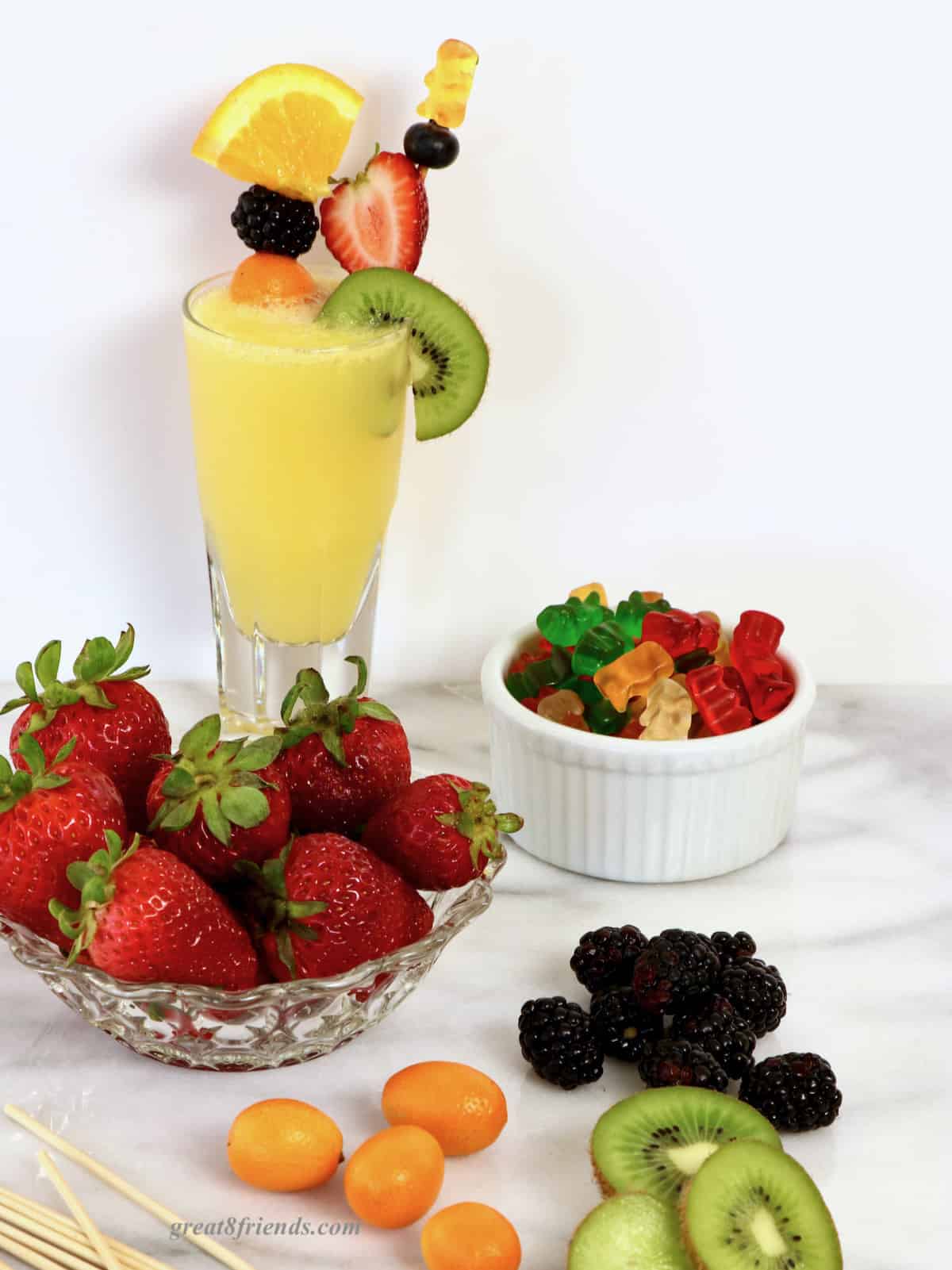 Tip #3
Have FUN with the garnish!
If Bloody Mary's can be a whole appetizer, make the Mimosas your fruit salad! Choose your favorite fruits and make skewers. I topped my skewers with gummy bears for a little extra fun!
Tip #4:
Use any glassware you have.
This may seem like an unnecessary tip, but I used to think I needed the perfect glass whenever serving a new cocktail. And, yes, it's pretty and fun to always use the absolutely correct glass, but it also can be fun to improvise!
Classically, this drink is served in a flute glass, tall and elegant. If you don't have flutes, feel free to use a regular wine glass.
See... the cocktail looks pretty in all the glasses!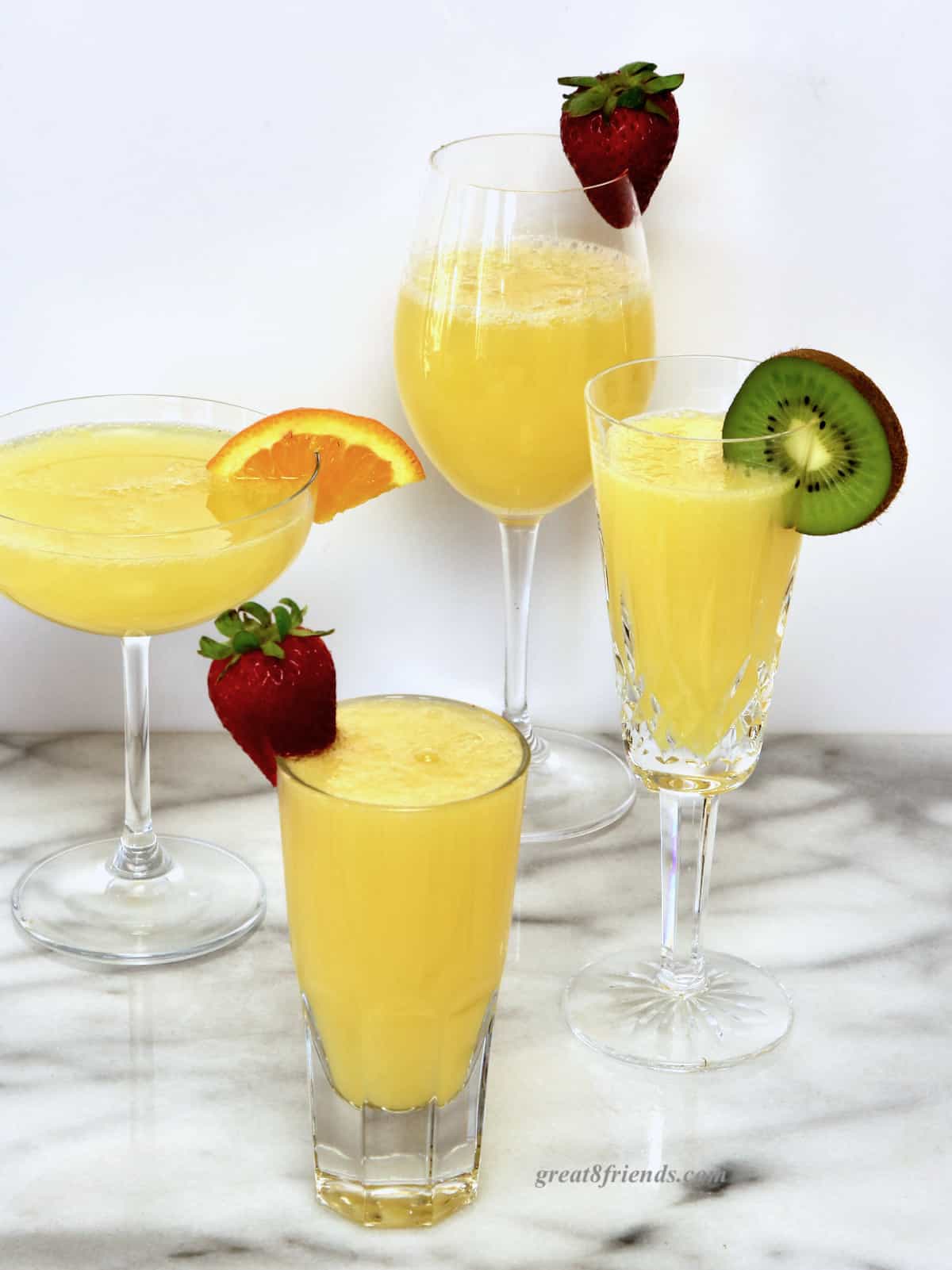 I OFTEN serve Champs and OJ in a glass sometimes called a "café juice glass," as seen toasting here at my Morning After Party Party.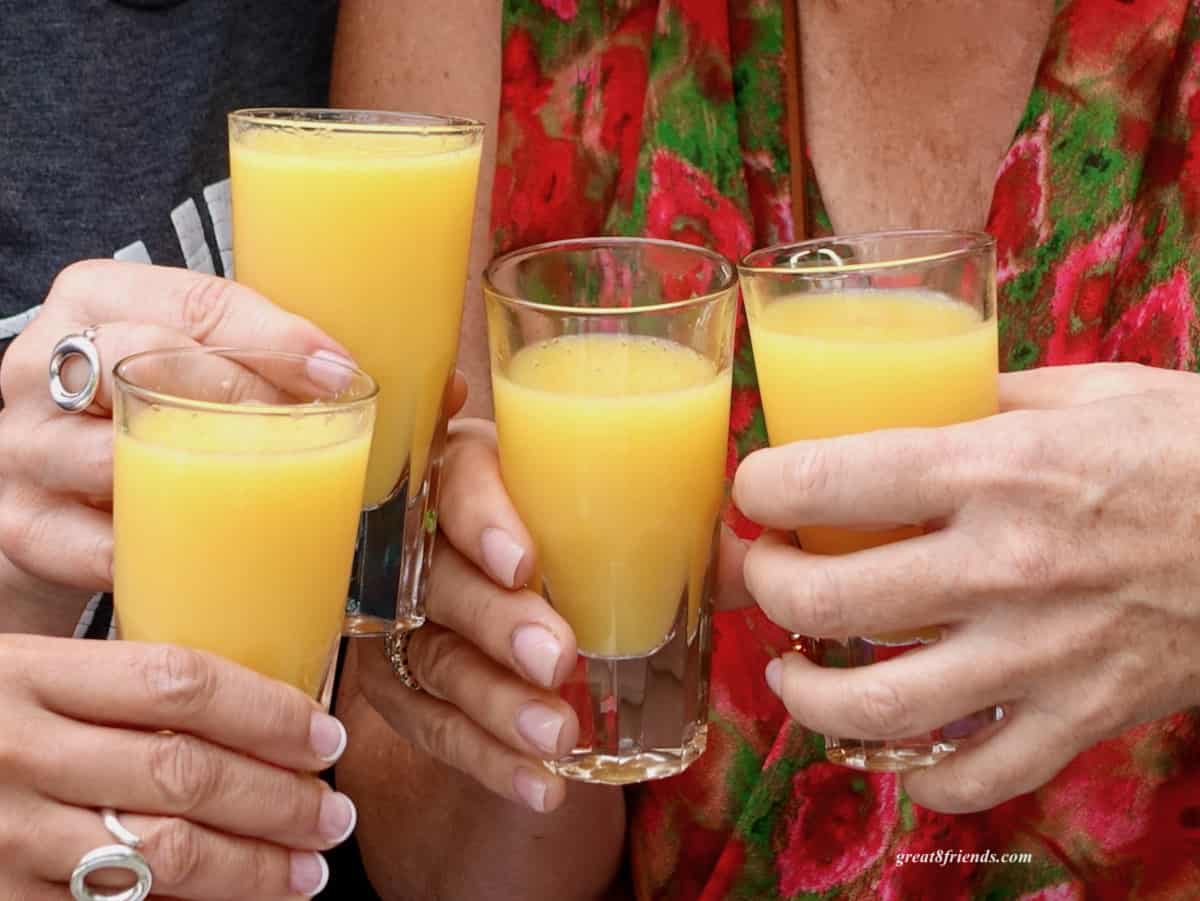 Tip #5:
Don't follow the recipe!
Really?! YES! The original recipe, created in Paris around 1925, called for equal parts of Champagne and orange juice.
But I submit to you that everyone will want a little different mix. And with such a simple cocktail, it's easy to accommodate all tastes!
A friend stopped by the other Sunday and she wanted mostly sparkling wine with just a little juice, about 75/25. And some people want mostly OJ with just a splash of the bubbly.
So, let your taste or that of your guests' dictate, and if you don't like what you mixed, add more of whichever ingredient you want!