Here is a Great Green Beans and Onions dish that you can be sure to love more each time you make it! Perfect side dish for any meal!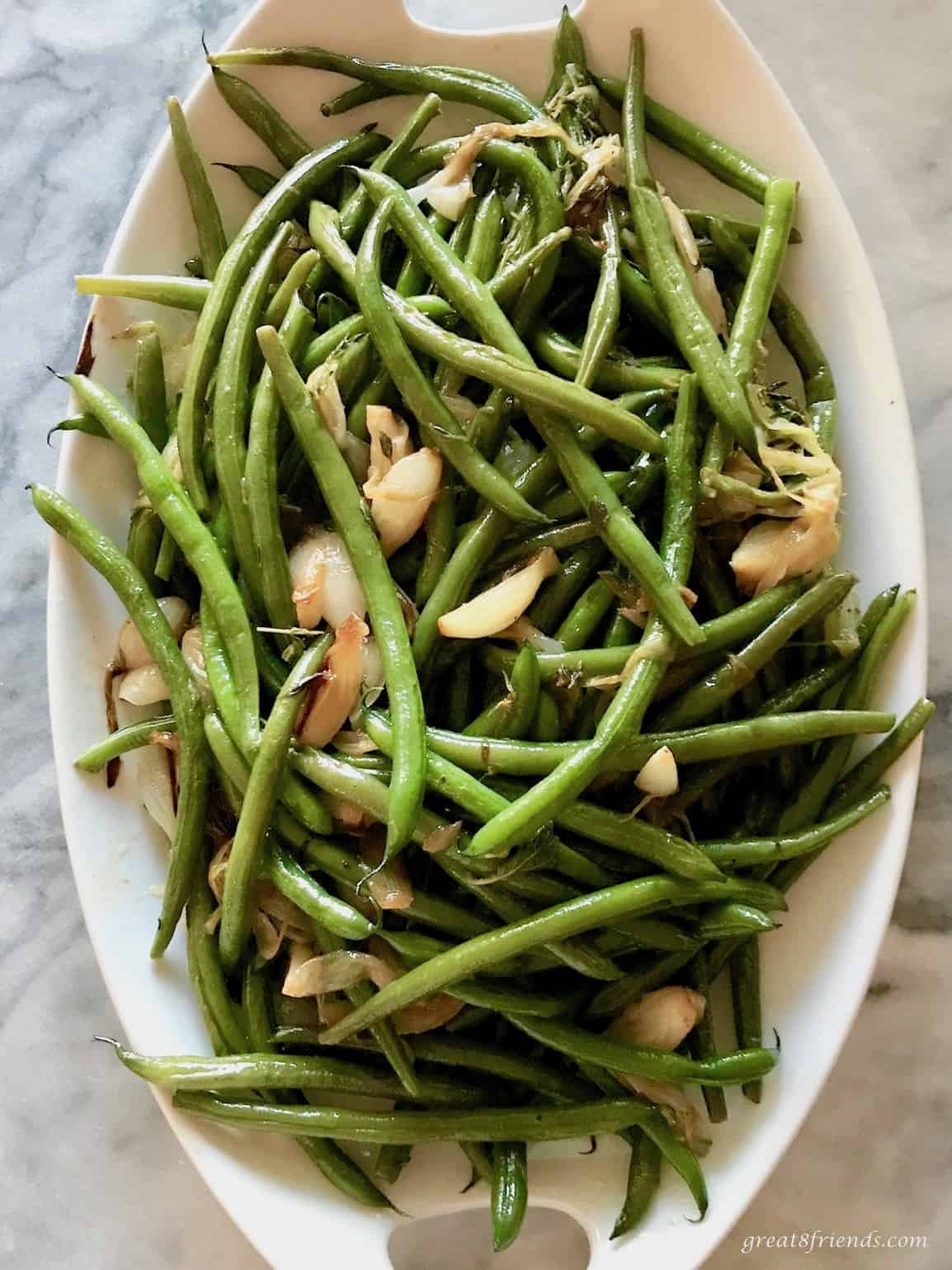 Wait! Don't grab that can of green beans and cream of mushroom soup! And you're not going to need that canister of crispy onion strings, either!
Although that "vintage" dish may have been perfect for Jurga and Tim's Great 8 dinner theme: TV Dinners with Sitcoms of the 60's, (sidebar: how FUNNY is that!) don't fret!
This Great Green Beans and Onions recipe is a new take on that old familiar dish some of you may have grown up on!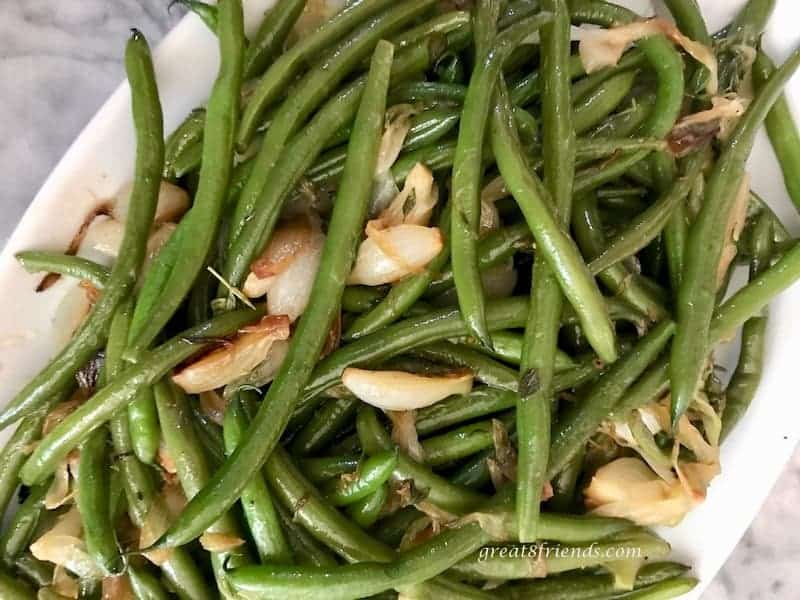 This green bean dish is fresh, light and comes together without a can opener!
Don't you love those recipes that every time you make it, it just gets better and better? Well this green bean recipe is one of those!
Perfect for our Great 8 gang! The fresh flavors of the green beans, herbs and spring onions, create a combination that will leave your tastebuds prancing, and your kitchen smelling AMAZING!
Can you imagine how perfect the aroma would be if you served these with Ina's Chicken with 40 Cloves of Garlic...Heavenly!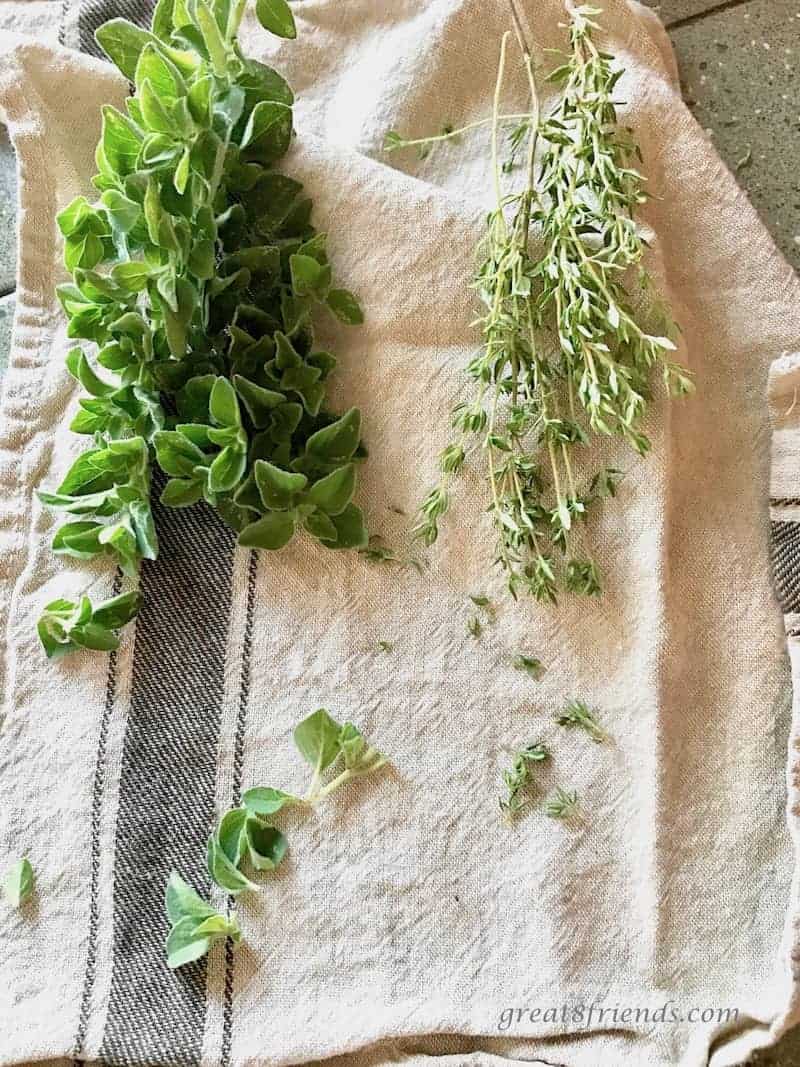 The Fresher the Better
We all know that fresh is best, right? Whenever I get a chance, that's what I choose! Living in California, we're fortunate enough to still have a few vegetable farms, however sparse.
In Orange County we're lucky to live near a local farm called Manassero Farms. They have an amazing produce market on the property.
All produce and herbs are picked and sold right there, just feet away from the cash register!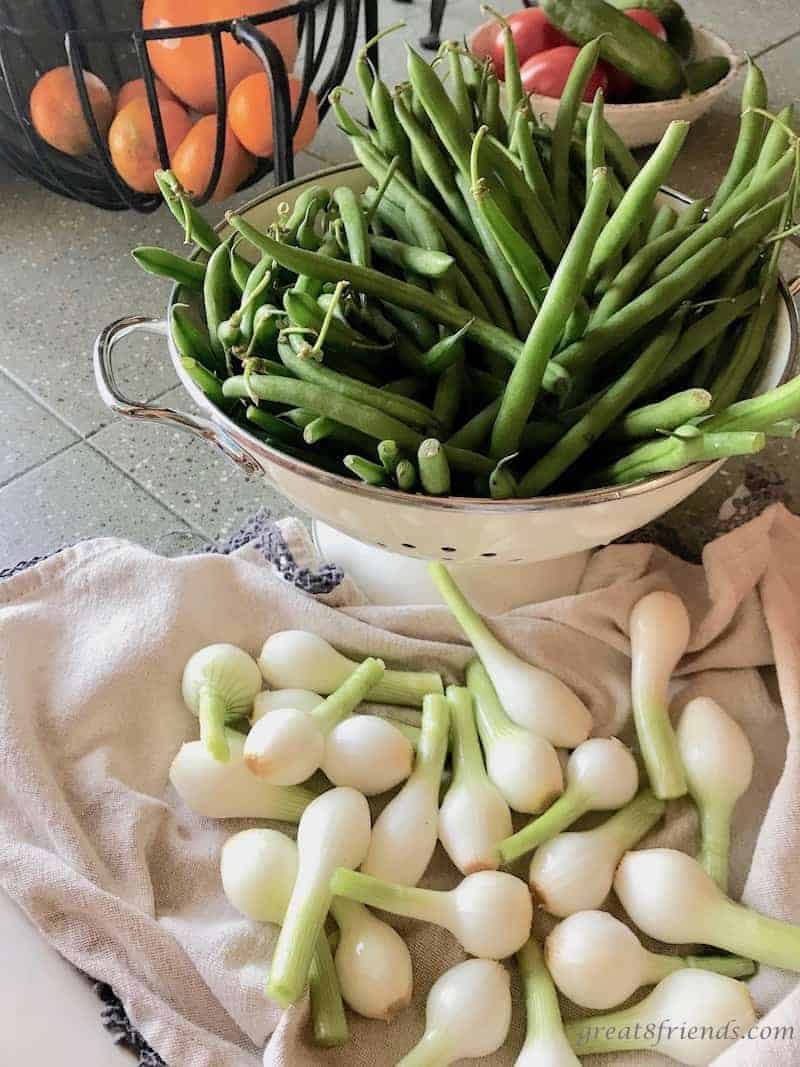 If I plan it right, that's where I scurry off to whenever I have a chance, and especially this time for the fresh picked green beans, herbs and spring onions used here.
Snipping the herbs and beans with your kitchen shears releases the most amazing aroma.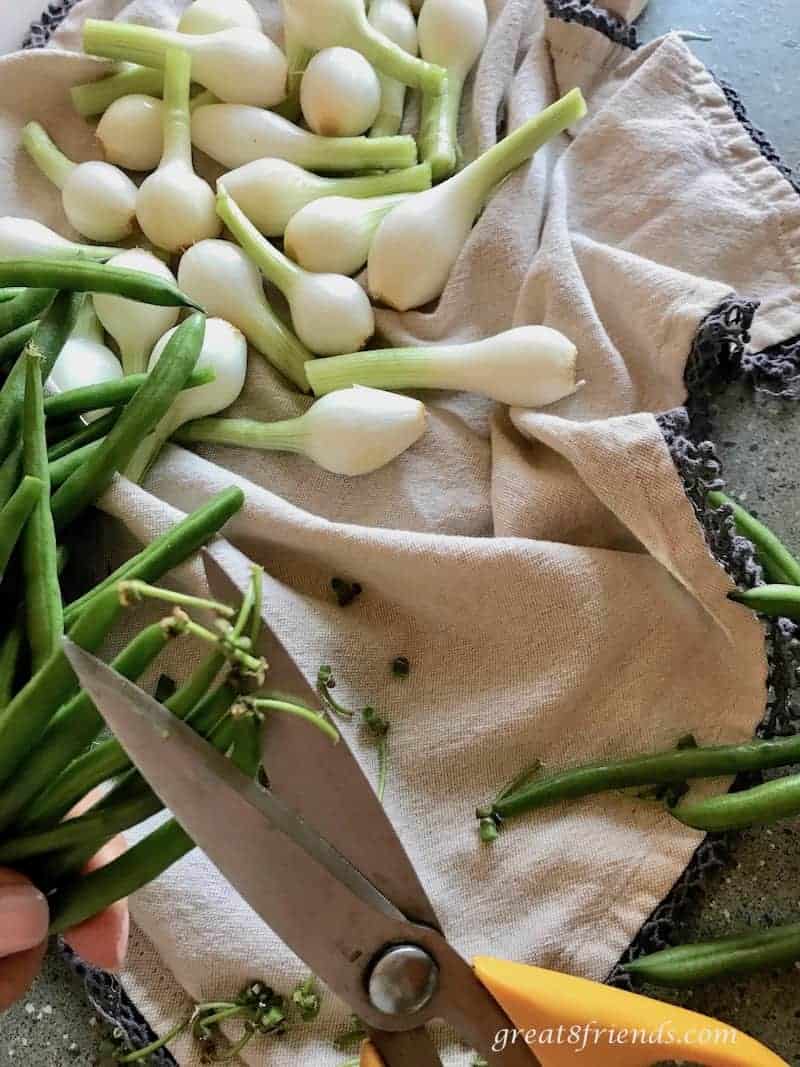 Using your smallest sharpest knife, makes cutting the onions easier and helps keep them intact.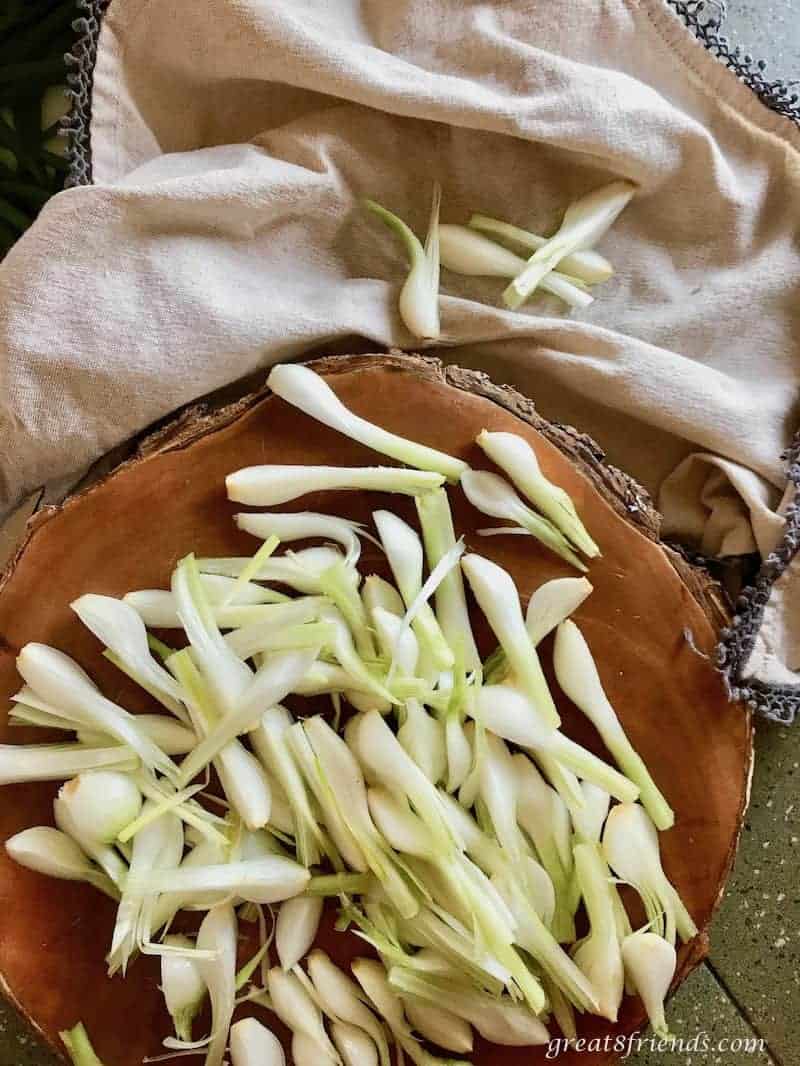 Jurga and Tim's Great 8 dinner invitation was delivered and I saw my assigned dish, I knew the recipe to use and I knew where to go!
Don't you just love when things come together so easily?! The recipe, the ingredients, the flavors...doesn't get any Gr8-er than that!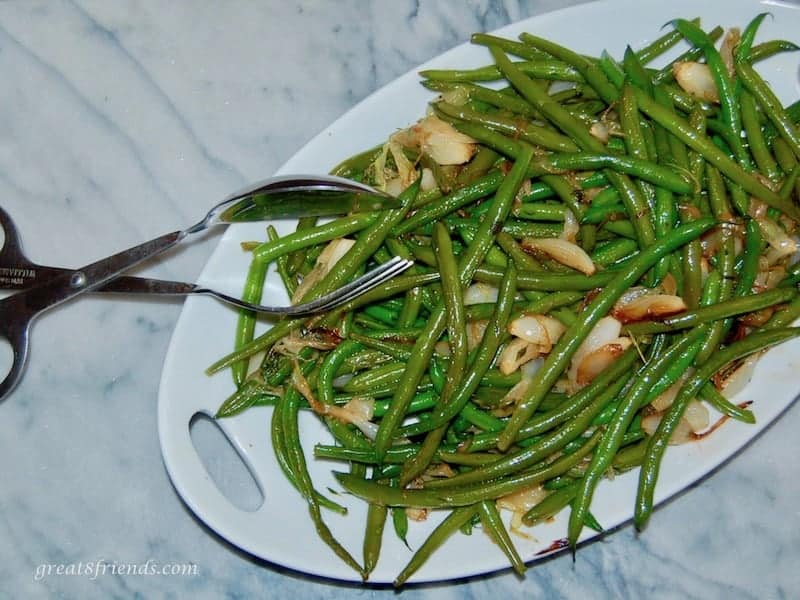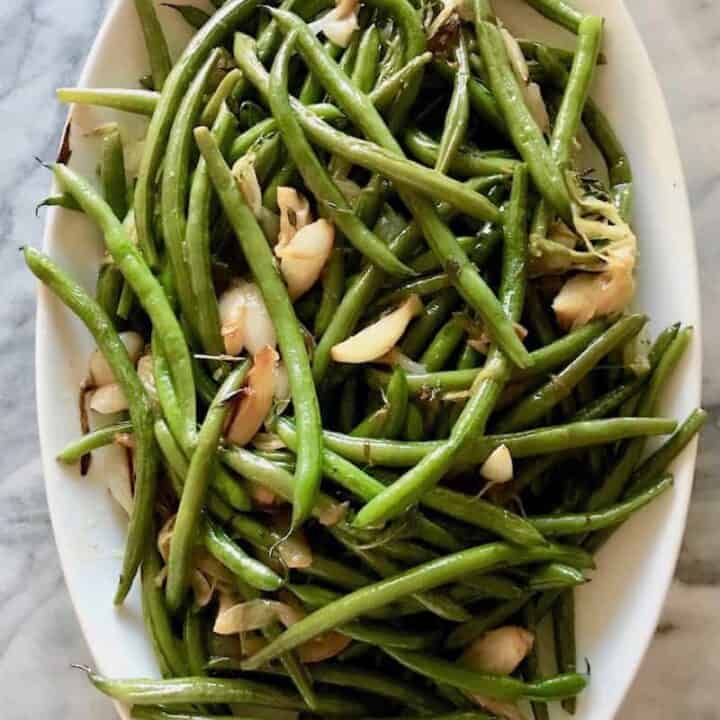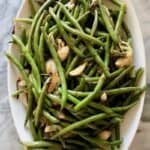 Print Recipe
Pin Recipe
Save this Recipe
Saved!
Please leave a rating!
Green Beans and Onions
The cooked to a bright green crisp, brings out the fresh flavor of this delicious green beans and onions side dish!
Ingredients
1 ½

pounds

green beans

,

ends trimmed a bit

10

Mexican green onions (See Gr8 Tip below)

,

stringy roots trimmed, but with bulb still fully intact

5

Tablespoons

extra virgin olive oil (EVOO),

divided

2 ½

teaspoons

chopped oregano leaves

2

Tablespoons

unsalted butter

,

softened

2

Tablespoons

marjoram leaves

,

chopped

Sea salt and freshly ground pepper

,

to taste
Instructions
In a large pot of salted boiling water, blanch the beans for 2 minutes (or until green in color, cooked but still crisp)

Cut the full length of the onions in half lengthwise (or in thirds for larger bulbs) keeping 1"-2" of the green still attached.

Heat a large skillet over medium high heat until hot (1-2 minutes).

Add 2 ½ Tablespoons of the EVOO, swirling to coat.

Slowly add the onions. If overcrowded, work in batches.

Season with oregano leaves, salt and pepper. Cook until a slight brown (about 2 minutes).

Using tongs, add the green beans and toss with the onions.

Add a couple pinches of salt and some freshly ground pepper.

Stirring to combine, cook together for about 3 minutes longer.

Add the butter and marjoram leaves and cook for a few minutes longer.

Continue tossing to coat the vegetable mixture with the butter.

How Gr8 does your kitchen smell?!

Season to taste.
Notes
Gr8 Note
Mexican green onions can be found in the produce section of most neighborhood supermarkets. They look like a green onion with a slightly larger bulb.