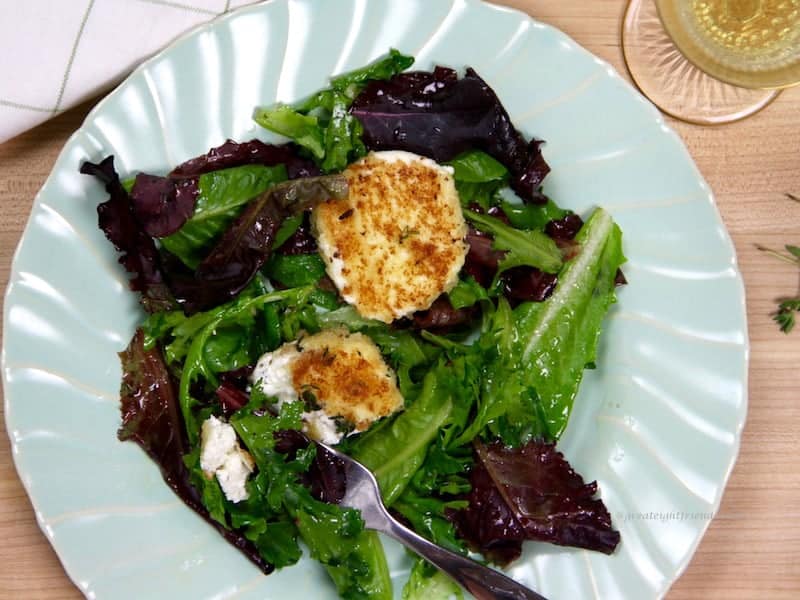 This simple green salad is a perfect side for any meal; with my "go to" salad dressing that my family loves. It is so easy to throw together and tastes so much better than any bottled dressing you can buy. If you have guests or want to treat your family, add a little elegance and flavor by adding these warm goat cheese rounds. It is so easy to prepare the goat cheese rounds ahead of time and warm right before serving. Enjoy!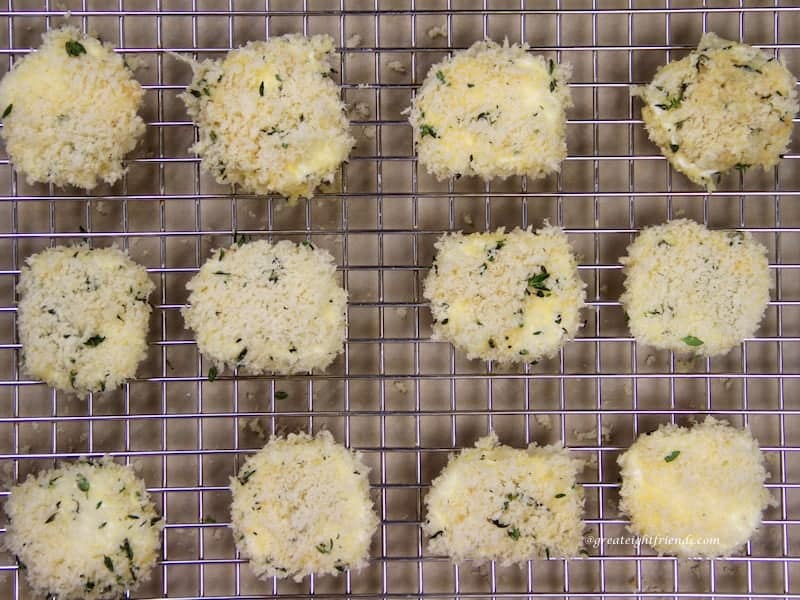 Green Salad with Warm Goat Cheese Rounds
Goat Cheese Rounds Ingredients:
1 ½ cups fresh white bread crumbs
2 Tablespoons minced fresh thyme or 2 teaspoons dried thyme
11 ounce log of plain soft goat cheese
1 egg, beaten to blend
1 Tablespoon olive oil
1 Tablespoon unsalted butter
Salad Ingredients:
3 Tablespoons white wine vinegar (or vinegar of your choice)
½ teaspoon Dijon mustard
½ teaspoon mayonnaise
½ teaspoon minced garlic
½ teaspoon kosher salt
¼ teaspoon freshly ground pepper
½ cup olive oil
salad greens, enough for 6 to 8 people
Goat Cheese Rounds Directions:
Combine the bread crumbs and the thyme.
Slice the goat cheese into 12 (½-inch thick) slices. The cheese tends to stick to the knife so using dental floss is a clean and easy way to cut it.
Dip each slice into the beaten egg and then into the bread crumbs making sure that each cheese slice is completely coated.
Place the slices on a rack and chill in the refrigerator for at least 15 minutes. (This can be done up to 4 hours ahead of time if kept refrigerated.)
When ready to serve, heat 1 Tablespoon of butter and 1 Tablespoon of olive oil in a saucepan over medium-high heat until just smoking.
Cook the goat cheese rounds quickly on both sides until browned on the outside (less than 1 minute on each side).
Lay on top of the prepared salads.
Salad Directions:
Prepare the salad dressing by placing the vinegar, mustard, mayonnaise, garlic, salt, and pepper in a small bowl and combine with a whisk.
While whisking, slowly add the olive oil until the dressing is emulsified. Set aside until you are ready to toss the salad.
Toss and plate the salad and add 1 - 2 warm goat cheese rounds on top and serve.