This Italian Chopped Salad is inspired by Vince's Italian uncle's famous Christmas antipasto. With all of the classic fresh flavors, this makes a delicious main course or serve small portions as an appetizer.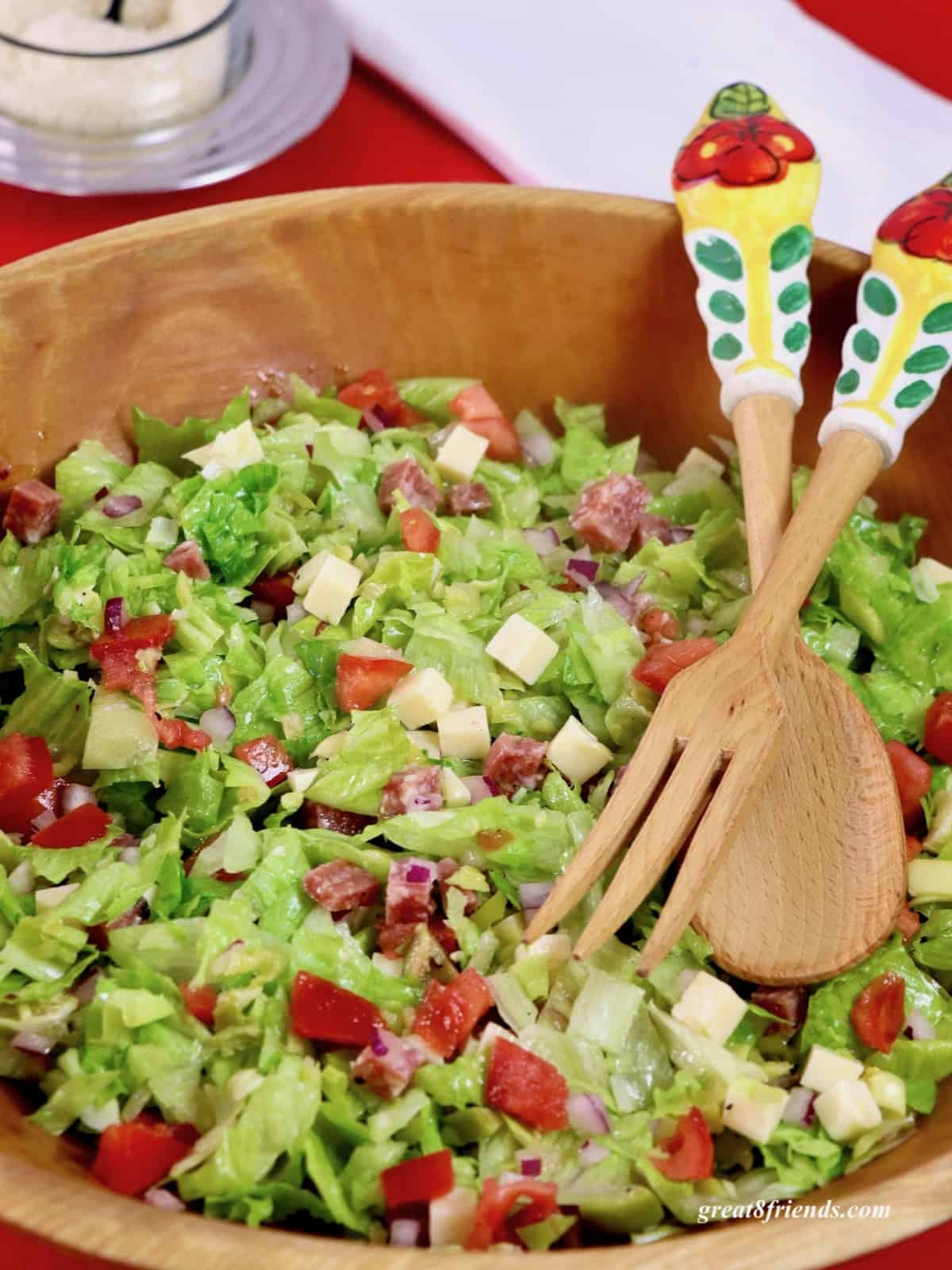 My chopped salad was cre-8-ted when Jurga and Tim assigned it to me for their Chicago Little Italy Gr8 Dinner.
I had never made a one, or even thought about making one, so I enjoyed the process of figuring out what I wanted to include.
Since Vince is Italian and we were lucky enough to spend many Christmases with his family in New York, I started with my memories of all the amazing Italian Christmas dinners.
Vince's Uncle Nick was famous in the family for his antipasto at Christmas, so I decided to start there.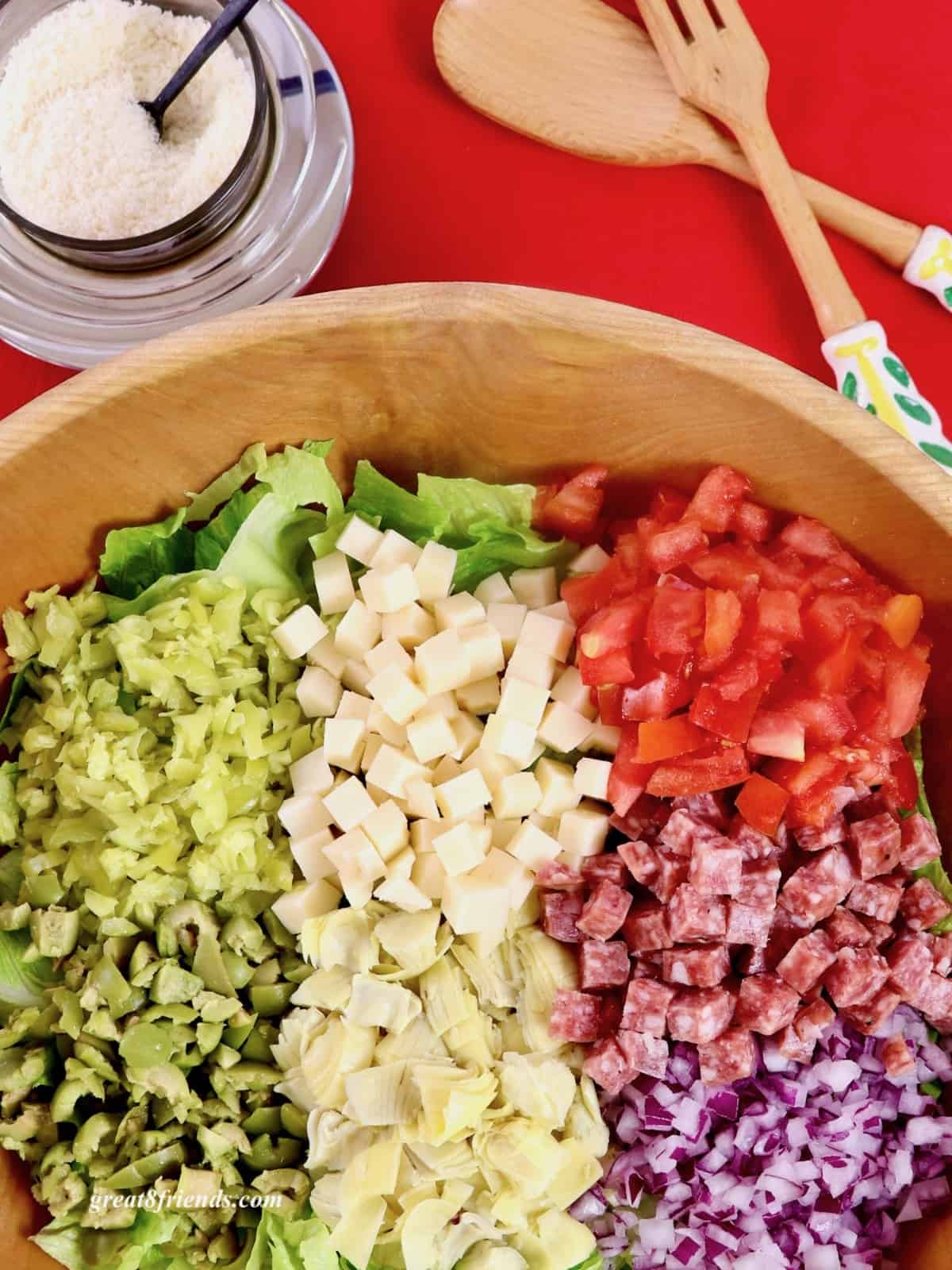 All those yummy Italian vegetables chopped up and put into an easy to eat salad, well, what could be better?
What is a Chopped Salad?
Apparently, chopped salads have been around since the '60s and they started right here in Hollywood at the renowned, La Scala restaurant.
According to Saveur, the upscale patrons of La Scala decided their Gourmet Salad was too messy to eat so they started requesting it chopped, thereby making it neater to eat. The chef obliged and a classic was born!
How to Make this Salad
At La Scala, the kitchen tosses all the ingredients together, then turns them on to a cutting board and uses 2 knives together to chop it all up.
You can certainly do that! However, I get into enough trouble with ONE knife, not gonna try TWO at a time!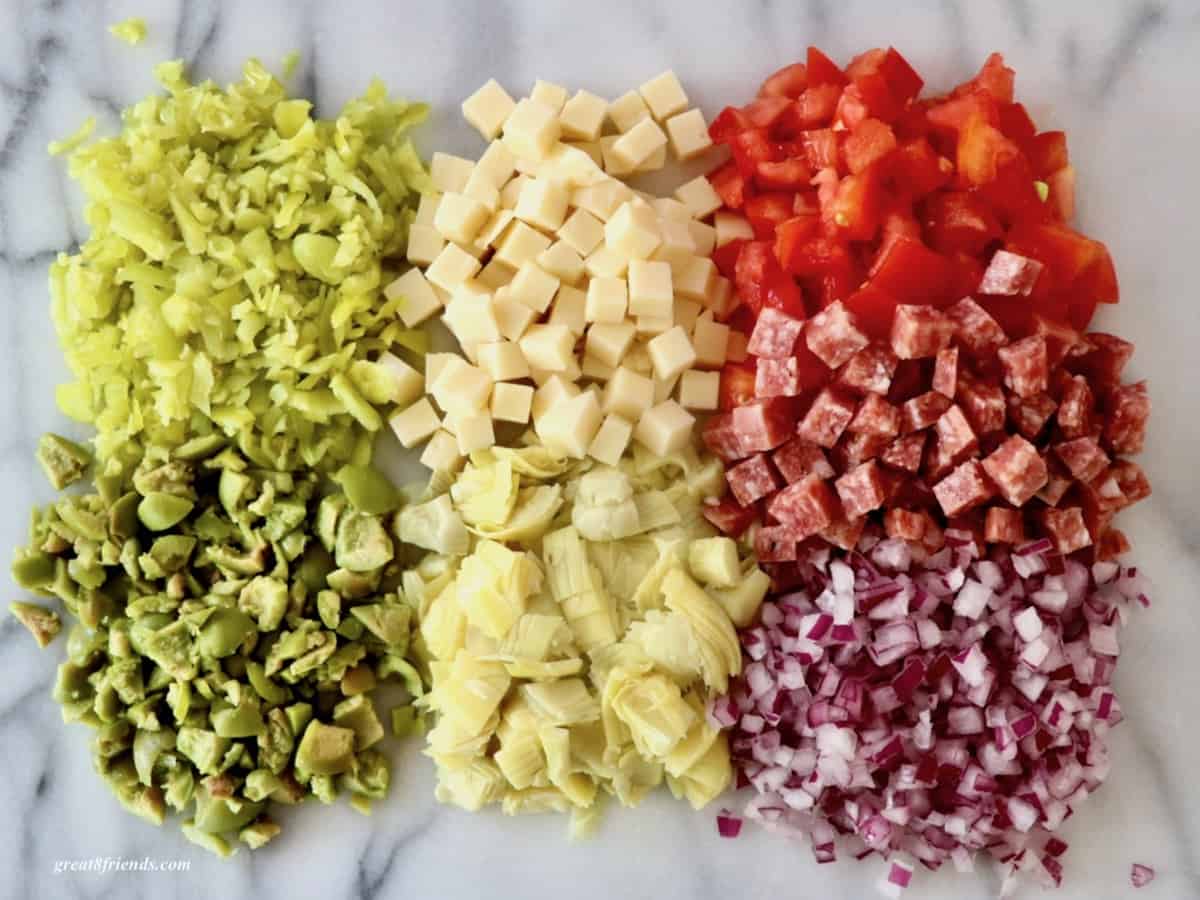 So I chop and dice each ingredient then toss it all together. The benefit here is that you can prep all the ingredients ahead of time and store in individual bowls or bags in the fridge.
You can then toss and dress it right before serving. So easy and Gr8, especially if you're serving it to company!
Pass the grated Parmigiano Reggiano for everyone to sprinkle on top to their liking. You can also pass a small bowl of red pepper flakes for those who want it spicier.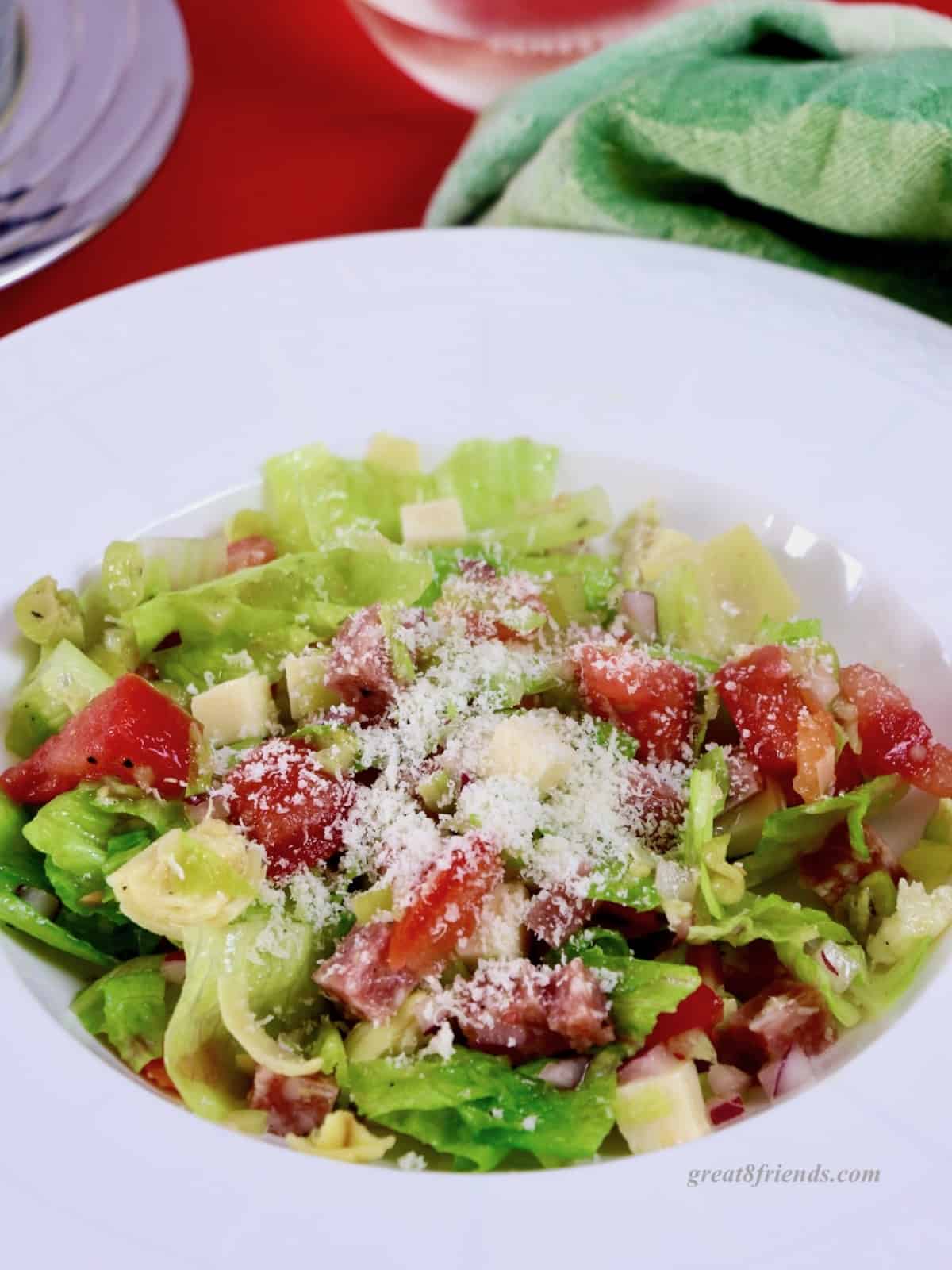 However, if you do try La Scala's way, please send us a video of you using two knives. We'd love to see it!
What a Chopped Salad isn't -- big pieces of anything. Everything gets diced or chopped, including the lettuce. If you can't easily pick up a mouthful on a fork, then it isn't chopped enough.
The Easy Homemade Salad Dressing
Because of the all the strong amazing flavors in the ingredients, I chose to serve this with the classic simple dressing that Vince's family generally used.
Don't be afraid of making homemade dressing. This is super simple, I promise!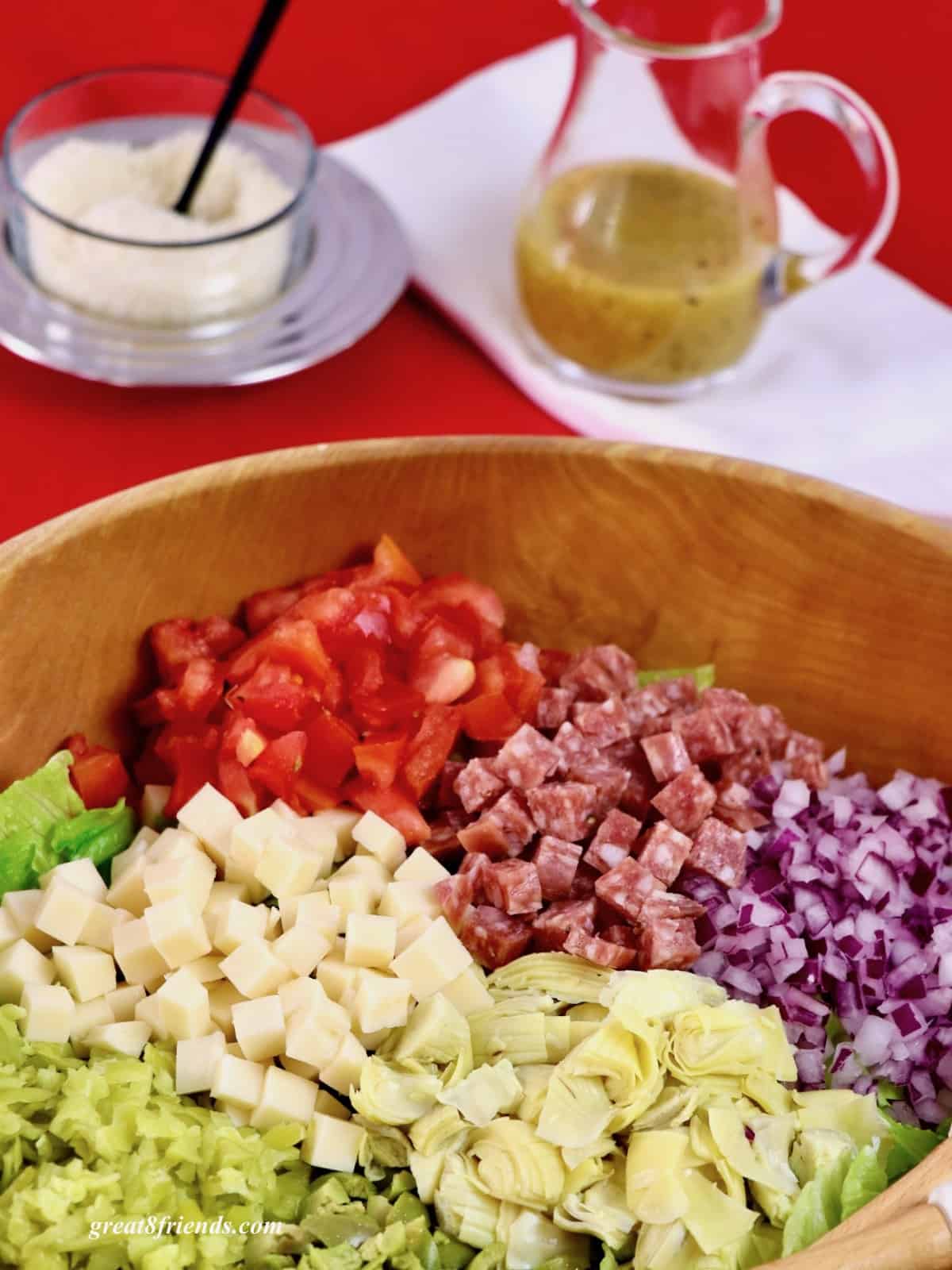 Choose an extra-virgin olive oil that you like. Some places do tastings so you can pick your favorite. Or you can choose our favorite olive oil! Making a fresh salad is the time to splurge on the good olive oil.
Second, a simple red wine vinegar. This is what makes classic restaurant Italian salads taste like you expect.
Then some fresh garlic, salt and pepper and you have your dressing. Really, it's that easy! And the garlic is crucial here... it's Italian! But feel free to add more or less to your liking.
Get yourself a nice lidded jar or dressing shaker to make this process even simpler.
And, yes, you can absolutely substitute lemon juice for the red wine vinegar. The salad will be delicious but a different flavor profile.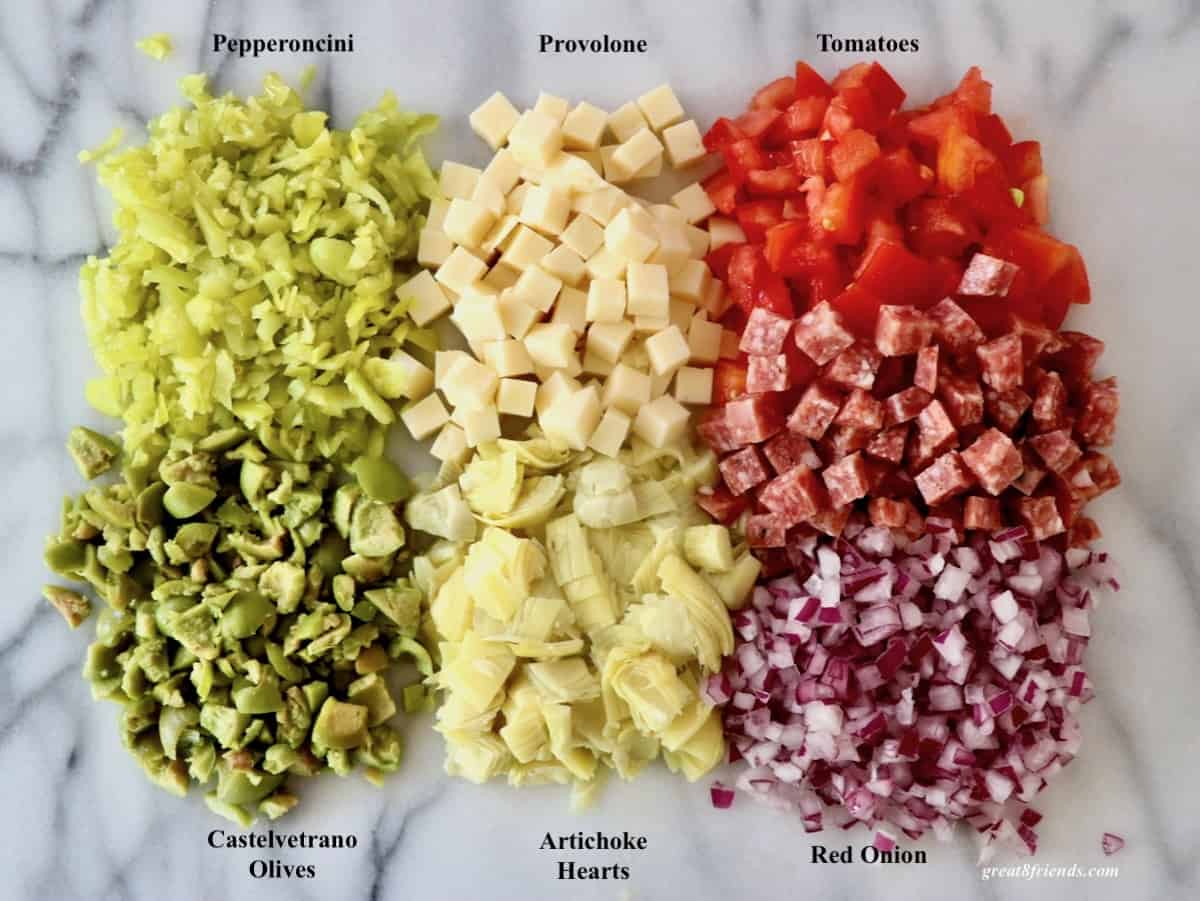 When I made this again recently and asked for critical feedback from the family, Vince and my son-in-law both gave it a "10"! And my daughter just groaned and said, "Mom, this is soooooo good"!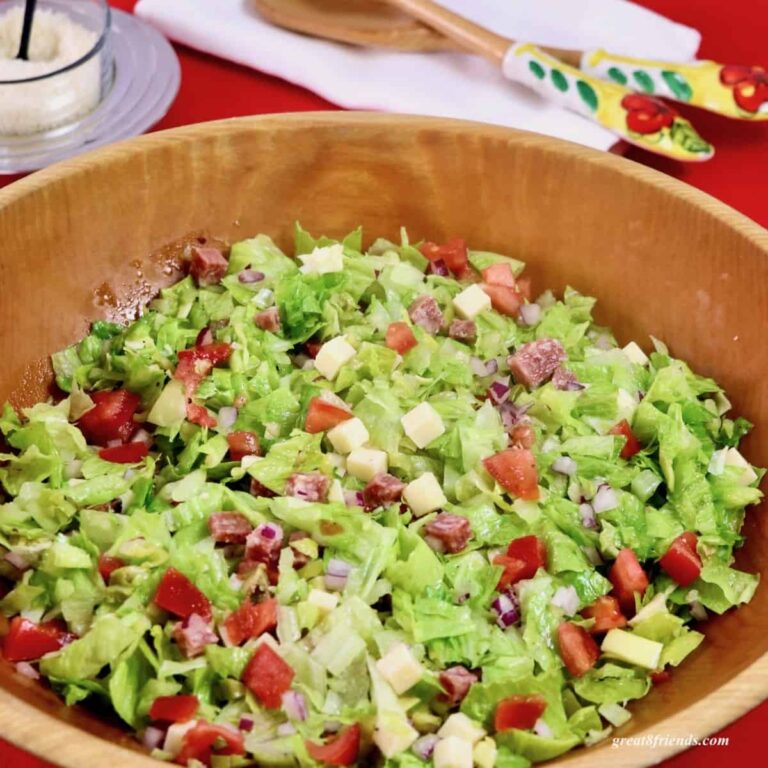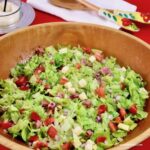 Print Recipe
Pin Recipe
Save this Recipe
Saved!
Please leave a rating!
Italian Chopped Salad Recipe
This is a salad, so don't get too hung up on the ingredients. If there's something you don't like, leave it out. If you love one ingredient more than others, add more. This is basically a guideline from my Italian family to yours.
Servings:
6
main course servings
Ingredients
12

ounces

romaine lettuce

,

chopped. This should be about 5 to 6 cups

2

Roma tomatoes

,

diced, see Gr8 Notes

½

cup

diced red onion

3

ounces

hard salami

,

cut into small squares, about ¼"

3

ounces

provolone cheese

,

cut into small squares, about ¼". I use the hard sharp provolone, but feel free to use the softer sandwich slices.

14

Castelvetrano olives

,

seeds removed and chopped, see Gr8 Notes

6

pepperoncini

,

drained and chopped

3

artichoke hearts

,

drained and diced. I use water packed, but if you only have oil packed, they'll work too.

freshly grated Parmesan cheese

,

to sprinkle on top
Simple Italian Dressing
3

ounces

extra virgin olive oil

1 ½

ounces

red wine vinegar

,

you can substitute lemon juice if you prefer. The flavor will be a bit different.

2

large

garlic cloves

,

put through a garlic press, or crushed and diced. Use less or more depending on your taste.

1

teaspoon

salt

¼

teaspoon

freshly ground black pepper
Instructions
Toss all the salad ingredients together.

Start by pouring half the dressing on and tossing. Continue until the salad is dressed to your liking.

Serve, passing the Parmesan separately to sprinkle on top.
Dressing
Put dressing ingredients into a lidded jar or dressing shaker, seal the container and shake until emulsified. OR, use a whisk to emulsify the ingredients.
Notes
Gr8 Tip:
Tomatoes - Roma tomatoes are recommended because they tend to be less juicy than other types of tomatoes. If you cut your tomato open and discover that its rather juicy, simply remove the seeds and juice and proceed with chopping.
Olives - To easily seed the olives I use my cherry pitter. It works like a charm!
Gr8 Do Ahead Tips:
The dressing can be made up to four days ahead of time. Refrigerate and bring to room temperature before using. You may need to re-shake it.