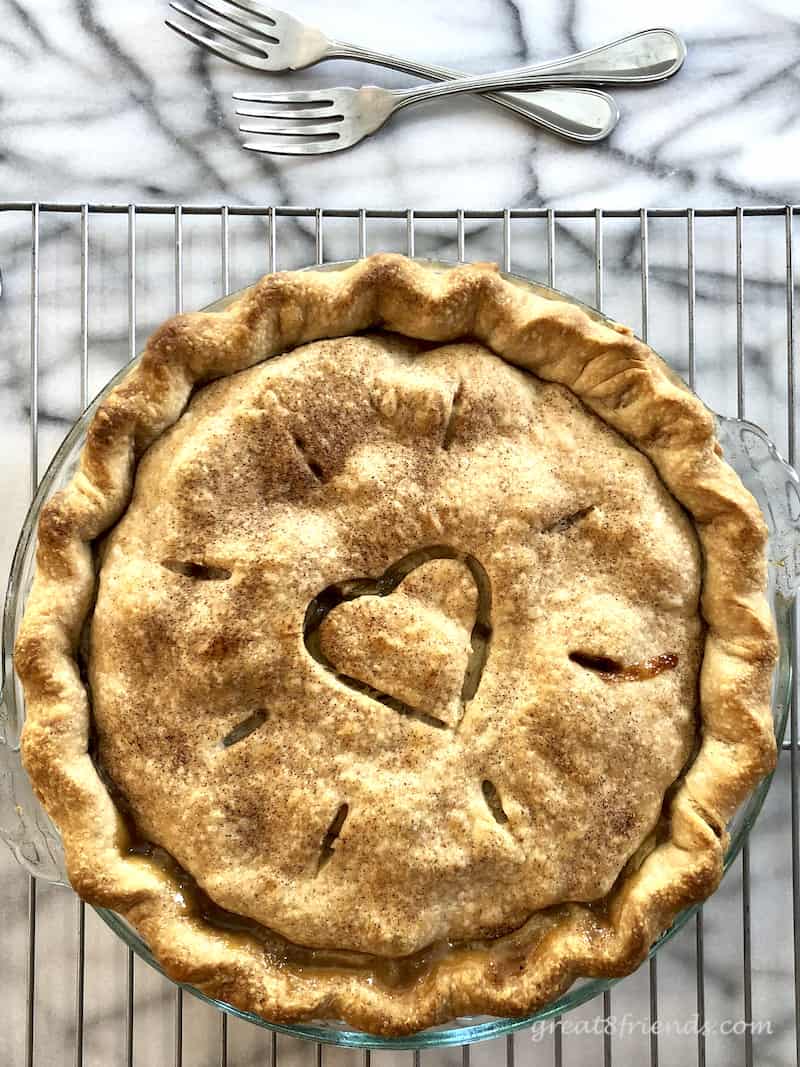 I've really been into pie baking lately. I don't know why, I mean I've always loved baking, but usually I bake cakes and cookies.
Pie not so much, because for so many years pie crusts were challenging for me. I guess it's just a matter of practice (and patience), as I've gotten older pies have become easier for me.
But that doesn't mean you have to wait until your sixth decade to learn to make pies! My daughter-in-law makes beautiful pies!
My mom always made her pie crusts using just Crisco shortening for the fat. She followed the recipe on the can and her crusts were beautiful, flaky, and delicious.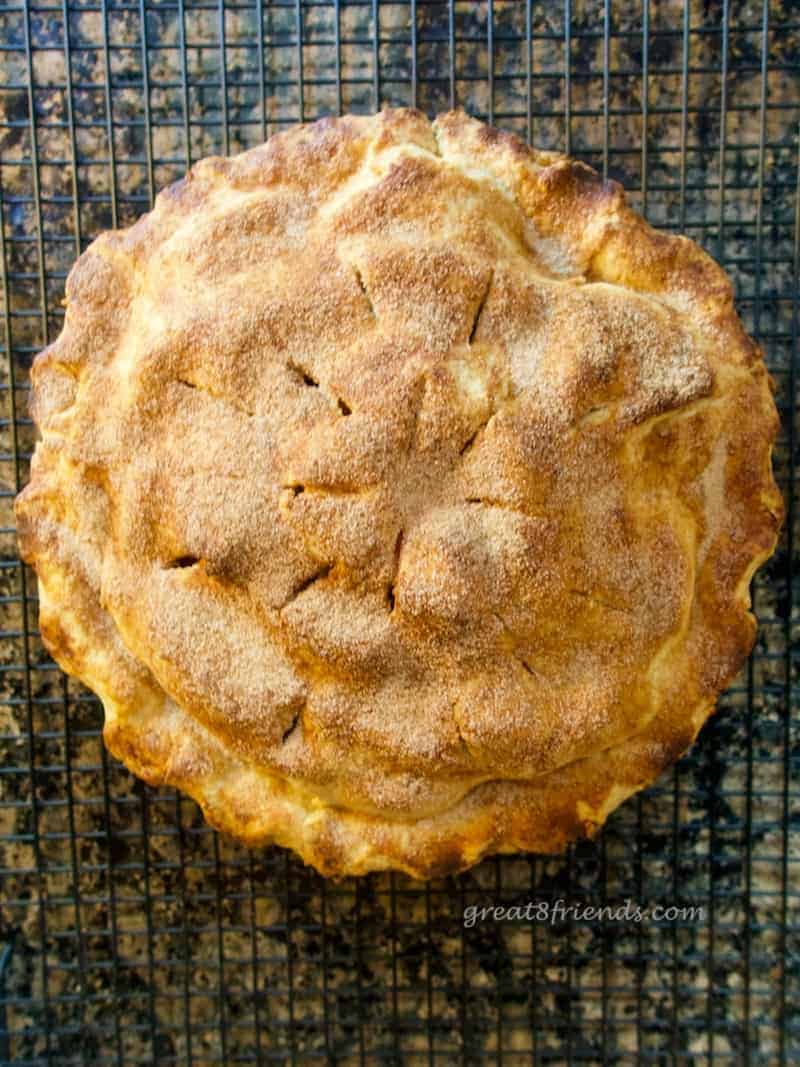 Unfortunately, using that recipe never worked for me. Oh, it tasted great, I just had a heck of a time with the rolling and transferring to the pan!
Then years ago I had a dear friend who also made delicious pies...and she had a secret...her secret was to measure the fat using a tablespoon instead of a ½-cup measure.
With every tablespoon, instead of leveling it off, round it a little. Well, that was a revelation for me! As soon as I started adding that small bit of extra fat to my pastry recipe, my crusts became easier to handle.
So, here is my recipe for a 9" to 10" SINGLE pie crust with the extra fat already added to the recipe, no need to use my friend's tip. For a double-crust pie, just double the recipe. And if you use the food processor method, it is a snap!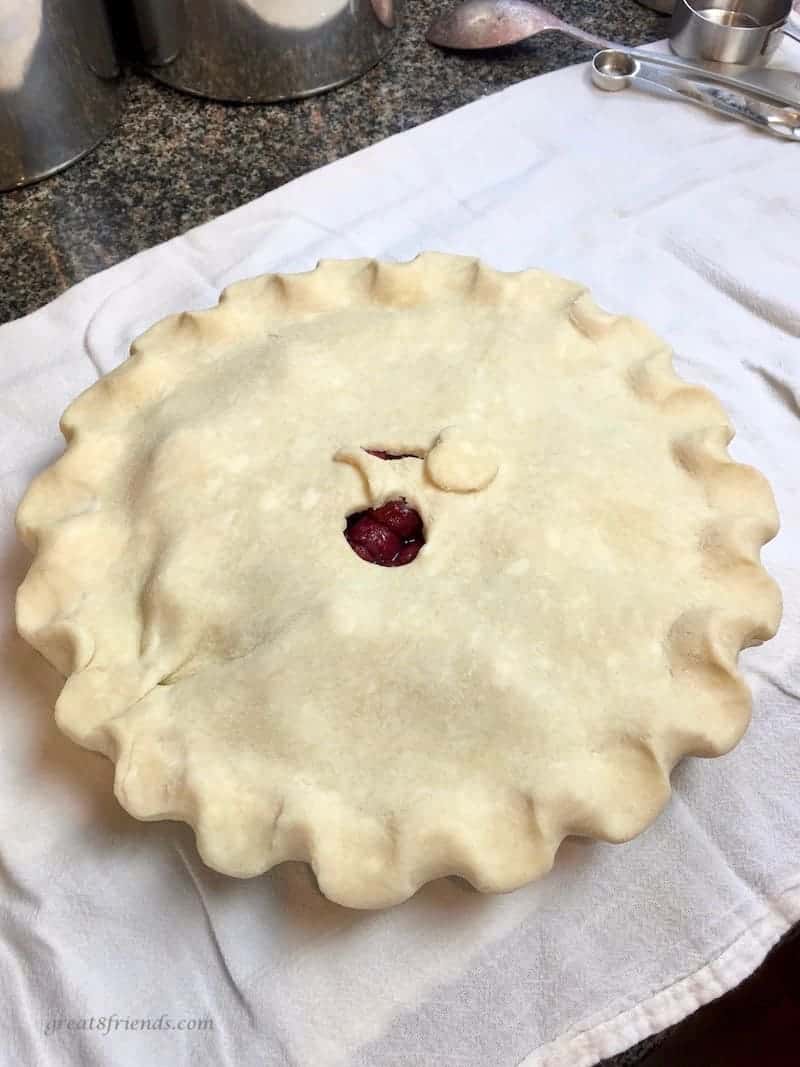 Gr8 Tips for the Perfect Pie Crust:
Make sure your butter is cold, cold, cold.
Fill a glass measuring cup with water and add ice. Then just dip your tablespoon in to measure the water.
If you work quickly and your butter and water are really cold, you may be able to skip the refrigeration part of the recipe. (My mom never refrigerated her crust before rolling it out. She says, "I had 4 little kids running around, I had to get the pie made and in the oven!")
When rolling out the dough, treat it like a delicate flower. A rolling pin is heavy, there is no need to press on the dough; roll the pin so the dough pushes out underneath it. Start from the middle and work your way out to the edge.
Try not to overwork the dough as that is what will make it tough. Handle it as little and as gently as possible.
Some Gr8 Pie Recipes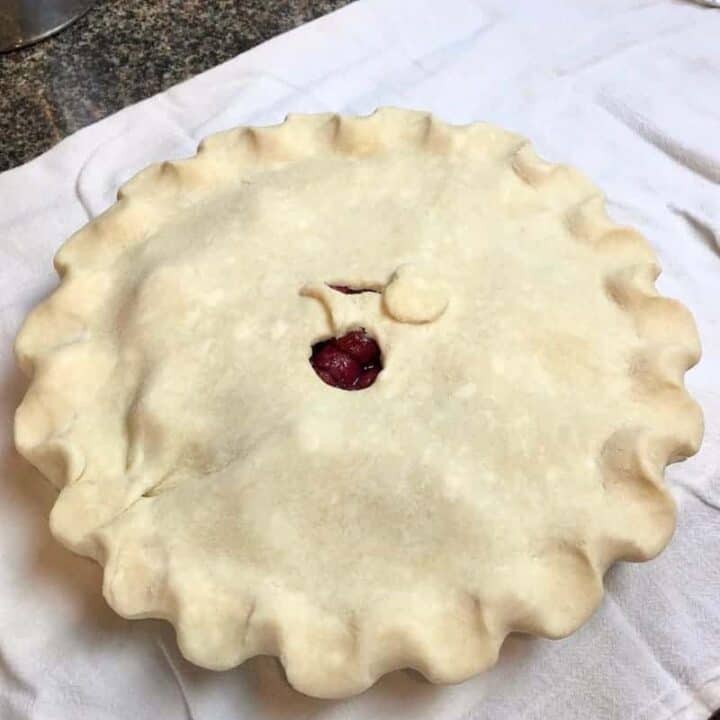 Print Recipe
Pin Recipe
Save this Recipe
Saved!
Please leave a rating!
Perfect Pie Crust
The recipe, as written, makes ONE CRUST for a 9" to 10" SINGLE crust pie. Double the ingredients for a double-crust pie. You should have dough left over to be able to make a few decorations for the top of the pie if you like.
Also, you can use all butter, as the recipe is written or feel free to make it half butter and half shortening or all shortening. The combo of shortening and butter will yield a bit flakier crust, but sometimes, all butter is better!
Ingredients
1 ⅓

cups

all purpose flour

½

teaspoon

salt

9

Tablespoons

chilled unsalted butter, cubed

,

(or half butter and half chilled shortening)

3-4

Tablespoons

ice water
Instructions
Food Processor Directions:
Pulse the flour and salt together in the bowl of a food processor fitted with the metal blade, to combine.

Add the very cold cubes of butter (or butter and shortening, if using) and pulse until mixture is crumbly and mealy, with pieces no bigger than peas.

Add one tablespoon of ice water and pulse 4 or 5 times.

Add another tablespoon of ice water and pulse.

Continue adding water and pulsing carefully until dough just stays together when pressed in your palms. It will still look crumbly in the bowl. Do not over process or the pastry will be tough rather than flaky.

Remove dough from food processor and press together into a ball. If you made the one-crust recipe, form pastry dough into a 5" disk, wrap in plastic, and refrigerate for an hour. If you doubled the recipe, divide dough into two 5" disks, wrap in plastic and chill for an hour, or up to 2 days.
Manual Directions:
Mix the flour and salt in a large bowl.

Add the chilled butter.

With your hands or a pastry cutter mix the dough until it is crumbly and mealy, with pieces no bigger than peas.

Add the ice water one tablespoon at a time and mix with hands or pastry cutter.

Continue adding ice water just until dough holds together. Be careful not to overwork the dough or your pastry will be tough, not flaky and tender.

If you made the one-crust recipe, form pastry dough into a 5" disk, wrap in plastic, and refrigerate for an hour. If you doubled the recipe, divide dough into two 5" disks, wrap in plastic and chill for an hour, or up to 2 days.

Sprinkle a smooth surface with flour and flour your rolling pin. Roll out the circle of dough to about ⅛" thick. It should be about 2 inches larger around than your pie plate.

Fold it in half, then fold in half again so you have a triangle. Lift it carefully and place it in the pie plate so the point of the triangle is at the center of the pie pan. Unfold the crust.
To Pre-Bake Crust for a Single Crust Pie - Blind Baking
Preheat oven to 400ºF.

Using a kitchen shear trim the edges so the overhang is about an inch. Then fold that under and pinch the crust so you have a decorative edge.

Prick the bottom and sides of the crust with a fork.

Then lay a sheet of parchment paper in the crust and fill with pie weights or dried beans.

Chill the crust for 30 minutes. (Yes, you can skip this, but chilling the crust will make the shrinkage less.)

Remove the pie weights and parchment and bake an additional 5 minutes or until golden brown.

Remove from oven and cool on a rack.

The crust is now ready to fill with some deliciousness!!
For a Double-Crust Pie
Prick the bottom and sides of the crust with a fork.

Fill bottom crust with your filling of choice. Mound it up high as most fruits shrink when baked.

Roll out second disk to about an inch larger than the top of your pie.

Fold the crust in half then in half again, so you have a triangular shape. Lay the point of the triangle in the center of the pie and unfold crust.

Trim crust and fold under the edges of the bottom crust and crimp edges. Slice about 5 vents in the top. Bake as directed in your recipe.
Notes
Gr8 Do-Ahead Tips:
Pie Crust is the ultimate Do-Ahead. You can refrigerate the dough for up to 3 days OR you can freeze the dough for up to 3 months.
If you are the pie person in your family or group of Gr8 Friends at the holidays, make your life easier and prepare your dough ahead of time. One of those nights when you find yourself with nothing else to do (that happens???), whip up a couple batches of pie crust pastry! Just form the dough into disks, wrap in plastic wrap, place in resealable plastic freezer bags and freeze.
A day before you will be baking, move the dough from the freezer to the refrigerator. When you are ready to roll out, leave the dough out at room temperature for about 30 minutes to an hour until it becomes pliable enough to work.
Even if the dough has just been refrigerated, it may be too cold to roll. Just let it sit at room temperature for a few minutes.