Mushroom and Ricotta Ravioli are delicious fluffy pillows of pasta filled with flavor, literally! The added touch of pressed fresh basil leaves adds a pretty, and yummy, touch.
Im-Press-ive
Firstly, how pretty are these? I thought they'd be absolutely perfect for our Cucina Farinella Great 8 Friends dinner party!
Delicious, do-ahead and fun to make! As you know I love all things crafty, so why not add a little crafty fun to a recipe, right?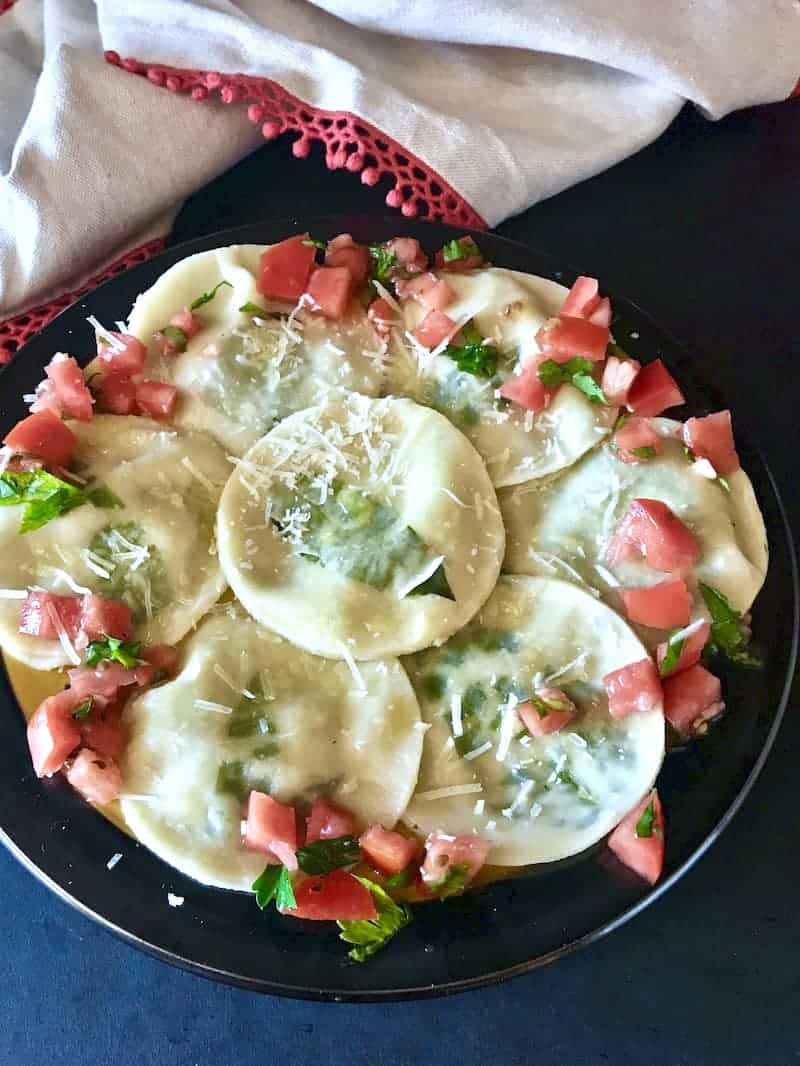 With the simple addition of fresh basil leaves, these Mushroom and Ricotta Ravioli are reminiscent of the pressed and dried leaves that I remember doing when I was younger.
Remember flattening pretty leaves in that big heavy book, checking daily to see if the've dried up yet? Anxious to add them to a handmade card! That's what this recipe reminds me of!
But with these Mushroom and Ricotta Ravioli, you not only get to enjoy the aroma of the fresh basil, but let's face it, they taste way better than paper!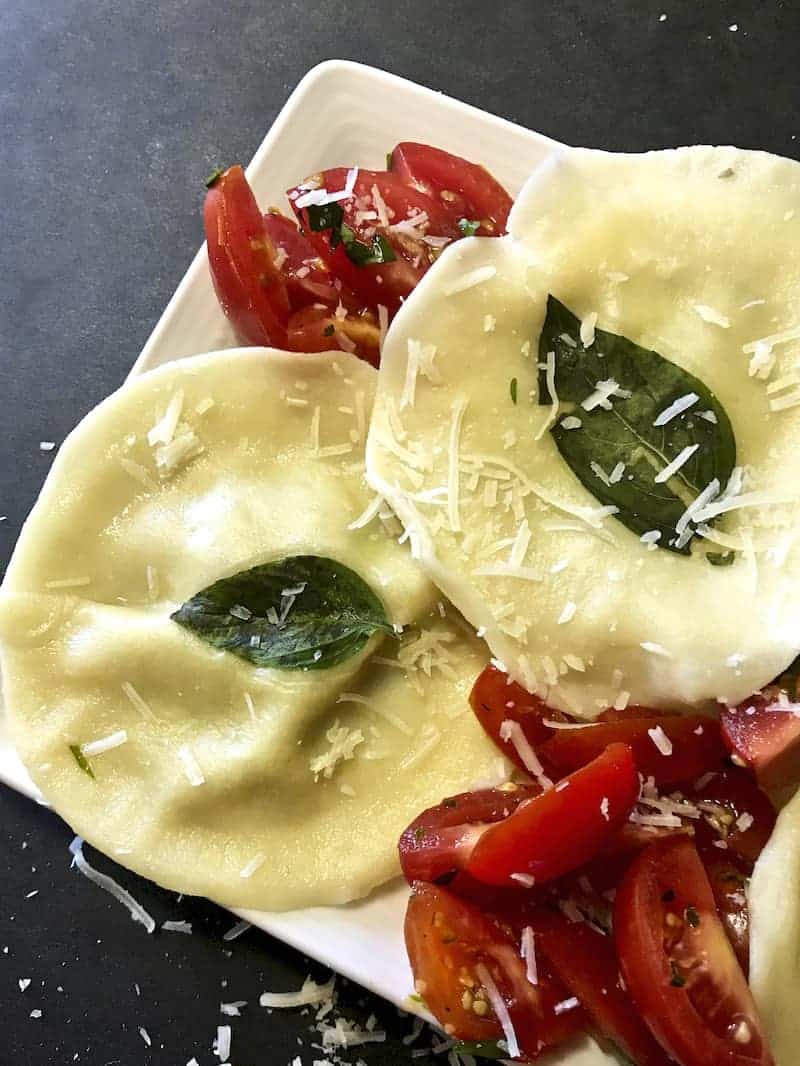 Love it? Leave it!
You know when you have the perfect recipe? So perfect that you love it so much that you want to incorporate it with some of your other favorite dishes and recipes? That's exactly how I feel about the Homemade Pasta!
It goes along the lines of that famous phrase, "If it ain't broke, don't fix it!" Okay, I won't!
For some reason though, I couldn't find my pasta machine! Hmm....who did I loan it to? Oh well, my ceramic rolling pin, and some extra arm strength worked perfectly!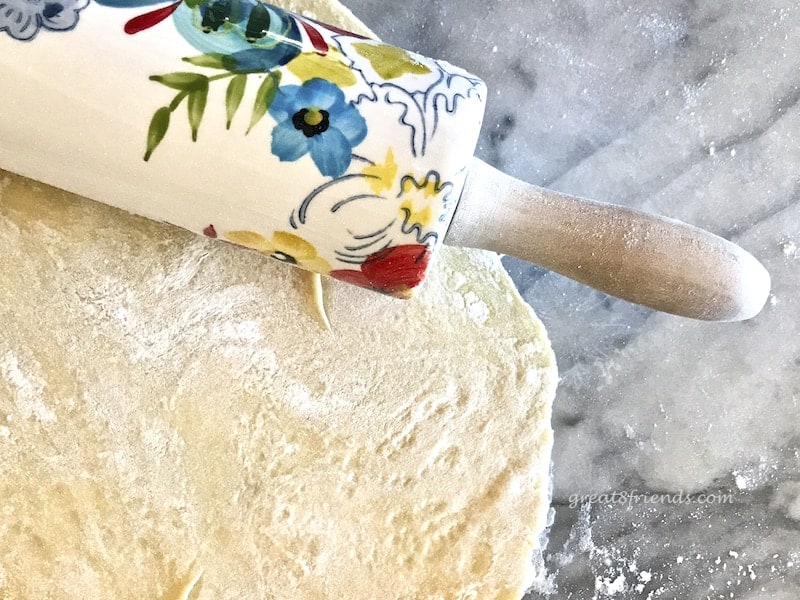 The only addition to this perfect pasta recipe was just the little added fresh basil leaf…that's minor (and pretty!)
It will add a little character and freshness to these pretty pillows of pasta without compromising the texture of the dough.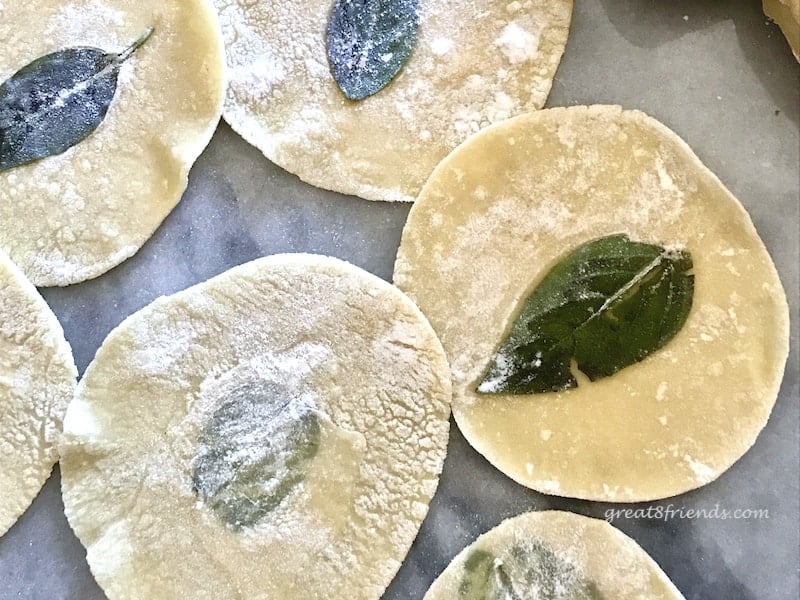 Keeping it simple
Not wanting to mask the flavor of the mushroom and ricotta filling, or any filled pastas for that matter, I like to do something simple and basic as a "sauce."
No one in my family is a fan of butter, (yes you read that right!) so butter on anything was never a "thing" in our house! Going with my favorite, no fuss, go to "sauce" was the perfect choice!
Super simple. My favorite Trader Joe's little pear shaped tomatoes, a few basil leaves, some garlic and a drizzle of olive oil. Don't want to forget the parmesan! Done!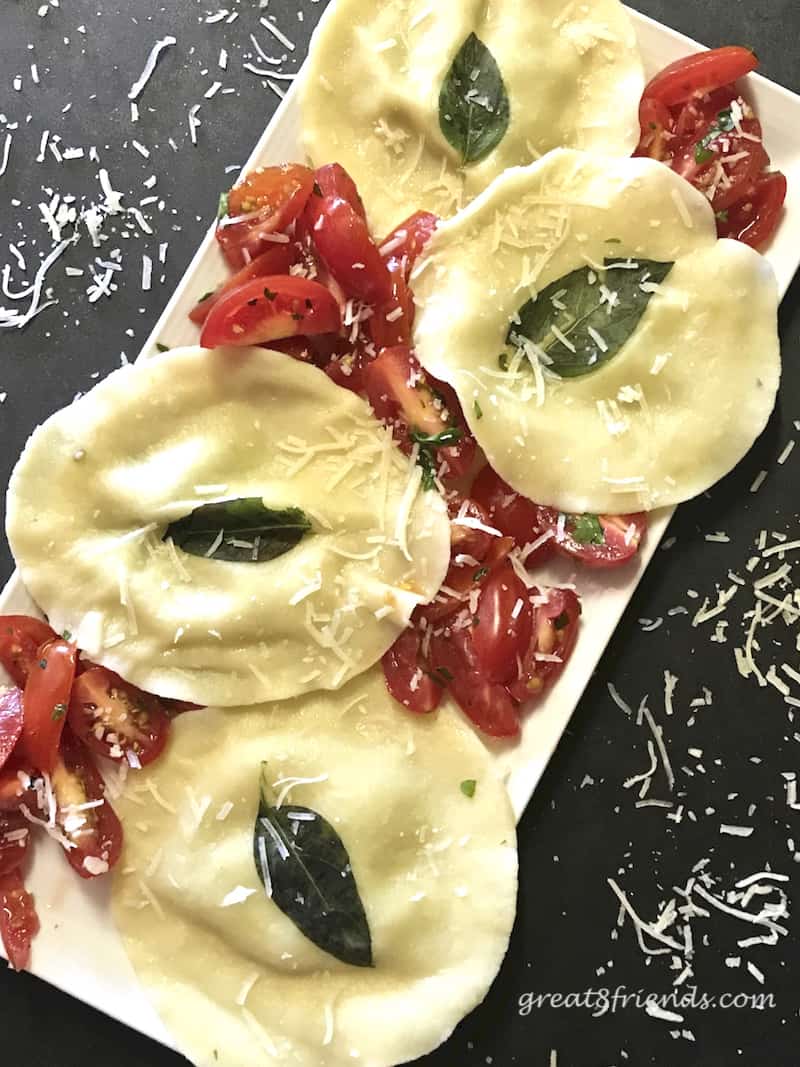 Let's get busy
So my friends, if you've got a little time and are ready to get your hands in flour, we've got some pasta crafting to do!
With the simple sauce listed below or even Kyle's Italian Red Sauce and a fluffy loaf of Anna's Rosemary Sea Salt Focaccia your cucina will be open for business and smelling heavenly! Don't forget the Homemade Ricotta to bring it all together!
Got some little kiddos who love the kitchen? Do your spouse or your friends like to be a part of the fun? Get the assembly line set up! It's the one time you can't have too many cooks in the kitchen!
Buon appetito amici!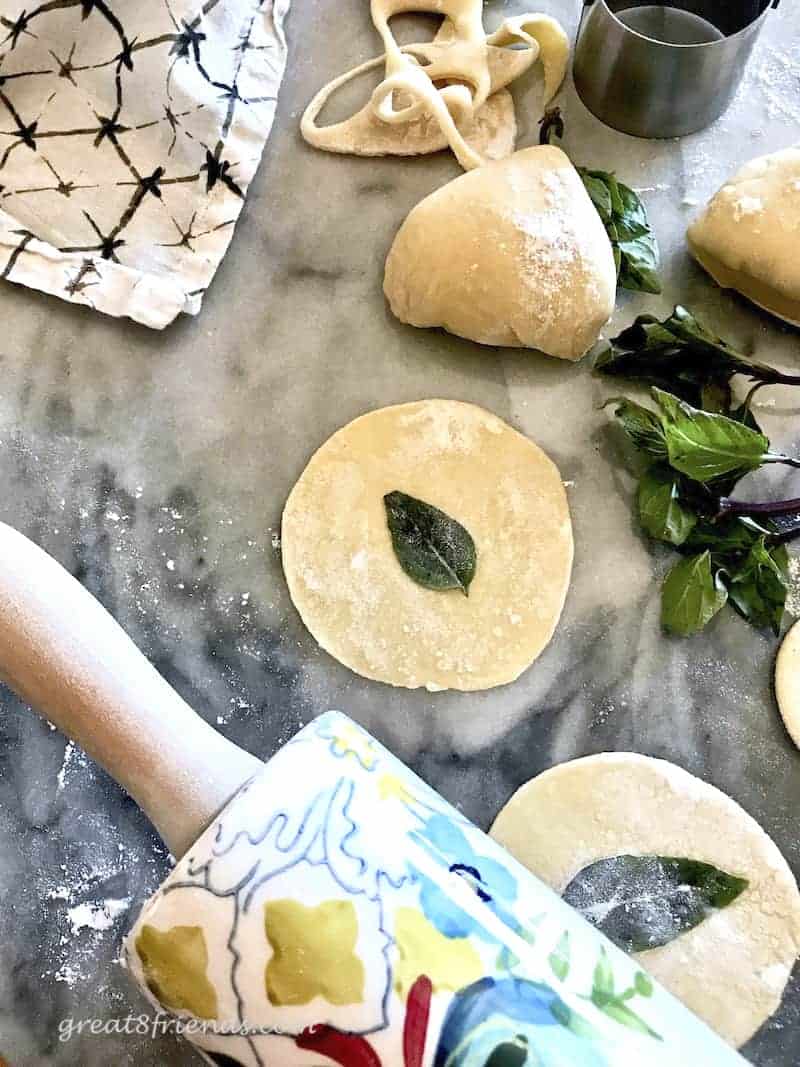 Some Gr8 recipes to add to your meal: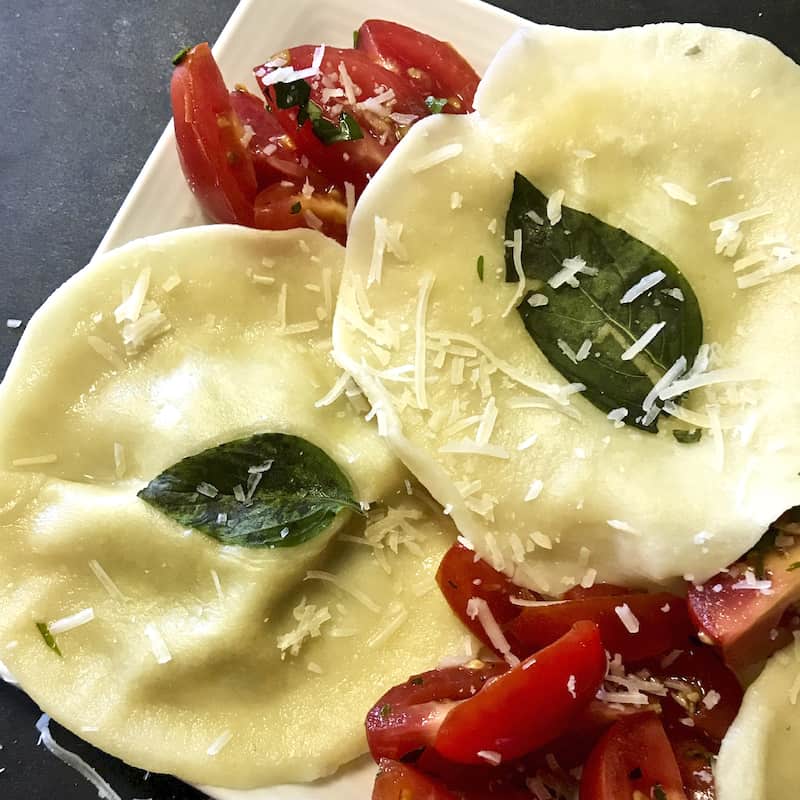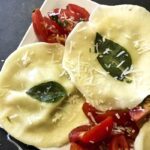 Print Recipe
Pin Recipe
Save this Recipe
Saved!
Please leave a rating!
Mushroom and Ricotta Ravioli Recipe
Delicious fluffy pillows of pasta, Mushroom and Ricotta Ravioli are filled with flavor, literally! The added touch of pressed fresh basil leaves adds a pretty little touch.
Ingredients
Mushroom Ricotta Filling
2

Tablespoons

olive oil

8

ounces

mushrooms

,

finely chopped

2-½

Tablespoons

finely chopped fresh parsley

3

cloves

garlic

,

finely chopped

1-¼

cups

ricotta cheese

2

egg yolks

,

lightly beaten
Ravioli
1

pound

Homemade Pasta ,

Great 8 Friends' recipe is the best!

1

large handful

fresh basil leaves
Tomato Basil Garlic Topping
2-½

cups

pear shaped tomatoes

,

quartered lengthwise

½

bunch

fresh basil leaves

,

sliced

2

cloves

fresh garlic

,

minced

Olive oil,

scant drizzle

1-½

Tablespoons

grated parmesan cheese
Instructions
Mushroom Ricotta Filling
In a medium skillet over medium to high heat, heat olive oil, until hot but not smoking.

When olive oil is hot, reduce heat and add chopped mushrooms, stirring occasionlly. Cook until liquid has fully evaporated.

Add garlic and parsley. Stir to combine. Cook for 3 minutes. Remove from heat. Season with salt and pepper to taste.

Transfer to a bowl and allow to cool for 5 minutes. Add ricotta and egg yolks. Whisk thoroughly. Cover and refrigerate until ready to use. Up to 3 hours.

Bring a large pot of salted water to a boil while you prepare ravioli.
PRETTY PASTA PILLOWS
Keeping pasta sheet in one flat piece, stop at Step 5 of the Homemade Pasta recipe. Alternatively, if you don't have a pasta machine, a rolling pin works well, too.

Once dough has rested, cut dough into quarters. On lightly sprinkled workspace, roll one piece of the dough into 1/16" thickness.

Using a circle biscuit cutter, juice glass or ravioli cutter, press out ravioli pieces. Very lightly sprinkle flour over pasta. Cover with clean, non-terrycloth towel while preparing the other ravioli pieces. Repeat rolling and cutting with dough and scraps, using up all dough.
3 options to create the pressed basil leaf look.
1. Lay fresh basil leaf in center of cut circles. With a rolling pin, firmly press and roll until basil is embedded into the dough.

2. Repeat above step. Add a small scrap of dough just over basil leaf to cover. Press with rolling pin to enclose basil leaf.

3. Add basil leaves to boiling water. Cook for 1 minute while ravioli is cooking. Carefully remove. Once ravioli is finished and still sticky, gently press softened leaf onto center of cooked ravioli.

If you choose 1 or 2 of "pressed leaf option," and workspace is still lightly sprinkled with flour, add your basil leaf to half of your cut ravioli pieces. The other half (without the leaf) will be the bottom of the ravioli. *See Gr8 Note below.
Assemble Ravioli
By the ½ Tablespoonful, add mushroom and ricotta filling over center of "non-leafed" cut pasta circle.

With fingertips dampened with water, run them along the edges of cut circle base.

Place top "leafed" pasta circle over filling. With dampened fingertips, press to enclose mushrom and ricotta filling securely. Repeat until all dough is used.

In batches, add ravioli to boiling water. If you choose the 3rd basil leaf option, add them to the pot now as well. Remove basil after 1 minute. Be sure to "babysit" the ravioli as they "dance" around the pot. Use a wooden spoon to gently keep them from sticking to each other, the bottom, and/or sides of the pan. Cook for 3-5 minutes.

Remove from pot with a slotted spoon. Blot gently with a barely damp paper towel.
Tomato Basil Garlic Topping
Combine quartered pear tomatoes, minced garlic and sliced basil. Season with salt and pepper. Drizzle with olive oil. Sprinkle with grated parmesan. Serve immediately.
Notes
Make Ahead
Need to save time and make the most of your day in the kitchen? These can easily be made ahead of time. Prepare ravioli just until the step to cook. Cover tightly and refrigerate for a no more than 6 hours. When ready to cook, bring salted water to a boil in a large pot. Continue as stated in instructions.
Gr8 Note
You're the "crafter" here, so it's totally up to you on how you embellish your ravioli. Basil on one side or on both sides...I'll "leaf" it up to you!
This nutritional information is only an estimate. We do not guarantee the accuracy of the nutritional information for any recipe on this site.
Nutrition Information
Calories:
476
kcal
|
Carbohydrates:
68
g
|
Protein:
19
g
|
Fat:
15
g
|
Saturated Fat:
4
g
|
Cholesterol:
189
mg
|
Sodium:
63
mg
|
Potassium:
575
mg
|
Fiber:
1
g
|
Sugar:
3
g
|
Vitamin A:
913
IU
|
Vitamin C:
12
mg
|
Calcium:
86
mg
|
Iron:
5
mg