Have you ever considered making cheese at home? With 4 ingredients and 45 minutes you can have the most delicious, creamy homemade ricotta cheese!
No need to buy store bought ricotta cheese! The ease of making it at home guarantees a creamy flavorful ricotta.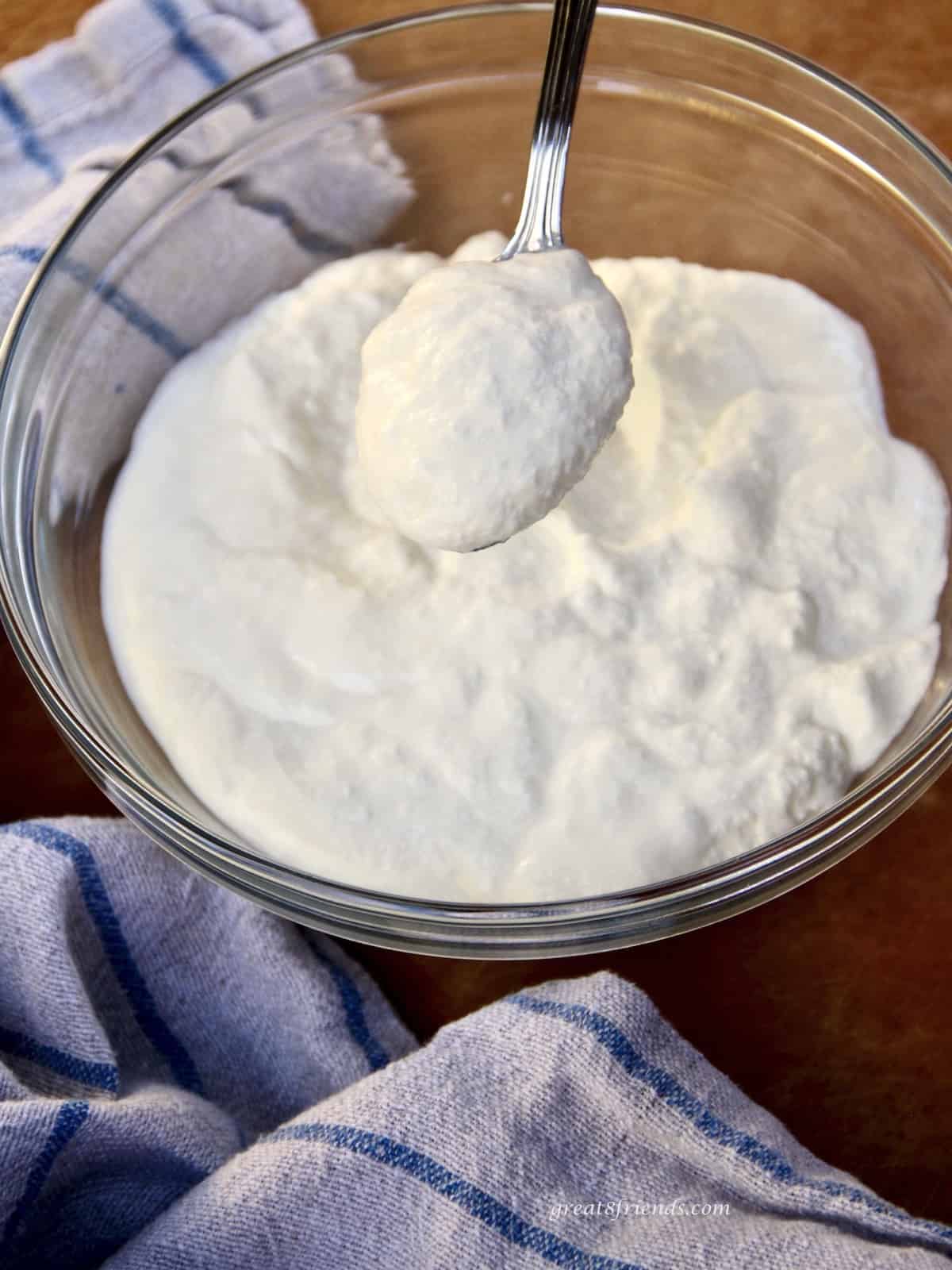 Why make homemade ricotta cheese?
It's easy!
Only 4 ingredients needed: milk, cream, salt, and an acid (white vinegar or lemon juice).
From start to finish, it will take less than an hour of time and much of that time is not hands on but idle time while the cheese curds are straining.
You can control the texture of your ricotta. Choosing the straining time gives you the consistency you desire. Twenty minutes gives you a creamier looser cheese; 40 minutes gives you a more sturdy texture; and 1 hour straining results in a firmer and a bit drier cheese.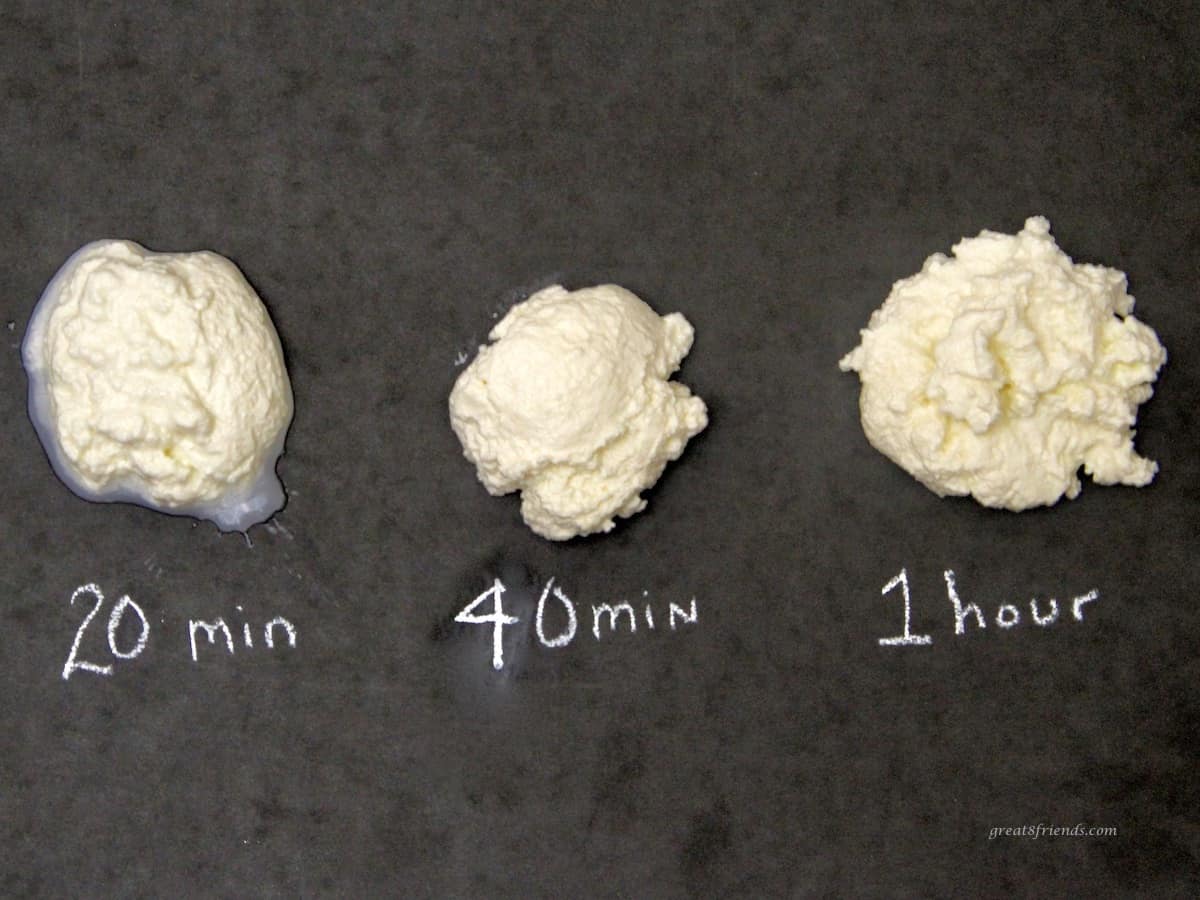 Most important of all, the taste is so delicious and so much better than store bought ricotta!
What supplies and ingredients are needed
Heavy medium saucepan
Sieve for straining
Bowl
Milk
Cream
Salt
Acid - Vinegar or Lemon Juice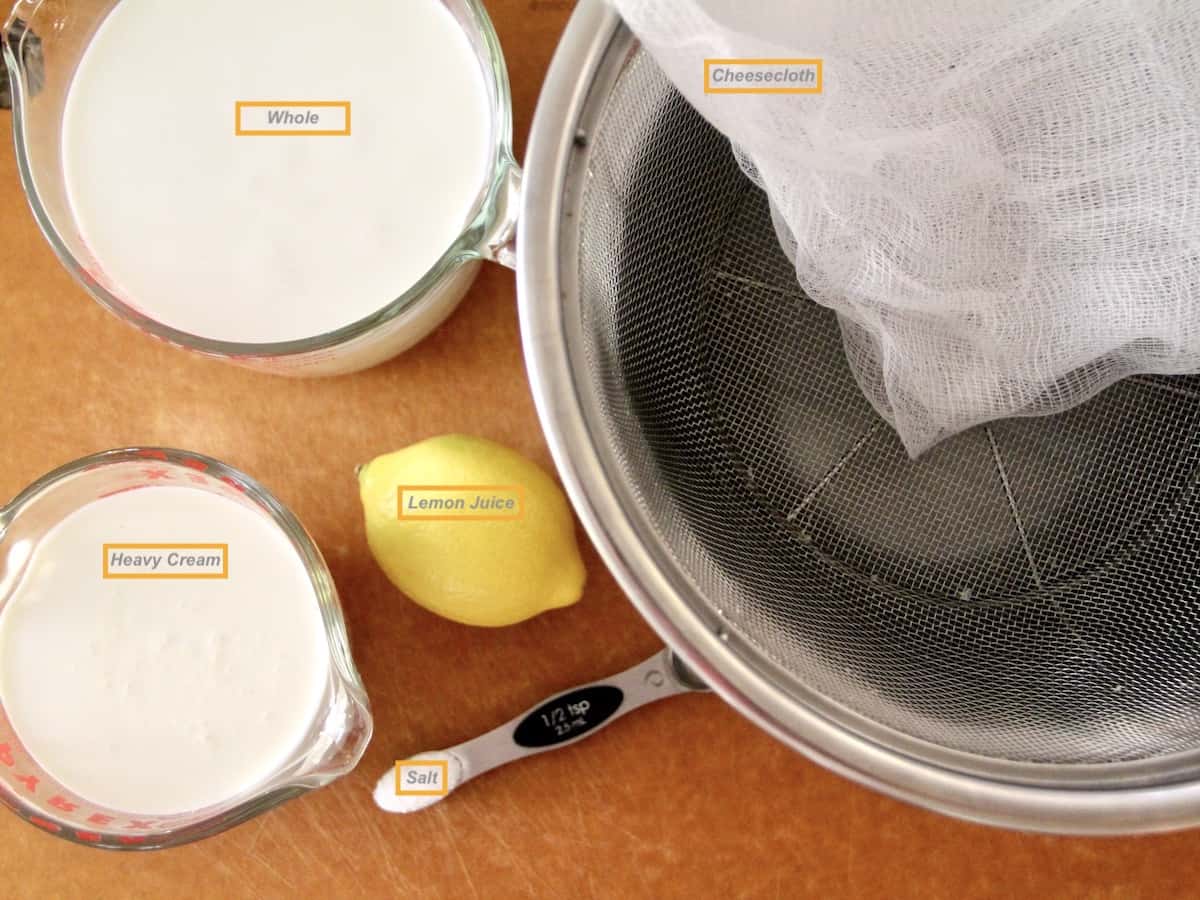 How to make homemade ricotta cheese
Only a few steps!
Heat the milk, cream, and salt.
Turn the heat off and add the acid and let sit for 10 minutes.
Strain the mixture into the cheesecloth.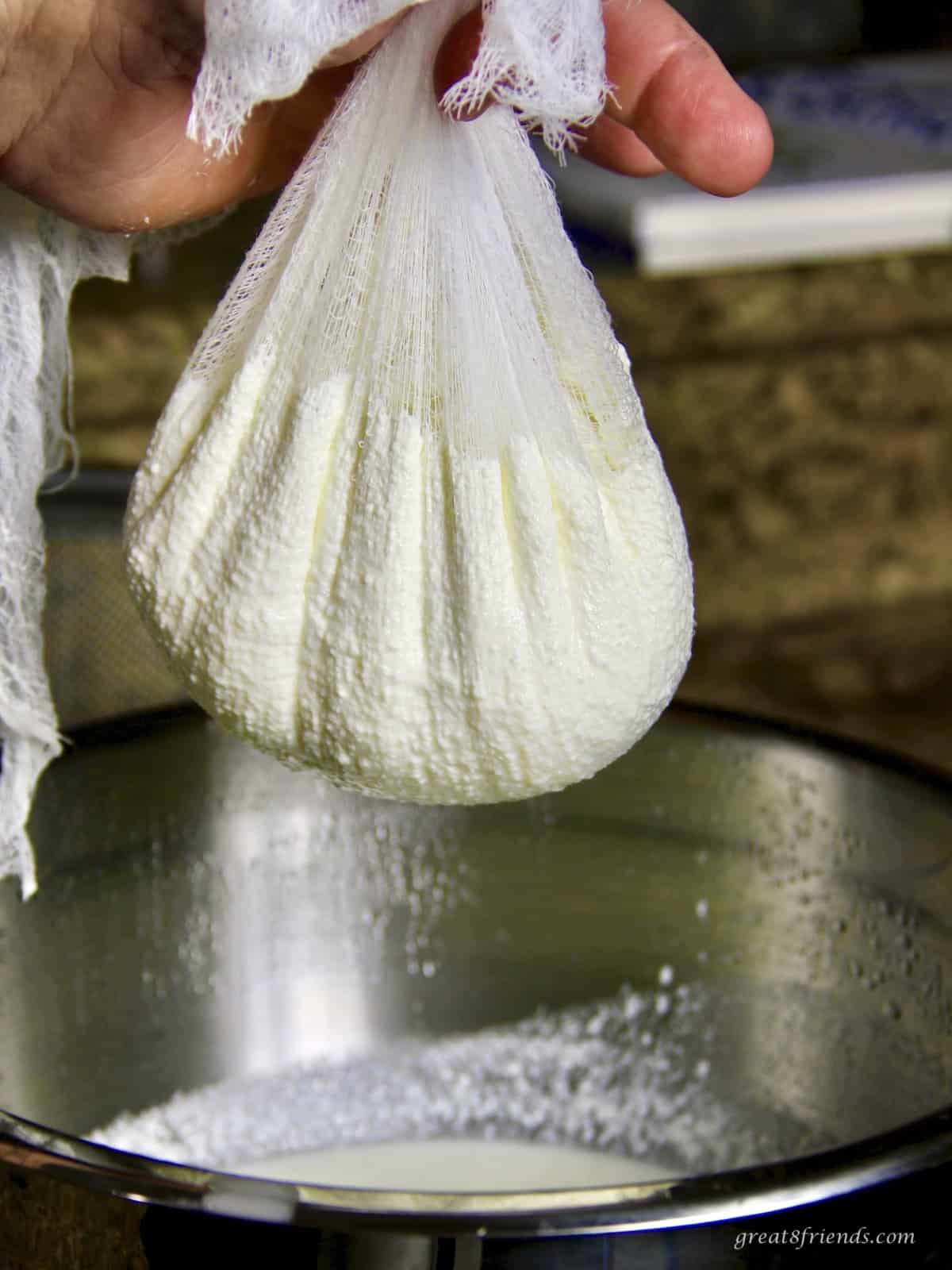 The transformation of the heated milk combined with the acid (vinegar or lemon juice), happens quickly and right before your eyes. Honestly, it is that simple.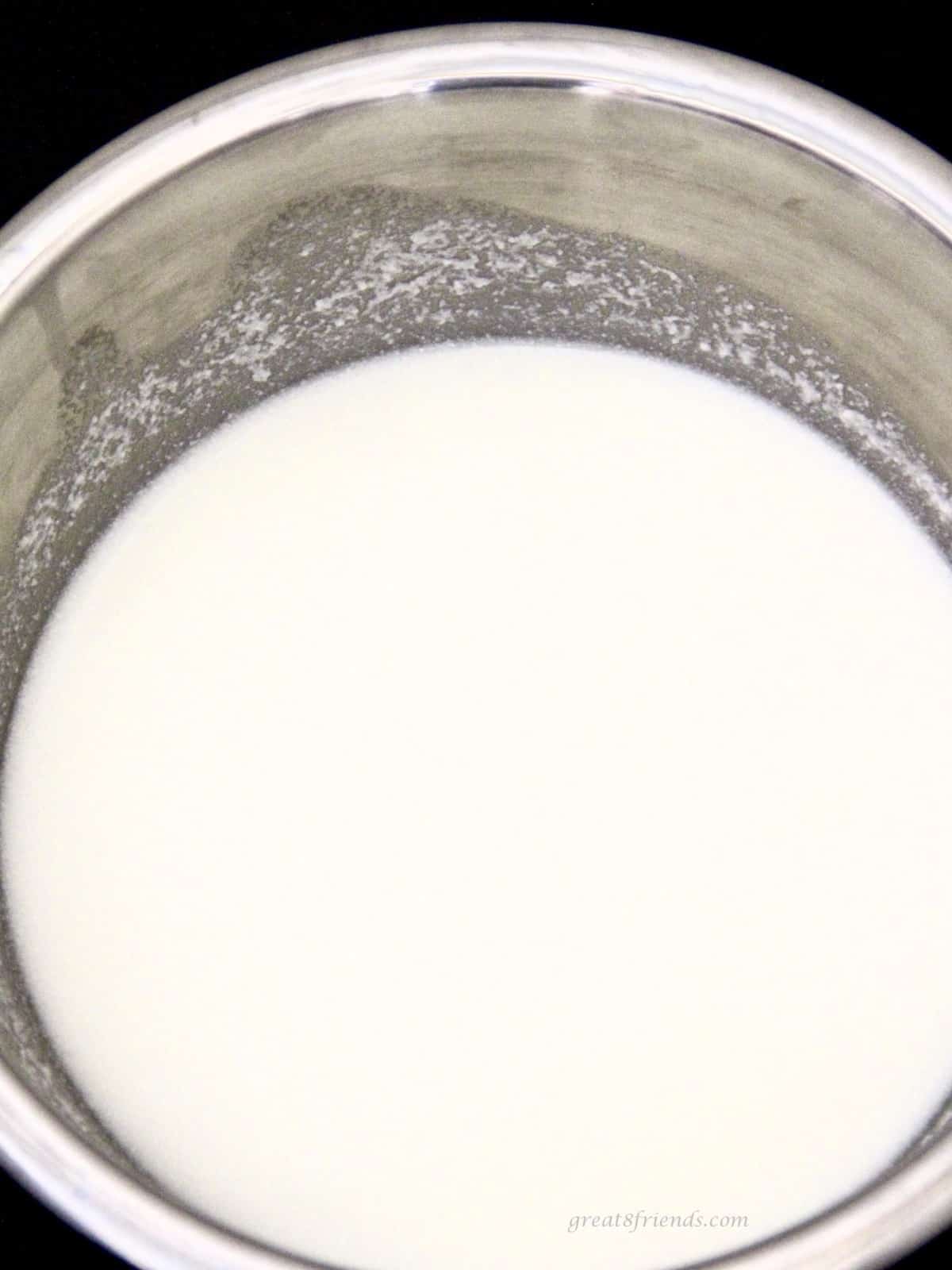 What do you do with the leftover whey?
After straining the curds, you are left with whey. Whey is the milky watery leftover after straining the curds.
There are many benefits to using the whey in other recipes! You can keep it in the refrigerator and use it for several months. Add it to your soup recipe with or in place of a stock or even as a liquid addition in a glutenous bread! Who knew?!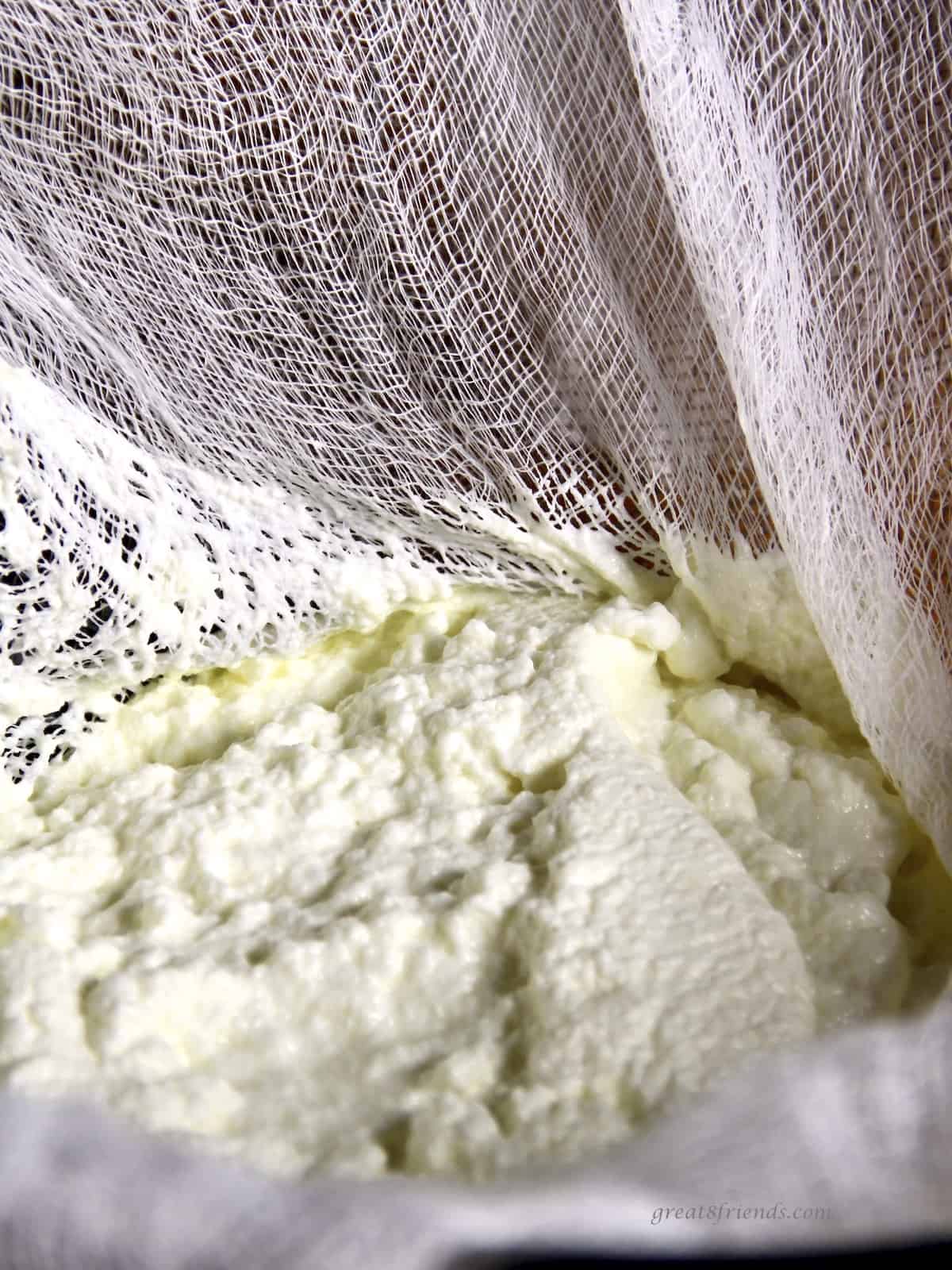 Serving the ricotta
There are too many ways to list, so here are a few
I love to just grill some crusty bread slices and spread the ricotta on top and add any other ingredients like a dab of honey or just a drop of good olive oil and some salt and pepper.
This cheese is wonderful with a chopped tomato bruschetta! Or on a baked potato!
Great 8 Friends has some delicious ricotta recipes!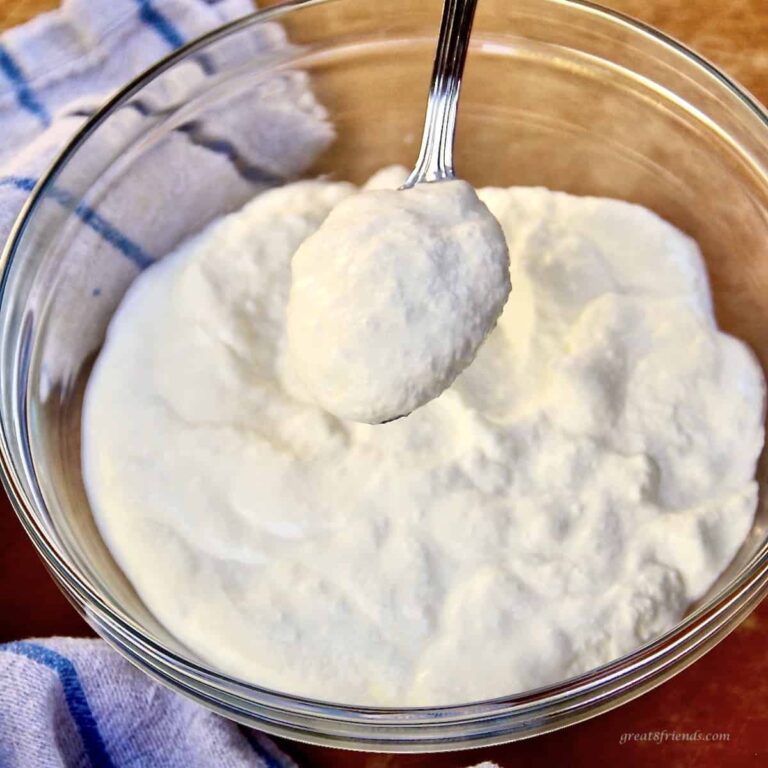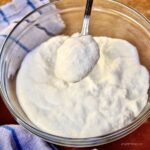 Print Recipe
Pin Recipe
Save this Recipe
Saved!
Please leave a rating!
Easy Homemade Ricotta Cheese
With only four ingredients and less than an hour, you can easily make the most delicious creamy homemade ricotta cheese!
Ingredients
4

cups

whole milk

,

See Gr8 note below (do not use ultra-pasteurized milk)

2

cups

heavy cream

1

teaspoon

kosher salt

4

Tablespoons

white vinegar

,

or lemon juice
Instructions
Pour the milk, cream, and salt into a medium heavy pan and heat over medium heat until you see small bubbles around the edge of the pan. If you have a thermometer, heat to 195 ℉. Stir occassionaly while the milk mixture is heating. This should take about 15 minutes.

Turn the heat off and add the vinegar or lemon juice into the milk mixture and stir gently once to combine. Let the pot sit uncovered for 10 minutes.

While the mixture is sitting, set a sieve in a deep bowl and cover the sieve with two layers of cheesecloth.

Gently pour the mixture into the cheesecloth covered sieve. Pour out the water (whey) from the bowl as it fills or pour it into another container if you want to use the whey for another purpose.

Continue to drain for as long as you want.

Once you have the consistency you desire, store the ricotta covered in the refrigerator for up to 2 weeks.
Notes
Gr8 Notes:
I have not tried it, but I have read that organic milk does not give good results. Also, do not use ultra-pasteurized milk.
Leftover ricotta can be kept in the refrigerator for 2-3 weeks.